CW Lasers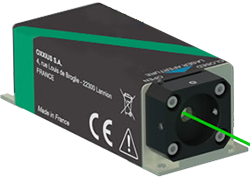 CW Lasers (continuous-wave lasers) emit a continuous stream of laser light, unlike pulsed lasers. Pulsed lasers store energy and emit the stored, concentrated energy in periodic bursts or pulses. RPMC Lasers offers a wide selection of Continuous-Wave (CW) Lasers and Diode Modules. This page includes all our CW options, including Laser Diode (LD) Modules, DPSS Lasers, HeNe and Argon-Ion Gas Lasers, Fiber Lasers, Line Modules, Multi-Wavelength Combiners, and Custom Lasers.  CW Lasers and Modules are available in the UV, Violet, Blue, Green, Yellow, Orange, Red, NIR, SWIR, MWIR, and LWIR wavelength regimes. Available output powers range from 0.5mW up to 100W. These single-mode and multimode CW offerings are available with either free-space or fiber-coupled output. Finally, along with standard output, narrow linewidth or broadband output options are also available. Finally, our laser package options range from simple laser diodes, to modules to full turn-key systems.
CW Applications
Our CW Lasers provide utility in the Life Science, Medical, and Industrial markets. Therefore, we support many applications, including our focused, CW applications such as Flow Cytometry, DNA Sequencing, Confocal & Fluorescence Microscopy, Optogenetics, Aesthetics, Dental, Photodynamic Therapy, Raman Spectroscopy, Interferometry, Machine Vision, Holography, Laser Pumping and Seeding, and many others.
If you have any questions or would like some assistance please contact us to talk to a knowledgeable Product Manager. You can also use the filters on this page, or check out our 'How to Select a CW Laser' version of this page to assist in narrowing down the selection, or head to our Knowledge Center with our Lasers 101 page and Blogs and Whitepapers pages for further, in-depth reading.