Holography Lasers
Holography is a method of using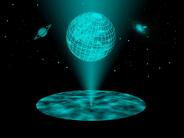 interference to record both the phase and intensity of an object and therefore use it to reproduce an accurate 3-dimensional representation of that object.  Like in all interferometry applications, holography lasers must have incredibly long coherence lengths, for the phase to be maintained throughout the process.  There is a wide variety of holography techniques, but all of them follow the same primary process where holography lasers are split into two different beams and one is directed to the recording media and the other is directed toward the object.  When the scattered light interferes with the reference beam at the recording media, the resultant interference pattern contains both the phase and amplitude of the object.  On this page, you will find a list of all of the holography lasers we offer including single frequency diode and DPSS lasers ranging in wavelength from 405 nm to 850 nm.
RPMC has years of experience supporting Holography applications, helping industry professionals select the right tool for the job.
Contact Us today to let one of our knowledgeable Product Managers assist you!
| | | | | | | | | | |
| --- | --- | --- | --- | --- | --- | --- | --- | --- | --- |
| | 320 NX | CW DPSS Lasers | 0.050, 0.100, 0.200 | Single-Mode Lasers | Free Space | Narrow | | | |
| | 349 NX | CW DPSS Lasers | 0.050, 0.100, 0.200 | Single-Mode Lasers | Free Space | Narrow | | | |
| | 405L-2XA | LD Module | 0.015, 0.030, 0.040 | Single-Mode Lasers | Free Space, MM Fiber, SM Fiber, PM Fiber | Narrow | | | |
| | 488L-2XA | LD Module | 0.010, 0.015, 0.030 | Single-Mode Lasers | Free Space, MM Fiber, SM Fiber, PM Fiber | Narrow | | | |
| | 520L-2XA | LD Module | 0.025, 0.035, 0.040 | Single-Mode Lasers | Free Space, MM Fiber, SM Fiber, PM Fiber | Narrow | | | |
| | 532L-2XB | CW DPSS Lasers | 0.025, 0.040, 0.050 | Single-Mode Lasers, Multimode | Free Space, MM Fiber, SM Fiber, PM Fiber, SMA Port | Narrow | | | |
| | 532L-4XB | CW DPSS Lasers | 0.050, 0.080, 0.100 | Single-Mode Lasers, Multimode | Free Space, MM Fiber, SM Fiber, PM Fiber, SMA Port | Narrow | | | |
| | 532L-6XB | CW DPSS Lasers | 0.050, 0.080, 0.100 | Single-Mode Lasers, Multimode | Free Space, MM Fiber, SM Fiber, PM Fiber, SMA Port | Narrow | | | |
| | 633L-1XA | LD Module | 0.100 | Single-Mode Lasers | Free Space, MM Fiber, SM Fiber, PM Fiber | | | | |
| | 633L-2XA | LD Module | 0.035, 0.040, 0.070 | Single-Mode Lasers | Free Space, MM Fiber, SM Fiber, PM Fiber | Narrow | | | |
| | 638L-2XA | LD Module | 0.060, 0.080, 0.100 | Single-Mode Lasers | Free Space, MM Fiber, SM Fiber, PM Fiber | Narrow | | | |
| | 638L-4XA | LD Module | 0.300, 0.500 | Multimode | Free Space, MM Fiber | Narrow | | | |
| | 783L-2XA | LD Module | 0.070, 0.080, 0.100 | Single-Mode Lasers | Free Space, MM Fiber, SM Fiber, PM Fiber | Narrow | | | |
| | 785L-2XA | LD Module | 0.080, 0.100, 0.130 | Single-Mode Lasers | Free Space, MM Fiber, SM Fiber, PM Fiber | Narrow | | | |
| | 785L-4XA | LD Module | 0.120, 0.150, 0.500, 0.700 | Multimode | Free Space, MM Fiber | Narrow | | | |
| | 830L-2XA | LD Module | 0.050, 0.070, 0.080 | Single-Mode Lasers | Free Space, MM Fiber, SM Fiber, PM Fiber | Narrow | | | |
| | 830L-4XA | LD Module | 0.350 | Multimode | MM Fiber, SMA Port | Narrow | | | |
| | He-Ne Power Supplies | HeNe Lasers | 0.002 | Single-Mode Lasers | Free Space | | | | |
| | LBX-633S | LD Module | 0.040 | Single-Mode Lasers | Free Space, MM Fiber, SM Fiber, PM Fiber | Narrow | | | |
| | LBX-830S | LD Module | 0.100 | Single-Mode Lasers | Free Space, MM Fiber, SM Fiber, PM Fiber | Narrow | | | |
| | LCX-532S | CW DPSS Lasers | 0.050, 0.100, 0.200, 0.300 | Single-Mode Lasers | Free Space, MM Fiber, SM Fiber, PM Fiber | Narrow | | | |
| | LCX-553S | CW DPSS Lasers | 0.050, 0.100 | Single-Mode Lasers | Free Space, MM Fiber, SM Fiber, PM Fiber | Narrow | | | |
| | LCX-561S | CW DPSS Lasers | 0.100, 0.150, 0.200 | Single-Mode Lasers | Free Space, MM Fiber, SM Fiber, PM Fiber | Narrow | | | |
| | LGK 7512 | HeNe Lasers | 0.002 | Single-Mode Lasers | Free Space | | | | |
| | LGK 7608 | HeNe Lasers | 0.002 | Single-Mode Lasers | Free Space | | | | |
| | LGK 7610 | HeNe Lasers | 0.002 | Single-Mode Lasers | Free Space | | | | |
| | LGK 7621 | HeNe Lasers | 0.005 | Multimode | Free Space | | | | |
| | LGK 7627 | HeNe Lasers | 0.005, 0.010 | Single-Mode Lasers, Multimode | Free Space | | | | |
| | LGK 7628 | HeNe Lasers | 0.005, 0.007 | Single-Mode Lasers | Free Space | | | | |
| | LGK 7634 | HeNe Lasers | 0.002, 0.003 | Single-Mode Lasers | Free Space | | | | |
| | LGK 7650 | HeNe Lasers | 0.0005, 0.001 | Single-Mode Lasers | Free Space | | | | |
| | LGK 7653 | HeNe Lasers | 0.010 | Single-Mode Lasers | Free Space | | | | |
| | LGK 7654 | HeNe Lasers | 0.010 | Single-Mode Lasers | Free Space | | | | |
| | LGK 7655 | HeNe Lasers | 0.0006, 0.001 | Single-Mode Lasers | Free Space | | | | |
| | LGK 7665 | HeNe Lasers | 0.015, 0.018, 0.020 | Single-Mode Lasers | Free Space | | | | |
| | LGK 7672 | HeNe Lasers | 0.002 | Single-Mode Lasers | Free Space | | | | |
| | LGK 7785 | HeNe Lasers | 0.001, 0.002 | Single-Mode Lasers | Free Space | | | | |
| | LGK 7786 | HeNe Lasers | 0.0005, 0.0007, 0.001, 0.0015 | Single-Mode Lasers | Free Space | | | | |
| | LGR 7608 | HeNe Lasers | 0.0015 | Single-Mode Lasers | Free Space | | | | |
| | LGR 7610 | HeNe Lasers | 0.002 | Single-Mode Lasers | Free Space | | | | |
| | LGR 7621 | HeNe Lasers | 0.002, 0.005 | Single-Mode Lasers, Multimode | Free Space | | | | |
| | LGR 7627 | HeNe Lasers | 0.005, 0.010 | Single-Mode Lasers | Free Space | | | | |
| | LGR 7628 | HeNe Lasers | 0.005 | Single-Mode Lasers | Free Space | | | | |
| | LGR 7634 | HeNe Lasers | 0.002 | Single-Mode Lasers | Free Space | | | | |
| | LGR 7650 | HeNe Lasers | 0.005 | Single-Mode Lasers | Free Space | | | | |
| | LGR 7655 | HeNe Lasers | 0.001 | Single-Mode Lasers | Free Space | | | | |
| | LGR 7656 | HeNe Lasers | 0.0005 | Single-Mode Lasers | Free Space | | | | |
| | LGR 7660 | HeNe Lasers | 0.001 | Single-Mode Lasers | Free Space | | | | |
| | LGR 7695 | HeNe Lasers | 0.0007 | Single-Mode Lasers | Free Space | | | | |
| | LSX-785S | LD Module | 0.150 | Single-Mode Lasers | Free Space, MM Fiber, SM Fiber, PM Fiber | Narrow | | | |
| | Solo-640 | CW DPSS Lasers | 0.500, 0.750, 1.0 | Single-Mode Lasers | Free Space | Narrow | | | |