Red Lasers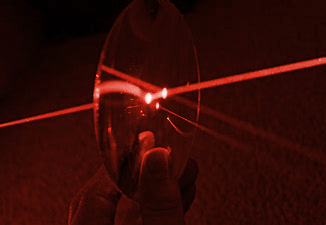 RPMC is the largest red diode laser supplier in North America. See our wide range of Red Lasers for sale! We offer the widest range of wavelengths, powers, and package types for red laser diodes, and we offer a wide range of other red laser products. People often picture red laser pointers when they think of red lasers. However, there are many types of red lasers on the market. We do not offer laser pointers, but we do have red laser line modules (laser line generators) and many other types of lasers generating red wavelengths.
Red laser diodes, which are typically fabricated out of GaInP or AlGaInP, are the most popular and well-developed laser diodes available on the market today.  Red diode lasers are instrumental in a wide variety of applications ranging from inexpensive laser pointers to laboratory flow cytometry systems. 632.8 nm red light is the standard for helium-neon (HeNe) lasers, though they can produce green, yellow, and other wavelengths. HeNe lasers have been around for many years and are a tried-and-true staple in laboratories everywhere. Red HeNe lasers are often used for interferometry and laser alignment, for example. Wavelength shifted DPSS lasers can produce red wavelengths through the process of harmonic generation (frequency doubling in this case). Red wavelengths can also be generated through the use of optical parametric oscillator (OPO) technology.
Some of the most common red wavelengths are 635 nm, 650 nm, and 670 nm. On the shorter end of the red spectral region, the wavelengths are more visible to the human eye, but they aren't as easy to efficiently generate.
Red Laser Products
We offer many different red wavelength laser types:
Red Single Emitter Laser Diodes

Red Multi-Emitter Laser Diodes

Red VBG Laser Diodes

Multiple Wavelength Lasers

Red Laser Diode Modules

Red Laser Line Modules

Red HeNe Gas Lasers

Red Pulsed DPSS Lasers

Red CW DPSS Lasers

Tunable DPSS Lasers

Raman Probes
Our Red Laser products are available in a range of output powers up to 25 W average power, options for single-mode or multimode, free-space, fiber-coupled or line generation output, and various packaging options and integration levels from component to OEM to turnkey systems.
Red Laser Applications
Some common red laser applications include Interferometry, Holography, Machine Vision, Confocal Fluorescence Microscopy, Flow Cytometry, DNA Sequencing, Optogenetics, PDT, Dental, and many others.
Let Us Help!
In conclusion, if you have any questions or would like some assistance, don't hesitate to get in touch with us here. Furthermore, you can call us at 636.272.7227 to talk to a knowledgeable Product Manager. Alternatively, you can also use the filters on this page to assist in narrowing down the selection of red lasers for sale. Finally, head to our Knowledge Center, with our Lasers 101 page and Blogs and Whitepapers pages, for further, in-depth reading.
Some Suggested Reading
"QCW Laser Diode Stacks: The Perfect Solution for Hair Removal Systems"
"Laser Alignment: HeNe Lasers, Methods, and Helpful Tips"
"High-Power CW Lasers for Holography, Interferometry & Spectroscopy"
| | | | | | | | | | | |
| --- | --- | --- | --- | --- | --- | --- | --- | --- | --- | --- |
| | 633L-1XA | LD Module | 633 | 0.100 | Single-Mode Lasers | Free Space, MM Fiber, SM Fiber, PM Fiber | | | | |
| | 633L-2XA | LD Module | 633 | 0.035, 0.040, 0.070 | Single-Mode Lasers | Free Space, MM Fiber, SM Fiber, PM Fiber | Narrow | | | |
| | 638L-1XA | LD Module | 638 | 0.060, 0.080, 0.100, 0.120, 0.170, 0.500, 0.600 | Single-Mode Lasers | Free Space, MM Fiber, SM Fiber, PM Fiber | | | | |
| | 638L-2XA | LD Module | 638 | 0.060, 0.080, 0.100 | Single-Mode Lasers | Free Space, MM Fiber, SM Fiber, PM Fiber | Narrow | | | |
| | 638L-3XA | LD Module | 638 | 0.500, 0.600 | Multimode | Free Space, MM Fiber | | | | |
| | 638L-4XA | LD Module | 638 | 0.300, 0.500 | Multimode | Free Space, MM Fiber | Narrow | | | |
| | 660L-1XA | LD Module | 660 | 0.060, 0.080, 0.090, 0.110 | Single-Mode Lasers | Free Space, MM Fiber, SM Fiber, PM Fiber | | | | |
| | HL633 | Single Emitter | 633 | 0.100 | Single-Mode Lasers | Free Space | | | | |
| | HL637 | Single Emitter | 637 | 0.007, 0.120, 0.250, 0.450, 1.0, 1.2 | Single-Mode Lasers, Multimode | Free Space | | | | |
| | HL638 | Single Emitter | 638 | 0.005, 0.007, 0.010, 0.015, 0.120, 0.170, 0.200, 0.700, 1.5, 2.2, 2.4 | Single-Mode Lasers, Multimode | Free Space | | | | |
| | HL639 | Single Emitter | 639 | 0.010, 0.012, 0.020, 0.025, 0.030, 0.200, 0.210 | Single-Mode Lasers | Free Space | | | | |
| | HL640 | Single Emitter | 640 | 0.045 | Single-Mode Lasers | Free Space | | | | |
| | HL642 | Single Emitter | 642 | 0.065, 0.090, 0.150 | Single-Mode Lasers | Free Space | | | | |
| | HL649 | Single Emitter | 649 | 0.150 | Single-Mode Lasers | Free Space | | | | |
| | HL6548FG | Single Emitter | 660 | 0.100 | Single-Mode Lasers | Free Space | | | | |
| | HL658 | Single Emitter | 658 | 0.035, 0.085 | Single-Mode Lasers | Free Space | | | | |
| | HL659 | Single Emitter | 659 | 1.2 | Multimode | Free Space | | | | |
| | HL660 | Single Emitter | 660 | 0.100, 0.110, 0.120, 0.130, 0.150, 0.210 | Single-Mode Lasers | Free Space | | | | |
| | HL670 | Single Emitter | 670 | 0.010, 0.015 | Single-Mode Lasers | Free Space | | | | |
| | HL675 | Single Emitter | 675 | 0.210 | Single-Mode Lasers | Free Space | | | | |
| | HL685 | Single Emitter | 685 | 0.055 | Single-Mode Lasers | Free Space | | | | |
| | HL690 | Single Emitter | 690 | 0.035, 0.210 | Single-Mode Lasers | Free Space | | | | |
| | LBX-633 | LD Module | 633 | 0.100 | Single-Mode Lasers | Free Space, MM Fiber, SM Fiber, PM Fiber | | | | |
| | LBX-633S | LD Module | 633 | 0.040 | Single-Mode Lasers | Free Space, MM Fiber, SM Fiber, PM Fiber | Narrow | | | |
| | LBX-638-HPE | LD Module | 638 | 1.1 | Multimode | Free Space, MM Fiber | | | | |
| | LBX-638 | LD Module | 638 | 0.100, 0.150, 0.180 | Single-Mode Lasers | Free Space, MM Fiber, SM Fiber, PM Fiber | | | | |
| | LBX-642 | LD Module | 642 | 0.130 | Single-Mode Lasers | Free Space, MM Fiber, SM Fiber, PM Fiber | | | | |
| | LBX-647 | LD Module | 647 | 0.140 | Single-Mode Lasers | Free Space, MM Fiber, SM Fiber, PM Fiber | | | | |
| | LBX-660 | LD Module | 660 | 0.100 | Single-Mode Lasers | Free Space, MM Fiber, SM Fiber, PM Fiber | | | | |
| | LDX-XXXX-622 | Single Emitter | 622 | 0.150 | Multimode | Free Space, MM Fiber | | | | |
| | LDX-XXXX-627 | Single Emitter | 627 | 0.250, 0.350 | Multimode | Free Space, MM Fiber | | | | |
| | LDX-XXXX-630 | Single Emitter | 630 | 0.250, 0.400 | Multimode | Free Space, MM Fiber | | | | |
| | LDX-XXXX-635 | Single Emitter | 635 | 0.300, 0.400, 0.600, 1.2 | Multimode | Free Space, MM Fiber | | | | |
| | LDX-XXXX-645 | Single Emitter | 645 | 0.300, 0.400 | Multimode | Free Space, MM Fiber | | | | |
| | LDX-XXXX-650 | Single Emitter | 650 | 1.0 | Multimode | Free Space, MM Fiber | | | | |
| | LDX-XXXX-660 | Single Emitter | 660 | 0.350, 0.750, 1.0, 2.0 | Multimode | Free Space, MM Fiber | | | | |
| | LDX-XXXX-665 | Single Emitter | 665 | 0.350, 0.750, 1.0, 2.0 | Multimode | Free Space, MM Fiber | | | | |
| | LDX-XXXX-680 | Single Emitter | 680 | 0.400, 0.800, 1.2, 2.0 | Multimode | Free Space, MM Fiber | | | | |
| | LDX-XXXX-685 | Single Emitter | 685 | 0.400, 0.800, 1.2, 2.0 | Multimode | Free Space, MM Fiber | | | | |
| | LDX-XXXX-690 | Single Emitter | 690 | 0.400, 0.750, 1.1 | Multimode | Free Space, MM Fiber | | | | |
| | LGK 7608 | HeNe Lasers | 633 | 0.002 | Single-Mode Lasers | Free Space | | | | |
| | LGK 7610 | HeNe Lasers | 633 | 0.002 | Single-Mode Lasers | Free Space | | | | |
| | LGK 7621 | HeNe Lasers | 633 | 0.005 | Multimode | Free Space | | | | |
| | LGK 7627 | HeNe Lasers | 633 | 0.005, 0.010 | Single-Mode Lasers, Multimode | Free Space | | | | |
| | LGK 7628 | HeNe Lasers | 633 | 0.005, 0.007 | Single-Mode Lasers | Free Space | | | | |
| | LGK 7634 | HeNe Lasers | 633 | 0.002, 0.003 | Single-Mode Lasers | Free Space | | | | |
| | LGK 7650 | HeNe Lasers | 633 | 0.0005, 0.001 | Single-Mode Lasers | Free Space | | | | |
| | LGK 7653 | HeNe Lasers | 633 | 0.010 | Single-Mode Lasers | Free Space | | | | |
| | LGK 7654 | HeNe Lasers | 633 | 0.010 | Single-Mode Lasers | Free Space | | | | |
| | LGK 7655 | HeNe Lasers | 633 | 0.0006, 0.001 | Single-Mode Lasers | Free Space | | | | |
| | LGK 7665 | HeNe Lasers | 633 | 0.015, 0.018, 0.020 | Single-Mode Lasers | Free Space | | | | |
| | LGK 7672 | HeNe Lasers | 633 | 0.002 | Single-Mode Lasers | Free Space | | | | |
| | LGR 7608 | HeNe Lasers | 633 | 0.0015 | Single-Mode Lasers | Free Space | | | | |
| | LGR 7610 | HeNe Lasers | 633 | 0.002 | Single-Mode Lasers | Free Space | | | | |
| | LGR 7621 | HeNe Lasers | 633 | 0.002, 0.005 | Single-Mode Lasers, Multimode | Free Space | | | | |
| | LGR 7627 | HeNe Lasers | 633 | 0.005, 0.010 | Single-Mode Lasers | Free Space | | | | |
| | LGR 7628 | HeNe Lasers | 633 | 0.005 | Single-Mode Lasers | Free Space | | | | |
| | LGR 7634 | HeNe Lasers | 633 | 0.002 | Single-Mode Lasers | Free Space | | | | |
| | LGR 7650 | HeNe Lasers | 633 | 0.005 | Single-Mode Lasers | Free Space | | | | |
| | LGR 7655 | HeNe Lasers | 633 | 0.001 | Single-Mode Lasers | Free Space | | | | |
| | LGR 7656 | HeNe Lasers | 633 | 0.0005 | Single-Mode Lasers | Free Space | | | | |
| | LGR 7660 | HeNe Lasers | 633 | 0.001 | Single-Mode Lasers | Free Space | | | | |
| | LGR 7695 | HeNe Lasers | 633 | 0.0007 | Single-Mode Lasers | Free Space | | | | |
| | LPX-607 | LD Module | 607 | 0.100, 0.200 | Single-Mode Lasers | Free Space, MM Fiber, SM Fiber, PM Fiber | | | | |
| | LPX-640 | CW DPSS Lasers | 640 | 0.300, 0.500 | Single-Mode Lasers | Free Space, MM Fiber, SM Fiber, PM Fiber | | | | |
| | Q-TUNE | Pulsed DPSS Lasers, Tunable Lasers | Tunable | 0.200 | | | | 8000.0 | 5 Nanosecond Lasers | 10Hz, 33Hz, 100Hz |
| | QL63F5SA | Single Emitter | 637 | 0.010 | Single-Mode Lasers | Free Space | | | | |
| | Quantas-Q-SHIFT-650 | Pulsed DPSS Lasers | 650 | 0.150, 0.240, 0.300 | | | | 1500.0, 3000.0, 6000.0, 9000.0, 12000.0, 15000.0 | 2ns to 5ns Lasers | 10Hz, 20Hz, 33Hz, 50Hz, 100Hz |
| | Quantas-Q-SHIFT-658.5 | Pulsed DPSS Lasers | 658.5 | 0.150, 0.240, 0.300 | | | | 1500.0, 3000.0, 6000.0, 9000.0, 12000.0, 15000.0 | 2ns to 5ns Lasers | 10Hz, 20Hz, 33Hz, 50Hz, 100Hz |
| | Quantas-Q-SHIFT-WXXXX | Pulsed DPSS Lasers | Multiple Wavelength Options | Varies | | | | Varies | 2ns to 5ns Lasers | 100Hz |
| | R0633 | Single Emitter, Volume Bragg Grating (VBG) | 633 | 0.020, 0.050 | Single-Mode Lasers | Free Space, PM Fiber | Narrow | | | |
| | R0633 | LD Module, Turn-Key System | 633 | 0.010, 0.020, 0.030, 0.050 | Single-Mode Lasers | Free Space, SM Fiber, PM Fiber | Narrow | | | |
| | R0638 | Single Emitter, Volume Bragg Grating (VBG) | 638 | 0.025, 0.060, 0.300 | Single-Mode Lasers, Multimode | Free Space, MM Fiber, PM Fiber | Narrow | | | |
| | R0638 | LD Module, Turn-Key System | 638 | 0.035, 0.060, 0.350 | Single-Mode Lasers, Multimode | Free Space, MM Fiber, PM Fiber | Narrow | | | |
| | R0660 | LD Module, Turn-Key System | 660 | 0.060 | Single-Mode Lasers, Multimode | Free Space | Narrow | | | |
| | R0680 | Single Emitter, Volume Bragg Grating (VBG) | 680 | 0.300 | Single-Mode Lasers, Multimode | Free Space, MM Fiber | Narrow | | | |
| | R0680 | LD Module, Turn-Key System | 680 | 0.300 | Single-Mode Lasers, Multimode | Free Space, MM Fiber | Narrow | | | |
| | RDS3 | Turn-Key System | Multiple Wavelength Options | Multiple Options Available | Single-Mode Lasers, Multimode | MM Fiber, SM Fiber | | | | |
| | RHAML-XXXX-YY-Z-E | LD Module, Line Modules | Multiple Wavelength Options | 0.100 | Single-Mode Lasers | Free Space, Line | | | | |
| | RHAML-XXXX-YY-Z | LD Module, Line Modules | Multiple Wavelength Options | 0.100 | Single-Mode Lasers | Free Space, Line | | | | |
| | RML126FC | LD Module | Multiple Wavelength Options | 0.100 | Single-Mode Lasers | SM Fiber | | | | |
| | RML150FC | LD Module | Multiple Wavelength Options | 0.080 | Single-Mode Lasers | SM Fiber | | | | |
| | RML2040-XXXX-YY-ZZ | LD Module, Line Modules | Multiple Wavelength Options | 2.0 | Single-Mode Lasers | Free Space, Line | | | | |
| | RML2240 | LD Module | Multiple Wavelength Options | 1.5 | Single-Mode Lasers, Multimode | MM Fiber, SM Fiber | | | | |
| | RML2540-XXXX-YY-ZZ | LD Module, Line Modules | Multiple Wavelength Options | 1.0, 2.0 | Single-Mode Lasers, Multimode | Free Space, Line | | | | |
| | RPK635M | Multi-Emitter Laser Diodes | 635 | 5.0 | Multimode | MM Fiber | | | | |
| | RPK635S | Single Emitter | 635 | 0.002, 0.020 | Single-Mode Lasers | SM Fiber | | | | |
| | RPKMWM | Multi Wavelength | Multiple Wavelength Options | 0.300, 0.600, 5.0, 6.0, 10.0, 15.0, 25.0 | Multimode | MM Fiber | | | | |
| | RWLD-635-130m-1 | Single Emitter | 635 | 0.130 | Single-Mode Lasers | Free Space | | | | |
| | RWLD-635M | Single Emitter | 635 | 0.500, 0.700, 1.0, 2.0 | Multimode | Free Space | | | | |
| | RWLD-635S | Single Emitter | 635 | 0.050, 0.180, 0.200 | Single-Mode Lasers | Free Space | | | | |
| | RWLD-650-100m-1-PD | Single Emitter | 650 | 0.100 | Single-Mode Lasers | Free Space | | | | |
| | RWLD-650S | Single Emitter | 650 | 0.150, 0.180 | Single-Mode Lasers | Free Space | | | | |
| | RWLD-660M | Single Emitter | 660 | 1.0, 1.5 | Multimode | Free Space | | | | |
| | RWLD-690M | Single Emitter | 650 | 0.150, 0.180 | Single-Mode Lasers | Free Space | | | | |
| | RXXXXP-EC-AB-XXX-WD-DW | Raman Probes | 405, 532, 638, 785, 808, 830, 1064 | 0.350 | | | | | | |
| | Solo-640 | CW DPSS Lasers | 640 | 0.500, 0.750, 1.0 | Single-Mode Lasers | Free Space | Narrow | | | |
| | Triplex-RWLS-445-520-635 | Single Emitter, Turn-Key System | 445, 520, 635 | 0.010, 0.015, 0.020, 0.030, 0.050, 0.080, 0.100 | Single-Mode Lasers, Multimode | MM Fiber, SM Fiber | | | | |
| | Triplex-RWLX-445-520-635 | Single Emitter | 445, 520, 635 | 0.010, 0.015, 0.020, 0.030, 0.050, 0.080, 0.100 | Single-Mode Lasers, Multimode | MM Fiber, SM Fiber | | | | |