NIR Lasers – IR Lasers: Pulsed, CW, and Laser Diodes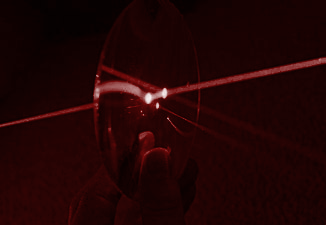 What are Near Infrared Lasers (NIR Lasers)?
NIR lasers (near-infrared lasers, or commonly IR lasers) emit electromagnetic radiation (laser light) within the red spectral region, which we define as being between ≈ 750 nm and ≈ 1400 nm.
Have questions?
Picture
Part Number

Type

Wavelength (nm)

Output power (W)

Mode

Output

Linewidth

Pulse energy (uJ)

Pulse width

Rep rate

1030L-1XB
CW DPSS Lasers
1030
0.350, 0.400, 0.500
Single-Mode, Multimode
PM Fiber, SM Fiber, MM Fiber, SMA Port, Free Space
1030L-2XB
CW DPSS Lasers
1030
0.200, 0.300, 0.400
Single-Mode, Multimode
PM Fiber, SM Fiber, MM Fiber, Free Space
Narrow
1064L-1XB
CW DPSS Lasers
1064
0.025, 0.300, 0.400, 0.500
Single-Mode, Multimode
PM Fiber, SM Fiber, MM Fiber, SMA Port, Free Space
1064L-2XB
CW DPSS Lasers
1064
0.200, 0.300, 0.400
Single-Mode, Multimode
PM Fiber, SM Fiber, MM Fiber, Free Space
Narrow
1123L-1XB
CW DPSS Lasers
1123
0.100, 0.160, 0.200
Single-Mode, Multimode
PM Fiber, SM Fiber, MM Fiber, Free Space
1310L-1XA
LD Module
1310
0.180
Single-Mode, Multimode
PM Fiber, Free Space
1319L-1XB
CW DPSS Lasers
1319
0.100, 0.160, 0.200
Single-Mode, Multimode
PM Fiber, SM Fiber, MM Fiber, Free Space
1um CW/CW Modulated Fiber Lasers
CW Fiber Lasers
1060-1080
60.0, 100.0
Single-Mode
PM Fiber, SM Fiber
1um Fiber Amplifiers
Fiber Amplifiers
1030-1100
5.0, 10.0, 40.0
CW
1um Pulsed Fiber Lasers
Pulsed Fiber Lasers
1030-1100
5.0
150.0
400ps, 50ns
10kHz, 100kHz, 1MHz
783L-2XA
LD Module
783
0.070, 0.080, 0.110
Single-Mode
PM Fiber, SM Fiber, MM Fiber, Free Space
Narrow
785L-1XA
LD Module
785
0.120, 0.150, 0.170
Single-Mode
PM Fiber, SM Fiber, MM Fiber, Free Space
785L-2XA
LD Module
785
0.080, 0.100, 0.130
Single-Mode
PM Fiber, SM Fiber, MM Fiber, Free Space
Narrow
785L-3XA
LD Module
785
1.0
Multimode
MM Fiber, Free Space
785L-4XA
LD Module
785
0.500, 0.700, 0.800
Multimode
MM Fiber, Free Space
Narrow
808L-1XA
LD Module
808
0.055, 0.090, 0.110
Single-Mode
PM Fiber, SM Fiber, MM Fiber, Free Space
808L-3XA
LD Module
808
1.6, 3.0
Multimode
MM Fiber, Free Space
830L-1XA
LD Module
830
0.070, 0.090, 0.130
Single-Mode
PM Fiber, SM Fiber, MM Fiber, Free Space
830L-2XA
LD Module
830
0.050, 0.070, 0.080
Single-Mode
PM Fiber, SM Fiber, MM Fiber, Free Space
Narrow
830L-3XA
LD Module
808
1.0
Multimode
MM Fiber
850L-1XA
LD Module
850
0.070, 0.110, 0.130
Single-Mode
PM Fiber, SM Fiber, MM Fiber, Free Space
915L-1XA
LD Module
915
0.080, 0.140, 0.170
Single-Mode
PM Fiber, SM Fiber, MM Fiber, Free Space
975L-1XA
LD Module
975
0.100, 0.140, 0.170
Single-Mode
PM Fiber, SM Fiber, MM Fiber, Free Space
Aero-1064
Pulsed DPSS Lasers
1064
5.0, 10.0
50000.0, 100000.0, 200000.0
20ns
Single Shot to 50Hz, Single Shot to 100Hz
AIRTRAC Mini Series
Pulsed DPSS Lasers, Mil-Spec Lasers
1064
5.0
15000.0, 25000.0
10ns - 25ns
0-25Hz
AIRTRAC-Green
Pulsed DPSS Lasers, Mil-Spec Lasers
532, 1064
10.0
70000.0
4ns - 7ns
0-30Hz
AIRTRAC-LD
Pulsed DPSS Lasers, Mil-Spec Lasers
1064
5.0
50000.0
10ns - 25ns
0-25Hz
AIRTRAC-NPL
Pulsed DPSS Lasers, Mil-Spec Lasers
1064
5.0
70000.0
4ns - 7ns
0-30Hz
BDL130-808-F4-F
Multi-Emitter
808
130.0
Multimode
MM Fiber
Blueback
1010-1060
80fs - 4ps
1kHz - 200MHz
CEUV
Pulsed DPSS Lasers
266, 355, 532, 1064
5.0, 10.0, 20.0
3ns
10kHz to 1MHz
Halite 2
Pulsed Fiber Lasers, Ultrafast Lasers
1030
2.0
0.1
100fs, 250fs
20MHz
HL705
Single Emitter
705
0.050
Single-Mode
Free Space
HL730
Single Emitter
730
0.050
Single-Mode
Free Space
HL830
Single Emitter
830
0.050
Single-Mode
Free Space
HL852
Single Emitter
852
0.050
Single-Mode
Free Space
Integrated Raman Probe
Raman Probes
785
0.350
Jasper Flex
Pulsed Fiber Lasers, Ultrafast Lasers
1030
30.0
30.0
270fs - 8ps
Single shot to 20MHz
Jasper Micro
Pulsed Fiber Lasers, Ultrafast Lasers
1030
7.0
5.0
270fs - 8ps
Single shot to 20MHz
Jasper X0
Pulsed Fiber Lasers, Ultrafast Lasers
1030
10.0, 20.0, 30.0, 60.0
50.0, 100.0, 200.0
270fs - 8ps
Single shot to 20MHz
JDL-1020
Array (Bar)
1020
120.0, 200.0
Multimode
Free Space
JDL-1060
Single Emitter, Array (Bar)
1060
10.0, 40.0, 60.0, 80.0, 120.0, 200.0, 250.0, 350.0
Multimode
Free Space
JDL-760
Array (Bar)
760
40.0
Multimode
Free Space
JDL-792
Array (Bar)
792
60.0, 80.0
Multimode
Free Space
JDL-808
Single Emitter, Array (Bar)
808
6.0, 8.0, 10.0, 20.0, 40.0, 50.0, 60.0, 80.0, 92.0, 200.0, 300.0
Multimode
Free Space
JDL-880
Array (Bar)
880
500.0
Multimode
Free Space
JDL-905
Array (Bar)
905
200.0
Multimode
Free Space
JDL-915
Array (Bar)
915
40.0, 60.0, 80.0, 200.0
Multimode
Free Space
JDL-940
Array (Bar)
940
60.0, 80.0, 120.0, 200.0, 300.0
Multimode
Free Space
JDL-976
Array (Bar)
976
60.0, 80.0, 120.0
Multimode
Free Space
JDL-BAB-20-47-976-TE-80-2.0-LAR
Array (Bar)
976
80.0
Multimode
Free Space
Jenlas Fiber ns 25-105
Pulsed DPSS Lasers, Pulsed Fiber Lasers
1085
20.0, 30.0, 55.0, 100.0
700.0, 1000.0, 1100.0
125ns
30kHz to 80kHz, 50kHz to 100kHz, 100kHz to 200kHz
JOLD-100-HS-2L-808
Array (Bar)
808
100.0
Multimode
Free Space
JOLD-180-CPFN-1L 1035
Array (Bar)
1035
180.0
Multimode
Free Space
JOLD-50-CPNN-1L 791
Array (Bar)
792
50.0
Multimode
Free Space
JOLD-60-CPNN-1L 891
Array (Bar)
891
60.0
Multimode
Free Space
JOLD-FC-808
Array (Bar)
808
3.5, 4.2, 30.0, 45.0, 70.0, 75.0, 100.0, 120.0, 140.0, 210.0, 250.0, 400.0
Multimode
MM Fiber
JOLD-FC-880
Array (Bar)
880
30.0, 45.0, 75.0, 100.0
Multimode
MM Fiber
JOLD-FC-915
Array (Bar)
915
30.0, 45.0, 75.0, 100.0, 120.0, 140.0, 210.0, 250.0, 400.0
Multimode
MM Fiber
JOLD-FC-940
Array (Bar)
940
30.0, 45.0, 70.0, 75.0, 100.0, 120.0, 140.0, 210.0, 250.0, 400.0
Multimode
MM Fiber
JOLD-FC-976
Array (Bar)
976
30.0, 45.0, 75.0, 100.0, 120.0, 140.0, 210.0, 250.0, 400.0
Multimode
MM Fiber
JOLD-Open-808-CW
Array (Bar)
808
40.0, 50.0, 60.0, 80.0
Multimode
Free Space
JOLD-Open-808-CW-FAC
Array (Bar)
808
35.0, 55.0, 90.0
Multimode
Free Space
JOLD-Open-808-CW-FAC/SAC
Array (Bar)
808
32.0, 50.0
Multimode
Free Space
JOLD-Open-808-QCW
Array (Bar)
808
100.0, 250.0, 300.0
Multimode
Free Space
JOLD-Open-808-QCW-FAC
Array (Bar)
808
90.0, 225.0, 270.0
Multimode
Free Space
JOLD-Open-880-CW
Array (Bar)
880
40.0, 60.0, 80.0
Multimode
Free Space
JOLD-Open-880-CW-FAC
Array (Bar)
880
35.0, 55.0, 90.0
Multimode
Free Space
JOLD-Open-880-CW-FAC/SAC
Array (Bar)
880
32.0, 50.0, 68.0
Multimode
Free Space
JOLD-Open-915-CW
Array (Bar)
915
40.0, 60.0, 80.0, 275.0
Multimode
Free Space
JOLD-Open-915-CW-FAC
Array (Bar)
915
32.0, 35.0, 55.0
Multimode
Free Space
JOLD-Open-915-CW-FAC/SAC
Array (Bar)
915
32.0, 50.0, 68.0
Multimode
Free Space
JOLD-Open-938-CW
Array (Bar)
938
40.0, 60.0, 80.0, 100.0, 120.0, 200.0, 275.0
Multimode
Free Space
JOLD-Open-938-CW-FAC
Array (Bar)
938
90.0, 180.0
Multimode
Free Space
JOLD-Open-938-CW-FAC/SAC
Array (Bar)
938
32.0, 35.0, 50.0, 68.0
Multimode
Free Space
JOLD-Open-938-QCW-FAC
Array (Bar)
938
90.0, 100.0
Multimode
Free Space
JOLD-Open-976-CW
Array (Bar)
976
40.0, 50.0, 60.0, 80.0, 100.0, 120.0, 160.0, 275.0
Multimode
Free Space
JOLD-Open-976-CW-FAC
Array (Bar)
976
35.0, 55.0, 90.0
Multimode
Free Space
JOLD-Open-976-CW-FAC/SAC
Array (Bar)
976
32.0, 35.0, 50.0, 68.0
Multimode
Free Space
JOLD-Stack-808-CW-FAC
Laser Diode Stack
808
288.0, 432.0, 576.0, 720.0, 864.0
Multimode
Free Space
JOLD-Stack-808-CW-FAC/SAC
Laser Diode Stack
808
200.0, 300.0, 400.0, 500.0, 600.0
Multimode
Free Space
JOLD-Stack-808-CW
Laser Diode Stack
808
310.0, 320.0, 480.0, 640.0, 800.0, 960.0
Multimode
Free Space
JOLD-Stack-808-QCW-FAC
Laser Diode Stack
808
780.0, 810.0, 1080.0, 1560.0, 2160.0
Multimode
Free Space
JOLD-Stack-808-QCW
Laser Diode Stack
808
900.0, 1000.0, 1600.0, 2400.0
Multimode
Free Space
JOLD-Stack-940-CW-FAC
Laser Diode Stack
940
440.0, 660.0, 880.0, 1100.0, 1320.0
Multimode
Free Space
JOLD-Stack-940-CW-FAC/SAC
Laser Diode Stack
940
200.0, 300.0, 400.0, 500.0, 600.0
Multimode
Free Space
JOLD-Stack-940-CW
Laser Diode Stack
940
310.0, 480.0, 720.0, 960.0, 1200.0, 1440.0
Multimode
Free Space
JOLD-Stack-940-QCW-FAC
Laser Diode Stack
940
810.0, 1080.0, 2160.0
Multimode
Free Space
JOLD-Stack-940-QCW
Laser Diode Stack
940
900.0, 1000.0, 2400.0
Multimode
Free Space
JOLD-Stack-980-CW-FAC
Laser Diode Stack
980
440.0, 660.0, 880.0
Multimode
Free Space
JOLD-Stack-980-CW-FAC/SAC
Laser Diode Stack
980
200.0, 300.0, 400.0, 500.0, 600.0
Multimode
Free Space
JOLD-Stack-980-CW
Laser Diode Stack
980
480.0, 720.0, 960.0, 1200.0, 1440.0
Multimode
Free Space
LBX-1064
LD Module
1064
0.200
Single-Mode
PM Fiber, SM Fiber, MM Fiber, Free Space
LBX-730
LD Module
730
0.040
Single-Mode
PM Fiber, SM Fiber, MM Fiber, Free Space
LBX-750-HPE
LD Module
750
1.2
Multimode
MM Fiber, Free Space
LBX-785-HPE
LD Module
785
0.800
Multimode
MM Fiber, Free Space
LBX-785
LD Module
785
0.100, 0.250, 0.350
Single-Mode
PM Fiber, SM Fiber, MM Fiber, Free Space
LBX-785S
LD Module
785
0.150, 0.500
Single-Mode
PM Fiber, SM Fiber, MM Fiber, Free Space
Narrow
LBX-808
LD Module
808
0.200
Single-Mode
PM Fiber, SM Fiber, MM Fiber, Free Space
LBX-830-HPE
LD Module
830
1.2
Multimode
MM Fiber, Free Space
LBX-830
LD Module
830
0.100
Single-Mode
PM Fiber, SM Fiber, MM Fiber, Free Space
LBX-830S
LD Module
830
0.100
Single-Mode
PM Fiber, SM Fiber, MM Fiber, Free Space
Narrow
LBX-915
LD Module
915
0.200
Single-Mode
PM Fiber, SM Fiber, MM Fiber, Free Space
LBX-940-HPE
LD Module
940
0.800
Multimode
MM Fiber, Free Space
LBX-980
LD Module
980
0.200
Single-Mode
PM Fiber, SM Fiber, MM Fiber, Free Space
LCX-1064S
CW DPSS Lasers
1064
0.100, 0.200, 0.300, 0.500
Single-Mode
PM Fiber, SM Fiber, MM Fiber, Free Space
Narrow
LDX-XXXX-1030
Single Emitter
1030
3.0, 5.0
Multimode
MM Fiber, Free Space
LDX-XXXX-1064
Single Emitter
1064
1.5, 3.0, 5.0
Multimode
MM Fiber, Free Space
LDX-XXXX-1120
Single Emitter
1120
2.0, 3.5, 5.0
Multimode
MM Fiber, Free Space
LDX-XXXX-1210
Single Emitter
1210
1.5, 2.0
Multimode
MM Fiber, Free Space
LDX-XXXX-1280
Single Emitter
1280
3.5, 5.0, 7.0
Multimode
MM Fiber, Free Space
LDX-XXXX-1370
Single Emitter
1370
3.5, 5.0
Multimode
MM Fiber, Free Space
LDX-XXXX-735
Single Emitter
735
1.0, 1.75, 2.0, 4.0
Multimode
MM Fiber, Free Space
LDX-XXXX-750
Single Emitter
750
1.0, 2.0, 3.0, 5.0
Multimode
MM Fiber, Free Space
LDX-XXXX-760
Single Emitter
760
1.0, 2.0, 3.0, 6.0
Multimode
MM Fiber, Free Space
LDX-XXXX-780
Single Emitter
780
1.2, 2.5, 3.5, 5.0
Multimode
MM Fiber, Free Space
LDX-XXXX-785
Single Emitter
785
3.5, 5.0
Multimode
MM Fiber, Free Space
LDX-XXXX-792
Single Emitter
792
1.2, 2.5, 3.5
Multimode
MM Fiber, Free Space
LDX-XXXX-797
Single Emitter
797
3.0, 4.0
Multimode
MM Fiber, Free Space
LDX-XXXX-808
Single Emitter
808
1.2, 2.0, 3.0, 4.0, 6.0, 10.0
Multimode
MM Fiber, Free Space
LDX-XXXX-825
Single Emitter
825
4.0
Multimode
MM Fiber, Free Space
LDX-XXXX-830
Single Emitter
830
1.6
Multimode
MM Fiber, Free Space
LDX-XXXX-860
Single Emitter
860
1.0, 1.5, 2.0, 3.0, 4.0, 5.0
Multimode
MM Fiber, Free Space
LDX-XXXX-885
Single Emitter
885
2.5, 6.0
Multimode
MM Fiber, Free Space
LDX-XXXX-900
Single Emitter
900
2.0
Multimode
MM Fiber, Free Space
LDX-XXXX-915
Single Emitter
915
4.0, 6.0, 10.0
Multimode
MM Fiber, Free Space
LDX-XXXX-940
Single Emitter
940
4.0, 5.0, 6.0, 16.0
Multimode
MM Fiber, Free Space
LDX-XXXX-960
Single Emitter
960
10.0
Multimode
MM Fiber, Free Space
LDX-XXXX-980
Single Emitter
980
1.5, 4.0, 5.0, 6.0, 10.0
Multimode
MM Fiber, Free Space
LSX-785S
LD Module
785
0.150
Single-Mode
PM Fiber, SM Fiber, MM Fiber, Free Space
Narrow
neoMOS
Pulsed DPSS Lasers
1064
5.0, 15.0, 50.0, 75.0, 100.0
250.0, 400.0, 500.0
600fs, 700fs, 900fs, 10ps, 40ps, 70ps, 100ps
Single shot to 80MHz
neoVAN
DPSS Amplifiers
1064
50.0
5000.0
400ps, CW
neoYb
DPSS Amplifiers
1030
100.0
50.0, 500.0
700fs, CW
NPS-1064
Pulsed DPSS Lasers, Ultrafast Lasers
1064
0.050, 5.0, 10.0
Narrow
0.125, 0.250
7ps
40MHz
NPS-355
Pulsed DPSS Lasers, Ultrafast Lasers
355
1.0
Narrow
0.025
7ps
40MHz
NPS-532
Pulsed DPSS Lasers, Ultrafast Lasers
532
1.0, 5.0
Narrow
0.025, 0.125
7ps
40MHz
Onda 1064nm
Pulsed DPSS Lasers
1064
15.0
750.0
2ns - 12ns
Single Shot to 100kHz
One-1030
Pulsed DPSS Lasers
1030
1.0, 3.0
100.0
5ns - 20ns
30kHz, Single shot to 10kHz
Q-TUNE-G
Pulsed DPSS Lasers, Tunable Lasers
Tunable
0.020, 0.080, 0.110, 0.200, 0.264
2000.0, 8000.0, 11000.0
4ns
10Hz, 33Hz, 100Hz
Q-TUNE-IR
Pulsed DPSS Lasers, Tunable Lasers
Tunable
0.020, 0.065
2000.0, 6500.0
3ns - 4ns
10Hz, 20Hz
Q-TUNE
Pulsed DPSS Lasers, Tunable Lasers
Tunable
0.210
8000.0
5ns
10Hz, 33Hz, 100Hz
Quantas-Q-SHIFT-1163
Pulsed DPSS Lasers
1163
0.500, 0.800, 1.0
4000.0, 8000.0, 16000.0, 24000.0, 32000.0, 40000.0
2ns - 5ns
10Hz, 20Hz, 33Hz, 50Hz, 100Hz
Quantas-Q-SHIFT-1177
Pulsed DPSS Lasers
1177
0.500, 0.800, 1.0
4000.0, 8000.0, 16000.0, 24000.0, 32000.0, 40000.0
2ns - 5ns
10Hz, 20Hz, 33Hz, 50Hz, 100Hz
Quantas-Q-SHIFT-1300
Pulsed DPSS Lasers
1300
0.300, 0.480, 0.600
2000.0, 4000.0, 8000.0, 12000.0, 16000.0, 20000.0
2ns - 5ns
10Hz, 20Hz, 33Hz, 50Hz, 100Hz
Quantas-Q-SHIFT-1317
Pulsed DPSS Lasers
1317
0.300, 0.480, 0.600
2000.0, 4000.0, 8000.0, 12000.0, 16000.0, 20000.0
2ns - 5ns
10Hz, 20Hz, 33Hz, 50Hz, 100Hz
Quantas-Q-SHIFT-775.5
Pulsed DPSS Lasers
775.5
0.200, 0.320, 0.400
750.0, 1500.0, 3000.0, 5000.0, 6000.0, 7500.0
2ns - 5ns
10Hz, 20Hz, 33Hz, 50Hz, 100Hz
Quantas-Q-SHIFT-785.5
Pulsed DPSS Lasers
785.5
0.200, 0.320, 0.400
750.0, 1500.0, 3000.0, 5000.0, 6000.0, 7500.0
2ns - 5ns
10Hz, 20Hz, 33Hz, 50Hz, 100Hz
Quantas-Q-SHIFT-WXXXX
Pulsed DPSS Lasers
Multiple Wavelength Options
Varies
Varies
2ns - 5ns
100Hz
Quantas-Q-SPARK-1064
Pulsed DPSS Lasers
1064
0.010
10000.0
800ps, 2ns
100Hz
Quantas-Q1-1053
Pulsed DPSS Lasers
1053
0.100, 0.200, 0.350
10000.0, 20000.0, 35000.0
7ns, 8ns
10Hz
Quantas-Q1-1064
Pulsed DPSS Lasers
1064
0.100, 0.150, 0.350, 0.600
10000.0, 15000.0, 35000.0, 60000.0
7ns, 8ns
10Hz
Quantas-Q2-1053
Pulsed DPSS Lasers
1053
0.100, 0.150, 0.350, 0.600, 0.800
10000.0, 15000.0, 35000.0, 60000.0, 80000.0
5ns, 7ns, 8ns
10Hz
Quantas-Q2-1064
Pulsed DPSS Lasers
1064
0.100, 0.150, 0.350, 0.600
10000.0, 15000.0, 35000.0, 60000.0
7ns, 8ns
10Hz
Quantas-Q2HE-1053
Pulsed DPSS Lasers
1053
1.2, 2.0
40000.0, 100000.0, 120000.0
6ns
10Hz, 20Hz, 50Hz
Quantas-Q2HE-1064
Pulsed DPSS Lasers
1064
1.0, 1.6, 2.0, 3.5, 4.0
40000.0, 70000.0, 80000.0, 100000.0
6ns
10Hz, 20Hz, 50Hz, 100Hz
Quantas-Q2HE-XXX-XXXX
Pulsed DPSS Lasers
Multiple Wavelength Options
Varies
Varies
Varies
100Hz
R0780
LD Module, Single Emitter, VBG
780
0.025, 0.050, 0.090, 0.100
Single-Mode, Multimode
PM Fiber, Free Space
Narrow
R0783
LD Module, Single Emitter, VBG
783
0.025, 0.050, 0.090, 0.100
Single-Mode, Multimode
PM Fiber, Free Space
Narrow
R0785
LD Module, Single Emitter, VBG
785
0.025, 0.050, 0.075, 0.090, 0.100, .135, 0.150, 0.175, 0.350, 0.500, 0.600, 0.800, 1.5
Single-Mode, Multimode
PM Fiber, MM Fiber, Free Space
Narrow
R0808
LD Module, Single Emitter, VBG
808
0.025, 0.090, 0.100, .135, 0.150, 0.175, 0.350, 0.500, 0.600, 0.800, 1.5
Single-Mode, Multimode
PM Fiber, MM Fiber, Free Space
Narrow
R0830
LD Module, Single Emitter, VBG
830
0.090, 0.100, .135, 0.150, 0.175, 0.350, 0.500, 0.600, 0.800, 1.5
Single-Mode, Multimode
PM Fiber, MM Fiber, Free Space
Narrow
R0852
LD Module, Single Emitter, VBG
852
0.020, 0.100, 0.150, 0.175
Single-Mode, Multimode
PM Fiber, Free Space
Narrow
R0860
LD Module, Single Emitter, VBG
860
0.350, 0.500, 0.600, 1.0
Multimode
PM Fiber, Free Space
Narrow
R0976
LD Module, Single Emitter, VBG
976
0.150, 0.220, 0.450, 0.500, 0.600, 0.700, 0.800, 1.5, 4.0, 5.0
Single-Mode, Multimode
PM Fiber, MM Fiber, Free Space
Narrow
R1030
LD Module, Single Emitter, VBG
1030
0.050, 0.100, 0.280, 0.450
Single-Mode, Multimode
PM Fiber, Free Space
Narrow
R1053
LD Module, Single Emitter, VBG
1053
0.050, 0.120, 0.150, 0.300, 0.500
Single-Mode, Multimode
PM Fiber, Free Space
Narrow
R1064
LD Module, Single Emitter, VBG
1064
0.120, 0.150, 0.300, 0.350, 0.500, 0.600, 0.800, 1.5
Single-Mode, Multimode
PM Fiber, MM Fiber, Free Space
Narrow
R1064.X
Single Emitter, VBG
1064
0.050, 0.120, 0.300, 0.500
Single-Mode
PM Fiber, Free Space
Narrow
REP1260-1310
LD Module, Single Emitter, DFB
1260-1310
0.009, 0.012, 0.020, 0.022
Single-Mode
PM Fiber, SM Fiber, Free Space
Narrow
REP1380-1400
LD Module, Single Emitter, DFB
1380-1400
0.008, 0.012
Single-Mode
PM Fiber, SM Fiber, Free Space
Narrow
RHAML-XXXX-YY-Z-E
LD Module, Line Modules
Multiple Wavelength Options
0.100
Single-Mode
Free Space, Line
RHAML-XXXX-YY-Z
LD Module, Line Modules
Multiple Wavelength Options
0.100
Single-Mode
Free Space, Line
RML126FC
LD Module
Multiple Wavelength Options
0.100
Single-Mode
SM Fiber
RML150FC
LD Module
Multiple Wavelength Options
0.080
Single-Mode
SM Fiber
RML2040-XXXX-YY-ZZ
LD Module, Line Modules
Multiple Wavelength Options
2.0
Single-Mode
Free Space, Line
RML2240
LD Module
Multiple Wavelength Options
1.5
Single-Mode, Multimode
SM Fiber, MM Fiber
RML2540-XXXX-YY-ZZ
LD Module, Line Modules
Multiple Wavelength Options
1.0, 2.0
Single-Mode, Multimode
Free Space, Line
RPK785
Single Emitter, VBG
785
0.600
Multimode
MM Fiber
Narrow
RPK793
Single Emitter, Multi-Emitter
793
4.0, 8.0, 12.0, 16.0, 30.0, 50.0, 90.0, 140.0, 180.0
Multimode
MM Fiber
RPK808
Single Emitter, Multi-Emitter
808
4.0, 8.0, 25.0, 30.0, 60.0, 150.0
Multimode
MM Fiber
RPK830
Single Emitter
830
1.0
Multimode
MM Fiber
RPK878
Multi-Emitter, VBG
878
30.0, 65.0, 120.0
Multimode
MM Fiber
Narrow
RPK888
Multi-Emitter, VBG
888
65.0, 120.0
Multimode
MM Fiber
Narrow
RPK915
Single Emitter, Multi-Emitter
915
12.0, 30.0, 70.0, 160.0, 300.0
Multimode
MM Fiber
RPK940
Single Emitter, Multi-Emitter
940
10.0, 11.0, 20.0, 30.0, 70.0, 120.0, 150.0, 200.0
Multimode
MM Fiber
RPK976
Single Emitter, Multi-Emitter, VBG
976
10.0, 20.0, 30.0, 70.0, 150.0, 200.0, 330.0, 510.0
Multimode
MM Fiber
Narrow
RPKA64
Multi-Emitter
1064
10.0, 20.0
Multimode
MM Fiber
RPKBDL-CW-9XX
Turn-Key System
915, 976
1000.0, 2000.0, 3000.0
Multimode
MM Fiber
RPKDS3
Turn-Key System
Multiple Wavelength Options
Multiple Options Available
Single-Mode, Multimode
SM Fiber, MM Fiber
RPKMWM
Multi Wavelength
Multiple Wavelength Options
0.600, 5.0, 15.0, 25.0
Multimode
MM Fiber
RPM9-852-0100-S50
Single Emitter
852
0.070, 0.150
Single-Mode
Free Space
RWLB-980-012-H
Multi-Emitter
980
12.0
Multimode
MM Fiber
RWLD-1064M
Single Emitter
1064
8.0, 10.0
Multimode
Free Space
RWLD-1310S
Single Emitter
1310
0.020, 0.030
Single-Mode
Free Space
RWLD-760M
Single Emitter
760
5.0
Multimode
Free Space
RWLD-780M
Single Emitter
780
4.0, 8.0
Multimode
Free Space
RWLD-785S
Single Emitter
785
0.100, 0.120
Single-Mode
Free Space
RWLD-808M
Single Emitter
808
0.300, 0.500, 1.0, 2.0, 3.0, 5.0, 8.0, 10.0
Multimode
Free Space
RWLD-830S
Single Emitter
830
0.100, 0.150, 0.200, 0.250
Single-Mode
Free Space
RWLD-850M
Single Emitter
850
0.500, 0.800, 1.0, 3.0
Multimode
Free Space
RWLD-880M
Single Emitter
880
3.0
Multimode
Free Space
RWLD-915M
Single Emitter
915
10.0, 12.0
Multimode
Free Space
RWLD-940M
Single Emitter
940
10.0, 12.0
Multimode
Free Space
RWLD-980M
Single Emitter
980
1.0, 3.0, 4.0, 10.0, 12.0, 15.0
Multimode
Free Space
RWLD-980S
Single Emitter
980
0.050
Single-Mode
Free Space
RWLP-1064M
Single Emitter
1064
1.0, 8.0, 25.0
Multimode
MM Fiber
RWLP-1064S
Single Emitter
1064
0.005, 0.010, 0.015, 0.020, 0.030, 0.040, 0.050
Single-Mode
PM Fiber, SM Fiber
RWLP-1270S
Single Emitter, DFB
1270
0.002, 0.005, 0.010
Single-Mode
PM Fiber, SM Fiber
Narrow
RWLP-1290S
Single Emitter, DFB
1290
0.002, 0.005, 0.010
Single-Mode
PM Fiber, SM Fiber
Narrow
RWLP-1310M
Single Emitter
1310
1.0
Multimode
MM Fiber
RWLP-1310S
Single Emitter, DFB
1310
0.002, 0.003, 0.005, 0.010, 0.015
Single-Mode
PM Fiber, SM Fiber
Narrow
RWLP-1330M
Single Emitter
1330
1.0
Multimode
MM Fiber
RWLP-1330S
Single Emitter, DFB
1330
0.002, 0.005, 0.010
Single-Mode
PM Fiber, SM Fiber
Narrow
RWLP-1350S
Single Emitter, DFB
1350
0.002, 0.005, 0.010
Single-Mode
PM Fiber, SM Fiber
Narrow
RWLP-1370S
Single Emitter, DFB
1370
0.002, 0.005, 0.010
Single-Mode
PM Fiber, SM Fiber
Narrow
RWLP-1410S
Single Emitter, DFB
1410
0.002, 0.005, 0.010
Single-Mode
PM Fiber, SM Fiber
Narrow
RWLP-1430S
Single Emitter, DFB
1430
0.002, 0.005, 0.010
Single-Mode
PM Fiber, SM Fiber
Narrow
RWLP-1470S
Single Emitter, DFB
1470
0.002, 0.005, 0.010
Single-Mode
PM Fiber, SM Fiber
Narrow
RWLP-1550S
Single Emitter, DFB
1550
0.002, 0.003, 0.005, 0.010
Single-Mode
PM Fiber, SM Fiber
Narrow
RWLP-1570S
Single Emitter, DFB
1570
0.002, 0.005, 0.010
Single-Mode
PM Fiber, SM Fiber
Narrow
RWLP-1590S
Single Emitter, DFB
1590
0.002, 0.005, 0.008
Single-Mode
PM Fiber, SM Fiber
Narrow
RWLP-1610S
Single Emitter, DFB
1610
0.002, 0.005, 0.008
Single-Mode
PM Fiber, SM Fiber
Narrow
RWLP-1650S
Single Emitter, DFB
1650
0.002, 0.005, 0.009
Single-Mode
PM Fiber, SM Fiber
Narrow
RWLP-760M
Single Emitter
760
1.5, 3.0
Multimode
MM Fiber
RWLP-770M
Single Emitter
770
3.0
Multimode
MM Fiber
RWLP-785M
Single Emitter
785
0.050, 1.5, 2.0, 3.0, 7.0
Multimode
MM Fiber
RWLP-808M
Single Emitter
808
0.100, 0.150, 0.200, 0.300, 2.0, 4.0, 5.0, 8.0, 10.0, 25.0
Multimode
MM Fiber
RWLP-808S
Single Emitter
808
0.015, 0.020, 0.030, 0.040, 0.050
Single-Mode
PM Fiber, SM Fiber
RWLP-820S
Single Emitter
820
0.030, 0.050
Single-Mode
PM Fiber, SM Fiber
RWLP-830M
Single Emitter
830
0.150, 0.200, 1.0, 2.0, 3.0
Multimode
MM Fiber
RWLP-830S
Single Emitter
830
0.005, 0.030, 0.050, 0.080, 0.100
Single-Mode
PM Fiber, SM Fiber
RWLP-850M
Single Emitter
850
0.050, 0.150, 0.200
Multimode
MM Fiber
RWLP-850S
Single Emitter
850
0.002, 0.010, 0.020, 0.030, 0.050, 0.070
Single-Mode
PM Fiber, SM Fiber
RWLP-880M
Single Emitter
880
0.005, 2.0, 3.0
Multimode
MM Fiber
RWLP-880S
Single Emitter
880
0.001, 0.002
Single-Mode
PM Fiber, SM Fiber
RWLP-905M
Single Emitter
905
0.050, 0.120, 0.150
Multimode
MM Fiber
RWLP-905S
Single Emitter
905
0.002, 0.030, 0.050, 0.070, 0.080
Single-Mode
PM Fiber, SM Fiber
RWLP-915M
Single Emitter
915
2.0, 10.0, 20.0, 30.0, 55.0
Multimode
MM Fiber
RWLP-940M
Single Emitter
940
0.200, 2.0, 10.0, 20.0, 30.0
Multimode
MM Fiber