NIR Lasers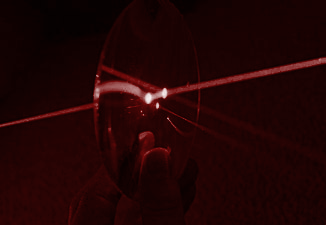 Near Infrared (NIR) laser sources are perhaps the single most diverse category of solid-state lasers; with IR laser diodes, diode-pumped solid-state (DPSS) lasers, flashlamp pumped solid-state lasers and fiber lasers all emitting in the IR laser spectrum. IR laser diodes are capable of extremely high-power outputs, up to several kilowatts in the case of diode laser stacks, making them ideal for machining applications such as cladding and welding.  Near Infrared pulsed lasers are also available with an extensive range of pulse widths and peak powers.  IR fiber lasers can not only produce high output powers, but they are also able to provide extremely narrow linewidth (and therefore long coherence lengths) making them ideal for a wide variety of LiDAR applications.
Near IR laser wavelengths, typically between ≈ 750 to 1400 nm, pose a particular eye safety hazard, as wavelengths within this region are easily transmitted through the eye to be focused on the retina. These wavelengths do not trigger the blinking reflex, making them that much more dangerous if proper eye-safety procedures are not adequately followed. However, infrared lasers emitting around 1.5 µm are considered "eye-safe" as the bulk of the energy is absorbed by the eye's cornea and lens, protecting the retina.
NIR Laser Products
We offer many different laser types with NIR output, including Single Emitter and Multi-Emitter Laser Diodes, Laser Diode Arrays (Bars) and Stacks, Distributed Feedback (DFB) and Volume Bragg Grating (VBG) Laser Diodes, VCSELs, Multiple Wavelength Lasers, Laser Diode Modules, Line Modules, Pulsed & CW DPSS Lasers, Pulsed & CW Fiber Lasers, Ultrafast Lasers, Microchip Lasers, MIL-Spec Lasers, Fiber Amplifiers, DPSS Amplifiers, Tunable DPSS Lasers, and Raman Probes. Our NIR products are available with up to 3 kW average power, options for single-mode or multimode, free-space, fiber-coupled or line generation output, and various packaging options and integration levels from component to OEM to turnkey systems.
Some NIR Applications                                                                                                                                                                                                                                    
Some popular NIR applications include LIDAR, Night Vision, Laser Designation, Range Finding, Micromachining, Interferometry, Holography, Gas Sensing, Machine Vision, Multi-Photon Microscopy, Fluorescence Lifetime, Flow Cytometry, Optogenetics, PDT, Dental, and many others.
Let Us Help!
In conclusion, if you have any questions or would like some assistance, don't hesitate to get in touch with us here. Furthermore, you can call us at 636.272.7227 to talk to a knowledgeable Product Manager. Alternatively, you can also use the filters on this page to assist in narrowing down the selection IR lasers for sale. Finally, head to our Knowledge Center, with our Lasers 101 page and Blogs and Whitepapers pages, for further, in-depth reading.
Some Suggested Reading
"Laser Diodes for Gas Sensing: Mode-Hop-Free Tunability with High SMSR"
"What are the Critical Laser Source Requirements for Laser Designation?"
"Flow Cytometry: Application Basics, Source Requirements & Solutions"
| | | | | | | | | | | |
| --- | --- | --- | --- | --- | --- | --- | --- | --- | --- | --- |
| | 1030L-1XB | CW DPSS Lasers | 1030 | 0.300, 0.400, 0.500 | Single-Mode Lasers, Multimode | Free Space, MM Fiber, SM Fiber, PM Fiber, SMA Port | | | | |
| | 1030L-2XB | CW DPSS Lasers | 1030 | 0.200, 0.280, 0.400 | Single-Mode Lasers, Multimode | Free Space, MM Fiber, SM Fiber, PM Fiber | Narrow | | | |
| | 1064L-1XB | CW DPSS Lasers | 1064 | 0.300, 0.400, 0.500 | Single-Mode Lasers, Multimode | Free Space, MM Fiber, SM Fiber, PM Fiber, SMA Port | | | | |
| | 1064L-2XB | CW DPSS Lasers | 1064 | 0.200, 0.280, 0.400 | Single-Mode Lasers, Multimode | Free Space, MM Fiber, SM Fiber, PM Fiber | Narrow | | | |
| | 1123L-1XB | CW DPSS Lasers | 1123 | 0.100, 0.160, 0.200 | Single-Mode Lasers, Multimode | Free Space, MM Fiber, SM Fiber, PM Fiber | | | | |
| | 1319L-1XB | CW DPSS Lasers | 1319 | 0.100, 0.160, 0.200 | Single-Mode Lasers, Multimode | Free Space, MM Fiber, SM Fiber, PM Fiber | | | | |
| | 1um CW/CW Modulated Fiber Lasers | CW Fiber Lasers | 1060-1080 | 60.0, 100.0 | Single-Mode Lasers | SM Fiber, PM Fiber | | | | |
| | 1um Fiber Amplifiers | Fiber Amplifiers | 1030-1100 | 5.0, 10.0, 40.0 | | | | | CW | |
| | 1um Pulsed Fiber Lasers | Pulsed Fiber Lasers | 1030-1100 | 5.0 | | | | 150.0 | 400ps, 50ns | 10kHz, 100kHz, 1MHz |
| | 783L-2XA | LD Module | 783 | 0.070, 0.080, 0.100 | Single-Mode Lasers | Free Space, MM Fiber, SM Fiber, PM Fiber | Narrow | | | |
| | 785L-1XA | LD Module | 785 | 0.120, 0.150, 0.170 | Single-Mode Lasers | Free Space, MM Fiber, SM Fiber, PM Fiber | | | | |
| | 785L-2XA | LD Module | 785 | 0.080, 0.100, 0.130 | Single-Mode Lasers | Free Space, MM Fiber, SM Fiber, PM Fiber | Narrow | | | |
| | 785L-3XA | LD Module | 785 | 1.5 | Multimode | Free Space, MM Fiber | | | | |
| | 785L-4XA | LD Module | 785 | 0.120, 0.150, 0.500, 0.700 | Multimode | Free Space, MM Fiber | Narrow | | | |
| | 808L-1XA | LD Module | 808 | 0.110 | Single-Mode Lasers | Free Space, MM Fiber, SM Fiber, PM Fiber | | | | |
| | 808L-3XA | LD Module | 808 | 1.6, 3.0 | Multimode | Free Space, MM Fiber | | | | |
| | 830L-1XA | LD Module | 830 | 0.070, 0.090, 0.130 | Single-Mode Lasers | Free Space, MM Fiber, SM Fiber, PM Fiber | | | | |
| | 830L-2XA | LD Module | 830 | 0.050, 0.070, 0.080 | Single-Mode Lasers | Free Space, MM Fiber, SM Fiber, PM Fiber | Narrow | | | |
| | 830L-3XA | LD Module | 808 | 1.0 | Multimode | MM Fiber | | | | |
| | 830L-4XA | LD Module | 830 | 0.350 | Multimode | MM Fiber, SMA Port | Narrow | | | |
| | 850L-1XA | LD Module | 850 | 0.070, 0.110, 0.130 | Single-Mode Lasers | Free Space, MM Fiber, SM Fiber, PM Fiber | | | | |
| | 915L-1XA | LD Module | 915 | 0.080, 0.140, 0.170 | Single-Mode Lasers | Free Space, MM Fiber, SM Fiber, PM Fiber | | | | |
| | 975L-1XA | LD Module | 975 | 0.100, 0.140, 0.170 | Single-Mode Lasers | Free Space, MM Fiber, SM Fiber, PM Fiber | | | | |
| | Aero-1064 | Pulsed DPSS Lasers | 1064 | 5.0, 10.0 | | | | 50000.0, 100000.0, 200000.0 | 20ns | Single Shot to 50Hz, Single Shot to 100Hz |
| | AIRTRAC-6M | Pulsed DPSS Lasers, Mil-Spec Lasers | 355, 532, 1064 | 1.2 | | | | 40000.0 | 6ns | 0-30Hz |
| | AIRTRAC-LD | Pulsed DPSS Lasers, Mil-Spec Lasers | 1064 | 1.0 | | | | 50000.0 | 10ns - 25ns | 7-21Hz |
| | ALCOR 1064 | Pulsed DPSS Lasers, Pulsed Fiber Lasers, Ultrafast Lasers | 1064 | 2.0, 5.0 | | | | 0.025, 0.062 | 100fs, 110fs | 80MHz (Optional: 40MHz) |
| | ALCOR 780 | Pulsed DPSS Lasers, Pulsed Fiber Lasers, Ultrafast Lasers | 780 | 0.800 | | | | 0.010 | 150fs | 80MHz (Optional: 40MHz) |
| | ALCOR 920 | Pulsed DPSS Lasers, Pulsed Fiber Lasers, Ultrafast Lasers | 920 | 1.0, 2.0, 4.0 | | | | 0.0125, 0.025, 0.050 | 100fs, 110fs, 130fs | 80MHz (Optional: 40MHz) |
| | ALCOR Dual | Pulsed DPSS Lasers, Pulsed Fiber Lasers, Ultrafast Lasers | 920/1064 | 1.0, 2.0 | | | | 0.0125, 0.025 | 100fs, 110fs, 130fs | 80MHz (Optional: 40MHz) |
| | Altair | Pulsed DPSS Lasers, Pulsed Fiber Lasers, Ultrafast Lasers | 1040 | 10.0, 20.0 | | | | 0.125, 0.250, 1.0 | 150fs, 250fs | 30MHz, 80MHz, Single shot to 40MHz |
| | Antares | Pulsed DPSS Lasers, Pulsed Fiber Lasers, Ultrafast Lasers | 1030, 1064 | 10.0, 20.0, 30.0 | | | | 0.125, 0.250, 0.375, 0.500 | 10ps | 80MHz |
| | BDL130-808-F4-F | Multi-Emitter | 808 | 130.0 | Multimode | MM Fiber | | | | |
| | CEUV Series | Pulsed DPSS Lasers | 266, 355, 532, 1064 | 5.0, 10.0, 20.0 | | | | 500.0, 1000.0, 2000.0 | 3ns | 10kHz to 1MHz |
| | CWV-TO-P100-W850 | VCSELs | 850 | 0.100 | Multimode | Free Space | | | | |
| | Diadem 1300 | Pulsed DPSS Lasers, Ultrafast Lasers | 1300 | 2.0 | | | | 1.0 | 150fs | Single shot to 2MHz |
| | Diadem IR | Pulsed DPSS Lasers, Ultrafast Lasers | 1030, 1064 | 10.0, 20.0, 30.0 | | | | 10.0, 20.0, 30.0, 40.0 | 400fs, 10ps | Single shot to 2MHz |
| | HL705 | Single Emitter | 705 | 0.050 | Single-Mode Lasers | Free Space | | | | |
| | HL730 | Single Emitter | 730 | 0.050 | Single-Mode Lasers | Free Space | | | | |
| | HL830 | Single Emitter | 830 | 0.050 | Single-Mode Lasers | Free Space | | | | |
| | HL852 | Single Emitter | 852 | 0.050 | Single-Mode Lasers | Free Space | | | | |
| | JDL-1020 | Array (Bar) | 1020 | 120.0, 200.0 | Multimode | Free Space | | | | |
| | JDL-1060 | Single Emitter, Array (Bar) | 1060 | 10.0, 40.0, 60.0, 80.0, 120.0, 200.0, 250.0, 350.0 | Multimode | Free Space | | | | |
| | JDL-760 | Array (Bar) | 760 | 40.0 | Multimode | Free Space | | | | |
| | JDL-792 | Array (Bar) | 792 | 60.0, 80.0 | Multimode | Free Space | | | | |
| | JDL-808 | Single Emitter, Array (Bar) | 808 | 6.0, 8.0, 10.0, 20.0, 40.0, 50.0, 60.0, 80.0, 92.0, 200.0, 300.0 | Multimode | Free Space | | | | |
| | JDL-880 | Array (Bar) | 880 | 500.0 | Multimode | Free Space | | | | |
| | JDL-905 | Array (Bar) | 905 | 200.0 | Multimode | Free Space | | | | |
| | JDL-915 | Array (Bar) | 915 | 40.0, 60.0, 80.0, 200.0 | Multimode | Free Space | | | | |
| | JDL-940 | Array (Bar) | 940 | 60.0, 80.0, 120.0, 200.0, 300.0 | Multimode | Free Space | | | | |
| | JDL-976 | Array (Bar) | 976 | 60.0, 80.0, 120.0 | Multimode | Free Space | | | | |
| | JDL-BAB-20-47-976-TE-80-2.0-LAR | Array (Bar) | 976 | 80.0 | Multimode | Free Space | | | | |
| | Jenlas Fiber ns 25-105 | Pulsed DPSS Lasers, Pulsed Fiber Lasers | 1085 | 20.0, 30.0, 55.0, 100.0 | | | | 700.0, 1000.0, 1100.0 | 125ns | 30kHz to 80kHz, 50kHz to 100kHz, 100kHz to 200kHz |
| | JOLD-100-HS-2L-808 | Array (Bar) | 808 | 100.0 | Multimode | Free Space | | | | |
| | JOLD-180-CPFN-1L 1035 | Array (Bar) | 1035 | 180.0 | Multimode | Free Space | | | | |
| | JOLD-35-CPNF-1L 975 | Array (Bar) | 975 | 35.0 | Multimode | Free Space | | | | |
| | JOLD-50-CPNN-1L 791 | Array (Bar) | 792 | 50.0 | Multimode | Free Space | | | | |
| | JOLD-60-CPNN-1L 891 | Array (Bar) | 891 | 60.0 | Multimode | Free Space | | | | |
| | JOLD-70-CPFN-1L 808 | Array (Bar) | 808 | 70.0 | Multimode | Free Space | | | | |
| | JOLD-FC-808 | Array (Bar) | 808 | 30.0, 45.0, 70.0, 75.0, 100.0, 120.0, 140.0, 210.0, 250.0, 400.0 | Multimode | MM Fiber | | | | |
| | JOLD-FC-880 | Array (Bar) | 880 | 30.0, 45.0, 75.0, 100.0 | Multimode | MM Fiber | | | | |
| | JOLD-FC-915 | Array (Bar) | 915 | 30.0, 45.0, 75.0, 100.0, 120.0, 140.0, 210.0, 250.0, 400.0 | Multimode | MM Fiber | | | | |
| | JOLD-FC-940 | Array (Bar) | 940 | 30.0, 45.0, 70.0, 75.0, 100.0, 120.0, 140.0, 210.0, 250.0, 400.0 | Multimode | MM Fiber | | | | |
| | JOLD-FC-976 | Array (Bar) | 976 | 30.0, 45.0, 75.0, 100.0, 120.0, 140.0, 210.0, 250.0, 400.0 | Multimode | MM Fiber | | | | |
| | JOLD-Open-808-CW | Array (Bar) | 808 | 40.0, 50.0, 60.0, 80.0 | Multimode | Free Space | | | | |
| | JOLD-Open-808-CW-FAC | Array (Bar) | 808 | 35.0, 55.0, 90.0 | Multimode | Free Space | | | | |
| | JOLD-Open-808-CW-FAC/SAC | Array (Bar) | 808 | 32.0, 50.0 | Multimode | Free Space | | | | |
| | JOLD-Open-808-QCW | Array (Bar) | 808 | 100.0, 300.0 | Multimode | Free Space | | | | |
| | JOLD-Open-808-QCW-FAC | Array (Bar) | 808 | 90.0, 225.0, 270.0 | Multimode | Free Space | | | | |
| | JOLD-Open-880-CW | Array (Bar) | 880 | 40.0, 60.0, 80.0 | Multimode | Free Space | | | | |
| | JOLD-Open-880-CW-FAC | Array (Bar) | 880 | 35.0, 50.0, 68.0 | Multimode | Free Space | | | | |
| | JOLD-Open-880-CW-FAC/SAC | Array (Bar) | 880 | 32.0, 50.0, 68.0 | Multimode | Free Space | | | | |
| | JOLD-Open-915-CW | Array (Bar) | 915 | 40.0, 60.0, 80.0, 275.0 | Multimode | Free Space | | | | |
| | JOLD-Open-915-CW-FAC | Array (Bar) | 915 | 32.0, 35.0, 55.0 | Multimode | Free Space | | | | |
| | JOLD-Open-915-CW-FAC/SAC | Array (Bar) | 915 | 32.0, 50.0, 68.0 | Multimode | Free Space | | | | |
| | JOLD-Open-938-CW | Array (Bar) | 938 | 40.0, 60.0, 80.0, 100.0, 120.0, 200.0, 275.0 | Multimode | Free Space | | | | |
| | JOLD-Open-938-CW-FAC | Array (Bar) | 938 | 35.0, 55.0, 90.0, 180.0 | Multimode | Free Space | | | | |
| | JOLD-Open-938-CW-FAC/SAC | Array (Bar) | 938 | 32.0, 35.0, 50.0, 68.0 | Multimode | Free Space | | | | |
| | JOLD-Open-938-QCW-FAC | Array (Bar) | 938 | 90.0, 100.0 | Multimode | Free Space | | | | |
| | JOLD-Open-976-CW | Array (Bar) | 976 | 40.0, 60.0, 80.0, 100.0, 120.0, 160.0, 275.0 | Multimode | Free Space | | | | |
| | JOLD-Open-976-CW-FAC | Array (Bar) | 976 | 55.0, 90.0 | Multimode | Free Space | | | | |
| | JOLD-Open-976-CW-FAC/SAC | Array (Bar) | 976 | 32.0, 35.0, 50.0, 68.0 | Multimode | Free Space | | | | |
| | JOLD-Stack-808-CW-FAC | Laser Diode Stack | 808 | 288.0, 432.0, 576.0, 720.0, 864.0 | Multimode | Free Space | | | | |
| | JOLD-Stack-808-CW-FAC/SAC | Laser Diode Stack | 808 | 200.0, 300.0, 400.0, 500.0, 600.0 | Multimode | Free Space | | | | |
| | JOLD-Stack-808-CW | Laser Diode Stack | 808 | 310.0, 320.0, 480.0, 640.0, 800.0, 960.0 | Multimode | Free Space | | | | |
| | JOLD-Stack-808-QCW-FAC | Laser Diode Stack | 808 | 360.0, 540.0, 720.0, 780.0, 810.0, 900.0, 1080.0, 1560.0, 2160.0 | Multimode | Free Space | | | | |
| | JOLD-Stack-808-QCW | Laser Diode Stack | 808 | 400.0, 600.0, 800.0, 900.0, 1000.0, 1200.0, 1600.0, 2400.0 | Multimode | Free Space | | | | |
| | JOLD-Stack-940-CW-FAC | Laser Diode Stack | 940 | 440.0, 660.0, 880.0, 1100.0, 1320.0 | Multimode | Free Space | | | | |
| | JOLD-Stack-940-CW-FAC/SAC | Laser Diode Stack | 940 | 200.0, 300.0, 400.0, 500.0, 600.0 | Multimode | Free Space | | | | |
| | JOLD-Stack-940-CW | Laser Diode Stack | 940 | 310.0, 480.0, 720.0, 960.0, 1200.0, 1440.0 | Multimode | Free Space | | | | |
| | JOLD-Stack-940-QCW-FAC | Laser Diode Stack | 940 | 360.0, 540.0, 720.0, 810.0, 900.0, 1080.0, 2160.0 | Multimode | Free Space | | | | |
| | JOLD-Stack-940-QCW | Laser Diode Stack | 940 | 400.0, 600.0, 800.0, 900.0, 1000.0, 1200.0, 2400.0 | Multimode | Free Space | | | | |
| | JOLD-Stack-980-CW-FAC | Laser Diode Stack | 980 | 440.0, 660.0, 880.0, 1100.0, 1320.0 | Multimode | Free Space | | | | |
| | JOLD-Stack-980-CW-FAC/SAC | Laser Diode Stack | 980 | 200.0, 300.0, 400.0, 500.0, 600.0 | Multimode | Free Space | | | | |
| | JOLD-Stack-980-CW | Laser Diode Stack | 980 | 480.0, 720.0, 960.0, 1200.0, 1440.0 | Multimode | Free Space | | | | |
| | LBX-1064 | LD Module | 1064 | 0.200 | Single-Mode Lasers | Free Space, MM Fiber, SM Fiber, PM Fiber | | | | |
| | LBX-730 | LD Module | 730 | 0.040 | Single-Mode Lasers | Free Space, MM Fiber, SM Fiber, PM Fiber | | | | |
| | LBX-750-HPE | LD Module | 750 | 1.2 | Multimode | Free Space, MM Fiber | | | | |
| | LBX-785-HPE | LD Module | 785 | 0.800 | Multimode | Free Space, MM Fiber | | | | |
| | LBX-785 | LD Module | 785 | 0.100, 0.250, 0.350 | Single-Mode Lasers | Free Space, MM Fiber, SM Fiber, PM Fiber | | | | |
| | LBX-785S | LD Module | 785 | 0.150, 0.500 | Single-Mode Lasers | Free Space, MM Fiber, SM Fiber, PM Fiber | Narrow | | | |
| | LBX-830-HPE | LD Module | 830 | 1.2 | Multimode | Free Space, MM Fiber | | | | |
| | LBX-830S | LD Module | 830 | 0.100 | Single-Mode Lasers | Free Space, MM Fiber, SM Fiber, PM Fiber | Narrow | | | |
| | LBX-940-HPE | LD Module | 940 | 0.800 | Multimode | Free Space, MM Fiber | | | | |
| | LBX-980 | LD Module | 980 | 0.200 | Single-Mode Lasers | Free Space, MM Fiber, SM Fiber, PM Fiber | | | | |
| | LCX-1064S | CW DPSS Lasers | 1064 | 0.100, 0.200, 0.300, 0.400, 0.500 | Single-Mode Lasers | Free Space, MM Fiber, SM Fiber, PM Fiber | Narrow | | | |
| | LDX-XXXX-1030 | Single Emitter | 1030 | 3.0, 5.0 | Multimode | Free Space, MM Fiber | | | | |
| | LDX-XXXX-1064 | Single Emitter | 1064 | 1.5, 3.0, 5.0 | Multimode | Free Space, MM Fiber | | | | |
| | LDX-XXXX-1120 | Single Emitter | 1120 | 2.0, 3.5, 5.0 | Multimode | Free Space, MM Fiber | | | | |
| | LDX-XXXX-1210 | Single Emitter | 1210 | 1.5, 2.0 | Multimode | Free Space, MM Fiber | | | | |
| | LDX-XXXX-1280 | Single Emitter | 1280 | 3.5, 5.0, 7.0 | Multimode | Free Space, MM Fiber | | | | |
| | LDX-XXXX-1370 | Single Emitter | 1370 | 3.5, 5.0 | Multimode | Free Space, MM Fiber | | | | |
| | LDX-XXXX-735 | Single Emitter | 735 | 1.0, 1.75, 2.0, 4.0 | Multimode | Free Space, MM Fiber | | | | |
| | LDX-XXXX-750 | Single Emitter | 750 | 1.0, 2.0, 3.0, 5.0 | Multimode | Free Space, MM Fiber | | | | |
| | LDX-XXXX-760 | Single Emitter | 760 | 1.0, 2.0, 3.0, 6.0 | Multimode | Free Space, MM Fiber | | | | |
| | LDX-XXXX-780 | Single Emitter | 780 | 1.2, 2.5, 3.5, 5.0 | Multimode | Free Space, MM Fiber | | | | |
| | LDX-XXXX-785 | Single Emitter | 785 | 3.5, 5.0 | Multimode | Free Space, MM Fiber | | | | |
| | LDX-XXXX-792 | Single Emitter | 792 | 1.2, 2.5, 3.5 | Multimode | Free Space, MM Fiber | | | | |
| | LDX-XXXX-797 | Single Emitter | 797 | 3.0, 4.0 | Multimode | Free Space, MM Fiber | | | | |
| | LDX-XXXX-808 | Single Emitter | 808 | 1.2, 2.0, 3.0, 4.0, 6.0, 10.0 | Multimode | Free Space, MM Fiber | | | | |
| | LDX-XXXX-825 | Single Emitter | 825 | 4.0 | Multimode | Free Space, MM Fiber | | | | |
| | LDX-XXXX-830 | Single Emitter | 830 | 1.6 | Multimode | Free Space, MM Fiber | | | | |
| | LDX-XXXX-860 | Single Emitter | 860 | 1.0, 1.5, 2.0, 3.0, 4.0, 5.0 | Multimode | Free Space, MM Fiber | | | | |
| | LDX-XXXX-885 | Single Emitter | 885 | 2.5, 6.0 | Multimode | Free Space, MM Fiber | | | | |
| | LDX-XXXX-900 | Single Emitter | 900 | 2.0 | Multimode | Free Space, MM Fiber | | | | |
| | LDX-XXXX-915 | Single Emitter | 915 | 3.0, 6.0, 10.0 | Multimode | Free Space, MM Fiber | | | | |
| | LDX-XXXX-940 | Single Emitter | 940 | 3.0, 5.0, 6.0, 16.0 | Multimode | Free Space, MM Fiber | | | | |
| | LDX-XXXX-960 | Single Emitter | 960 | 10.0 | Multimode | Free Space, MM Fiber | | | | |
| | LDX-XXXX-980 | Single Emitter | 980 | 1.5, 4.0, 5.0, 6.0, 10.0 | Multimode | Free Space, MM Fiber | | | | |
| | LSX-785S | LD Module | 785 | 0.150 | Single-Mode Lasers | Free Space, MM Fiber, SM Fiber, PM Fiber | Narrow | | | |
| | LTC-ISB-G1 | LD Module, Superluminescent | 1300, 1370, 1430, 1480, 1550, 1680, 1700 | 0.006, 0.008, 0.010, 0.012, 0.013, 0.015, 0.030 | Single-Mode Lasers | Free Space, SM Fiber, PM Fiber | Broadband | | | |
| | LTC-ISB-G2 | LD Module, Superluminescent | 1300, 1340, 1390, 1430, 1480, 1550, 1615, 1680 | 0.010, 0.012, 0.018, 0.019, 0.020, 0.025, 0.032, 0.035, 0.040 | Single-Mode Lasers | Free Space, SM Fiber, PM Fiber | Broadband | | | |
| | neoMOS | Pulsed DPSS Lasers | 1064 | 5.0, 15.0, 50.0, 75.0, 100.0 | | | | 250.0, 400.0, 500.0 | 600fs, 700fs, 900fs, 10ps, 40ps, 70ps, 100ps | |
| | neoVAN | DPSS Amplifiers | 1064 | 50.0 | | | | 5000.0 | 400ps, CW | |
| | neoYb | DPSS Amplifiers | 1030 | 100.0 | | | | 50.0, 500.0 | 700fs, CW | |
| | NPS-1064 | Pulsed DPSS Lasers, Ultrafast Lasers | 1064 | 0.050, 5.0, 10.0 | | | | 0.125, 0.250 | 7ps | 40MHz |
| | NPS-355 | Pulsed DPSS Lasers, Ultrafast Lasers | 355 | 1.0 | | | | 0.025 | 7ps | 40MHz |
| | NPS-532 | Pulsed DPSS Lasers, Ultrafast Lasers | 532 | 1.0, 5.0 | | | | 0.025, 0.125 | 7ps | 40MHz |
| | Onda 1064nm | Pulsed DPSS Lasers | 1064 | 15.0 | | | | 800.0 | 2ns - 12ns | Single Shot to 100kHz |
| | One-1030 | Pulsed DPSS Lasers | 1030 | 1.0, 3.0 | | | | 100.0 | 5ns - 20ns | 30kHz, Single shot to 10kHz |
| | Q-TUNE-IR | Pulsed DPSS Lasers, Tunable Lasers | Tunable | 0.020, 0.065 | | | | 2000.0, 6500.0 | 3ns - 4ns | 10Hz |
| | Q-TUNE | Pulsed DPSS Lasers, Tunable Lasers | Tunable | 0.200 | | | | 8000.0 | 5ns | 10Hz, 33Hz, 100Hz |
| | Quantas-Q-SHIFT-1163 | Pulsed DPSS Lasers | 1163 | 0.500, 0.800, 1.0 | | | | 5000.0, 10000.0, 20000.0, 30000.0, 40000.0, 50000.0 | 2ns - 5ns | 10Hz, 20Hz, 33Hz, 50Hz, 100Hz |
| | Quantas-Q-SHIFT-1177 | Pulsed DPSS Lasers | 1177 | 0.500, 0.800, 1.0 | | | | 5000.0, 10000.0, 20000.0, 30000.0, 40000.0, 50000.0 | 2ns - 5ns | 10Hz, 20Hz, 33Hz, 50Hz, 100Hz |
| | Quantas-Q-SHIFT-1300 | Pulsed DPSS Lasers | 1300 | 0.300, 0.480, 0.600 | | | | 3000.0, 6000.0, 12000.0, 18000.0, 24000.0, 30000.0 | 2ns - 5ns | 10Hz, 20Hz, 33Hz, 50Hz, 100Hz |
| | Quantas-Q-SHIFT-1317 | Pulsed DPSS Lasers | 1317 | 0.300, 0.480, 0.600 | | | | 3000.0, 6000.0, 12000.0, 18000.0, 24000.0, 30000.0 | 2ns - 5ns | 10Hz, 20Hz, 33Hz, 50Hz, 100Hz |
| | Quantas-Q-SHIFT-775.5 | Pulsed DPSS Lasers | 775.5 | 0.200, 0.320, 0.400 | | | | 2000.0, 4000.0, 8000.0, 12000.0, 16000.0, 20000.0 | 2ns - 5ns | 10Hz, 20Hz, 33Hz, 50Hz, 100Hz |
| | Quantas-Q-SHIFT-785.5 | Pulsed DPSS Lasers | 785.5 | 0.200, 0.320, 0.400 | | | | 2000.0, 4000.0, 8000.0, 12000.0, 16000.0, 20000.0 | 2ns - 5ns | 10Hz, 20Hz, 33Hz, 50Hz, 100Hz |
| | Quantas-Q-SHIFT-WXXXX | Pulsed DPSS Lasers | Multiple Wavelength Options | Varies | | | | Varies | 2ns - 5ns | 100Hz |
| | Quantas-Q-SPARK-1064 | Pulsed DPSS Lasers | 1064 | 0.010 | | | | 10000.0 | 800ps, 2ns | 100Hz |
| | Quantas-Q1-1053 | Pulsed DPSS Lasers | 1053 | 0.100, 0.125, 0.160, 0.200, 0.250, 0.300, 0.400, 0.500 | | | | 2500.0, 5000.0, 8000.0, 10000.0, 15000.0, 20000.0, 25000.0, 45000.0 | 10ns | Single Shot to 10Hz, Single Shot to 20Hz, Single Shot to 50Hz |
| | Quantas-Q1-1064 | Pulsed DPSS Lasers | 1064 | 0.100, 0.125, 0.160, 0.200, 0.250, 0.300, 0.320, 0.350, 0.500 | | | | 2500.0, 5000.0, 8000.0, 10000.0, 15000.0, 20000.0, 25000.0, 35000.0 | 10ns | Single Shot to 10Hz, Single Shot to 20Hz, Single Shot to 50Hz |
| | Quantas-Q2-1053 | Pulsed DPSS Lasers | 1053 | 0.080, 0.100, 0.150, 0.200, 0.300, 0.350, 0.400, 0.500, 0.600, 0.800, 1.0, 1.3, 2.0 | | | | 8000.0, 10000.0, 15000.0, 20000.0, 30000.0, 35000.0, 40000.0, 50000.0, 60000.0, 65000.0, 70000.0, 80000.0 | 5ns, 6ns, 7ns, 8ns | 10Hz, 20Hz, 33.3Hz, 50Hz |
| | Quantas-Q2-1064 | Pulsed DPSS Lasers | 1064 | 0.080, 0.100, 0.150, 0.200, 0.300, 0.350, 0.400, 0.500, 0.600, 0.700, 0.800, 1.0, 1.2, 1.3, 2.0 | | | | 2500.0, 5000.0, 8000.0, 10000.0, 15000.0, 20000.0, 30000.0, 35000.0, 40000.0, 60000.0 | 5ns, 6ns, 7ns, 8ns, 10ns | 10Hz, 20Hz, 33.3Hz, 50Hz, 100Hz, 200Hz |
| | Quantas-Q2HE-1053 | Pulsed DPSS Lasers | 1053 | 1.2, 2.0 | | | | 40000.0, 100000.0, 120000.0 | 6ns | 10Hz, 20Hz, 50Hz |
| | Quantas-Q2HE-1064 | Pulsed DPSS Lasers | 1064 | 1.0, 1.6, 2.0, 3.5, 4.0 | | | | 40000.0, 70000.0, 80000.0, 100000.0 | 6ns | 10Hz, 20Hz, 50Hz, 100Hz |
| | Quantas-Q2HE-XXX-XXXX | Pulsed DPSS Lasers | Multiple Wavelength Options | Varies | | | | Varies | Varies | 100Hz |
| | R0780 | LD Module, Single Emitter, Volume Bragg Grating (VBG) | 780 | 0.050, 0.100 | Single-Mode Lasers, Multimode | Free Space, PM Fiber | Narrow | | | |
| | R0783 | LD Module, Single Emitter, Volume Bragg Grating (VBG) | 783 | 0.050, 0.100 | Single-Mode Lasers, Multimode | Free Space, SM Fiber, PM Fiber | Narrow | | | |
| | R0785 | LD Module, Single Emitter, Volume Bragg Grating (VBG) | 785 | 0.050, 0.100, 0.200, 0.350, 0.600 | Single-Mode Lasers, Multimode | Free Space, MM Fiber, PM Fiber | Narrow | | | |
| | R0785 | Raman Probes | 785 | 0.350 | | | | | | |
| | R0808 | LD Module, Single Emitter, Volume Bragg Grating (VBG) | 808 | 0.050, 0.100, 0.200, 0.350, 0.600 | Single-Mode Lasers, Multimode | Free Space, MM Fiber, PM Fiber | Narrow | | | |
| | R0830 | LD Module, Single Emitter, Volume Bragg Grating (VBG) | 830 | 0.100, 0.200, 0.350, 0.600 | Single-Mode Lasers, Multimode | Free Space, MM Fiber, PM Fiber | Narrow | | | |
| | R0976 | LD Module, Single Emitter, Volume Bragg Grating (VBG) | 976 | 0.220, 0.500, 0.750, 4.0, 5.0 | Single-Mode Lasers, Multimode | Free Space, MM Fiber | Narrow | | | |
| | R1030 | LD Module, Single Emitter, Volume Bragg Grating (VBG) | 1030 | 0.100, 0.280, 0.450 | Single-Mode Lasers, Multimode | Free Space, SM Fiber, PM Fiber | Narrow | | | |
| | R1053 | LD Module, Single Emitter, Volume Bragg Grating (VBG) | 1053 | 0.050, 0.120, 0.200, 0.300, 0.500 | Single-Mode Lasers, Multimode | Free Space, SM Fiber, PM Fiber | Narrow | | | |
| | R1064 | LD Module, Single Emitter, Volume Bragg Grating (VBG) | 1064 | 0.050, 0.150, 0.300, 0.350, 0.600 | Single-Mode Lasers, Multimode | Free Space, MM Fiber, PM Fiber | Narrow | | | |
| | R1064.X | Single Emitter, Volume Bragg Grating (VBG) | 1064 | 0.050, 0.120, 0.300 | Single-Mode Lasers | Free Space, SM Fiber, PM Fiber | Narrow | | | |
| | RBDL-CW-9XX | Turn-Key System | 915, 976 | 1000.0, 2000.0, 3000.0 | Multimode | MM Fiber | | | | |
| | RDS3 | Turn-Key System | Multiple Wavelength Options | Multiple Options Available | Single-Mode Lasers, Multimode | MM Fiber, SM Fiber | | | | |
| | REP1260-1300 | LD Module, Single Emitter, Distributed Feedback (DFB) Lasers | 1260-1300 | 0.009, 0.012, 0.020, 0.022 | Single-Mode Lasers | Free Space, SM Fiber, PM Fiber | Narrow | | | |
| | REP1380-1400 | LD Module, Single Emitter, Distributed Feedback (DFB) Lasers | 1380-1400 | 0.008 | Single-Mode Lasers | Free Space, SM Fiber, PM Fiber | Narrow | | | |
| | RHAML-XXXX-YY-Z-E | LD Module, Line Modules | Multiple Wavelength Options | 0.100 | Single-Mode Lasers | Free Space, Line | | | | |
| | RHAML-XXXX-YY-Z | LD Module, Line Modules | Multiple Wavelength Options | 0.100 | Single-Mode Lasers | Free Space, Line | | | | |
| | RML126FC | LD Module | Multiple Wavelength Options | 0.100 | Single-Mode Lasers | SM Fiber | | | | |
| | RML150FC | LD Module | Multiple Wavelength Options | 0.080 | Single-Mode Lasers | SM Fiber | | | | |
| | RML2040-XXXX-YY-ZZ | LD Module, Line Modules | Multiple Wavelength Options | 2.0 | Single-Mode Lasers | Free Space, Line | | | | |
| | RML2240 | LD Module | Multiple Wavelength Options | 1.5 | Single-Mode Lasers, Multimode | MM Fiber, SM Fiber | | | | |
| | RML2540-XXXX-YY-ZZ | LD Module, Line Modules | Multiple Wavelength Options | 1.0, 2.0 | Single-Mode Lasers, Multimode | Free Space, Line | | | | |
| | RPK785SS | Single Emitter, Volume Bragg Grating (VBG) | 785 | 0.600 | Multimode | MM Fiber | Narrow | | | |
| | RPK793M | Multi-Emitter | 793 | 8.0, 12.0, 16.0, 30.0, 50.0, 80.0, 90.0, 140.0, 180.0 | Multimode | MM Fiber | | | | |
| | RPK793S | Single Emitter | 793 | 4.0 | Multimode | MM Fiber | | | | |
| | RPK808M | Multi-Emitter | 808 | 15.0, 25.0, 30.0, 60.0, 150.0 | Multimode | MM Fiber | | | | |
| | RPK808S | Single Emitter | 808 | 4.0, 8.0 | Multimode | MM Fiber | | | | |
| | RPK830S | Single Emitter | 830 | 1.0 | Multimode | MM Fiber | | | | |
| | RPK878MS | Multi-Emitter, Volume Bragg Grating (VBG) | 878 | 30.0, 65.0, 120.0 | Multimode | MM Fiber | Narrow | | | |
| | RPK888MS | Multi-Emitter, Volume Bragg Grating (VBG) | 888 | 65.0, 120.0 | Multimode | MM Fiber | Narrow | | | |
| | RPK915M | Multi-Emitter | 915 | 30.0, 70.0, 160.0, 180.0, 300.0, 370.0 | Multimode | MM Fiber | | | | |
| | RPK915S | Single Emitter | 915 | 12.0 | Multimode | MM Fiber | | | | |
| | RPK940M | Multi-Emitter | 940 | 30.0, 70.0, 150.0, 200.0 | Multimode | MM Fiber | | | | |
| | RPK940S | Single Emitter | 940 | 10.0, 11.0, 20.0 | Multimode | MM Fiber | | | | |
| | RPK960S | Single Emitter | 960 | 9.0 | Multimode | MM Fiber | | | | |
| | RPK976M | Multi-Emitter | 976 | 15.0, 20.0, 30.0, 70.0, 150.0, 200.0, 330.0, 540.0 | Multimode | MM Fiber | | | | |
| | RPK976MS | Multi-Emitter, Volume Bragg Grating (VBG) | 976 | 18.0, 27.0, 60.0, 100.0, 140.0, 180.0, 400.0 | Multimode | MM Fiber | Narrow | | | |
| | RPK976S | Single Emitter | 976 | 10.0 | Multimode | MM Fiber | | | | |
| | RPK976SS | Single Emitter, Volume Bragg Grating (VBG) | 976 | 3.0, 9.0 | Multimode | MM Fiber | Narrow | | | |
| | RPKA64M | Multi-Emitter | 1064 | 20.0 | Multimode | MM Fiber | | | | |
| | RPKMWM | Multi Wavelength | Multiple Wavelength Options | 0.300, 0.600, 5.0, 6.0, 10.0, 15.0, 25.0 | Multimode | MM Fiber | | | | |
| | RPM9-852-0100-S50 | Single Emitter | 852 | 0.070, 0.150 | Single-Mode Lasers | Free Space | | | | |
| | RWLB-980-012-H | Multi-Emitter | 980 | 12.0 | Multimode | MM Fiber | | | | |
| | RWLD-1064M | Single Emitter | 1064 | 8.0, 10.0 | Multimode | Free Space | | | | |
| | RWLD-1310S | Single Emitter | 1310 | 0.020, 0.030 | Single-Mode Lasers | Free Space | | | | |
| | RWLD-760M | Single Emitter | 760 | 5.0 | Multimode | Free Space | | | | |
| | RWLD-780M | Single Emitter | 780 | 4.0, 8.0 | Multimode | Free Space | | | | |
| | RWLD-785S | Single Emitter | 785 | 0.100, 0.120 | Single-Mode Lasers | Free Space | | | | |
| | RWLD-808M | Single Emitter | 808 | 0.300, 0.500, 1.0, 2.0, 3.0, 5.0, 8.0, 10.0 | Multimode | Free Space | | | | |
| | RWLD-830S | Single Emitter | 830 | 0.100, 0.150, 0.200, 0.250 | Single-Mode Lasers | Free Space | | | | |
| | RWLD-850M | Single Emitter | 850 | 0.500, 0.800, 1.0 | Multimode | Free Space | | | | |
| | RWLD-915M | Single Emitter | 915 | 10.0, 12.0 | Multimode | Free Space | | | | |
| | RWLD-940M | Single Emitter | 940 | 10.0, 12.0 | Multimode | Free Space | | | | |
| | RWLD-980M | Single Emitter | 980 | 1.0, 3.0, 4.0, 10.0, 12.0, 15.0 | Multimode | Free Space | | | | |
| | RWLD-980S | Single Emitter | 980 | 0.050 | Single-Mode Lasers | Free Space | | | | |
| | RWLP-1064M | Single Emitter | 1064 | 1.0, 8.0, 25.0 | Multimode | MM Fiber | | | | |
| | RWLP-1064S | Single Emitter | 1064 | 0.005, 0.010, 0.015, 0.020, 0.030, 0.040, 0.050 | Single-Mode Lasers | SM Fiber, PM Fiber | | | | |
| | RWLP-1270S | Single Emitter, Distributed Feedback (DFB) Lasers | 1270 | 0.002, 0.005, 0.010 | Single-Mode Lasers | SM Fiber, PM Fiber | | | | |
| | RWLP-1290S | Single Emitter, Distributed Feedback (DFB) Lasers | 1290 | 0.002, 0.005, 0.010 | Single-Mode Lasers | SM Fiber, PM Fiber | | | | |
| | RWLP-1310M | Single Emitter | 1310 | 1.0 | Multimode | MM Fiber | | | | |
| | RWLP-1310S | Single Emitter, Distributed Feedback (DFB) Lasers | 1310 | 0.002, 0.003, 0.005, 0.010, 0.015 | Single-Mode Lasers | SM Fiber, PM Fiber | | | | |
| | RWLP-1330M | Single Emitter | 1330 | 1.0 | Multimode | MM Fiber | | | | |
| | RWLP-1330S | Single Emitter, Distributed Feedback (DFB) Lasers | 1330 | 0.002, 0.003, 0.005, 0.010, 0.015 | Single-Mode Lasers | SM Fiber, PM Fiber | | | | |
| | RWLP-1350S | Single Emitter, Distributed Feedback (DFB) Lasers | 1350 | 0.002, 0.005, 0.010 | Single-Mode Lasers | SM Fiber, PM Fiber | | | | |
| | RWLP-1370S | Single Emitter, Distributed Feedback (DFB) Lasers | 1370 | 0.002, 0.005, 0.010 | Single-Mode Lasers | SM Fiber, PM Fiber | | | | |
| | RWLP-1410S | Single Emitter, Distributed Feedback (DFB) Lasers | 1410 | 0.002, 0.005, 0.010 | Single-Mode Lasers | SM Fiber, PM Fiber | | | | |
| | RWLP-1430S | Single Emitter, Distributed Feedback (DFB) Lasers | 1430 | 0.002, 0.005, 0.010 | Single-Mode Lasers | SM Fiber, PM Fiber | | | | |
| | RWLP-1470S | Single Emitter, Distributed Feedback (DFB) Lasers | 1470 | 0.002, 0.005, 0.010 | Single-Mode Lasers | SM Fiber, PM Fiber | | | | |
| | RWLP-1550S | Single Emitter, Distributed Feedback (DFB) Lasers | 1550 | 0.002, 0.005, 0.010 | Single-Mode Lasers | SM Fiber, PM Fiber | | | | |
| | RWLP-1570S | Single Emitter, Distributed Feedback (DFB) Lasers | 1570 | 0.002, 0.005, 0.010 | Single-Mode Lasers | SM Fiber, PM Fiber | | | | |
| | RWLP-1590S | Single Emitter, Distributed Feedback (DFB) Lasers | 1590 | 0.002, 0.005, 0.008 | Single-Mode Lasers | SM Fiber, PM Fiber | | | | |
| | RWLP-1610S | Single Emitter, Distributed Feedback (DFB) Lasers | 1610 | 0.002, 0.005, 0.008 | Single-Mode Lasers | SM Fiber, PM Fiber | | | | |
| | RWLP-1650S | Single Emitter, Distributed Feedback (DFB) Lasers | 1650 | 0.002, 0.005, 0.009 | Single-Mode Lasers | SM Fiber, PM Fiber | | | | |
| | RWLP-760M | Single Emitter | 760 | 1.5, 3.0 | Multimode | MM Fiber | | | | |
| | RWLP-770M | Single Emitter | 770 | 3.0 | Multimode | MM Fiber | | | | |
| | RWLP-785M | Single Emitter | 785 | 0.050, 1.5, 2.0, 3.0, 7.0 | Multimode | MM Fiber | | | | |
| | RWLP-808-100m-M-PD | Single Emitter | 808 | 0.100 | Multimode | MM Fiber | | | | |
| | RWLP-808M | Single Emitter | 808 | 0.150, 0.200, 0.300, 2.0, 4.0, 5.0, 8.0, 10.0, 25.0 | Multimode | MM Fiber | | | | |
| | RWLP-808S | Single Emitter | 808 | 0.015, 0.020, 0.030, 0.040, 0.050 | Single-Mode Lasers | SM Fiber, PM Fiber | | | | |
| | RWLP-820S | Single Emitter | 820 | 0.030, 0.050 | Single-Mode Lasers | SM Fiber, PM Fiber | | | | |
| | RWLP-830M | Single Emitter | 830 | 0.150, 0.200, 1.0, 2.0, 3.0 | Multimode | MM Fiber | | | | |
| | RWLP-830S | Single Emitter | 830 | 0.005, 0.030, 0.050, 0.100 | Single-Mode Lasers | SM Fiber, PM Fiber | | | | |
| | RWLP-850M | Single Emitter | 850 | 0.050, 0.150, 0.200 | Multimode | MM Fiber | | | | |
| | RWLP-850S | Single Emitter | 850 | 0.002, 0.010, 0.020, 0.030, 0.050, 0.070 | Single-Mode Lasers | SM Fiber, PM Fiber | | | | |
| | RWLP-880M | Single Emitter | 880 | 0.005, 2.0, 3.0 | Multimode | MM Fiber | | | | |
| | RWLP-880S | Single Emitter | 880 | 0.001, 0.002 | Single-Mode Lasers | SM Fiber, PM Fiber | | | | |
| | RWLP-905-050m-M-PD | Single Emitter | 905 | 0.050 | Multimode | MM Fiber | | | | |
| | RWLP-905M | Single Emitter | 905 | 0.120, 0.150 | Multimode | MM Fiber | | | | |
| | RWLP-905S | Single Emitter | 905 | 0.002, 0.030, 0.050, 0.070, 0.080 | Single-Mode Lasers | SM Fiber, PM Fiber | | | | |
| | RWLP-915M | Single Emitter | 915 | 2.0, 10.0, 20.0, 30.0, 55.0 | Multimode | MM Fiber | | | | |
| | RWLP-940M | Single Emitter | 940 | 0.200, 2.0, 10.0, 20.0, 30.0 | Multimode | MM Fiber | | | | |
| | RWLP-940S | Single Emitter | 940 | 0.030, 0.050, 0.080, 0.100 | Single-Mode Lasers | SM Fiber, PM Fiber | | | | |
| | RWLP-980M | Single Emitter | 980 | 0.100, 0.150, 2.0, 10.0, 20.0, 30.0, 55.0 | Multimode | MM Fiber | | | | |
| | RWLP-980S | Single Emitter | 980 | 0.005, 0.010, 0.015 | Single-Mode Lasers | SM Fiber, PM Fiber | | | | |
| | RXXXXP-EC-AB-XXX-WD-DW | Raman Probes | 405, 532, 638, 785, 808, 830, 1064 | 0.350 | | | | | | |
| | SB1-1064 | Pulsed DPSS Lasers, Microchip Lasers | 1064 | 0.008, 0.012, 0.040, 0.110, 0.150, 0.200, 0.225, 0.400 | | | | 2.0, 15.0, 20.0, 30.0, 40.0, 60.0, 80.0 | 400ps, 1.3ns | 100Hz, 200Hz, 1kHz, 5kHz, 10kHz, 15kHz, 55kHz, 100kHz |
| | SB1-946 | Pulsed DPSS Lasers, Microchip Lasers | 946 | 0.004, 0.060, 0.070, 0.105 | | | | 7.0 | 2ns | 100Hz, 5kHz, 10kHz |
| | Sirius IR | Pulsed DPSS Lasers, Ultrafast Lasers | 1064 | 5.0 | | | | 60.0 | 10ps | Single shot to 1MHz |
| | SOL-1064 | Pulsed DPSS Lasers | 1064 | 6.0, 10.0, 20.0, 30.0, 40.0 | | | | 300.0, 450.0, 900.0, 1500.0, 2000.0 | 5ns - 35ns, 7ns - 35ns, 10ns - 40ns, 10ns - 50ns, 15ns - 60ns | Single Shot to 100kHz |
| | TDM 1.1 | Thin Disk Pump Modules | 1030 | | | | | | | |
| | TDM 3.0 | Thin Disk Pump Modules | 1030 | | | | | | | |
| | VaryDisk E150 | Pulsed DPSS Lasers | 1030 | 150.0 | | | | 150000.0 | 2ps - 1ns | 1kHz to 10kHz |
| | VD-0808-CW | VCSELs | 808 | 0.300, 2.0, 4.0, 7.0, 10.0, 20.0, 100.0, 200.0 | Single-Mode Lasers | Free Space | | | | |
| | VD-0850 Pulsed | VCSELs | 850 | 10.0, 15.0, 25.0, 50.0 | Single-Mode Lasers | Free Space | | | | |
| | VD-0850-CW | VCSELs | 850 | 0.008, 0.200, 0.400, 0.700, 1.0, 2.0, 4.0, 8.0 | Single-Mode Lasers | Free Space | | | | |
| | VD-0940 Pulsed | VCSELs | 940 | 10.0, 25.0, 50.0 | Single-Mode Lasers | Free Space | | | | |
| | VD-0940-CW | VCSELs | 940 | 0.008, 0.020, 0.060, 0.070, 0.140, 0.150, 0.160, 0.200, 0.250, 0.500, 2.0, 4.0 | Single-Mode Lasers | Free Space | | | | |
| | Vento-1064 | Pulsed DPSS Lasers | 1064 | 16.0, 25.0, 40.0 | | | | 600.0, 1000.0, 1500.0 | 500ps - 1.5ns | 50kHz to 120kHz, 80kHz to 200kHz |
| | Wedge-HB/XB 1064 | Pulsed DPSS Lasers | 1064 | 4.0 | | | | 2000.0, 4000.0 | 1.5ns | Single shot to 1kHz, Single shot to 2kHz |
| | Wedge-HF/XF 1064 | Pulsed DPSS Lasers | 1064 | 1.5, 4.0 | | | | 70.0, 180.0 | 400ps - 1.6ns, 700ps - 2.5ns | 10kHz to 100kHz, 50kHz to 200kHz |