Confocal Fluorescence Microscopy Lasers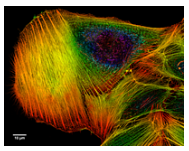 Confocal microscopy is an optical technique that allows for extremely high spatial resolution imaging by placing two conjunct pinholes in the optical path.  This provides for z-axis resolution as fine as 1 micron, making it possible to measure 3D depth profiles of materials.  In confocal fluorescence microscopy,  a laser is focused through the first pinhole and used to excite the sample, and then the emitted light is collected and focused through the second pinhole to the detector.  Most of the visible wavelengths can be used in confocal fluorescence microscopy, but it's essential that all confocal fluorescence microscopy lasers have a high quality TEM00 beam profile.  On this page, you will find a list of all of the full range of lasers used for this application, including our multi-laser combiners.
Confocal Microscopy Laser Source Requirements:
•  Wavelengths: Most popular are 405nm, 488nm, 532nm/561nm, and 638nm. Others are often used as well. Wavelength combiners are ideal to cover all wavelengths.
•  Output power: 50 – 500mW with good stability
•  Beam Requirements: TEM00 & low noise. Usually 1x PM fiber-coupled.
RPMC has years of experience supporting Confocal Fluorescence Microscopy applications, helping industry professionals select the right tool for the job.
Let Us Help
In conclusion, if you have any questions or would like some assistance please contact us here. Furthermore, you can email us at info@rpmclasers.com to talk to a knowledgeable Product Manager. Alternatively, use the filters on this page to assist in narrowing down the selection of confocal fluorescence microscopy lasers for sale. Finally, head to our Knowledge Center with our Lasers 101 page and Blogs, Whitepapers, and FAQ pages for further, in-depth reading.
| | | | | | | | |
| --- | --- | --- | --- | --- | --- | --- | --- |
| | 1030L-1XB | CW DPSS Lasers | 1030 | 0.300, 0.400, 0.500 | Single-Mode Lasers, Multimode | Free Space, MM Fiber, SM Fiber, PM Fiber, SMA Port | |
| | 1123L-1XB | CW DPSS Lasers | 1123 | 0.100, 0.160, 0.200 | Single-Mode Lasers, Multimode | Free Space, MM Fiber, SM Fiber, PM Fiber | |
| | 1319L-1XB | CW DPSS Lasers | 1319 | 0.100, 0.160, 0.200 | Single-Mode Lasers, Multimode | Free Space, MM Fiber, SM Fiber, PM Fiber | |
| | 1550L-1XA | LD Module | 1550 | 0.080, 0.120 | Single-Mode Lasers | Free Space, SM Fiber, PM Fiber | |
| | 405L-1XA | LD Module | 405 | 0.100, 0.150, 0.180 | Single-Mode Lasers | Free Space, MM Fiber, SM Fiber, PM Fiber | |
| | 450L-1XA | LD Module | 450 | 0.035, 0.050, 0.060 | Single-Mode Lasers | Free Space, MM Fiber, SM Fiber, PM Fiber | |
| | 488L-1XA | LD Module | 488 | 0.020, 0.030, 0.040 | Single-Mode Lasers | Free Space, MM Fiber, SM Fiber, PM Fiber | |
| | 505L-1XA | LD Module | 505 | 0.060 | Single-Mode Lasers | Free Space, MM Fiber, SM Fiber, PM Fiber | |
| | 515L-1XA | LD Module | 515 | 0.010, 0.020, 0.025 | Single-Mode Lasers | Free Space, MM Fiber, SM Fiber, PM Fiber | |
| | 520L-1XA | LD Module | 520 | 0.040, 0.070, 0.080 | Single-Mode Lasers | Free Space, MM Fiber, SM Fiber, PM Fiber | |
| | 532L-1XB | CW DPSS Lasers | 532 | 0.100, 0.150, 0.160, 0.200 | Single-Mode Lasers, Multimode | Free Space, MM Fiber, SM Fiber, PM Fiber, SMA Port | |
| | 532L-2XB | CW DPSS Lasers | 532 | 0.025, 0.040, 0.050 | Single-Mode Lasers, Multimode | Free Space, MM Fiber, SM Fiber, PM Fiber, SMA Port | Narrow |
| | 532L-3XB | CW DPSS Lasers | 532 | 0.400, 0.500 | Multimode | Free Space, MM Fiber, SMA Port | |
| | 532L-4XB | CW DPSS Lasers | 532 | 0.050, 0.080, 0.100 | Single-Mode Lasers, Multimode | Free Space, MM Fiber, SM Fiber, PM Fiber, SMA Port | Narrow |
| | 532L-6XB | CW DPSS Lasers | 532 | 0.050, 0.080, 0.100 | Single-Mode Lasers, Multimode | Free Space, MM Fiber, SM Fiber, PM Fiber, SMA Port | Narrow |
| | 638L-1XA | LD Module | 638 | 0.060, 0.080, 0.100, 0.120, 0.170, 0.500, 0.600 | Single-Mode Lasers | Free Space, MM Fiber, SM Fiber, PM Fiber | |
| | 638L-3XA | LD Module | 638 | 0.500, 0.600 | Multimode | Free Space, MM Fiber | |
| | 660L-1XA | LD Module | 660 | 0.060, 0.080, 0.090, 0.110 | Single-Mode Lasers | Free Space, MM Fiber, SM Fiber, PM Fiber | |
| | 785L-1XA | LD Module | 785 | 0.120, 0.150, 0.170 | Single-Mode Lasers | Free Space, MM Fiber, SM Fiber, PM Fiber | |
| | 785L-3XA | LD Module | 785 | 1.5 | Multimode | Free Space, MM Fiber | |
| | 808L-1XA | LD Module | 808 | 0.110 | Single-Mode Lasers | Free Space, MM Fiber, SM Fiber, PM Fiber | |
| | 808L-3XA | LD Module | 808 | 1.6, 3.0 | Multimode | Free Space, MM Fiber | |
| | 830L-1XA | LD Module | 830 | 0.070, 0.090, 0.130 | Single-Mode Lasers | Free Space, MM Fiber, SM Fiber, PM Fiber | |
| | 830L-3XA | LD Module | 808 | 1.0 | Multimode | MM Fiber | |
| | 850L-1XA | LD Module | 850 | 0.070, 0.110, 0.130 | Single-Mode Lasers | Free Space, MM Fiber, SM Fiber, PM Fiber | |
| | 915L-1XA | LD Module | 915 | 0.080, 0.140, 0.170 | Single-Mode Lasers | Free Space, MM Fiber, SM Fiber, PM Fiber | |
| | 975L-1XA | LD Module | 975 | 0.100, 0.140, 0.170 | Single-Mode Lasers | Free Space, MM Fiber, SM Fiber, PM Fiber | |
| | He-Ne Power Supplies | HeNe Lasers | | 0.002 | Single-Mode Lasers | Free Space | |
| | HL405 | Single Emitter | 405 | 0.300, 0.600, 1.0, 3.5 | Single-Mode Lasers, Multimode | Free Space | |
| | HL649 | Single Emitter | 649 | 0.150 | Single-Mode Lasers | Free Space | |
| | LBX-1064 | LD Module | 1064 | 0.200 | Single-Mode Lasers | Free Space, MM Fiber, SM Fiber, PM Fiber | |
| | LBX-375 | LD Module | 375 | 0.070 | Single-Mode Lasers | Free Space, MM Fiber, SM Fiber, PM Fiber | |
| | LBX-395 | LD Module | 375 | 0.120 | Single-Mode Lasers | Free Space, MM Fiber, SM Fiber, PM Fiber | |
| | LBX-405 | LD Module | 405 | 0.050, 0.100, 0.180, 0.300 | Single-Mode Lasers | Free Space, MM Fiber, SM Fiber, PM Fiber | |
| | LBX-415 | LD Module | 415 | 0.120 | Single-Mode Lasers | Free Space, MM Fiber, SM Fiber, PM Fiber | |
| | LBX-445 | LD Module | 445 | 0.100, 0.500 | Single-Mode Lasers | Free Space, MM Fiber, SM Fiber, PM Fiber | |
| | LBX-450 | LD Module | 450 | 0.070 | Single-Mode Lasers | Free Space, MM Fiber, SM Fiber, PM Fiber | |
| | LBX-458 | LD Module | 457.9 | 0.070 | Single-Mode Lasers | Free Space, MM Fiber, SM Fiber, PM Fiber | |
| | LBX-473 | LD Module | 473 | 0.100, 0.300 | Single-Mode Lasers | Free Space, MM Fiber, SM Fiber, PM Fiber | |
| | LBX-488 | LD Module | 488 | 0.040, 0.050, 0.060, 0.100, 0.150, 0.200, 0.300 | Single-Mode Lasers | Free Space, MM Fiber, SM Fiber, PM Fiber | |
| | LBX-505 | LD Module | 505 | 0.070 | Single-Mode Lasers | Free Space, MM Fiber, SM Fiber, PM Fiber | |
| | LBX-515 | LD Module | 515 | 0.150 | Single-Mode Lasers | Free Space, MM Fiber, SM Fiber, PM Fiber | |
| | LBX-522 | LD Module | 522 | 0.070 | Single-Mode Lasers | Free Space, MM Fiber, SM Fiber, PM Fiber | |
| | LBX-633 | LD Module | 633 | 0.100 | Single-Mode Lasers | Free Space, MM Fiber, SM Fiber, PM Fiber | |
| | LBX-638 | LD Module | 638 | 0.100, 0.150, 0.180 | Single-Mode Lasers | Free Space, MM Fiber, SM Fiber, PM Fiber | |
| | LBX-642 | LD Module | 642 | 0.130 | Single-Mode Lasers | Free Space, MM Fiber, SM Fiber, PM Fiber | |
| | LBX-647 | LD Module | 647 | 0.140 | Single-Mode Lasers | Free Space, MM Fiber, SM Fiber, PM Fiber | |
| | LBX-660 | LD Module | 660 | 0.100 | Single-Mode Lasers | Free Space, MM Fiber, SM Fiber, PM Fiber | |
| | LBX-730 | LD Module | 730 | 0.040 | Single-Mode Lasers | Free Space, MM Fiber, SM Fiber, PM Fiber | |
| | LBX-785 | LD Module | 785 | 0.100, 0.250, 0.350 | Single-Mode Lasers | Free Space, MM Fiber, SM Fiber, PM Fiber | |
| | LBX-785S | LD Module | 785 | 0.150, 0.500 | Single-Mode Lasers | Free Space, MM Fiber, SM Fiber, PM Fiber | Narrow |
| | LBX-980 | LD Module | 980 | 0.200 | Single-Mode Lasers | Free Space, MM Fiber, SM Fiber, PM Fiber | |
| | LCX-532 | CW DPSS Lasers | 532 | 0.050, 0.100, 0.200, 0.300 | Single-Mode Lasers | Free Space, MM Fiber, SM Fiber, PM Fiber | |
| | LCX-553 | CW DPSS Lasers | 553 | 0.050, 0.100, 0.150, 0.200 | Single-Mode Lasers | Free Space, MM Fiber, SM Fiber, PM Fiber | |
| | LCX-561 | CW DPSS Lasers | 561 | 0.050, 0.100, 0.150, 0.200, 0.300 | Single-Mode Lasers | Free Space, MM Fiber, SM Fiber, PM Fiber | |
| | LGK 7512 | HeNe Lasers | 594 | 0.002 | Single-Mode Lasers | Free Space | |
| | LGK 7608 | HeNe Lasers | 633 | 0.002 | Single-Mode Lasers | Free Space | |
| | LGK 7610 | HeNe Lasers | 633 | 0.002 | Single-Mode Lasers | Free Space | |
| | LGK 7621 | HeNe Lasers | 633 | 0.005 | Multimode | Free Space | |
| | LGK 7627 | HeNe Lasers | 633 | 0.005, 0.010 | Single-Mode Lasers, Multimode | Free Space | |
| | LGK 7628 | HeNe Lasers | 633 | 0.005, 0.007 | Single-Mode Lasers | Free Space | |
| | LGK 7634 | HeNe Lasers | 633 | 0.002, 0.003 | Single-Mode Lasers | Free Space | |
| | LGK 7650 | HeNe Lasers | 633 | 0.0005, 0.001 | Single-Mode Lasers | Free Space | |
| | LGK 7653 | HeNe Lasers | 633 | 0.010 | Single-Mode Lasers | Free Space | |
| | LGK 7654 | HeNe Lasers | 633 | 0.010 | Single-Mode Lasers | Free Space | |
| | LGK 7655 | HeNe Lasers | 633 | 0.0006, 0.001 | Single-Mode Lasers | Free Space | |
| | LGK 7665 | HeNe Lasers | 633 | 0.015, 0.018, 0.020 | Single-Mode Lasers | Free Space | |
| | LGK 7672 | HeNe Lasers | 633 | 0.002 | Single-Mode Lasers | Free Space | |
| | LGK 7785 | HeNe Lasers | 543 | 0.001, 0.002 | Single-Mode Lasers | Free Space | |
| | LGK 7786 | HeNe Lasers | 543 | 0.0005, 0.0007, 0.001, 0.0015 | Single-Mode Lasers | Free Space | |
| | LGR 7608 | HeNe Lasers | 633 | 0.0015 | Single-Mode Lasers | Free Space | |
| | LGR 7610 | HeNe Lasers | 633 | 0.002 | Single-Mode Lasers | Free Space | |
| | LGR 7621 | HeNe Lasers | 633 | 0.002, 0.005 | Single-Mode Lasers, Multimode | Free Space | |
| | LGR 7627 | HeNe Lasers | 633 | 0.005, 0.010 | Single-Mode Lasers | Free Space | |
| | LGR 7628 | HeNe Lasers | 633 | 0.005 | Single-Mode Lasers | Free Space | |
| | LGR 7634 | HeNe Lasers | 633 | 0.002 | Single-Mode Lasers | Free Space | |
| | LGR 7650 | HeNe Lasers | 633 | 0.005 | Single-Mode Lasers | Free Space | |
| | LGR 7655 | HeNe Lasers | 633 | 0.001 | Single-Mode Lasers | Free Space | |
| | LGR 7656 | HeNe Lasers | 633 | 0.0005 | Single-Mode Lasers | Free Space | |
| | LGR 7660 | HeNe Lasers | 633 | 0.001 | Single-Mode Lasers | Free Space | |
| | LGR 7695 | HeNe Lasers | 633 | 0.0007 | Single-Mode Lasers | Free Space | |
| | LPX-532 | CW DPSS Lasers | 532 | 0.500 | Single-Mode Lasers | Free Space, MM Fiber, SM Fiber, PM Fiber | |
| | LPX-532S | CW DPSS Lasers | 532 | 0.500 | Single-Mode Lasers | Free Space, MM Fiber, SM Fiber, PM Fiber | Narrow |
| | LPX-553 | CW DPSS Lasers | 553 | 0.200 | Single-Mode Lasers | Free Space, MM Fiber, SM Fiber, PM Fiber | |
| | LPX-553S | CW DPSS Lasers | 553 | 0.200 | Single-Mode Lasers | Free Space, MM Fiber, SM Fiber, PM Fiber | Narrow |
| | LPX-561 | CW DPSS Lasers | 561 | 0.300 | Single-Mode Lasers | Free Space, MM Fiber, SM Fiber, PM Fiber | |
| | LPX-561S | CW DPSS Lasers | 561 | 0.300 | Single-Mode Lasers | Free Space, MM Fiber, SM Fiber, PM Fiber | Narrow |
| | LPX-607 | LD Module | 607 | 0.100, 0.200 | Single-Mode Lasers | Free Space, MM Fiber, SM Fiber, PM Fiber | |
| | LPX-640 | CW DPSS Lasers | 640 | 0.300, 0.500 | Single-Mode Lasers | Free Space, MM Fiber, SM Fiber, PM Fiber | |
| | LXCc Combiner | Combiners | Multiple Wavelength Options | 0.100, 0.200, 0.300, 0.400, 0.500 | Single-Mode Lasers, Multimode | Free Space, MM Fiber, SM Fiber, PM Fiber | |
| | MatchBox Combiner | Combiners | Multiple Wavelength Options | 0.050, 0.100 | Single-Mode Lasers, Multimode | Free Space, MM Fiber, SM Fiber, PM Fiber | |
| | R0633 | LD Module, Single Emitter, Volume Bragg Grating (VBG) | 633 | 0.020, 0.050 | Single-Mode Lasers | Free Space, PM Fiber | Narrow |
| | R0638 | LD Module, Single Emitter, Volume Bragg Grating (VBG) | 638 | 0.025, 0.060, 0.300 | Single-Mode Lasers, Multimode | Free Space, MM Fiber, PM Fiber | Narrow |
| | R0660 | LD Module, Single Emitter, Volume Bragg Grating (VBG) | 660 | 0.060 | Single-Mode Lasers, Multimode | Free Space | Narrow |
| | R0680 | LD Module, Single Emitter, Volume Bragg Grating (VBG) | 680 | 0.300 | Single-Mode Lasers, Multimode | Free Space, MM Fiber | Narrow |
| | R0780 | LD Module, Single Emitter, Volume Bragg Grating (VBG) | 780 | 0.050, 0.100 | Single-Mode Lasers, Multimode | Free Space, PM Fiber | Narrow |
| | R0783 | LD Module, Single Emitter, Volume Bragg Grating (VBG) | 783 | 0.050, 0.100 | Single-Mode Lasers, Multimode | Free Space, SM Fiber, PM Fiber | Narrow |
| | R0785 | LD Module, Single Emitter, Volume Bragg Grating (VBG) | 785 | 0.050, 0.100, 0.200, 0.350, 0.600 | Single-Mode Lasers, Multimode | Free Space, MM Fiber, PM Fiber | Narrow |
| | R0808 | LD Module, Single Emitter, Volume Bragg Grating (VBG) | 808 | 0.050, 0.100, 0.200, 0.350, 0.600 | Single-Mode Lasers, Multimode | Free Space, MM Fiber, PM Fiber | Narrow |
| | R0830 | LD Module, Single Emitter, Volume Bragg Grating (VBG) | 830 | 0.100, 0.200, 0.350, 0.600 | Single-Mode Lasers, Multimode | Free Space, MM Fiber, PM Fiber | Narrow |
| | R0976 | LD Module, Single Emitter, Volume Bragg Grating (VBG) | 976 | 0.220, 0.500, 0.750, 4.0, 5.0 | Single-Mode Lasers, Multimode | Free Space, MM Fiber | Narrow |
| | R1030 | LD Module, Single Emitter, Volume Bragg Grating (VBG) | 1030 | 0.100, 0.280, 0.450 | Single-Mode Lasers, Multimode | Free Space, SM Fiber, PM Fiber | Narrow |
| | R1053 | LD Module, Single Emitter, Volume Bragg Grating (VBG) | 1053 | 0.050, 0.120, 0.200, 0.300, 0.500 | Single-Mode Lasers, Multimode | Free Space, SM Fiber, PM Fiber | Narrow |
| | R1064 | LD Module, Single Emitter, Volume Bragg Grating (VBG) | 1064 | 0.050, 0.150, 0.300, 0.350, 0.600 | Single-Mode Lasers, Multimode | Free Space, MM Fiber, PM Fiber | Narrow |
| | R1064.X | Single Emitter, Volume Bragg Grating (VBG) | 1064 | 0.050, 0.120, 0.300 | Single-Mode Lasers | Free Space, SM Fiber, PM Fiber | Narrow |