Laser Diodes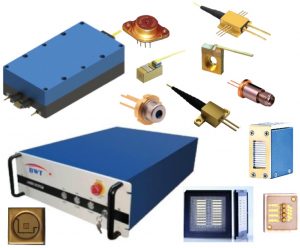 RPMC Lasers offers one of the broadest wavelength selections of Semiconductor Laser Diodes available, using indium gallium arsenide (InGaAs), gallium nitride (GaN) and other semiconductor materials.  On this page, we list all diode products, including single emitters, multi-emitters, arrays (bars), stacks, VCSELS, DFB, VBG, QCL, SLD, multi-wavelength, turn-key, tunable, and custom laser types.
Laser Diode Products
Our narrow linewidth options utilize DFB (distributed feedback) and VBG (volume Bragg grating) technology.  Furthermore, we offer fiber-coupled options on most devices and complete turn-key systems if preferred.
Laser Diodes are available with wavelengths in the UV, violet, blue, green, red, NIR, SWIR, MWIR, and LWIR spectral regions, in a large range of output powers. Firstly, our single-mode products provide output powers in the mW range. Next, our multimode emitters and VCSELs produce powers in the Watts range. Finally, our diode bars, stacks and multi-emitter, fiber-coupled modules and systems provide powers in the multi KW range.
There are many different packages to choose from. For example, we offer chip on submount, B-mounts, C-mounts, Q-mounts, and various TO-Can and HHL packages, amongst others. Furthermore, if you do not see the package type needed, we offer many custom packages.
Click on the link to browse our current selection of limited supply, in-stock, lasers at a reduced price.
| | | | | | | | | | |
| --- | --- | --- | --- | --- | --- | --- | --- | --- | --- |
| | HL375 | Single Emitter | 375 | 0.200 | Multimode | Free Space | | CW | 5.6mm |
| | HL405 | Single Emitter | 405 | 0.300, 0.600, 1.0, 3.5 | Single-Mode Lasers, Multimode | Free Space | | CW | 5.6mm, 9mm |
| | HL633 | Single Emitter | 633 | 0.100 | Single-Mode Lasers | Free Space | | CW | 5.6mm |
| | HL637 | Single Emitter | 637 | 0.007, 0.120, 0.250, 0.450, 1.0, 1.2 | Single-Mode Lasers, Multimode | Free Space | | CW | 5.6mm, 9mm |
| | HL638 | Single Emitter | 638 | 0.005, 0.007, 0.010, 0.015, 0.120, 0.170, 0.200, 0.700, 1.5, 2.2, 2.4 | Single-Mode Lasers, Multimode | Free Space | | CW | 3.8mm, 5.6mm, 9mm |
| | HL639 | Single Emitter | 639 | 0.010, 0.012, 0.020, 0.025, 0.030, 0.200, 0.210 | Single-Mode Lasers | Free Space | | CW | 5.6mm |
| | HL640 | Single Emitter | 640 | 0.045 | Single-Mode Lasers | Free Space | | CW | 5.6mm |
| | HL642 | Single Emitter | 642 | 0.065, 0.090, 0.150 | Single-Mode Lasers | Free Space | | CW | 5.6mm |
| | HL649 | Single Emitter | 649 | 0.150 | Single-Mode Lasers | Free Space | | CW | 5.6mm |
| | HL658 | Single Emitter | 658 | 0.035, 0.085 | Single-Mode Lasers | Free Space | | CW | 5.6mm |
| | HL659 | Single Emitter | 659 | 1.2 | Multimode | Free Space | | CW | 9mm |
| | HL660 | Single Emitter | 660 | 0.100, 0.110, 0.120, 0.130, 0.150, 0.210 | Single-Mode Lasers | Free Space | | CW | 5.6mm |
| | HL670 | Single Emitter | 670 | 0.010, 0.015 | Single-Mode Lasers | Free Space | | CW | 5.6mm, 9mm |
| | HL675 | Single Emitter | 675 | 0.210 | Single-Mode Lasers | Free Space | | CW | 5.6mm, 9mm |
| | HL685 | Single Emitter | 685 | 0.055 | Single-Mode Lasers | Free Space | | CW | 5.6mm |
| | HL690 | Single Emitter | 690 | 0.035, 0.210 | Single-Mode Lasers | Free Space | | CW | 5.6mm |
| | HL705 | Single Emitter | 705 | 0.050 | Single-Mode Lasers | Free Space | | CW | 5.6mm |
| | HL730 | Single Emitter | 730 | 0.050 | Single-Mode Lasers | Free Space | | CW | 5.6mm |
| | HL830 | Single Emitter | 830 | 0.050 | Single-Mode Lasers | Free Space | | CW | 5.6mm |
| | HL852 | Single Emitter | 852 | 0.050 | Single-Mode Lasers | Free Space | | CW | 5.6mm |
| | JDL-1020 | Array (Bar) | 1020 | 120.0, 200.0 | Multimode | Free Space | | CW | None |
| | JDL-1060 | Single Emitter, Array (Bar) | 1060 | 10.0, 40.0, 60.0, 80.0, 120.0, 200.0, 250.0, 350.0 | Multimode | Free Space | | CW, QCW | None |
| | JDL-760 | Array (Bar) | 760 | 40.0 | Multimode | Free Space | | CW | None |
| | JDL-792 | Array (Bar) | 792 | 60.0, 80.0 | Multimode | Free Space | | CW | None |
| | JDL-808 | Single Emitter, Array (Bar) | 808 | 6.0, 8.0, 10.0, 20.0, 40.0, 50.0, 60.0, 80.0, 92.0, 200.0, 300.0 | Multimode | Free Space | | CW, QCW | None |
| | JDL-880 | Array (Bar) | 880 | 500.0 | Multimode | Free Space | | QCW | None |
| | JDL-905 | Array (Bar) | 905 | 200.0 | Multimode | Free Space | | CW | None |
| | JDL-915 | Array (Bar) | 915 | 40.0, 60.0, 80.0, 200.0 | Multimode | Free Space | | CW | None |
| | JDL-940 | Array (Bar) | 940 | 60.0, 80.0, 120.0, 200.0, 300.0 | Multimode | Free Space | | CW, QCW | None |
| | JDL-976 | Array (Bar) | 976 | 60.0, 80.0, 120.0 | Multimode | Free Space | | CW | None |
| | JOLD-FC-1470 | Array (Bar) | 1470 | 20.0 | Multimode | MM Fiber | | CW | Fiber Coupled |
| | JOLD-FC-808 | Array (Bar) | 808 | 30.0, 45.0, 70.0, 75.0, 100.0, 120.0, 140.0, 210.0, 250.0, 400.0 | Multimode | MM Fiber | | CW, QCW | Fiber Coupled |
| | JOLD-FC-880 | Array (Bar) | 880 | 30.0, 45.0, 75.0, 100.0 | Multimode | MM Fiber | | CW | Fiber Coupled |
| | JOLD-FC-915 | Array (Bar) | 915 | 30.0, 45.0, 75.0, 100.0, 120.0, 140.0, 210.0, 250.0, 400.0 | Multimode | MM Fiber | | CW, QCW | Fiber Coupled |
| | JOLD-FC-940 | Array (Bar) | 940 | 30.0, 45.0, 70.0, 75.0, 100.0, 120.0, 140.0, 210.0, 250.0, 400.0 | Multimode | MM Fiber | | CW, QCW | Fiber Coupled |
| | JOLD-FC-976 | Array (Bar) | 976 | 30.0, 45.0, 75.0, 100.0, 120.0, 140.0, 210.0, 250.0, 400.0 | Multimode | MM Fiber | | CW, QCW | Fiber Coupled |
| | JOLD-Open-808-CW | Array (Bar) | 808 | 40.0, 50.0, 60.0, 80.0 | Multimode | Free Space | | CW | CS, CN, MCC Stack |
| | JOLD-Open-808-CW-FAC | Array (Bar) | 808 | 35.0, 55.0, 90.0 | Multimode | Free Space | | CW | CS, CN |
| | JOLD-Open-808-CW-FAC/SAC | Array (Bar) | 808 | 32.0, 50.0 | Multimode | Free Space | | CW | CS, CN |
| | JOLD-Open-808-QCW | Array (Bar) | 808 | 100.0, 300.0 | Multimode | Free Space | | QCW | CS, CN |
| | JOLD-Open-808-QCW-FAC | Array (Bar) | 808 | 90.0, 225.0, 270.0 | Multimode | Free Space | | QCW | CS, CN |
| | JOLD-Open-880-CW | Array (Bar) | 880 | 40.0, 60.0, 80.0 | Multimode | Free Space | | CW | CS, CN |
| | JOLD-Open-880-CW-FAC | Array (Bar) | 880 | 35.0, 50.0, 68.0 | Multimode | Free Space | | CW | CS, CN |
| | JOLD-Open-880-CW-FAC/SAC | Array (Bar) | 880 | 32.0, 50.0, 68.0 | Multimode | Free Space | | CW | CS, CN |
| | JOLD-Open-915-CW | Array (Bar) | 915 | 40.0, 60.0, 80.0, 275.0 | Multimode | Free Space | | CW | CS, CN, LK Package, MCC Stack |
| | JOLD-Open-915-CW-FAC | Array (Bar) | 915 | 32.0, 35.0, 55.0 | Multimode | Free Space | | CW | CS, CN |
| | JOLD-Open-915-CW-FAC/SAC | Array (Bar) | 915 | 32.0, 50.0, 68.0 | Multimode | Free Space | | CW | CS, CN |
| | JOLD-Open-938-CW | Array (Bar) | 938 | 40.0, 60.0, 80.0, 100.0, 120.0, 200.0, 275.0 | Multimode | Free Space | | CW | CS, CN, LK Package, MCC Stack |
| | JOLD-Open-938-CW-FAC | Array (Bar) | 938 | 35.0, 55.0, 90.0, 180.0 | Multimode | Free Space | | CW | CS, CN |
| | JOLD-Open-938-CW-FAC/SAC | Array (Bar) | 938 | 32.0, 35.0, 50.0, 68.0 | Multimode | Free Space | | CW | CS, CN |
| | JOLD-Open-938-QCW-FAC | Array (Bar) | 938 | 90.0, 100.0 | Multimode | Free Space | | QCW | CS, CN |
| | JOLD-Open-976-CW | Array (Bar) | 976 | 40.0, 60.0, 80.0, 100.0, 120.0, 160.0, 275.0 | Multimode | Free Space | | CW | CS, CN, LK Package, MCC Stack |
| | JOLD-Open-976-CW-FAC | Array (Bar) | 976 | 55.0, 90.0 | Multimode | Free Space | | CW | CS, CN |
| | JOLD-Open-976-CW-FAC/SAC | Array (Bar) | 976 | 32.0, 35.0, 50.0, 68.0 | Multimode | Free Space | | CW | CS, CN |
| | JOLD-Stack-808-CW-FAC | Laser Diode Stack | 808 | 288.0, 432.0, 576.0, 720.0, 864.0 | Multimode | Free Space | | CW | MCC Stack |
| | JOLD-Stack-808-CW-FAC/SAC | Laser Diode Stack | 808 | 200.0, 300.0, 400.0, 500.0, 600.0 | Multimode | Free Space | | CW | MCC Stack |
| | JOLD-Stack-808-CW | Laser Diode Stack | 808 | 310.0, 320.0, 480.0, 640.0, 800.0, 960.0 | Multimode | Free Space | | CW | Stack, MCC Stack |
| | JOLD-Stack-808-QCW-FAC | Laser Diode Stack | 808 | 360.0, 540.0, 720.0, 780.0, 810.0, 900.0, 1080.0, 1560.0, 2160.0 | Multimode | Free Space | | QCW | Stack, MCC Stack |
| | JOLD-Stack-808-QCW | Laser Diode Stack | 808 | 400.0, 600.0, 800.0, 900.0, 1000.0, 1200.0, 1600.0, 2400.0 | Multimode | Free Space | | QCW | Stack, MCC Stack |
| | JOLD-Stack-940-CW-FAC | Laser Diode Stack | 940 | 440.0, 660.0, 880.0, 1100.0, 1320.0 | Multimode | Free Space | | CW | MCC Stack |
| | JOLD-Stack-940-CW-FAC/SAC | Laser Diode Stack | 940 | 200.0, 300.0, 400.0, 500.0, 600.0 | Multimode | Free Space | | CW | MCC Stack |
| | JOLD-Stack-940-CW | Laser Diode Stack | 940 | 310.0, 480.0, 720.0, 960.0, 1200.0, 1440.0 | Multimode | Free Space | | CW | Stack, MCC Stack |
| | JOLD-Stack-940-QCW-FAC | Laser Diode Stack | 940 | 360.0, 540.0, 720.0, 810.0, 900.0, 1080.0, 2160.0 | Multimode | Free Space | | QCW | Stack, MCC Stack |
| | JOLD-Stack-940-QCW | Laser Diode Stack | 940 | 400.0, 600.0, 800.0, 900.0, 1000.0, 1200.0, 2400.0 | Multimode | Free Space | | QCW | Stack, MCC Stack |
| | JOLD-Stack-980-CW-FAC | Laser Diode Stack | 980 | 440.0, 660.0, 880.0, 1100.0, 1320.0 | Multimode | Free Space | | CW | MCC Stack |
| | JOLD-Stack-980-CW-FAC/SAC | Laser Diode Stack | 980 | 200.0, 300.0, 400.0, 500.0, 600.0 | Multimode | Free Space | | CW | MCC Stack |
| | JOLD-Stack-980-CW | Laser Diode Stack | 980 | 480.0, 720.0, 960.0, 1200.0, 1440.0 | Multimode | Free Space | | CW | MCC Stack |
| | LDX-XXXX-1030 | Single Emitter | 1030 | 3.0, 5.0 | Multimode | Free Space, MM Fiber | | CW | Chip on Carrier, C-Mount, B-Mount, Q-Mount, 9mm, TO-3 no TEC, HHL, 9mm SMA, 2-Pin FC, 8-pin HHL, 9-pin HHL |
| | LDX-XXXX-1064 | Single Emitter | 1064 | 1.5, 3.0, 5.0 | Multimode | Free Space, MM Fiber | | CW | Chip on Carrier, C-Mount, B-Mount, Q-Mount, 9mm, TO-3 no TEC, TO-3-TEC, HHL, 9mm SMA, 2-Pin FC, 8-pin HHL, 9-pin HHL |
| | LDX-XXXX-1120 | Single Emitter | 1120 | 2.0, 3.5, 5.0 | Multimode | Free Space, MM Fiber | | CW | Chip on Carrier, C-Mount, B-Mount, Q-Mount, 9mm, TO-3 no TEC, HHL, 9mm SMA, 2-Pin FC, 9-pin HHL |
| | LDX-XXXX-1210 | Single Emitter | 1210 | 1.5, 2.0 | Multimode | Free Space, MM Fiber | | CW | C-Mount, B-Mount, TO-3 no TEC, HHL |
| | LDX-XXXX-1280 | Single Emitter | 1280 | 3.5, 5.0, 7.0 | Multimode | Free Space, MM Fiber | | CW | Chip on Carrier, C-Mount, B-Mount, Q-Mount, 9mm, TO-3 no TEC, HHL, 9mm SMA, 2-Pin FC, 8-pin HHL, 9-pin HHL |
| | LDX-XXXX-1370 | Single Emitter | 1370 | 3.5, 5.0 | Multimode | Free Space, MM Fiber | | CW | C-Mount, B-Mount, TO-3 no TEC, HHL |
| | LDX-XXXX-1470 | Single Emitter | 1470 | 3.5, 5.0, 7.0 | Multimode | Free Space, MM Fiber | | CW | C-Mount, B-Mount, TO-3 no TEC, HHL |
| | LDX-XXXX-1550 | Single Emitter | 1550 | 0.800, 1.0, 1.5, 1.75, 2.5, 3.5, 5.0 | Multimode | Free Space, MM Fiber | | CW | Chip on Carrier, C-Mount, B-Mount, Q-Mount, 9mm, TO-3 no TEC, HHL, 9mm SMA, 2-Pin FC, 9-pin HHL |
| | LDX-XXXX-1620 | Single Emitter | 1620 | 1.0 | Multimode | Free Space, MM Fiber | | CW | Chip on Carrier, C-Mount, B-Mount, HHL |
| | LDX-XXXX-1640 | Single Emitter | 1640 | 1.2 | Multimode | Free Space, MM Fiber | | CW | Chip on Carrier, C-Mount, B-Mount, TO-3 no TEC, HHL |
| | LDX-XXXX-1675 | Single Emitter | 1675 | 2.0 | Multimode | Free Space, MM Fiber | | CW | Chip on Carrier, C-Mount, B-Mount, TO-3 no TEC, HHL, 2-Pin FC, 8-pin HHL, 9-pin HHL |
| | LDX-XXXX-1850 | Single Emitter | 1850 | 1.0 | Multimode | Free Space, MM Fiber | | CW | Chip on Carrier, C-Mount, B-Mount, Q-Mount, 9mm, TO-3 no TEC, HHL, 9mm SMA, 2-Pin FC, 8-pin HHL, 9-pin HHL |
| | LDX-XXXX-445 | Single Emitter | 445 | 3.5 | Multimode | Free Space, MM Fiber | | CW | Chip on Carrier, C-Mount, B-Mount, Q-Mount, 9mm, TO-3 no TEC, HHL, 9mm SMA, 2-Pin FC, 8-pin HHL, 9-pin HHL |
| | LDX-XXXX-520 | Single Emitter | 520 | 1.0 | Multimode | Free Space, MM Fiber | | CW | TO-3 no TEC, HHL |
| | LDX-XXXX-622 | Single Emitter | 622 | 0.150 | Multimode | Free Space, MM Fiber | | CW | Chip on Carrier, C-Mount, B-Mount, Q-Mount, 9mm, TO-3 no TEC, HHL, 9mm SMA, 2-Pin FC, 8-pin HHL, 9-pin HHL |
| | LDX-XXXX-627 | Single Emitter | 627 | 0.250, 0.350 | Multimode | Free Space, MM Fiber | | CW | Chip on Carrier, C-Mount, B-Mount, Q-Mount, 9mm, TO-3 no TEC, TO-3-TEC, HHL, 9mm SMA, 2-Pin FC, 8-pin HHL, 9-pin HHL |
| | LDX-XXXX-630 | Single Emitter | 630 | 0.250, 0.400 | Multimode | Free Space, MM Fiber | | CW | Chip on Carrier, C-Mount, B-Mount, Q-Mount, 9mm, TO-3 no TEC, TO-3-TEC, HHL, 9mm SMA, 2-Pin FC, 8-pin HHL, 9-pin HHL |
| | LDX-XXXX-635 | Single Emitter | 635 | 0.300, 0.400, 0.600, 1.2 | Multimode | Free Space, MM Fiber | | CW | Chip on Carrier, C-Mount, B-Mount, Q-Mount, 9mm, TO-3 no TEC, HHL, 9mm SMA, 2-Pin FC, 8-pin HHL, 9-pin HHL |
| | LDX-XXXX-645 | Single Emitter | 645 | 0.300, 0.400 | Multimode | Free Space, MM Fiber | | CW | Chip on Carrier, C-Mount, B-Mount, Q-Mount, 9mm, TO-3 no TEC, TO-3-TEC, HHL, 9mm SMA, 2-Pin FC, 8-pin HHL, 9-pin HHL |
| | LDX-XXXX-650 | Single Emitter | 650 | 1.0 | Multimode | Free Space, MM Fiber | | CW | Chip on Carrier, C-Mount, B-Mount, Q-Mount, 9mm, TO-3 no TEC, TO-3-TEC, HHL, 9mm SMA, 2-Pin FC, 8-pin HHL, 9-pin HHL |
| | LDX-XXXX-660 | Single Emitter | 660 | 0.350, 0.750, 1.0, 2.0 | Multimode | Free Space, MM Fiber | | CW | Chip on Carrier, C-Mount, B-Mount, Q-Mount, 9mm, TO-3 no TEC, TO-3-TEC, HHL, 9mm SMA, 2-Pin FC, 8-pin HHL, 9-pin HHL |
| | LDX-XXXX-665 | Single Emitter | 665 | 0.350, 0.750, 1.0, 2.0 | Multimode | Free Space, MM Fiber | | CW | Chip on Carrier, C-Mount, B-Mount, Q-Mount, 9mm, TO-3 no TEC, HHL, 9mm SMA, 2-Pin FC, 8-pin HHL, 9-pin HHL |
| | LDX-XXXX-680 | Single Emitter | 680 | 0.400, 0.800, 1.2, 2.0 | Multimode | Free Space, MM Fiber | | CW | Chip on Carrier, C-Mount, B-Mount, Q-Mount, 9mm, TO-3 no TEC, TO-3-TEC, HHL, 9mm SMA, 2-Pin FC, 8-pin HHL, 9-pin HHL |
| | LDX-XXXX-685 | Single Emitter | 685 | 0.400, 0.800, 1.2, 2.0 | Multimode | Free Space, MM Fiber | | CW | Chip on Carrier, C-Mount, B-Mount, Q-Mount, 9mm, TO-3 no TEC, TO-3-TEC, HHL, 9mm SMA, 2-Pin FC, 8-pin HHL, 9-pin HHL |
| | LDX-XXXX-690 | Single Emitter | 690 | 0.400, 0.750, 1.1 | Multimode | Free Space, MM Fiber | | CW | Chip on Carrier, C-Mount, B-Mount, Q-Mount, 9mm, TO-3 no TEC, HHL, 9mm SMA, 2-Pin FC, 8-pin HHL, 9-pin HHL |
| | LDX-XXXX-735 | Single Emitter | 735 | 1.0, 1.75, 2.0, 4.0 | Multimode | Free Space, MM Fiber | | CW | Chip on Carrier, C-Mount, B-Mount, Q-Mount, 9mm, TO-3 no TEC, HHL, 9mm SMA, 2-Pin FC, 8-pin HHL, 9-pin HHL |
| | LDX-XXXX-750 | Single Emitter | 750 | 1.0, 2.0, 3.0, 5.0 | Multimode | Free Space, MM Fiber | | CW | Chip on Carrier, C-Mount, B-Mount, Q-Mount, 9mm, TO-3 no TEC, HHL, 9mm SMA, 2-Pin FC, 8-pin HHL, 9-pin HHL |
| | LDX-XXXX-760 | Single Emitter | 760 | 1.0, 2.0, 3.0, 6.0 | Multimode | Free Space, MM Fiber | | CW | Chip on Carrier, C-Mount, B-Mount, Q-Mount, 9mm, TO-3 no TEC, HHL, 9mm SMA, 2-Pin FC, 8-pin HHL, 9-pin HHL |
| | LDX-XXXX-780 | Single Emitter | 780 | 1.2, 2.5, 3.5, 5.0 | Multimode | Free Space, MM Fiber | | CW | Chip on Carrier, C-Mount, B-Mount, Q-Mount, 9mm, TO-3 no TEC, TO-3-TEC, HHL, 9mm SMA, 2-Pin FC, 8-pin HHL, 9-pin HHL |
| | LDX-XXXX-785 | Single Emitter | 785 | 3.5, 5.0 | Multimode | Free Space, MM Fiber | | CW | Chip on Carrier, C-Mount, B-Mount, Q-Mount, 9mm, TO-3 no TEC, TO-3-TEC, HHL, 9mm SMA, 2-Pin FC, 8-pin HHL, 9-pin HHL |
| | LDX-XXXX-792 | Single Emitter | 792 | 1.2, 2.5, 3.5 | Multimode | Free Space, MM Fiber | | CW | Chip on Carrier, C-Mount, B-Mount, Q-Mount, 9mm, TO-3 no TEC, HHL, 9mm SMA, 2-Pin FC, 8-pin HHL, 9-pin HHL |
| | LDX-XXXX-797 | Single Emitter | 797 | 3.0, 4.0 | Multimode | Free Space, MM Fiber | | CW | Chip on Carrier, C-Mount, B-Mount, Q-Mount, 9mm, TO-3 no TEC, HHL, 9mm SMA, 2-Pin FC, 8-pin HHL, 9-pin HHL |
| | LDX-XXXX-808 | Single Emitter | 808 | 1.2, 2.0, 3.0, 4.0, 6.0, 10.0 | Multimode | Free Space, MM Fiber | | CW | Chip on Carrier, C-Mount, B-Mount, Q-Mount, 9mm, TO-3 no TEC, HHL, 9mm SMA, 2-Pin FC, 8-pin HHL, 9-pin HHL |
| | LDX-XXXX-825 | Single Emitter | 825 | 4.0 | Multimode | Free Space, MM Fiber | | CW | Chip on Carrier, C-Mount, B-Mount, Q-Mount, 9mm, TO-3 no TEC, HHL, 9mm SMA, 2-Pin FC, 8-pin HHL, 9-pin HHL |
| | LDX-XXXX-830 | Single Emitter | 830 | 1.6 | Multimode | Free Space, MM Fiber | | CW | Chip on Carrier, C-Mount, B-Mount, Q-Mount, 9mm, TO-3 no TEC, HHL, 9mm SMA, 2-Pin FC, 8-pin HHL, 9-pin HHL |
| | LDX-XXXX-860 | Single Emitter | 860 | 1.0, 1.5, 2.0, 3.0, 4.0, 5.0 | Multimode | Free Space, MM Fiber | | CW | Chip on Carrier, C-Mount, B-Mount, Q-Mount, 9mm, TO-3 no TEC, HHL, 9mm SMA, 2-Pin FC, 8-pin HHL, 9-pin HHL |
| | LDX-XXXX-885 | Single Emitter | 885 | 2.5, 6.0 | Multimode | Free Space, MM Fiber | | CW | Chip on Carrier, C-Mount, B-Mount, Q-Mount, 9mm, TO-3 no TEC, TO-3-TEC, HHL, 9mm SMA, 2-Pin FC, 8-pin HHL, 9-pin HHL |
| | LDX-XXXX-900 | Single Emitter | 900 | 2.0 | Multimode | Free Space, MM Fiber | | CW | Chip on Carrier, C-Mount, B-Mount, Q-Mount, 9mm, TO-3 no TEC, HHL, 9mm SMA, 2-Pin FC, 8-pin HHL, 9-pin HHL |
| | LDX-XXXX-915 | Single Emitter | 915 | 3.0, 6.0, 10.0 | Multimode | Free Space, MM Fiber | | CW | Chip on Carrier, C-Mount, B-Mount, Q-Mount, 9mm, TO-3 no TEC, HHL, 9mm SMA, 2-Pin FC, 8-pin HHL, 9-pin HHL |
| | LDX-XXXX-940 | Single Emitter | 940 | 3.0, 5.0, 6.0, 16.0 | Multimode | Free Space, MM Fiber | | CW | Chip on Carrier, C-Mount, B-Mount, Q-Mount, 9mm, TO-3 no TEC, HHL, 9mm SMA, 2-Pin FC, 8-pin HHL, 9-pin HHL |
| | LDX-XXXX-960 | Single Emitter | 960 | 10.0 | Multimode | Free Space, MM Fiber | | CW | Chip on Carrier, C-Mount, TO-3 no TEC, HHL, 2-Pin FC, 8-pin HHL, 9-pin HHL |
| | LDX-XXXX-980 | Single Emitter | 980 | 1.5, 4.0, 5.0, 6.0, 10.0 | Multimode | Free Space, MM Fiber | | CW | Chip on Carrier, C-Mount, B-Mount, Q-Mount, 9mm, TO-3 no TEC, TO-3-TEC, HHL, 9mm SMA, 2-Pin FC, 8-pin HHL, 9-pin HHL |
| | LTC-OSE-G1 | Superluminescent | 1300, 1340, 1390, 1430, 1480, 1550, 1615, 1680 | 0.006, 0.008, 0.010, 0.012, 0.013, 0.015, 0.030 | Single-Mode Lasers | Free Space, SM Fiber, PM Fiber | Broadband | CW | Fiber Coupled, Butterfly - Open Beam, Butterfly FC |
| | LTC-OSE-G2 | Superluminescent | 1300, 1340, 1390, 1430, 1480, 1550, 1615, 1680 | 0.010, 0.012, 0.018, 0.019, 0.020, 0.025, 0.032, 0.035, 0.040 | Single-Mode Lasers | Free Space, SM Fiber, PM Fiber | Broadband | CW | Fiber Coupled, Butterfly - Open Beam, Butterfly FC |
| | PowerMir 4.0um | Quantum Cascade Lasers | 4000 | 0.100, 0.450, 1.0 | Multimode | Free Space | | QCW | Chip on Carrier, HHL |
| | PowerMir 4.6um | Quantum Cascade Lasers | 4600 | 0.500, 1.0 | Multimode | Free Space | | QCW | Chip on Carrier, HHL |
| | PowerMir 4.8um | Quantum Cascade Lasers | 4800 | 0.500, 1.0 | Multimode | Free Space | | QCW | Chip on Carrier, HHL |
| | PowerMir 9.4um | Quantum Cascade Lasers | 9400 | 0.100, 0.300 | Multimode | Free Space | | QCW | Chip on Carrier, HHL |
| | R0633 | LD Module, Single Emitter, Volume Bragg Grating (VBG) | 633 | 0.020, 0.050 | Single-Mode Lasers | Free Space, PM Fiber | Narrow | CW | 5.6mm, Butterfly - Open Beam, Butterfly FC |
| | R0638 | LD Module, Single Emitter, Volume Bragg Grating (VBG) | 638 | 0.025, 0.060, 0.300 | Single-Mode Lasers, Multimode | Free Space, MM Fiber, PM Fiber | Narrow | CW | 5.6mm, Butterfly - Open Beam, Butterfly FC, Open Beam Stub Laser |
| | R0660 | LD Module, Single Emitter, Volume Bragg Grating (VBG) | 660 | 0.060 | Single-Mode Lasers, Multimode | Free Space | Narrow | CW | D-Type Module |
| | R0680 | LD Module, Single Emitter, Volume Bragg Grating (VBG) | 680 | 0.300 | Single-Mode Lasers, Multimode | Free Space, MM Fiber | Narrow | CW | 5.6mm, Butterfly - Open Beam, Butterfly FC |
| | R0780 | LD Module, Single Emitter, Volume Bragg Grating (VBG) | 780 | 0.050, 0.100 | Single-Mode Lasers, Multimode | Free Space, PM Fiber | Narrow | CW | 5.6mm, Butterfly - Open Beam, Butterfly FC |
| | R0783 | LD Module, Single Emitter, Volume Bragg Grating (VBG) | 783 | 0.050, 0.100 | Single-Mode Lasers, Multimode | Free Space, SM Fiber, PM Fiber | Narrow | CW | 5.6mm, Butterfly - Open Beam, Butterfly FC |
| | R0785 | LD Module, Single Emitter, Volume Bragg Grating (VBG) | 785 | 0.050, 0.100, 0.200, 0.350, 0.600 | Single-Mode Lasers, Multimode | Free Space, MM Fiber, PM Fiber | Narrow | CW | 5.6mm, Butterfly - Open Beam, Butterfly FC |
| | R0808 | LD Module, Single Emitter, Volume Bragg Grating (VBG) | 808 | 0.050, 0.100, 0.200, 0.350, 0.600 | Single-Mode Lasers, Multimode | Free Space, MM Fiber, PM Fiber | Narrow | CW | 5.6mm, Butterfly - Open Beam, Butterfly FC |
| | R0830 | LD Module, Single Emitter, Volume Bragg Grating (VBG) | 830 | 0.100, 0.200, 0.350, 0.600 | Single-Mode Lasers, Multimode | Free Space, MM Fiber, PM Fiber | Narrow | CW | 5.6mm, Butterfly - Open Beam, Butterfly FC |
| | R0976 | LD Module, Single Emitter, Volume Bragg Grating (VBG) | 976 | 0.220, 0.500, 0.750, 4.0, 5.0 | Single-Mode Lasers, Multimode | Free Space, MM Fiber | Narrow | CW | Butterfly - Open Beam, Butterfly FC |
| | R1030 | LD Module, Single Emitter, Volume Bragg Grating (VBG) | 1030 | 0.100, 0.280, 0.450 | Single-Mode Lasers, Multimode | Free Space, SM Fiber, PM Fiber | Narrow | CW | Butterfly - Open Beam, Butterfly FC |
| | R1053 | LD Module, Single Emitter, Volume Bragg Grating (VBG) | 1053 | 0.050, 0.120, 0.200, 0.300, 0.500 | Single-Mode Lasers, Multimode | Free Space, SM Fiber, PM Fiber | Narrow | CW | 5.6mm, Butterfly - Open Beam, Butterfly FC |
| | R1064 | LD Module, Single Emitter, Volume Bragg Grating (VBG) | 1064 | 0.050, 0.150, 0.300, 0.350, 0.600 | Single-Mode Lasers, Multimode | Free Space, MM Fiber, PM Fiber | Narrow | CW | 5.6mm, Butterfly - Open Beam, Butterfly FC |
| | R1064.X | Single Emitter, Volume Bragg Grating (VBG) | 1064 | 0.050, 0.120, 0.300 | Single-Mode Lasers | Free Space, SM Fiber, PM Fiber | Narrow | CW | Butterfly FC |
| | RBDL-CW-9XX | Turn-Key System | 915, 976 | 1000.0, 2000.0, 3000.0 | Multimode | MM Fiber | | CW | Fiber Coupled |
| | RDS3 | Turn-Key System | Multiple Wavelength Options | Multiple Options Available | Single-Mode Lasers, Multimode | MM Fiber, SM Fiber | | CW | Fiber Coupled |
| | REP1260-1300 | LD Module, Single Emitter, Distributed Feedback (DFB) Lasers | 1260-1300 | 0.009, 0.012, 0.020, 0.022 | Single-Mode Lasers | Free Space, SM Fiber, PM Fiber | Narrow | CW | 5.6mm, TO-39, Butterfly FC |
| | REP1380-1400 | LD Module, Single Emitter, Distributed Feedback (DFB) Lasers | 1380-1400 | 0.008 | Single-Mode Lasers | Free Space, SM Fiber, PM Fiber | Narrow | CW | 5.6mm, TO-39, Butterfly FC |
| | REP1500-1560 | LD Module, Single Emitter, Distributed Feedback (DFB) Lasers | 1500-1560 | 0.005, 0.008, 0.016, 0.020, 0.022, 0.050 | Single-Mode Lasers | Free Space, SM Fiber, PM Fiber | Narrow | CW | 5.6mm, TO-39, Butterfly FC |
| | REP1560-1600 | LD Module, Single Emitter, Distributed Feedback (DFB) Lasers | 1560-1600 | 0.006, 0.020 | Single-Mode Lasers | Free Space, SM Fiber, PM Fiber | Narrow | CW | 5.6mm, TO-39, Butterfly FC |
| | REP1635-1670 | LD Module, Single Emitter, Distributed Feedback (DFB) Lasers | 1635-1670 | 0.006 | Single-Mode Lasers | Free Space, SM Fiber, PM Fiber | Narrow | CW | 5.6mm, TO-39, Butterfly FC |
| | REP1678-1720 | LD Module, Single Emitter, Distributed Feedback (DFB) Lasers | 1678-1720 | 0.005 | Single-Mode Lasers | Free Space, SM Fiber, PM Fiber | Narrow | CW | 5.6mm, TO-39, Butterfly FC |
| | REP1720-1770 | LD Module, Single Emitter, Distributed Feedback (DFB) Lasers | 1720-1770 | 0.005 | Single-Mode Lasers | Free Space, SM Fiber, PM Fiber | Narrow | CW | 5.6mm, TO-39, Butterfly FC |
| | REP1850-1880 | LD Module, Single Emitter, Distributed Feedback (DFB) Lasers | 1850-1880 | 0.003, 0.014 | Single-Mode Lasers | Free Space, SM Fiber, PM Fiber | Narrow | CW | 5.6mm, TO-39, Butterfly FC |
| | REP1908-1970 | LD Module, Single Emitter, Distributed Feedback (DFB) Lasers | 1908-1970 | 0.0015, 0.002 | Single-Mode Lasers | Free Space, SM Fiber, PM Fiber | Narrow | CW | 5.6mm, TO-39, Butterfly FC |
| | REP1970-2053 | LD Module, Single Emitter, Distributed Feedback (DFB) Lasers | 1970-2053 | 0.003, 0.014 | Single-Mode Lasers | Free Space, SM Fiber, PM Fiber | Narrow | CW | 5.6mm, TO-39, Butterfly FC |
| | REP2300-2333 | LD Module, Single Emitter, Distributed Feedback (DFB) Lasers | 2300-2333 | 0.005 | Single-Mode Lasers | SM Fiber, PM Fiber | | CW | TO-39, Butterfly FC |
| | RPK445M | Multi-Emitter Laser Diodes | 445 | 125, 170, 10.0, 15.0, 20.0, 50.0, 90.0 | Multimode | MM Fiber | | CW | Fiber Coupled |
| | RPK445S | Single Emitter | 445 | 0.800, 3.0 | Multimode | MM Fiber | | CW | 2-Pin FC |
| | RPK520S | Single Emitter | 520 | 0.005 | Multimode | MM Fiber | | CW | Coaxial |
| | RPK635M | Multi-Emitter Laser Diodes | 635 | 5.0 | Multimode | MM Fiber | | CW | Fiber Coupled |
| | RPK635S | Single Emitter | 635 | 0.002, 0.020 | Single-Mode Lasers | SM Fiber | | CW | Coaxial |
| | RPK785SS | Single Emitter, Volume Bragg Grating (VBG) | 785 | 0.600 | Multimode | MM Fiber | Narrow | CW | Butterfly FC |
| | RPK793M | Multi-Emitter Laser Diodes | 793 | 8.0, 12.0, 16.0, 30.0, 50.0, 80.0, 90.0, 140.0, 180.0 | Multimode | MM Fiber | | CW | Fiber Coupled |
| | RPK793S | Single Emitter | 793 | 4.0 | Multimode | MM Fiber | | CW | 2-Pin FC |
| | RPK808M | Multi-Emitter Laser Diodes | 808 | 15.0, 25.0, 30.0, 60.0, 150.0 | Multimode | MM Fiber | | CW | Fiber Coupled |
| | RPK808S | Single Emitter | 808 | 4.0, 8.0 | Multimode | MM Fiber | | CW | Fiber Coupled |
| | RPK830S | Single Emitter | 830 | 1.0 | Multimode | MM Fiber | | CW | 2-Pin FC |
| | RPK878MS | Multi-Emitter Laser Diodes, Volume Bragg Grating (VBG) | 878 | 30.0, 65.0, 120.0 | Multimode | MM Fiber | Narrow | CW | Fiber Coupled |
| | RPK888MS | Multi-Emitter Laser Diodes, Volume Bragg Grating (VBG) | 888 | 65.0, 120.0 | Multimode | MM Fiber | Narrow | CW | Fiber Coupled |
| | RPK915M | Multi-Emitter Laser Diodes | 915 | 30.0, 70.0, 160.0, 180.0, 300.0, 370.0 | Multimode | MM Fiber | | CW | Fiber Coupled |
| | RPK915S | Single Emitter | 915 | 12.0 | Multimode | MM Fiber | | CW | 2-Pin FC |
| | RPK940M | Multi-Emitter Laser Diodes | 940 | 30.0, 70.0, 150.0, 200.0 | Multimode | MM Fiber | | CW | Fiber Coupled |
| | RPK940S | Single Emitter | 940 | 10.0, 11.0, 20.0 | Multimode | MM Fiber | | CW | Fiber Coupled |
| | RPK960S | Single Emitter | 960 | 9.0 | Multimode | MM Fiber | | CW | 2-Pin FC |
| | RPK976M | Multi-Emitter Laser Diodes | 976 | 15.0, 20.0, 30.0, 70.0, 150.0, 200.0, 330.0, 540.0 | Multimode | MM Fiber | | CW | Fiber Coupled |
| | RPK976MS | Multi-Emitter Laser Diodes, Volume Bragg Grating (VBG) | 976 | 18.0, 27.0, 60.0, 100.0, 140.0, 180.0, 400.0 | Multimode | MM Fiber | Narrow | CW | Fiber Coupled |
| | RPK976S | Single Emitter | 976 | 10.0 | Multimode | MM Fiber | | CW | Fiber Coupled |
| | RPK976SS | Single Emitter, Volume Bragg Grating (VBG) | 976 | 3.0, 9.0 | Multimode | MM Fiber | Narrow | CW | 2-Pin FC |
| | RPKA64M | Multi-Emitter Laser Diodes | 1064 | 20.0 | Multimode | MM Fiber | | CW | Fiber Coupled |
| | RPKBDL-CW1000-E400 | Turn-Key System | 445 | 500.0, 1000.0 | Multimode | MM Fiber | | CW | Fiber Coupled |
| | RPKDS3-LC 445nm Fiber Coupled Blue Diode Laser System | Turn-Key System | 445 | 120.0, 200.0, 250.0 | Multimode | MM Fiber | | CW | Fiber Coupled |
| | RPKMWM | Multi Wavelength | Multiple Wavelength Options | 0.300, 0.600, 5.0, 6.0, 10.0, 15.0, 25.0 | Multimode | MM Fiber | | CW | Fiber Coupled |
| | RWLD-1064M | Single Emitter | 1064 | 8.0, 10.0 | Multimode | Free Space | | CW | E-Mount, H-Mount |
| | RWLD-1270S | Single Emitter | 1270 | 0.020, 0.030 | Single-Mode Lasers | Free Space | | CW | TO-18 |
| | RWLD-1290S | Single Emitter | 1290 | 0.020, 0.030 | Single-Mode Lasers | Free Space | | CW | TO-18 |
| | RWLD-1310S | Single Emitter | 1310 | 0.020, 0.030 | Single-Mode Lasers | Free Space | | CW | TO-18 |
| | RWLD-1330S | Single Emitter | 1330 | 0.020, 0.030 | Single-Mode Lasers | Free Space | | CW | TO-18 |
| | RWLD-1350S | Single Emitter | 1350 | 0.020, 0.030 | Single-Mode Lasers | Free Space | | CW | TO-18 |
| | RWLD-1370S | Single Emitter | 1370 | 0.020, 0.030 | Single-Mode Lasers | Free Space | | CW | TO-18 |
| | RWLD-1390S | Single Emitter | 1390 | 0.020, 0.030 | Single-Mode Lasers | Free Space | | CW | TO-18 |
| | RWLD-1410S | Single Emitter | 1410 | 0.015, 0.020 | Single-Mode Lasers | Free Space | | CW | TO-18 |
| | RWLD-1430S | Single Emitter | 1430 | 0.015, 0.020 | Single-Mode Lasers | Free Space | | CW | TO-18 |
| | RWLD-1450M | Single Emitter | 1450 | 2.0 | Multimode | Free Space | | CW | E-Mount, H-Mount |
| | RWLD-1450S | Single Emitter | 1450 | 0.015, 0.020 | Single-Mode Lasers | Free Space | | CW | TO-18 |
| | RWLD-1470M | Single Emitter | 1470 | 3.0 | Multimode | Free Space | | CW | E-Mount, H-Mount |
| | RWLD-1470S | Single Emitter | 1470 | 0.015, 0.020 | Single-Mode Lasers | Free Space | | CW | TO-18 |
| | RWLD-1490S | Single Emitter | 1490 | 0.015, 0.020 | Single-Mode Lasers | Free Space | | CW | TO-18 |
| | RWLD-1510S | Single Emitter | 1510 | 0.015, 0.020 | Single-Mode Lasers | Free Space | | CW | TO-18 |
| | RWLD-1530M | Single Emitter | 1530 | 2.0 | Multimode | Free Space | | CW | E-Mount, H-Mount |
| | RWLD-1530S | Single Emitter | 1530 | 0.015, 0.020 | Single-Mode Lasers | Free Space | | CW | TO-18 |
| | RWLD-1550M | Single Emitter | 1550 | 2.5 | Multimode | Free Space | | CW | E-Mount, H-Mount |
| | RWLD-1550S | Single Emitter | 1550 | 0.015, 0.020 | Single-Mode Lasers | Free Space | | CW | TO-18 |
| | RWLD-1570S | Single Emitter | 1570 | 0.015, 0.020 | Single-Mode Lasers | Free Space | | CW | TO-18 |
| | RWLD-1590S | Single Emitter | 1590 | 0.015, 0.020 | Single-Mode Lasers | Free Space | | CW | TO-18 |
| | RWLD-1610S | Single Emitter | 1615 | 0.015, 0.020 | Single-Mode Lasers | Free Space | | CW | TO-18 |
| | RWLD-1625S | Single Emitter | 1625 | 0.015, 0.020 | Single-Mode Lasers | Free Space | | CW | TO-18 |
| | RWLD-1650S | Single Emitter | 1650 | 0.015, 0.020 | Single-Mode Lasers | Free Space | | CW | TO-18 |
| | RWLD-395M | Single Emitter | 395 | 0.300 | Multimode | Free Space | | CW | TO-18 |
| | RWLD-405M | Single Emitter | 405 | 0.300, 0.400, 0.600, 1.0 | Multimode | Free Space | | CW | TO-18 |
| | RWLD-405S | Single Emitter | 405 | 0.010, 0.120, 0.200, 0.250, 0.300 | Single-Mode Lasers | Free Space | | CW | TO-18 |
| | RWLD-445M | Single Emitter | 445 | 4.0 | Multimode | Free Space | | CW | TO-18 |
| | RWLD-445S | Single Emitter | 445 | 0.100 | Single-Mode Lasers | Free Space | | CW | TO-18 |
| | RWLD-455M | Single Emitter | 455 | 5.5, 5.0 | Multimode | Free Space | | CW | TO-18 |
| | RWLD-460S | Single Emitter | 460 | 0.100 | Single-Mode Lasers | Free Space | | CW | TO-18 |
| | RWLD-465M | Single Emitter | 465 | 3.0 | Multimode | Free Space | | CW | TO-18 |
| | RWLD-480S | Single Emitter | 480 | 0.060, 0.080 | Single-Mode Lasers | Free Space | | CW | TO-18 |
| | RWLD-488S | Single Emitter | 488 | 0.060, 0.080, 0.100 | Single-Mode Lasers | Free Space | | CW | TO-18 |
| | RWLD-495S | Single Emitter | 495 | 0.060, 0.080 | Single-Mode Lasers | Free Space | | CW | TO-18 |
| | RWLD-505S | Single Emitter | 505 | 0.050, 0.080 | Single-Mode Lasers | Free Space | | CW | TO-18 |
| | RWLD-520M | Single Emitter | 520 | 0.300, 0.600, 1.3 | Multimode | Free Space | | CW | TO-18 |
| | RWLD-520S | Single Emitter | 520 | 0.030, 0.080, 0.140 | Single-Mode Lasers | Free Space | | CW | TO-18 |
| | RWLD-635M | Single Emitter | 635 | 0.500, 0.700, 1.0, 2.0 | Multimode | Free Space | | CW | TO-18 |
| | RWLD-635S | Single Emitter | 635 | 0.050, 0.180, 0.200 | Single-Mode Lasers | Free Space | | CW | TO-18 |
| | RWLD-650S | Single Emitter | 650 | 0.150, 0.180 | Single-Mode Lasers | Free Space | | CW | TO-18 |
| | RWLD-660M | Single Emitter | 660 | 1.0, 1.5 | Multimode | Free Space | | CW | E-Mount, C-Mount |
| | RWLD-690M | Single Emitter | 650 | 0.150, 0.180 | Single-Mode Lasers | Free Space | | CW | TO-18 |
| | RWLD-760M | Single Emitter | 760 | 5.0 | Multimode | Free Space | | CW | E-Mount, H-Mount |
| | RWLD-780M | Single Emitter | 780 | 4.0, 8.0 | Multimode | Free Space | | CW | E-Mount, H-Mount, C-Mount |
| | RWLD-785S | Single Emitter | 785 | 0.100, 0.120 | Single-Mode Lasers | Free Space | | CW | TO-18 |
| | RWLD-808M | Single Emitter | 808 | 0.300, 0.500, 1.0, 2.0, 3.0, 5.0, 8.0, 10.0 | Multimode | Free Space | | CW | E-Mount, H-Mount, TO-18, C-Mount |
| | RWLD-830S | Single Emitter | 830 | 0.100, 0.150, 0.200, 0.250 | Single-Mode Lasers | Free Space | | CW | TO-18 |
| | RWLD-850M | Single Emitter | 850 | 0.500, 0.800, 1.0 | Multimode | Free Space | | CW | TO-18 |
| | RWLD-915M | Single Emitter | 915 | 10.0, 12.0 | Multimode | Free Space | | CW | E-Mount, H-Mount |
| | RWLD-940M | Single Emitter | 940 | 10.0, 12.0 | Multimode | Free Space | | CW | E-Mount, H-Mount |
| | RWLD-980M | Single Emitter | 980 | 1.0, 3.0, 4.0, 10.0, 12.0, 15.0 | Multimode | Free Space | | CW | E-Mount, H-Mount, TO-18, C-Mount |
| | RWLD-980S | Single Emitter | 980 | 0.050 | Single-Mode Lasers | Free Space | | CW | TO-18 |
| | RWLP-905-050m-M-PD | Single Emitter | 905 | 0.050 | Multimode | MM Fiber | | CW | Coaxial |
| | TG-420 | Single Emitter | 420 | 0.050 | Single-Mode Lasers | Free Space | | CW | 5.6mm |
| | TG-425 | Single Emitter | 425 | 0.050 | Single-Mode Lasers | Free Space | | CW | 5.6mm |
| | TG-430 | Single Emitter | 430 | 0.050 | Single-Mode Lasers | Free Space | | CW | 5.6mm |
| | TG-435 | Single Emitter | 435 | 0.050 | Single-Mode Lasers | Free Space | | CW | 5.6mm |
| | TG-440 | Single Emitter | 440 | 0.050 | Single-Mode Lasers | Free Space | | CW | 5.6mm |
| | TG-445 | Single Emitter | 445 | 0.050 | Single-Mode Lasers | Free Space | | CW | 5.6mm |
| | TG-450 | Single Emitter | 450 | 0.050 | Single-Mode Lasers | Free Space | | CW | 5.6mm |
| | TG-455 | Single Emitter | 455 | 0.050 | Single-Mode Lasers | Free Space | | CW | 5.6mm |
| | TG-460 | Single Emitter | 460 | 0.050 | Single-Mode Lasers | Free Space | | CW | 5.6mm |
| | Triplex-RWLS-445-520-635 | Single Emitter, Turn-Key System | 445, 520, 635 | 0.010, 0.015, 0.020, 0.030, 0.050, 0.080, 0.100 | Single-Mode Lasers, Multimode | MM Fiber, SM Fiber | | CW | |
| | Triplex-RWLX-445-520-635 | Single Emitter | 445, 520, 635 | 0.010, 0.015, 0.020, 0.030, 0.050, 0.080, 0.100 | Single-Mode Lasers, Multimode | MM Fiber, SM Fiber | | CW | HHL |
| | UniMir 11.3um | Distributed Feedback (DFB) Lasers, Quantum Cascade Lasers | 11300 | 0.010 | Single-Mode Lasers | Free Space | Narrow | CW | HHL |
| | UniMir 13.4um | Distributed Feedback (DFB) Lasers, Quantum Cascade Lasers | 13400 | 0.005 | Single-Mode Lasers | Free Space | Narrow | CW | HHL |
| | UniMir 14.0um | Distributed Feedback (DFB) Lasers, Quantum Cascade Lasers | 14000 | 0.005 | Single-Mode Lasers | Free Space | Narrow | CW | HHL |
| | UniMir 14.9um | Distributed Feedback (DFB) Lasers, Quantum Cascade Lasers | 14900 | 0.005 | Single-Mode Lasers | Free Space | Narrow | CW | HHL |
| | UniMir 16.0um | Distributed Feedback (DFB) Lasers, Quantum Cascade Lasers | 16000 | 0.002 | Single-Mode Lasers | Free Space | Narrow | CW | HHL |
| | VD-0808-CW | VCSELs | 808 | 0.300, 2.0, 4.0, 7.0, 10.0, 20.0, 100.0, 200.0 | Single-Mode Lasers | Free Space | | CW | 2016, 3535, 7060, T-mount |
| | VD-0850 Pulsed | VCSELs | 850 | 10.0, 15.0, 25.0, 50.0 | Single-Mode Lasers | Free Space | | Pulsed | TO-16, TO-46 |
| | VD-0850-CW | VCSELs | 850 | 0.008, 0.200, 0.400, 0.700, 1.0, 2.0, 4.0, 8.0 | Single-Mode Lasers | Free Space | | CW | 2016, 3535, 7060, TO-18 |
| | VD-0940 Pulsed | VCSELs | 940 | 10.0, 25.0, 50.0 | Single-Mode Lasers | Free Space | | Pulsed | 3535, TO-46 |
| | VD-0940-CW | VCSELs | 940 | 0.008, 0.020, 0.060, 0.070, 0.140, 0.150, 0.160, 0.200, 0.250, 0.500, 2.0, 4.0 | Single-Mode Lasers | Free Space | | CW | 2016, 3535, 7060, 5.6mm, TO-46 |