Laser Diodes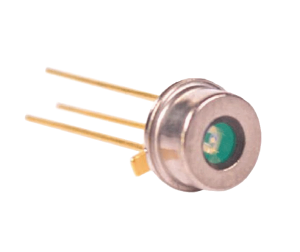 What is a Laser Diode?
A Laser Diode or semiconductor laser is the simplest form of Solid-State Laser.  Laser diodes are commonly referred to as edge emitting laser diodes because the laser light is emitted from the edge of the substrate or chip. The light emitting region of the chip is commonly called the emitter.  The emitter size and the number of emitters determine output power and beam quality.
Electrically speaking, a laser diode is a PIN diode. The intrinsic (I) region is the active region. The N and P regions provide the active region with the carriers (electrons and holes). Initially, research was carried out using P-N diodes. However, all modern devices utilize the double-hetero-structure implementation. This design confines the carriers and photons, allowing a maximization of recombination and light generation.
Laser Diode Epitaxy: the epitaxial structure of a diode laser is typically grown utilizing one of the crystal growth techniques, starting with an N-doped substrate, then growing the I-doped layer (active region), proceeded by the P-doped layer, and finally, a contact layer. The active region of the chip typically consists of quantum wells. These wells allow for a lower threshold current and a higher operating efficiency.
RPMC Lasers has over 25 years of experience working with our customers to provide standard and custom laser diodes in a wide variety of packages and wavelengths. RPMC offers one of the broadest wavelength selections of Semiconductor Laser Diodes available, using indium gallium arsenide (InGaAs), gallium nitride (GaN) and other semiconductor materials.  On this page, we list all diode products, including single emitters, multi-emitters, arrays (bars), stacks, VCSELS, DFB, VBG, QCL, SLD, multi-wavelength, turn-key, tunable, and custom laser types.
Laser Diode Products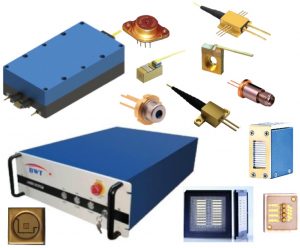 Laser Diodes are available with wavelengths in the UV, violet, blue, green, red, NIR, SWIR, MWIR, and LWIR spectral regions, in a large range of output powers.
Our single-mode products provide output powers in the mW range. Next, our multimode emitters and VCSELs produce powers in the Watts range. Finally, our diode bars, stacks and multi-emitter, fiber-coupled modules and systems provide powers in the multi KW range.
Our narrow linewidth options utilize DFB (distributed feedback) and VBG (volume Bragg grating) technology.  Furthermore, we offer fiber-coupled options on most devices and complete turn-key systems if preferred.
There are many different packages to choose from. For example, we offer chip on submount, B-mounts, C-mounts, Q-mounts, and various TO-Can and HHL packages, amongst others. Furthermore, if you do not see the package type needed, we offer many custom packages.
Click on the link to browse our current selection of in-stock lasers, ready to ship!
Picture
Part Number

Wavelength (nm)

Output power (W)

Mode

Output

Linewidth

Duty

Package

HL375
375
0.200
Multimode
Free Space
CW
5.6mm
HL405
405
0.150, 0.300, 0.400, 0.600, 1.0
Single-Mode, Multimode
Free Space
CW
5.6mm, 9mm
HL633
633
0.100
Single-Mode
Free Space
CW
5.6mm
HL637
637
0.007, 0.120, 0.250, 0.450, 1.0, 1.2
Single-Mode, Multimode
Free Space
CW
5.6mm, 9mm
HL638
638
0.005, 0.007, 0.010, 0.015, 0.120, 0.150, 0.200, 0.700, 1.5, 2.2, 2.4
Single-Mode, Multimode
Free Space
CW
3.8mm, 5.6mm, 9mm
HL639
639
0.010, 0.012, 0.020, 0.025, 0.030, 0.200, 0.210
Single-Mode
Free Space
CW
5.6mm
HL640
640
0.045
Single-Mode
Free Space
CW
5.6mm
HL642
642
0.065, 0.090, 0.150
Single-Mode
Free Space
CW
5.6mm
HL649
649
0.150
Single-Mode
Free Space
CW
5.6mm
HL658
658
0.035, 0.085
Single-Mode
Free Space
CW
5.6mm
HL659
659
1.2
Multimode
Free Space
CW
9mm
HL660
660
0.100, 0.110, 0.120, 0.130, 0.150, 0.210
Single-Mode
Free Space
CW
5.6mm
HL670
670
0.010, 0.015
Single-Mode
Free Space
CW
5.6mm, 9mm
HL675
675
0.210
Single-Mode
Free Space
CW
5.6mm, 9mm
HL685
685
0.055
Single-Mode
Free Space
CW
5.6mm
HL690
690
0.035, 0.210, 1.3
Single-Mode, Multimode
Free Space
CW
5.6mm
HL705
705
0.050
Single-Mode
Free Space
CW
5.6mm
HL730
730
0.050
Single-Mode
Free Space
CW
5.6mm
HL830
830
0.050
Single-Mode
Free Space
CW
5.6mm
HL852
852
0.050
Single-Mode
Free Space
CW
5.6mm
JDL-1020
1020
120.0, 200.0
Multimode
Free Space
CW
None
JDL-1060
1060
10.0, 40.0, 60.0, 80.0, 120.0, 200.0, 250.0, 350.0
Multimode
Free Space
CW, QCW
None
JDL-760
760
40.0
Multimode
Free Space
CW
None
JDL-792
792
60.0, 80.0
Multimode
Free Space
CW
None
JDL-808
808
6.0, 8.0, 10.0, 20.0, 40.0, 50.0, 60.0, 80.0, 92.0, 200.0, 300.0
Multimode
Free Space
CW, QCW
None
JDL-880
880
500.0
Multimode
Free Space
QCW
None
JDL-905
905
200.0
Multimode
Free Space
CW
None
JDL-915
915
40.0, 60.0, 80.0, 200.0
Multimode
Free Space
CW
None
JDL-940
940
60.0, 80.0, 120.0, 200.0, 300.0
Multimode
Free Space
CW, QCW
None
JDL-976
976
60.0, 80.0, 120.0
Multimode
Free Space
CW
None
JOLD-FC-1470
1470
20.0
Multimode
MM Fiber
CW
Fiber Coupled
JOLD-FC-808
808
3.5, 4.2, 30.0, 45.0, 70.0, 75.0, 100.0, 120.0, 140.0, 210.0, 250.0, 400.0
Multimode
MM Fiber
CW, QCW
Fiber Coupled
JOLD-FC-880
880
30.0, 45.0, 75.0, 100.0
Multimode
MM Fiber
CW
Fiber Coupled
JOLD-FC-915
915
30.0, 45.0, 75.0, 100.0, 120.0, 140.0, 210.0, 250.0, 400.0
Multimode
MM Fiber
CW, QCW
Fiber Coupled
JOLD-FC-940
940
30.0, 45.0, 70.0, 75.0, 100.0, 120.0, 140.0, 210.0, 250.0, 400.0
Multimode
MM Fiber
CW, QCW
Fiber Coupled
JOLD-FC-976
976
30.0, 45.0, 75.0, 100.0, 120.0, 140.0, 210.0, 250.0, 400.0
Multimode
MM Fiber
CW, QCW
Fiber Coupled
JOLD-Open-808-CW
808
40.0, 50.0, 60.0, 80.0
Multimode
Free Space
CW
CS, CN, MCC Stack
JOLD-Open-808-CW-FAC
808
35.0, 55.0, 90.0
Multimode
Free Space
CW
CS, CN
JOLD-Open-808-CW-FAC/SAC
808
32.0, 50.0
Multimode
Free Space
CW
CS, CN
JOLD-Open-808-QCW
808
100.0, 250.0, 300.0
Multimode
Free Space
QCW
CS, CN
JOLD-Open-808-QCW-FAC
808
90.0, 225.0, 270.0
Multimode
Free Space
QCW
CS, CN
JOLD-Open-880-CW
880
40.0, 60.0, 80.0
Multimode
Free Space
CW
CS, CN
JOLD-Open-880-CW-FAC
880
35.0, 55.0, 90.0
Multimode
Free Space
CW
CS, CN
JOLD-Open-880-CW-FAC/SAC
880
32.0, 50.0, 68.0
Multimode
Free Space
CW
CS, CN
JOLD-Open-915-CW
915
40.0, 60.0, 80.0, 275.0
Multimode
Free Space
CW
CS, CN, LK Package, MCC Stack
JOLD-Open-915-CW-FAC
915
32.0, 35.0, 55.0
Multimode
Free Space
CW
CS, CN
JOLD-Open-915-CW-FAC/SAC
915
32.0, 50.0, 68.0
Multimode
Free Space
CW
CS, CN
JOLD-Open-938-CW
938
40.0, 60.0, 80.0, 100.0, 120.0, 200.0, 275.0
Multimode
Free Space
CW
CS, CN, LK Package, MCC Stack
JOLD-Open-938-CW-FAC
938
90.0, 180.0
Multimode
Free Space
CW
CS, CN
JOLD-Open-938-CW-FAC/SAC
938
32.0, 35.0, 50.0, 68.0
Multimode
Free Space
CW
CS, CN
JOLD-Open-938-QCW-FAC
938
90.0, 100.0
Multimode
Free Space
QCW
CS, CN
JOLD-Open-976-CW
976
40.0, 50.0, 60.0, 80.0, 100.0, 120.0, 160.0, 275.0
Multimode
Free Space
CW
CS, CN, LK Package, MCC Stack
JOLD-Open-976-CW-FAC
976
35.0, 55.0, 90.0
Multimode
Free Space
CW
CS, CN
JOLD-Open-976-CW-FAC/SAC
976
32.0, 35.0, 50.0, 68.0
Multimode
Free Space
CW
CS, CN
JOLD-Stack-808-CW-FAC
808
288.0, 432.0, 576.0, 720.0, 864.0
Multimode
Free Space
CW
MCC Stack
JOLD-Stack-808-CW-FAC/SAC
808
200.0, 300.0, 400.0, 500.0, 600.0
Multimode
Free Space
CW
MCC Stack
JOLD-Stack-808-CW
808
310.0, 320.0, 480.0, 640.0, 800.0, 960.0
Multimode
Free Space
CW
Stack, MCC Stack
JOLD-Stack-808-QCW-FAC
808
780.0, 810.0, 1080.0, 1560.0, 2160.0
Multimode
Free Space
QCW
Stack, MCC Stack
JOLD-Stack-808-QCW
808
900.0, 1000.0, 1600.0, 2400.0
Multimode
Free Space
QCW
Stack, MCC Stack
JOLD-Stack-940-CW-FAC
940
440.0, 660.0, 880.0, 1100.0, 1320.0
Multimode
Free Space
CW
MCC Stack
JOLD-Stack-940-CW-FAC/SAC
940
200.0, 300.0, 400.0, 500.0, 600.0
Multimode
Free Space
CW
MCC Stack
JOLD-Stack-940-CW
940
310.0, 480.0, 720.0, 960.0, 1200.0, 1440.0
Multimode
Free Space
CW
Stack, MCC Stack
JOLD-Stack-940-QCW-FAC
940
810.0, 1080.0, 2160.0
Multimode
Free Space
QCW
Stack, MCC Stack
JOLD-Stack-940-QCW
940
900.0, 1000.0, 2400.0
Multimode
Free Space
QCW
Stack, MCC Stack
JOLD-Stack-980-CW-FAC
980
440.0, 660.0, 880.0
Multimode
Free Space
CW
MCC Stack
JOLD-Stack-980-CW-FAC/SAC
980
200.0, 300.0, 400.0, 500.0, 600.0
Multimode
Free Space
CW
MCC Stack
JOLD-Stack-980-CW
980
480.0, 720.0, 960.0, 1200.0, 1440.0
Multimode
Free Space
CW
MCC Stack
LDX-XXXX-1030
1030
3.0, 5.0
Multimode
MM Fiber, Free Space
CW
Chip on Carrier, C-Mount, B-Mount, Q-Mount, 9mm, TO-3 no TEC, HHL, 9mm SMA, 2-Pin FC, 8-pin HHL, 9-pin HHL
LDX-XXXX-1064
1064
1.5, 3.0, 5.0
Multimode
MM Fiber, Free Space
CW
Chip on Carrier, C-Mount, B-Mount, Q-Mount, 9mm, TO-3 no TEC, TO-3-TEC, HHL, 9mm SMA, 2-Pin FC, 8-pin HHL, 9-pin HHL
LDX-XXXX-1120
1120
2.0, 3.5, 5.0
Multimode
MM Fiber, Free Space
CW
Chip on Carrier, C-Mount, B-Mount, Q-Mount, 9mm, TO-3 no TEC, HHL, 9mm SMA, 2-Pin FC, 9-pin HHL
LDX-XXXX-1210
1210
1.5, 2.0
Multimode
MM Fiber, Free Space
CW
C-Mount, B-Mount, TO-3 no TEC, HHL
LDX-XXXX-1280
1280
3.5, 5.0, 7.0
Multimode
MM Fiber, Free Space
CW
Chip on Carrier, C-Mount, B-Mount, Q-Mount, 9mm, TO-3 no TEC, HHL, 9mm SMA, 2-Pin FC, 8-pin HHL, 9-pin HHL
LDX-XXXX-1370
1370
3.5, 5.0
Multimode
MM Fiber, Free Space
CW
C-Mount, B-Mount, TO-3 no TEC, HHL
LDX-XXXX-1470
1470
3.5, 5.0
Multimode
MM Fiber, Free Space
CW
C-Mount, B-Mount, TO-3 no TEC, HHL
LDX-XXXX-1550
1550
0.800, 1.0, 1.5, 1.75, 2.5, 3.5, 5.0
Multimode
MM Fiber, Free Space
CW
Chip on Carrier, C-Mount, B-Mount, Q-Mount, 9mm, TO-3 no TEC, HHL, 9mm SMA, 2-Pin FC, 9-pin HHL
LDX-XXXX-1620
1620
1.0
Multimode
MM Fiber, Free Space
CW
Chip on Carrier, C-Mount, B-Mount, HHL
LDX-XXXX-1640
1640
1.2
Multimode
MM Fiber, Free Space
CW
Chip on Carrier, C-Mount, B-Mount, TO-3 no TEC, HHL
LDX-XXXX-1675
1675
2.0
Multimode
MM Fiber, Free Space
CW
Chip on Carrier, C-Mount, B-Mount, TO-3 no TEC, HHL, 2-Pin FC, 8-pin HHL, 9-pin HHL
LDX-XXXX-1850
1850
1.0
Multimode
MM Fiber, Free Space
CW
Chip on Carrier, C-Mount, B-Mount, Q-Mount, 9mm, TO-3 no TEC, HHL, 9mm SMA, 2-Pin FC, 8-pin HHL, 9-pin HHL
LDX-XXXX-445
445
3.5
Multimode
MM Fiber, Free Space
CW
C-Mount, 9mm, TO-3 no TEC, HHL, 9mm SMA, 2-Pin FC
LDX-XXXX-520
520
1.0
Multimode
MM Fiber, Free Space
CW
TO-3 no TEC, HHL, 9mm SMA, 2-Pin FC
LDX-XXXX-622
622
0.150
Multimode
MM Fiber, Free Space
CW
C-Mount, 9mm, TO-3 no TEC, HHL, 9mm SMA, 2-Pin FC
LDX-XXXX-627
627
0.250, 0.350
Multimode
MM Fiber, Free Space
CW
Chip on Carrier, C-Mount, B-Mount, Q-Mount, 9mm, TO-3 no TEC, TO-3-TEC, HHL, 9mm SMA, 2-Pin FC, 8-pin HHL, 9-pin HHL
LDX-XXXX-630
630
0.250, 0.400
Multimode
MM Fiber, Free Space
CW
Chip on Carrier, C-Mount, B-Mount, Q-Mount, 9mm, TO-3 no TEC, TO-3-TEC, HHL, 9mm SMA, 2-Pin FC, 8-pin HHL, 9-pin HHL
LDX-XXXX-635
635
0.300, 0.400, 0.600, 1.2
Multimode
MM Fiber, Free Space
CW
Chip on Carrier, C-Mount, B-Mount, Q-Mount, 9mm, TO-3 no TEC, HHL, 9mm SMA, 2-Pin FC, 8-pin HHL, 9-pin HHL
LDX-XXXX-645
645
0.300, 0.400
Multimode
MM Fiber, Free Space
CW
Chip on Carrier, C-Mount, B-Mount, Q-Mount, 9mm, TO-3 no TEC, TO-3-TEC, HHL, 9mm SMA, 2-Pin FC, 8-pin HHL, 9-pin HHL
LDX-XXXX-650
650
1.0
Multimode
MM Fiber, Free Space
CW
Chip on Carrier, C-Mount, B-Mount, Q-Mount, 9mm, TO-3 no TEC, TO-3-TEC, HHL, 9mm SMA, 2-Pin FC, 8-pin HHL, 9-pin HHL
LDX-XXXX-660
660
0.350, 0.750, 1.0, 2.0
Multimode
MM Fiber, Free Space
CW
Chip on Carrier, C-Mount, B-Mount, Q-Mount, 9mm, TO-3 no TEC, TO-3-TEC, HHL, 9mm SMA, 2-Pin FC, 8-pin HHL, 9-pin HHL
LDX-XXXX-665
665
0.350, 0.750, 1.0, 2.0
Multimode
MM Fiber, Free Space
CW
Chip on Carrier, C-Mount, B-Mount, Q-Mount, 9mm, TO-3 no TEC, HHL, 9mm SMA, 2-Pin FC, 8-pin HHL, 9-pin HHL
LDX-XXXX-680
680
0.400, 0.800, 1.2, 2.0
Multimode
MM Fiber, Free Space
CW
Chip on Carrier, C-Mount, B-Mount, Q-Mount, 9mm, TO-3 no TEC, TO-3-TEC, HHL, 9mm SMA, 2-Pin FC, 8-pin HHL, 9-pin HHL
LDX-XXXX-685
685
0.400, 0.800, 1.2, 2.0
Multimode
MM Fiber, Free Space
CW
Chip on Carrier, C-Mount, B-Mount, Q-Mount, 9mm, TO-3 no TEC, TO-3-TEC, HHL, 9mm SMA, 2-Pin FC, 8-pin HHL, 9-pin HHL
LDX-XXXX-690
690
0.400, 0.750, 1.1
Multimode
MM Fiber, Free Space
CW
Chip on Carrier, C-Mount, B-Mount, Q-Mount, 9mm, TO-3 no TEC, HHL, 9mm SMA, 2-Pin FC, 8-pin HHL, 9-pin HHL
LDX-XXXX-735
735
1.0, 1.75, 2.0, 4.0
Multimode
MM Fiber, Free Space
CW
Chip on Carrier, C-Mount, B-Mount, Q-Mount, 9mm, TO-3 no TEC, HHL, 9mm SMA, 2-Pin FC, 8-pin HHL, 9-pin HHL
LDX-XXXX-750
750
1.0, 2.0, 3.0, 5.0
Multimode
MM Fiber, Free Space
CW
Chip on Carrier, C-Mount, B-Mount, Q-Mount, 9mm, TO-3 no TEC, HHL, 9mm SMA, 2-Pin FC, 8-pin HHL, 9-pin HHL
LDX-XXXX-760
760
1.0, 2.0, 3.0, 6.0
Multimode
MM Fiber, Free Space
CW
Chip on Carrier, C-Mount, B-Mount, Q-Mount, 9mm, TO-3 no TEC, HHL, 9mm SMA, 2-Pin FC, 8-pin HHL, 9-pin HHL
LDX-XXXX-780
780
1.2, 2.5, 3.5, 5.0
Multimode
MM Fiber, Free Space
CW
Chip on Carrier, C-Mount, B-Mount, Q-Mount, 9mm, TO-3 no TEC, TO-3-TEC, HHL, 9mm SMA, 2-Pin FC, 8-pin HHL, 9-pin HHL
LDX-XXXX-785
785
3.5, 5.0
Multimode
MM Fiber, Free Space
CW
Chip on Carrier, C-Mount, B-Mount, Q-Mount, 9mm, TO-3 no TEC, TO-3-TEC, HHL, 9mm SMA, 2-Pin FC, 8-pin HHL, 9-pin HHL
LDX-XXXX-792
792
1.2, 2.5, 3.5
Multimode
MM Fiber, Free Space
CW
Chip on Carrier, C-Mount, B-Mount, Q-Mount, 9mm, TO-3 no TEC, HHL, 9mm SMA, 2-Pin FC, 8-pin HHL, 9-pin HHL
LDX-XXXX-797
797
3.0, 4.0
Multimode
MM Fiber, Free Space
CW
Chip on Carrier, C-Mount, B-Mount, Q-Mount, 9mm, TO-3 no TEC, HHL, 9mm SMA, 2-Pin FC, 8-pin HHL, 9-pin HHL
LDX-XXXX-808
808
1.2, 2.0, 3.0, 4.0, 6.0, 10.0
Multimode
MM Fiber, Free Space
CW
Chip on Carrier, C-Mount, B-Mount, Q-Mount, 9mm, TO-3 no TEC, HHL, 9mm SMA, 2-Pin FC, 8-pin HHL, 9-pin HHL
LDX-XXXX-825
825
4.0
Multimode
MM Fiber, Free Space
CW
Chip on Carrier, C-Mount, B-Mount, Q-Mount, 9mm, TO-3 no TEC, HHL, 9mm SMA, 2-Pin FC, 8-pin HHL, 9-pin HHL
LDX-XXXX-830
830
1.6
Multimode
MM Fiber, Free Space
CW
Chip on Carrier, C-Mount, B-Mount, Q-Mount, 9mm, TO-3 no TEC, HHL, 9mm SMA, 2-Pin FC, 8-pin HHL, 9-pin HHL
LDX-XXXX-860
860
1.0, 1.5, 2.0, 3.0, 4.0, 5.0
Multimode
MM Fiber, Free Space
CW
Chip on Carrier, C-Mount, B-Mount, Q-Mount, 9mm, TO-3 no TEC, HHL, 9mm SMA, 2-Pin FC, 8-pin HHL, 9-pin HHL
LDX-XXXX-885
885
2.5, 6.0
Multimode
MM Fiber, Free Space
CW
Chip on Carrier, C-Mount, B-Mount, Q-Mount, 9mm, TO-3 no TEC, TO-3-TEC, HHL, 9mm SMA, 2-Pin FC, 8-pin HHL, 9-pin HHL
LDX-XXXX-900
900
2.0
Multimode
MM Fiber, Free Space
CW
Chip on Carrier, C-Mount, B-Mount, Q-Mount, 9mm, TO-3 no TEC, HHL, 9mm SMA, 2-Pin FC, 8-pin HHL, 9-pin HHL
LDX-XXXX-915
915
4.0, 6.0, 10.0
Multimode
MM Fiber, Free Space
CW
Chip on Carrier, C-Mount, B-Mount, Q-Mount, 9mm, TO-3 no TEC, HHL, 9mm SMA, 2-Pin FC, 8-pin HHL, 9-pin HHL
LDX-XXXX-940
940
4.0, 5.0, 6.0, 16.0
Multimode
MM Fiber, Free Space
CW
Chip on Carrier, C-Mount, B-Mount, Q-Mount, 9mm, TO-3 no TEC, HHL, 9mm SMA, 2-Pin FC, 8-pin HHL, 9-pin HHL
LDX-XXXX-960
960
10.0
Multimode
MM Fiber, Free Space
CW
Chip on Carrier, C-Mount, TO-3 no TEC, HHL, 2-Pin FC, 8-pin HHL, 9-pin HHL
LDX-XXXX-980
980
1.5, 4.0, 5.0, 6.0, 10.0
Multimode
MM Fiber, Free Space
CW
Chip on Carrier, C-Mount, B-Mount, Q-Mount, 9mm, TO-3 no TEC, TO-3-TEC, HHL, 9mm SMA, 2-Pin FC, 8-pin HHL, 9-pin HHL
PowerMir 4.0um
4000
0.100, 0.450, 1.0
Multimode
Free Space
QCW
Chip on Carrier, HHL
PowerMir 4.6um
4600
0.100, 0.450, 1.0
Multimode
Free Space
QCW
Chip on Carrier, HHL
PowerMir 4.8um
4800
0.100, 1.5
Multimode
Free Space
QCW
Chip on Carrier, HHL
PowerMir 9.4um
9400
0.100, 0.300
Multimode
Free Space
QCW
Chip on Carrier, HHL
R0633
633
0.025, 0.035, 0.050
Single-Mode
PM Fiber, Free Space
Narrow
CW
5.6mm, Butterfly - Open Beam, Butterfly FC, D-Type Module, U-Type FC Module, H & L-Type Tethered
R0638
638
0.030, 0.035, 0.050, 0.060, 0.300, 0.350
Single-Mode, Multimode
PM Fiber, MM Fiber, Free Space
Narrow
CW
5.6mm, Butterfly - Open Beam, Butterfly FC, Open Beam Stub Laser, D-Type Module, U-Type FC Module, H & L-Type Tethered
R0660
660
0.030, 0.060, 0.250
Single-Mode, Multimode
PM Fiber, MM Fiber, Free Space
Narrow
CW
5.6mm, Butterfly - Open Beam, Butterfly FC, D-Type Module, U-Type FC Module, M-Type FC Turn-Key
R0680
680
0.300
Multimode
MM Fiber, Free Space
Narrow
CW
Butterfly - Open Beam, Butterfly FC, Open Beam Stub Laser, U-Type FC Module, M-Type FC Turn-Key
R0780
780
0.025, 0.050, 0.090, 0.100
Single-Mode, Multimode
PM Fiber, Free Space
Narrow
CW
5.6mm, Butterfly - Open Beam, Butterfly FC
R0783
783
0.025, 0.050, 0.090, 0.100
Single-Mode, Multimode
PM Fiber, Free Space
Narrow
CW
5.6mm, Butterfly - Open Beam, Butterfly FC, D-Type Module, U-Type FC Module, H & L-Type Tethered
R0785
785
0.025, 0.050, 0.075, 0.090, 0.100, .135, 0.150, 0.175, 0.350, 0.500, 0.600, 0.800, 1.5
Single-Mode, Multimode
PM Fiber, MM Fiber, Free Space
Narrow
CW
5.6mm, Butterfly - Open Beam, Butterfly FC, D-Type Module, U-Type FC Module, H & L-Type Tethered, M-Type FC Turn-Key
R0808
808
0.025, 0.090, 0.100, .135, 0.150, 0.175, 0.350, 0.500, 0.600, 0.800, 1.5
Single-Mode, Multimode
PM Fiber, MM Fiber, Free Space
Narrow
CW
5.6mm, Butterfly - Open Beam, Butterfly FC, D-Type Module, U-Type FC Module, H & L-Type Tethered, M-Type FC Turn-Key
R0830
830
0.090, 0.100, .135, 0.150, 0.175, 0.350, 0.500, 0.600, 0.800, 1.5
Single-Mode, Multimode
PM Fiber, MM Fiber, Free Space
Narrow
CW
5.6mm, Butterfly - Open Beam, Butterfly FC, D-Type Module, U-Type FC Module, H & L-Type Tethered, M-Type FC Turn-Key
R0852
852
0.020, 0.100, 0.150, 0.175
Single-Mode, Multimode
PM Fiber, Free Space
Narrow
CW
5.6mm, Butterfly - Open Beam, Butterfly FC, D-Type Module, U-Type FC Module, H & L-Type Tethered
R0860
860
0.350, 0.500, 0.600, 1.0
Multimode
PM Fiber, Free Space
Narrow
CW
Butterfly - Open Beam, Butterfly FC, U-Type FC Module, M-Type FC Turn-Key
R0976
976
0.150, 0.220, 0.450, 0.500, 0.600, 0.700, 0.800, 1.5, 4.0, 5.0
Single-Mode, Multimode
PM Fiber, MM Fiber, Free Space
Narrow
CW
5.6mm, Butterfly - Open Beam, Butterfly FC, D-Type Module, U-Type FC Module, H & L-Type Tethered, M-Type FC Turn-Key
R1030
1030
0.050, 0.100, 0.280, 0.450
Single-Mode, Multimode
PM Fiber, Free Space
Narrow
CW
Butterfly - Open Beam, Butterfly FC, U-Type FC Module, H & L-Type Tethered
R1053
1053
0.050, 0.120, 0.150, 0.300, 0.500
Single-Mode, Multimode
PM Fiber, Free Space
Narrow
CW
5.6mm, Butterfly - Open Beam, Butterfly FC
R1064
1064
0.120, 0.150, 0.300, 0.350, 0.500, 0.600, 0.800, 1.5
Single-Mode, Multimode
PM Fiber, MM Fiber, Free Space
Narrow
CW
5.6mm, Butterfly - Open Beam, Butterfly FC, D-Type Module, U-Type FC Module, H & L-Type Tethered, M-Type FC Turn-Key
R1064.X
1064
0.050, 0.120, 0.300, 0.500
Single-Mode
PM Fiber, Free Space
Narrow
CW
Butterfly - Open Beam, Butterfly FC, U-Type FC Module, H & L-Type Tethered
REP1260-1300
1260-1300
0.009, 0.012, 0.020, 0.022
Single-Mode
PM Fiber, SM Fiber, Free Space
Narrow
CW
5.6mm, TO-39, Butterfly FC
REP1380-1400
1380-1400
0.008, 0.012
Single-Mode
PM Fiber, SM Fiber, Free Space
Narrow
CW
5.6mm, TO-39, Butterfly FC
REP1500-1560
1500-1560
0.0015, 0.003, 0.005, 0.008, 0.014, 0.016, 0.020, 0.022
Single-Mode
PM Fiber, SM Fiber, Free Space
Narrow
CW
5.6mm, TO-39, Butterfly FC
REP1550nm-1560nm
1560-1600
0.006, 0.014
Single-Mode
PM Fiber, SM Fiber, Free Space
Narrow
CW
5.6mm, TO-39, Butterfly FC
REP1635-1670
1635-1670
0.006, 0.008, 0.020
Single-Mode
PM Fiber, SM Fiber, Free Space
Narrow
CW
5.6mm, TO-39, Butterfly FC
REP1678-1720
1678-1720
0.005
Single-Mode
PM Fiber, SM Fiber, Free Space
Narrow
CW
5.6mm, TO-39, Butterfly FC
REP1720-1770
1720-1770
0.003, 0.006, 0.020
Single-Mode
PM Fiber, SM Fiber, Free Space
Narrow
CW
5.6mm, TO-39, Butterfly FC
REP1850-1880
1850-1880
0.003, 0.0045, 0.005, 0.008, 0.014
Single-Mode
PM Fiber, SM Fiber, Free Space
Narrow
CW
5.6mm, TO-39, Butterfly FC
REP1908-1970
1908-1970
0.002, 0.003, 0.020
Single-Mode
PM Fiber, SM Fiber, Free Space
Narrow
CW
5.6mm, TO-39, Butterfly FC
REP1970-2053
1970-2053
0.0015, 0.002, 0.003, 0.004, 0.005, 0.014
Single-Mode
PM Fiber, SM Fiber, Free Space
Narrow
CW
5.6mm, TO-39, Butterfly FC
REP2300-2333
2300-2333
0.002, 0.005
Single-Mode
PM Fiber, SM Fiber
Narrow
CW
TO-39, Butterfly FC
RPK405
405
4.0
Multimode
MM Fiber
CW
Fiber Coupled
RPK445
445
0.800, 3.0, 10.0, 20.0, 50.0, 100.0, 150.0, 200.0
Multimode
MM Fiber
CW
Fiber Coupled
RPK520
520
0.005
Single-Mode
SM Fiber
CW
Coaxial
RPK635
635
0.020, 5.0
Single-Mode, Multimode
SM Fiber, MM Fiber
CW
Fiber Coupled
RPK785
785
0.600
Multimode
MM Fiber
Narrow
CW
Butterfly FC
RPK793
793
4.0, 8.0, 12.0, 16.0, 30.0, 50.0, 90.0, 140.0, 180.0
Multimode
MM Fiber
CW
Fiber Coupled
RPK808
808
4.0, 8.0, 25.0, 30.0, 60.0, 150.0
Multimode
MM Fiber
CW
Fiber Coupled
RPK830
830
1.0
Multimode
MM Fiber
CW
2-Pin FC
RPK878
878
30.0, 65.0, 120.0
Multimode
MM Fiber
Narrow
CW
Fiber Coupled
RPK888
888
65.0, 120.0
Multimode
MM Fiber
Narrow
CW
Fiber Coupled
RPK915
915
12.0, 30.0, 70.0, 160.0, 300.0
Multimode
MM Fiber
CW
Fiber Coupled
RPK940
940
10.0, 11.0, 20.0, 30.0, 70.0, 120.0, 150.0, 200.0
Multimode
MM Fiber
CW
Fiber Coupled
RPK976
976
10.0, 20.0, 30.0, 70.0, 150.0, 200.0, 330.0, 510.0
Multimode
MM Fiber
CW
Fiber Coupled
RPKA64
1064
10.0, 20.0
Multimode
MM Fiber
CW
Fiber Coupled
RPKBDL-CW-9XX
915, 976
1000.0, 2000.0, 3000.0
Multimode
MM Fiber
CW
Fiber Coupled
RPKBDL-CW-E300/E400
445
500.0, 1000.0
Multimode
MM Fiber
CW
Fiber Coupled
RPKDS3- 445nm Fiber Coupled Blue Diode Laser System
445
120.0, 200.0, 250.0
Multimode
MM Fiber
CW
Fiber Coupled
RPKDS3-51522-RGB
445, 525, 638
6.0, 8.0, 22.0
Multimode
MM Fiber
CW
Fiber Coupled
RPKDS3
Multiple Wavelength Options
Multiple Options Available
Single-Mode, Multimode
SM Fiber, MM Fiber
CW
Fiber Coupled
RPKE70
1470
15.0
Multimode
MM Fiber
CW
Fiber Coupled
RPKMWM
Multiple Wavelength Options
0.600, 5.0, 15.0, 25.0
Multimode
MM Fiber
CW
Fiber Coupled
RWLB-980-012-H
980
12.0
Multimode
MM Fiber
CW
Fiber Coupled
RWLD-1064M
1064
8.0, 10.0
Multimode
Free Space
CW
E-Mount, H-Mount
RWLD-1270S
1270
0.020, 0.030
Single-Mode
Free Space
CW
5.6mm
RWLD-1290S
1290
0.020, 0.030
Single-Mode
Free Space
CW
5.6mm
RWLD-1310S
1310
0.020, 0.030
Single-Mode
Free Space
CW
5.6mm
RWLD-1330S
1330
0.020, 0.030
Single-Mode
Free Space
CW
5.6mm
RWLD-1350S
1350
0.020, 0.030
Single-Mode
Free Space
CW
5.6mm
RWLD-1370S
1370
0.020, 0.030
Single-Mode
Free Space
CW
5.6mm
RWLD-1390S
1390
0.020, 0.030
Single-Mode
Free Space
CW
5.6mm
RWLD-1410S
1410
0.015, 0.020
Single-Mode
Free Space
CW
5.6mm
RWLD-1430S
1430
0.015, 0.020
Single-Mode
Free Space
CW
5.6mm
RWLD-1450M
1450
2.0, 2.5
Multimode
Free Space
CW
E-Mount, H-Mount
RWLD-1450S
1450
0.015, 0.020
Single-Mode
Free Space
CW
5.6mm
RWLD-1470M
1470
2.5
Multimode
Free Space
CW
E-Mount, H-Mount
RWLD-1470S
1470
0.015, 0.020
Single-Mode
Free Space
CW
5.6mm
RWLD-1490S
1490
0.015, 0.020
Single-Mode
Free Space
CW
5.6mm
RWLD-1510S
1510
0.015, 0.020
Single-Mode
Free Space
CW
5.6mm
RWLD-1530M
1530
2.0
Multimode
Free Space
CW
E-Mount, H-Mount
RWLD-1530S
1530
0.015, 0.020
Single-Mode
Free Space
CW
5.6mm
RWLD-1550M
1550
2.0
Multimode
Free Space
CW
E-Mount, H-Mount
RWLD-1550S
1550
0.015, 0.020
Single-Mode
Free Space
CW
5.6mm
RWLD-1570S
1570
0.015, 0.020
Single-Mode
Free Space
CW
5.6mm
RWLD-1590S
1590
0.015, 0.020
Single-Mode
Free Space
CW
5.6mm
RWLD-1610S
1615
0.015, 0.020
Single-Mode
Free Space
CW
5.6mm
RWLD-1625S
1625
0.015, 0.020
Single-Mode
Free Space
CW
5.6mm
RWLD-1650S
1650
0.015, 0.020
Single-Mode
Free Space
CW
5.6mm
RWLD-405M
405
0.400, 0.600, 1.0
Multimode
Free Space
CW
5.6mm
RWLD-405S
405
0.010, 0.020, 0.065, 0.120, 0.200, 0.250, 0.300
Single-Mode
Free Space
CW
5.6mm
RWLD-445M
445
4.0, 5.0
Multimode
Free Space
CW
5.6mm
RWLD-445S
445
0.050, 0.100
Single-Mode
Free Space
CW
5.6mm
RWLD-455M
455
5.0, 5.5
Multimode
Free Space
CW
5.6mm
RWLD-460S
460
0.100
Single-Mode
Free Space
CW
5.6mm
RWLD-465M
465
3.0
Multimode
Free Space
CW
5.6mm
RWLD-480S
480
0.060, 0.080
Single-Mode
Free Space
CW
5.6mm
RWLD-488S
488
0.060, 0.080, 0.100
Single-Mode
Free Space
CW
5.6mm
RWLD-495S
495
0.060, 0.080
Single-Mode
Free Space
CW
5.6mm
RWLD-505S
505
0.050, 0.080
Single-Mode
Free Space
CW
5.6mm
RWLD-520M
520
0.300, 0.600, 1.3
Multimode
Free Space
CW
5.6mm
RWLD-520S
520
0.030, 0.050, 0.080, 0.140
Single-Mode
Free Space
CW
5.6mm
RWLD-635M
635
0.500, 0.700, 1.0, 2.0
Multimode
Free Space
CW
5.6mm
RWLD-635S
635
0.050, 0.130, 0.180, 0.200
Single-Mode
Free Space
CW
5.6mm
RWLD-650S
650
0.100, 0.150, 0.180
Single-Mode
Free Space
CW
5.6mm
RWLD-660M
660
1.0, 1.5
Multimode
Free Space
CW
E-Mount, C-Mount
RWLD-690M
650
1.0
Single-Mode
Free Space
CW
5.6mm
RWLD-760M
760
5.0
Multimode
Free Space
CW
E-Mount, H-Mount
RWLD-780M
780
4.0, 8.0
Multimode
Free Space
CW
E-Mount, H-Mount, C-Mount
RWLD-785S
785
0.100, 0.120
Single-Mode
Free Space
CW
5.6mm
RWLD-808M
808
0.300, 0.500, 1.0, 2.0, 3.0, 5.0, 8.0, 10.0
Multimode
Free Space
CW
E-Mount, H-Mount, C-Mount, 5.6mm
RWLD-830S
830
0.100, 0.150, 0.200, 0.250
Single-Mode
Free Space
CW
5.6mm
RWLD-850M
850
0.500, 0.800, 1.0, 3.0
Multimode
Free Space
CW
5.6mm
RWLD-880M
880
3.0
Multimode
Free Space
CW
C-Mount
RWLD-915M
915
10.0, 12.0
Multimode
Free Space
CW
E-Mount, H-Mount
RWLD-940M
940
10.0, 12.0
Multimode
Free Space
CW
E-Mount, H-Mount
RWLD-980M
980
1.0, 3.0, 4.0, 10.0, 12.0, 15.0
Multimode
Free Space
CW
E-Mount, H-Mount, C-Mount, 5.6mm
RWLD-980S
980
0.050
Single-Mode
Free Space
CW
5.6mm
RWLP-1064M
1064
1.0, 8.0, 25.0
Multimode
MM Fiber
CW
Coaxial, Butterfly FC, 8-pin HHL, 9-pin HHL
RWLP-1064S
1064
0.005, 0.010, 0.015, 0.020, 0.030, 0.040, 0.050
Single-Mode
PM Fiber, SM Fiber
CW
Coaxial, 8-pin HHL
RWLP-1270S
1270
0.002, 0.005, 0.010
Single-Mode
PM Fiber, SM Fiber
Narrow
CW
Coaxial, 8-pin HHL
RWLP-1290S
1290
0.002, 0.005, 0.010
Single-Mode
PM Fiber, SM Fiber
Narrow
CW
Coaxial, 8-pin HHL
RWLP-1310M
1310
1.0
Multimode
MM Fiber
CW
Coaxial, Butterfly FC, 8-pin HHL, 9-pin HHL
RWLP-1310S
1310
0.002, 0.003, 0.005, 0.010, 0.015
Single-Mode
PM Fiber, SM Fiber
Narrow
CW
Coaxial, 8-pin HHL
RWLP-1330M
1330
1.0
Multimode
MM Fiber
CW
Coaxial, Butterfly FC, 8-pin HHL, 9-pin HHL
RWLP-1330S
1330
0.002, 0.005, 0.010
Single-Mode
PM Fiber, SM Fiber
Narrow
CW
Coaxial, 8-pin HHL
RWLP-1350S
1350
0.002, 0.005, 0.010
Single-Mode
PM Fiber, SM Fiber
Narrow
CW
Coaxial, 8-pin HHL
RWLP-1370S
1370
0.002, 0.005, 0.010
Single-Mode
PM Fiber, SM Fiber
Narrow
CW
Coaxial, 8-pin HHL
RWLP-1410S
1410
0.002, 0.005, 0.010
Single-Mode
PM Fiber, SM Fiber
Narrow
CW
Coaxial, 8-pin HHL
RWLP-1430S
1430
0.002, 0.005, 0.010
Single-Mode
PM Fiber, SM Fiber
Narrow
CW
Coaxial, 8-pin HHL
RWLP-1450M
1450
2.0
Multimode
MM Fiber
CW
Coaxial, Butterfly FC, 8-pin HHL, 9-pin HHL
RWLP-1450S
1450
0.002, 0.005, 0.010
Single-Mode
PM Fiber, SM Fiber
Narrow
CW
Coaxial, 8-pin HHL
RWLP-1470M
1470
0.800, 1.0, 2.5, 3.0
Multimode
MM Fiber
CW
Coaxial, Butterfly FC, 8-pin HHL, 9-pin HHL
RWLP-1470S
1470
0.002, 0.005, 0.010
Single-Mode
PM Fiber, SM Fiber
Narrow
CW
Coaxial, 8-pin HHL
RWLP-1490S
1490
0.002, 0.005, 0.010
Single-Mode
PM Fiber, SM Fiber
Narrow
CW
Coaxial, 8-pin HHL
RWLP-1510S
1510
0.002, 0.005, 0.010
Single-Mode
PM Fiber, SM Fiber
Narrow
CW
Coaxial, 8-pin HHL
RWLP-1530S
1530
0.002, 0.005, 0.010
Single-Mode
PM Fiber, SM Fiber
Narrow
CW
Coaxial, 8-pin HHL
RWLP-1550S
1550
0.002, 0.003, 0.005, 0.010
Single-Mode
PM Fiber, SM Fiber
Narrow
CW
Coaxial, 8-pin HHL
RWLP-1570S
1570
0.002, 0.005, 0.010
Single-Mode
PM Fiber, SM Fiber
Narrow
CW
Coaxial, 8-pin HHL
RWLP-1590S
1590
0.002, 0.005, 0.008
Single-Mode
PM Fiber, SM Fiber
Narrow
CW
Coaxial, 8-pin HHL
RWLP-1610S
1610
0.002, 0.005, 0.008
Single-Mode
PM Fiber, SM Fiber
Narrow
CW
Coaxial, 8-pin HHL
RWLP-1625S
1625
0.002, 0.005, 0.008
Single-Mode
PM Fiber, SM Fiber
Narrow
CW
Coaxial, 8-pin HHL
RWLP-1650S
1650
0.002, 0.005, 0.009
Single-Mode
PM Fiber, SM Fiber
Narrow
CW
Coaxial, 8-pin HHL
RWLP-375M
375
0.100
Multimode
MM Fiber
CW
Coaxial, 9-pin HHL
RWLP-395M
395
0.200, 0.300
Multimode
MM Fiber
CW
HHL, Coaxial
RWLP-400M
400
0.400
Multimode
MM Fiber
CW
Coaxial, 8-pin HHL
RWLP-400S
400
0.015, 0.030
Single-Mode
PM Fiber, SM Fiber
CW
Coaxial, 8-pin HHL
RWLP-405M
405
0.200, 0.300, 0.400, 0.450
Multimode
MM Fiber
CW
Coaxial, 8-pin HHL
RWLP-405S
405
0.001, 0.015, 0.030, 0.040, 0.050
Single-Mode
PM Fiber, SM Fiber
CW
Coaxial, 8-pin HHL
RWLP-410M
410
0.300
Multimode
MM Fiber
CW
Coaxial, 8-pin HHL
RWLP-420M
420
0.800
Multimode
MM Fiber
CW
Coaxial, 8-pin HHL
RWLP-435M
435
3.0
Multimode
MM Fiber
CW
Coaxial, Butterfly FC, 8-pin HHL
RWLP-445M
445
0.050, 0.080, 0.800, 1.0, 3.5, 10.0, 20.0
Multimode
MM Fiber
CW
Coaxial, Butterfly FC, 8-pin HHL
RWLP-445S
445
0.015, 0.030, 0.040, 0.050, 0.070, 0.080, 0.100
Single-Mode
PM Fiber, SM Fiber
CW
Coaxial, 8-pin HHL
RWLP-455M
455
3.0, 4.0
Multimode
MM Fiber
CW
Coaxial, 9-pin HHL
RWLP-460S
460
0.030, 0.050, 0.080
Single-Mode
PM Fiber, SM Fiber
CW
Coaxial, 8-pin HHL
RWLP-465M
465
2.0, 7.0, 15.0
Multimode
MM Fiber
CW
Coaxial, 9-pin HHL
RWLP-473S
473
0.010, 0.020
Single-Mode
PM Fiber, SM Fiber
CW
Coaxial, 8-pin HHL
RWLP-480M
480
0.050
Multimode
MM Fiber
CW
Coaxial, 8-pin HHL
RWLP-480S
480
0.010, 0.020
Single-Mode
PM Fiber, SM Fiber
CW
Coaxial, 8-pin HHL
RWLP-488M
488
0.050, 0.080
Multimode
MM Fiber
CW
Coaxial, 8-pin HHL
RWLP-488S
488
0.010, 0.020, 0.030
Single-Mode
PM Fiber, SM Fiber
CW
Coaxial, 8-pin HHL
RWLP-495M
495
0.050
Multimode
MM Fiber
CW
Coaxial, 8-pin HHL
RWLP-495S
495
0.010, 0.020
Single-Mode
PM Fiber, SM Fiber
CW
Coaxial, 8-pin HHL
RWLP-505M
505
0.030, 0.050
Multimode
MM Fiber
CW
Coaxial, 8-pin HHL
RWLP-505S
505
0.010, 0.020
Single-Mode
PM Fiber, SM Fiber
CW
Coaxial, 8-pin HHL
RWLP-510S
510
0.010, 0.020
Single-Mode
PM Fiber, SM Fiber
CW
Coaxial, 8-pin HHL
RWLP-520M
520
0.010, 0.020, 0.030, 0.050, 0.080, 0.200, 0.300, 0.800, 1.0, 1.2, 2.0, 5.0
Multimode
MM Fiber
CW
Coaxial, 8-pin HHL
RWLP-520S
520
0.002, 0.005, 0.010, 0.020, 0.030, 0.040, 0.050, 0.080
Single-Mode
PM Fiber, SM Fiber
CW
Coaxial, 8-pin HHL
RWLP-525M
525
0.800, 1.0, 1.2, 2.0, 5.0
Multimode
MM Fiber
CW
Coaxial, 9-pin HHL
RWLP-532M
525, 532
1.0
Multimode
MM Fiber
CW
Coaxial, 9-pin HHL
RWLP-633M
630, 633
0.300, 0.700, 1.0
Multimode
MM Fiber
CW
9-pin HHL
RWLP-633S
633
0.030, 0.050
Single-Mode
PM Fiber, SM Fiber
CW
Coaxial, 8-pin HHL
RWLP-635M
635
0.005, 0.020, 0.120, 0.150, 0.300, 0.400, 0.800, 1.0, 1.8
Multimode
MM Fiber
CW
Coaxial, Butterfly FC, 9-pin HHL
RWLP-635S
635
0.001, 0.003, 0.005, 0.010, 0.030, 0.050, 0.080, 0.100
Single-Mode
PM Fiber, SM Fiber
CW
Coaxial, 8-pin HHL
RWLP-645M
645
1.8
Multimode
MM Fiber
CW
Coaxial, Butterfly FC, 9-pin HHL
RWLP-653M
653
0.700
Multimode
MM Fiber
CW
Coaxial, Butterfly FC, 9-pin HHL
RWLP-660M
660
0.030, 0.050, 0.080, 0.120, 0.800, 1.0
Multimode
MM Fiber
CW
Coaxial, Butterfly FC, 9-pin HHL
RWLP-660S
660
0.003, 0.005, 0.010, 0.020, 0.030, 0.040, 0.050, 0.080, 0.100
Single-Mode
PM Fiber, SM Fiber
CW
Coaxial, 8-pin HHL
RWLP-670M
670
0.005, 0.010, 0.120
Multimode
MM Fiber
CW
Coaxial, 8-pin HHL
RWLP-670S
670
0.003, 0.005, 0.050
Single-Mode
PM Fiber, SM Fiber
CW
Coaxial, 8-pin HHL
RWLP-685M
685
0.030
Multimode
MM Fiber
CW
Coaxial, 8-pin HHL
RWLP-685S
685
0.010, 0.015, 0.020
Single-Mode
PM Fiber, SM Fiber
CW
Coaxial, 8-pin HHL
RWLP-690M
690
0.800
Multimode
MM Fiber
CW
Coaxial, 9-pin HHL
RWLP-705S
705
0.010, 0.015
Single-Mode
PM Fiber, SM Fiber
CW
Coaxial, 8-pin HHL
RWLP-730S
730
0.010, 0.015
Single-Mode
PM Fiber, SM Fiber
CW
Coaxial, 8-pin HHL
RWLP-760M
760
1.5, 3.0
Multimode
MM Fiber
CW
Coaxial, Butterfly FC, 9-pin HHL
RWLP-770M
770
3.0
Multimode
MM Fiber
CW
Coaxial, 9-pin HHL
RWLP-785M
785
0.050, 1.5, 2.0, 3.0, 7.0
Multimode
MM Fiber
CW
Coaxial, Butterfly FC, 8-pin HHL, 9-pin HHL
RWLP-785S
785
0.005, 0.020, 0.030, 0.040, 0.050
Single-Mode
PM Fiber, SM Fiber
CW
Coaxial, 8-pin HHL
RWLP-808M
808
0.100, 0.150, 0.200, 0.300, 2.0, 4.0, 5.0, 8.0, 10.0, 25.0
Multimode
MM Fiber
CW
Coaxial, Butterfly FC, 8-pin HHL, 9-pin HHL
RWLP-808S
808
0.015, 0.020, 0.030, 0.040, 0.050
Single-Mode
PM Fiber, SM Fiber
CW
Coaxial, 8-pin HHL