Laser Accessories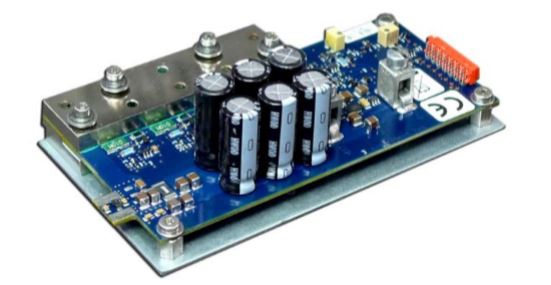 We offer a wide selection of  laser accessories. For example, we have CW and Pulsed laser diode drivers (benchtop, OEM modules, and PC board), TEC controllers, Driver/Controller Combos, Pockels cell drivers, Heatsinks/Mounts, Fibers, Raman Probes, Thin Disk Gain Media, Thin Disk Pump Modules, Mirror Mounts.
Electronics
Our broad range of desktop laser diode drivers will meet your exact test needs, from 100 milliamps to 20 Amps.  They include unique features not found on competing products. For example, an optically isolated photodiode and modulation inputs, programmable PD bias, and both RS232 and USB computer interfaces. They also have laser diode protection circuits such as interlock, ESD protection, and hardware limits for current and voltage.
Our OEM driver boards are an attractively priced solution for your pulsed, QCW, and CW laser needs. The standard products below represent statements of capability.  Finally, most of our drivers for OEM production are customized to meet the requirements of the end user.
Heatsinks
Our Laser Diode Heatsinks and Mounts support many of the common laser diode packages. Examples include; Butterfly, DIL, C-mount, HHL (high heat load), TO-3, TO-5.6, and TO-9, and other packages.  Using state of the art design tools, these heatsinks and mounts have been optimized into a highly efficient heat transfer test bed. Therefore,  improving upon the heat transfer found in most other mounts.
Our heatsinks for laser diodes feature both passive and active Peltier cooling solutions.  In short, passively cooled units conduct the heat away from the laser and dissipates it into the ambient air. While, actively cooled heatsinks utilize a thermoelectric cooler (TEC) to cool the laser diode package.
Raman Probe
We offer an ultra-high throughput integrated Raman probe. Firstly, this novel device includes an integrated wavelength stabilized laser source with Raman filter packs, beam shaping optics, and high-efficiency Raman spectra collection optics. Furthermore, the Raman probe interfaces with any fiber coupled spectrometer to simplify operation and set-up.
Finally, our Integrated Raman Probe incorporates our wavelength stabilized hybrid external cavity laser (HECL) with a proprietary optical design to offer unmatched performance (typically 3x -5x over traditional Raman probes) at a reasonable price.
Fibers
Lastly, we have a large selection of multi mode fiber options in stock. For example, options include 0.14 and 0.22 NA, 62-800µm core diameter, length of 1 to 10m, and with or without stainless steel squarelock sheathing, depending on the product configuration. Finally, all options are silica/silica step index fiber and have SMA-905 connectors.  Call to verify availability.
Thin Disk Gain Media
Thin-disk lasers typically utilize ytterbium-doped yttrium aluminum garnet (Yb:YAG) crystal as the gain medium. Compared to neodymium-doped yttrium aluminum garnet (Nd:YAG) crystal, Yb:YAG displays several benefits. Firstly, it provides a shorter emission wavelength at around 1030 nm. Secondly, it has a lesser degree of quantum defect, which provides improved efficiency with regard to the conversion from pump photons to laser photons. Thirdly, Yb:YAG has a longer upper-state lifetime, which is beneficial for energy storage regarding Q-switching.
Pump Modules
The pump modules we offer are designed for fiber-coupled pump beam delivery. Furthermore, acceptable pump beam wavelengths include 940nm and 969nm. Our pump modules do not come with the Thin Disk Gain Media included. However, they are compatible with the TD12 or TD20 options of gain media, which can be found here.
Mirror Mounts
RPMC is happy to now offer Water-Cooled Mirror Mounts for high-power applications with stringent, long-term stability requirements.
Machined from Premium Stainless Steel
25.7 mm Bore for Mounting 1″ Optics with 6.35 mm thickness
51 mm Bore for Mounting 2″ Optics with 9.5 or 12.5 mm thickness
Hardened Stainless Steel Plate Contacts for Durability and Smooth Movement
M6 x 0.25 Fine Hex Adjusters (adjustment with 2 mm hex key)
Optional Vacuum Compatibility
Let Us Help
In conclusion, if you have any questions or would like some assistance, please contact us here. Furthermore, you can call us at 636.272.7227 to talk to a knowledgeable Product Manager. Alternatively, you can also use the filters on this page to assist in narrowing down the selection. Finally, head to our Knowledge Center with our Lasers 101 page and Blogs and Whitepapers pages for further, in-depth reading.
Suggested Reading
| | | | | | | | | | | | |
| --- | --- | --- | --- | --- | --- | --- | --- | --- | --- | --- | --- |
| | 203 | Heatsinks / Mounts | | | | | | Butterfly Laser Mount | No TEC | | |
| | 205 | Heatsinks / Mounts | | | | | | Butterfly Laser Mount w/ TEC | Integrated TEC | | |
| | 207 | Heatsinks / Mounts | | | | | | Laser Mount w/ TEC | Integrated TEC | | |
| | 224 | Heatsinks / Mounts | | | | | | TO-Can Laser Mount w/ TEC | Integrated TEC | | |
| | 234B | Heatsinks / Mounts | | | | | | TO-Can Laser Mount w/ TEC | Integrated TEC | | |
| | 242 | Heatsinks / Mounts | | | | | | C-Mount Laser Mount w/ TEC | Integrated TEC | | |
| | 244 | Heatsinks / Mounts | | | | | | HHL Laser Mount w/ TEC | Integrated TEC | | |
| | 246 | Heatsinks / Mounts | | | | | | TO-3 Laser Mount w/ TEC | Integrated TEC | | |
| | 262 | Heatsinks / Mounts | | | | | | High Power Laser Mount custom configuration | No TEC | | |
| | 264 | Heatsinks / Mounts | | | | | | High Power Laser Mount w/ TEC custom configuration | Integrated TEC | | |
| | 274 | Heatsinks / Mounts | | | | | | Laser Mount w/ TEC | Integrated TEC | | |
| | 284-03 | Heatsinks / Mounts | | | | | | Laser Mount w/ TEC | Integrated TEC | | |
| | 286-01 | Heatsinks / Mounts | | | | | | Laser Mount w/ TEC | Integrated TEC | | |
| | 4200-DR | Laser Diode Drivers | 0.1, 0.5, 2.0 | 5.0, 10.0 | CW | | Desktop | | | | |
| | 4300-QCW | Laser Diode Drivers | 2.0, 4.0, 8.0, 20.0 | 4.0, 5.0, 8.0, 15.0 | QCW | 0.1 – 600ms | Desktop | | | | |
| | 4300 | Laser Diode Drivers | 2.0, 4.0, 8.0, 20.0 | 4.0, 5.0, 8.0, 15.0 | CW | | Desktop | | | | |
| | 4400 | Laser Diode Drivers | 10.0, 15.0, 20.0, 30.0, 40.0, 60.0, 80.0, 100.0 | 10.0, 12.0, 14.0, 24.0, 28.0, 48.0, 56.0 | CW | | Desktop | | | | |
| | 485 | Laser Diode Drivers | 2.0, 4.0, 8.0 | 4.0, 8.0, 15.0 | CW | | OEM | | | | |
| | 5240 | TEC Controllers | 4.0 | 7.0 | CW | | Desktop | | | | |
| | 5300 | TEC Controllers | 5.0, 8.0, 10.0 | 12.0, 18.0, 24.0 | CW | | Desktop | | | | |
| | 5400 | TEC Controllers | 15.0, 20.0, 30.0 | 28.0, 56.0 | CW | | Desktop | | | | |
| | 585 | TEC Controllers | 4.0, 5.0 | 8.0, 12.0 | CW | | OEM | | | | |
| | 586 | TEC Controllers | 4.0, 8.0, 15.0 | 26.0, 28.0, 54.0, 56.0 | CW | | OEM | | | | |
| | 6300 | Combo - Driver/Controller | 0.1, 0.5, 1.0, 4.0 | 4.0, 10.0, 15.0, 18.0 | CW | | Desktop | | | | |
| | 685 | Combo - Driver/Controller | 0.1, 0.5, 1.0, 2.0 | 3.5, 10.0 | CW | | OEM | | | | |
| | 762 | Laser Diode Drivers | 2.5 | 10.0 | CW, QCW, Pulsed | 20ns - CW | OEM | | | | |
| | 763 | Laser Diode Drivers | 1.2 | 3.0 | CW, QCW, Pulsed | 10ns - CW | OEM | | | | |
| | 766 | Laser Diode Drivers | 1.1 | 10.0 | QCW, Pulsed | 150ps - 1ns | OEM | | | | |
| | 7701A | Laser Diode Drivers | 300.0 | 280.0 | QCW, Pulsed | 100µs - 10m | OEM | | | | |
| | 779A | Laser Diode Drivers | 120.0 | 140.0 | QCW, Pulsed | 100µs - 1ms | OEM | | | | |
| | 785A | Laser Diode Drivers | 20.0 | 26.0 | CW, QCW, Pulsed | 2µs - CW | OEM | | | | |
| | 787 | Laser Diode Drivers | 50.0 | 5.0 | CW, QCW, Pulsed | 1ms - CW | OEM | | | | |
| | 823B | Pockels Cell Driver | | 3.2 kV | QCW, Pulsed | 300ns - 25µs | OEM | | | | |
| | 825B | Pockels Cell Driver | | -3.5 kV | QCW, Pulsed | 1 to 3µs | OEM | | | | |
| | 8261C | Pockels Cell Driver | | 5.0 kV | CW, QCW, Pulsed | 5us, CW | OEM | | | | |
| | 8800D | Laser Diode Drivers | 300.0 | 280.0 | QCW, Pulsed | 100µs - 5ms | Desktop | | | | |
| | 880D | Laser Diode Drivers | 10.0, 20.0, 30.0, 50.0, 100.0, 150.0 | 40.0, 100.0, 200.0 | CW | | Desktop | | | | |
| | AM-Bundles | | | | | | | | | | |
| | Fiber Patchcord | Fiber | | | | | | Fiber Patchcord, 62.5um- 600um core, 1m - 4m long,  SMA connectors | | | |
| | Integrated Raman Probe | Raman Probes | | | | | | | | 785 | 0.350 |
| | PLDD-120-9-1 | Laser Diode Drivers | 120.0 | 18.0 | QCW, Pulsed | 20µs - 300µs | OEM | ITAR Controlled | | | |
| | PLDD-200-12-20-2×2 | Laser Diode Drivers | 200.0 | 24.0 | QCW, Pulsed | 20µs - 300µs | OEM | ITAR Controlled | | | |
| | RXXXXP-EC-AB-XXX-WD-DW | Raman Probes | | | | | | | | 532, 638, 680, 785, 860, 1064 | 0.085, 0.100, 0.125 |
| | SH-XY-X | Mirror Mounts | | | | | | 1" & 2" High-power, Water-Cooled, XY Mirror Mounts | | | |
| | TD-XX-7X | Thin Disk Gain Media | | | | | | Yb-Doped YAG Thin Disks - 12/20 mm Dia. - 130/215 µm thick | | 1030 | |
| | TDM 1.1 | Thin Disk Pump Modules | | | | | | Up to 1kW pump power @ 940/969nm , 2-6mm pump spot dia. | | 1030 | |
| | TDM 3.0 | Thin Disk Pump Modules | | | | | | Up to 3kW pump power @ 940/969nm , Up to 12mm pump spot dia. | | 1030 | |