Interferometry Lasers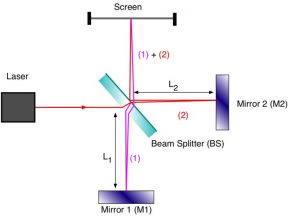 What are Interferometry Lasers?
Interferometry lasers are used in interferometric applications, exhibiting single-mode, single-frequency, and long coherence length characteristics, which are necessary for accurate measurements.

So, what is Interferometry?
Interferometers are optical devices that utilize the interference of superimposed electromagnetic waves to extract information about the test target.
Interferometry is one of the most versatile optical test and measurement techniques because it allows for sub-wavelength resolution.  In an interferometer, a highly coherent laser source is split into two different optical paths, where one path interacts with the object under test.  Then the two resultant interferometry lasers are recombined on a detector resulting in either spatial or temporal variation in intensity.  These intensity variations are known as fringes, and the spacing between two minima or maxima represents an optical path length difference of one wavelength.  Additionally, it's important to note that the difference in contrast between the bright and dark portions of the fringe pattern is dependent on the coherence length of the laser.  Therefore, to get the highest contrast ratio from the interferometer, single mode single frequency laser sources are required.  On this page, you will find a list of all of the interferometry lasers we offer ranging in wavelengths from 405 nm to 2.1 microns.
Interferometry Laser Applications
There are many interferometry applications covering a wide range of markets. Interferometers provide a means for critical investigative techniques in the fields of astronomy, oceanography, seismology, engineering metrology, optical metrology, plasma physics, nuclear and particle physics, quantum mechanics, spectroscopy (and its applications to chemistry), biomolecular interactions, mechanical stress/strain measurement, surface profiling, microfluidics, velocimetry, optometry, fiber optics, remote sensing, and more!
For some more detailed examples, interferometers are utilized in scientific and industrial settings to measure microscopic displacements, surface irregularities, and changes in refractive index. In analytical science, interferometric methods are used to measure lengths or distances and can measure the geometry of simple or complex optical components with nanometer precision. Interferometers are the most precise instruments available for these types of measurements. In Fourier transform spectroscopy, interferometers analyze some substance or mixture's absorption or emission characteristics. An astronomical interferometer combines the signals of multiple telescopes, providing high resolution comparable to what would be achievable with a single telescope with a diameter equal to the greatest distance between any two individual telescopes.
| | | | | | | | |
| --- | --- | --- | --- | --- | --- | --- | --- |
| | 1030L-2XB | CW DPSS Lasers | 1030 | 0.200, 0.300, 0.400 | Single-Mode Lasers, Multimode | Free Space, MM Fiber, SM Fiber, PM Fiber | Narrow |
| | 1064L-1XB | CW DPSS Lasers | 1064 | 0.025, 0.300, 0.400, 0.500 | Single-Mode Lasers, Multimode | Free Space, MM Fiber, SM Fiber, PM Fiber, SMA Port | |
| | 1064L-2XB | CW DPSS Lasers | 1064 | 0.200, 0.300, 0.400 | Single-Mode Lasers, Multimode | Free Space, MM Fiber, SM Fiber, PM Fiber | Narrow |
| | 320 NX | CW DPSS Lasers | 320 | 0.050, 0.100, 0.200 | Single-Mode Lasers | Free Space | Narrow |
| | 349 NX | CW DPSS Lasers | 349 | 0.050, 0.100, 0.150, 0.200 | Single-Mode Lasers | Free Space | Narrow |
| | 405L-2XA | LD Module | 405 | 0.020, 0.040, 0.050 | Single-Mode Lasers | Free Space, MM Fiber, SM Fiber, PM Fiber | Narrow |
| | 488L-2XA | LD Module | 488 | 0.010, 0.015, 0.030 | Single-Mode Lasers | Free Space, MM Fiber, SM Fiber, PM Fiber | Narrow |
| | 520L-2XA | LD Module | 520 | 0.025, 0.035, 0.040 | Single-Mode Lasers | Free Space, MM Fiber, SM Fiber, PM Fiber | Narrow |
| | 633L-1XA | LD Module | 633 | 0.035, 0.060, 0.080, 0.090 | Single-Mode Lasers | Free Space, MM Fiber, SM Fiber, PM Fiber | |
| | 633L-2XA | LD Module | 633 | 0.035, 0.040, 0.070 | Single-Mode Lasers | Free Space, MM Fiber, SM Fiber, PM Fiber | Narrow |
| | 638L-2XA | LD Module | 638 | 0.060, 0.080, 0.100 | Single-Mode Lasers | Free Space, MM Fiber, SM Fiber, PM Fiber | Narrow |
| | 638L-4XA | LD Module | 638 | 0.300, 0.500 | Multimode | Free Space, MM Fiber | Narrow |
| | 783L-2XA | LD Module | 783 | 0.070, 0.080, 0.110 | Single-Mode Lasers | Free Space, MM Fiber, SM Fiber, PM Fiber | Narrow |
| | 785L-2XA | LD Module | 785 | 0.080, 0.100, 0.130 | Single-Mode Lasers | Free Space, MM Fiber, SM Fiber, PM Fiber | Narrow |
| | 785L-4XA | LD Module | 785 | 0.700, 0.800, 1.0 | Multimode | Free Space, MM Fiber | Narrow |
| | 830L-2XA | LD Module | 830 | 0.050, 0.070, 0.080 | Single-Mode Lasers | Free Space, MM Fiber, SM Fiber, PM Fiber | Narrow |
| | He-Ne Power Supplies | HeNe Lasers | | 0.002 | Single-Mode Lasers | Free Space | |
| | LBX-633S | LD Module | 633 | 0.040 | Single-Mode Lasers | Free Space, MM Fiber, SM Fiber, PM Fiber | Narrow |
| | LBX-808 | LD Module | 808 | 0.200 | Single-Mode Lasers | Free Space, MM Fiber, SM Fiber, PM Fiber | |
| | LBX-830 | LD Module | 830 | 0.100 | Single-Mode Lasers | Free Space, MM Fiber, SM Fiber, PM Fiber | |
| | LBX-830S | LD Module | 830 | 0.100 | Single-Mode Lasers | Free Space, MM Fiber, SM Fiber, PM Fiber | Narrow |
| | LBX-915 | LD Module | 915 | 0.200 | Single-Mode Lasers | Free Space, MM Fiber, SM Fiber, PM Fiber | |
| | LCX-1064S | CW DPSS Lasers | 1064 | 0.100, 0.200, 0.300, 0.500 | Single-Mode Lasers | Free Space, MM Fiber, SM Fiber, PM Fiber | Narrow |
| | LCX-532S | CW DPSS Lasers | 532 | 0.050, 0.100, 0.150, 0.200, 0.300 | Single-Mode Lasers | Free Space, MM Fiber, SM Fiber, PM Fiber | Narrow |
| | LCX-553S | CW DPSS Lasers | 553 | 0.050, 0.100 | Single-Mode Lasers | Free Space, MM Fiber, SM Fiber, PM Fiber | Narrow |
| | LCX-561S | CW DPSS Lasers | 561 | 0.050, 0.100, 0.150, 0.200 | Single-Mode Lasers | Free Space, MM Fiber, SM Fiber, PM Fiber | Narrow |
| | LGK 7512 | HeNe Lasers | 594 | 0.002 | Single-Mode Lasers | Free Space | |
| | LGK 7608 | HeNe Lasers | 633 | 0.0015 | Single-Mode Lasers | Free Space | |
| | LGK 7610 | HeNe Lasers | 633 | 0.002 | Single-Mode Lasers | Free Space | |
| | LGK 7621 | HeNe Lasers | 633 | 0.005 | Multimode | Free Space | |
| | LGK 7627 | HeNe Lasers | 633 | 0.005, 0.010 | Single-Mode Lasers, Multimode | Free Space | |
| | LGK 7628 | HeNe Lasers | 633 | 0.005, 0.007 | Single-Mode Lasers | Free Space | |
| | LGK 7634 | HeNe Lasers | 633 | 0.002, 0.003 | Single-Mode Lasers | Free Space | |
| | LGK 7650 | HeNe Lasers | 633 | 0.0005, 0.001 | Single-Mode Lasers | Free Space | |
| | LGK 7653 | HeNe Lasers | 633 | 0.010 | Single-Mode Lasers | Free Space | |
| | LGK 7654 | HeNe Lasers | 633 | 0.010 | Single-Mode Lasers | Free Space | |
| | LGK 7655 | HeNe Lasers | 633 | 0.0006, 0.001 | Single-Mode Lasers | Free Space | |
| | LGK 7665 | HeNe Lasers | 633 | 0.015, 0.018, 0.020 | Single-Mode Lasers | Free Space | |
| | LGK 7672 | HeNe Lasers | 633 | 0.002 | Single-Mode Lasers | Free Space | |
| | LGK 7785 | HeNe Lasers | 543 | 0.001, 0.002 | Single-Mode Lasers | Free Space | |
| | LGK 7786 | HeNe Lasers | 543 | 0.0005, 0.001 | Single-Mode Lasers | Free Space | |
| | LGR 7608 | HeNe Lasers | 633 | 0.0015 | Single-Mode Lasers | Free Space | |
| | LGR 7610 | HeNe Lasers | 633 | 0.002 | Single-Mode Lasers | Free Space | |
| | LGR 7621 | HeNe Lasers | 633 | 0.002, 0.005 | Single-Mode Lasers, Multimode | Free Space | |
| | LGR 7627 | HeNe Lasers | 633 | 0.005, 0.010 | Single-Mode Lasers | Free Space | |
| | LGR 7628 | HeNe Lasers | 633 | 0.005 | Single-Mode Lasers | Free Space | |
| | LGR 7634 | HeNe Lasers | 633 | 0.002 | Single-Mode Lasers | Free Space | |
| | LGR 7650 | HeNe Lasers | 633 | 0.005 | Single-Mode Lasers | Free Space | |
| | LGR 7655 | HeNe Lasers | 633 | 0.0006, 0.001 | Single-Mode Lasers | Free Space | |
| | LGR 7656 | HeNe Lasers | 633 | 0.0005 | Single-Mode Lasers | Free Space | |
| | LGR 7660 | HeNe Lasers | 633 | 0.001 | Single-Mode Lasers | Free Space | |
| | LGR 7695 | HeNe Lasers | 633 | 0.00075 | Single-Mode Lasers | Free Space | |
| | LSX-785S | LD Module | 785 | 0.150 | Single-Mode Lasers | Free Space, MM Fiber, SM Fiber, PM Fiber | Narrow |
| | R0633 | LD Module, Single Emitter, Volume Bragg Grating (VBG) Laser Diodes | 633 | 0.025, 0.035, 0.050 | Single-Mode Lasers | Free Space, PM Fiber | Narrow |
| | R0638 | LD Module, Single Emitter, Volume Bragg Grating (VBG) Laser Diodes | 638 | 0.030, 0.035, 0.050, 0.060, 0.300, 0.350 | Single-Mode Lasers, Multimode | Free Space, MM Fiber, PM Fiber | Narrow |
| | R0660 | LD Module, Single Emitter, Volume Bragg Grating (VBG) Laser Diodes | 660 | 0.030, 0.060, 0.250 | Single-Mode Lasers, Multimode | Free Space, MM Fiber, PM Fiber | Narrow |
| | R0680 | LD Module, Single Emitter, Volume Bragg Grating (VBG) Laser Diodes | 680 | 0.300 | Multimode | Free Space, MM Fiber | Narrow |
| | R0685 | LD Module, Single Emitter, Volume Bragg Grating (VBG) Laser Diodes | 685 | 0.020, 0.040 | Single-Mode Lasers, Multimode | Free Space, PM Fiber | Narrow |
| | R0780 | LD Module, Single Emitter, Volume Bragg Grating (VBG) Laser Diodes | 780 | 0.025, 0.050, 0.090, 0.100 | Single-Mode Lasers, Multimode | Free Space, PM Fiber | Narrow |
| | R0783 | LD Module, Single Emitter, Volume Bragg Grating (VBG) Laser Diodes | 783 | 0.025, 0.050, 0.090, 0.100 | Single-Mode Lasers, Multimode | Free Space, PM Fiber | Narrow |
| | R0785 | LD Module, Single Emitter, Volume Bragg Grating (VBG) Laser Diodes | 785 | 0.025, 0.050, 0.075, 0.090, 0.100, .135, 0.150, 0.175, 0.350, 0.500, 0.600, 0.800, 1.5 | Single-Mode Lasers, Multimode | Free Space, MM Fiber, PM Fiber | Narrow |
| | R0808 | LD Module, Single Emitter, Volume Bragg Grating (VBG) Laser Diodes | 808 | 0.025, 0.090, 0.100, .135, 0.150, 0.175, 0.350, 0.500, 0.600, 0.800, 1.5 | Single-Mode Lasers, Multimode | Free Space, MM Fiber, PM Fiber | Narrow |
| | R0830 | LD Module, Single Emitter, Volume Bragg Grating (VBG) Laser Diodes | 830 | 0.090, 0.100, .135, 0.150, 0.175, 0.350, 0.500, 0.600, 0.800, 1.5 | Single-Mode Lasers, Multimode | Free Space, MM Fiber, PM Fiber | Narrow |
| | R0852 | LD Module, Single Emitter, Volume Bragg Grating (VBG) Laser Diodes | 852 | 0.020, 0.100, 0.150, 0.175 | Single-Mode Lasers, Multimode | Free Space, PM Fiber | Narrow |
| | R0860 | LD Module, Single Emitter, Volume Bragg Grating (VBG) Laser Diodes | 860 | 0.350, 0.500, 0.600, 1.0 | Multimode | Free Space, PM Fiber | Narrow |
| | R0976 | LD Module, Single Emitter, Volume Bragg Grating (VBG) Laser Diodes | 976 | 0.150, 0.220, 0.450, 0.500, 0.600, 0.700, 0.800, 1.5, 4.0, 5.0 | Single-Mode Lasers, Multimode | Free Space, MM Fiber, PM Fiber | Narrow |
| | R1030 | LD Module, Single Emitter, Volume Bragg Grating (VBG) Laser Diodes | 1030 | 0.050, 0.100, 0.280, 0.450 | Single-Mode Lasers, Multimode | Free Space, PM Fiber | Narrow |
| | R1053 | LD Module, Single Emitter, Volume Bragg Grating (VBG) Laser Diodes | 1053 | 0.050, 0.120, 0.150, 0.300, 0.500 | Single-Mode Lasers, Multimode | Free Space, PM Fiber | Narrow |
| | R1064 | LD Module, Single Emitter, Volume Bragg Grating (VBG) Laser Diodes | 1064 | 0.120, 0.150, 0.300, 0.350, 0.500, 0.600, 0.800, 1.5 | Single-Mode Lasers, Multimode | Free Space, MM Fiber, PM Fiber | Narrow |
| | R1064.X | Single Emitter, Volume Bragg Grating (VBG) Laser Diodes | 1064 | 0.050, 0.120, 0.300, 0.500 | Single-Mode Lasers | Free Space, PM Fiber | Narrow |
| | REP1260-1300 | LD Module, Single Emitter, Distributed Feedback DFB Lasers | 1260-1300 | 0.009, 0.012, 0.020, 0.022 | Single-Mode Lasers | Free Space, SM Fiber, PM Fiber | Narrow |
| | REP1380-1400 | LD Module, Single Emitter, Distributed Feedback DFB Lasers | 1380-1400 | 0.008, 0.012 | Single-Mode Lasers | Free Space, SM Fiber, PM Fiber | Narrow |
| | REP1500-1560 | LD Module, Single Emitter, Distributed Feedback DFB Lasers | 1500-1560 | 0.0015, 0.003, 0.005, 0.008, 0.014, 0.016, 0.020, 0.022 | Single-Mode Lasers | Free Space, SM Fiber, PM Fiber | Narrow |
| | REP1560-1600 | LD Module, Single Emitter, Distributed Feedback DFB Lasers | 1560-1600 | 0.006, 0.014 | Single-Mode Lasers | Free Space, SM Fiber, PM Fiber | Narrow |
| | REP1635-1670 | LD Module, Single Emitter, Distributed Feedback DFB Lasers | 1635-1670 | 0.006, 0.008, 0.020 | Single-Mode Lasers | Free Space, SM Fiber, PM Fiber | Narrow |
| | REP1678-1720 | LD Module, Single Emitter, Distributed Feedback DFB Lasers | 1678-1720 | 0.005 | Single-Mode Lasers | Free Space, SM Fiber, PM Fiber | Narrow |
| | REP1720-1770 | LD Module, Single Emitter, Distributed Feedback DFB Lasers | 1720-1770 | 0.003, 0.006, 0.020 | Single-Mode Lasers | Free Space, SM Fiber, PM Fiber | Narrow |
| | REP1850-1880 | LD Module, Single Emitter, Distributed Feedback DFB Lasers | 1850-1880 | 0.003, 0.0045, 0.005, 0.008, 0.014 | Single-Mode Lasers | Free Space, SM Fiber, PM Fiber | Narrow |
| | REP1908-1970 | LD Module, Single Emitter, Distributed Feedback DFB Lasers | 1908-1970 | 0.002, 0.003, 0.020 | Single-Mode Lasers | Free Space, SM Fiber, PM Fiber | Narrow |
| | REP1970-2053 | LD Module, Single Emitter, Distributed Feedback DFB Lasers | 1970-2053 | 0.0015, 0.002, 0.003, 0.004, 0.005, 0.014 | Single-Mode Lasers | Free Space, SM Fiber, PM Fiber | Narrow |
| | Solo-640 | CW DPSS Lasers | 640 | 0.500, 0.750, 1.0 | Single-Mode Lasers | Free Space | Narrow |