Line Modules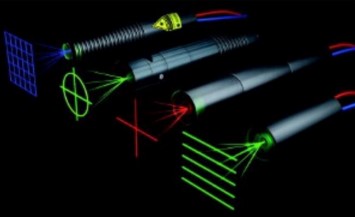 Line Modules are a specialized type of laser, designed primarily for various types of alignment applications. Machine Vision, a generic term for a broad group of applications, can utilize a variety of schemes for image detection and analysis. Lighting can influence that analysis. Utilizing lasers is a great option for structured illumination. This is useful in providing additional information about the objects through image processing. For example, one can obtain information about defects, location, dimensions, dents, punctures, and alignment.
When compared to traditional light sources, lasers provide a much higher contrast. Therefore, the background image provides the computer algorithm with a more precise reference source. As a result, many image processing systems utilize lasers for structured lighting.  Machine vision line module lasers typically shape the beam into lines, dots, and other geometric patterns (such as crosses, circles, and grids) and they can come in a wide variety of wavelengths and powers, depending on the systems requirements.   Each of these geometries has its own unique advantages. However, lines tend to be the most commonly used laser shape in modern machine vision technology.  If the laser has an offset angle from the camera, lines are the most popular because a computer can reconstruct a 3-dimensional image of the object through a process known as triangulation.
Selecting a Line Module
When specifying line modules, the designer needs to understand the required line length, line width or thickness, the distance from laser to object, and whether intensity distribution across the line needs to be uniform. One typically determines line length based on fan angle, which can be set to anywhere between 10 and 90 degrees. Calculating line length is easy once you know the fan angle and the distance from laser to object. Setting line width is as easy as adjusting the focusing optics. These can be pre-set by the manufacturer for a given object distance or controlled by the customer. You should specify if line module adjustability is an important feature .
Let Us Help
In conclusion, if you have any questions, or if you would like some assistance please contact us here. Furthermore, you can call us at 636.272.7227 to talk to a knowledgeable Product Manager. Alternatively, you can use the filters on this page, or check out our 'How to Select a CW Laser' page to assist in narrowing down the selection. Finally, head to our Knowledge Center with our Lasers 101 page and Blogs and Whitepapers pages for further, in-depth reading.
Suggested Reading
| | | | | | | |
| --- | --- | --- | --- | --- | --- | --- |
| | RHAML-XXXX-YY-Z-E | LD Module, Line Modules | Multiple Wavelength Options | 0.100 | Single-Mode Lasers | Free Space, Line |
| | RHAML-XXXX-YY-Z | LD Module, Line Modules | Multiple Wavelength Options | 0.100 | Single-Mode Lasers | Free Space, Line |
| | RML2040-XXXX-YY-ZZ | LD Module, Line Modules | Multiple Wavelength Options | 2.0 | Single-Mode Lasers | Free Space, Line |
| | RML2540-XXXX-YY-ZZ | LD Module, Line Modules | Multiple Wavelength Options | 1.0, 2.0 | Single-Mode Lasers, Multimode | Free Space, Line |