Violet

Lasers
What are
Violet

Lasers?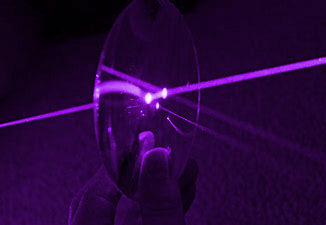 A violet laser emits electromagnetic radiation (laser light) within the violet spectral region, which we define as being between 390 nm and 419 nm.
Violet laser wavelengths are much shorter than green and red wavelengths. Some benefits to using these shorter wavelengths include focusing the beam down to a smaller minimum spot size and higher absorption rates in many materials. Since the minimum focused spot size of a laser beam is limited by its wavelength, the shorter the wavelength is, the more tightly focused your spot size can be at your target, sample, or workpiece. Smaller spot sizes are beneficial when wanting to machine microscopic features. For example, in data storage, the blue or violet beam (think Blu-Ray) allows for a substantially higher data density when compared to older optical data technologies like CDs, which utilize a red beam with a larger minimum focused spot size. Another example would be in imaging applications or surface roughness measurements, where a shorter wavelength, and therefore, a smaller spot size, allows for higher resolution measurements. With the increased absorption rates of violet lasers in various materials, more of the energy can be utilized for the application, increasing efficiency.
Often, violet and blue laser designations are used interchangeably, as the separation between UV (ultraviolet) and blue wavelengths is so narrow that it can be difficult to discern the slight visual difference. To give an example, lasers emitting at 405 nm are quite often referred to as blue wavelength lasers, whereas RPMC defines this specific wavelength as belonging to the violet spectral region. It really depends on which website you are viewing and how they decide to define particular wavelength ranges, especially around this portion of the electromagnetic spectrum. The critical takeaway here is it doesn't really matter what color classification is applied, as long as the actual wavelength matches your specific application requirements.
Our Violet Laser Products
We offer many different laser types with Violet or Purple output, including Single Emitter Laser Diodes, Laser Diode Modules, Pulsed DPSS Lasers, and Turnkey Systems. Our Violet products are available with up to 3.5 W average power, options for single-mode or multimode, free-space, fiber-coupled or line generation output, and various packaging options and integration levels from component to OEM to turnkey systems.
| | | | | | | | | | | |
| --- | --- | --- | --- | --- | --- | --- | --- | --- | --- | --- |
| | 405L-1XA | LD Module | 405 | 0.100, 0.150, 0.180 | Single-Mode Lasers | Free Space, MM Fiber, SM Fiber, PM Fiber | | | | |
| | 405L-2XA | LD Module | 405 | 0.020, 0.040, 0.050 | Single-Mode Lasers | Free Space, MM Fiber, SM Fiber, PM Fiber | Narrow | | | |
| | HL405 | Single Emitter | 405 | 0.150, 0.300, 0.400, 0.600, 1.0 | Single-Mode Lasers, Multimode | Free Space | | | | |
| | LBX-405-HPE | LD Module | 405 | 0.900, 1.2 | Multimode | Free Space, MM Fiber | | | | |
| | LBX-405 | LD Module | 405 | 0.050, 0.100, 0.180, 0.300 | Single-Mode Lasers | Free Space, MM Fiber, SM Fiber, PM Fiber | | | | |
| | Q-TUNE | Pulsed DPSS Lasers, Tunable Lasers | Tunable | 0.210 | | | | 8000.0 | 5ns | 10Hz, 33Hz, 100Hz |
| | Quantas-Q-SHIFT-392 | Pulsed DPSS Lasers | 392 | 0.125, 0.200, 0.250 | | | | 600.0, 1200.0, 2400.0, 3600.0, 4800.0, 6000.0 | 2ns - 5ns | 10Hz, 20Hz, 33Hz, 50Hz, 100Hz |
| | Quantas-Q-SHIFT-393 | Pulsed DPSS Lasers | 393 | 0.060, 0.096, 0.120 | | | | 180.0, 360.0, 750.0, 1250.0, 1500.0, 1800.0 | 2ns - 5ns | 10Hz, 20Hz, 33Hz, 50Hz, 100Hz |
| | Quantas-Q-SHIFT-WXXXX | Pulsed DPSS Lasers | Multiple Wavelength Options | Varies | | | | Varies | 2ns - 5ns | 100Hz |
| | RDS3 | Turn-Key System | Multiple Wavelength Options | Multiple Options Available | Single-Mode Lasers, Multimode | MM Fiber, SM Fiber | | | | |
| | RHAML-XXXX-YY-Z-E | LD Module, Line Modules | Multiple Wavelength Options | 0.100 | Single-Mode Lasers | Free Space, Line | | | | |
| | RHAML-XXXX-YY-Z | LD Module, Line Modules | Multiple Wavelength Options | 0.100 | Single-Mode Lasers | Free Space, Line | | | | |
| | RML126FC | LD Module | Multiple Wavelength Options | 0.100 | Single-Mode Lasers | SM Fiber | | | | |
| | RML150FC | LD Module | Multiple Wavelength Options | 0.080 | Single-Mode Lasers | SM Fiber | | | | |
| | RPK405S | Single Emitter | 405 | 4.0 | Single-Mode Lasers | SM Fiber | | | | |
| | RWLD-405M | Single Emitter | 405 | 0.400, 0.600, 1.0 | Multimode | Free Space | | | | |
| | RWLD-405S | Single Emitter | 405 | 0.010, 0.020, 0.065, 0.120, 0.200, 0.250, 0.300 | Single-Mode Lasers | Free Space | | | | |
| | RWLP-400M | Single Emitter | 400 | 0.400 | Multimode | MM Fiber | | | | |
| | RWLP-400S | Single Emitter | 400 | 0.015, 0.030 | Single-Mode Lasers | SM Fiber, PM Fiber | | | | |
| | RWLP-405M | Single Emitter | 405 | 0.200, 0.300, 0.400, 0.450 | Multimode | MM Fiber | | | | |
| | RWLP-405S | Single Emitter | 405 | 0.001, 0.015, 0.030, 0.040, 0.050 | Single-Mode Lasers | SM Fiber, PM Fiber | | | | |
| | RWLP-410M | Single Emitter | 410 | 0.300 | Multimode | MM Fiber | | | | |