Violet Lasers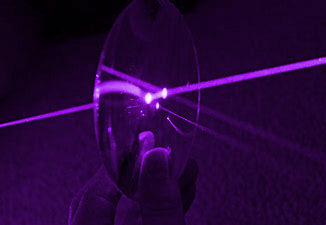 Violet (purple) diode lasers have exploded in popularity over the past few years as the price of 405nm lasers has rapidly decreased with increased power. Ironically, depending on the application (and industry), 405 nm lasers are rarely accurately referred to as violet lasers but instead are commonly referred to as either blue, UV or purple lasers. The most obvious example of this is in Blu-ray players, where 405 nm lasers read out the information stored on the disk. In addition to high-density optical storage, these laser diodes are used in a wide range of other applications, from confocal fluorescence excitation to laser disinfection. 
Violet Laser Products
We offer many different laser types with Violet or Purple output, including Single Emitter Laser Diodes, Laser Diode Modules, Pulsed DPSS Lasers, and Turnkey Systems. Our Violet products are available with up to 3.5 W average power, options for single-mode or multimode, free-space, fiber-coupled or line generation output, and various packaging options and integration levels from component to OEM to turnkey systems.
Some Violet Applications
Some popular Violet applications include Interferometry, Holography, Confocal Fluorescence Microscopy, Flow Cytometry, DNA Sequencing, and many others.
Let Us Help!
In conclusion, if you have any questions or would like some assistance, don't hesitate to get in touch with us here. Furthermore, you can call us at 636.272.7227 to talk to a knowledgeable Product Manager. Alternatively, you can also use the filters on this page to assist in narrowing down the selection. Finally, head to our Knowledge Center, with our Lasers 101 page and Blogs and Whitepapers pages, for further, in-depth reading.
| | | | | | | | | | | |
| --- | --- | --- | --- | --- | --- | --- | --- | --- | --- | --- |
| | 405L-1XA | LD Module | 405 | 0.100, 0.150, 0.180 | Single-Mode Lasers | Free Space, MM Fiber, SM Fiber, PM Fiber | | | | |
| | 405L-2XA | LD Module | 405 | 0.015, 0.030, 0.040 | Single-Mode Lasers | Free Space, MM Fiber, SM Fiber, PM Fiber | Narrow | | | |
| | HL405 | Single Emitter | 405 | 0.300, 0.600, 1.0, 3.5 | Single-Mode Lasers, Multimode | Free Space | | | | |
| | LBX-405-HPE | LD Module | 405 | 0.900, 1.2 | Multimode | Free Space, MM Fiber | | | | |
| | LBX-405 | LD Module | 405 | 0.050, 0.100, 0.180, 0.300 | Single-Mode Lasers | Free Space, MM Fiber, SM Fiber, PM Fiber | | | | |
| | Q-TUNE | Pulsed DPSS Lasers, Tunable Lasers | Tunable | 0.200 | | | | 8000.0 | 5ns | 10Hz, 33Hz, 100Hz |
| | Quantas-Q-SHIFT-392 | Pulsed DPSS Lasers | 392 | 0.125, 0.200, 0.250 | | | | 1250.0, 2500.0, 5000.0, 7500.0, 10000.0, 12500.0 | 2ns - 5ns | 10Hz, 20Hz, 33Hz, 50Hz, 100Hz |
| | Quantas-Q-SHIFT-393 | Pulsed DPSS Lasers | 393 | 0.060, 0.096, 0.120 | | | | 600.0, 1200.0, 2400.0, 3600.0, 4800.0, 6000.0 | 2ns - 5ns | 10Hz, 20Hz, 33Hz, 50Hz, 100Hz |
| | Quantas-Q-SHIFT-WXXXX | Pulsed DPSS Lasers | Multiple Wavelength Options | Varies | | | | Varies | 2ns - 5ns | 100Hz |
| | RDS3 | Turn-Key System | Multiple Wavelength Options | Multiple Options Available | Single-Mode Lasers, Multimode | MM Fiber, SM Fiber | | | | |
| | RHAML-XXXX-YY-Z-E | LD Module, Line Modules | Multiple Wavelength Options | 0.100 | Single-Mode Lasers | Free Space, Line | | | | |
| | RHAML-XXXX-YY-Z | LD Module, Line Modules | Multiple Wavelength Options | 0.100 | Single-Mode Lasers | Free Space, Line | | | | |
| | RML126FC | LD Module | Multiple Wavelength Options | 0.100 | Single-Mode Lasers | SM Fiber | | | | |
| | RML150FC | LD Module | Multiple Wavelength Options | 0.080 | Single-Mode Lasers | SM Fiber | | | | |
| | RWLD-405S | Single Emitter | 405 | 0.010, 0.120, 0.200, 0.250, 0.300 | Single-Mode Lasers | Free Space | | | | |
| | RWLP-400M | Single Emitter | 400 | 0.400 | Multimode | MM Fiber | | | | |
| | RWLP-400S | Single Emitter | 400 | 0.015, 0.030 | Single-Mode Lasers | SM Fiber, PM Fiber | | | | |
| | RWLP-405M | Single Emitter | 405 | 0.200, 0.300, 0.400, 0.450 | Multimode | MM Fiber | | | | |
| | RWLP-405S | Single Emitter | 405 | 0.001, 0.015, 0.030, 0.040, 0.050 | Single-Mode Lasers | SM Fiber, PM Fiber | | | | |
| | RWLP-410M | Single Emitter | 410 | 0.300 | Multimode | MM Fiber | | | | |