Flow Cytometry Lasers
Our Experience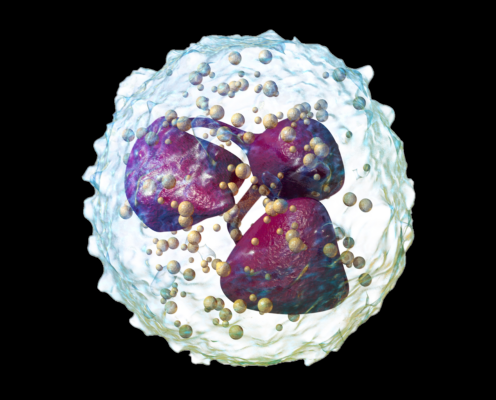 RPMC has many years of experience supplying flow cytometry lasers, with a high-quality TEM00 beam profile, low noise, and high pointing stability and power stability to researchers, development teams, and various industry professionals dealing with flow cytometry applications. We offer the most common, critical wavelengths for flow cytometry, which you will find listed below. However, if you require another wavelength not listed, or have any other particular requirements, please do not hesitate to contact us here or email us at info@rpmclasers.com. We are able to provide a wide range of wavelengths, and we are always willing to try to accommodate any customization requests.
Our Products
RPMC has secured trusted partnerships with a selection of leading manufactures who develop laser source products geared toward this application, allowing us to address a host of cost, size, and integration requirements. Because of this strategy, RPMC is able to provide a wide selection of CW laser diode and DPSS modules in a range of output powers, with cytometry-critical wavelengths, as well as multi-wavelength beam combiners, perfect for Life Science applications like flow cytometry. The most common flow cytometry wavelengths are 355 nm (ultraviolet), 405nm (violet), 488 nm (blue), 532nm (green), 552nm (green), 561 nm (green-yellow), and 640 nm (red). With all the available wavelengths, many unique color combinations are available for beam combination, allowing you to more easily switch out your samples and use different fluorescent markers. Furthermore, the use of multi-wavelength combiners reduces time and effort in re-aligning multiple sources to your microscope, as all wavelengths can be guided to the scope with an optical fiber. This means one alignment for multiple wavelengths.
As mentioned above, additional wavelengths are readily available upon request for specific, specialized applications. Most of the visible wavelengths can be used in flow cytometry, but it's essential that all flow cytometry lasers have a high quality TEM00 beam profile. The recently developed ultraviolet fluorochromes, which are detection reagents, specifically for UV absorption, have brought UV lasers into the spotlight as a useful tool for Flow Cytometry. Lower profile, cost effective 349nm (UV) DPSS Lasers are a very practical replacement for older, bulkier, near-UV systems for ratiometric detection of the calcium ion Ca2+. High output power, power stability, low noise, excellent beam quality, and pointing stability are important requirements to consider when selecting a Flow Cytometry laser.
The diode and DPSS modules we offer here boast features tailored for use in flow cytometry based applications:
Efficient cavity design: under-driven pump diode for extended lifetime
Monolithic design: provides excellent pointing stability & power stability
High-quality: compared to cheaper options, excellent laser to laser performance repeatability & ISO certified manufacturers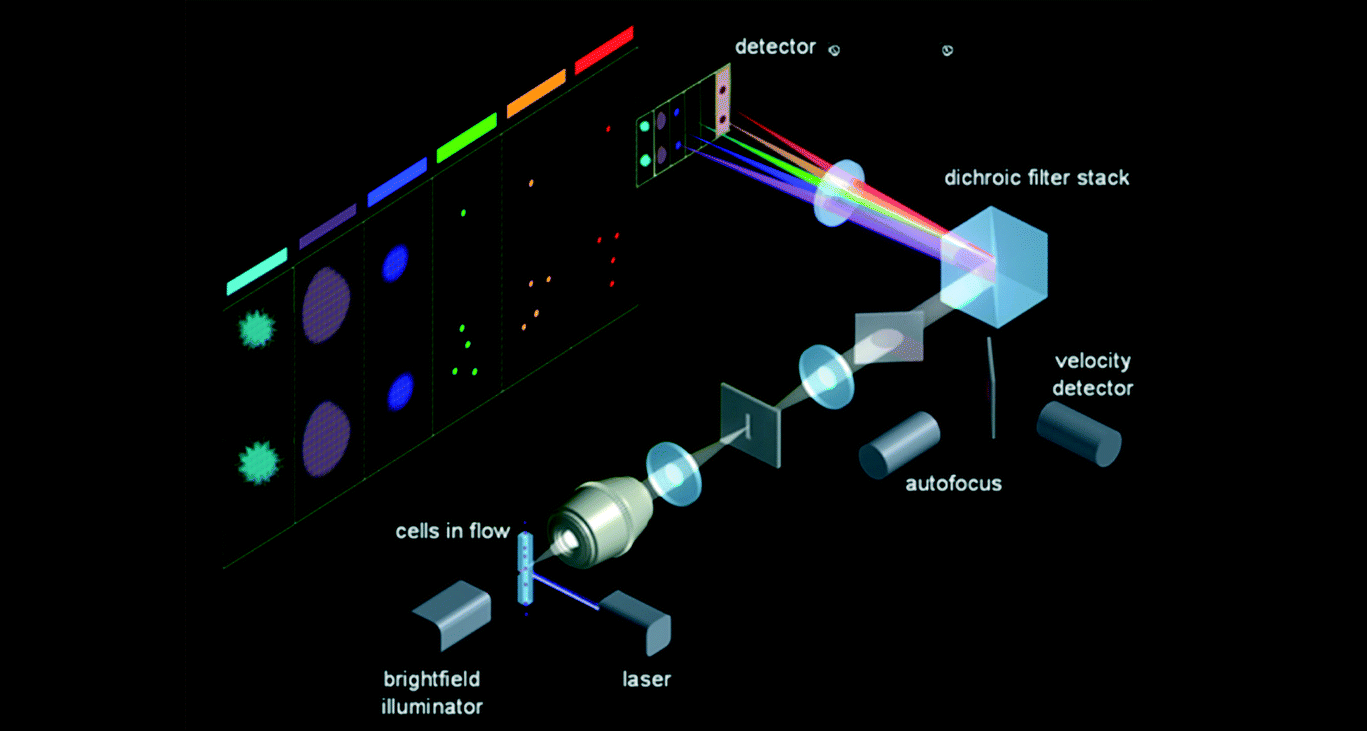 Key Flow Cytometry Laser Specifications:
High pointing stability
High power stability & low noise
≈ 50 – 100 mW for counting / ≈ 200 mW for sorting
High-quality TEM00 beam profile
Polarization (100:1)
The multi-wavelength beam combiners we offer here boast features tailored for use in flow cytometry based applications:
Most compact options on the market
More flexible with more options and outputs
Very competitive pricing
Key Flow Cytometry Beam Combiner Specifications:
Up to 500 mW per wavelength
Direct modulation: analog, digital, or both
High efficiency polarization maintaining fiber coupling
USB computer interface and compatible with µManager
| | | | | | | | | | | |
| --- | --- | --- | --- | --- | --- | --- | --- | --- | --- | --- |
| | 1030L-1XB | CW DPSS Lasers | 1030 | 0.300, 0.400, 0.500 | Single-Mode Lasers, Multimode | Free Space, MM Fiber, SM Fiber, PM Fiber, SMA Port | | | | |
| | 1123L-1XB | CW DPSS Lasers | 1123 | 0.100, 0.160, 0.200 | Single-Mode Lasers, Multimode | Free Space, MM Fiber, SM Fiber, PM Fiber | | | | |
| | 1319L-1XB | CW DPSS Lasers | 1319 | 0.100, 0.160, 0.200 | Single-Mode Lasers, Multimode | Free Space, MM Fiber, SM Fiber, PM Fiber | | | | |
| | 1550L-1XA | LD Module | 1550 | 0.080, 0.120 | Single-Mode Lasers | Free Space, SM Fiber, PM Fiber | | | | |
| | 405L-1XA | LD Module | 405 | 0.100, 0.150, 0.180 | Single-Mode Lasers | Free Space, MM Fiber, SM Fiber, PM Fiber | | | | |
| | 450L-1XA | LD Module | 450 | 0.035, 0.050, 0.060 | Single-Mode Lasers | Free Space, MM Fiber, SM Fiber, PM Fiber | | | | |
| | 488L-1XA | LD Module | 488 | 0.020, 0.030, 0.040 | Single-Mode Lasers | Free Space, MM Fiber, SM Fiber, PM Fiber | | | | |
| | 505L-1XA | LD Module | 505 | 0.060 | Single-Mode Lasers | Free Space, MM Fiber, SM Fiber, PM Fiber | | | | |
| | 515L-1XA | LD Module | 515 | 0.010, 0.020, 0.025 | Single-Mode Lasers | Free Space, MM Fiber, SM Fiber, PM Fiber | | | | |
| | 520L-1XA | LD Module | 520 | 0.040, 0.070, 0.080 | Single-Mode Lasers | Free Space, MM Fiber, SM Fiber, PM Fiber | | | | |
| | 532L-1XB | CW DPSS Lasers | 532 | 0.100, 0.150, 0.160, 0.200 | Single-Mode Lasers, Multimode | Free Space, MM Fiber, SM Fiber, PM Fiber, SMA Port | | | | |
| | 532L-2XB | CW DPSS Lasers | 532 | 0.025, 0.040, 0.050 | Single-Mode Lasers, Multimode | Free Space, MM Fiber, SM Fiber, PM Fiber, SMA Port | Narrow | | | |
| | 532L-3XB | CW DPSS Lasers | 532 | 0.400, 0.500 | Multimode | Free Space, MM Fiber, SMA Port | | | | |
| | 532L-4XB | CW DPSS Lasers | 532 | 0.050, 0.080, 0.100 | Single-Mode Lasers, Multimode | Free Space, MM Fiber, SM Fiber, PM Fiber, SMA Port | Narrow | | | |
| | 532L-6XB | CW DPSS Lasers | 532 | 0.050, 0.080, 0.100 | Single-Mode Lasers, Multimode | Free Space, MM Fiber, SM Fiber, PM Fiber, SMA Port | Narrow | | | |
| | 638L-1XA | LD Module | 638 | 0.060, 0.080, 0.100, 0.120, 0.170, 0.500, 0.600 | Single-Mode Lasers | Free Space, MM Fiber, SM Fiber, PM Fiber | | | | |
| | 638L-3XA | LD Module | 638 | 0.500, 0.600 | Multimode | Free Space, MM Fiber | | | | |
| | 660L-1XA | LD Module | 660 | 0.060, 0.080, 0.090, 0.110 | Single-Mode Lasers | Free Space, MM Fiber, SM Fiber, PM Fiber | | | | |
| | 785L-1XA | LD Module | 785 | 0.120, 0.150, 0.170 | Single-Mode Lasers | Free Space, MM Fiber, SM Fiber, PM Fiber | | | | |
| | 785L-3XA | LD Module | 785 | 1.5 | Multimode | Free Space, MM Fiber | | | | |
| | 808L-1XA | LD Module | 808 | 0.110 | Single-Mode Lasers | Free Space, MM Fiber, SM Fiber, PM Fiber | | | | |
| | 808L-3XA | LD Module | 808 | 1.6, 3.0 | Multimode | Free Space, MM Fiber | | | | |
| | 830L-1XA | LD Module | 830 | 0.070, 0.090, 0.130 | Single-Mode Lasers | Free Space, MM Fiber, SM Fiber, PM Fiber | | | | |
| | 830L-3XA | LD Module | 808 | 1.0 | Multimode | MM Fiber | | | | |
| | 850L-1XA | LD Module | 850 | 0.070, 0.110, 0.130 | Single-Mode Lasers | Free Space, MM Fiber, SM Fiber, PM Fiber | | | | |
| | 915L-1XA | LD Module | 915 | 0.080, 0.140, 0.170 | Single-Mode Lasers | Free Space, MM Fiber, SM Fiber, PM Fiber | | | | |
| | 975L-1XA | LD Module | 975 | 0.100, 0.140, 0.170 | Single-Mode Lasers | Free Space, MM Fiber, SM Fiber, PM Fiber | | | | |
| | LBX-1064 | LD Module | 1064 | 0.200 | Single-Mode Lasers | Free Space, MM Fiber, SM Fiber, PM Fiber | | | | |
| | LBX-375 | LD Module | 375 | 0.070 | Single-Mode Lasers | Free Space, MM Fiber, SM Fiber, PM Fiber | | | | |
| | LBX-395 | LD Module | 375 | 0.120 | Single-Mode Lasers | Free Space, MM Fiber, SM Fiber, PM Fiber | | | | |
| | LBX-405 | LD Module | 405 | 0.050, 0.100, 0.180, 0.300 | Single-Mode Lasers | Free Space, MM Fiber, SM Fiber, PM Fiber | | | | |
| | LBX-415 | LD Module | 415 | 0.120 | Single-Mode Lasers | Free Space, MM Fiber, SM Fiber, PM Fiber | | | | |
| | LBX-445 | LD Module | 445 | 0.100, 0.500 | Single-Mode Lasers | Free Space, MM Fiber, SM Fiber, PM Fiber | | | | |
| | LBX-450 | LD Module | 450 | 0.070 | Single-Mode Lasers | Free Space, MM Fiber, SM Fiber, PM Fiber | | | | |
| | LBX-458 | LD Module | 457.9 | 0.070 | Single-Mode Lasers | Free Space, MM Fiber, SM Fiber, PM Fiber | | | | |
| | LBX-473 | LD Module | 473 | 0.100, 0.300 | Single-Mode Lasers | Free Space, MM Fiber, SM Fiber, PM Fiber | | | | |
| | LBX-488 | LD Module | 488 | 0.040, 0.050, 0.060, 0.100, 0.150, 0.200, 0.300 | Single-Mode Lasers | Free Space, MM Fiber, SM Fiber, PM Fiber | | | | |
| | LBX-505 | LD Module | 505 | 0.070 | Single-Mode Lasers | Free Space, MM Fiber, SM Fiber, PM Fiber | | | | |
| | LBX-515 | LD Module | 515 | 0.150 | Single-Mode Lasers | Free Space, MM Fiber, SM Fiber, PM Fiber | | | | |
| | LBX-522 | LD Module | 522 | 0.070 | Single-Mode Lasers | Free Space, MM Fiber, SM Fiber, PM Fiber | | | | |
| | LBX-633 | LD Module | 633 | 0.100 | Single-Mode Lasers | Free Space, MM Fiber, SM Fiber, PM Fiber | | | | |
| | LBX-638 | LD Module | 638 | 0.100, 0.150, 0.180 | Single-Mode Lasers | Free Space, MM Fiber, SM Fiber, PM Fiber | | | | |
| | LBX-642 | LD Module | 642 | 0.130 | Single-Mode Lasers | Free Space, MM Fiber, SM Fiber, PM Fiber | | | | |
| | LBX-647 | LD Module | 647 | 0.140 | Single-Mode Lasers | Free Space, MM Fiber, SM Fiber, PM Fiber | | | | |
| | LBX-660 | LD Module | 660 | 0.100 | Single-Mode Lasers | Free Space, MM Fiber, SM Fiber, PM Fiber | | | | |
| | LBX-730 | LD Module | 730 | 0.040 | Single-Mode Lasers | Free Space, MM Fiber, SM Fiber, PM Fiber | | | | |
| | LBX-785 | LD Module | 785 | 0.100, 0.250, 0.350 | Single-Mode Lasers | Free Space, MM Fiber, SM Fiber, PM Fiber | | | | |
| | LBX-785S | LD Module | 785 | 0.150, 0.500 | Single-Mode Lasers | Free Space, MM Fiber, SM Fiber, PM Fiber | Narrow | | | |
| | LBX-980 | LD Module | 980 | 0.200 | Single-Mode Lasers | Free Space, MM Fiber, SM Fiber, PM Fiber | | | | |
| | LCX-532 | CW DPSS Lasers | 532 | 0.050, 0.100, 0.200, 0.300 | Single-Mode Lasers | Free Space, MM Fiber, SM Fiber, PM Fiber | | | | |
| | LCX-553 | CW DPSS Lasers | 553 | 0.050, 0.100, 0.150, 0.200 | Single-Mode Lasers | Free Space, MM Fiber, SM Fiber, PM Fiber | | | | |
| | LCX-561 | CW DPSS Lasers | 561 | 0.050, 0.100, 0.150, 0.200, 0.300 | Single-Mode Lasers | Free Space, MM Fiber, SM Fiber, PM Fiber | | | | |
| | LPX-532 | CW DPSS Lasers | 532 | 0.500 | Single-Mode Lasers | Free Space, MM Fiber, SM Fiber, PM Fiber | | | | |
| | LPX-532S | CW DPSS Lasers | 532 | 0.500 | Single-Mode Lasers | Free Space, MM Fiber, SM Fiber, PM Fiber | Narrow | | | |
| | LPX-553 | CW DPSS Lasers | 553 | 0.200 | Single-Mode Lasers | Free Space, MM Fiber, SM Fiber, PM Fiber | | | | |
| | LPX-553S | CW DPSS Lasers | 553 | 0.200 | Single-Mode Lasers | Free Space, MM Fiber, SM Fiber, PM Fiber | Narrow | | | |
| | LPX-561 | CW DPSS Lasers | 561 | 0.300 | Single-Mode Lasers | Free Space, MM Fiber, SM Fiber, PM Fiber | | | | |
| | LPX-561S | CW DPSS Lasers | 561 | 0.300 | Single-Mode Lasers | Free Space, MM Fiber, SM Fiber, PM Fiber | Narrow | | | |
| | LPX-607 | LD Module | 607 | 0.100, 0.200 | Single-Mode Lasers | Free Space, MM Fiber, SM Fiber, PM Fiber | | | | |
| | LPX-640 | CW DPSS Lasers | 640 | 0.300, 0.500 | Single-Mode Lasers | Free Space, MM Fiber, SM Fiber, PM Fiber | | | | |
| | LXCc Combiner | Combiners | Multiple Wavelength Options | 0.100, 0.200, 0.300, 0.400, 0.500 | Single-Mode Lasers, Multimode | Free Space, MM Fiber, SM Fiber, PM Fiber | | | | |
| | MatchBox Combiner | Combiners | Multiple Wavelength Options | 0.050, 0.100 | Single-Mode Lasers, Multimode | Free Space, MM Fiber, SM Fiber, PM Fiber | | | | |
| | RHAML-XXXX-YY-Z-E | LD Module, Line Modules | Multiple Wavelength Options | 0.100 | Single-Mode Lasers | Free Space, Line | | | | |
| | RHAML-XXXX-YY-Z | LD Module, Line Modules | Multiple Wavelength Options | 0.100 | Single-Mode Lasers | Free Space, Line | | | | |
| | RML126FC | LD Module | Multiple Wavelength Options | 0.100 | Single-Mode Lasers | SM Fiber | | | | |
| | RML150FC | LD Module | Multiple Wavelength Options | 0.080 | Single-Mode Lasers | SM Fiber | | | | |
| | RML2040-XXXX-YY-ZZ | LD Module, Line Modules | Multiple Wavelength Options | 2.0 | Single-Mode Lasers | Free Space, Line | | | | |
| | RML2240 | LD Module | Multiple Wavelength Options | 1.5 | Single-Mode Lasers, Multimode | MM Fiber, SM Fiber | | | | |
| | RML2540-XXXX-YY-ZZ | LD Module, Line Modules | Multiple Wavelength Options | 1.0, 2.0 | Single-Mode Lasers, Multimode | Free Space, Line | | | | |