Flow Cytometry Lasers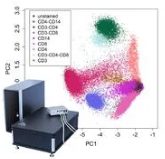 Flow cytometry is a laser-based technology employed in cell counting, cell sorting, biomarker detection, and protein engineering.  Most commonly utilized in the Life Sciences, this application is now also used in microbiology, food quality control, plant and animal cytology, immunology, and other areas. This technology is used to analyze the physical and chemical characteristics of particles in a fluid as it passes through at least one laser.  The fluorescence-labeled cell components are excited by the lasers to emit light at varying wavelengths.  The fluorescence can then be measured to determine the amount and type of cells present in a sample.  Up to thousands of particles per second can be analyzed as they pass through the liquid stream. If you are interested in reading more about Flow Cytometry, check out this article!
Most of the visible wavelengths can be used in flow cytometry, but it's essential that all flow cytometry lasers have a high quality TEM00 beam profile. The recently developed ultraviolet fluorochromes, which are detection reagents, specifically for UV absorption, have brought UV lasers into the spotlight as a useful tool for Flow Cytometry. Lower profile, cost effective 349nm (UV) DPSS Lasers are a very practical replacement for older, bulkier, near-UV systems for ratiometric detection of the calcium ion Ca2+. High output power, power stability, low noise, excellent beam quality, and pointing stability are important requirements to consider when selecting a Flow Cytometry laser.
RPMC has years of experience supporting Flow Cytometry applications, helping industry professionals select the right tool for the job.
Contact Us today to let one of our knowledgeable Product Managers assist you!
| | | | | | | | | | | |
| --- | --- | --- | --- | --- | --- | --- | --- | --- | --- | --- |
| | 1030L-1XB | CW DPSS Lasers | 1030 | 0.300, 0.400, 0.500 | Single Mode, Multimode | Free Space, MM Fiber, SM Fiber, PM Fiber, SMA Port | | | | |
| | 1123L-1XB | CW DPSS Lasers | 1123 | 0.100, 0.160, 0.200 | Single Mode, Multimode | Free Space, MM Fiber, SM Fiber, PM Fiber | | | | |
| | 1319L-1XB | CW DPSS Lasers | 1319 | 0.100, 0.160, 0.200 | Single Mode, Multimode | Free Space, MM Fiber, SM Fiber, PM Fiber | | | | |
| | 1550L-1XA | LD Module | 1550 | 0.120 | Single Mode | Free Space | | | | |
| | 405L-1XA | LD Module | 405 | 0.100, 0.150, 0.180 | Single Mode | Free Space, MM Fiber, SM Fiber, PM Fiber | | | | |
| | 450L-1XA | LD Module | 450 | 0.035, 0.050, 0.060 | Single Mode | Free Space, MM Fiber, SM Fiber, PM Fiber | | | | |
| | 488L-1XA | LD Module | 488 | 0.020, 0.030, 0.040 | Single Mode | Free Space, MM Fiber, SM Fiber, PM Fiber | | | | |
| | 505L-1XA | LD Module | 505 | 0.060 | Single Mode | Free Space, MM Fiber, SM Fiber, PM Fiber | | | | |
| | 520L-1XA | LD Module | 520 | 0.040, 0.070, 0.080 | Single Mode | Free Space, MM Fiber, SM Fiber, PM Fiber | | | | |
| | 532L-1XB | CW DPSS Lasers | 532 | 0.100, 0.150, 0.160, 0.200 | Single Mode, Multimode | Free Space, MM Fiber, SM Fiber, PM Fiber, SMA Port | | | | |
| | 532L-2XB | CW DPSS Lasers | 532 | 0.025, 0.040, 0.050 | Single Mode, Multimode | Free Space, MM Fiber, SM Fiber, PM Fiber, SMA Port | Narrow | | | |
| | 532L-3XB | CW DPSS Lasers | 532 | 0.400, 0.500 | Multimode | Free Space, MM Fiber, SMA Port | | | | |
| | 532L-4XB | CW DPSS Lasers | 532 | 0.050, 0.080, 0.100 | Single Mode, Multimode | Free Space, MM Fiber, SM Fiber, PM Fiber, SMA Port | Narrow | | | |
| | 638L-1XA | LD Module | 638 | 0.100, 0.120, 0.170 | Single Mode | Free Space, MM Fiber, SM Fiber, PM Fiber | | | | |
| | 638L-3XA | LD Module | 638 | 0.500, 0.600 | Multimode | Free Space, MM Fiber | | | | |
| | 660L-1XA | LD Module | 660 | 0.060, 0.080, 0.090, 0.110 | Single Mode | Free Space, MM Fiber, SM Fiber, PM Fiber | | | | |
| | 785L-1XA | LD Module | 785 | 0.120, 0.150, 0.170 | Single Mode | Free Space, MM Fiber, SM Fiber, PM Fiber | | | | |
| | 785L-3XA | LD Module | 785 | 1.5 | Multimode | Free Space, MM Fiber | | | | |
| | 808L-1XA | LD Module | 808 | 0.110 | Single Mode | Free Space, MM Fiber, SM Fiber, PM Fiber | | | | |
| | 808L-3XA | LD Module | 808 | 1.6, 3.0 | Multimode | Free Space, MM Fiber | | | | |
| | 830L-1XA | LD Module | 830 | 0.070, 0.090, 0.130 | Single Mode | Free Space, MM Fiber, SM Fiber, PM Fiber | | | | |
| | 830L-3XA | LD Module | 808 | 1.0 | Multimode | MM Fiber | | | | |
| | 850L-1XA | LD Module | 850 | 0.070, 0.110, 0.130 | Single Mode | Free Space, MM Fiber, SM Fiber, PM Fiber | | | | |
| | 915L-1XA | LD Module | 915 | 0.080, 0.140, 0.170 | Single Mode | Free Space, MM Fiber, SM Fiber, PM Fiber | | | | |
| | 975L-1XA | LD Module | 975 | 0.100, 0.140, 0.170 | Single Mode | Free Space, MM Fiber, SM Fiber, PM Fiber | | | | |
| | LBX-1064 | LD Module | 1064 | 0.200 | Single Mode | Free Space, MM Fiber, SM Fiber, PM Fiber | | | | |
| | LBX-375 | LD Module | 375 | 0.070 | Single Mode | Free Space, MM Fiber, SM Fiber, PM Fiber | | | | |
| | LBX-395 | LD Module | 375 | 0.120 | Single Mode | Free Space, MM Fiber, SM Fiber, PM Fiber | | | | |
| | LBX-405 | LD Module | 405 | 0.050, 0.100, 0.180, 0.300 | Single Mode | Free Space, MM Fiber, SM Fiber, PM Fiber | | | | |
| | LBX-415 | LD Module | 415 | 0.120 | Single Mode | Free Space, MM Fiber, SM Fiber, PM Fiber | | | | |
| | LBX-445 | LD Module | 445 | 0.100, 0.500 | Single Mode | Free Space, MM Fiber, SM Fiber, PM Fiber | | | | |
| | LBX-450 | LD Module | 450 | 0.070 | Single Mode | Free Space, MM Fiber, SM Fiber, PM Fiber | | | | |
| | LBX-458 | LD Module | 457.9 | 0.070 | Single Mode | Free Space, MM Fiber, SM Fiber, PM Fiber | | | | |
| | LBX-473 | LD Module | 473 | 0.100, 0.300 | Single Mode | Free Space, MM Fiber, SM Fiber, PM Fiber | | | | |
| | LBX-488 | LD Module | 488 | 0.040, 0.050, 0.060, 0.100, 0.150, 0.200, 0.300 | Single Mode | Free Space, MM Fiber, SM Fiber, PM Fiber | | | | |
| | LBX-505 | LD Module | 505 | 0.070 | Single Mode | Free Space, MM Fiber, SM Fiber, PM Fiber | | | | |
| | LBX-515 | LD Module | 515 | 0.150 | Single Mode | Free Space, MM Fiber, SM Fiber, PM Fiber | | | | |
| | LBX-522 | LD Module | 522 | 0.070 | Single Mode | Free Space, MM Fiber, SM Fiber, PM Fiber | | | | |
| | LBX-633 | LD Module | 633 | 0.100 | Single Mode | Free Space, MM Fiber, SM Fiber, PM Fiber | | | | |
| | LBX-638 | LD Module | 638 | 0.100, 0.150, 0.180 | Single Mode | Free Space, MM Fiber, SM Fiber, PM Fiber | | | | |
| | LBX-642 | LD Module | 642 | 0.130 | Single Mode | Free Space, MM Fiber, SM Fiber, PM Fiber | | | | |
| | LBX-647 | LD Module | 647 | 0.140 | Single Mode | Free Space, MM Fiber, SM Fiber, PM Fiber | | | | |
| | LBX-660 | LD Module | 660 | 0.100 | Single Mode | Free Space, MM Fiber, SM Fiber, PM Fiber | | | | |
| | LBX-730 | LD Module | 730 | 0.040 | Single Mode | Free Space, MM Fiber, SM Fiber, PM Fiber | | | | |
| | LBX-785 | LD Module | 785 | 0.100, 0.250, 0.350 | Single Mode | Free Space, MM Fiber, SM Fiber, PM Fiber | | | | |
| | LBX-785S | LD Module | 785 | 0.150, 0.500 | Single Mode | Free Space, MM Fiber, SM Fiber, PM Fiber | Narrow | | | |
| | LBX-980 | LD Module | 980 | 0.200 | Single Mode | Free Space, MM Fiber, SM Fiber, PM Fiber | | | | |
| | LCX-532 | CW DPSS Lasers | 532 | 0.050, 0.100, 0.200, 0.300 | Single Mode | Free Space, MM Fiber, SM Fiber, PM Fiber | | | | |
| | LCX-553 | CW DPSS Lasers | 553 | 0.050, 0.100, 0.150, 0.200 | Single Mode | Free Space, MM Fiber, SM Fiber, PM Fiber | | | | |
| | LCX-561 | CW DPSS Lasers | 561 | 0.050, 0.100, 0.150, 0.200, 0.300 | Single Mode | Free Space, MM Fiber, SM Fiber, PM Fiber | | | | |
| | LGK-7801-BM06 | Gas Lasers | 454.5-496.5 | 0.020 | Single Mode | Free Space | | | | |
| | LGK-7801-GL6 | Gas Lasers | 515 | 0.010 | Single Mode | Free Space | | | | |
| | LGK-7801-M6 | Gas Lasers | 488 | 0.012 | Single Mode | Free Space | | | | |
| | LGK-7801-ML06 | Gas Lasers | 454.5-514.5 | 0.025 | Single Mode | Free Space | | | | |
| | LGK-7872-BL | Gas Lasers | 454.5-457.5 | 0.005 | Single Mode | Free Space | | | | |
| | LGK-7872-BM | Gas Lasers | 454.5-496.5 | 0.030 | Single Mode | Free Space | | | | |
| | LGK-7872-GL | Gas Lasers | 515 | 0.015 | Single Mode | Free Space | | | | |
| | LGK-7872-M | Gas Lasers | 488 | 0.020 | Single Mode | Free Space | | | | |
| | LGK-7872-ML | Gas Lasers | 454.5-514.5, Multiple Wavelength Options | 0.040 | Single Mode | Free Space | | | | |
| | LGK-7890-A | Gas Lasers | 454.5, 457.9, 514.5 | 0.004, 0.010 | Single Mode | Free Space | | | | |
| | LPX-532 | CW DPSS Lasers | 532 | 0.500 | Single Mode | Free Space, MM Fiber, SM Fiber, PM Fiber | | | | |
| | LPX-532S | CW DPSS Lasers | 532 | 0.500 | Single Mode | Free Space, MM Fiber, SM Fiber, PM Fiber | Narrow | | | |
| | LPX-553 | CW DPSS Lasers | 553 | 0.200 | Single Mode | Free Space, MM Fiber, SM Fiber, PM Fiber | | | | |
| | LPX-553S | CW DPSS Lasers | 553 | 0.200 | Single Mode | Free Space, MM Fiber, SM Fiber, PM Fiber | Narrow | | | |
| | LPX-561 | CW DPSS Lasers | 561 | 0.300 | Single Mode | Free Space, MM Fiber, SM Fiber, PM Fiber | | | | |
| | LPX-561S | CW DPSS Lasers | 561 | 0.300 | Single Mode | Free Space, MM Fiber, SM Fiber, PM Fiber | Narrow | | | |
| | LPX-640 | CW DPSS Lasers | 640 | 0.300, 0.500 | Single Mode | Free Space, MM Fiber, SM Fiber, PM Fiber | | | | |
| | LXCc Combiner | Combiners | Multiple Wavelength Options | 0.100, 0.200, 0.300, 0.400, 0.500 | Single Mode, Multimode | Free Space, MM Fiber, SM Fiber, PM Fiber | | | | |
| | MatchBox Combiner | Combiners | Multiple Wavelength Options | 0.050, 0.100 | Single Mode, Multimode | Free Space, MM Fiber, SM Fiber, PM Fiber | | | | |
| | RHAML-XXXX-YY-Z-E | LD Module, Line Modules | Multiple Wavelength Options | 0.100 | Single Mode | Free Space, Line | | | | |
| | RHAML-XXXX-YY-Z | LD Module, Line Modules | Multiple Wavelength Options | 0.100 | Single Mode | Free Space, Line | | | | |
| | RML126FC | LD Module | Multiple Wavelength Options | 0.100 | Single Mode | SM Fiber | | | | |
| | RML150FC | LD Module | Multiple Wavelength Options | 0.080 | Single Mode | SM Fiber | | | | |
| | RML2040-XXXX-YY-ZZ | LD Module, Line Modules | Multiple Wavelength Options | 2.0 | Single Mode | Free Space, Line | | | | |
| | RML2240 | LD Module | Multiple Wavelength Options | 1.5 | Single Mode, Multimode | MM Fiber, SM Fiber | | | | |
| | RML2540-XXXX-YY-ZZ | LD Module, Line Modules | Multiple Wavelength Options | 1.0, 2.0 | Single Mode, Multimode | Free Space, Line | | | | |