Optogenetics Lasers
What is Optogenetics?
Optogenetics is a biological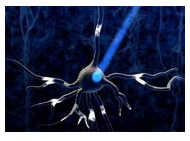 technique that uses light to control cells in living tissue, typically neurons.  These neurons have been genetically modified to express light-sensitive ion channels, allowing researchers to correlate physical responses with individual neurons. Optogenetics while still a relatively new method, has already shown incites into several neurological and psychiatric disorders.  While very little optical power is needed, optogenetics lasers are still the preferred delivery method because of their ability to be focused and targeted to specific areas of the brain.  Additionally, several wavelengths in the near-infrared region allow optogenetics lasers to be transmitted through bone and tissue eliminating the need for opening the skull.  On this page, you will find a list of all of the full range of optogenetic lasers we offer at RPMC.
| | | | | | | | | | |
| --- | --- | --- | --- | --- | --- | --- | --- | --- | --- |
| | 1030L-2XB | CW DPSS Lasers | 0.200, 0.300, 0.400 | Single-Mode Lasers, Multimode | Free Space, MM Fiber, SM Fiber, PM Fiber | Narrow | | | |
| | 1064L-1XB | CW DPSS Lasers | 0.025, 0.300, 0.400, 0.500 | Single-Mode Lasers, Multimode | Free Space, MM Fiber, SM Fiber, PM Fiber, SMA Port | | | | |
| | 1064L-2XB | CW DPSS Lasers | 0.200, 0.300, 0.400 | Single-Mode Lasers, Multimode | Free Space, MM Fiber, SM Fiber, PM Fiber | Narrow | | | |
| | 320 NX | CW DPSS Lasers | 0.050, 0.100, 0.200 | Single-Mode Lasers | Free Space | Narrow | | | |
| | 349 NX | CW DPSS Lasers | 0.050, 0.100, 0.150, 0.200 | Single-Mode Lasers | Free Space | Narrow | | | |
| | 405L-1XA | LD Module | 0.100, 0.150, 0.180 | Single-Mode Lasers | Free Space, MM Fiber, SM Fiber, PM Fiber | | | | |
| | 405L-2XA | LD Module | 0.020, 0.040, 0.050 | Single-Mode Lasers | Free Space, MM Fiber, SM Fiber, PM Fiber | Narrow | | | |
| | 450L-1XA | LD Module | 0.035, 0.050, 0.060 | Single-Mode Lasers | Free Space, MM Fiber, SM Fiber, PM Fiber | | | | |
| | 488L-1XA | LD Module | 0.020, 0.030, 0.040 | Single-Mode Lasers | Free Space, MM Fiber, SM Fiber, PM Fiber | | | | |
| | 488L-2XA | LD Module | 0.010, 0.015, 0.030 | Single-Mode Lasers | Free Space, MM Fiber, SM Fiber, PM Fiber | Narrow | | | |
| | 505L-1XA | LD Module | 0.030, 0.060 | Single-Mode Lasers | Free Space, MM Fiber, SM Fiber, PM Fiber | | | | |
| | 520L-1XA | LD Module | 0.050, 0.080, 0.090, 0.100 | Single-Mode Lasers | Free Space, MM Fiber, SM Fiber, PM Fiber | | | | |
| | 520L-2XA | LD Module | 0.025, 0.035, 0.040 | Single-Mode Lasers | Free Space, MM Fiber, SM Fiber, PM Fiber | Narrow | | | |
| | 532L-1XB | CW DPSS Lasers | 0.100, 0.150, 0.160, 0.200 | Single-Mode Lasers, Multimode | Free Space, MM Fiber, SM Fiber, PM Fiber, SMA Port | | | | |
| | 532L-2XB | CW DPSS Lasers | 0.025, 0.040, 0.050 | Single-Mode Lasers, Multimode | Free Space, MM Fiber, SM Fiber, PM Fiber, SMA Port | Narrow | | | |
| | 532L-4XB | CW DPSS Lasers | 0.050, 0.080, 0.100 | Single-Mode Lasers, Multimode | Free Space, MM Fiber, SM Fiber, PM Fiber, SMA Port | Narrow | | | |
| | 532L-6XB | CW DPSS Lasers | 0.100, 0.200 | Single-Mode Lasers, Multimode | Free Space, MM Fiber, SM Fiber, PM Fiber, SMA Port | Narrow | | | |
| | 633L-1XA | LD Module | 0.035, 0.060, 0.080, 0.090 | Single-Mode Lasers | Free Space, MM Fiber, SM Fiber, PM Fiber | | | | |
| | 633L-2XA | LD Module | 0.035, 0.040, 0.070 | Single-Mode Lasers | Free Space, MM Fiber, SM Fiber, PM Fiber | Narrow | | | |
| | 638L-1XA | LD Module | 0.100, 0.120, 0.170 | Single-Mode Lasers | Free Space, MM Fiber, SM Fiber, PM Fiber | | | | |
| | 638L-2XA | LD Module | 0.060, 0.080, 0.100 | Single-Mode Lasers | Free Space, MM Fiber, SM Fiber, PM Fiber | Narrow | | | |
| | 660L-1XA | LD Module | 0.060, 0.080, 0.090, 0.110 | Single-Mode Lasers | Free Space, MM Fiber, SM Fiber, PM Fiber | | | | |
| | ALCOR 10XX | Pulsed DPSS Lasers, Pulsed Fiber Lasers, Ultrafast Lasers | 2.0, 5.0 | | | | 0.025, 0.062 | 100fs, 110fs | 80MHz (Optional: 40MHz) |
| | ALCOR 520 | Pulsed DPSS Lasers, Pulsed Fiber Lasers, Ultrafast Lasers | 0.800, 2.0 | | | | 0.025 | 180fs | 80MHz (Optional: 40MHz) |
| | ALCOR 780 | Pulsed DPSS Lasers, Pulsed Fiber Lasers, Ultrafast Lasers | 0.800 | | | | 0.010 | 150fs | 80MHz |
| | ALCOR 920 | Pulsed DPSS Lasers, Pulsed Fiber Lasers, Ultrafast Lasers | 1.5, 2.5, 4.0 | | | | 0.0187, 0.0312, 0.050 | 100fs, 110fs, 130fs | 80MHz |
| | ALCOR Dual | Pulsed DPSS Lasers, Pulsed Fiber Lasers, Ultrafast Lasers | 1.0, 2.0 | | | | 0.0125, 0.025 | 100fs, 110fs, 130fs | 80MHz |
| | Altair | Pulsed DPSS Lasers, Pulsed Fiber Lasers, Ultrafast Lasers | 10.0, 20.0 | | | | 0.125, 0.250, 1.0 | 150fs, 250fs | 30MHz, 80MHz, Single shot to 40MHz |
| | Diadem 1300 | Pulsed DPSS Lasers, Ultrafast Lasers | 2.0 | | | | 1.0 | 150fs | Single shot to 2MHz |
| | Diadem IR | Pulsed DPSS Lasers, Ultrafast Lasers | 10.0, 20.0, 30.0 | | | | 10.0, 20.0, 30.0, 40.0 | 400fs, 10ps | Single shot to 2MHz |
| | He-Ne Power Supplies | HeNe Lasers | 0.002 | Single-Mode Lasers | Free Space | | | | |
| | HL633 | Single Emitter | 0.100 | Single-Mode Lasers | Free Space | | | | |
| | HL637 | Single Emitter | 0.007, 0.120, 0.250, 0.450, 1.0, 1.2 | Single-Mode Lasers, Multimode | Free Space | | | | |
| | HL638 | Single Emitter | 0.005, 0.007, 0.010, 0.015, 0.120, 0.150, 0.200, 0.700, 1.5, 2.2, 2.4 | Single-Mode Lasers, Multimode | Free Space | | | | |
| | HL639 | Single Emitter | 0.010, 0.012, 0.020, 0.025, 0.030, 0.200, 0.210 | Single-Mode Lasers | Free Space | | | | |
| | HL640 | Single Emitter | 0.045 | Single-Mode Lasers | Free Space | | | | |
| | HL642 | Single Emitter | 0.065, 0.090, 0.150 | Single-Mode Lasers | Free Space | | | | |
| | HL649 | Single Emitter | 0.150 | Single-Mode Lasers | Free Space | | | | |
| | HL658 | Single Emitter | 0.035, 0.085 | Single-Mode Lasers | Free Space | | | | |
| | HL659 | Single Emitter | 1.2 | Multimode | Free Space | | | | |
| | HL670 | Single Emitter | 0.010, 0.015 | Single-Mode Lasers | Free Space | | | | |
| | HL675 | Single Emitter | 0.210 | Single-Mode Lasers | Free Space | | | | |
| | HL685 | Single Emitter | 0.055 | Single-Mode Lasers | Free Space | | | | |
| | HL690 | Single Emitter | 0.035, 0.210, 1.3 | Single-Mode Lasers | Free Space | | | | |
| | LBX-375 | LD Module | 0.070 | Single-Mode Lasers | Free Space, MM Fiber, SM Fiber, PM Fiber | | | | |
| | LBX-395 | LD Module | 0.120 | Single-Mode Lasers | Free Space, MM Fiber, SM Fiber, PM Fiber | | | | |
| | LBX-405 | LD Module | 0.050, 0.100, 0.180, 0.300 | Single-Mode Lasers | Free Space, MM Fiber, SM Fiber, PM Fiber | | | | |
| | LBX-415 | LD Module | 0.120 | Single-Mode Lasers | Free Space, MM Fiber, SM Fiber, PM Fiber | | | | |
| | LBX-445 | LD Module | 0.100, 0.500 | Single-Mode Lasers | Free Space, MM Fiber, SM Fiber, PM Fiber | | | | |
| | LBX-450-HPE | LD Module | 0.650, 1.2 | Multimode | Free Space, MM Fiber | | | | |
| | LBX-450 | LD Module | 0.070 | Single-Mode Lasers | Free Space, MM Fiber, SM Fiber, PM Fiber | | | | |
| | LBX-458 | LD Module | 0.500 | Single-Mode Lasers | Free Space, MM Fiber, SM Fiber, PM Fiber | | | | |
| | LBX-473-HPE | LD Module | 1.0 | Multimode | Free Space, MM Fiber | | | | |
| | LBX-473 | LD Module | 0.100, 0.300 | Single-Mode Lasers | Free Space, MM Fiber, SM Fiber, PM Fiber | | | | |
| | LBX-488-HPE | LD Module | 1.0 | Multimode | Free Space, MM Fiber | | | | |
| | LBX-488 | LD Module | 0.040, 0.050, 0.060, 0.100, 0.150, 0.200, 0.300 | Single-Mode Lasers | Free Space, MM Fiber, SM Fiber, PM Fiber | | | | |
| | LBX-505 | LD Module | 0.070 | Single-Mode Lasers | Free Space, MM Fiber, SM Fiber, PM Fiber | | | | |
| | LBX-515 | LD Module | 0.150 | Single-Mode Lasers | Free Space, MM Fiber, SM Fiber, PM Fiber | | | | |
| | LBX-520-800-HPE | LD Module | 0.800 | Multimode | Free Space, MM Fiber | | | | |
| | LBX-522 | LD Module | 0.070 | Single-Mode Lasers | Free Space, MM Fiber, SM Fiber, PM Fiber | | | | |
| | LBX-633 | LD Module | 0.100 | Single-Mode Lasers | Free Space, MM Fiber, SM Fiber, PM Fiber | | | | |
| | LBX-633S | LD Module | 0.040 | Single-Mode Lasers | Free Space, MM Fiber, SM Fiber, PM Fiber | Narrow | | | |
| | LBX-638-HPE | LD Module | 1.1 | Multimode | Free Space, MM Fiber | | | | |
| | LBX-638 | LD Module | 0.100, 0.150, 0.180 | Single-Mode Lasers | Free Space, MM Fiber, SM Fiber, PM Fiber | | | | |
| | LBX-642 | LD Module | 0.140 | Single-Mode Lasers | Free Space, MM Fiber, SM Fiber, PM Fiber | | | | |
| | LBX-647 | LD Module | 0.140 | Single-Mode Lasers | Free Space, MM Fiber, SM Fiber, PM Fiber | | | | |
| | LBX-660 | LD Module | 0.100 | Single-Mode Lasers | Free Space, MM Fiber, SM Fiber, PM Fiber | | | | |
| | LBX-808 | LD Module | 0.200 | Single-Mode Lasers | Free Space, MM Fiber, SM Fiber, PM Fiber | | | | |
| | LBX-830 | LD Module | 0.100 | Single-Mode Lasers | Free Space, MM Fiber, SM Fiber, PM Fiber | | | | |
| | LBX-830S | LD Module | 0.100 | Single-Mode Lasers | Free Space, MM Fiber, SM Fiber, PM Fiber | Narrow | | | |
| | LBX-915 | LD Module | 0.200 | Single-Mode Lasers | Free Space, MM Fiber, SM Fiber, PM Fiber | | | | |
| | LCX-532 | CW DPSS Lasers | 0.050, 0.100, 0.150, 0.200, 0.300 | Single-Mode Lasers | Free Space, MM Fiber, SM Fiber, PM Fiber | | | | |
| | LCX-532S | CW DPSS Lasers | 0.050, 0.100, 0.150, 0.200, 0.300 | Single-Mode Lasers | Free Space, MM Fiber, SM Fiber, PM Fiber | Narrow | | | |
| | LCX-553 | CW DPSS Lasers | 0.050, 0.100 | Single-Mode Lasers | Free Space, MM Fiber, SM Fiber, PM Fiber | | | | |
| | LCX-553S | CW DPSS Lasers | 0.050, 0.100 | Single-Mode Lasers | Free Space, MM Fiber, SM Fiber, PM Fiber | Narrow | | | |
| | LCX-561 | CW DPSS Lasers | 0.050, 0.100, 0.150, 0.200 | Single-Mode Lasers | Free Space, MM Fiber, SM Fiber, PM Fiber | | | | |
| | LCX-561S | CW DPSS Lasers | 0.050, 0.100, 0.150, 0.200 | Single-Mode Lasers | Free Space, MM Fiber, SM Fiber, PM Fiber | Narrow | | | |
| | LDX-XXXX-445 | Single Emitter | 3.5 | Multimode | Free Space, MM Fiber | | | | |
| | LDX-XXXX-520 | Single Emitter | 1.0 | Multimode | Free Space, MM Fiber | | | | |
| | LDX-XXXX-622 | Single Emitter | 0.150 | Multimode | Free Space, MM Fiber | | | | |
| | LDX-XXXX-627 | Single Emitter | 0.250, 0.350 | Multimode | Free Space, MM Fiber | | | | |
| | LDX-XXXX-630 | Single Emitter | 0.250, 0.400 | Multimode | Free Space, MM Fiber | | | | |
| | LDX-XXXX-635 | Single Emitter | 0.300, 0.400, 0.600, 1.2 | Multimode | Free Space, MM Fiber | | | | |
| | LDX-XXXX-645 | Single Emitter | 0.300, 0.400 | Multimode | Free Space, MM Fiber | | | | |
| | LDX-XXXX-650 | Single Emitter | 1.0 | Multimode | Free Space, MM Fiber | | | | |
| | LDX-XXXX-660 | Single Emitter | 0.350, 0.750, 1.0, 2.0 | Multimode | Free Space, MM Fiber | | | | |
| | LDX-XXXX-665 | Single Emitter | 0.350, 0.750, 1.0, 2.0 | Multimode | Free Space, MM Fiber | | | | |
| | LDX-XXXX-680 | Single Emitter | 0.400, 0.800, 1.2, 2.0 | Multimode | Free Space, MM Fiber | | | | |
| | LDX-XXXX-685 | Single Emitter | 0.400, 0.800, 1.2, 2.0 | Multimode | Free Space, MM Fiber | | | | |
| | LDX-XXXX-690 | Single Emitter | 0.400, 0.750, 1.1 | Multimode | Free Space, MM Fiber | | | | |
| | LGK 7512 | HeNe Lasers | 0.002 | Single-Mode Lasers | Free Space | | | | |
| | LGK 7608 | HeNe Lasers | 0.0015 | Single-Mode Lasers | Free Space | | | | |
| | LGK 7610 | HeNe Lasers | 0.002 | Single-Mode Lasers | Free Space | | | | |
| | LGK 7621 | HeNe Lasers | 0.005 | Multimode | Free Space | | | | |
| | LGK 7627 | HeNe Lasers | 0.005, 0.010 | Single-Mode Lasers, Multimode | Free Space | | | | |
| | LGK 7628 | HeNe Lasers | 0.005, 0.007 | Single-Mode Lasers | Free Space | | | | |
| | LGK 7634 | HeNe Lasers | 0.002, 0.003 | Single-Mode Lasers | Free Space | | | | |
| | LGK 7650 | HeNe Lasers | 0.0005, 0.001 | Single-Mode Lasers | Free Space | | | | |
| | LGK 7653 | HeNe Lasers | 0.010 | Single-Mode Lasers | Free Space | | | | |
| | LGK 7654 | HeNe Lasers | 0.010 | Single-Mode Lasers | Free Space | | | | |
| | LGK 7655 | HeNe Lasers | 0.0006, 0.001 | Single-Mode Lasers | Free Space | | | | |
| | LGK 7665 | HeNe Lasers | 0.015, 0.018, 0.020 | Single-Mode Lasers | Free Space | | | | |
| | LGK 7672 | HeNe Lasers | 0.002 | Single-Mode Lasers | Free Space | | | | |
| | LGK 7785 | HeNe Lasers | 0.001, 0.002 | Single-Mode Lasers | Free Space | | | | |
| | LGK 7786 | HeNe Lasers | 0.0005, 0.001 | Single-Mode Lasers | Free Space | | | | |
| | LGR 7608 | HeNe Lasers | 0.0015 | Single-Mode Lasers | Free Space | | | | |
| | LGR 7610 | HeNe Lasers | 0.002 | Single-Mode Lasers | Free Space | | | | |
| | LGR 7621 | HeNe Lasers | 0.002, 0.005 | Single-Mode Lasers, Multimode | Free Space | | | | |
| | LGR 7627 | HeNe Lasers | 0.005, 0.010 | Single-Mode Lasers | Free Space | | | | |
| | LGR 7628 | HeNe Lasers | 0.005 | Single-Mode Lasers | Free Space | | | | |
| | LGR 7634 | HeNe Lasers | 0.002 | Single-Mode Lasers | Free Space | | | | |
| | LGR 7650 | HeNe Lasers | 0.005 | Single-Mode Lasers | Free Space | | | | |
| | LGR 7655 | HeNe Lasers | 0.0006, 0.001 | Single-Mode Lasers | Free Space | | | | |
| | LGR 7656 | HeNe Lasers | 0.0005 | Single-Mode Lasers | Free Space | | | | |
| | LGR 7660 | HeNe Lasers | 0.001 | Single-Mode Lasers | Free Space | | | | |
| | LGR 7695 | HeNe Lasers | 0.00075 | Single-Mode Lasers | Free Space | | | | |
| | LPX-532 | CW DPSS Lasers | 0.500 | Single-Mode Lasers | Free Space, MM Fiber, SM Fiber, PM Fiber | | | | |
| | LPX-532S | CW DPSS Lasers | 0.500 | Single-Mode Lasers | Free Space, MM Fiber, SM Fiber, PM Fiber | Narrow | | | |
| | LPX-553 | CW DPSS Lasers | 0.200 | Single-Mode Lasers | Free Space, MM Fiber, SM Fiber, PM Fiber | | | | |
| | LPX-553S | CW DPSS Lasers | 0.200 | Single-Mode Lasers | Free Space, MM Fiber, SM Fiber, PM Fiber | Narrow | | | |
| | LPX-561 | CW DPSS Lasers | 0.300 | Single-Mode Lasers | Free Space, MM Fiber, SM Fiber, PM Fiber | | | | |
| | LPX-561S | CW DPSS Lasers | 0.300 | Single-Mode Lasers | Free Space, MM Fiber, SM Fiber, PM Fiber | Narrow | | | |
| | LPX-607 | CW DPSS Lasers | 0.100, 0.200 | Single-Mode Lasers | Free Space, MM Fiber, SM Fiber, PM Fiber | | | | |
| | LPX-640 | CW DPSS Lasers | 0.300, 0.500 | Single-Mode Lasers | Free Space, MM Fiber, SM Fiber, PM Fiber | | | | |
| | LXCc Combiner | Combiners | 0.100, 0.200, 0.300, 0.400, 0.500 | Single-Mode Lasers, Multimode | Free Space, MM Fiber, SM Fiber, PM Fiber | | | | |
| | Onda 1064nm | Pulsed DPSS Lasers | 15.0 | | | | 800.0 | 2ns - 12ns | Single Shot to 100kHz |
| | One-1030 | Pulsed DPSS Lasers | 1.0, 3.0 | | | | 100.0 | 5ns - 20ns | 30kHz, Single shot to 10kHz |
| | Quantas-Q-SPARK-1064 | Pulsed DPSS Lasers | 0.010 | | | | 10000.0 | 800ps, 2ns | 100Hz |
| | Quantas-Q-SPARK-266 | Pulsed DPSS Lasers | 0.010 | | | | 1500.0 | 2ns | 20Hz |
| | Quantas-Q-SPARK-355 | Pulsed DPSS Lasers | 0.010 | | | | 2500.0 | 2ns | 20Hz |
| | Quantas-Q-SPARK-532 | Pulsed DPSS Lasers | 0.010 | | | | 2500.0 | 2ns | 20Hz |
| | Quantas-Q1-1053 | Pulsed DPSS Lasers | 0.100, 0.200, 0.350 | | | | 10000.0, 20000.0, 35000.0 | 7ns, 8ns | 10Hz |
| | Quantas-Q1-1064 | Pulsed DPSS Lasers | 0.100, 0.150, 0.350, 0.600 | | | | 10000.0, 15000.0, 35000.0, 60000.0 | 7ns, 8ns | 10Hz |
| | Quantas-Q1-211 | Pulsed DPSS Lasers | 0.005, 0.010, 0.020, 0.025 | | | | 500.0, 1000.0, 2000.0, 2500.0 | 7ns, 8ns | Single Shot to 10Hz |
| | Quantas-Q1-213 | Pulsed DPSS Lasers | 0.005, 0.010, 0.020, 0.025 | | | | 500.0, 1000.0, 2000.0, 2500.0 | 7ns, 8ns | 10Hz |
| | Quantas-Q1-263 | Pulsed DPSS Lasers | 0.015, 0.030, 0.050, 0.070 | | | | 1500.0, 3000.0, 5000.0, 7000.0 | 7ns, 8ns | Single Shot to 10Hz |
| | Quantas-Q1-266 | Pulsed DPSS Lasers | 0.015, 0.030, 0.050, 0.070 | | | | 1500.0, 3000.0, 5000.0, 7000.0 | 7ns, 8ns | Single Shot to 10Hz |
| | Quantas-Q1-351 | Pulsed DPSS Lasers | 0.030, 0.060, 0.100, 0.130 | | | | 3000.0, 6000.0, 10000.0, 13000.0 | 7ns, 8ns | Single Shot to 10Hz |
| | Quantas-Q1-355 | Pulsed DPSS Lasers | 0.030, 0.060, 0.100, 0.130 | | | | 3000.0, 6000.0, 10000.0, 13000.0 | 7ns, 8ns | 10Hz |
| | Quantas-Q1-527 | Pulsed DPSS Lasers | 0.050, 0.100, 0.170, 0.220 | | | | 5000.0, 10000.0, 17000.0, 22000.0 | 7ns, 8ns | 10Hz |
| | Quantas-Q1-532 | Pulsed DPSS Lasers | 0.050, 0.110, 0.170, 0.220 | | | | 5000.0, 10000.0, 17000.0, 22000.0 | 7ns, 8ns | 10Hz |
| | Quantas-Q2HE-1053 | Pulsed DPSS Lasers | 1.2, 2.0 | | | | 40000.0, 100000.0, 120000.0 | 6ns | 10Hz, 20Hz, 50Hz |
| | Quantas-Q2HE-1064 | Pulsed DPSS Lasers | 1.0, 1.6, 2.0, 3.5, 4.0 | | | | 40000.0, 70000.0, 80000.0, 100000.0 | 6ns | 10Hz, 20Hz, 50Hz, 100Hz |
| | RPK520S | Single Emitter | 0.005 | Multimode | MM Fiber | | | | |
| | RPK635M | Multi-Emitter | 5.0 | Multimode | MM Fiber | | | | |
| | RPK635S | Single Emitter | 0.002, 0.020 | Single-Mode Lasers | SM Fiber | | | | |
| | RPKMWM | Multi Wavelength | 0.600, 5.0, 15.0, 25.0 | Multimode | MM Fiber | | | | |
| | SB1-1064 | Pulsed DPSS Lasers, Microchip Lasers | 0.008, 0.012, 0.040, 0.110, 0.150, 0.200, 0.225, 0.400 | | | | 2.0, 15.0, 20.0, 30.0, 40.0, 60.0, 80.0 | 400ps, 1.3ns | 100Hz, 200Hz, 1kHz, 5kHz, 10kHz, 15kHz, 55kHz, 100kHz |
| | SOL-1064 | Pulsed DPSS Lasers | 4.0, 6.0, 10.0, 20.0, 30.0, 40.0 | | | | 300.0, 450.0, 900.0, 1500.0, 2000.0 | 5ns - 35ns, 7ns - 35ns, 10ns - 40ns, 10ns - 50ns, 15ns - 60ns | Single Shot to 100kHz |
| | Solo-640 | CW DPSS Lasers | 0.500, 0.750, 1.0 | Single-Mode Lasers | Free Space | Narrow | | | |
| | TG-420 | Single Emitter | 0.050 | Single-Mode Lasers | Free Space | | | | |
| | TG-425 | Single Emitter | 0.050 | Single-Mode Lasers | Free Space | | | | |
| | TG-430 | Single Emitter | 0.050 | Single-Mode Lasers | Free Space | | | | |
| | TG-435 | Single Emitter | 0.050 | Single-Mode Lasers | Free Space | | | | |
| | TG-440 | Single Emitter | 0.050 | Single-Mode Lasers | Free Space | | | | |
| | TG-445 | Single Emitter | 0.050 | Single-Mode Lasers | Free Space | | | | |
| | TG-450 | Single Emitter | 0.050 | Single-Mode Lasers | Free Space | | | | |
| | TG-455 | Single Emitter | 0.050 | Single-Mode Lasers | Free Space | | | | |
| | TG-460 | Single Emitter | 0.050 | Single-Mode Lasers | Free Space | | | | |
| | Wedge-HB/XB 1064 | Pulsed DPSS Lasers | 4.0 | | | | 2000.0, 4000.0 | 1.5ns | Single shot to 1kHz, Single shot to 2kHz |
| | Wedge-HF/XF 1064 | Pulsed DPSS Lasers | 1.5, 4.0 | | | | 70.0, 180.0 | 400ps - 1.5ns, 400ps - 1.6ns, 700ps - 2.5ns | 10kHz to 100kHz, 50kHz to 200kHz |
| | Wedge-HF/XF 532 | Pulsed DPSS Lasers | 0.500, 1.5, 2.0, 4.0 | | | | 30.0, 40.0, 80.0, 120.0 | 500ps - 2ns, 700ps - 2ns, 400ps - 1.5ns, 400ps - 1ns | 10kHz to 100kHz, 50kHz to 200kHz, Single shot to 10kHz |
| | Wedge-XB 1572 | Pulsed DPSS Lasers | 0.800 | | | | 8000.0 | 2.5ns | 1kHz |
| | Wedge-XB 3um | Pulsed DPSS Lasers | 0.200 | | | | 100.0 | 3ns | Single shot to 2kHz |