Yellow Lasers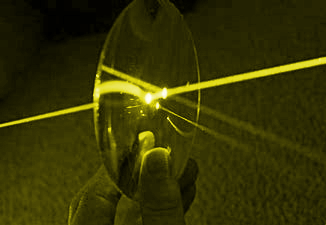 Yellow lasers are one of the most challenging lasers to produce because there are no direct diode or solid-state sources available.  As a result, most of these lasers are frequency doubled Nd: YAG lasers which are designed to lase at one of the secondary lines such as 1122 nm.  Even though the transition cross section at 1122 nm is about 40% of the 1064 nm laser line, the technology has matured over the past ten years to the point where yellow diode-pumped solid-state (DPSS) lasers are now as reliable as their gas laser counterparts.  It is instrumental for a wide array of applications, but most notably as an excitation source in DNA sequencing and confocal fluorescence microscopy.
Yellow Laser Products
We offer many several laser types with Yellow output, including Gas Lasers, Pulsed & CW DPSS Lasers, and Tunable Pulsed Lasers. Our Yellow products are available with up to 500 mW average power, options , free-space or fiber-coupled output, and integration levels including OEM and turnkey systems.
Let Us Help!
In conclusion, if you have any questions or would like some assistance, don't hesitate to get in touch with us here. Furthermore, you can call us at 636.272.7227 to talk to a knowledgeable Product Manager. Alternatively, you can also use the filters on this page to assist in narrowing down the selection. Finally, head to our Knowledge Center, with our Lasers 101 page and Blogs and Whitepapers pages, for further, in-depth reading.
Suggested Reading:
| | | | | | | | | | | |
| --- | --- | --- | --- | --- | --- | --- | --- | --- | --- | --- |
| | He-Ne Power Supplies | HeNe Lasers | | 0.002 | Single-Mode Lasers | Free Space | | | | |
| | LCX-561 | CW DPSS Lasers | 561 | 0.050, 0.100, 0.150, 0.200, 0.300 | Single-Mode Lasers | Free Space, MM Fiber, SM Fiber, PM Fiber | | | | |
| | LCX-561S | CW DPSS Lasers | 561 | 0.100, 0.150, 0.200 | Single-Mode Lasers | Free Space, MM Fiber, SM Fiber, PM Fiber | Narrow | | | |
| | LGK 7512 | HeNe Lasers | 594 | 0.002 | Single-Mode Lasers | Free Space | | | | |
| | LPX-561 | CW DPSS Lasers | 561 | 0.300 | Single-Mode Lasers | Free Space, MM Fiber, SM Fiber, PM Fiber | | | | |
| | LPX-561S | CW DPSS Lasers | 561 | 0.300 | Single-Mode Lasers | Free Space, MM Fiber, SM Fiber, PM Fiber | Narrow | | | |
| | Q-TUNE | Pulsed DPSS Lasers, Tunable Lasers | Tunable | 0.200 | | | | 8000.0 | 5ns | 10Hz, 33Hz, 100Hz |
| | Quantas-Q-SHIFT-588.5 | Pulsed DPSS Lasers | 588.5 | 0.250, 0.400, 0.495, 0.500 | | | | 2500.0, 5000.0, 10000.0, 15000.0, 20000.0, 25000.0 | 2ns - 5ns | 10Hz, 20Hz, 33Hz, 50Hz, 100Hz |
| | Quantas-Q-SHIFT-WXXXX | Pulsed DPSS Lasers | Multiple Wavelength Options | Varies | | | | Varies | 2ns - 5ns | 100Hz |