Aesthetics Lasers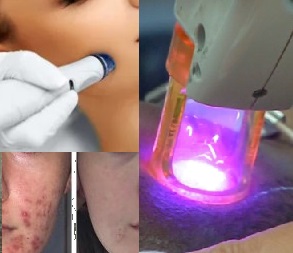 Aesthetics Lasers, for applications varying from laser hair removal to scar tissue reduction, are one of the largest sectors in the medical laser industry. Typically, these lasers operate in the near-infrared region due to the low absorption of hemoglobin and water in comparison to melanin between 700 nm and 1000 nm.  But for some applications such as laser tattoo removal or acne treatment visible lasers are used, and for collagen stimulation, longer wavelength lasers are often used.  Aesthetics lasers can be either q-switched or long-pulsed (modulated continuous-wave lasers) depending on if the goal is to cause ablation or localized heating.  On this page, you will find a list of all of the full range of aesthetics lasers we offer at RPMC, including high power laser diodes, flashlamp-pumped lasers, and fiber lasers.
RPMC has years of experience supporting Aesthetics applications, helping industry professionals select the right tool for the job.
Contact Us today to let one of our knowledgeable Product Managers assist you!
| | | | | | | | | | |
| --- | --- | --- | --- | --- | --- | --- | --- | --- | --- |
| | JDL-1020 | Array (Bar) | 120.0, 200.0 | Multimode | Free Space | | | | |
| | JDL-1060 | Single Emitter, Array (Bar) | 10.0, 40.0, 60.0, 80.0, 120.0, 200.0, 250.0, 350.0 | Multimode | Free Space | | | | |
| | JDL-760 | Array (Bar) | 40.0 | Multimode | Free Space | | | | |
| | JDL-792 | Array (Bar) | 60.0, 80.0 | Multimode | Free Space | | | | |
| | JDL-808 | Single Emitter, Array (Bar) | 6.0, 8.0, 10.0, 20.0, 40.0, 50.0, 60.0, 80.0, 92.0, 200.0, 300.0 | Multimode | Free Space | | | | |
| | JDL-880 | Array (Bar) | 500.0 | Multimode | Free Space | | | | |
| | JDL-905 | Array (Bar) | 200.0 | Multimode | Free Space | | | | |
| | JDL-915 | Array (Bar) | 40.0, 60.0, 80.0, 200.0 | Multimode | Free Space | | | | |
| | JDL-940 | Array (Bar) | 60.0, 80.0, 120.0, 200.0, 300.0 | Multimode | Free Space | | | | |
| | JDL-976 | Array (Bar) | 60.0, 80.0, 120.0 | Multimode | Free Space | | | | |
| | JOLD-FC-1470 | Array (Bar) | 20.0 | Multimode | MM Fiber | | | | |
| | JOLD-FC-808 | Array (Bar) | 30.0, 45.0, 70.0, 75.0, 100.0, 120.0, 140.0, 210.0, 250.0, 400.0 | Multimode | MM Fiber | | | | |
| | JOLD-FC-880 | Array (Bar) | 30.0, 45.0, 75.0, 100.0 | Multimode | MM Fiber | | | | |
| | JOLD-FC-915 | Array (Bar) | 30.0, 45.0, 75.0, 100.0, 120.0, 140.0, 210.0, 250.0, 400.0 | Multimode | MM Fiber | | | | |
| | JOLD-FC-940 | Array (Bar) | 30.0, 45.0, 70.0, 75.0, 100.0, 120.0, 140.0, 210.0, 250.0, 400.0 | Multimode | MM Fiber | | | | |
| | JOLD-FC-976 | Array (Bar) | 30.0, 45.0, 75.0, 100.0, 120.0, 140.0, 210.0, 250.0, 400.0 | Multimode | MM Fiber | | | | |
| | JOLD-Open-808-CW | Array (Bar) | 40.0, 50.0, 60.0, 80.0 | Multimode | Free Space | | | | |
| | JOLD-Open-808-CW-FAC | Array (Bar) | 35.0, 55.0, 90.0 | Multimode | Free Space | | | | |
| | JOLD-Open-808-CW-FAC/SAC | Array (Bar) | 32.0, 50.0 | Multimode | Free Space | | | | |
| | JOLD-Open-808-QCW | Array (Bar) | 100.0, 300.0 | Multimode | Free Space | | | | |
| | JOLD-Open-808-QCW-FAC | Array (Bar) | 90.0, 225.0, 270.0 | Multimode | Free Space | | | | |
| | JOLD-Open-880-CW | Array (Bar) | 40.0, 60.0, 80.0 | Multimode | Free Space | | | | |
| | JOLD-Open-880-CW-FAC | Array (Bar) | 35.0, 50.0, 68.0 | Multimode | Free Space | | | | |
| | JOLD-Open-880-CW-FAC/SAC | Array (Bar) | 32.0, 50.0, 68.0 | Multimode | Free Space | | | | |
| | JOLD-Open-915-CW | Array (Bar) | 40.0, 60.0, 80.0, 275.0 | Multimode | Free Space | | | | |
| | JOLD-Open-915-CW-FAC | Array (Bar) | 32.0, 35.0, 55.0 | Multimode | Free Space | | | | |
| | JOLD-Open-915-CW-FAC/SAC | Array (Bar) | 32.0, 50.0, 68.0 | Multimode | Free Space | | | | |
| | JOLD-Open-938-CW | Array (Bar) | 40.0, 60.0, 80.0, 100.0, 120.0, 200.0, 275.0 | Multimode | Free Space | | | | |
| | JOLD-Open-938-CW-FAC | Array (Bar) | 35.0, 55.0, 90.0, 180.0 | Multimode | Free Space | | | | |
| | JOLD-Open-938-CW-FAC/SAC | Array (Bar) | 32.0, 35.0, 50.0, 68.0 | Multimode | Free Space | | | | |
| | JOLD-Open-938-QCW-FAC | Array (Bar) | 90.0, 100.0 | Multimode | Free Space | | | | |
| | JOLD-Open-976-CW | Array (Bar) | 40.0, 60.0, 80.0, 100.0, 120.0, 160.0, 275.0 | Multimode | Free Space | | | | |
| | JOLD-Open-976-CW-FAC | Array (Bar) | 55.0, 90.0 | Multimode | Free Space | | | | |
| | JOLD-Open-976-CW-FAC/SAC | Array (Bar) | 32.0, 35.0, 50.0, 68.0 | Multimode | Free Space | | | | |
| | JOLD-Stack-808-CW-FAC | Laser Diode Stack | 288.0, 432.0, 576.0, 720.0, 864.0 | Multimode | Free Space | | | | |
| | JOLD-Stack-808-CW-FAC/SAC | Laser Diode Stack | 200.0, 300.0, 400.0, 500.0, 600.0 | Multimode | Free Space | | | | |
| | JOLD-Stack-808-CW | Laser Diode Stack | 310.0, 320.0, 480.0, 640.0, 800.0, 960.0 | Multimode | Free Space | | | | |
| | JOLD-Stack-808-QCW-FAC | Laser Diode Stack | 360.0, 540.0, 720.0, 780.0, 810.0, 900.0, 1080.0, 1560.0, 2160.0 | Multimode | Free Space | | | | |
| | JOLD-Stack-808-QCW | Laser Diode Stack | 400.0, 600.0, 800.0, 900.0, 1000.0, 1200.0, 1600.0, 2400.0 | Multimode | Free Space | | | | |
| | JOLD-Stack-940-CW-FAC | Laser Diode Stack | 440.0, 660.0, 880.0, 1100.0, 1320.0 | Multimode | Free Space | | | | |
| | JOLD-Stack-940-CW-FAC/SAC | Laser Diode Stack | 200.0, 300.0, 400.0, 500.0, 600.0 | Multimode | Free Space | | | | |
| | JOLD-Stack-940-CW | Laser Diode Stack | 310.0, 480.0, 720.0, 960.0, 1200.0, 1440.0 | Multimode | Free Space | | | | |
| | JOLD-Stack-940-QCW-FAC | Laser Diode Stack | 360.0, 540.0, 720.0, 810.0, 900.0, 1080.0, 2160.0 | Multimode | Free Space | | | | |
| | JOLD-Stack-940-QCW | Laser Diode Stack | 400.0, 600.0, 800.0, 900.0, 1000.0, 1200.0, 2400.0 | Multimode | Free Space | | | | |
| | JOLD-Stack-980-CW-FAC | Laser Diode Stack | 440.0, 660.0, 880.0, 1100.0, 1320.0 | Multimode | Free Space | | | | |
| | JOLD-Stack-980-CW-FAC/SAC | Laser Diode Stack | 200.0, 300.0, 400.0, 500.0, 600.0 | Multimode | Free Space | | | | |
| | JOLD-Stack-980-CW | Laser Diode Stack | 480.0, 720.0, 960.0, 1200.0, 1440.0 | Multimode | Free Space | | | | |
| | LDX-XXXX-445 | Single Emitter | 3.5 | Multimode | Free Space, MM Fiber | | | | |
| | Quantas-Q-SHIFT-1163 | Pulsed DPSS Lasers | 0.500, 0.800, 1.0 | | | | 5000.0, 10000.0, 20000.0, 30000.0, 40000.0, 50000.0 | 2ns - 5ns | 10Hz, 20Hz, 33Hz, 50Hz, 100Hz |
| | Quantas-Q-SHIFT-1177 | Pulsed DPSS Lasers | 0.500, 0.800, 1.0 | | | | 5000.0, 10000.0, 20000.0, 30000.0, 40000.0, 50000.0 | 2ns - 5ns | 10Hz, 20Hz, 33Hz, 50Hz, 100Hz |
| | Quantas-Q-SHIFT-1300 | Pulsed DPSS Lasers | 0.300, 0.480, 0.600 | | | | 3000.0, 6000.0, 12000.0, 18000.0, 24000.0, 30000.0 | 2ns - 5ns | 10Hz, 20Hz, 33Hz, 50Hz, 100Hz |
| | Quantas-Q-SHIFT-1317 | Pulsed DPSS Lasers | 0.300, 0.480, 0.600 | | | | 3000.0, 6000.0, 12000.0, 18000.0, 24000.0, 30000.0 | 2ns - 5ns | 10Hz, 20Hz, 33Hz, 50Hz, 100Hz |
| | Quantas-Q-SHIFT-1551 | Pulsed DPSS Lasers | 0.400, 0.640, 0.800 | | | | 4000.0, 8000.0, 16000.0, 24000.0, 32000.0, 40000.0 | 2ns - 5ns | 10Hz, 20Hz, 33Hz, 50Hz, 100Hz |
| | Quantas-Q-SHIFT-1571 | Pulsed DPSS Lasers | 0.400, 0.640, 0.800 | | | | 4000.0, 8000.0, 16000.0, 24000.0, 32000.0, 40000.0 | 2ns - 5ns | 10Hz, 20Hz, 33Hz, 50Hz, 100Hz |
| | Quantas-Q-SHIFT-291 | Pulsed DPSS Lasers | 0.075, 0.120, 0.150 | | | | 750.0, 1500.0, 3000.0, 4500.0, 6000.0, 7500.0 | 2ns - 5ns | 10Hz, 20Hz, 33Hz, 50Hz, 100Hz |
| | Quantas-Q-SHIFT-294 | Pulsed DPSS Lasers | 0.075, 0.120, 0.150 | | | | 750.0, 1500.0, 3000.0, 4500.0, 6000.0, 7500.0 | 2ns - 5ns | 10Hz, 20Hz, 33Hz, 50Hz, 100Hz |
| | Quantas-Q-SHIFT-325 | Pulsed DPSS Lasers | 0.045, 0.072, 0.090 | | | | 450.0, 900.0, 1800.0, 2700.0, 3600.0, 4500.0 | 2ns - 5ns | 10Hz, 20Hz, 33Hz, 50Hz, 100Hz |
| | Quantas-Q-SHIFT-329 | Pulsed DPSS Lasers | 0.045, 0.072, 0.090 | | | | 450.0, 900.0, 1800.0, 2700.0, 3600.0, 4500.0 | 2ns - 5ns | 10Hz, 20Hz, 33Hz, 50Hz, 100Hz |
| | Quantas-Q-SHIFT-388 | Pulsed DPSS Lasers | 0.125, 0.200, 0.250 | | | | 1250.0, 2500.0, 5000.0, 7500.0, 10000.0, 12500.0 | 2ns - 5ns | 10Hz, 20Hz, 33Hz, 50Hz, 100Hz |
| | Quantas-Q-SHIFT-388 | Pulsed DPSS Lasers | 0.060, 0.096, 0.120 | | | | 600.0, 1200.0, 2400.0, 3600.0, 4800.0, 6000.0 | 2ns - 5ns | 10Hz, 20Hz, 33Hz, 50Hz, 100Hz |
| | Quantas-Q-SHIFT-392 | Pulsed DPSS Lasers | 0.125, 0.200, 0.250 | | | | 1250.0, 2500.0, 5000.0, 7500.0, 10000.0, 12500.0 | 2ns - 5ns | 10Hz, 20Hz, 33Hz, 50Hz, 100Hz |
| | Quantas-Q-SHIFT-393 | Pulsed DPSS Lasers | 0.060, 0.096, 0.120 | | | | 600.0, 1200.0, 2400.0, 3600.0, 4800.0, 6000.0 | 2ns - 5ns | 10Hz, 20Hz, 33Hz, 50Hz, 100Hz |
| | Quantas-Q-SHIFT-433 | Pulsed DPSS Lasers | 0.075, 0.120, 0.150 | | | | 750.0, 1500.0, 3000.0, 4500.0, 6000.0, 7500.0 | 2ns - 5ns | 10Hz, 20Hz, 33Hz, 50Hz, 100Hz |
| | Quantas-Q-SHIFT-439 | Pulsed DPSS Lasers | 0.075, 0.120, 0.150 | | | | 750.0, 1500.0, 3000.0, 4500.0, 6000.0, 7500.0 | 2ns - 5ns | 10Hz, 20Hz, 33Hz, 50Hz, 100Hz |
| | Quantas-Q-SHIFT-517 | Pulsed DPSS Lasers | 0.100, 0.160, 0.200 | | | | 1000.0, 2000.0, 4000.0, 6000.0, 8000.0, 10000.0 | 2ns - 5ns | 10Hz, 20Hz, 33Hz, 50Hz, 100Hz |
| | Quantas-Q-SHIFT-524 | Pulsed DPSS Lasers | 0.100, 0.160, 0.200 | | | | 1000.0, 2000.0, 4000.0, 6000.0, 8000.0, 10000.0 | 2ns - 5ns | 10Hz, 20Hz, 33Hz, 50Hz, 100Hz |
| | Quantas-Q-SHIFT-581.5 | Pulsed DPSS Lasers | 0.250, 0.400, 0.495, 0.500 | | | | 2500.0, 5000.0, 10000.0, 15000.0, 20000.0, 25000.0 | 2ns - 5ns | 10Hz, 20Hz, 33Hz, 50Hz, 100Hz |
| | Quantas-Q-SHIFT-588.5 | Pulsed DPSS Lasers | 0.250, 0.400, 0.495, 0.500 | | | | 2500.0, 5000.0, 10000.0, 15000.0, 20000.0, 25000.0 | 2ns - 5ns | 10Hz, 20Hz, 33Hz, 50Hz, 100Hz |
| | Quantas-Q-SHIFT-650 | Pulsed DPSS Lasers | 0.150, 0.240, 0.300 | | | | 1500.0, 3000.0, 6000.0, 9000.0, 12000.0, 15000.0 | 2ns - 5ns | 10Hz, 20Hz, 33Hz, 50Hz, 100Hz |
| | Quantas-Q-SHIFT-658.5 | Pulsed DPSS Lasers | 0.150, 0.240, 0.300 | | | | 1500.0, 3000.0, 6000.0, 9000.0, 12000.0, 15000.0 | 2ns - 5ns | 10Hz, 20Hz, 33Hz, 50Hz, 100Hz |
| | Quantas-Q-SHIFT-775.5 | Pulsed DPSS Lasers | 0.200, 0.320, 0.400 | | | | 2000.0, 4000.0, 8000.0, 12000.0, 16000.0, 20000.0 | 2ns - 5ns | 10Hz, 20Hz, 33Hz, 50Hz, 100Hz |
| | Quantas-Q-SHIFT-785.5 | Pulsed DPSS Lasers | 0.200, 0.320, 0.400 | | | | 2000.0, 4000.0, 8000.0, 12000.0, 16000.0, 20000.0 | 2ns - 5ns | 10Hz, 20Hz, 33Hz, 50Hz, 100Hz |
| | Quantas-Q-SHIFT-WXXXX | Pulsed DPSS Lasers | Varies | | | | Varies | 2ns - 5ns | 100Hz |
| | RHAML-XXXX-YY-Z-E | LD Module, Line Modules | 0.100 | Single-Mode Lasers | Free Space, Line | | | | |
| | RHAML-XXXX-YY-Z | LD Module, Line Modules | 0.100 | Single-Mode Lasers | Free Space, Line | | | | |
| | RML126FC | LD Module | 0.100 | Single-Mode Lasers | SM Fiber | | | | |
| | RML150FC | LD Module | 0.080 | Single-Mode Lasers | SM Fiber | | | | |
| | RML2040-XXXX-YY-ZZ | LD Module, Line Modules | 2.0 | Single-Mode Lasers | Free Space, Line | | | | |
| | RML2240 | LD Module | 1.5 | Single-Mode Lasers, Multimode | MM Fiber, SM Fiber | | | | |
| | RML2540-XXXX-YY-ZZ | LD Module, Line Modules | 1.0, 2.0 | Single-Mode Lasers, Multimode | Free Space, Line | | | | |
| | RPK960S | Single Emitter | 9.0 | Multimode | MM Fiber | | | | |
| | RPKBDL-CW1000-E400 | Turn-Key System | 500.0, 1000.0 | Multimode | MM Fiber | | | | |
| | RPKDS3-LC 445nm Fiber Coupled Blue Diode Laser System | Turn-Key System | 120.0, 200.0, 250.0 | Multimode | MM Fiber | | | | |
| | RPKMWM | Multi Wavelength | 0.300, 0.600, 5.0, 6.0, 10.0, 15.0, 25.0 | Multimode | MM Fiber | | | | |