Aesthetic Lasers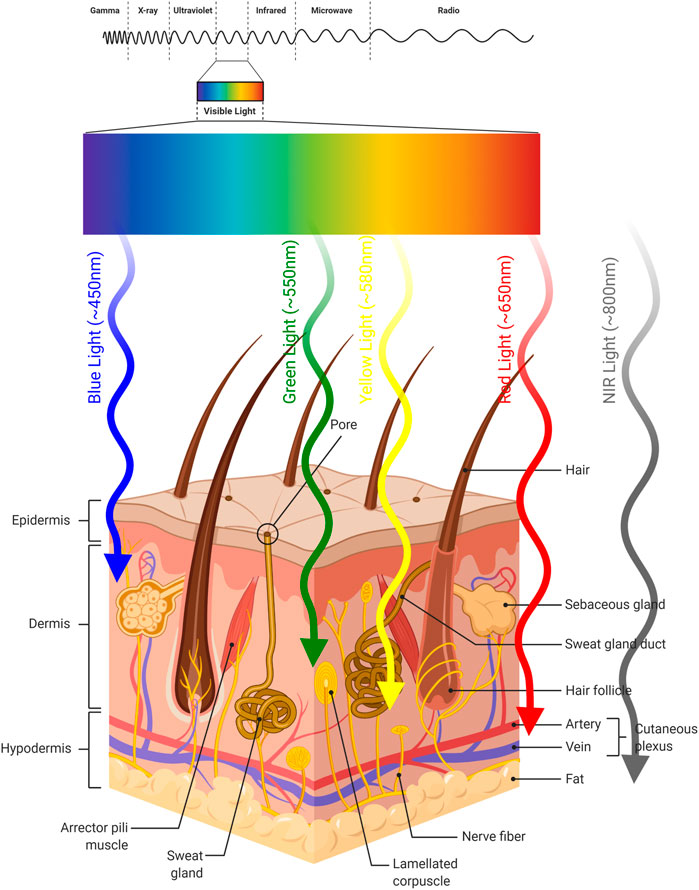 What are Aesthetics Lasers and what are they used for?
Aesthetics Lasers (or cosmetic lasers), for non-invasive (or minimally invasive) applications varying from laser hair removal to scar tissue reduction, are one of the largest sectors in the medical laser industry. Aesthetics lasers provide great benefits with minimal side effects by utilizing a lasers pulsed light and the build up of heat in the tissue to promote new collagen growth, or by utilizing to proper wavelength that has poor absorption in hemoglobin, but a high absorption in melanin for the visual reduction of pigmented lesions, for example.
Typically, these lasers operate in the near-infrared region due to the low absorption of hemoglobin and water in comparison to melanin between 700 nm and 1000 nm. However, for some applications such as laser tattoo removal or acne treatment, visible lasers are used, and for collagen stimulation, longer wavelength lasers are often used. Aesthetics lasers can be either q-switched or long-pulsed (modulated continuous-wave lasers) depending on if the goal is to cause ablation or localized heating.
Since 1960, when the first ruby laser device became commercially available, lasers have been used in surgeries and other medical procedures. There were very few options back then, and fiber optics were not compatible with early CO2 lasers, for example. Those lasers needed complex beam delivery systems with multiple mirrors and articulating arms, to allow the medical professional to more easily deliver the beam to the surgical site or area of interest. Today, there is a wide range of laser types and wavelengths which are ideal for various types of aesthetics applications.
On this page, you will find a list of all of the full range of aesthetics lasers we offer at RPMC, including high power laser diodes, flashlamp-pumped lasers, and fiber lasers.
| | | | | | | | | |
| --- | --- | --- | --- | --- | --- | --- | --- | --- |
| | JDL-1020 | Array (Bar) | 120.0, 200.0 | Multimode | Free Space | | | |
| | JDL-1060 | Single Emitter, Array (Bar) | 10.0, 40.0, 60.0, 80.0, 120.0, 200.0, 250.0, 350.0 | Multimode | Free Space | | | |
| | JDL-760 | Array (Bar) | 40.0 | Multimode | Free Space | | | |
| | JDL-792 | Array (Bar) | 60.0, 80.0 | Multimode | Free Space | | | |
| | JDL-808 | Single Emitter, Array (Bar) | 6.0, 8.0, 10.0, 20.0, 40.0, 50.0, 60.0, 80.0, 92.0, 200.0, 300.0 | Multimode | Free Space | | | |
| | JDL-880 | Array (Bar) | 500.0 | Multimode | Free Space | | | |
| | JDL-905 | Array (Bar) | 200.0 | Multimode | Free Space | | | |
| | JDL-915 | Array (Bar) | 40.0, 60.0, 80.0, 200.0 | Multimode | Free Space | | | |
| | JDL-940 | Array (Bar) | 60.0, 80.0, 120.0, 200.0, 300.0 | Multimode | Free Space | | | |
| | JDL-976 | Array (Bar) | 60.0, 80.0, 120.0 | Multimode | Free Space | | | |
| | JOLD-FC-1470 | Array (Bar) | 20.0 | Multimode | MM Fiber | | | |
| | JOLD-FC-808 | Array (Bar) | 3.5, 4.2, 30.0, 45.0, 70.0, 75.0, 100.0, 120.0, 140.0, 210.0, 250.0, 400.0 | Multimode | MM Fiber | | | |
| | JOLD-FC-880 | Array (Bar) | 30.0, 45.0, 75.0, 100.0 | Multimode | MM Fiber | | | |
| | JOLD-FC-915 | Array (Bar) | 30.0, 45.0, 75.0, 100.0, 120.0, 140.0, 210.0, 250.0, 400.0 | Multimode | MM Fiber | | | |
| | JOLD-FC-940 | Array (Bar) | 30.0, 45.0, 70.0, 75.0, 100.0, 120.0, 140.0, 210.0, 250.0, 400.0 | Multimode | MM Fiber | | | |
| | JOLD-FC-976 | Array (Bar) | 30.0, 45.0, 75.0, 100.0, 120.0, 140.0, 210.0, 250.0, 400.0 | Multimode | MM Fiber | | | |
| | JOLD-Open-808-CW | Array (Bar) | 40.0, 50.0, 60.0, 80.0 | Multimode | Free Space | | | |
| | JOLD-Open-808-CW-FAC | Array (Bar) | 35.0, 55.0, 90.0 | Multimode | Free Space | | | |
| | JOLD-Open-808-CW-FAC/SAC | Array (Bar) | 32.0, 50.0 | Multimode | Free Space | | | |
| | JOLD-Open-808-QCW | Array (Bar) | 100.0, 250.0, 300.0 | Multimode | Free Space | | | |
| | JOLD-Open-808-QCW-FAC | Array (Bar) | 90.0, 225.0, 270.0 | Multimode | Free Space | | | |
| | JOLD-Open-880-CW | Array (Bar) | 40.0, 60.0, 80.0 | Multimode | Free Space | | | |
| | JOLD-Open-880-CW-FAC | Array (Bar) | 35.0, 55.0, 90.0 | Multimode | Free Space | | | |
| | JOLD-Open-880-CW-FAC/SAC | Array (Bar) | 32.0, 50.0, 68.0 | Multimode | Free Space | | | |
| | JOLD-Open-915-CW | Array (Bar) | 40.0, 60.0, 80.0, 275.0 | Multimode | Free Space | | | |
| | JOLD-Open-915-CW-FAC | Array (Bar) | 32.0, 35.0, 55.0 | Multimode | Free Space | | | |
| | JOLD-Open-915-CW-FAC/SAC | Array (Bar) | 32.0, 50.0, 68.0 | Multimode | Free Space | | | |
| | JOLD-Open-938-CW | Array (Bar) | 40.0, 60.0, 80.0, 100.0, 120.0, 200.0, 275.0 | Multimode | Free Space | | | |
| | JOLD-Open-938-CW-FAC | Array (Bar) | 90.0, 180.0 | Multimode | Free Space | | | |
| | JOLD-Open-938-CW-FAC/SAC | Array (Bar) | 32.0, 35.0, 50.0, 68.0 | Multimode | Free Space | | | |
| | JOLD-Open-938-QCW-FAC | Array (Bar) | 90.0, 100.0 | Multimode | Free Space | | | |
| | JOLD-Open-976-CW | Array (Bar) | 40.0, 50.0, 60.0, 80.0, 100.0, 120.0, 160.0, 275.0 | Multimode | Free Space | | | |
| | JOLD-Open-976-CW-FAC | Array (Bar) | 35.0, 55.0, 90.0 | Multimode | Free Space | | | |
| | JOLD-Open-976-CW-FAC/SAC | Array (Bar) | 32.0, 35.0, 50.0, 68.0 | Multimode | Free Space | | | |
| | JOLD-Stack-808-CW-FAC | Laser Diode Stack | 288.0, 432.0, 576.0, 720.0, 864.0 | Multimode | Free Space | | | |
| | JOLD-Stack-808-CW-FAC/SAC | Laser Diode Stack | 200.0, 300.0, 400.0, 500.0, 600.0 | Multimode | Free Space | | | |
| | JOLD-Stack-808-CW | Laser Diode Stack | 310.0, 320.0, 480.0, 640.0, 800.0, 960.0 | Multimode | Free Space | | | |
| | JOLD-Stack-808-QCW-FAC | Laser Diode Stack | 780.0, 810.0, 1080.0, 1560.0, 2160.0 | Multimode | Free Space | | | |
| | JOLD-Stack-808-QCW | Laser Diode Stack | 900.0, 1000.0, 1600.0, 2400.0 | Multimode | Free Space | | | |
| | JOLD-Stack-940-CW-FAC | Laser Diode Stack | 440.0, 660.0, 880.0, 1100.0, 1320.0 | Multimode | Free Space | | | |
| | JOLD-Stack-940-CW-FAC/SAC | Laser Diode Stack | 200.0, 300.0, 400.0, 500.0, 600.0 | Multimode | Free Space | | | |
| | JOLD-Stack-940-CW | Laser Diode Stack | 310.0, 480.0, 720.0, 960.0, 1200.0, 1440.0 | Multimode | Free Space | | | |
| | JOLD-Stack-940-QCW-FAC | Laser Diode Stack | 810.0, 1080.0, 2160.0 | Multimode | Free Space | | | |
| | JOLD-Stack-940-QCW | Laser Diode Stack | 900.0, 1000.0, 2400.0 | Multimode | Free Space | | | |
| | JOLD-Stack-980-CW-FAC | Laser Diode Stack | 440.0, 660.0, 880.0 | Multimode | Free Space | | | |
| | JOLD-Stack-980-CW-FAC/SAC | Laser Diode Stack | 200.0, 300.0, 400.0, 500.0, 600.0 | Multimode | Free Space | | | |
| | JOLD-Stack-980-CW | Laser Diode Stack | 480.0, 720.0, 960.0, 1200.0, 1440.0 | Multimode | Free Space | | | |
| | LDX-XXXX-445 | Single Emitter | 3.5 | Multimode | Free Space, MM Fiber | | | |
| | Quantas-Q-SHIFT-1163 | Pulsed DPSS Lasers | 0.500, 0.800, 1.0 | | | 4000.0, 8000.0, 16000.0, 24000.0, 32000.0, 40000.0 | 2ns - 5ns | 10Hz, 20Hz, 33Hz, 50Hz, 100Hz |
| | Quantas-Q-SHIFT-1177 | Pulsed DPSS Lasers | 0.500, 0.800, 1.0 | | | 4000.0, 8000.0, 16000.0, 24000.0, 32000.0, 40000.0 | 2ns - 5ns | 10Hz, 20Hz, 33Hz, 50Hz, 100Hz |
| | Quantas-Q-SHIFT-1300 | Pulsed DPSS Lasers | 0.300, 0.480, 0.600 | | | 2000.0, 4000.0, 8000.0, 12000.0, 16000.0, 20000.0 | 2ns - 5ns | 10Hz, 20Hz, 33Hz, 50Hz, 100Hz |
| | Quantas-Q-SHIFT-1317 | Pulsed DPSS Lasers | 0.300, 0.480, 0.600 | | | 2000.0, 4000.0, 8000.0, 12000.0, 16000.0, 20000.0 | 2ns - 5ns | 10Hz, 20Hz, 33Hz, 50Hz, 100Hz |
| | Quantas-Q-SHIFT-1551 | Pulsed DPSS Lasers | 0.400, 0.640, 0.800 | | | 3000.0, 6000.0, 12000.0, 20000.0, 24000.0, 30000.0 | 2ns - 5ns | 10Hz, 20Hz, 33Hz, 50Hz, 100Hz |
| | Quantas-Q-SHIFT-1571 | Pulsed DPSS Lasers | 0.400, 0.640, 0.800 | | | 3000.0, 6000.0, 12000.0, 20000.0, 24000.0, 30000.0 | 2ns - 5ns | 10Hz, 20Hz, 33Hz, 50Hz, 100Hz |
| | Quantas-Q-SHIFT-291 | Pulsed DPSS Lasers | 0.075, 0.120, 0.150 | | | 250.0, 500.0, 1000.0, 1500.0, 2000.0, 2500.0 | 2ns - 5ns | 10Hz, 20Hz, 33Hz, 50Hz, 100Hz |
| | Quantas-Q-SHIFT-294 | Pulsed DPSS Lasers | 0.075, 0.120, 0.150 | | | 250.0, 500.0, 1000.0, 1500.0, 2000.0, 2500.0 | 2ns - 5ns | 10Hz, 20Hz, 33Hz, 50Hz, 100Hz |
| | Quantas-Q-SHIFT-325 | Pulsed DPSS Lasers | 0.045, 0.072, 0.090 | | | 120.0, 250.0, 500.0, 750.0, 1000.0, 1300.0 | 2ns - 5ns | 10Hz, 20Hz, 33Hz, 50Hz, 100Hz |
| | Quantas-Q-SHIFT-329 | Pulsed DPSS Lasers | 0.045, 0.072, 0.090 | | | 120.0, 250.0, 500.0, 750.0, 1000.0, 1300.0 | 2ns - 5ns | 10Hz, 20Hz, 33Hz, 50Hz, 100Hz |
| | Quantas-Q-SHIFT-388 | Pulsed DPSS Lasers | 0.125, 0.200, 0.250 | | | 600.0, 1200.0, 2400.0, 3600.0, 4800.0, 6000.0 | 2ns - 5ns | 10Hz, 20Hz, 33Hz, 50Hz, 100Hz |
| | Quantas-Q-SHIFT-388 | Pulsed DPSS Lasers | 0.060, 0.096, 0.120 | | | 180.0, 360.0, 750.0, 1250.0, 1500.0, 1800.0 | 2ns - 5ns | 10Hz, 20Hz, 33Hz, 50Hz, 100Hz |
| | Quantas-Q-SHIFT-392 | Pulsed DPSS Lasers | 0.125, 0.200, 0.250 | | | 600.0, 1200.0, 2400.0, 3600.0, 4800.0, 6000.0 | 2ns - 5ns | 10Hz, 20Hz, 33Hz, 50Hz, 100Hz |
| | Quantas-Q-SHIFT-393 | Pulsed DPSS Lasers | 0.060, 0.096, 0.120 | | | 180.0, 360.0, 750.0, 1250.0, 1500.0, 1800.0 | 2ns - 5ns | 10Hz, 20Hz, 33Hz, 50Hz, 100Hz |
| | Quantas-Q-SHIFT-433 | Pulsed DPSS Lasers | 0.075, 0.120, 0.150 | | | 300.0, 600.0, 1200.0, 1800.0, 2400.0, 3000.0 | 2ns - 5ns | 10Hz, 20Hz, 33Hz, 50Hz, 100Hz |
| | Quantas-Q-SHIFT-439 | Pulsed DPSS Lasers | 0.075, 0.120, 0.150 | | | 300.0, 600.0, 1200.0, 1800.0, 2400.0, 3000.0 | 2ns - 5ns | 10Hz, 20Hz, 33Hz, 50Hz, 100Hz |
| | Quantas-Q-SHIFT-517 | Pulsed DPSS Lasers | 0.100, 0.160, 0.200 | | | 450.0, 900.0, 1800.0, 3000.0, 3600.0, 4500.0 | 2ns - 5ns | 10Hz, 20Hz, 33Hz, 50Hz, 100Hz |
| | Quantas-Q-SHIFT-524 | Pulsed DPSS Lasers | 0.100, 0.160, 0.200 | | | 450.0, 900.0, 1800.0, 3000.0, 3600.0, 4500.0 | 2ns - 5ns | 10Hz, 20Hz, 33Hz, 50Hz, 100Hz |
| | Quantas-Q-SHIFT-581.5 | Pulsed DPSS Lasers | 0.250, 0.400, 0.495, 0.500 | | | 1000.0, 2000.0, 4000.0, 6000.0, 8000.0, 10000.0 | 2ns - 5ns | 10Hz, 20Hz, 33Hz, 50Hz, 100Hz |
| | Quantas-Q-SHIFT-588.5 | Pulsed DPSS Lasers | 0.250, 0.400, 0.495, 0.500 | | | 1000.0, 2000.0, 4000.0, 6000.0, 8000.0, 10000.0 | 2ns - 5ns | 10Hz, 20Hz, 33Hz, 50Hz, 100Hz |
| | Quantas-Q-SHIFT-650 | Pulsed DPSS Lasers | 0.150, 0.240, 0.300 | | | 500.0, 1000.0, 2000.0, 3000.0, 4000.0, 5000.0 | 2ns - 5ns | 10Hz, 20Hz, 33Hz, 50Hz, 100Hz |
| | Quantas-Q-SHIFT-658.5 | Pulsed DPSS Lasers | 0.150, 0.240, 0.300 | | | 500.0, 1000.0, 2000.0, 3000.0, 4000.0, 5000.0 | 2ns - 5ns | 10Hz, 20Hz, 33Hz, 50Hz, 100Hz |
| | Quantas-Q-SHIFT-775.5 | Pulsed DPSS Lasers | 0.200, 0.320, 0.400 | | | 750.0, 1500.0, 3000.0, 5000.0, 6000.0, 7500.0 | 2ns - 5ns | 10Hz, 20Hz, 33Hz, 50Hz, 100Hz |
| | Quantas-Q-SHIFT-785.5 | Pulsed DPSS Lasers | 0.200, 0.320, 0.400 | | | 750.0, 1500.0, 3000.0, 5000.0, 6000.0, 7500.0 | 2ns - 5ns | 10Hz, 20Hz, 33Hz, 50Hz, 100Hz |
| | Quantas-Q-SHIFT-WXXXX | Pulsed DPSS Lasers | Varies | | | Varies | 2ns - 5ns | 100Hz |
| | RHAML-XXXX-YY-Z-E | LD Module, Line Modules | 0.100 | Single-Mode Lasers | Free Space, Line | | | |
| | RHAML-XXXX-YY-Z | LD Module, Line Modules | 0.100 | Single-Mode Lasers | Free Space, Line | | | |
| | RML126FC | LD Module | 0.100 | Single-Mode Lasers | SM Fiber | | | |
| | RML150FC | LD Module | 0.080 | Single-Mode Lasers | SM Fiber | | | |
| | RML2040-XXXX-YY-ZZ | LD Module, Line Modules | 2.0 | Single-Mode Lasers | Free Space, Line | | | |
| | RML2240 | LD Module | 1.5 | Single-Mode Lasers, Multimode | MM Fiber, SM Fiber | | | |
| | RML2540-XXXX-YY-ZZ | LD Module, Line Modules | 1.0, 2.0 | Single-Mode Lasers, Multimode | Free Space, Line | | | |
| | RPK960S | Single Emitter | 9.0 | Multimode | MM Fiber | | | |
| | RPKBDL-CW1000-E300/E400 | Turn-Key System | 500.0, 1000.0 | Multimode | MM Fiber | | | |
| | RPKDS3-LC 445nm Fiber Coupled Blue Diode Laser System | Turn-Key System | 120.0, 200.0, 250.0 | Multimode | MM Fiber | | | |
| | RPKMWM | Multi Wavelength | 0.600, 5.0, 15.0, 25.0 | Multimode | MM Fiber | | | |