Laser Diode Modules Overview
Our CW laser diode (LD) modules include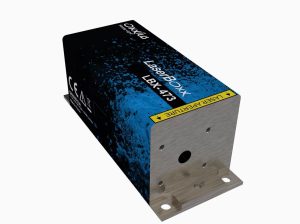 the laser diode with the thermal management and electrical interface in a simple and easy to use module in either an OEM or plug & play configurations.  They are available in many wavelengths from the UV into SWIR wavelength ranges, with output powers ranging from milliwatts up to several watts.  Also available are  narrow linewidth options, both single-mode, multimode, and broadband beam profiles, and many output options including free-space or fiber-coupled versions.
Our CW laser diode modules are used in industrial, medical, and scientific industries for flow cytometry, DNA sequencing, confocal fluorescence microscopy, optogenetics, laser doppler velocimetry, particle measurement, holography, interferometry, Raman spectroscopy, and many more applications!
Contact us today to let one of our knowledgeable Product Managers assist you!
| | | | | | | | | |
| --- | --- | --- | --- | --- | --- | --- | --- | --- |
| | 1550L-1XA | LD Module | 1550 | 0.120 | Single Mode | Free Space | | |
| | 405L-1XA | LD Module | 405 | 0.100, 0.150, 0.180 | Single Mode | Free Space, SM Fiber, PM Fiber, MM Fiber | | |
| | 405L-2XA | LD Module | 405 | 0.015, 0.030, 0.040 | Single Mode | Free Space, SM Fiber, PM Fiber, MM Fiber | Narrow | More than 1m |
| | 450L-1XA | LD Module | 450 | 0.035, 0.050, 0.060 | Single Mode | Free Space, SM Fiber, PM Fiber, MM Fiber | | |
| | 450L-3XA | LD Module | 450 | 0.300, 0.400 | Multimode | Free Space, MM Fiber | | |
| | 488L-1XA | LD Module | 488 | 0.020, 0.030, 0.040 | Single Mode | Free Space, SM Fiber, PM Fiber, MM Fiber | | |
| | 488L-2XA | LD Module | 488 | 0.010, 0.015, 0.030 | Single Mode | Free Space, SM Fiber, PM Fiber, MM Fiber | Narrow | More than 1m |
| | 505L-1XA | LD Module | 505 | 0.030 | Single Mode | Free Space, SM Fiber, PM Fiber, MM Fiber | | |
| | 515L-1XA | LD Module | 515 | 0.025, 0.030, 0.040, 0.060 | Single Mode | Free Space, SM Fiber, PM Fiber, MM Fiber | | |
| | 515L-2XA | LD Module | 515 | 0.010, 0.030, 0.040 | Single Mode | Free Space, SM Fiber, PM Fiber, MM Fiber | Narrow | More than 1m |
| | 520L-1XA | LD Module | 520 | 0.040, 0.070, 0.080 | Single Mode | Free Space, SM Fiber, PM Fiber, MM Fiber | | |
| | 520L-2XA | LD Module | 520 | 0.025, 0.035 | Single Mode | Free Space, SM Fiber, PM Fiber, MM Fiber | Narrow | More than 1m |
| | 633L-1XA | LD Module | 633 | 0.035, 0.040, 0.070 | Single Mode | Free Space, SM Fiber, PM Fiber, MM Fiber | | |
| | 633L-2XA | LD Module | 633 | 0.035, 0.040, 0.070 | Single Mode | Free Space, SM Fiber, PM Fiber, MM Fiber | Narrow | More than 1m |
| | 638L-1XA | LD Module | 638 | 0.100, 0.120, 0.180 | Single Mode | Free Space, SM Fiber, PM Fiber, MM Fiber | | |
| | 638L-2XA | LD Module | 638 | 0.060, 0.080, 0.100 | Single Mode | Free Space, SM Fiber, PM Fiber, MM Fiber | Narrow | More than 1m |
| | 638L-3XA | LD Module | 638 | 0.500, 0.600 | Multimode | Free Space, MM Fiber | | |
| | 638L-4XA | LD Module | 638 | 0.300, 0.500 | Multimode | Free Space, MM Fiber | Narrow | More than 1m |
| | 660L-1XA | LD Module | 660 | 0.045, 0.090, 0.110 | Single Mode | Free Space, SM Fiber, PM Fiber, MM Fiber | | |
| | 783L-2XA | LD Module | 783 | 0.070, 0.090, 0.130 | Single Mode | Free Space, SM Fiber, PM Fiber, MM Fiber | Narrow | More than 1m |
| | 785L-1XA | LD Module | 785 | 0.100, 0.130, 0.150, 0.180 | Single Mode | Free Space, SM Fiber, PM Fiber, MM Fiber | | |
| | 785L-2XA | LD Module | 785 | 0.080, 0.100, 0.130 | Single Mode | Free Space, SM Fiber, PM Fiber, MM Fiber | Narrow | More than 1m |
| | 785L-3XA | LD Module | 785 | 0.100, 0.130, 0.150, 0.180 | Multimode | Free Space, MM Fiber | | |
| | 785L-4XA | LD Module | 785 | 0.450, 0.500 | Multimode | Free Space, MM Fiber | Narrow | More than 1m |
| | 808L-1XA | LD Module | 808 | 0.120 | Single Mode | Free Space, SM Fiber, PM Fiber, MM Fiber | | |
| | 808L-3XA | LD Module | 808 | 1.6, 3.0 | Multimode | Free Space, MM Fiber | | |
| | 830L-1XA | LD Module | 830 | 0.050, 0.090, 0.130 | Single Mode | Free Space, SM Fiber, PM Fiber, MM Fiber | | |
| | 830L-2XA | LD Module | 830 | 0.050, 0.070, 0.080 | Single Mode | Free Space, SM Fiber, PM Fiber, MM Fiber | Narrow | More than 1m |
| | 830L-3XA | LD Module | 808 | 1.0 | Multimode | MM Fiber | | |
| | 830L-4XA | LD Module | 830 | 0.350 | Multimode | MM Fiber, SMA Port | Narrow | More than 1m |
| | 850L-1XA | LD Module | 850 | 0.060, 0.110, 0.130 | Single Mode | Free Space, SM Fiber, PM Fiber, MM Fiber | | |
| | 915L-1XA | LD Module | 915 | 0.080, 0.140, 0.200 | Single Mode | Free Space, SM Fiber, PM Fiber, MM Fiber | | |
| | 975L-1XA | LD Module | 975 | 0.080, 0.120, 0.200 | Single Mode | Free Space, SM Fiber, PM Fiber, MM Fiber | | |
| | LBX-1064 | LD Module | 1064 | 0.200 | Single Mode | Free Space, SM Fiber, PM Fiber, MM Fiber | | |
| | LBX-375-HPE | LD Module | 375 | 0.200, 0.400 | Multimode | Free Space, MM Fiber | | |
| | LBX-375 | LD Module | 375 | 0.070 | Single Mode | Free Space, SM Fiber, PM Fiber, MM Fiber | | |
| | LBX-395 | LD Module | 375 | 0.120 | Single Mode | Free Space, SM Fiber, PM Fiber, MM Fiber | | |
| | LBX-405-HPE | LD Module | 405 | 0.900, 1.2 | Multimode | Free Space, MM Fiber | | |
| | LBX-405 | LD Module | 405 | 0.050, 0.100, 0.180, 0.300 | Single Mode | Free Space, SM Fiber, PM Fiber, MM Fiber | | |
| | LBX-415 | LD Module | 415 | 0.120 | Single Mode | Free Space, SM Fiber, PM Fiber, MM Fiber | | |
| | LBX-445 | LD Module | 445 | 0.100, 0.500 | Single Mode | Free Space, SM Fiber, PM Fiber, MM Fiber | | |
| | LBX-450-HPE | LD Module | 450 | 0.650, 1.2 | Multimode | Free Space, MM Fiber | | |
| | LBX-450 | LD Module | 450 | 0.070 | Single Mode | Free Space, SM Fiber, PM Fiber, MM Fiber | | |
| | LBX-458 | LD Module | 457.9 | 0.070 | Single Mode | Free Space, SM Fiber, PM Fiber, MM Fiber | | |
| | LBX-473-HPE | LD Module | 473 | 1.0 | Multimode | Free Space, MM Fiber | | |
| | LBX-473 | LD Module | 473 | 0.100, 0.300 | Single Mode | Free Space, SM Fiber, PM Fiber, MM Fiber | | |
| | LBX-488-HPE | LD Module | 488 | 1.0 | Multimode | Free Space, MM Fiber | | |
| | LBX-488 | LD Module | 488 | 0.040, 0.050, 0.060, 0.100, 0.150, 0.200, 0.300 | Single Mode | Free Space, SM Fiber, PM Fiber, MM Fiber | | |
| | LBX-505 | LD Module | 505 | 0.070 | Single Mode | Free Space, SM Fiber, PM Fiber, MM Fiber | | |
| | LBX-515 | LD Module | 515 | 0.150 | Single Mode | Free Space, SM Fiber, PM Fiber, MM Fiber | | |
| | LBX-520-800-HPE | LD Module | 520 | 0.800 | Multimode | Free Space, MM Fiber | | |
| | LBX-522 | LD Module | 522 | 0.070 | Single Mode | Free Space, SM Fiber, PM Fiber, MM Fiber | | |
| | LBX-633 | LD Module | 633 | 0.100 | Single Mode | Free Space, SM Fiber, PM Fiber, MM Fiber | | |
| | LBX-633S | LD Module | 633 | 0.040 | Single Mode | Free Space, SM Fiber, PM Fiber, MM Fiber | Narrow | More than 1m |
| | LBX-638-HPE | LD Module | 638 | 1.1 | Multimode | Free Space, MM Fiber | | |
| | LBX-638 | LD Module | 638 | 0.100, 0.150, 0.180 | Single Mode | Free Space, SM Fiber, PM Fiber, MM Fiber | | |
| | LBX-642 | LD Module | 642 | 0.130 | Single Mode | Free Space, SM Fiber, PM Fiber, MM Fiber | | |
| | LBX-647 | LD Module | 647 | 0.140 | Single Mode | Free Space, SM Fiber, PM Fiber, MM Fiber | | |
| | LBX-660 | LD Module | 660 | 0.100 | Single Mode | Free Space, SM Fiber, PM Fiber, MM Fiber | | |
| | LBX-730 | LD Module | 730 | 0.040 | Single Mode | Free Space, SM Fiber, PM Fiber, MM Fiber | | |
| | LBX-750-HPE | LD Module | 750 | 1.2 | Multimode | Free Space, MM Fiber | | |
| | LBX-785-HPE | LD Module | 785 | 0.800 | Multimode | Free Space, MM Fiber | | |
| | LBX-785 | LD Module | 785 | 0.100, 0.250, 0.350 | Single Mode | Free Space, SM Fiber, PM Fiber, MM Fiber | | |
| | LBX-785S | LD Module | 785 | 0.150, 0.500 | Single Mode | Free Space, SM Fiber, PM Fiber, MM Fiber | Narrow | |
| | LBX-830-1200-HPE-OE | LD Module | 830 | 1.2 | Multimode | Free Space, MM Fiber | | |
| | LBX-830-HPE | LD Module | 830 | 1.2 | Multimode | Free Space, MM Fiber | | |
| | LBX-830S | LD Module | 830 | 0.100 | Single Mode | Free Space, SM Fiber, PM Fiber, MM Fiber | Narrow | More than 1m |
| | LBX-940-HPE | LD Module | 940 | 0.800 | Multimode | Free Space, MM Fiber | | |
| | LBX-980 | LD Module | 980 | 0.200 | Single Mode | Free Space, SM Fiber, PM Fiber, MM Fiber | | |
| | LSX-785S | LD Module | 785 | 0.150 | Single Mode | Free Space, SM Fiber, PM Fiber, MM Fiber | Narrow | More than 1m |
| | LTC-ISB-1300 | LD Module | 1300 | 0.012, 0.020, 0.025, 0.035, 0.040, 0.050, 0.070, 0.090, 0.115, 0.125, 0.130 | Single Mode | Free Space, SM Fiber, PM Fiber | Broadband | |
| | LTC-ISB-1340 | LD Module | 1340 | 0.012, 0.020, 0.025, 0.035, 0.038, 0.040, 0.050, 0.065, 0.070, 0.090, 0.110, 0.115, 0.120, 0.130 | Single Mode | Free Space, SM Fiber, PM Fiber | Broadband | |
| | LTC-ISB-1390 | LD Module | 1390 | 0.010, 0.019, 0.020, 0.025, 0.032, 0.035, 0.038, 0.040, 0.060, 0.065, 0.070, 0.090, 0.100, 0.110, 0.115, 0.125, 0.130 | Single Mode | Free Space, SM Fiber, PM Fiber | Broadband | |
| | LTC-ISB-1430 | LD Module | 1430 | 0.010, 0.019, 0.020, 0.025, 0.035, 0.038, 0.040, 0.060, 0.065, 0.090, 0.115, 0.125, 0.130 | Single Mode | Free Space, SM Fiber, PM Fiber | Broadband | |
| | LTC-ISB-1480 | LD Module | 1480 | 0.012, 0.013, 0.018, 0.019, 0.020, 0.025, 0.032, 0.035, 0.038, 0.040, 0.055, 0.060, 0.065, 0.070, 0.080, 0.100, 0.110, 0.115, 0.120, 0.125, 0.130 | Single Mode | Free Space, SM Fiber, PM Fiber | Broadband | |
| | LTC-ISB-1550 | LD Module | 1550 | 0.008, 0.010, 0.012, 0.018, 0.019, 0.020, 0.025, 0.030, 0.032, 0.035, 0.038, 0.040, 0.055, 0.060, 0.070, 0.090, 0.100, 0.110, 0.120, 0.125, 0.130 | Single Mode | Free Space, SM Fiber, PM Fiber | Broadband | |
| | LTC-ISB-1615 | LD Module | 1615 | 0.006, 0.010, 0.012, 0.018, 0.025, 0.032, 0.035, 0.038, 0.040, 0.055, 0.080, 0.100, 0.120, 0.125 | Single Mode | Free Space, SM Fiber, PM Fiber | Broadband | |
| | LTC-ISB-1680 | LD Module | 1680 | 0.012, 0.013, 0.018, 0.025, 0.032, 0.035, 0.055, 0.080, 0.100, 0.115, 0.125 | Single Mode | Free Space, SM Fiber, PM Fiber | Broadband | |
| | PowerMir 4.0um | LD Module, Turn-Key System | 4000 | 0.500, 1.0 | Multimode | Free Space | | |
| | PowerMir 4.6µm | LD Module, Turn-Key System | 4600 | 0.500, 1.0 | Multimode | Free Space | | |
| | PowerMir 4.8µm | LD Module, Turn-Key System | 4800 | 0.500, 1.0 | Multimode | Free Space | | |
| | PowerMir 9.4um | LD Module, Turn-Key System | 9400 | 0.100, 0.300 | Multimode | Free Space | | |
| | R0633 | LD Module, Turn-Key System | 633 | 0.010, 0.020, 0.030, 0.050 | Single Mode | Free Space, SM Fiber, PM Fiber | Narrow | More than 1m |
| | R0638 | LD Module, Turn-Key System | 638 | 0.020, 0.025, 0.035, 0.060, 0.300 | Single Mode, Multimode | Free Space, PM Fiber, MM Fiber | Narrow | More than 1m |
| | R0647 | LD Module, Turn-Key System | 647 | 0.150 | Single Mode, Multimode | Free Space, MM Fiber | Narrow | More than 1m |
| | R0660 | LD Module, Turn-Key System | 660 | 0.050 | Single Mode, Multimode | Free Space | Narrow | More than 1m |
| | R0680 | LD Module, Turn-Key System | 680 | 0.300 | Single Mode, Multimode | Free Space, MM Fiber | Narrow | More than 1m |
| | R0780 | LD Module, Turn-Key System | 780 | 0.050, 0.100 | Single Mode, Multimode | Free Space, SM Fiber | Narrow | More than 1m |
| | R0783 | LD Module, Turn-Key System | 783 | 0.100 | Single Mode, Multimode | Free Space | Narrow | More than 1m |
| | R0785 | LD Module, Turn-Key System | 785 | 0.050, 0.100, 0.175, 0.200, 0.250, 0.350, 0.500, 1.2 | Single Mode, Multimode | Free Space, PM Fiber, MM Fiber | Narrow | More than 1m |
| | R0808 | LD Module, Turn-Key System | 808 | 0.350, 0.500, 0.600, 1.2, 2.4, 3.6, 4.8, 6.0 | Single Mode, Multimode | Free Space, MM Fiber | Narrow | More than 1m |
| | R0830 | LD Module, Turn-Key System | 830 | 0.050, 0.100, 0.150, 0.350, 0.500, 1.2, 1.4 | Single Mode, Multimode | Free Space, MM Fiber | Narrow | More than 1m |
| | R0976 | LD Module, Turn-Key System | 976 | 0.220, 0.500 | Single Mode, Multimode | Free Space, SM Fiber, PM Fiber | Narrow | More than 1m |
| | R1030 | LD Module, Turn-Key System | 1030 | 0.100, 0.200, 0.250, 0.450 | Single Mode, Multimode | Free Space, SM Fiber, PM Fiber | Narrow | More than 1m |
| | R1053 | LD Module, Turn-Key System | 1053 | 0.035, 0.120, 0.300, 0.500 | Single Mode, Multimode | Free Space, SM Fiber, PM Fiber | Narrow | More than 1m |
| | R1064 | LD Module, Turn-Key System | 1064 | 0.050, 0.120, 0.200, 0.300, 0.500 | Single Mode, Multimode | Free Space, PM Fiber, MM Fiber | Narrow | More than 1m |
| | REP1260-1300-DM-DX1 | LD Module | 1260-1300 | 0.008 | Single Mode | Free Space, SM Fiber, PM Fiber | Narrow | More than 1m |
| | REP1380-1400-DM-DX1 | LD Module | 1380-1400 | 0.008 | Single Mode | Free Space, SM Fiber, PM Fiber | Narrow | More than 1m |
| | REP1500-1560-DM-DX1 | LD Module | 1500-1560 | 0.008 | Single Mode | Free Space, SM Fiber, PM Fiber | Narrow | More than 1m |
| | REP1560-1600-DM-DX1 | LD Module | 1560-1600 | 0.008 | Single Mode | Free Space, SM Fiber, PM Fiber | Narrow | More than 1m |
| | REP1635-1670-DM-DX1 | LD Module | 1635-1670 | 0.005 | Single Mode | Free Space, SM Fiber, PM Fiber | Narrow | More than 1m |
| | REP1720-1770-DM-DX1 | LD Module | 1720-1770 | 0.008 | Single Mode | Free Space, SM Fiber, PM Fiber | Narrow | More than 1m |
| | REP1850-1880-DM-DX1 | LD Module | 1850-1880 | 0.004 | Single Mode | Free Space, SM Fiber, PM Fiber | Narrow | More than 1m |
| | REP1908-1970-DM-DX1 | LD Module | 1908-1970 | 0.001 | Single Mode | Free Space, SM Fiber, PM Fiber | Narrow | More than 1m |
| | REP1970-2053-DM-DX1 | LD Module | 1970-2053 | 0.002 | Single Mode | Free Space, SM Fiber, PM Fiber | Narrow | More than 1m |
| | RHAML-XXXX-YY-Z-E | LD Module, Line Modules | Multiple Wavelength Options | 0.100 | Single Mode | Free Space, Line | | |
| | RHAML-XXXX-YY-Z | LD Module, Line Modules | Multiple Wavelength Options | 0.100 | Single Mode | Free Space, Line | | |
| | RML126FC | LD Module | Multiple Wavelength Options | 0.100 | Single Mode | SM Fiber | | |
| | RML150FC | LD Module | Multiple Wavelength Options | 0.080 | Single Mode | SM Fiber | | |
| | RML2040-XXXX-YY-ZZ | LD Module, Line Modules | Multiple Wavelength Options | 2.0 | Single Mode | Free Space, Line | | |
| | RML2240 | LD Module | Multiple Wavelength Options | 1.5 | Single Mode, Multimode | SM Fiber, MM Fiber | | |
| | RML2540-XXXX-YY-ZZ | LD Module, Line Modules | Multiple Wavelength Options | 1.0, 2.0 | Single Mode, Multimode | Free Space, Line | | |