Pulsed Lasers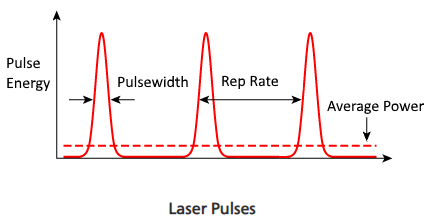 RPMC Lasers offers a wide selection of Pulsed Laser technologies (Types). For example, these types include Diode-Pumped Solid-State (DPSS) Lasers, Flash-lamp Lasers, Ultrafast Lasers,  Fiber Lasers, Microlasers/Microchip Lasers, Tunable Lasers, MIL-Spec Lasers, Micromachining Lasers, and Custom Lasers.
Utilizing pulse generation techniques like mode-locking and active and passive Q-switching, these lasers produce high peak power or high energy pulses with a lower duty cycle. These lasers provide Nanosecond (ns), Picosecond (ps) and Femtosecond (fs) laser pulse widths.
Our pulsed products are available in many wavelengths in the UV, Violet, Blue, Green, Yellow, Red, NIR, SWIR, and MWIR regimes. Furthermore, our lasers provide average output powers from a few mW to 100W and pulse energies from nanojoules to 100's of millijoules. Finally, these options provide pulse repetition rates from single-shot up to 80MHz.
Pulsed Applications
Our Pulsed products provide utility in the Life Science, Medical, Military & Defense, and Industrial markets. Therefore, we support many applications including our focused, pulsed applications. For example, we support Raman Spectroscopy, Interferometry, Particle Measurement, 2-Photon/Multi-Photon Microscopy, Material Processing, Range Finding, LIDAR, Micromachining, and many other applications.
Let Us Help
If you have any questions or would like some assistance please contact us here. Furthermore, you can email us at info@rpmclasers.com to talk to a knowledgeable Product Manager. Alternatively, use the filters on this page to assist in narrowing down the selection of Pulsed Lasers for sale. Finally, head to our Knowledge Center with our Lasers 101, Blogs, Whitepapers, and FAQ pages for further, in-depth reading.
| | | | | | | | | |
| --- | --- | --- | --- | --- | --- | --- | --- | --- |
| | 1.5um Pulsed Fiber Lasers | Pulsed Fiber Lasers | 1540-1560 | 0.150, 1.0, 5.0 | 5.0, 25.0, 80.0 | 400ps, 50ns | 5kHz, 1MHz, 2MHz | |
| | 1um Pulsed Fiber Lasers | Pulsed Fiber Lasers | 1030-1100 | 5.0 | 150.0 | 400ps, 50ns | 10kHz, 100kHz, 1MHz | Active |
| | Aero-1064 | Pulsed DPSS Lasers | 1064 | 5.0, 10.0 | 50000.0, 100000.0, 200000.0 | 20ns | Single Shot to 50Hz, Single Shot to 100Hz | Active |
| | Aero-266 | Pulsed DPSS Lasers | 266 | 0.600 | 6000.0, 12000.0 | 20ns | Single Shot to 50Hz, Single Shot to 100Hz | Active |
| | Aero-355 | Pulsed DPSS Lasers | 355, 355/532/1064 | 1.0 | 10000.0, 20000.0 | 20ns | Single Shot to 50Hz, Single Shot to 100Hz | Active |
| | Aero-532 | Pulsed DPSS Lasers | 532, 532/1064 | 2.0, 6.0 | 20000.0, 40000.0 | 20ns | Single Shot to 50Hz, Single Shot to 100Hz | Active |
| | AIRTRAC-6M | Pulsed DPSS Lasers, Mil-Spec Lasers | 355, 532, 1064 | 1.2 | 40000.0 | 6ns | 0-30Hz | Active |
| | AIRTRAC-LD | Pulsed DPSS Lasers, Mil-Spec Lasers | 1064 | 1.0 | 50000.0 | 10ns - 25ns | 7-21Hz | Active |
| | ALCOR 10XX | Pulsed DPSS Lasers, Pulsed Fiber Lasers, Ultrafast Lasers | 1040, 1064 | 2.0, 5.0 | 0.025, 0.062 | 100fs, 110fs | 80MHz (Optional: 40MHz) | Active |
| | ALCOR 520 | Pulsed DPSS Lasers, Pulsed Fiber Lasers, Ultrafast Lasers | 520 | 0.800, 2.0 | 0.025 | 180fs | 80MHz (Optional: 40MHz) | Active |
| | ALCOR 780 | Pulsed DPSS Lasers, Pulsed Fiber Lasers, Ultrafast Lasers | 780 | 0.800 | 0.010 | 150fs | 80MHz (Optional: 40MHz) | Active |
| | ALCOR 920 | Pulsed DPSS Lasers, Pulsed Fiber Lasers, Ultrafast Lasers | 920 | 1.0, 2.0, 4.0 | 0.0125, 0.025, 0.050 | 100fs, 110fs, 130fs | 80MHz (Optional: 40MHz) | Active |
| | ALCOR Dual | Pulsed DPSS Lasers, Pulsed Fiber Lasers, Ultrafast Lasers | 920/1064 | 1.0, 2.0 | 0.0125, 0.025 | 100fs, 110fs, 130fs | 80MHz (Optional: 40MHz) | Active |
| | Altair | Pulsed DPSS Lasers, Pulsed Fiber Lasers, Ultrafast Lasers | 1040 | 10.0, 20.0 | 0.125, 0.250, 1.0 | 150fs, 250fs | 30MHz, 80MHz, Single shot to 40MHz | Active |
| | Antares | Pulsed DPSS Lasers, Pulsed Fiber Lasers, Ultrafast Lasers | 1030, 1064 | 10.0, 20.0, 30.0 | 0.125, 0.250, 0.375, 0.500 | 10ps | 80MHz | Active |
| | CEUV Series | Pulsed DPSS Lasers | 266, 355, 532, 1064 | 5.0, 10.0, 20.0 | 500.0, 1000.0, 2000.0 | 3ns | 10kHz to 1MHz | Active |
| | Diadem 1300 | Pulsed DPSS Lasers, Ultrafast Lasers | 1300 | 2.0 | 1.0 | 150fs | Single shot to 2MHz | Active |
| | Diadem IR | Pulsed DPSS Lasers, Ultrafast Lasers | 1030, 1064 | 10.0, 20.0, 30.0 | 10.0, 20.0, 30.0, 40.0 | 400fs, 10ps | Single shot to 2MHz | Active |
| | Jenlas Fiber ns 25-105 | Pulsed DPSS Lasers, Pulsed Fiber Lasers | 1085 | 20.0, 30.0, 55.0, 100.0 | 700.0, 1000.0, 1100.0 | 125ns | 30kHz to 80kHz, 50kHz to 100kHz, 100kHz to 200kHz | Active |
| | MicroMake 532 | Micromachining System | 532 | 35.0 | | | | |
| | neoMOS | Pulsed DPSS Lasers | 1064 | 5.0, 15.0, 50.0, 75.0, 100.0 | 250.0, 400.0, 500.0 | 600fs, 700fs, 900fs, 10ps, 40ps, 70ps, 100ps | | |
| | NPS-1064 | Pulsed DPSS Lasers, Ultrafast Lasers | 1064 | 0.050, 5.0, 10.0 | 0.125, 0.250 | 7ps | 40MHz | Passive |
| | NPS-355 | Pulsed DPSS Lasers, Ultrafast Lasers | 355 | 1.0 | 0.025 | 7ps | 40MHz | Passive |
| | NPS-532 | Pulsed DPSS Lasers, Ultrafast Lasers | 532 | 1.0, 5.0 | 0.025, 0.125 | 7ps | 40MHz | Passive |
| | Onda 1064nm | Pulsed DPSS Lasers | 1064 | 15.0 | 800.0 | 2ns - 12ns | Single Shot to 100kHz | Active |
| | Onda 266nm | Pulsed DPSS Lasers | 266 | 0.800 | 80.0 | 2ns - 6ns | Single shot to 1kHz, Single shot to 50kHz | Active |
| | Onda 355nm | Pulsed DPSS Lasers | 355 | 0.300 | 150.0 | 3ns | Single shot to 2kHz | Active |
| | Onda 532nm | Pulsed DPSS Lasers | 532 | 5.0, 10.0 | 400.0, 800.0 | 2ns - 14ns | Single Shot to 100kHz | Active |
| | One-1030 | Pulsed DPSS Lasers | 1030 | 1.0, 3.0 | 100.0 | 5ns - 20ns | 30kHz, Single shot to 10kHz | Passive |
| | OT-XX | Pulsed DPSS Lasers, Mil-Spec Lasers | 1540 | 0.001, 0.0012, 0.002, 0.0022, 0.0024, 0.0025, 0.0045, 0.0095, 0.020, 0.030, 0.075, 0.100, 0.200 | 900.0, 1000.0, 1200.0, 1500.0, 1900.0, 2000.0, 2100.0, 2200.0, 2400.0, 2500.0, 10000.0 | 9ns, 10ns, 12ns, 15ns, 20ns, 24ns, 35ns, 40ns | 1Hz, 5Hz, 10Hz, 20Hz, 30Hz | Active, Passive |
| | Q-TUNE-IR | Pulsed DPSS Lasers, Tunable Lasers | Tunable | 0.020, 0.065 | 2000.0, 6500.0 | 3ns - 4ns | 10Hz | Active |
| | Q-TUNE | Pulsed DPSS Lasers, Tunable Lasers | Tunable | 0.200 | 8000.0 | 5ns | 10Hz, 33Hz, 100Hz | Active |
| | Quantas-Q-SHIFT-1163 | Pulsed DPSS Lasers | 1163 | 0.500, 0.800, 1.0 | 5000.0, 10000.0, 20000.0, 30000.0, 40000.0, 50000.0 | 2ns - 5ns | 10Hz, 20Hz, 33Hz, 50Hz, 100Hz | Active |
| | Quantas-Q-SHIFT-1177 | Pulsed DPSS Lasers | 1177 | 0.500, 0.800, 1.0 | 5000.0, 10000.0, 20000.0, 30000.0, 40000.0, 50000.0 | 2ns - 5ns | 10Hz, 20Hz, 33Hz, 50Hz, 100Hz | Active |
| | Quantas-Q-SHIFT-1300 | Pulsed DPSS Lasers | 1300 | 0.300, 0.480, 0.600 | 3000.0, 6000.0, 12000.0, 18000.0, 24000.0, 30000.0 | 2ns - 5ns | 10Hz, 20Hz, 33Hz, 50Hz, 100Hz | Active |
| | Quantas-Q-SHIFT-1317 | Pulsed DPSS Lasers | 1317 | 0.300, 0.480, 0.600 | 3000.0, 6000.0, 12000.0, 18000.0, 24000.0, 30000.0 | 2ns - 5ns | 10Hz, 20Hz, 33Hz, 50Hz, 100Hz | Active |
| | Quantas-Q-SHIFT-1551 | Pulsed DPSS Lasers | 1551 | 0.400, 0.640, 0.800 | 4000.0, 8000.0, 16000.0, 24000.0, 32000.0, 40000.0 | 2ns - 5ns | 10Hz, 20Hz, 33Hz, 50Hz, 100Hz | Active |
| | Quantas-Q-SHIFT-1571 | Pulsed DPSS Lasers | 1571 | 0.400, 0.640, 0.800 | 4000.0, 8000.0, 16000.0, 24000.0, 32000.0, 40000.0 | 2ns - 5ns | 10Hz, 20Hz, 33Hz, 50Hz, 100Hz | Active |
| | Quantas-Q-SHIFT-291 | Pulsed DPSS Lasers | 291 | 0.075, 0.120, 0.150 | 750.0, 1500.0, 3000.0, 4500.0, 6000.0, 7500.0 | 2ns - 5ns | 10Hz, 20Hz, 33Hz, 50Hz, 100Hz | Active |
| | Quantas-Q-SHIFT-294 | Pulsed DPSS Lasers | 294 | 0.075, 0.120, 0.150 | 750.0, 1500.0, 3000.0, 4500.0, 6000.0, 7500.0 | 2ns - 5ns | 10Hz, 20Hz, 33Hz, 50Hz, 100Hz | Active |
| | Quantas-Q-SHIFT-325 | Pulsed DPSS Lasers | 325 | 0.045, 0.072, 0.090 | 450.0, 900.0, 1800.0, 2700.0, 3600.0, 4500.0 | 2ns - 5ns | 10Hz, 20Hz, 33Hz, 50Hz, 100Hz | Active |
| | Quantas-Q-SHIFT-329 | Pulsed DPSS Lasers | 329 | 0.045, 0.072, 0.090 | 450.0, 900.0, 1800.0, 2700.0, 3600.0, 4500.0 | 2ns - 5ns | 10Hz, 20Hz, 33Hz, 50Hz, 100Hz | Active |
| | Quantas-Q-SHIFT-388 | Pulsed DPSS Lasers | 388 | 0.125, 0.200, 0.250 | 1250.0, 2500.0, 5000.0, 7500.0, 10000.0, 12500.0 | 2ns - 5ns | 10Hz, 20Hz, 33Hz, 50Hz, 100Hz | Active |
| | Quantas-Q-SHIFT-388 | Pulsed DPSS Lasers | 388 | 0.060, 0.096, 0.120 | 600.0, 1200.0, 2400.0, 3600.0, 4800.0, 6000.0 | 2ns - 5ns | 10Hz, 20Hz, 33Hz, 50Hz, 100Hz | Active |
| | Quantas-Q-SHIFT-392 | Pulsed DPSS Lasers | 392 | 0.125, 0.200, 0.250 | 1250.0, 2500.0, 5000.0, 7500.0, 10000.0, 12500.0 | 2ns - 5ns | 10Hz, 20Hz, 33Hz, 50Hz, 100Hz | Active |
| | Quantas-Q-SHIFT-393 | Pulsed DPSS Lasers | 393 | 0.060, 0.096, 0.120 | 600.0, 1200.0, 2400.0, 3600.0, 4800.0, 6000.0 | 2ns - 5ns | 10Hz, 20Hz, 33Hz, 50Hz, 100Hz | Active |
| | Quantas-Q-SHIFT-433 | Pulsed DPSS Lasers | 433 | 0.075, 0.120, 0.150 | 750.0, 1500.0, 3000.0, 4500.0, 6000.0, 7500.0 | 2ns - 5ns | 10Hz, 20Hz, 33Hz, 50Hz, 100Hz | Active |
| | Quantas-Q-SHIFT-439 | Pulsed DPSS Lasers | 439 | 0.075, 0.120, 0.150 | 750.0, 1500.0, 3000.0, 4500.0, 6000.0, 7500.0 | 2ns - 5ns | 10Hz, 20Hz, 33Hz, 50Hz, 100Hz | Active |
| | Quantas-Q-SHIFT-517 | Pulsed DPSS Lasers | 517 | 0.100, 0.160, 0.200 | 1000.0, 2000.0, 4000.0, 6000.0, 8000.0, 10000.0 | 2ns - 5ns | 10Hz, 20Hz, 33Hz, 50Hz, 100Hz | Active |
| | Quantas-Q-SHIFT-524 | Pulsed DPSS Lasers | 524 | 0.100, 0.160, 0.200 | 1000.0, 2000.0, 4000.0, 6000.0, 8000.0, 10000.0 | 2ns - 5ns | 10Hz, 20Hz, 33Hz, 50Hz, 100Hz | Active |
| | Quantas-Q-SHIFT-581.5 | Pulsed DPSS Lasers | 581.5 | 0.250, 0.400, 0.495, 0.500 | 2500.0, 5000.0, 10000.0, 15000.0, 20000.0, 25000.0 | 2ns - 5ns | 10Hz, 20Hz, 33Hz, 50Hz, 100Hz | Active |
| | Quantas-Q-SHIFT-588.5 | Pulsed DPSS Lasers | 588.5 | 0.250, 0.400, 0.495, 0.500 | 2500.0, 5000.0, 10000.0, 15000.0, 20000.0, 25000.0 | 2ns - 5ns | 10Hz, 20Hz, 33Hz, 50Hz, 100Hz | Active |
| | Quantas-Q-SHIFT-650 | Pulsed DPSS Lasers | 650 | 0.150, 0.240, 0.300 | 1500.0, 3000.0, 6000.0, 9000.0, 12000.0, 15000.0 | 2ns - 5ns | 10Hz, 20Hz, 33Hz, 50Hz, 100Hz | Active |
| | Quantas-Q-SHIFT-658.5 | Pulsed DPSS Lasers | 658.5 | 0.150, 0.240, 0.300 | 1500.0, 3000.0, 6000.0, 9000.0, 12000.0, 15000.0 | 2ns - 5ns | 10Hz, 20Hz, 33Hz, 50Hz, 100Hz | Active |
| | Quantas-Q-SHIFT-775.5 | Pulsed DPSS Lasers | 775.5 | 0.200, 0.320, 0.400 | 2000.0, 4000.0, 8000.0, 12000.0, 16000.0, 20000.0 | 2ns - 5ns | 10Hz, 20Hz, 33Hz, 50Hz, 100Hz | Active |
| | Quantas-Q-SHIFT-785.5 | Pulsed DPSS Lasers | 785.5 | 0.200, 0.320, 0.400 | 2000.0, 4000.0, 8000.0, 12000.0, 16000.0, 20000.0 | 2ns - 5ns | 10Hz, 20Hz, 33Hz, 50Hz, 100Hz | Active |
| | Quantas-Q-SHIFT-WXXXX | Pulsed DPSS Lasers | Multiple Wavelength Options | Varies | Varies | 2ns - 5ns | 100Hz | Active |
| | Quantas-Q-SPARK-1064 | Pulsed DPSS Lasers | 1064 | 0.010 | 10000.0 | 800ps, 2ns | 100Hz | Active |
| | Quantas-Q-SPARK-266 | Pulsed DPSS Lasers | 266 | 0.010 | 1500.0 | 2ns | 20Hz | Active |
| | Quantas-Q-SPARK-355 | Pulsed DPSS Lasers | 355 | 0.010 | 2500.0 | 2ns | 20Hz | Active |
| | Quantas-Q-SPARK-532 | Pulsed DPSS Lasers | 532 | 0.010 | 2500.0 | 2ns | 20Hz | Active |
| | Quantas-Q1-1053 | Pulsed DPSS Lasers | 1053 | 0.100, 0.125, 0.160, 0.200, 0.250, 0.300, 0.400, 0.500 | 2500.0, 5000.0, 8000.0, 10000.0, 15000.0, 20000.0, 25000.0, 45000.0 | 10ns | Single Shot to 10Hz, Single Shot to 20Hz, Single Shot to 50Hz | Active |
| | Quantas-Q1-1064 | Pulsed DPSS Lasers | 1064 | 0.100, 0.125, 0.160, 0.200, 0.250, 0.300, 0.320, 0.350, 0.500 | 2500.0, 5000.0, 8000.0, 10000.0, 15000.0, 20000.0, 25000.0, 35000.0 | 10ns | Single Shot to 10Hz, Single Shot to 20Hz, Single Shot to 50Hz | Active |
| | Quantas-Q1-211 | Pulsed DPSS Lasers | 211 | 0.005, 0.008, 0.010, 0.014, 0.024, 0.025 | 100.0, 200.0, 400.0, 500.0, 700.0, 1000.0, 1200.0, 2500.0 | 10ns | Single Shot to 10Hz, Single Shot to 20Hz, Single Shot to 50Hz | Active |
| | Quantas-Q1-213 | Pulsed DPSS Lasers | 213 | 0.005, 0.008, 0.010, 0.014, 0.020, 0.024, 0.025 | 100.0, 200.0, 400.0, 500.0, 700.0, 1000.0, 1200.0, 2000.0 | 10ns | Single Shot to 10Hz, Single Shot to 20Hz, Single Shot to 50Hz | Active |
| | Quantas-Q1-263 | Pulsed DPSS Lasers | 263 | 0.015, 0.020, 0.030, 0.036, 0.060, 0.070, 0.075 | 300.0, 700.0, 1000.0, 1500.0, 1800.0, 3000.0, 7000.0 | 10ns | Single Shot to 10Hz, Single Shot to 20Hz, Single Shot to 50Hz | Active |
| | Quantas-Q1-266 | Pulsed DPSS Lasers | 266 | 0.015, 0.020, 0.030, 0.036, 0.050, 0.060, 0.075 | 300.0, 700.0, 1000.0, 1500.0, 1800.0, 3000.0, 5000.0 | 10ns | Single Shot to 10Hz, Single Shot to 20Hz, Single Shot to 50Hz | Active |
| | Quantas-Q1-351 | Pulsed DPSS Lasers | 355 | 0.030, 0.050, 0.060, 0.075, 0.100, 0.130, 0.150 | 600.0, 1500.0, 2500.0, 3000.0, 5000.0, 6000.0, 7500.0, 13000.0 | 10ns | Single Shot to 10Hz, Single Shot to 20Hz, Single Shot to 50Hz | Active |
| | Quantas-Q1-355 | Pulsed DPSS Lasers | 355 | 0.030, 0.050, 0.060, 0.075, 0.100, 0.150 | 600.0, 1500.0, 2500.0, 3000.0, 5000.0, 6000.0, 7500.0, 10000.0 | 10ns | Single Shot to 10Hz, Single Shot to 20Hz, Single Shot to 50Hz | Active |
| | Quantas-Q1-527 | Pulsed DPSS Lasers | 527 | 0.050, 0.060, 0.080, 0.100, 0.125, 0.150, 0.220, 0.250 | 1200.0, 2500.0, 4000.0, 5000.0, 7500.0, 10000.0, 12500.0, 22000.0 | 10ns | Single Shot to 10Hz, Single Shot to 20Hz, Single Shot to 50Hz | Active |
| | Quantas-Q1-532 | Pulsed DPSS Lasers | 532 | 0.050, 0.060, 0.080, 0.100, 0.125, 0.150, 0.170, 0.250 | 1200.0, 2500.0, 4000.0, 5000.0, 7500.0, 10000.0, 12500.0, 17000.0 | 10ns | Single Shot to 10Hz, Single Shot to 20Hz, Single Shot to 50Hz | Active |
| | Quantas-Q2-1053 | Pulsed DPSS Lasers | 1053 | 0.080, 0.100, 0.150, 0.200, 0.300, 0.350, 0.400, 0.500, 0.600, 0.800, 1.0, 1.3, 2.0 | 8000.0, 10000.0, 15000.0, 20000.0, 30000.0, 35000.0, 40000.0, 50000.0, 60000.0, 65000.0, 70000.0, 80000.0 | 5ns, 6ns, 7ns, 8ns | 10Hz, 20Hz, 33.3Hz, 50Hz | Active |
| | Quantas-Q2-1064 | Pulsed DPSS Lasers | 1064 | 0.080, 0.100, 0.150, 0.200, 0.300, 0.350, 0.400, 0.500, 0.600, 0.700, 0.800, 1.0, 1.2, 1.3, 2.0 | 2500.0, 5000.0, 8000.0, 10000.0, 15000.0, 20000.0, 30000.0, 35000.0, 40000.0, 60000.0 | 5ns, 6ns, 7ns, 8ns, 10ns | 10Hz, 20Hz, 33.3Hz, 50Hz, 100Hz, 200Hz | Active |
| | Quantas-Q2-211 | Pulsed DPSS Lasers | 211 | 0.035, 0.060, 0.080, 0.120 | 20.0, 500.0, 1000.0, 1800.0, 2500.0, 3000.0, 5000.0 | 5ns, 6ns, 7ns, 8ns | 10Hz, 20Hz, 33.3Hz, 50Hz | Active |
| | Quantas-Q2-213 | Pulsed DPSS Lasers | 213 | 0.060, 0.075, 0.080, 0.120, 0.150 | 20.0, 500.0, 1000.0, 1800.0, 2500.0, 3000.0, 5000.0 | 5ns, 6ns, 7ns, 8ns, 10ns | 10Hz, 20Hz, 33.3Hz, 50Hz, 100Hz, 200Hz | Active |
| | Quantas-Q2-263 | Pulsed DPSS Lasers | 263 | 0.110, 0.200, 0.300, 0.330 | 100.0, 1500.0, 5000.0, 6000.0, 10000.0, 12000.0 | 5ns, 6ns, 7ns, 8ns | 10Hz, 20Hz, 33.3Hz, 50Hz | Active |
| | Quantas-Q2-266 | Pulsed DPSS Lasers | 266 | 0.160, 0.200, 0.250, 0.500, 0.600 | 100.0, 5000.0, 6000.0, 8000.0, 12000.0 | 5ns, 6ns, 7ns, 8ns, 10ns | 20Hz, 33.3Hz, 50Hz, 100Hz, 200Hz | Active |
| | Quantas-Q2-351 | Pulsed DPSS Lasers | 351 | 0.200, 0.500, 0.600, 1.0 | 300.0, 3000.0, 12000.0, 15000.0, 18000.0, 20000.0, 30000.0 | 5ns, 6ns, 7ns, 8ns | 10Hz, 20Hz, 33.3Hz, 50Hz | Active |
| | Quantas-Q2-355 | Pulsed DPSS Lasers | 355 | 0.340, 0.500, 0.600, 1.0, 1.2 | 300.0, 4000.0, 12000.0, 15000.0, 18000.0, 20000.0 | 5ns, 6ns, 7ns, 8ns, 10ns | 20Hz, 33.3Hz, 50Hz, 100Hz, 200Hz | Active |
| | Quantas-Q2-527 | Pulsed DPSS Lasers | 527 | 0.350, 0.800, 1.0, 2.0 | 500.0, 5000.0, 15000.0, 25000.0, 30000.0, 35000.0, 40000.0 | 5ns, 6ns, 7ns, 8ns | 10Hz, 20Hz, 33.3Hz, 50Hz | Active |
| | Quantas-Q2-532 | Pulsed DPSS Lasers | 532 | 0.500, 0.750, 0.800, 1.0, 2.0 | 500.0, 5000.0, 25000.0, 30000.0, 35000.0, 40000.0 | 5ns, 6ns, 7ns, 8ns, 10ns | 10Hz, 20Hz, 33.3Hz, 50Hz, 100Hz, 200Hz | Active |
| | Quantas-Q2HE-1053 | Pulsed DPSS Lasers | 1053 | 1.2, 2.0 | 40000.0, 100000.0, 120000.0 | 6ns | 10Hz, 20Hz, 50Hz | Active |
| | Quantas-Q2HE-1064 | Pulsed DPSS Lasers | 1064 | 1.0, 1.6, 2.0, 3.5, 4.0 | 40000.0, 70000.0, 80000.0, 100000.0 | 6ns | 10Hz, 20Hz, 50Hz, 100Hz | Active |
| | Quantas-Q2HE-211 | Pulsed DPSS Lasers | 211 | 0.050, 0.075, 0.080 | 1500.0, 4000.0, 5000.0 | 6ns | 10Hz, 20Hz, 50Hz | Active |
| | Quantas-Q2HE-213 | Pulsed DPSS Lasers | 213 | 0.040, 0.070, 0.075, 0.150 | 1500.0, 3000.0, 3500.0, 4000.0 | 6ns | 10Hz, 20Hz, 50Hz, 100Hz | Active |
| | Quantas-Q2HE-263 | Pulsed DPSS Lasers | 263 | 0.180, 0.250, 0.300 | 5000.0, 15000.0, 18000.0 | 6ns | 10Hz, 20Hz, 50Hz | Active |
| | Quantas-Q2HE-266 | Pulsed DPSS Lasers | 266 | 0.600 | 5000.0, 10000.0 | 7ns | 20Hz, 50Hz, 100Hz | Active |
| | Quantas-Q2HE-351 | Pulsed DPSS Lasers | 351 | 0.350, 0.600 | 12000.0, 30000.0, 35000.0 | 6ns | 10Hz, 20Hz, 50Hz | Active |
| | Quantas-Q2HE-355 | Pulsed DPSS Lasers | 355 | 0.300, 0.500, 0.600, 1.0, 1.2 | 12000.0, 20000.0, 25000.0, 30000.0 | 6ns | 10Hz, 20Hz, 50Hz, 100Hz | Active |
| | Quantas-Q2HE-527 | Pulsed DPSS Lasers | 527 | 0.600, 1.0 | 20000.0, 50000.0, 60000.0 | 6ns | 10Hz, 20Hz, 50Hz | Active |
| | Quantas-Q2HE-532 | Pulsed DPSS Lasers | 532 | 0.500, 0.800, 1.0, 1.75, 2.0 | 20000.0, 35000.0, 40000.0, 50000.0 | 6ns | 10Hz, 20Hz, 50Hz, 100Hz | Active |
| | Quantas-Q2HE-XXX-XXXX | Pulsed DPSS Lasers | Multiple Wavelength Options | Varies | Varies | Varies | 100Hz | Active |
| | SB1-1064 | Pulsed DPSS Lasers, Microchip Lasers | 1064 | 0.008, 0.012, 0.040, 0.110, 0.150, 0.200, 0.225, 0.400 | 2.0, 15.0, 20.0, 30.0, 40.0, 60.0, 80.0 | 400ps, 1.3ns | 100Hz, 200Hz, 1kHz, 5kHz, 10kHz, 15kHz, 55kHz, 100kHz | Passive |
| | SB1-236.5 | Pulsed DPSS Lasers, Microchip Lasers | 236.5 | 0.001 | 0.200, 2.0 | 2ns | 500Hz, 5kHz | Passive |
| | SB1-266 | Pulsed DPSS Lasers, Microchip Lasers | 266 | 0.002, 0.005 | 0.500, 1.0, 2.0 | 1.3ns | 1kHz, 5kHz, 10kHz | Passive |
| | SB1-355 | Pulsed DPSS Lasers, Microchip Lasers | 355 | 0.010 | 1.0 | 1.3ns | 5kHz, 10kHz | Passive |
| | SB1-473 | Pulsed DPSS Lasers, Microchip Lasers | 473 | 0.0009, 0.010, 0.015 | 1.0, 3.0, 9.0 | 2ns | 100Hz, 5kHz, 10kHz | Passive |
| | SB1-532 | Pulsed DPSS Lasers, Microchip Lasers | 532 | 0.004, 0.006, 0.010, 0.017, 0.020, 0.030, 0.040, 0.075, 0.100 | 0.300, 7.0, 10.0, 15.0, 20.0, 30.0, 40.0 | 400ps, 1.3ns | 10Hz, 100Hz, 200Hz, 1kHz, 5kHz, 10kHz, 15kHz, 55kHz, 100kHz | Passive |
| | SB1-946 | Pulsed DPSS Lasers, Microchip Lasers | 946 | 0.004, 0.060, 0.070, 0.105 | 7.0 | 2ns | 100Hz, 5kHz, 10kHz | Passive |
| | Sirius GR | Pulsed DPSS Lasers, Ultrafast Lasers | 532 | 2.0 | 32.0 | 10ps | Single shot to 1MHz | Active |
| | Sirius IR | Pulsed DPSS Lasers, Ultrafast Lasers | 1064 | 5.0 | 60.0 | 10ps | Single shot to 1MHz | Active |
| | SOL-1064 | Pulsed DPSS Lasers | 1064 | 6.0, 10.0, 20.0, 30.0, 40.0 | 300.0, 450.0, 900.0, 1500.0, 2000.0 | 5ns - 35ns, 7ns - 35ns, 10ns - 40ns, 10ns - 50ns, 15ns - 60ns | Single Shot to 100kHz | Active |
| | SOL-355 | Pulsed DPSS Lasers | 355 | 4.0 | 650.0 | 15ns - 35ns | Single Shot to 100kHz | Active |
| | SOL-532 | Pulsed DPSS Lasers | 532 | 3.0, 5.0, 10.0, 20.0, 35.0 | 200.0, 400.0, 650.0, 1200.0 | 10ns - 50ns, 10ns - 60ns, 15ns - 60ns | Single Shot to 100kHz | Active |
| | VaryDisk E150 | Pulsed DPSS Lasers | 1030 | 150.0 | 150000.0 | 2ps - 1ns | 1kHz to 10kHz | Active |
| | Vento-1064 | Pulsed DPSS Lasers | 1064 | 16.0, 25.0, 40.0 | 600.0, 1000.0, 1500.0 | 500ps - 1.5ns | 50kHz to 120kHz, 80kHz to 200kHz | Active |
| | Vento-532 | Pulsed DPSS Lasers | 532 | 8.0, 15.0, 20.0 | 300.0, 550.0, 750.0 | 500ps - 1.2ns | 50kHz to 120kHz, 80kHz to 200kHz | Active |
| | Wedge-HB/XB 1064 | Pulsed DPSS Lasers | 1064 | 4.0 | 2000.0, 4000.0 | 1.5ns | Single shot to 1kHz, Single shot to 2kHz | Active |
| | Wedge-HB/XB 266 | Pulsed DPSS Lasers | 266 | 0.300, 0.500 | 150.0, 500.0 | 1.5ns, 1.8ns | Single shot to 2kHz | Active |
| | Wedge-HB/XB 355 | Pulsed DPSS Lasers | 355 | 0.400, 0.600 | 200.0, 600.0 | 1.2ns, 1.5ns | Single shot to 1kHz, Single shot to 2kHz | Active |
| | Wedge-HB/XB 532 | Pulsed DPSS Lasers | 532 | 2.0 | 1000.0, 2000.0 | 1.5ns | Single shot to 1kHz, Single shot to 2kHz | Active |
| | Wedge-HF/XF 1064 | Pulsed DPSS Lasers | 1064 | 1.5, 4.0 | 70.0, 180.0 | 400ps - 1.6ns, 700ps - 2.5ns | 10kHz to 100kHz, 50kHz to 200kHz | Active |
| | Wedge-HF/XF 266 | Pulsed DPSS Lasers | 266 | 0.050, 0.180 | 5.0, 15.0 | 400ps - 700ps, 500ps - 1ns | 10kHz to 50kHz | Active |
| | Wedge-HF/XF 355 | Pulsed DPSS Lasers | 355 | 0.800 | 40.0 | 500ps - 1ns | 10kHz to 50kHz | Active |
| | Wedge-HF/XF 532 | Pulsed DPSS Lasers | 532 | 0.500, 1.5, 2.0, 4.0 | 30.0, 40.0, 80.0, 120.0 | 400ps - 1ns, 500ps - 1.5ns, 750ps - 2ns, 750ps - 2.5ns | 10kHz to 100kHz, Single shot to 10kHz | Active |
| | Wedge-XB 1572 | Pulsed DPSS Lasers | 1572 | 0.800 | 8000.0 | 2.5ns | 1kHz | Active |
| | Wedge-XB 3um | Pulsed DPSS Lasers | 3106 | 0.200 | 100.0 | 3ns | Single shot to 2kHz | Active |