Pulsed Fiber Lasers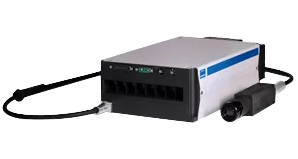 What are pulsed Fiber Lasers?
Pulsed fiber lasers utilize a doped fiber optic cable as the gain medium, rather than the crystals utilized in DPSS lasers, and provide pulsed output, as opposed to CW lasers, which emit a continuous output beam.
Typically, the fiber laser's gain medium is doped with a rare-earth element, such as erbium (Er), ytterbium (Yb), or neodymium (Nd), just like the crystals used in most DPSS laser systems. However, fiber lasers offer several advantages over traditional DPSS lasers (e.g., Nd:YAG lasers). Some of these advantages derive from the geometry of the fiber optic itself, namely, the innate ability to have an extremely long single-mode optical cavity. This geometry produces either extremely high-power single-mode fiber lasers exhibiting unprecedented brightness or extremely narrow band lasers with near-perfectly single-frequency output.
Another advantage is that the fiber medium is flexible, which makes it easier to deliver the beam exactly where you need it. This ability can be highly advantageous when dealing with complex geometries and tight spaces. Typically, fibers exhibit a complex temperature-dependent polarization evolution, except for example, if utilizing polarization-maintaining fibers or Faraday rotators. However, these solutions are typically not compatible with nonlinear polarization rotation mode locking.
Since the fiber optic acts as a gain medium, several kilometers long in some cases, high-power fiber lasers benefit from the high optical gain and can provide much higher output powers compared to some other laser types. The extremely high surface area to volume ratio provides the inherent ability to efficiently remove heat generated, allowing continuous output of kilowatt levels of output power. The waveguide properties of the optical fiber mitigate thermal distortion, producing high-quality, near-diffraction-limited or better optical beam output (i.e., better beam quality). It should be noted that fiber lasers are different than fiber-coupled lasers. Fiber-coupled lasers simply have the beam output coupled into a fiber, as opposed to free-space output, and do not share all the same benefits as detailed above. However, fiber lasers do rely on one or more fiber-coupled laser diodes to pump the gain medium. Fiber amplifiers, lacking the 'cavity' to enable lasing, also rely on fiber-coupled diode pumps.
Our Pulsed Fiber Laser Products
RPMC is your Pulsed Fiber Laser supplier! We work with leading pulsed fiber laser source manufacturers, primarily in Europe. Our pulsed fiber laser products are available in a wide variety of configurations: q-switched or mode locked, providing pulse repetition rates from single-shot up to 80 MHz, pulse widths (pulse durations) from 125ns down to 100fs, with pulse energy ranging from 25nJ up to over 1mJ, average power output ranging from 150mW to 100W, and are available in wavelengths ranging from 1565nm (short-wave infrared or SWIR) down to 520nm (green) through the use of second harmonic generation. OEM laser packages and modules are available.
If you are looking for Continuous Wave Fiber Lasers, Click Here!
| | | | | | | | | |
| --- | --- | --- | --- | --- | --- | --- | --- | --- |
| | 1.5um Pulsed Fiber Lasers | Pulsed Fiber Lasers | 1530-1564 | 0.150, 1.0, 4.0 | 5.0, 25.0, 80.0 | 400ps, 50ns | 5kHz, 1MHz, 2MHz | Active |
| | 1um Pulsed Fiber Lasers | Pulsed Fiber Lasers | 1030-1100 | 5.0 | 150.0 | 400ps, 50ns | 10kHz, 100kHz, 1MHz | Active |
| | ALCOR 10XX | Pulsed DPSS Lasers, Pulsed Fiber Lasers, Ultrafast Lasers | 1040, 1064 | 2.0, 5.0 | 0.025, 0.062 | 100fs, 110fs | 80MHz (Optional: 40MHz) | Active |
| | ALCOR 520 | Pulsed DPSS Lasers, Pulsed Fiber Lasers, Ultrafast Lasers | 520 | 0.800, 2.0 | 0.025 | 180fs | 80MHz (Optional: 40MHz) | Active |
| | ALCOR 780 | Pulsed DPSS Lasers, Pulsed Fiber Lasers, Ultrafast Lasers | 780 | 0.800 | 0.010 | 150fs | 80MHz | Active |
| | ALCOR 920 | Pulsed DPSS Lasers, Pulsed Fiber Lasers, Ultrafast Lasers | 920 | 1.5, 2.5, 4.0 | 0.0187, 0.0312, 0.050 | 100fs, 110fs, 130fs | 80MHz | Active |
| | ALCOR Dual | Pulsed DPSS Lasers, Pulsed Fiber Lasers, Ultrafast Lasers | 920/1064 | 1.0, 2.0 | 0.0125, 0.025 | 100fs, 110fs, 130fs | 80MHz | Active |
| | Altair | Pulsed DPSS Lasers, Pulsed Fiber Lasers, Ultrafast Lasers | 1040 | 10.0, 20.0 | 0.125, 0.250, 1.0 | 150fs, 250fs | 30MHz, 80MHz, Single shot to 40MHz | Active |
| | Antares | Pulsed DPSS Lasers, Pulsed Fiber Lasers, Ultrafast Lasers | 1030, 1064 | 10.0, 20.0, 30.0 | 0.125, 0.250, 0.375, 0.500 | 10ps | 80MHz | Active |
| | Jenlas Fiber ns 25-105 | Pulsed DPSS Lasers, Pulsed Fiber Lasers | 1085 | 20.0, 30.0, 55.0, 100.0 | 700.0, 1000.0, 1100.0 | 125ns | 30kHz to 80kHz, 50kHz to 100kHz, 100kHz to 200kHz | Active |