Pulsed Fiber Lasers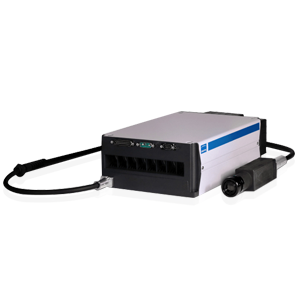 Pulsed Fiber Laser sources are a specific subset of DPSS lasers. Instead of a crystal, these lasers utilize a doped fiber optic cable as the gain medium. Typically they are doped with rare-earth elements, such as erbium (Er), ytterbium (Yb), or neodymium (Nd), just like the crystals used in most DPSS laser systems.
Fiber lasers have several advantages over traditional DPSS lasers. Some of these advantages derive from the geometry of the fiber optic itself, namely, the innate ability to have an extremely long single-mode optical cavity. This geometry produces either extremely high-power single-mode lasers exhibiting unprecedented brightness or extremely narrow band lasers with near-perfectly single-frequency output. Another advantage is that the fiber medium is flexible, which makes it easier to deliver the beam exactly where you need it. This ability can be highly advantageous when dealing with complex geometries and tight spaces.
Since the fiber optic acts as a gain medium, several kilometers long in some cases, fiber lasers benefit from the high optical gain and can provide much higher output powers compared to some other laser types. The extremely high surface area to volume ratio provides the inherent ability to efficiently remove heat generated, allowing continuous output of kilowatt levels of output power. The waveguide properties of the optical fiber mitigate thermal distortion, producing high-quality, near-diffraction-limited or better optical beam output (i.e., better beam quality).
Fiber lasers tend to be more compact when compared to typical solid-state or gas lasers with a comparable power level, because of the ability of the fiber to be coiled up, allowing a considerable amount of gain media to be confined in a small space. Fiber lasers generally have a lower cost of ownership since they are air-cooled and require little to no maintenance. These lasers are also highly reliable, with stable operation in high temperature and vibration prone environments.
Our Products
Our pulsed fiber lasers are q-switched or mode locked, providing repetition rates from single-shot up to 80 MHz, pulse widths (pulse durations) from 125ns down to 100fs, with pulse energy ranging from 25nJ up to over 1mJ, average output powers ranging from 150mW to 100W, and are available in wavelengths ranging from 1565nm (short-wave infrared or SWIR) down to 532nm (green) through the use of second harmonic generation. OEM laser packages and modules are available.
Our pulsed fiber lasers are used in a wide range of applications including multi-photon microscopy, optogenetics, fluorescence lifetime, 3D scanning, LiDAR, micromachining, surface treatment, thin film removal, welding, and many more!
Let Us Help
In conclusion, if you have any questions, or if you would like some assistance please contact us here. Furthermore, you can call us at 636.272.7227 to talk to a knowledgeable Product Manager. Alternatively, you can also use the filters on this page, or check out our 'How to Select a Pulsed Laser' page to assist in narrowing down the selection. Finally, head to our Knowledge Center with our Lasers 101 page and Blogs and Whitepapers pages for further, in-depth reading.
Suggested Reading
Check out this blog, titled "Advantages of Two-Photon Microscopy Utilizing Femtosecond Fiber Lasers," for further reading on the benefits of pulsed fiber lasers compared to older and more bulky & expensive Ti:Sapphire lasers.
To learn about pulsed fiber lasers for Laser Induced Breakdown Spectroscopy, check out this blog, titled "Fiber Lasers for Industrial LIBS Applications."
Read this whitepaper, titled "Single-Frequency Fiber Lasers for Doppler LIDAR," for further reading about pulsed fiber lasers for Doppler LIDAR.
| | | | | | | | | |
| --- | --- | --- | --- | --- | --- | --- | --- | --- |
| | 1.5um NLW Pulsed Fiber Lasers | Pulsed Fiber Lasers | 1540-1565 | 2.0 | 100.0 | 50 Nanosecond Lasers | 20kHz to 500kHz | |
| | 1.5um Pulsed Fiber Lasers | Pulsed Fiber Lasers | 1540-1560 | 0.150, 1.0, 5.0 | 5.0, 25.0, 80.0 | 400 Picosecond Lasers, 50 Nanosecond Lasers | 5kHz, 1MHz, 2MHz | |
| | 1um Pulsed Fiber Lasers | Pulsed Fiber Lasers | 1030-1100 | 5.0 | 150.0 | 400 Picosecond Lasers, 50 Nanosecond Lasers | 10kHz, 100kHz, 1MHz | Active |
| | ALCOR 1064 | Pulsed DPSS Lasers, Pulsed Fiber Lasers, Ultrafast Lasers | 1064 | 2.0, 5.0 | 0.025, 0.062 | 100 Femtosecond Lasers, 110 Femtosecond Lasers | 80MHz (Optional: 40MHz) | Active |
| | ALCOR 520 | Pulsed DPSS Lasers, Pulsed Fiber Lasers, Ultrafast Lasers | 520 | 0.800, 2.0 | 0.025 | 180 Femtosecond Lasers | 80MHz (Optional: 40MHz) | Active |
| | ALCOR 780 | Pulsed DPSS Lasers, Pulsed Fiber Lasers, Ultrafast Lasers | 780 | 0.800 | 0.010 | 150 Femtosecond Lasers | 80MHz (Optional: 40MHz) | Active |
| | ALCOR 920 | Pulsed DPSS Lasers, Pulsed Fiber Lasers, Ultrafast Lasers | 920 | 1.0, 2.0, 4.0 | 0.0125, 0.025, 0.050 | 100 Femtosecond Lasers, 110 Femtosecond Lasers, 130 Femtosecond Lasers | 80MHz (Optional: 40MHz) | Active |
| | ALCOR Dual | Pulsed DPSS Lasers, Pulsed Fiber Lasers, Ultrafast Lasers | 920/1064 | 1.0, 2.0 | 0.0125, 0.025 | 100 Femtosecond Lasers, 110 Femtosecond Lasers, 130 Femtosecond Lasers | 80MHz (Optional: 40MHz) | Active |
| | Altair | Pulsed DPSS Lasers, Pulsed Fiber Lasers, Ultrafast Lasers | 1040 | 10.0, 20.0 | 0.125, 0.250, 1.0 | 150 Femtosecond Lasers, 250 Femtosecond Lasers | 30MHz, 80MHz, Single shot to 40MHz | Active |
| | Antares | Pulsed DPSS Lasers, Pulsed Fiber Lasers, Ultrafast Lasers | 1030, 1064 | 10.0, 20.0, 30.0 | 0.125, 0.250, 0.375, 0.500 | 10 Picosecond Lasers | 80MHz | Active |
| | Jenlas Fiber ns 25-105 | Pulsed DPSS Lasers, Pulsed Fiber Lasers | 1085 | 20.0, 30.0, 55.0, 100.0 | 700.0, 1000.0, 1100.0 | 125 Nanosecond Lasers | 30kHz to 80kHz, 50kHz to 100kHz, 100kHz to 200kHz | Active |