Pulsed Fiber Lasers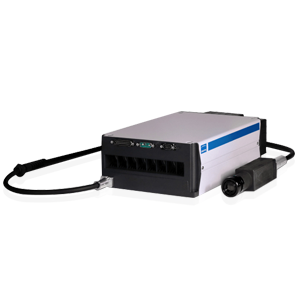 Our pulsed fiber lasers are q-switched or mode locked, providing pulse widths from 125ns down to 100fs, with pulse energy ranging from 25nJ up to over 1mJ, average output powers ranging from 150mW to 100W, and are available in wavelengths ranging from 1565nm (short-wave infrared or SWIR) down to 532nm (green) through the use of second harmonic generation. OEM laser packages and modules are available.
Pulsed Fiber Laser sources are a specific subset of DPSS lasers where instead of a crystal being used as the gain medium a doped fiber optic cable is used. Typically they are doped with rare-earth elements, such as erbium, ytterbium, or neodymium just like the crystals used in most DPSS laser systems.
Fiber lasers have several advantages over traditional DPSS lasers, all of which are derived from the geometry of the fiber optic itself, namely the innate ability to have an extremely long single-mode optical cavity.  This geometry allows for the production of either extremely high-power single-mode lasers producing unprecedented brightness, or extremely narrow band lasers with near perfectly single frequency output.
Our pulsed fiber lasers are used in a wide range of applications including multi-photon microscopy, optogenetics, fluorescence lifetime, 3D scanning, LiDAR, micromachining, surface treatment, thin film removal, welding, and many more!
If you have any questions, or if you would like some assistance please contact us to talk to a knowledgeable Product Manager. You can also use the filters on this page, or check out our 'How to Select a Pulsed Laser' page to assist in narrowing down the selection, or head to our Knowledge Center with our Lasers 101 page and Blogs and Whitepapers pages for further, in-depth reading.
Check out this blog, titled "Advantages of Two-Photon Microscopy Utilizing Femtosecond Fiber Lasers," for further reading on the benefits of pulsed fiber lasers compared to older and more bulky & expensive Ti:Sapphire lasers.
To learn about pulsed fiber lasers for Laser Induced Breakdown Spectroscopy, check out this blog, titled "Fiber Lasers for Industrial LIBS Applications."
Read this whitepaper, titled "Single-Frequency Fiber Lasers for Doppler LIDAR," for further reading about pulsed fiber lasers for Doppler LIDAR.
| | | | | | | | | |
| --- | --- | --- | --- | --- | --- | --- | --- | --- |
| | 1.5um NLW Pulsed Fiber Lasers | Pulsed Fiber Lasers | 1540-1565 | 2.0 | 100.0 | 50ns | 20kHz to 500kHz | |
| | 1.5um Pulsed Fiber Lasers | Pulsed Fiber Lasers | 1540-1560 | 0.150, 1.0, 5.0 | 5.0, 25.0, 80.0 | 400ps, 50ns | 2MHz, 5kHz, 1MHz | |
| | 1um Pulsed Fiber Lasers | Pulsed Fiber Lasers | 1030-1100 | 5.0 | 150.0 | 400ps, 50ns | 10kHz, 100kHz, 1MHz | Active |
| | ALCOR 1064 | Pulsed DPSS Lasers, Pulsed Fiber Lasers, Ultrafast Lasers | 1064 | 2.0, 5.0 | 0.025, 0.062 | 100fs, 110fs | 80MHz (Optional: 40MHz) | Active |
| | ALCOR 532 | Pulsed DPSS Lasers, Pulsed Fiber Lasers, Ultrafast Lasers | 532 | 0.800, 2.0 | 0.025 | 100fs | 80MHz (Optional: 40MHz) | Active |
| | ALCOR 920 | Pulsed DPSS Lasers, Pulsed Fiber Lasers, Ultrafast Lasers | 920 | 1.0, 2.0, 4.0 | 0.0125, 0.025, 0.050 | 100fs, 110fs, 130fs | 80MHz (Optional: 40MHz) | Active |
| | ALCOR Dual | Pulsed DPSS Lasers, Pulsed Fiber Lasers, Ultrafast Lasers | 920/1064 | 1.0, 2.0 | 0.0125, 0.025 | 100fs, 110fs, 130fs | 80MHz (Optional: 40MHz) | Active |
| | Altair | Pulsed DPSS Lasers, Pulsed Fiber Lasers, Ultrafast Lasers | 1035 | 10.0, 20.0 | 0.125, 0.250, 1.0 | 150fs, 250fs | 30MHz, 80MHz, Single shot to 40MHz | Active |
| | Antares | Pulsed DPSS Lasers, Pulsed Fiber Lasers, Ultrafast Lasers | 1030, 1064 | 10.0, 20.0, 30.0 | 0.125, 0.250, 0.375, 0.500 | 10ps | 80MHz | Active |
| | Jenlas Fiber ns 25-105 | Pulsed DPSS Lasers, Pulsed Fiber Lasers | 1085 | 20.0, 30.0, 55.0, 100.0 | 700.0, 1000.0, 1100.0 | 125ns | 30kHz to 80kHz, 50kHz to 100kHz, 100kHz to 200kHz | Active |