UV Lasers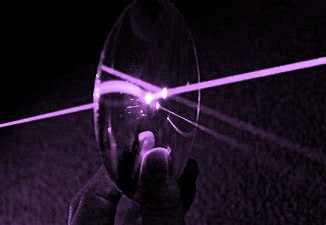 Ultraviolet (UV) lasers offer extremely high photon energy, which opens up a wide range of applications that visible and infrared laser sources can't address. The most common UV laser sources are the third and fourth harmonics on Nd: YAG providing 355 nm and 266 nm wavelengths, respectively. It's important to point out that while 355 nm and 266 nm are the most common UV laser wavelengths, several other Nd: YAG lines can be frequency doubled and tripled, producing a large selection of alternate UV wavelengths. To achieve these higher-order harmonics, the electric field density of the laser must be extremely high. As a result, these lasers are primarily available with q-switching capability. Continuous-wave (CW) UV laser diodes are also available at 375 nm, with single-mode and multi-mode beam profiles and free-space or fiber-coupled outputs.
UV Laser Products
We offer many different laser types with UV output, including Single Emitter Laser Diodes, Laser Diode Modules, CW DPSS Lasers, Pulsed DPSS Lasers, Microchip Lasers, MIL-Spec Lasers, and Micromachining Systems. Our UV products are available with up to 20 W average power, options for single-mode or multimode, free-space or fiber-coupled output, and various packaging options and integration levels from component to OEM to turnkey systems.
Some UV Applications
Some popular UV applications include Micromachining, Laser-Induced Breakdown Spectroscopy (LIBS), Fluorescence Lifetime, Raman Spectroscopy, and many others.
Let Us Help!
In conclusion, if you have any questions or would like some assistance, don't hesitate to get in touch with us here. Furthermore, you can call us at 636.272.7227 to talk to a knowledgeable Product Manager. Alternatively, you can also use the filters on this page to assist in narrowing down the selection. Finally, head to our Knowledge Center, with our Lasers 101 page and Blogs and Whitepapers pages, for further, in-depth reading.
| | | | | | | | | | | |
| --- | --- | --- | --- | --- | --- | --- | --- | --- | --- | --- |
| | 320 NX | CW DPSS Lasers | 320 | 0.050, 0.100, 0.200 | Single-Mode Lasers | Free Space | Narrow | | | |
| | 349 NX | CW DPSS Lasers | 349 | 0.050, 0.100, 0.200 | Single-Mode Lasers | Free Space | Narrow | | | |
| | Aero-266 | Pulsed DPSS Lasers | 266 | 0.600 | | | | 6000.0, 12000.0 | 20ns | Single Shot to 50Hz, Single Shot to 100Hz |
| | Aero-355 | Pulsed DPSS Lasers | 355, 355/532/1064 | 1.0 | | | | 10000.0, 20000.0 | 20ns | Single Shot to 50Hz, Single Shot to 100Hz |
| | AIRTRAC-6M | Pulsed DPSS Lasers, Mil-Spec Lasers | 355, 532, 1064 | 1.2 | | | | 40000.0 | 6ns | 0-30Hz |
| | CEUV Series | Pulsed DPSS Lasers | 266, 355, 532, 1064 | 5.0, 10.0, 20.0 | | | | 500.0, 1000.0, 2000.0 | 3ns | 10kHz to 1MHz |
| | HL375 | Single Emitter | 375 | 0.200 | Multimode | Free Space | | | | |
| | LBX-375-HPE | LD Module | 375 | 0.200, 0.400 | Multimode | Free Space, MM Fiber | | | | |
| | LBX-375 | LD Module | 375 | 0.070 | Single-Mode Lasers | Free Space, MM Fiber, SM Fiber, PM Fiber | | | | |
| | LBX-395 | LD Module | 375 | 0.120 | Single-Mode Lasers | Free Space, MM Fiber, SM Fiber, PM Fiber | | | | |
| | Onda 266nm | Pulsed DPSS Lasers | 266 | 0.800 | | | | 80.0 | 2ns - 6ns | Single shot to 1kHz, Single shot to 50kHz |
| | Onda 355nm | Pulsed DPSS Lasers | 355 | 0.300 | | | | 150.0 | 3ns | Single shot to 2kHz |
| | Q-TUNE | Pulsed DPSS Lasers, Tunable Lasers | Tunable | 0.200 | | | | 8000.0 | 5ns | 10Hz, 33Hz, 100Hz |
| | Quantas-Q-SHIFT-291 | Pulsed DPSS Lasers | 291 | 0.075, 0.120, 0.150 | | | | 750.0, 1500.0, 3000.0, 4500.0, 6000.0, 7500.0 | 2ns - 5ns | 10Hz, 20Hz, 33Hz, 50Hz, 100Hz |
| | Quantas-Q-SHIFT-294 | Pulsed DPSS Lasers | 294 | 0.075, 0.120, 0.150 | | | | 750.0, 1500.0, 3000.0, 4500.0, 6000.0, 7500.0 | 2ns - 5ns | 10Hz, 20Hz, 33Hz, 50Hz, 100Hz |
| | Quantas-Q-SHIFT-325 | Pulsed DPSS Lasers | 325 | 0.045, 0.072, 0.090 | | | | 450.0, 900.0, 1800.0, 2700.0, 3600.0, 4500.0 | 2ns - 5ns | 10Hz, 20Hz, 33Hz, 50Hz, 100Hz |
| | Quantas-Q-SHIFT-329 | Pulsed DPSS Lasers | 329 | 0.045, 0.072, 0.090 | | | | 450.0, 900.0, 1800.0, 2700.0, 3600.0, 4500.0 | 2ns - 5ns | 10Hz, 20Hz, 33Hz, 50Hz, 100Hz |
| | Quantas-Q-SHIFT-388 | Pulsed DPSS Lasers | 388 | 0.125, 0.200, 0.250 | | | | 1250.0, 2500.0, 5000.0, 7500.0, 10000.0, 12500.0 | 2ns - 5ns | 10Hz, 20Hz, 33Hz, 50Hz, 100Hz |
| | Quantas-Q-SHIFT-388 | Pulsed DPSS Lasers | 388 | 0.060, 0.096, 0.120 | | | | 600.0, 1200.0, 2400.0, 3600.0, 4800.0, 6000.0 | 2ns - 5ns | 10Hz, 20Hz, 33Hz, 50Hz, 100Hz |
| | Quantas-Q-SHIFT-WXXXX | Pulsed DPSS Lasers | Multiple Wavelength Options | Varies | | | | Varies | 2ns - 5ns | 100Hz |
| | Quantas-Q-SPARK-266 | Pulsed DPSS Lasers | 266 | 0.010 | | | | 1500.0 | 2ns | 20Hz |
| | Quantas-Q-SPARK-355 | Pulsed DPSS Lasers | 355 | 0.010 | | | | 2500.0 | 2ns | 20Hz |
| | Quantas-Q1-211 | Pulsed DPSS Lasers | 211 | 0.005, 0.008, 0.010, 0.014, 0.024, 0.025 | | | | 100.0, 200.0, 400.0, 500.0, 700.0, 1000.0, 1200.0, 2500.0 | 10ns | Single Shot to 10Hz, Single Shot to 20Hz, Single Shot to 50Hz |
| | Quantas-Q1-213 | Pulsed DPSS Lasers | 213 | 0.005, 0.008, 0.010, 0.014, 0.020, 0.024, 0.025 | | | | 100.0, 200.0, 400.0, 500.0, 700.0, 1000.0, 1200.0, 2000.0 | 10ns | Single Shot to 10Hz, Single Shot to 20Hz, Single Shot to 50Hz |
| | Quantas-Q1-263 | Pulsed DPSS Lasers | 263 | 0.015, 0.020, 0.030, 0.036, 0.060, 0.070, 0.075 | | | | 300.0, 700.0, 1000.0, 1500.0, 1800.0, 3000.0, 7000.0 | 10ns | Single Shot to 10Hz, Single Shot to 20Hz, Single Shot to 50Hz |
| | Quantas-Q1-266 | Pulsed DPSS Lasers | 266 | 0.015, 0.020, 0.030, 0.036, 0.050, 0.060, 0.075 | | | | 300.0, 700.0, 1000.0, 1500.0, 1800.0, 3000.0, 5000.0 | 10ns | Single Shot to 10Hz, Single Shot to 20Hz, Single Shot to 50Hz |
| | Quantas-Q1-351 | Pulsed DPSS Lasers | 355 | 0.030, 0.050, 0.060, 0.075, 0.100, 0.130, 0.150 | | | | 600.0, 1500.0, 2500.0, 3000.0, 5000.0, 6000.0, 7500.0, 13000.0 | 10ns | Single Shot to 10Hz, Single Shot to 20Hz, Single Shot to 50Hz |
| | Quantas-Q1-355 | Pulsed DPSS Lasers | 355 | 0.030, 0.050, 0.060, 0.075, 0.100, 0.150 | | | | 600.0, 1500.0, 2500.0, 3000.0, 5000.0, 6000.0, 7500.0, 10000.0 | 10ns | Single Shot to 10Hz, Single Shot to 20Hz, Single Shot to 50Hz |
| | Quantas-Q2-211 | Pulsed DPSS Lasers | 211 | 0.035, 0.060, 0.080, 0.120 | | | | 20.0, 500.0, 1000.0, 1800.0, 2500.0, 3000.0, 5000.0 | 5ns, 6ns, 7ns, 8ns | 10Hz, 20Hz, 33.3Hz, 50Hz |
| | Quantas-Q2-213 | Pulsed DPSS Lasers | 213 | 0.060, 0.075, 0.080, 0.120, 0.150 | | | | 20.0, 500.0, 1000.0, 1800.0, 2500.0, 3000.0, 5000.0 | 5ns, 6ns, 7ns, 8ns, 10ns | 10Hz, 20Hz, 33.3Hz, 50Hz, 100Hz, 200Hz |
| | Quantas-Q2-263 | Pulsed DPSS Lasers | 263 | 0.110, 0.200, 0.300, 0.330 | | | | 100.0, 1500.0, 5000.0, 6000.0, 10000.0, 12000.0 | 5ns, 6ns, 7ns, 8ns | 10Hz, 20Hz, 33.3Hz, 50Hz |
| | Quantas-Q2-266 | Pulsed DPSS Lasers | 266 | 0.160, 0.200, 0.250, 0.500, 0.600 | | | | 100.0, 5000.0, 6000.0, 8000.0, 12000.0 | 5ns, 6ns, 7ns, 8ns, 10ns | 20Hz, 33.3Hz, 50Hz, 100Hz, 200Hz |
| | Quantas-Q2-351 | Pulsed DPSS Lasers | 351 | 0.200, 0.500, 0.600, 1.0 | | | | 300.0, 3000.0, 12000.0, 15000.0, 18000.0, 20000.0, 30000.0 | 5ns, 6ns, 7ns, 8ns | 10Hz, 20Hz, 33.3Hz, 50Hz |
| | Quantas-Q2-355 | Pulsed DPSS Lasers | 355 | 0.340, 0.500, 0.600, 1.0, 1.2 | | | | 300.0, 4000.0, 12000.0, 15000.0, 18000.0, 20000.0 | 5ns, 6ns, 7ns, 8ns, 10ns | 20Hz, 33.3Hz, 50Hz, 100Hz, 200Hz |
| | Quantas-Q2HE-211 | Pulsed DPSS Lasers | 211 | 0.050, 0.075, 0.080 | | | | 1500.0, 4000.0, 5000.0 | 6ns | 10Hz, 20Hz, 50Hz |
| | Quantas-Q2HE-213 | Pulsed DPSS Lasers | 213 | 0.040, 0.070, 0.075, 0.150 | | | | 1500.0, 3000.0, 3500.0, 4000.0 | 6ns | 10Hz, 20Hz, 50Hz, 100Hz |
| | Quantas-Q2HE-263 | Pulsed DPSS Lasers | 263 | 0.180, 0.250, 0.300 | | | | 5000.0, 15000.0, 18000.0 | 6ns | 10Hz, 20Hz, 50Hz |
| | Quantas-Q2HE-266 | Pulsed DPSS Lasers | 266 | 0.600 | | | | 5000.0, 10000.0 | 7ns | 20Hz, 50Hz, 100Hz |
| | Quantas-Q2HE-351 | Pulsed DPSS Lasers | 351 | 0.350, 0.600 | | | | 12000.0, 30000.0, 35000.0 | 6ns | 10Hz, 20Hz, 50Hz |
| | Quantas-Q2HE-355 | Pulsed DPSS Lasers | 355 | 0.300, 0.500, 0.600, 1.0, 1.2 | | | | 12000.0, 20000.0, 25000.0, 30000.0 | 6ns | 10Hz, 20Hz, 50Hz, 100Hz |
| | Quantas-Q2HE-XXX-XXXX | Pulsed DPSS Lasers | Multiple Wavelength Options | Varies | | | | Varies | Varies | 100Hz |
| | RWLP-375M | Single Emitter | 375 | 0.100 | Multimode | MM Fiber | | | | |
| | RWLP-395M | Single Emitter | 395 | 0.200 | Multimode | MM Fiber | | | | |
| | SB1-236.5 | Pulsed DPSS Lasers, Microchip Lasers | 236.5 | 0.001 | | | | 0.200, 2.0 | 2ns | 500Hz, 5kHz |
| | SB1-266 | Pulsed DPSS Lasers, Microchip Lasers | 266 | 0.002, 0.005 | | | | 0.500, 1.0, 2.0 | 1.3ns | 1kHz, 5kHz, 10kHz |
| | SB1-355 | Pulsed DPSS Lasers, Microchip Lasers | 355 | 0.010 | | | Narrow | 1.0 | 1.3ns | 5kHz, 10kHz |
| | SOL-355 | Pulsed DPSS Lasers | 355 | 4.0 | | | | 650.0 | 15ns - 35ns | Single Shot to 100kHz |
| | Wedge-HB/XB 266 | Pulsed DPSS Lasers | 266 | 0.300, 0.500 | | | | 150.0, 500.0 | 1.5ns, 1.8ns | Single shot to 2kHz |
| | Wedge-HB/XB 355 | Pulsed DPSS Lasers | 355 | 0.400, 0.600 | | | | 200.0, 600.0 | 1.2ns, 1.5ns | Single shot to 1kHz, Single shot to 2kHz |
| | Wedge-HF/XF 266 | Pulsed DPSS Lasers | 266 | 0.050, 0.180 | | | | 5.0, 15.0 | 400ps - 700ps, 500ps - 1ns | 10kHz to 50kHz |
| | Wedge-HF/XF 355 | Pulsed DPSS Lasers | 355 | 0.800 | | | | 40.0 | 500ps - 1ns | 10kHz to 50kHz |