Quantas-Q-SHIFT-WXXXX
DPSS Laser, ns Pulsed, 291 nm to 1571 nm, High Energy Laser Series
Key Features:
1163, 1177, 1300, 1317, 1551 and 1571nm options
High peak power pulses up to 50mJ
High average power up to 1W
Air-cooled – water-free
High-speed triggering
>0.5ns RMS jitter
There are many configurations and options available. If you do not see exactly what you need below, please contact us!
Need Quantities?  Use Get Quote to get volume pricing!
Configurations:
| Part Number | Part Description | Datasheet | Price | Lead Time | |
| --- | --- | --- | --- | --- | --- |
| Quantas-Q-SHIFT-WXXXX | DPSS Laser, ns Pulsed, 291 nm to 1571 nm, High Energy Laser Series | | | 6-10 weeks | Get Quote |
The Quantas-Q-SHIFT family of Q-switched DPSS lasers feature a built‑in nonlinear wavelength conversion stage, allowing the production of wavelengths that are not accessible with conventional solid-state laser sources, including 1163, 1177, 1300, 1317, 1551 and 1571nm. An optional harmonics generator is also available for for the Q-SHIFT, allowing generation of up to the 4th harmonic for each fundamental wavelength.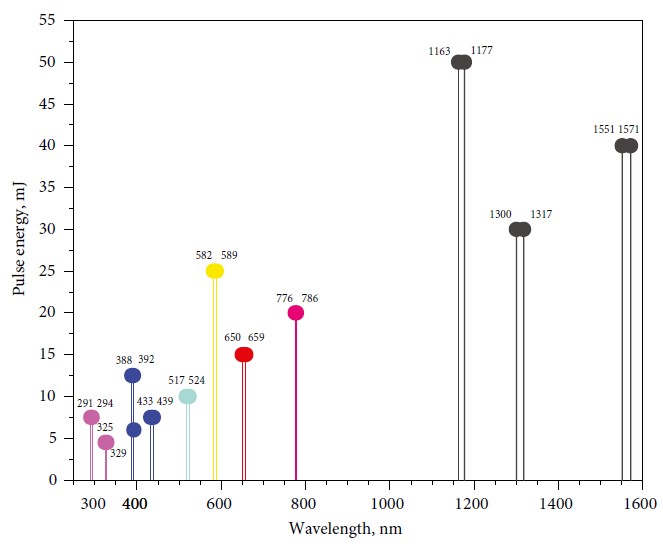 This air-cooled series of lasers builds on the Q2 and Q2HE series and the guaranteed > 2 G shot lifetime, utilizing the same time tested Nd:YAG and Nd:YLF lasers as pump sources. It provides high-speed triggering pulses with RMS jitter > 0.5 ns with respect to Q-switch triggering edge of the pulse and both internal and external triggering. The Quantas-Q-SHIFT laser is controlled via a built-in Ethernet port with the option to add Wi-Fi adapter, allowing users to monitor and control laser remotely.
Due to a short laser cavity and excellent thermal properties of the crystal, this series produces high peak intensity pulses (up to 50mJ @ 1163 or 1177nm), with typical pulse durations from 2-5ns, and a repetition rate up to 100Hz, even at visible wavelengths (blue, yellow and red) when the Quantas-Q-SHIFT laser is combined with our attachable SHG or stand-alone H-SMART harmonic generator. This laser's functionality can be further extended by auxiliary equipment, including an attachable motorized attenuator for fundamental wavelength beam, attachable pulse energy monitor with analog and/or digital output, and a stand-alone two-channel pulse generator.
The tables below show configurations by Wavelength, Rep. Rate, and Pulse Energy.
Check out the datasheet for expanded tables and more technical information.
1163 & 1177nm Basic Configuration Table:
1300 & 1317nm Basic Configuration Table:
1551 & 1571nm Basic Configuration Table:
| | |
| --- | --- |
| Type | |
| Wavelength (nm) | |
| Output power (W) | |
| Pulse energy (uJ) | |
| Pulse width | |
| Rep rate | |
| Q-switch type | |