Machine Vision Lasers
Machine Vision Lasers: Machine vision refers to the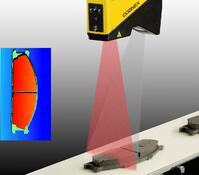 process of utilizing active imaging technologies to automate inspection and analysis for process control and robot guidance in industrial applications.  Machine vision lasers are used as structured lighting in many image processing systems, offering several exciting opportunities for automation and quality control.  These lasers are used to detect defects as well as to measure diameters, edges, gaps.  This enables automated systems to subsequently measure and align them, including the spatially contorted and oddly shaped objects.  These lasers are typically beam shaped into lines, dots, and other geometric patterns (such as crosses, circles, and grids) and they can come in a wide variety of wavelengths and powers depending on the systems requirements.  On this page, you will find a list of all of the full range of lasers we offer for these applications.
RPMC has years of experience supporting Machine Vision applications, helping industry professionals select the right tool for the job.
Contact Us today to let one of our knowledgeable Product Managers assist you!
| | | | | | | | | | |
| --- | --- | --- | --- | --- | --- | --- | --- | --- | --- |
| | 1.5um CW/CW Modulated Fiber Lasers | CW Fiber Lasers | 2.0, 5.0, 30.0 | Single-Mode Lasers | SM Fiber, PM Fiber | | | | |
| | 1um CW/CW Modulated Fiber Lasers | CW Fiber Lasers | 60.0, 100.0 | Single-Mode Lasers | SM Fiber, PM Fiber | | | | |
| | 1um Pulsed Fiber Lasers | Pulsed Fiber Lasers | 5.0 | | | | 150.0 | 400ps, 50ns | 10kHz, 100kHz, 1MHz |
| | 2um CW/CW Modulated Fiber Lasers | CW Fiber Lasers | 4.0, 40.0 | Single-Mode Lasers | SM Fiber, PM Fiber | | | | |
| | HL633 | Single Emitter | 0.100 | Single-Mode Lasers | Free Space | | | | |
| | HL637 | Single Emitter | 0.007, 0.120, 0.250, 0.450, 1.0, 1.2 | Single-Mode Lasers, Multimode | Free Space | | | | |
| | HL638 | Single Emitter | 0.005, 0.007, 0.010, 0.015, 0.120, 0.170, 0.200, 0.700, 1.5, 2.2, 2.4 | Single-Mode Lasers, Multimode | Free Space | | | | |
| | HL639 | Single Emitter | 0.010, 0.012, 0.020, 0.025, 0.030, 0.200, 0.210 | Single-Mode Lasers | Free Space | | | | |
| | HL640 | Single Emitter | 0.045 | Single-Mode Lasers | Free Space | | | | |
| | HL642 | Single Emitter | 0.065, 0.090, 0.150 | Single-Mode Lasers | Free Space | | | | |
| | HL649 | Single Emitter | 0.150 | Single-Mode Lasers | Free Space | | | | |
| | HL658 | Single Emitter | 0.035, 0.085 | Single-Mode Lasers | Free Space | | | | |
| | HL659 | Single Emitter | 1.2 | Multimode | Free Space | | | | |
| | HL670 | Single Emitter | 0.010, 0.015 | Single-Mode Lasers | Free Space | | | | |
| | HL675 | Single Emitter | 0.210 | Single-Mode Lasers | Free Space | | | | |
| | HL685 | Single Emitter | 0.055 | Single-Mode Lasers | Free Space | | | | |
| | HL690 | Single Emitter | 0.035, 0.210 | Single-Mode Lasers | Free Space | | | | |
| | LBX-750-HPE | LD Module | 1.2 | Multimode | Free Space, MM Fiber | | | | |
| | LBX-785-HPE | LD Module | 0.800 | Multimode | Free Space, MM Fiber | | | | |
| | LBX-830-HPE | LD Module | 1.2 | Multimode | Free Space, MM Fiber | | | | |
| | LBX-940-HPE | LD Module | 0.800 | Multimode | Free Space, MM Fiber | | | | |
| | LDX-XXXX-1030 | Single Emitter | 3.0, 5.0 | Multimode | Free Space, MM Fiber | | | | |
| | LDX-XXXX-1064 | Single Emitter | 1.5, 3.0, 5.0 | Multimode | Free Space, MM Fiber | | | | |
| | LDX-XXXX-1120 | Single Emitter | 2.0, 3.5, 5.0 | Multimode | Free Space, MM Fiber | | | | |
| | LDX-XXXX-1210 | Single Emitter | 1.5, 2.0 | Multimode | Free Space, MM Fiber | | | | |
| | LDX-XXXX-1280 | Single Emitter | 3.5, 5.0, 7.0 | Multimode | Free Space, MM Fiber | | | | |
| | LDX-XXXX-1370 | Single Emitter | 3.5, 5.0 | Multimode | Free Space, MM Fiber | | | | |
| | LDX-XXXX-1470 | Single Emitter | 3.5, 5.0, 7.0 | Multimode | Free Space, MM Fiber | | | | |
| | LDX-XXXX-1550 | Single Emitter | 0.800, 1.0, 1.5, 1.75, 2.5, 3.5, 5.0 | Multimode | Free Space, MM Fiber | | | | |
| | LDX-XXXX-1620 | Single Emitter | 1.0 | Multimode | Free Space, MM Fiber | | | | |
| | LDX-XXXX-1640 | Single Emitter | 1.2 | Multimode | Free Space, MM Fiber | | | | |
| | LDX-XXXX-1675 | Single Emitter | 2.0 | Multimode | Free Space, MM Fiber | | | | |
| | LDX-XXXX-1850 | Single Emitter | 1.0 | Multimode | Free Space, MM Fiber | | | | |
| | LDX-XXXX-445 | Single Emitter | 3.5 | Multimode | Free Space, MM Fiber | | | | |
| | LDX-XXXX-520 | Single Emitter | 1.0 | Multimode | Free Space, MM Fiber | | | | |
| | LDX-XXXX-622 | Single Emitter | 0.150 | Multimode | Free Space, MM Fiber | | | | |
| | LDX-XXXX-627 | Single Emitter | 0.250, 0.350 | Multimode | Free Space, MM Fiber | | | | |
| | LDX-XXXX-630 | Single Emitter | 0.250, 0.400 | Multimode | Free Space, MM Fiber | | | | |
| | LDX-XXXX-635 | Single Emitter | 0.300, 0.400, 0.600, 1.2 | Multimode | Free Space, MM Fiber | | | | |
| | LDX-XXXX-645 | Single Emitter | 0.300, 0.400 | Multimode | Free Space, MM Fiber | | | | |
| | LDX-XXXX-650 | Single Emitter | 1.0 | Multimode | Free Space, MM Fiber | | | | |
| | LDX-XXXX-660 | Single Emitter | 0.350, 0.750, 1.0, 2.0 | Multimode | Free Space, MM Fiber | | | | |
| | LDX-XXXX-665 | Single Emitter | 0.350, 0.750, 1.0, 2.0 | Multimode | Free Space, MM Fiber | | | | |
| | LDX-XXXX-680 | Single Emitter | 0.400, 0.800, 1.2, 2.0 | Multimode | Free Space, MM Fiber | | | | |
| | LDX-XXXX-685 | Single Emitter | 0.400, 0.800, 1.2, 2.0 | Multimode | Free Space, MM Fiber | | | | |
| | LDX-XXXX-690 | Single Emitter | 0.400, 0.750, 1.1 | Multimode | Free Space, MM Fiber | | | | |
| | LDX-XXXX-735 | Single Emitter | 1.0, 1.75, 2.0, 4.0 | Multimode | Free Space, MM Fiber | | | | |
| | LDX-XXXX-750 | Single Emitter | 1.0, 2.0, 3.0, 5.0 | Multimode | Free Space, MM Fiber | | | | |
| | LDX-XXXX-760 | Single Emitter | 1.0, 2.0, 3.0, 6.0 | Multimode | Free Space, MM Fiber | | | | |
| | LDX-XXXX-780 | Single Emitter | 1.2, 2.5, 3.5, 5.0 | Multimode | Free Space, MM Fiber | | | | |
| | LDX-XXXX-785 | Single Emitter | 3.5, 5.0 | Multimode | Free Space, MM Fiber | | | | |
| | LDX-XXXX-792 | Single Emitter | 1.2, 2.5, 3.5 | Multimode | Free Space, MM Fiber | | | | |
| | LDX-XXXX-797 | Single Emitter | 3.0, 4.0 | Multimode | Free Space, MM Fiber | | | | |
| | LDX-XXXX-808 | Single Emitter | 1.2, 2.0, 3.0, 4.0, 6.0, 10.0 | Multimode | Free Space, MM Fiber | | | | |
| | LDX-XXXX-825 | Single Emitter | 4.0 | Multimode | Free Space, MM Fiber | | | | |
| | LDX-XXXX-830 | Single Emitter | 1.6 | Multimode | Free Space, MM Fiber | | | | |
| | LDX-XXXX-860 | Single Emitter | 1.0, 1.5, 2.0, 3.0, 4.0, 5.0 | Multimode | Free Space, MM Fiber | | | | |
| | LDX-XXXX-885 | Single Emitter | 2.5, 6.0 | Multimode | Free Space, MM Fiber | | | | |
| | LDX-XXXX-900 | Single Emitter | 2.0 | Multimode | Free Space, MM Fiber | | | | |
| | LDX-XXXX-915 | Single Emitter | 3.0, 6.0, 10.0 | Multimode | Free Space, MM Fiber | | | | |
| | LDX-XXXX-940 | Single Emitter | 3.0, 5.0, 6.0, 16.0 | Multimode | Free Space, MM Fiber | | | | |
| | LDX-XXXX-960 | Single Emitter | 10.0 | Multimode | Free Space, MM Fiber | | | | |
| | LDX-XXXX-980 | Single Emitter | 1.5, 4.0, 5.0, 6.0, 10.0 | Multimode | Free Space, MM Fiber | | | | |
| | RHAML-XXXX-YY-Z-E | LD Module, Line Modules | 0.100 | Single-Mode Lasers | Free Space, Line | | | | |
| | RHAML-XXXX-YY-Z | LD Module, Line Modules | 0.100 | Single-Mode Lasers | Free Space, Line | | | | |
| | RML126FC | LD Module | 0.100 | Single-Mode Lasers | SM Fiber | | | | |
| | RML150FC | LD Module | 0.080 | Single-Mode Lasers | SM Fiber | | | | |
| | RML2040-XXXX-YY-ZZ | LD Module, Line Modules | 2.0 | Single-Mode Lasers | Free Space, Line | | | | |
| | RML2240 | LD Module | 1.5 | Single-Mode Lasers, Multimode | MM Fiber, SM Fiber | | | | |
| | RML2540-XXXX-YY-ZZ | LD Module, Line Modules | 1.0, 2.0 | Single-Mode Lasers, Multimode | Free Space, Line | | | | |
| | RPK635M | Multi-Emitter | 5.0 | Multimode | MM Fiber | | | | |
| | RPK635S | Single Emitter | 0.002, 0.020 | Single-Mode Lasers | SM Fiber | | | | |
| | RPKMWM | Multi Wavelength | 0.300, 0.600, 5.0, 6.0, 10.0, 15.0, 25.0 | Multimode | MM Fiber | | | | |
| | RWLP-445-001-M | Single Emitter | 1.0 | Multimode | MM Fiber | | | | |
| | RWLP-445-030m-4 | Single Emitter | 0.030 | Multimode | SM Fiber | | | | |
| | RWLP-905-050m-M-PD | Single Emitter | 0.050 | Multimode | MM Fiber | | | | |
| | TG-420 | Single Emitter | 0.050 | Single-Mode Lasers | Free Space | | | | |
| | TG-425 | Single Emitter | 0.050 | Single-Mode Lasers | Free Space | | | | |
| | TG-430 | Single Emitter | 0.050 | Single-Mode Lasers | Free Space | | | | |
| | TG-435 | Single Emitter | 0.050 | Single-Mode Lasers | Free Space | | | | |
| | TG-440 | Single Emitter | 0.050 | Single-Mode Lasers | Free Space | | | | |
| | TG-445 | Single Emitter | 0.050 | Single-Mode Lasers | Free Space | | | | |
| | TG-450 | Single Emitter | 0.050 | Single-Mode Lasers | Free Space | | | | |
| | TG-455 | Single Emitter | 0.050 | Single-Mode Lasers | Free Space | | | | |
| | TG-460 | Single Emitter | 0.050 | Single-Mode Lasers | Free Space | | | | |