Defense Market for Lasers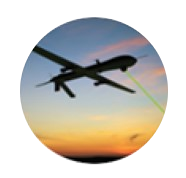 Lasers are widely deployed throughout modern military technology, ranging from electro-optic sensors to directed energy weaponry. Because the range of applications for lasers in the defense community is so wide; so too are the variety of laser techniques, especially solid-state lasers.  Solid-state lasers, including diode lasers, diode pumped solid state (DPSS) lasers, and fiber lasers offer superior mechanical integrity and lifetime reliability when compared to other technologies such as gas lasers.   Within the vast defense application space, two of the largest submarkets for solid-state lasers are mapping & imaging and standoff detection.  Some of the most notable examples of these two categories are laser designation, night vision, and lidar.  While these systems utilize widely different technologies from high pulse energy DPSS lasers to single frequency long coherence length fiber lasers, one thing that most of these applications have in common is that they operate in the near infrared region.  The main motivations for this are two-fold, first and for most in defense laser applications is the fact that eye safety is of the utmost importance and secondly most laser applications in defense require a degree of anonymity making visible lasers undesirable.
To learn more about the various laser defense applications click on any of the applications listed below,
or contact one of our laser experts today by calling 1-636-272-7222.
Applications
Here are some of the key applications we support in the Defense Market. If you have any questions, or would like support finding the right laser for your application, please Contact Us.
Select an Application to see products for that Application
Manufacturers – Defense
While we have forged many trusted partnerships with industry-leading manufacturers, these laser manufacturers offer products specifically designed to ensure the success of your Defense application.
| | | | | | | | | | | |
| --- | --- | --- | --- | --- | --- | --- | --- | --- | --- | --- |
| | 1.5um Broadband CW Fiber Lasers | CW Fiber Lasers | 1529-1610 | 0.160 | Single-Mode Lasers | SM Fiber, PM Fiber | Broadband | | | |
| | 1.5um CW/CW Modulated Fiber Lasers | CW Fiber Lasers | 1529-1610 | 2.0, 5.0, 30.0 | Single-Mode Lasers | SM Fiber, PM Fiber | | | | |
| | 1.5um NLW CW Fiber Lasers | CW Fiber Lasers | 1530-1564 | 1.0 | Single-Mode Lasers | SM Fiber, PM Fiber | Narrow | | | |
| | 1.5um Pulsed Fiber Lasers | Pulsed Fiber Lasers | 1530-1564 | 0.150, 1.0, 4.0 | | | | 5.0, 25.0, 80.0 | 400ps, 50ns | 5kHz, 1MHz, 2MHz |
| | 1um Pulsed Fiber Lasers | Pulsed Fiber Lasers | 1030-1100 | 5.0 | | | | 150.0 | 400ps, 50ns | 10kHz, 100kHz, 1MHz |
| | Aero-1064 | Pulsed DPSS Lasers | 1064 | 5.0, 10.0 | | | | 50000.0, 100000.0, 200000.0 | 20ns | Single Shot to 50Hz, Single Shot to 100Hz |
| | Aero-266 | Pulsed DPSS Lasers | 266 | 0.600 | | | | 6000.0, 12000.0 | 20ns | Single Shot to 50Hz, Single Shot to 100Hz |
| | Aero-355 | Pulsed DPSS Lasers | 355, 355/532/1064 | 1.0 | | | | 10000.0, 20000.0 | 20ns | Single Shot to 50Hz, Single Shot to 100Hz |
| | Aero-532 | Pulsed DPSS Lasers | 532, 532/1064 | 2.0, 6.0 | | | | 20000.0, 40000.0 | 20ns | Single Shot to 50Hz, Single Shot to 100Hz |
| | AIRTRAC-LD | Pulsed DPSS Lasers, Mil-Spec Lasers | 1064 | 1.0 | | | | 50000.0 | 10ns - 25ns | 7-21Hz |
| | CEUV Series | Pulsed DPSS Lasers | 266, 355, 532, 1064 | 5.0, 10.0, 20.0 | | | | 500.0, 1000.0, 2000.0 | 3ns | 10kHz to 1MHz |
| | JOLD-FC-1470 | Array (Bar) | 1470 | 20.0 | Multimode | MM Fiber | | | | |
| | JOLD-FC-808 | Array (Bar) | 808 | 3.5, 4.2, 30.0, 45.0, 70.0, 75.0, 100.0, 120.0, 140.0, 210.0, 250.0, 400.0 | Multimode | MM Fiber | | | | |
| | JOLD-FC-880 | Array (Bar) | 880 | 30.0, 45.0, 75.0, 100.0 | Multimode | MM Fiber | | | | |
| | JOLD-FC-915 | Array (Bar) | 915 | 30.0, 45.0, 75.0, 100.0, 120.0, 140.0, 210.0, 250.0, 400.0 | Multimode | MM Fiber | | | | |
| | JOLD-FC-940 | Array (Bar) | 940 | 30.0, 45.0, 70.0, 75.0, 100.0, 120.0, 140.0, 210.0, 250.0, 400.0 | Multimode | MM Fiber | | | | |
| | JOLD-FC-976 | Array (Bar) | 976 | 30.0, 45.0, 75.0, 100.0, 120.0, 140.0, 210.0, 250.0, 400.0 | Multimode | MM Fiber | | | | |
| | LDX-XXXX-1030 | Single Emitter | 1030 | 3.0, 5.0 | Multimode | Free Space, MM Fiber | | | | |
| | LDX-XXXX-1064 | Single Emitter | 1064 | 1.5, 3.0, 5.0 | Multimode | Free Space, MM Fiber | | | | |
| | LDX-XXXX-1120 | Single Emitter | 1120 | 2.0, 3.5, 5.0 | Multimode | Free Space, MM Fiber | | | | |
| | LDX-XXXX-1210 | Single Emitter | 1210 | 1.5, 2.0 | Multimode | Free Space, MM Fiber | | | | |
| | LDX-XXXX-1280 | Single Emitter | 1280 | 3.5, 5.0, 7.0 | Multimode | Free Space, MM Fiber | | | | |
| | LDX-XXXX-1370 | Single Emitter | 1370 | 3.5, 5.0 | Multimode | Free Space, MM Fiber | | | | |
| | LDX-XXXX-1470 | Single Emitter | 1470 | 3.5, 5.0 | Multimode | Free Space, MM Fiber | | | | |
| | LDX-XXXX-1550 | Single Emitter | 1550 | 0.800, 1.0, 1.5, 1.75, 2.5, 3.5, 5.0 | Multimode | Free Space, MM Fiber | | | | |
| | LDX-XXXX-1620 | Single Emitter | 1620 | 1.0 | Multimode | Free Space, MM Fiber | | | | |
| | LDX-XXXX-1640 | Single Emitter | 1640 | 1.2 | Multimode | Free Space, MM Fiber | | | | |
| | LDX-XXXX-1675 | Single Emitter | 1675 | 2.0 | Multimode | Free Space, MM Fiber | | | | |
| | LDX-XXXX-1850 | Single Emitter | 1850 | 1.0 | Multimode | Free Space, MM Fiber | | | | |
| | LDX-XXXX-445 | Single Emitter | 445 | 3.5 | Multimode | Free Space, MM Fiber | | | | |
| | LDX-XXXX-520 | Single Emitter | 520 | 1.0 | Multimode | Free Space, MM Fiber | | | | |
| | LDX-XXXX-622 | Single Emitter | 622 | 0.150 | Multimode | Free Space, MM Fiber | | | | |
| | LDX-XXXX-627 | Single Emitter | 627 | 0.250, 0.350 | Multimode | Free Space, MM Fiber | | | | |
| | LDX-XXXX-630 | Single Emitter | 630 | 0.250, 0.400 | Multimode | Free Space, MM Fiber | | | | |
| | LDX-XXXX-635 | Single Emitter | 635 | 0.300, 0.400, 0.600, 1.2 | Multimode | Free Space, MM Fiber | | | | |
| | LDX-XXXX-645 | Single Emitter | 645 | 0.300, 0.400 | Multimode | Free Space, MM Fiber | | | | |
| | LDX-XXXX-650 | Single Emitter | 650 | 1.0 | Multimode | Free Space, MM Fiber | | | | |
| | LDX-XXXX-660 | Single Emitter | 660 | 0.350, 0.750, 1.0, 2.0 | Multimode | Free Space, MM Fiber | | | | |
| | LDX-XXXX-665 | Single Emitter | 665 | 0.350, 0.750, 1.0, 2.0 | Multimode | Free Space, MM Fiber | | | | |
| | LDX-XXXX-680 | Single Emitter | 680 | 0.400, 0.800, 1.2, 2.0 | Multimode | Free Space, MM Fiber | | | | |
| | LDX-XXXX-685 | Single Emitter | 685 | 0.400, 0.800, 1.2, 2.0 | Multimode | Free Space, MM Fiber | | | | |
| | LDX-XXXX-690 | Single Emitter | 690 | 0.400, 0.750, 1.1 | Multimode | Free Space, MM Fiber | | | | |
| | LDX-XXXX-735 | Single Emitter | 735 | 1.0, 1.75, 2.0, 4.0 | Multimode | Free Space, MM Fiber | | | | |
| | LDX-XXXX-750 | Single Emitter | 750 | 1.0, 2.0, 3.0, 5.0 | Multimode | Free Space, MM Fiber | | | | |
| | LDX-XXXX-760 | Single Emitter | 760 | 1.0, 2.0, 3.0, 6.0 | Multimode | Free Space, MM Fiber | | | | |
| | LDX-XXXX-780 | Single Emitter | 780 | 1.2, 2.5, 3.5, 5.0 | Multimode | Free Space, MM Fiber | | | | |
| | LDX-XXXX-785 | Single Emitter | 785 | 3.5, 5.0 | Multimode | Free Space, MM Fiber | | | | |
| | LDX-XXXX-792 | Single Emitter | 792 | 1.2, 2.5, 3.5 | Multimode | Free Space, MM Fiber | | | | |
| | LDX-XXXX-797 | Single Emitter | 797 | 3.0, 4.0 | Multimode | Free Space, MM Fiber | | | | |
| | LDX-XXXX-808 | Single Emitter | 808 | 1.2, 2.0, 3.0, 4.0, 6.0, 10.0 | Multimode | Free Space, MM Fiber | | | | |
| | LDX-XXXX-825 | Single Emitter | 825 | 4.0 | Multimode | Free Space, MM Fiber | | | | |
| | LDX-XXXX-830 | Single Emitter | 830 | 1.6 | Multimode | Free Space, MM Fiber | | | | |
| | LDX-XXXX-860 | Single Emitter | 860 | 1.0, 1.5, 2.0, 3.0, 4.0, 5.0 | Multimode | Free Space, MM Fiber | | | | |
| | LDX-XXXX-885 | Single Emitter | 885 | 2.5, 6.0 | Multimode | Free Space, MM Fiber | | | | |
| | LDX-XXXX-900 | Single Emitter | 900 | 2.0 | Multimode | Free Space, MM Fiber | | | | |
| | LDX-XXXX-915 | Single Emitter | 915 | 4.0, 6.0, 10.0 | Multimode | Free Space, MM Fiber | | | | |
| | LDX-XXXX-940 | Single Emitter | 940 | 4.0, 5.0, 6.0, 16.0 | Multimode | Free Space, MM Fiber | | | | |
| | LDX-XXXX-960 | Single Emitter | 960 | 10.0 | Multimode | Free Space, MM Fiber | | | | |
| | LDX-XXXX-980 | Single Emitter | 980 | 1.5, 4.0, 5.0, 6.0, 10.0 | Multimode | Free Space, MM Fiber | | | | |
| | Onda 1064nm | Pulsed DPSS Lasers | 1064 | 15.0 | | | | 800.0 | 2ns - 12ns | Single Shot to 100kHz |
| | Onda 266nm | Pulsed DPSS Lasers | 266 | 0.800 | | | | 80.0 | 2ns - 6ns | Single shot to 1kHz, Single shot to 50kHz |
| | Onda 355nm | Pulsed DPSS Lasers | 355 | 0.300 | | | | 150.0 | 3ns | Single shot to 2kHz |
| | Onda 532nm | Pulsed DPSS Lasers | 532 | 5.0, 10.0 | | | | 400.0, 800.0 | 2ns - 14ns | Single Shot to 100kHz |
| | One-1030 | Pulsed DPSS Lasers | 1030 | 1.0, 3.0 | | | | 100.0 | 5ns - 20ns | 30kHz, Single shot to 10kHz |
| | PowerMir 4.0um | Quantum Cascade Lasers | 4000 | 0.100, 0.450, 1.0 | Multimode | Free Space | | | | |
| | PowerMir 4.6um | Quantum Cascade Lasers | 4600 | 0.100, 0.450, 1.0 | Multimode | Free Space | | | | |
| | PowerMir 4.8um | Quantum Cascade Lasers | 4800 | 0.100, 1.5 | Multimode | Free Space | | | | |
| | PowerMir 9.4um | Quantum Cascade Lasers | 9400 | 0.100, 0.300 | Multimode | Free Space | | | | |
| | R0633 | LD Module, Single Emitter, Volume Bragg Grating (VBG) Laser Diodes | 633 | 0.025, 0.035, 0.050 | Single-Mode Lasers | Free Space, PM Fiber | Narrow | | | |
| | R0638 | LD Module, Single Emitter, Volume Bragg Grating (VBG) Laser Diodes | 638 | 0.030, 0.035, 0.050, 0.060, 0.300, 0.350 | Single-Mode Lasers, Multimode | Free Space, MM Fiber, PM Fiber | Narrow | | | |
| | R0660 | LD Module, Single Emitter, Volume Bragg Grating (VBG) Laser Diodes | 660 | 0.030, 0.060, 0.250 | Single-Mode Lasers, Multimode | Free Space, MM Fiber, PM Fiber | Narrow | | | |
| | R0680 | LD Module, Single Emitter, Volume Bragg Grating (VBG) Laser Diodes | 680 | 0.300 | Multimode | Free Space, MM Fiber | Narrow | | | |
| | R0685 | LD Module, Single Emitter, Volume Bragg Grating (VBG) Laser Diodes | 685 | 0.020, 0.040 | Single-Mode Lasers, Multimode | Free Space, PM Fiber | Narrow | | | |
| | R0780 | LD Module, Single Emitter, Volume Bragg Grating (VBG) Laser Diodes | 780 | 0.025, 0.050, 0.090, 0.100 | Single-Mode Lasers, Multimode | Free Space, PM Fiber | Narrow | | | |
| | R0783 | LD Module, Single Emitter, Volume Bragg Grating (VBG) Laser Diodes | 783 | 0.025, 0.050, 0.090, 0.100 | Single-Mode Lasers, Multimode | Free Space, PM Fiber | Narrow | | | |
| | R0785 | LD Module, Single Emitter, Volume Bragg Grating (VBG) Laser Diodes | 785 | 0.025, 0.050, 0.075, 0.090, 0.100, .135, 0.150, 0.175, 0.350, 0.500, 0.600, 0.800, 1.5 | Single-Mode Lasers, Multimode | Free Space, MM Fiber, PM Fiber | Narrow | | | |
| | R0808 | LD Module, Single Emitter, Volume Bragg Grating (VBG) Laser Diodes | 808 | 0.025, 0.090, 0.100, .135, 0.150, 0.175, 0.350, 0.500, 0.600, 0.800, 1.5 | Single-Mode Lasers, Multimode | Free Space, MM Fiber, PM Fiber | Narrow | | | |
| | R0830 | LD Module, Single Emitter, Volume Bragg Grating (VBG) Laser Diodes | 830 | 0.090, 0.100, .135, 0.150, 0.175, 0.350, 0.500, 0.600, 0.800, 1.5 | Single-Mode Lasers, Multimode | Free Space, MM Fiber, PM Fiber | Narrow | | | |
| | R0852 | LD Module, Single Emitter, Volume Bragg Grating (VBG) Laser Diodes | 852 | 0.020, 0.100, 0.150, 0.175 | Single-Mode Lasers, Multimode | Free Space, PM Fiber | Narrow | | | |
| | R0860 | LD Module, Single Emitter, Volume Bragg Grating (VBG) Laser Diodes | 860 | 0.350, 0.500, 0.600, 1.0 | Multimode | Free Space, PM Fiber | Narrow | | | |
| | R0976 | LD Module, Single Emitter, Volume Bragg Grating (VBG) Laser Diodes | 976 | 0.150, 0.220, 0.450, 0.500, 0.600, 0.700, 0.800, 1.5, 4.0, 5.0 | Single-Mode Lasers, Multimode | Free Space, MM Fiber, PM Fiber | Narrow | | | |
| | R1030 | LD Module, Single Emitter, Volume Bragg Grating (VBG) Laser Diodes | 1030 | 0.050, 0.100, 0.280, 0.450 | Single-Mode Lasers, Multimode | Free Space, PM Fiber | Narrow | | | |
| | R1053 | LD Module, Single Emitter, Volume Bragg Grating (VBG) Laser Diodes | 1053 | 0.050, 0.120, 0.150, 0.300, 0.500 | Single-Mode Lasers, Multimode | Free Space, PM Fiber | Narrow | | | |
| | R1064 | LD Module, Single Emitter, Volume Bragg Grating (VBG) Laser Diodes | 1064 | 0.120, 0.150, 0.300, 0.350, 0.500, 0.600, 0.800, 1.5 | Single-Mode Lasers, Multimode | Free Space, MM Fiber, PM Fiber | Narrow | | | |
| | R1064.X | Single Emitter, Volume Bragg Grating (VBG) Laser Diodes | 1064 | 0.050, 0.120, 0.300, 0.500 | Single-Mode Lasers | Free Space, PM Fiber | Narrow | | | |
| | REP1260-1300 | LD Module, Single Emitter, Distributed Feedback DFB Lasers | 1260-1300 | 0.009, 0.012, 0.020, 0.022 | Single-Mode Lasers | Free Space, SM Fiber, PM Fiber | Narrow | | | |
| | REP1380-1400 | LD Module, Single Emitter, Distributed Feedback DFB Lasers | 1380-1400 | 0.008, 0.012 | Single-Mode Lasers | Free Space, SM Fiber, PM Fiber | Narrow | | | |
| | REP1500-1560 | LD Module, Single Emitter, Distributed Feedback DFB Lasers | 1500-1560 | 0.0015, 0.003, 0.005, 0.008, 0.014, 0.016, 0.020, 0.022 | Single-Mode Lasers | Free Space, SM Fiber, PM Fiber | Narrow | | | |
| | REP1550nm-1560nm | LD Module, Single Emitter, Distributed Feedback DFB Lasers | 1560-1600 | 0.006, 0.014 | Single-Mode Lasers | Free Space, SM Fiber, PM Fiber | Narrow | | | |
| | REP1635-1670 | LD Module, Single Emitter, Distributed Feedback DFB Lasers | 1635-1670 | 0.006, 0.008, 0.020 | Single-Mode Lasers | Free Space, SM Fiber, PM Fiber | Narrow | | | |
| | REP1678-1720 | LD Module, Single Emitter, Distributed Feedback DFB Lasers | 1678-1720 | 0.005 | Single-Mode Lasers | Free Space, SM Fiber, PM Fiber | Narrow | | | |
| | REP1720-1770 | LD Module, Single Emitter, Distributed Feedback DFB Lasers | 1720-1770 | 0.003, 0.006, 0.020 | Single-Mode Lasers | Free Space, SM Fiber, PM Fiber | Narrow | | | |
| | REP1850-1880 | LD Module, Single Emitter, Distributed Feedback DFB Lasers | 1850-1880 | 0.003, 0.0045, 0.005, 0.008, 0.014 | Single-Mode Lasers | Free Space, SM Fiber, PM Fiber | Narrow | | | |
| | REP1908-1970 | LD Module, Single Emitter, Distributed Feedback DFB Lasers | 1908-1970 | 0.002, 0.003, 0.020 | Single-Mode Lasers | Free Space, SM Fiber, PM Fiber | Narrow | | | |
| | REP1970-2053 | LD Module, Single Emitter, Distributed Feedback DFB Lasers | 1970-2053 | 0.0015, 0.002, 0.003, 0.004, 0.005, 0.014 | Single-Mode Lasers | Free Space, SM Fiber, PM Fiber | Narrow | | | |
| | REP2300-2333 | LD Module, Single Emitter, Distributed Feedback DFB Lasers | 2300-2333 | 0.002, 0.005 | Single-Mode Lasers | SM Fiber, PM Fiber | Narrow | | | |
| | RWLB-980-012-H | Multi-Emitter | 980 | 12.0 | Multimode | MM Fiber | | | | |
| | SB1-1064 | Pulsed DPSS Lasers, Microchip Lasers | 1064 | 0.008, 0.012, 0.040, 0.110, 0.150, 0.200, 0.225, 0.400 | | | | 2.0, 15.0, 20.0, 30.0, 40.0, 60.0, 80.0 | 400ps, 1.3ns | 100Hz, 200Hz, 1kHz, 5kHz, 10kHz, 15kHz, 55kHz, 100kHz |
| | SB1-236.5 | Pulsed DPSS Lasers, Microchip Lasers | 236.5 | 0.001 | | | | 0.200, 2.0 | 1.3ns | 500Hz, 5kHz |
| | SB1-266 | Pulsed DPSS Lasers, Microchip Lasers | 266 | 0.002, 0.005 | | | | 0.500, 1.0, 2.0 | 1.3ns | 1kHz, 5kHz, 10kHz |
| | SB1-355 | Pulsed DPSS Lasers, Microchip Lasers | 355 | 0.010 | | | Narrow | 1.0 | 1.3ns | 10kHz |
| | SB1-473 | Pulsed DPSS Lasers, Microchip Lasers | 473 | 0.0009, 0.010, 0.015 | | | | 1.0, 3.0, 9.0 | 2ns | 100Hz, 5kHz, 10kHz |
| | SB1-532 | Pulsed DPSS Lasers, Microchip Lasers | 532 | 0.004, 0.006, 0.010, 0.017, 0.020, 0.030, 0.040, 0.075, 0.100 | | | | 0.300, 7.0, 10.0, 15.0, 20.0, 30.0, 40.0 | 400ps, 1.3ns | 10Hz, 100Hz, 200Hz, 1kHz, 5kHz, 10kHz, 15kHz, 55kHz, 100kHz |
| | SB1-946 | Pulsed DPSS Lasers, Microchip Lasers | 946 | 0.004, 0.060, 0.070, 0.105 | | | | 7.0, 12.0, 35.0 | 2ns | 100Hz, 5kHz, 10kHz |
| | VD-0808-CW | VCSELs | 808 | 0.015, 2.0 | Single-Mode Lasers | Free Space | | | | |
| | VD-0850-CW | VCSELs | 850 | 0.008, 0.200, 0.700, 2.0, 4.0, 6.0 | Single-Mode Lasers | Free Space | | | | |
| | VD-0940-CW | VCSELs | 940 | 0.008, 0.150, 0.200, 0.250, 2.0 | Single-Mode Lasers | Free Space | | | | |
| | Vento-1064 | Pulsed DPSS Lasers | 1064 | 16.0, 25.0, 40.0 | | | | 600.0, 1000.0, 1500.0 | 500ps - 1.5ns | 50kHz to 120kHz, 80kHz to 200kHz |
| | Vento-532 | Pulsed DPSS Lasers | 532 | 8.0, 15.0, 20.0 | | | | 300.0, 550.0, 750.0 | 500ps - 1.2ns | 50kHz to 120kHz, 80kHz to 200kHz |
| | Wedge-HB/XB 1064 | Pulsed DPSS Lasers | 1064 | 4.0 | | | | 2000.0, 4000.0 | 1.5ns | Single shot to 1kHz, Single shot to 2kHz |
| | Wedge-HB/XB 266 | Pulsed DPSS Lasers | 266 | 0.300, 0.500 | | | | 150.0, 500.0 | 1.5ns, 1.8ns | Single shot to 2kHz |
| | Wedge-HB/XB 355 | Pulsed DPSS Lasers | 355 | 0.400, 0.600 | | | | 200.0, 600.0 | 1.2ns, 1.5ns | Single shot to 1kHz, Single shot to 2kHz |
| | Wedge-HB/XB 532 | Pulsed DPSS Lasers | 532 | 2.0 | | | | 1000.0, 2000.0 | 1.5ns | Single shot to 1kHz, Single shot to 2kHz |
| | Wedge-HF/XF 1064 | Pulsed DPSS Lasers | 1064 | 1.5, 4.0 | | | | 70.0, 180.0 | 400ps - 1.5ns, 400ps - 1.6ns, 700ps - 2.5ns | 10kHz to 100kHz, 50kHz to 200kHz |
| | Wedge-HF/XF 266 | Pulsed DPSS Lasers | 266 | 0.050, 0.180 | | | | 5.0, 15.0 | 700ps - 1500ps, 400ps - 700ps | 10kHz to 50kHz |
| | Wedge-HF/XF 355 | Pulsed DPSS Lasers | 355 | 0.800 | | | | 40.0 | 500ps - 1ns | 10kHz to 50kHz |
| | Wedge-HF/XF 532 | Pulsed DPSS Lasers | 532 | 0.500, 1.5, 2.0, 4.0 | | | | 30.0, 40.0, 80.0, 120.0 | 500ps - 2ns, 700ps - 2ns, 400ps - 1.5ns, 400ps - 1ns | 10kHz to 100kHz, 50kHz to 200kHz, Single shot to 10kHz |
| | Wedge-XB 1572 | Pulsed DPSS Lasers | 1572 | 0.800 | | | | 8000.0 | 2.5ns | 1kHz |
| | Wedge-XB 3um | Pulsed DPSS Lasers | 3106 | 0.200 | | | | 100.0 | 3ns | Single shot to 2kHz |