Dental Lasers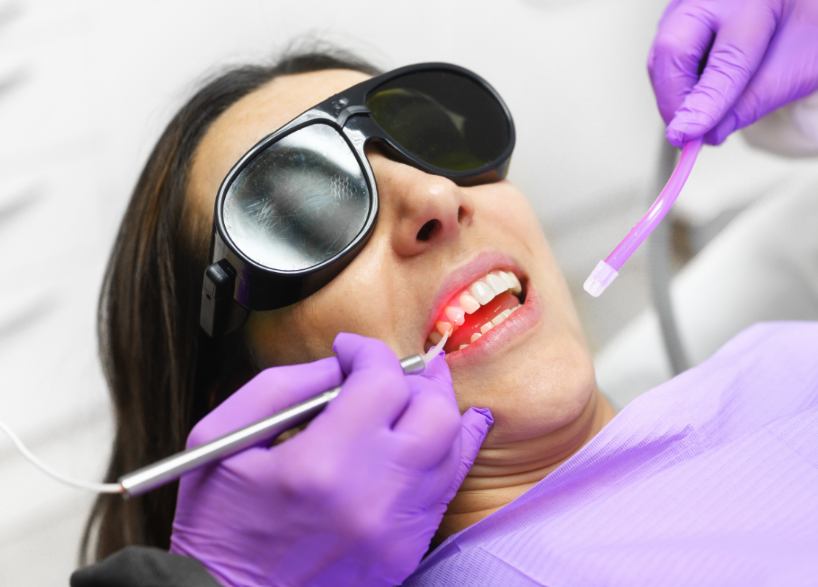 What are Dental Lasers?
Dental lasers are widely deployed in the field for a wide variety of applications ranging from surgical cutting to curing.   For cutting applications, single spatial mode lasers in the 1.5-micron range are typically deployed due to the high absorption of the water in the gums and the low absorption in teeth.  These lasers allow for localized cutting and cauterization of the gum without causing harm to the tooth itself.  For curing applications, lower power blue and ultraviolet laser diodes can be advantages over LEDs in applications where rapid curing is necessary since the light is more tightly controlled with lasers.
Have questions?
Dental Laser Applications
Soft Tissue Surgery: Laser diodes used for soft tissue surgery typically operate within the wavelength range of 810 to 980 nanometers. These wavelengths are well-absorbed by water and hemoglobin in the soft tissues, allowing for precise cutting and coagulation during surgical procedures.
Periodontal Treatment: Laser diodes utilized for periodontal treatment commonly operate within the wavelength range of 810 to 1,064 nanometers. This range allows for effective targeting of bacteria and infected tissues in the periodontal pockets while promoting disinfection and facilitating the regeneration of healthy gum tissue.
Teeth Whitening: Laser diodes used for teeth whitening procedures often operate within the wavelength range of 400 to 500 nanometers. These wavelengths activate the whitening agent applied to the teeth, accelerating the chemical reaction and enhancing the efficiency of the teeth whitening process.
Recommended Laser Series
We recommend the following laser series options for Dental applications. There can often be a ton of options and many variables. Contact us today for help finding the perfect laser for your specific application!
Have questions?