Dental Lasers
What are Dental Lasers?
Dental lasers are widely deployed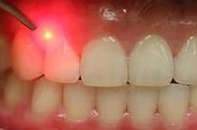 in the field for a wide variety of applications ranging from surgical cutting to curing.   For cutting applications, single spatial mode lasers in the 1.5-micron range are typically deployed due to the high absorption of the water in the gums and the low absorption in teeth.  Dental lasers allow for localized cutting and cauterization of the gum without causing harm to the tooth itself.  For curing applications, lower power blue and ultraviolet laser diodes can be advantages over LEDs in applications where rapid curing is necessary since the light is more tightly controlled with lasers. On this page, you will find a list of all of the full range of dental lasers we offer at RPMC, including high power diodes laser ranging from the blue to the near-infrared.
| | | | | | | | |
| --- | --- | --- | --- | --- | --- | --- | --- |
| | HL375 | Single Emitter | 0.200 | 375 | Multimode | Free Space | |
| | HL705 | Single Emitter | 0.050 | 705 | Single-Mode Lasers | Free Space | |
| | HL730 | Single Emitter | 0.050 | 730 | Single-Mode Lasers | Free Space | |
| | HL830 | Single Emitter | 0.050 | 830 | Single-Mode Lasers | Free Space | |
| | HL852 | Single Emitter | 0.050 | 852 | Single-Mode Lasers | Free Space | |
| | LDX-XXXX-1030 | Single Emitter | 3.0, 5.0 | 1030 | Multimode | Free Space, MM Fiber | |
| | LDX-XXXX-1064 | Single Emitter | 1.5, 3.0, 5.0 | 1064 | Multimode | Free Space, MM Fiber | |
| | LDX-XXXX-1120 | Single Emitter | 2.0, 3.5, 5.0 | 1120 | Multimode | Free Space, MM Fiber | |
| | LDX-XXXX-1210 | Single Emitter | 1.5, 2.0 | 1210 | Multimode | Free Space, MM Fiber | |
| | LDX-XXXX-1280 | Single Emitter | 3.5, 5.0, 7.0 | 1280 | Multimode | Free Space, MM Fiber | |
| | LDX-XXXX-1370 | Single Emitter | 3.5, 5.0 | 1370 | Multimode | Free Space, MM Fiber | |
| | LDX-XXXX-1470 | Single Emitter | 3.5, 5.0 | 1470 | Multimode | Free Space, MM Fiber | |
| | LDX-XXXX-1550 | Single Emitter | 0.800, 1.0, 1.5, 1.75, 2.5, 3.5, 5.0 | 1550 | Multimode | Free Space, MM Fiber | |
| | LDX-XXXX-1620 | Single Emitter | 1.0 | 1620 | Multimode | Free Space, MM Fiber | |
| | LDX-XXXX-1640 | Single Emitter | 1.2 | 1640 | Multimode | Free Space, MM Fiber | |
| | LDX-XXXX-1675 | Single Emitter | 2.0 | 1675 | Multimode | Free Space, MM Fiber | |
| | LDX-XXXX-1850 | Single Emitter | 1.0 | 1850 | Multimode | Free Space, MM Fiber | |
| | LDX-XXXX-445 | Single Emitter | 3.5 | 445 | Multimode | Free Space, MM Fiber | |
| | LDX-XXXX-520 | Single Emitter | 1.0 | 520 | Multimode | Free Space, MM Fiber | |
| | LDX-XXXX-622 | Single Emitter | 0.150 | 622 | Multimode | Free Space, MM Fiber | |
| | LDX-XXXX-627 | Single Emitter | 0.250, 0.350 | 627 | Multimode | Free Space, MM Fiber | |
| | LDX-XXXX-630 | Single Emitter | 0.250, 0.400 | 630 | Multimode | Free Space, MM Fiber | |
| | LDX-XXXX-635 | Single Emitter | 0.300, 0.400, 0.600, 1.2 | 635 | Multimode | Free Space, MM Fiber | |
| | LDX-XXXX-645 | Single Emitter | 0.300, 0.400 | 645 | Multimode | Free Space, MM Fiber | |
| | LDX-XXXX-650 | Single Emitter | 1.0 | 650 | Multimode | Free Space, MM Fiber | |
| | LDX-XXXX-660 | Single Emitter | 0.350, 0.750, 1.0, 2.0 | 660 | Multimode | Free Space, MM Fiber | |
| | LDX-XXXX-665 | Single Emitter | 0.350, 0.750, 1.0, 2.0 | 665 | Multimode | Free Space, MM Fiber | |
| | LDX-XXXX-680 | Single Emitter | 0.400, 0.800, 1.2, 2.0 | 680 | Multimode | Free Space, MM Fiber | |
| | LDX-XXXX-685 | Single Emitter | 0.400, 0.800, 1.2, 2.0 | 685 | Multimode | Free Space, MM Fiber | |
| | LDX-XXXX-690 | Single Emitter | 0.400, 0.750, 1.1 | 690 | Multimode | Free Space, MM Fiber | |
| | LDX-XXXX-735 | Single Emitter | 1.0, 1.75, 2.0, 4.0 | 735 | Multimode | Free Space, MM Fiber | |
| | LDX-XXXX-750 | Single Emitter | 1.0, 2.0, 3.0, 5.0 | 750 | Multimode | Free Space, MM Fiber | |
| | LDX-XXXX-760 | Single Emitter | 1.0, 2.0, 3.0, 6.0 | 760 | Multimode | Free Space, MM Fiber | |
| | LDX-XXXX-780 | Single Emitter | 1.2, 2.5, 3.5, 5.0 | 780 | Multimode | Free Space, MM Fiber | |
| | LDX-XXXX-785 | Single Emitter | 3.5, 5.0 | 785 | Multimode | Free Space, MM Fiber | |
| | LDX-XXXX-792 | Single Emitter | 1.2, 2.5, 3.5 | 792 | Multimode | Free Space, MM Fiber | |
| | LDX-XXXX-797 | Single Emitter | 3.0, 4.0 | 797 | Multimode | Free Space, MM Fiber | |
| | LDX-XXXX-808 | Single Emitter | 1.2, 2.0, 3.0, 4.0, 6.0, 10.0 | 808 | Multimode | Free Space, MM Fiber | |
| | LDX-XXXX-825 | Single Emitter | 4.0 | 825 | Multimode | Free Space, MM Fiber | |
| | LDX-XXXX-830 | Single Emitter | 1.6 | 830 | Multimode | Free Space, MM Fiber | |
| | LDX-XXXX-860 | Single Emitter | 1.0, 1.5, 2.0, 3.0, 4.0, 5.0 | 860 | Multimode | Free Space, MM Fiber | |
| | LDX-XXXX-885 | Single Emitter | 2.5, 6.0 | 885 | Multimode | Free Space, MM Fiber | |
| | LDX-XXXX-900 | Single Emitter | 2.0 | 900 | Multimode | Free Space, MM Fiber | |
| | LDX-XXXX-915 | Single Emitter | 4.0, 6.0, 10.0 | 915 | Multimode | Free Space, MM Fiber | |
| | LDX-XXXX-940 | Single Emitter | 4.0, 5.0, 6.0, 16.0 | 940 | Multimode | Free Space, MM Fiber | |
| | LDX-XXXX-960 | Single Emitter | 10.0 | 960 | Multimode | Free Space, MM Fiber | |
| | LDX-XXXX-980 | Single Emitter | 1.5, 4.0, 5.0, 6.0, 10.0 | 980 | Multimode | Free Space, MM Fiber | |
| | RDS3 | Turn-Key System | Multiple Options Available | Multiple Wavelength Options | Single-Mode Lasers, Multimode | MM Fiber, SM Fiber | |
| | RHAML-XXXX-YY-Z-E | LD Module, Line Modules | 0.100 | Multiple Wavelength Options | Single-Mode Lasers | Free Space, Line | |
| | RHAML-XXXX-YY-Z | LD Module, Line Modules | 0.100 | Multiple Wavelength Options | Single-Mode Lasers | Free Space, Line | |
| | RML126FC | LD Module | 0.100 | Multiple Wavelength Options | Single-Mode Lasers | SM Fiber | |
| | RML150FC | LD Module | 0.080 | Multiple Wavelength Options | Single-Mode Lasers | SM Fiber | |
| | RML2040-XXXX-YY-ZZ | LD Module, Line Modules | 2.0 | Multiple Wavelength Options | Single-Mode Lasers | Free Space, Line | |
| | RML2240 | LD Module | 1.5 | Multiple Wavelength Options | Single-Mode Lasers, Multimode | MM Fiber, SM Fiber | |
| | RML2540-XXXX-YY-ZZ | LD Module, Line Modules | 1.0, 2.0 | Multiple Wavelength Options | Single-Mode Lasers, Multimode | Free Space, Line | |
| | RPK405S | Single Emitter | 4.0 | 405 | Single-Mode Lasers | SM Fiber | |
| | RPK445M | Multi-Emitter | 10.0, 15.0, 20.0, 50.0 | 445 | Multimode | MM Fiber | |
| | RPK445S | Single Emitter | 0.800, 3.0 | 445 | Multimode | MM Fiber | |
| | RPK635M | Multi-Emitter | 5.0 | 635 | Multimode | MM Fiber | |
| | RPK635S | Single Emitter | 0.002, 0.020 | 635 | Single-Mode Lasers | SM Fiber | |
| | RPK785SS | Single Emitter, Volume Bragg Grating (VBG) Laser Diodes | 0.600 | 785 | Multimode | MM Fiber | Narrow |
| | RPK793M | Multi-Emitter | 8.0, 12.0, 16.0, 30.0, 50.0, 80.0, 90.0, 140.0, 180.0 | 793 | Multimode | MM Fiber | |
| | RPK793S | Single Emitter | 4.0 | 793 | Multimode | MM Fiber | |
| | RPK808M | Multi-Emitter | 15.0, 25.0, 30.0, 55.0, 60.0, 150.0 | 808 | Multimode | MM Fiber | |
| | RPK808S | Single Emitter | 4.0, 8.0 | 808 | Multimode | MM Fiber | |
| | RPK830S | Single Emitter | 1.0 | 830 | Multimode | MM Fiber | |
| | RPK878MS | Multi-Emitter, Volume Bragg Grating (VBG) Laser Diodes | 30.0, 65.0, 120.0 | 878 | Multimode | MM Fiber | Narrow |
| | RPK888MS | Multi-Emitter, Volume Bragg Grating (VBG) Laser Diodes | 65.0, 120.0 | 888 | Multimode | MM Fiber | Narrow |
| | RPK915M | Multi-Emitter | 30.0, 70.0, 160.0, 180.0, 300.0, 370.0 | 915 | Multimode | MM Fiber | |
| | RPK915S | Single Emitter | 12.0 | 915 | Multimode | MM Fiber | |
| | RPK940M | Multi-Emitter | 20.0, 30.0, 70.0, 120.0, 150.0, 200.0 | 940 | Multimode | MM Fiber | |
| | RPK940S | Single Emitter | 10.0, 11.0 | 940 | Multimode | MM Fiber | |
| | RPK960S | Single Emitter | 9.0 | 960 | Multimode | MM Fiber | |
| | RPK976M | Multi-Emitter | 15.0, 20.0, 30.0, 70.0, 150.0, 200.0, 330.0, 540.0 | 976 | Multimode | MM Fiber | |
| | RPK976SS | Single Emitter, Volume Bragg Grating (VBG) Laser Diodes | 3.0, 9.0 | 976 | Multimode | MM Fiber | Narrow |
| | RPKA64M | Multi-Emitter | 20.0 | 1064 | Multimode | MM Fiber | |
| | RPKMWM | Multi Wavelength | 0.600, 5.0, 15.0, 25.0 | Multiple Wavelength Options | Multimode | MM Fiber | |
| | TG-420 | Single Emitter | 0.050 | 420 | Single-Mode Lasers | Free Space | |
| | TG-425 | Single Emitter | 0.050 | 425 | Single-Mode Lasers | Free Space | |
| | TG-430 | Single Emitter | 0.050 | 430 | Single-Mode Lasers | Free Space | |
| | TG-435 | Single Emitter | 0.050 | 435 | Single-Mode Lasers | Free Space | |
| | TG-440 | Single Emitter | 0.050 | 440 | Single-Mode Lasers | Free Space | |
| | TG-445 | Single Emitter | 0.050 | 445 | Single-Mode Lasers | Free Space | |
| | TG-450 | Single Emitter | 0.050 | 450 | Single-Mode Lasers | Free Space | |
| | TG-455 | Single Emitter | 0.050 | 455 | Single-Mode Lasers | Free Space | |
| | TG-460 | Single Emitter | 0.050 | 460 | Single-Mode Lasers | Free Space | |