Mil-Spec Lasers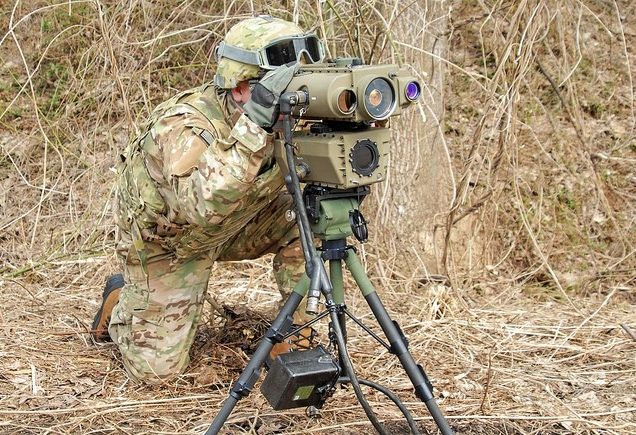 RPMC is your MIL-Spec Laser Supplier, providing a selection of OEM lasers for integration into various aerospace and military systems, depending on the application. Mil-Spec lasers (or military lasers / military grade lasers) are specifically designed for demanding ruggedization requirements for military deployment. Operating temperature range, shock and vibration, and size, weight, and power constraints are among the critical considerations when choosing a laser for military-grade applications, or any application deployed in harsh environments. Typically, these lasers go through extensive shock and vibration testing to ensure durability in hostile environments and have a wide operating temperature range and low divergence beam output.  Most military-grade lasers are either direct diode sources or DPSS lasers due to their long lifetimes and minimal maintenance requirements.  Additionally, these lasers are resistant to harsh environmental conditions like water and dust, generally carrying ingress protection rating of IP65 or higher.
Our Arete AIRTRAC-6M high power green laser designator is one of the best military grade green lasers available for long distance target designation. In addition to 532 nm, the AIRTRAC-6M is also available in 355 nm (UV) and 1064 nm. Our AIRTRAC LD 1064 nm laser designator is fully compliant with NATO STANAG 3733, and therefore ideal for military deployment in laser designator systems. We also offer a wide range of output powers, pulse energies, and pulse widths in the "eye-safe" 1.5 µm near infrared (NIR) wavelength with our OT Series of MIL-Spec laser transmitters. Most of our MIL-Spec lasers are low SWaP OEM modules, with an ultra-compact, lightweight design and low power consumption, making them perfect for integration into handheld and portable devices, backpack units, airplanes and more.
All of the rugged, low SWaP, mil-spec lasers offered by RPMC have been thoroughly tested to ensure they meet the necessary military requirements.  The actively q-switched, high pulse energy lasers listed below often support the Defense Market, in demanding Standoff Detection applications such as laser designators and range finders, and in Mapping & Imaging applications such as LIDAR systems, 3D Scanning, Bathymetry, Night Vision, and infrared (IR) illuminators, as well as laser induced breakdown spectroscopy (LIBS) and time-of-flight (ToF) LIDAR .
Let Us Help
In conclusion, if you have any questions, or if you would like some assistance please contact us here. Furthermore, please do not hesitate to contact us at 636.272.7227 to talk to a knowledgeable Product Manager. Alternatively, use the filters on this page to assist in narrowing down the selection. Finally, head to our Knowledge Center with our Lasers 101 page and Blogs and Whitepapers pages for further, in-depth reading.
Suggested Reading
| | | | | | | | | |
| --- | --- | --- | --- | --- | --- | --- | --- | --- |
| | AIRTRAC-6M | Pulsed DPSS Lasers, Mil-Spec Lasers | 355, 532, 1064 | 1.2 | 40000.0 | 6ns | 0-30Hz | Active |
| | AIRTRAC-LD | Pulsed DPSS Lasers, Mil-Spec Lasers | 1064 | 1.0 | 50000.0 | 10ns - 25ns | 7-21Hz | Active |
| | OT-XX | Pulsed DPSS Lasers, Mil-Spec Lasers | 1540 | 0.001, 0.0012, 0.002, 0.0022, 0.0024, 0.0025, 0.0045, 0.0095, 0.020, 0.030, 0.075, 0.100, 0.200 | 900.0, 1000.0, 1200.0, 1500.0, 1900.0, 2000.0, 2100.0, 2200.0, 2400.0, 2500.0, 10000.0 | 9ns, 10ns, 12ns, 15ns, 20ns, 24ns, 35ns, 40ns | 1Hz, 5Hz, 10Hz, 20Hz, 30Hz | Active, Passive |