Mil-Spec Lasers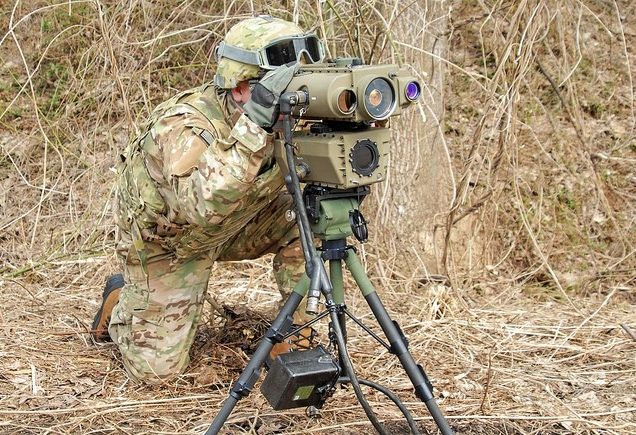 What is a Mil-Spec Laser or Military Laser?
Mil-Spec lasers (or military lasers / military grade lasers) are specifically designed for demanding requirements for military deployment. Operating temperature range, shock and vibration, and size, weight, and power constraints are among the critical considerations when choosing a laser for military-grade applications, or any application deployed in harsh environments. Typically, these lasers go through extensive environmental testing to ensure durability in hostile environments. They are designed for ruggedization and have a wide operating temperature range.
Most military-grade lasers are either direct diode sources or DPSS lasers due to their long lifetimes and minimal maintenance requirements.  Additionally, these lasers are resistant to harsh environmental conditions like water and dust, generally carrying ingress protection rating of IP65 or higher.
Our MIL-Spec Laser Products
RPMC is your MIL-Spec Laser Supplier, providing a selection of OEM lasers for integration into various aerospace and military systems, depending on the application.
Our Arete AIRTRAC-6M high power green laser designator is one of the best military grade green lasers available for long distance target designation. In addition to 532 nm, the AIRTRAC-6M is also available in 355 nm (UV) and 1064 nm. Our AIRTRAC LD 1064 nm laser designator is fully compliant with NATO STANAG 3733, and therefore ideal for military deployment in laser designator systems. We also offer a wide range of output powers, pulse energies, and pulse widths in the "eye-safe" 1.5 µm near infrared (NIR) wavelength with our OT Series of MIL-Spec laser transmitters. Most of our MIL-Spec lasers are low SWaP OEM modules, with an ultra-compact, lightweight design and low power consumption, making them perfect for integration into handheld and portable devices, backpack units, airplanes and more.
We offer a wide variety of q-switched Er:Glass DPPS lasers which are ideally suited for integration into industrial equipment particularly those used in harsh environments. The unique features of these laser stem from their mono-block cavity design which includes the laser rod, q-switch and mirrors all in one, similar to a microchip laser cavity but capable of much larger pulse energy.  For example, the OT-29 from Optitask produces 1.2 mJ of pulse energy in an extremely compact housing measuring in at 46 mm x 30.5 mm x 17.4 mm, while still meeting all MilSpec MIL-STD810C requirements for vibration, transportation shock, and ballistic shock.  This laser can also be operated over a vast temperature range from -40 oC to +75 oC and is guaranteed to last for at least 1 million pulses.
All of the rugged, low SWaP, mil-spec lasers offered by RPMC have been thoroughly tested to ensure they meet the necessary military requirements.  The actively q-switched, high pulse energy lasers listed below often support the Defense Market, in demanding Standoff Detection applications such as laser designators and range finders, and in Mapping & Imaging applications such as LIDAR systems, 3D Scanning, Bathymetry, Night Vision, and infrared (IR) illuminators, as well as laser induced breakdown spectroscopy (LIBS) and time-of-flight (ToF) LIDAR .
Our Military Laser Experience

RPMC has helped various industry professionals find the right laser source for their specific application requirements for over 25 years, fielding 1000s of units. We have experience with space-qualification, ITAR restrictions, STANAG requirements, custom laser development, and more! Through the years we have forged many trusted partnerships with industry leading manufacturers.