Green Lasers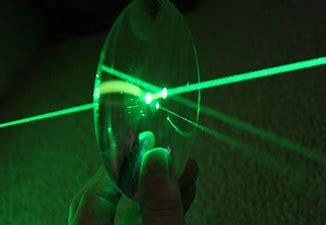 Green Lasers, emitting at 532 nm, are by far the most common green laser available on the market today.  Green wavelengths are produced by frequency doubling Nd: YAG, Nd: YVO, or Nd: Glass solid-state lasers to provide 532 nm laser light.  Green solid-state lasers are available in both pulsed and CW configurations and offer a wide range of applications including Raman spectroscopy, because of their narrow spectral linewidth, where flashlamp-pumped pulsed 532 nm lasers are beneficial in applications requiring high peak power such as laser ablation and tattoo removal. Recent advancements in GaN technology has allowed for the development of green laser diodes, which have filled in the lower wavelength range with diodes available between 505 nm and 520 nm.
Green Laser Products
We offer many different laser types with Green output, including Single Emitter Laser Diodes, Laser Diode Modules, Line Modules, Gas Lasers, Pulsed or CW DPSS Lasers, Pulsed Fiber Lasers, Ultrafast Lasers, Microchip Lasers, Tunable DPSS Lasers, MIL-Spec Lasers, Micromachining Systems, and Turnkey Systems. Our Green products are available with up to 50 W average power, options for single-mode or multimode, free-space, fiber-coupled or line generation output, and various packaging options and integration levels from component to OEM to turnkey systems.
Some Green Applications
Some popular Green applications include Bathymetry, Thin Film Removal, Interferometry, Holography, Machine Vision, Confocal Fluorescence Microscopy, Flow Cytometry, DNA Sequencing, Optogenetics, PDT, Dental, and many others.
Let Us Help!
In conclusion, if you have any questions or would like some assistance, don't hesitate to get in touch with us here. Furthermore, you can call us at 636.272.7227 to talk to a knowledgeable Product Manager. Alternatively, you can also use the filters on this page to assist in narrowing down the selection. Finally, head to our Knowledge Center, with our Lasers 101 page and Blogs and Whitepapers pages, for further, in-depth reading.
| | | | | | | | | | |
| --- | --- | --- | --- | --- | --- | --- | --- | --- | --- |
| | 505L-1XA | LD Module | 505 | 0.060 | Single-Mode Lasers | Free Space, MM Fiber, SM Fiber, PM Fiber | | | |
| | 515L-1XA | LD Module | 515 | 0.010, 0.020, 0.025 | Single-Mode Lasers | Free Space, MM Fiber, SM Fiber, PM Fiber | | | |
| | 520L-1XA | LD Module | 520 | 0.040, 0.070, 0.080 | Single-Mode Lasers | Free Space, MM Fiber, SM Fiber, PM Fiber | | | |
| | 520L-2XA | LD Module | 520 | 0.025, 0.035, 0.040 | Single-Mode Lasers | Free Space, MM Fiber, SM Fiber, PM Fiber | | | |
| | 532L-1XB | CW DPSS Lasers | 532 | 0.100, 0.150, 0.160, 0.200 | Single-Mode Lasers, Multimode | Free Space, MM Fiber, SM Fiber, PM Fiber, SMA Port | | | |
| | 532L-2XB | CW DPSS Lasers | 532 | 0.025, 0.040, 0.050 | Single-Mode Lasers, Multimode | Free Space, MM Fiber, SM Fiber, PM Fiber, SMA Port | | | |
| | 532L-3XB | CW DPSS Lasers | 532 | 0.400, 0.500 | Multimode | Free Space, MM Fiber, SMA Port | | | |
| | 532L-4XB | CW DPSS Lasers | 532 | 0.050, 0.080, 0.100 | Single-Mode Lasers, Multimode | Free Space, MM Fiber, SM Fiber, PM Fiber, SMA Port | | | |
| | 532L-6XB | CW DPSS Lasers | 532 | 0.050, 0.080, 0.100 | Single-Mode Lasers, Multimode | Free Space, MM Fiber, SM Fiber, PM Fiber, SMA Port | | | |
| | Aero-532 | Pulsed DPSS Lasers | 532/1064 | 0.400, 6.0 | | | 100000.0, 200000.0 | 15 Nanosecond Lasers | Single shot to 200Hz |
| | AIRTRAC-6M | Pulsed DPSS Lasers, Mil-Spec Lasers | 355, 532, 1064 | 1.2 | | | 40000.0 | 6 Nanosecond Lasers | 0-30Hz |
| | ALCOR 520 | Pulsed DPSS Lasers, Pulsed Fiber Lasers, Ultrafast Lasers | 520 | 0.800, 2.0 | | | 0.025 | 180 Femtosecond Lasers | 80MHz (Optional: 40MHz) |
| | CEUV Series | Pulsed DPSS Lasers | 266, 355, 532, 1064 | 5.0, 10.0, 20.0 | | | 500.0, 1000.0, 2000.0 | 3 Nanosecond Lasers | 10kHz to 1MHz |
| | JenLas D2.X | CW DPSS Lasers | 532 | 0.060, 2.0, 3.0, 5.0, 8.0 | Multimode | Free Space, MM Fiber | | | |
| | LBX-505 | LD Module | 505 | 0.070 | Single-Mode Lasers | Free Space, MM Fiber, SM Fiber, PM Fiber | | | |
| | LBX-515 | LD Module | 515 | 0.150 | Single-Mode Lasers | Free Space, MM Fiber, SM Fiber, PM Fiber | | | |
| | LBX-520-800-HPE | LD Module | 520 | 0.800 | Multimode | Free Space, MM Fiber | | | |
| | LBX-522 | LD Module | 522 | 0.070 | Single-Mode Lasers | Free Space, MM Fiber, SM Fiber, PM Fiber | | | |
| | LCX-532 | CW DPSS Lasers | 532 | 0.050, 0.100, 0.200, 0.300 | Single-Mode Lasers | Free Space, MM Fiber, SM Fiber, PM Fiber | | | |
| | LCX-532S | CW DPSS Lasers | 532 | 0.050, 0.100, 0.200, 0.300 | Single-Mode Lasers | Free Space, MM Fiber, SM Fiber, PM Fiber | | | |
| | LCX-553 | CW DPSS Lasers | 553 | 0.050, 0.100, 0.150, 0.200 | Single-Mode Lasers | Free Space, MM Fiber, SM Fiber, PM Fiber | | | |
| | LCX-553S | CW DPSS Lasers | 553 | 0.050, 0.100 | Single-Mode Lasers | Free Space, MM Fiber, SM Fiber, PM Fiber | | | |
| | LDX-XXXX-520 | Single Emitter | 520 | 1.0 | Multimode | Free Space, MM Fiber | | | |
| | LGK 7785 | HeNe Lasers | 543 | 0.001, 0.002 | Single-Mode Lasers | Free Space | | | |
| | LGK 7786 | HeNe Lasers | 543 | 0.0005, 0.0007, 0.001, 0.0015 | Single-Mode Lasers | Free Space | | | |
| | LPX-532 | CW DPSS Lasers | 532 | 0.500 | Single-Mode Lasers | Free Space, MM Fiber, SM Fiber, PM Fiber | | | |
| | LPX-532S | CW DPSS Lasers | 532 | 0.500 | Single-Mode Lasers | Free Space, MM Fiber, SM Fiber, PM Fiber | | | |
| | LPX-553 | CW DPSS Lasers | 553 | 0.200 | Single-Mode Lasers | Free Space, MM Fiber, SM Fiber, PM Fiber | | | |
| | LPX-553S | CW DPSS Lasers | 553 | 0.200 | Single-Mode Lasers | Free Space, MM Fiber, SM Fiber, PM Fiber | | | |
| | MicroMake 532 | Micromachining System | 532 | 35.0 | | | | | |
| | Onda 532nm | Pulsed DPSS Lasers | 532 | 5.0, 10.0 | | | 400.0, 800.0 | 2ns to 14ns Lasers | Single Shot to 100kHz |
| | Q-TUNE | Pulsed DPSS Lasers, Tunable Lasers | Tunable | 0.200 | | | 8000.0 | 5 Nanosecond Lasers | 10Hz, 33Hz, 100Hz |
| | Quantas-Q-SHIFT-517 | Pulsed DPSS Lasers | 517 | 0.100, 0.160, 0.200 | | | 1000.0, 2000.0, 4000.0, 6000.0, 8000.0, 10000.0 | 2ns to 5ns Lasers | 10Hz, 20Hz, 33Hz, 50Hz, 100Hz |
| | Quantas-Q-SHIFT-524 | Pulsed DPSS Lasers | 524 | 0.100, 0.160, 0.200 | | | 1000.0, 2000.0, 4000.0, 6000.0, 8000.0, 10000.0 | 2ns to 5ns Lasers | 10Hz, 20Hz, 33Hz, 50Hz, 100Hz |
| | Quantas-Q-SHIFT-581.5 | Pulsed DPSS Lasers | 581.5 | 0.250, 0.400, 0.495, 0.500 | | | 2500.0, 5000.0, 10000.0, 15000.0, 20000.0, 25000.0 | 2ns to 5ns Lasers | 10Hz, 20Hz, 33Hz, 50Hz, 100Hz |
| | Quantas-Q-SHIFT-WXXXX | Pulsed DPSS Lasers | Multiple Wavelength Options | Varies | | | Varies | 2ns to 5ns Lasers | 100Hz |
| | Quantas-Q-SPARK-532 | Pulsed DPSS Lasers | 532 | 0.010 | | | 2500.0 | 2 Nanosecond Lasers | 20Hz |
| | Quantas-Q1-527 | Pulsed DPSS Lasers | 527 | 0.050, 0.060, 0.080, 0.100, 0.125, 0.150, 0.220, 0.250 | | | 1200.0, 2500.0, 4000.0, 5000.0, 7500.0, 10000.0, 12500.0, 22000.0 | 10 Nanosecond Lasers | Single Shot to 10Hz, Single Shot to 20Hz, Single Shot to 50Hz |
| | Quantas-Q1-532 | Pulsed DPSS Lasers | 532 | 0.050, 0.060, 0.080, 0.100, 0.125, 0.150, 0.170, 0.250 | | | 1200.0, 2500.0, 4000.0, 5000.0, 7500.0, 10000.0, 12500.0, 17000.0 | 10 Nanosecond Lasers | Single Shot to 10Hz, Single Shot to 20Hz, Single Shot to 50Hz |
| | Quantas-Q2-527 | Pulsed DPSS Lasers | 527 | 0.350, 0.800, 1.0, 2.0 | | | 500.0, 5000.0, 15000.0, 25000.0, 30000.0, 35000.0, 40000.0 | 5 Nanosecond Lasers, 6 Nanosecond Lasers, 7 Nanosecond Lasers, 8 Nanosecond Lasers | 10Hz, 20Hz, 33.3Hz, 50Hz |
| | Quantas-Q2-532 | Pulsed DPSS Lasers | 532 | 0.500, 0.750, 0.800, 1.0, 2.0 | | | 500.0, 5000.0, 25000.0, 30000.0, 35000.0, 40000.0 | 5 Nanosecond Lasers, 6 Nanosecond Lasers, 7 Nanosecond Lasers, 8 Nanosecond Lasers, 10 Nanosecond Lasers | 10Hz, 20Hz, 33.3Hz, 50Hz, 100Hz, 200Hz |
| | Quantas-Q2HE-527 | Pulsed DPSS Lasers | 527 | 0.600, 1.0 | | | 20000.0, 50000.0, 60000.0 | 6 Nanosecond Lasers | 10Hz, 20Hz, 50Hz |
| | Quantas-Q2HE-532 | Pulsed DPSS Lasers | 532 | 0.500, 0.800, 1.0, 1.75, 2.0 | | | 20000.0, 35000.0, 40000.0, 50000.0 | 6 Nanosecond Lasers | 10Hz, 20Hz, 50Hz, 100Hz |
| | Quantas-Q2HE-XXX-XXXX | Pulsed DPSS Lasers | Multiple Wavelength Options | Varies | | | Varies | Varies | 100Hz |
| | RDS3 | Turn-Key System | Multiple Wavelength Options | Multiple Options Available | Single-Mode Lasers, Multimode | MM Fiber, SM Fiber | | | |
| | RHAML-XXXX-YY-Z-E | LD Module, Line Modules | Multiple Wavelength Options | 0.100 | Single-Mode Lasers | Free Space, Line | | | |
| | RHAML-XXXX-YY-Z | LD Module, Line Modules | Multiple Wavelength Options | 0.100 | Single-Mode Lasers | Free Space, Line | | | |
| | RML126FC | LD Module | Multiple Wavelength Options | 0.100 | Single-Mode Lasers | SM Fiber | | | |
| | RML150FC | LD Module | Multiple Wavelength Options | 0.080 | Single-Mode Lasers | SM Fiber | | | |
| | RML2240 | LD Module | Multiple Wavelength Options | 1.5 | Single-Mode Lasers, Multimode | MM Fiber, SM Fiber | | | |
| | RML2540-XXXX-YY-ZZ | LD Module, Line Modules | Multiple Wavelength Options | 1.0, 2.0 | Single-Mode Lasers, Multimode | Free Space, Line | | | |
| | RPK520S | Single Emitter | 520 | 0.005 | Multimode | MM Fiber | | | |
| | RWLD-505S | Single Emitter | 505 | 0.050, 0.080 | Single-Mode Lasers | Free Space | | | |
| | RWLD-520-050m-1 | Single Emitter | 520 | 0.050 | Single-Mode Lasers | Free Space | | | |
| | RWLD-520M | Single Emitter | 520 | 0.300, 0.600, 1.3 | Multimode | Free Space | | | |
| | RWLD-520S | Single Emitter | 520 | 0.030, 0.080, 0.140 | Single-Mode Lasers | Free Space | | | |
| | RWLP-520-050m-M | Single Emitter | 520 | 0.050 | Single-Mode Lasers | MM Fiber | | | |
| | SB1-532 | Pulsed DPSS Lasers, Microchip Lasers | 532 | 0.004, 0.006, 0.010, 0.017, 0.020, 0.030, 0.040, 0.075, 0.100 | | | 0.300, 7.0, 10.0, 15.0, 20.0, 30.0, 40.0 | 400 Picosecond Lasers, 1.3 Nanosecond Lasers | 10Hz, 100Hz, 200Hz, 1kHz, 5kHz, 10kHz, 15kHz, 55kHz, 100kHz |
| | Sirius GR | Pulsed DPSS Lasers, Ultrafast Lasers | 532 | 2.0 | | | 32.0 | 10 Picosecond Lasers | Single shot to 1MHz |
| | Sirius IR | Pulsed DPSS Lasers, Ultrafast Lasers | 1064 | 5.0 | | | 60.0 | 10 Picosecond Lasers | Single shot to 1MHz |
| | SOL-532 | Pulsed DPSS Lasers | 532 | 3.0, 5.0, 10.0, 20.0, 35.0 | | | 200.0, 400.0, 650.0, 1200.0 | 10ns to 50ns Lasers, 10ns to 60ns Lasers, 15ns to 60ns Lasers | Single Shot to 100kHz |
| | Triplex-RWLS-445-520-635 | Single Emitter, Turn-Key System | 445, 520, 635 | 0.010, 0.015, 0.020, 0.030, 0.050, 0.080, 0.100 | Single-Mode Lasers, Multimode | MM Fiber, SM Fiber | | | |
| | Triplex-RWLX-445-520-635 | Single Emitter | 445, 520, 635 | 0.010, 0.015, 0.020, 0.030, 0.050, 0.080, 0.100 | Single-Mode Lasers, Multimode | MM Fiber, SM Fiber | | | |
| | Vento-532 | Pulsed DPSS Lasers | 532 | 7.0, 15.0, 50.0 | | | 150.0, 400.0, 1000.0 | 400ps to 1.5ns Lasers | 40kHz to 200kHz |
| | Wedge-HB/XB 532 | Pulsed DPSS Lasers | 532 | 2.0 | | | 1000.0, 2000.0 | 1.5 Nanosecond Lasers | Single shot to 1kHz, Single shot to 2kHz |
| | Wedge-HF/XF 532 | Pulsed DPSS Lasers | 532 | 0.500, 1.5, 2.0, 4.0 | | | 30.0, 40.0, 80.0, 120.0 | 400ps to 1ns Lasers, 500ps to 1.5ns Lasers, 750ps to 2ns Lasers, 750ps to 2.5ns Lasers | 10kHz to 100kHz, Single shot to 10kHz |