Photodynamic Therapy Lasers
What are Photodynamic Therapy Lasers?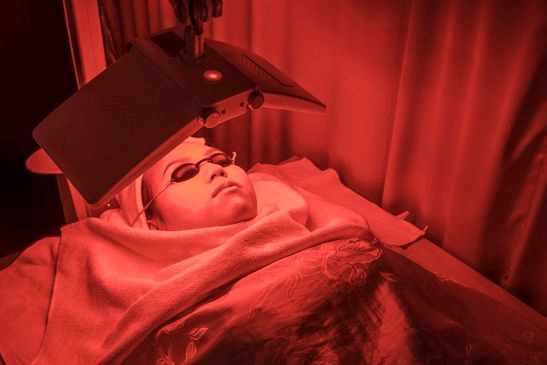 Photodynamic therapy or PDT, refers to any use of modulated laser light, used in conjunction with a photosensitizing chemical substance to induce a therapeutic response. Among the advantages of Photodynamic therapy is lessening the need for delicate surgery and lengthy recuperation and minimal formation of scar tissue and disfigurement. PDT is widely considered to be minimally invasive and minimally toxic.
Applications of PDT lasers vary widely from photoactivated medicines to cancer targeting photothermal nanoparticles, to near-infrared laser-induced vein dilation.  PDT has become known to:
safely and effectively treat severe acne
destroy certain types of cancer cells
treat metastatic cancer in conjunction with tumor immunotherapy treatment
treat wet age-related macular degeneration
be effective in vascular targeting due to natural accumulation of photosensitizers
be an effective antimicrobial therapy and kill multidrug-resistant pathogenic bacteria
Because the applications vary so widely, so do the laser diode sources used for PDT lasers. They can range from low power blue diodes to 10 watts near infrared fiber coupled diode bars. It has been shown that 630nm light, used with 'Photofrin' was successful in treating lung cancers, and the newer 'Lutetium Texaphyrin' (Lu-Tex), used with 732nm light, shows promising results in the treatment of various skin lesions. At RPMC we offer one of the largest selections of both low and high power diode lasers.  On this page, you will find a list of all the PDT lasers we provide, including high power diode lasers, fiber coupled blue laser diode arrays, down to 70 mW single mode 830 nm single emitters.
| | | | | | | | |
| --- | --- | --- | --- | --- | --- | --- | --- |
| | HL705 | Single Emitter | 705 | 0.050 | Single-Mode Lasers | Free Space | |
| | HL730 | Single Emitter | 730 | 0.050 | Single-Mode Lasers | Free Space | |
| | HL830 | Single Emitter | 830 | 0.050 | Single-Mode Lasers | Free Space | |
| | HL852 | Single Emitter | 852 | 0.050 | Single-Mode Lasers | Free Space | |
| | JOLD-FC-1470 | Array (Bar) | 1470 | 20.0 | Multimode | MM Fiber | |
| | JOLD-FC-808 | Array (Bar) | 808 | 3.5, 4.2, 30.0, 45.0, 70.0, 75.0, 100.0, 120.0, 140.0, 210.0, 250.0, 400.0 | Multimode | MM Fiber | |
| | JOLD-FC-880 | Array (Bar) | 880 | 30.0, 45.0, 75.0, 100.0 | Multimode | MM Fiber | |
| | JOLD-FC-915 | Array (Bar) | 915 | 30.0, 45.0, 75.0, 100.0, 120.0, 140.0, 210.0, 250.0, 400.0 | Multimode | MM Fiber | |
| | JOLD-FC-940 | Array (Bar) | 940 | 30.0, 45.0, 70.0, 75.0, 100.0, 120.0, 140.0, 210.0, 250.0, 400.0 | Multimode | MM Fiber | |
| | JOLD-FC-976 | Array (Bar) | 976 | 30.0, 45.0, 75.0, 100.0, 120.0, 140.0, 210.0, 250.0, 400.0 | Multimode | MM Fiber | |
| | LDX-XXXX-1030 | Single Emitter | 1030 | 3.0, 5.0 | Multimode | Free Space, MM Fiber | |
| | LDX-XXXX-1064 | Single Emitter | 1064 | 1.5, 3.0, 5.0 | Multimode | Free Space, MM Fiber | |
| | LDX-XXXX-1120 | Single Emitter | 1120 | 2.0, 3.5, 5.0 | Multimode | Free Space, MM Fiber | |
| | LDX-XXXX-1210 | Single Emitter | 1210 | 1.5, 2.0 | Multimode | Free Space, MM Fiber | |
| | LDX-XXXX-1280 | Single Emitter | 1280 | 3.5, 5.0, 7.0 | Multimode | Free Space, MM Fiber | |
| | LDX-XXXX-1370 | Single Emitter | 1370 | 3.5, 5.0 | Multimode | Free Space, MM Fiber | |
| | LDX-XXXX-1470 | Single Emitter | 1470 | 3.5, 5.0 | Multimode | Free Space, MM Fiber | |
| | LDX-XXXX-1550 | Single Emitter | 1550 | 0.800, 1.0, 1.5, 1.75, 2.5, 3.5, 5.0 | Multimode | Free Space, MM Fiber | |
| | LDX-XXXX-1620 | Single Emitter | 1620 | 1.0 | Multimode | Free Space, MM Fiber | |
| | LDX-XXXX-1640 | Single Emitter | 1640 | 1.2 | Multimode | Free Space, MM Fiber | |
| | LDX-XXXX-1675 | Single Emitter | 1675 | 2.0 | Multimode | Free Space, MM Fiber | |
| | LDX-XXXX-1850 | Single Emitter | 1850 | 1.0 | Multimode | Free Space, MM Fiber | |
| | LDX-XXXX-445 | Single Emitter | 445 | 3.5 | Multimode | Free Space, MM Fiber | |
| | LDX-XXXX-520 | Single Emitter | 520 | 1.0 | Multimode | Free Space, MM Fiber | |
| | LDX-XXXX-622 | Single Emitter | 622 | 0.150 | Multimode | Free Space, MM Fiber | |
| | LDX-XXXX-627 | Single Emitter | 627 | 0.250, 0.350 | Multimode | Free Space, MM Fiber | |
| | LDX-XXXX-630 | Single Emitter | 630 | 0.250, 0.400 | Multimode | Free Space, MM Fiber | |
| | LDX-XXXX-635 | Single Emitter | 635 | 0.300, 0.400, 0.600, 1.2 | Multimode | Free Space, MM Fiber | |
| | LDX-XXXX-645 | Single Emitter | 645 | 0.300, 0.400 | Multimode | Free Space, MM Fiber | |
| | LDX-XXXX-650 | Single Emitter | 650 | 1.0 | Multimode | Free Space, MM Fiber | |
| | LDX-XXXX-660 | Single Emitter | 660 | 0.350, 0.750, 1.0, 2.0 | Multimode | Free Space, MM Fiber | |
| | LDX-XXXX-665 | Single Emitter | 665 | 0.350, 0.750, 1.0, 2.0 | Multimode | Free Space, MM Fiber | |
| | LDX-XXXX-680 | Single Emitter | 680 | 0.400, 0.800, 1.2, 2.0 | Multimode | Free Space, MM Fiber | |
| | LDX-XXXX-685 | Single Emitter | 685 | 0.400, 0.800, 1.2, 2.0 | Multimode | Free Space, MM Fiber | |
| | LDX-XXXX-690 | Single Emitter | 690 | 0.400, 0.750, 1.1 | Multimode | Free Space, MM Fiber | |
| | LDX-XXXX-735 | Single Emitter | 735 | 1.0, 1.75, 2.0, 4.0 | Multimode | Free Space, MM Fiber | |
| | LDX-XXXX-750 | Single Emitter | 750 | 1.0, 2.0, 3.0, 5.0 | Multimode | Free Space, MM Fiber | |
| | LDX-XXXX-760 | Single Emitter | 760 | 1.0, 2.0, 3.0, 6.0 | Multimode | Free Space, MM Fiber | |
| | LDX-XXXX-780 | Single Emitter | 780 | 1.2, 2.5, 3.5, 5.0 | Multimode | Free Space, MM Fiber | |
| | LDX-XXXX-785 | Single Emitter | 785 | 3.5, 5.0 | Multimode | Free Space, MM Fiber | |
| | LDX-XXXX-792 | Single Emitter | 792 | 1.2, 2.5, 3.5 | Multimode | Free Space, MM Fiber | |
| | LDX-XXXX-797 | Single Emitter | 797 | 3.0, 4.0 | Multimode | Free Space, MM Fiber | |
| | LDX-XXXX-808 | Single Emitter | 808 | 1.2, 2.0, 3.0, 4.0, 6.0, 10.0 | Multimode | Free Space, MM Fiber | |
| | LDX-XXXX-825 | Single Emitter | 825 | 4.0 | Multimode | Free Space, MM Fiber | |
| | LDX-XXXX-830 | Single Emitter | 830 | 1.6 | Multimode | Free Space, MM Fiber | |
| | LDX-XXXX-860 | Single Emitter | 860 | 1.0, 1.5, 2.0, 3.0, 4.0, 5.0 | Multimode | Free Space, MM Fiber | |
| | LDX-XXXX-885 | Single Emitter | 885 | 2.5, 6.0 | Multimode | Free Space, MM Fiber | |
| | LDX-XXXX-900 | Single Emitter | 900 | 2.0 | Multimode | Free Space, MM Fiber | |
| | LDX-XXXX-915 | Single Emitter | 915 | 4.0, 6.0, 10.0 | Multimode | Free Space, MM Fiber | |
| | LDX-XXXX-940 | Single Emitter | 940 | 4.0, 5.0, 6.0, 16.0 | Multimode | Free Space, MM Fiber | |
| | LDX-XXXX-960 | Single Emitter | 960 | 10.0 | Multimode | Free Space, MM Fiber | |
| | LDX-XXXX-980 | Single Emitter | 980 | 1.5, 4.0, 5.0, 6.0, 10.0 | Multimode | Free Space, MM Fiber | |
| | RDS3 | Turn-Key System | Multiple Wavelength Options | Multiple Options Available | Single-Mode Lasers, Multimode | MM Fiber, SM Fiber | |
| | RPK405S | Single Emitter | 405 | 4.0 | Single-Mode Lasers | SM Fiber | |
| | RPK445M | Multi-Emitter | 445 | 10.0, 15.0, 20.0, 50.0 | Multimode | MM Fiber | |
| | RPK445S | Single Emitter | 445 | 0.800, 3.0 | Multimode | MM Fiber | |
| | RPK635M | Multi-Emitter | 635 | 5.0 | Multimode | MM Fiber | |
| | RPK635S | Single Emitter | 635 | 0.002, 0.020 | Single-Mode Lasers | SM Fiber | |
| | RPK785SS | Single Emitter, Volume Bragg Grating (VBG) Laser Diodes | 785 | 0.600 | Multimode | MM Fiber | Narrow |
| | RPK793M | Multi-Emitter | 793 | 8.0, 12.0, 16.0, 30.0, 50.0, 80.0, 90.0, 140.0, 180.0 | Multimode | MM Fiber | |
| | RPK793S | Single Emitter | 793 | 4.0 | Multimode | MM Fiber | |
| | RPK808M | Multi-Emitter | 808 | 15.0, 25.0, 30.0, 55.0, 60.0, 150.0 | Multimode | MM Fiber | |
| | RPK808S | Single Emitter | 808 | 4.0, 8.0 | Multimode | MM Fiber | |
| | RPK830S | Single Emitter | 830 | 1.0 | Multimode | MM Fiber | |
| | RPK878MS | Multi-Emitter, Volume Bragg Grating (VBG) Laser Diodes | 878 | 30.0, 65.0, 120.0 | Multimode | MM Fiber | Narrow |
| | RPK888MS | Multi-Emitter, Volume Bragg Grating (VBG) Laser Diodes | 888 | 65.0, 120.0 | Multimode | MM Fiber | Narrow |
| | RPK915M | Multi-Emitter | 915 | 30.0, 70.0, 160.0, 180.0, 300.0, 370.0 | Multimode | MM Fiber | |
| | RPK915S | Single Emitter | 915 | 12.0 | Multimode | MM Fiber | |
| | RPK940M | Multi-Emitter | 940 | 20.0, 30.0, 70.0, 120.0, 150.0, 200.0 | Multimode | MM Fiber | |
| | RPK940S | Single Emitter | 940 | 10.0, 11.0 | Multimode | MM Fiber | |
| | RPK976M | Multi-Emitter | 976 | 15.0, 20.0, 30.0, 70.0, 150.0, 200.0, 330.0, 540.0 | Multimode | MM Fiber | |
| | RPK976SS | Single Emitter, Volume Bragg Grating (VBG) Laser Diodes | 976 | 3.0, 9.0 | Multimode | MM Fiber | Narrow |
| | RPKA64M | Multi-Emitter | 1064 | 20.0 | Multimode | MM Fiber | |
| | RPKMWM | Multi Wavelength | Multiple Wavelength Options | 0.600, 5.0, 15.0, 25.0 | Multimode | MM Fiber | |
| | TG-420 | Single Emitter | 420 | 0.050 | Single-Mode Lasers | Free Space | |
| | TG-425 | Single Emitter | 425 | 0.050 | Single-Mode Lasers | Free Space | |
| | TG-430 | Single Emitter | 430 | 0.050 | Single-Mode Lasers | Free Space | |
| | TG-435 | Single Emitter | 435 | 0.050 | Single-Mode Lasers | Free Space | |
| | TG-440 | Single Emitter | 440 | 0.050 | Single-Mode Lasers | Free Space | |
| | TG-445 | Single Emitter | 445 | 0.050 | Single-Mode Lasers | Free Space | |
| | TG-450 | Single Emitter | 450 | 0.050 | Single-Mode Lasers | Free Space | |
| | TG-455 | Single Emitter | 455 | 0.050 | Single-Mode Lasers | Free Space | |
| | TG-460 | Single Emitter | 460 | 0.050 | Single-Mode Lasers | Free Space | |