CW Lasers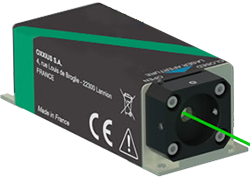 CW Lasers (continuous-wave lasers) emit a continuous stream of laser light, unlike pulsed lasers. Pulsed lasers store energy and emit the stored, concentrated energy in periodic bursts or pulses. Indeed, RPMC Lasers offers a wide selection of Continuous-Wave (CW) Lasers and Diode Modules. For example: Laser Diode (LD) Modules, DPSS Lasers, HeNe and Argon-Ion Gas Lasers, Fiber Lasers, Line Modules, Multi-Wavelength Combiners, and Custom Lasers.  CW Lasers and Modules are available in the UV, Violet, Blue, Green, Yellow, Orange, Red, NIR, SWIR, MWIR, and LWIR wavelength regimes. Available output powers range from 0.5mW up to 100W. These single-mode and multimode CW offerings are available with either free-space or fiber-coupled output. Furthermore, along with standard output, narrow linewidth or broadband output options are also available. Finally, our laser package options range from simple laser diodes, to modules to full turn-key systems.
CW Applications
Our CW Lasers provide utility in the Life Science, Medical, and Industrial markets. Therefore, we support many applications, including our focused, CW applications. For example: Flow Cytometry, DNA Sequencing, Confocal & Fluorescence Microscopy, Optogenetics, Aesthetics, Dental, Photodynamic Therapy, Raman Spectroscopy, Interferometry, Machine Vision, Holography, Laser Pumping and Seeding, and many others.
Let Us Help
If you have any questions or would like some assistance please contact us here. Furthermore, you can email us at info@rpmclasers.com to talk to a knowledgeable Product Manager. Alternatively, use the filters on this page to assist in narrowing down the selection of CW Lasers and Laser Diode Modules for sale. Finally, head to our Knowledge Center with our Lasers 101, Blogs, Whitepapers, and FAQ pages for further, in-depth reading.
Suggested Reading
| | | | | | | | | |
| --- | --- | --- | --- | --- | --- | --- | --- | --- |
| | 1.5um Broadband CW Fiber Lasers | CW Fiber Lasers | 1529-1610 | 0.160 | | SM Fiber, PM Fiber | Broadband | |
| | 1.5um CW/CW Modulated Fiber Lasers | CW Fiber Lasers | 1529-1610 | 2.0, 5.0, 30.0 | Single-Mode Lasers | SM Fiber, PM Fiber | | |
| | 1.5um NLW CW Fiber Lasers | CW Fiber Lasers | 1530-1564 | 0.032, 1.0 | Single-Mode Lasers | SM Fiber, PM Fiber | Narrow | More than 50m |
| | 1030L-1XB | CW DPSS Lasers | 1030 | 0.300, 0.400, 0.500 | Single-Mode Lasers, Multimode | Free Space, MM Fiber, SM Fiber, PM Fiber, SMA Port | | |
| | 1030L-2XB | CW DPSS Lasers | 1030 | 0.200, 0.280, 0.400 | Single-Mode Lasers, Multimode | Free Space, MM Fiber, SM Fiber, PM Fiber | Narrow | More than 50m |
| | 1064L-1XB | CW DPSS Lasers | 1064 | 0.300, 0.400, 0.500 | Single-Mode Lasers, Multimode | Free Space, MM Fiber, SM Fiber, PM Fiber, SMA Port | | |
| | 1064L-2XB | CW DPSS Lasers | 1064 | 0.200, 0.280, 0.400 | Single-Mode Lasers, Multimode | Free Space, MM Fiber, SM Fiber, PM Fiber | Narrow | More than 50m |
| | 1123L-1XB | CW DPSS Lasers | 1123 | 0.100, 0.160, 0.200 | Single-Mode Lasers, Multimode | Free Space, MM Fiber, SM Fiber, PM Fiber | | |
| | 1319L-1XB | CW DPSS Lasers | 1319 | 0.100, 0.160, 0.200 | Single-Mode Lasers, Multimode | Free Space, MM Fiber, SM Fiber, PM Fiber | | |
| | 1550L-1XA | LD Module | 1550 | 0.080, 0.120 | Single-Mode Lasers | Free Space, SM Fiber, PM Fiber | | |
| | 1um CW/CW Modulated Fiber Lasers | CW Fiber Lasers | 1060-1080 | 60.0, 100.0 | Single-Mode Lasers | SM Fiber, PM Fiber | | |
| | 2um CW/CW Modulated Fiber Lasers | CW Fiber Lasers | 1760-2050 | 4.0, 40.0 | Single-Mode Lasers | SM Fiber, PM Fiber | | |
| | 320 NX | CW DPSS Lasers | 320 | 0.050, 0.100, 0.200 | Single-Mode Lasers | Free Space | Narrow | More than 100m |
| | 349 NX | CW DPSS Lasers | 349 | 0.050, 0.100, 0.200 | Single-Mode Lasers | Free Space | Narrow | More than 100m |
| | 405L-1XA | LD Module | 405 | 0.100, 0.150, 0.180 | Single-Mode Lasers | Free Space, MM Fiber, SM Fiber, PM Fiber | | |
| | 405L-2XA | LD Module | 405 | 0.015, 0.030, 0.040 | Single-Mode Lasers | Free Space, MM Fiber, SM Fiber, PM Fiber | Narrow | More than 1m |
| | 450L-1XA | LD Module | 450 | 0.035, 0.050, 0.060 | Single-Mode Lasers | Free Space, MM Fiber, SM Fiber, PM Fiber | | |
| | 450L-3XA | LD Module | 450 | 0.400, 0.500 | Multimode | Free Space, MM Fiber | | |
| | 488L-1XA | LD Module | 488 | 0.020, 0.030, 0.040 | Single-Mode Lasers | Free Space, MM Fiber, SM Fiber, PM Fiber | | |
| | 488L-2XA | LD Module | 488 | 0.010, 0.015, 0.030 | Single-Mode Lasers | Free Space, MM Fiber, SM Fiber, PM Fiber | Narrow | More than 1m |
| | 505L-1XA | LD Module | 505 | 0.060 | Single-Mode Lasers | Free Space, MM Fiber, SM Fiber, PM Fiber | | |
| | 515L-1XA | LD Module | 515 | 0.010, 0.020, 0.025 | Single-Mode Lasers | Free Space, MM Fiber, SM Fiber, PM Fiber | | |
| | 520L-1XA | LD Module | 520 | 0.040, 0.070, 0.080 | Single-Mode Lasers | Free Space, MM Fiber, SM Fiber, PM Fiber | | |
| | 520L-2XA | LD Module | 520 | 0.025, 0.035, 0.040 | Single-Mode Lasers | Free Space, MM Fiber, SM Fiber, PM Fiber | Narrow | More than 1m |
| | 532L-1XB | CW DPSS Lasers | 532 | 0.100, 0.150, 0.160, 0.200 | Single-Mode Lasers, Multimode | Free Space, MM Fiber, SM Fiber, PM Fiber, SMA Port | | |
| | 532L-2XB | CW DPSS Lasers | 532 | 0.025, 0.040, 0.050 | Single-Mode Lasers, Multimode | Free Space, MM Fiber, SM Fiber, PM Fiber, SMA Port | Narrow | More than 50m |
| | 532L-3XB | CW DPSS Lasers | 532 | 0.400, 0.500 | Multimode | Free Space, MM Fiber, SMA Port | | |
| | 532L-4XB | CW DPSS Lasers | 532 | 0.050, 0.080, 0.100 | Single-Mode Lasers, Multimode | Free Space, MM Fiber, SM Fiber, PM Fiber, SMA Port | Narrow | More than 1m |
| | 532L-6XB | CW DPSS Lasers | 532 | 0.050, 0.080, 0.100 | Single-Mode Lasers, Multimode | Free Space, MM Fiber, SM Fiber, PM Fiber, SMA Port | Narrow | More than 1m |
| | 633L-1XA | LD Module | 633 | 0.100 | Single-Mode Lasers | Free Space, MM Fiber, SM Fiber, PM Fiber | | |
| | 633L-2XA | LD Module | 633 | 0.035, 0.040, 0.070 | Single-Mode Lasers | Free Space, MM Fiber, SM Fiber, PM Fiber | Narrow | More than 1m |
| | 638L-1XA | LD Module | 638 | 0.060, 0.080, 0.100, 0.120, 0.170, 0.500, 0.600 | Single-Mode Lasers | Free Space, MM Fiber, SM Fiber, PM Fiber | | |
| | 638L-2XA | LD Module | 638 | 0.060, 0.080, 0.100 | Single-Mode Lasers | Free Space, MM Fiber, SM Fiber, PM Fiber | Narrow | More than 1m |
| | 638L-3XA | LD Module | 638 | 0.500, 0.600 | Multimode | Free Space, MM Fiber | | |
| | 638L-4XA | LD Module | 638 | 0.300, 0.500 | Multimode | Free Space, MM Fiber | Narrow | More than 1m |
| | 660L-1XA | LD Module | 660 | 0.060, 0.080, 0.090, 0.110 | Single-Mode Lasers | Free Space, MM Fiber, SM Fiber, PM Fiber | | |
| | 783L-2XA | LD Module | 783 | 0.070, 0.080, 0.100 | Single-Mode Lasers | Free Space, MM Fiber, SM Fiber, PM Fiber | Narrow | More than 1m |
| | 785L-1XA | LD Module | 785 | 0.120, 0.150, 0.170 | Single-Mode Lasers | Free Space, MM Fiber, SM Fiber, PM Fiber | | |
| | 785L-2XA | LD Module | 785 | 0.080, 0.100, 0.130 | Single-Mode Lasers | Free Space, MM Fiber, SM Fiber, PM Fiber | Narrow | More than 1m |
| | 785L-3XA | LD Module | 785 | 1.5 | Multimode | Free Space, MM Fiber | | |
| | 785L-4XA | LD Module | 785 | 0.120, 0.150, 0.500, 0.700 | Multimode | Free Space, MM Fiber | Narrow | More than 1m |
| | 808L-1XA | LD Module | 808 | 0.110 | Single-Mode Lasers | Free Space, MM Fiber, SM Fiber, PM Fiber | | |
| | 808L-3XA | LD Module | 808 | 1.6, 3.0 | Multimode | Free Space, MM Fiber | | |
| | 830L-1XA | LD Module | 830 | 0.070, 0.090, 0.130 | Single-Mode Lasers | Free Space, MM Fiber, SM Fiber, PM Fiber | | |
| | 830L-2XA | LD Module | 830 | 0.050, 0.070, 0.080 | Single-Mode Lasers | Free Space, MM Fiber, SM Fiber, PM Fiber | Narrow | More than 1m |
| | 830L-3XA | LD Module | 808 | 1.0 | Multimode | MM Fiber | | |
| | 830L-4XA | LD Module | 830 | 0.350 | Multimode | MM Fiber, SMA Port | Narrow | More than 1m |
| | 850L-1XA | LD Module | 850 | 0.070, 0.110, 0.130 | Single-Mode Lasers | Free Space, MM Fiber, SM Fiber, PM Fiber | | |
| | 915L-1XA | LD Module | 915 | 0.080, 0.140, 0.170 | Single-Mode Lasers | Free Space, MM Fiber, SM Fiber, PM Fiber | | |
| | 975L-1XA | LD Module | 975 | 0.100, 0.140, 0.170 | Single-Mode Lasers | Free Space, MM Fiber, SM Fiber, PM Fiber | | |
| | He-Ne Power Supplies | HeNe Lasers | | 0.002 | Single-Mode Lasers | Free Space | | |
| | JenLas D2.X | CW DPSS Lasers | 532 | 0.060, 2.0, 3.0, 5.0, 8.0 | Multimode | Free Space, MM Fiber | | |
| | LBX-1064 | LD Module | 1064 | 0.200 | Single-Mode Lasers | Free Space, MM Fiber, SM Fiber, PM Fiber | | |
| | LBX-375-HPE | LD Module | 375 | 0.200, 0.400 | Multimode | Free Space, MM Fiber | | |
| | LBX-375 | LD Module | 375 | 0.070 | Single-Mode Lasers | Free Space, MM Fiber, SM Fiber, PM Fiber | | |
| | LBX-395 | LD Module | 375 | 0.120 | Single-Mode Lasers | Free Space, MM Fiber, SM Fiber, PM Fiber | | |
| | LBX-405-HPE | LD Module | 405 | 0.900, 1.2 | Multimode | Free Space, MM Fiber | | |
| | LBX-405 | LD Module | 405 | 0.050, 0.100, 0.180, 0.300 | Single-Mode Lasers | Free Space, MM Fiber, SM Fiber, PM Fiber | | |
| | LBX-415 | LD Module | 415 | 0.120 | Single-Mode Lasers | Free Space, MM Fiber, SM Fiber, PM Fiber | | |
| | LBX-445 | LD Module | 445 | 0.100, 0.500 | Single-Mode Lasers | Free Space, MM Fiber, SM Fiber, PM Fiber | | |
| | LBX-450-HPE | LD Module | 450 | 0.650, 1.2 | Multimode | Free Space, MM Fiber | | |
| | LBX-450 | LD Module | 450 | 0.070 | Single-Mode Lasers | Free Space, MM Fiber, SM Fiber, PM Fiber | | |
| | LBX-458 | LD Module | 457.9 | 0.070 | Single-Mode Lasers | Free Space, MM Fiber, SM Fiber, PM Fiber | | |
| | LBX-473-HPE | LD Module | 473 | 1.0 | Multimode | Free Space, MM Fiber | | |
| | LBX-473 | LD Module | 473 | 0.100, 0.300 | Single-Mode Lasers | Free Space, MM Fiber, SM Fiber, PM Fiber | | |
| | LBX-488-HPE | LD Module | 488 | 1.0 | Multimode | Free Space, MM Fiber | | |
| | LBX-488 | LD Module | 488 | 0.040, 0.050, 0.060, 0.100, 0.150, 0.200, 0.300 | Single-Mode Lasers | Free Space, MM Fiber, SM Fiber, PM Fiber | | |
| | LBX-505 | LD Module | 505 | 0.070 | Single-Mode Lasers | Free Space, MM Fiber, SM Fiber, PM Fiber | | |
| | LBX-515 | LD Module | 515 | 0.150 | Single-Mode Lasers | Free Space, MM Fiber, SM Fiber, PM Fiber | | |
| | LBX-520-800-HPE | LD Module | 520 | 0.800 | Multimode | Free Space, MM Fiber | | |
| | LBX-522 | LD Module | 522 | 0.070 | Single-Mode Lasers | Free Space, MM Fiber, SM Fiber, PM Fiber | | |
| | LBX-633 | LD Module | 633 | 0.100 | Single-Mode Lasers | Free Space, MM Fiber, SM Fiber, PM Fiber | | |
| | LBX-633S | LD Module | 633 | 0.040 | Single-Mode Lasers | Free Space, MM Fiber, SM Fiber, PM Fiber | Narrow | More than 1m |
| | LBX-638-HPE | LD Module | 638 | 1.1 | Multimode | Free Space, MM Fiber | | |
| | LBX-638 | LD Module | 638 | 0.100, 0.150, 0.180 | Single-Mode Lasers | Free Space, MM Fiber, SM Fiber, PM Fiber | | |
| | LBX-642 | LD Module | 642 | 0.130 | Single-Mode Lasers | Free Space, MM Fiber, SM Fiber, PM Fiber | | |
| | LBX-647 | LD Module | 647 | 0.140 | Single-Mode Lasers | Free Space, MM Fiber, SM Fiber, PM Fiber | | |
| | LBX-660 | LD Module | 660 | 0.100 | Single-Mode Lasers | Free Space, MM Fiber, SM Fiber, PM Fiber | | |
| | LBX-730 | LD Module | 730 | 0.040 | Single-Mode Lasers | Free Space, MM Fiber, SM Fiber, PM Fiber | | |
| | LBX-750-HPE | LD Module | 750 | 1.2 | Multimode | Free Space, MM Fiber | | |
| | LBX-785-HPE | LD Module | 785 | 0.800 | Multimode | Free Space, MM Fiber | | |
| | LBX-785 | LD Module | 785 | 0.100, 0.250, 0.350 | Single-Mode Lasers | Free Space, MM Fiber, SM Fiber, PM Fiber | | |
| | LBX-785S | LD Module | 785 | 0.150, 0.500 | Single-Mode Lasers | Free Space, MM Fiber, SM Fiber, PM Fiber | Narrow | |
| | LBX-830-HPE | LD Module | 830 | 1.2 | Multimode | Free Space, MM Fiber | | |
| | LBX-830S | LD Module | 830 | 0.100 | Single-Mode Lasers | Free Space, MM Fiber, SM Fiber, PM Fiber | Narrow | More than 1m |
| | LBX-940-HPE | LD Module | 940 | 0.800 | Multimode | Free Space, MM Fiber | | |
| | LBX-980 | LD Module | 980 | 0.200 | Single-Mode Lasers | Free Space, MM Fiber, SM Fiber, PM Fiber | | |
| | LCX-1064S | CW DPSS Lasers | 1064 | 0.100, 0.200, 0.300, 0.400, 0.500 | Single-Mode Lasers | Free Space, MM Fiber, SM Fiber, PM Fiber | Narrow | More than 50m |
| | LCX-532 | CW DPSS Lasers | 532 | 0.050, 0.100, 0.200, 0.300 | Single-Mode Lasers | Free Space, MM Fiber, SM Fiber, PM Fiber | | |
| | LCX-532S | CW DPSS Lasers | 532 | 0.050, 0.100, 0.200, 0.300 | Single-Mode Lasers | Free Space, MM Fiber, SM Fiber, PM Fiber | Narrow | More than 50m |
| | LCX-553 | CW DPSS Lasers | 553 | 0.050, 0.100, 0.150, 0.200 | Single-Mode Lasers | Free Space, MM Fiber, SM Fiber, PM Fiber | | |
| | LCX-553S | CW DPSS Lasers | 553 | 0.050, 0.100 | Single-Mode Lasers | Free Space, MM Fiber, SM Fiber, PM Fiber | Narrow | More than 50m |
| | LCX-561 | CW DPSS Lasers | 561 | 0.050, 0.100, 0.150, 0.200, 0.300 | Single-Mode Lasers | Free Space, MM Fiber, SM Fiber, PM Fiber | | |
| | LCX-561S | CW DPSS Lasers | 561 | 0.100, 0.150, 0.200 | Single-Mode Lasers | Free Space, MM Fiber, SM Fiber, PM Fiber | Narrow | More than 50m |
| | LGK 7512 | HeNe Lasers | 594 | 0.002 | Single-Mode Lasers | Free Space | | |
| | LGK 7608 | HeNe Lasers | 633 | 0.002 | Single-Mode Lasers | Free Space | | |
| | LGK 7610 | HeNe Lasers | 633 | 0.002 | Single-Mode Lasers | Free Space | | |
| | LGK 7621 | HeNe Lasers | 633 | 0.005 | Multimode | Free Space | | |
| | LGK 7627 | HeNe Lasers | 633 | 0.005, 0.010 | Single-Mode Lasers, Multimode | Free Space | | |
| | LGK 7628 | HeNe Lasers | 633 | 0.005, 0.007 | Single-Mode Lasers | Free Space | | |
| | LGK 7634 | HeNe Lasers | 633 | 0.002, 0.003 | Single-Mode Lasers | Free Space | | |
| | LGK 7650 | HeNe Lasers | 633 | 0.0005, 0.001 | Single-Mode Lasers | Free Space | | |
| | LGK 7653 | HeNe Lasers | 633 | 0.010 | Single-Mode Lasers | Free Space | | |
| | LGK 7654 | HeNe Lasers | 633 | 0.010 | Single-Mode Lasers | Free Space | | |
| | LGK 7655 | HeNe Lasers | 633 | 0.0006, 0.001 | Single-Mode Lasers | Free Space | | |
| | LGK 7665 | HeNe Lasers | 633 | 0.015, 0.018, 0.020 | Single-Mode Lasers | Free Space | | |
| | LGK 7672 | HeNe Lasers | 633 | 0.002 | Single-Mode Lasers | Free Space | | |
| | LGK 7785 | HeNe Lasers | 543 | 0.001, 0.002 | Single-Mode Lasers | Free Space | | |
| | LGK 7786 | HeNe Lasers | 543 | 0.0005, 0.00075, 0.001, 0.0015 | Single-Mode Lasers | Free Space | | |
| | LGR 7608 | HeNe Lasers | 633 | 0.0015 | Single-Mode Lasers | Free Space | | |
| | LGR 7610 | HeNe Lasers | 633 | 0.002 | Single-Mode Lasers | Free Space | | |
| | LGR 7621 | HeNe Lasers | 633 | 0.002, 0.005 | Single-Mode Lasers, Multimode | Free Space | | |
| | LGR 7627 | HeNe Lasers | 633 | 0.005, 0.010 | Single-Mode Lasers | Free Space | | |
| | LGR 7628 | HeNe Lasers | 633 | 0.005 | Single-Mode Lasers | Free Space | | |
| | LGR 7634 | HeNe Lasers | 633 | 0.002 | Single-Mode Lasers | Free Space | | |
| | LGR 7650 | HeNe Lasers | 633 | 0.005 | Single-Mode Lasers | Free Space | | |
| | LGR 7655 | HeNe Lasers | 633 | 0.001 | Single-Mode Lasers | Free Space | | |
| | LGR 7656 | HeNe Lasers | 633 | 0.0005 | Single-Mode Lasers | Free Space | | |
| | LGR 7660 | HeNe Lasers | 633 | 0.001 | Single-Mode Lasers | Free Space | | |
| | LGR 7695 | HeNe Lasers | 633 | 0.00075 | Single-Mode Lasers | Free Space | | |
| | LPX-532 | CW DPSS Lasers | 532 | 0.500 | Single-Mode Lasers | Free Space, MM Fiber, SM Fiber, PM Fiber | | |
| | LPX-532S | CW DPSS Lasers | 532 | 0.500 | Single-Mode Lasers | Free Space, MM Fiber, SM Fiber, PM Fiber | Narrow | |
| | LPX-553 | CW DPSS Lasers | 553 | 0.200 | Single-Mode Lasers | Free Space, MM Fiber, SM Fiber, PM Fiber | | |
| | LPX-553S | CW DPSS Lasers | 553 | 0.200 | Single-Mode Lasers | Free Space, MM Fiber, SM Fiber, PM Fiber | Narrow | More than 50m |
| | LPX-561 | CW DPSS Lasers | 561 | 0.300 | Single-Mode Lasers | Free Space, MM Fiber, SM Fiber, PM Fiber | | |
| | LPX-561S | CW DPSS Lasers | 561 | 0.300 | Single-Mode Lasers | Free Space, MM Fiber, SM Fiber, PM Fiber | Narrow | More than 50m |
| | LPX-607 | LD Module | 607 | 0.100, 0.200 | Single-Mode Lasers | Free Space, MM Fiber, SM Fiber, PM Fiber | | |
| | LPX-640 | CW DPSS Lasers | 640 | 0.300, 0.500 | Single-Mode Lasers | Free Space, MM Fiber, SM Fiber, PM Fiber | | |
| | LSX-785S | LD Module | 785 | 0.150 | Single-Mode Lasers | Free Space, MM Fiber, SM Fiber, PM Fiber | Narrow | More than 1m |
| | LTC-ISB-G1 | LD Module, Superluminescent | 1300, 1370, 1430, 1480, 1550, 1680, 1700 | 0.006, 0.008, 0.010, 0.012, 0.013, 0.015, 0.030 | Single-Mode Lasers | Free Space, SM Fiber, PM Fiber | Broadband | |
| | LTC-ISB-G2 | LD Module, Superluminescent | 1300, 1340, 1390, 1430, 1480, 1550, 1615, 1680 | 0.010, 0.012, 0.018, 0.019, 0.020, 0.025, 0.032, 0.035, 0.040 | Single-Mode Lasers | Free Space, SM Fiber, PM Fiber | Broadband | |
| | LXCc Combiner | Combiners | Multiple Wavelength Options | 0.100, 0.200, 0.300, 0.400, 0.500 | Single-Mode Lasers, Multimode | Free Space, MM Fiber, SM Fiber, PM Fiber | | |
| | MatchBox Combiner | Combiners | Multiple Wavelength Options | 0.050, 0.100 | Single-Mode Lasers, Multimode | Free Space, MM Fiber, SM Fiber, PM Fiber | | |
| | PowerMir 4.0um | Quantum Cascade Lasers | 4000 | 0.100, 0.450, 1.0 | Multimode | Free Space | | |
| | PowerMir 4.6um | Quantum Cascade Lasers | 4600 | 0.500, 1.0 | Multimode | Free Space | | |
| | PowerMir 4.8um | Quantum Cascade Lasers | 4800 | 0.500, 1.0 | Multimode | Free Space | | |
| | PowerMir 9.4um | Quantum Cascade Lasers | 9400 | 0.100, 0.300 | Multimode | Free Space | | |
| | R0633 | LD Module, Single Emitter, Volume Bragg Grating (VBG) Laser Diodes | 633 | 0.020, 0.050 | Single-Mode Lasers | Free Space, PM Fiber | Narrow | More than 1m |
| | R0638 | LD Module, Single Emitter, Volume Bragg Grating (VBG) Laser Diodes | 638 | 0.025, 0.060, 0.300 | Single-Mode Lasers, Multimode | Free Space, MM Fiber, PM Fiber | Narrow | More than 1m |
| | R0660 | LD Module, Single Emitter, Volume Bragg Grating (VBG) Laser Diodes | 660 | 0.060 | Single-Mode Lasers, Multimode | Free Space | Narrow | More than 1m |
| | R0680 | LD Module, Single Emitter, Volume Bragg Grating (VBG) Laser Diodes | 680 | 0.300 | Single-Mode Lasers, Multimode | Free Space, MM Fiber | Narrow | More than 1m |
| | R0780 | LD Module, Single Emitter, Volume Bragg Grating (VBG) Laser Diodes | 780 | 0.050, 0.100 | Single-Mode Lasers, Multimode | Free Space, PM Fiber | Narrow | More than 1m |
| | R0783 | LD Module, Single Emitter, Volume Bragg Grating (VBG) Laser Diodes | 783 | 0.050, 0.100 | Single-Mode Lasers, Multimode | Free Space, SM Fiber, PM Fiber | Narrow | More than 1m |
| | R0785 | LD Module, Single Emitter, Volume Bragg Grating (VBG) Laser Diodes | 785 | 0.050, 0.100, 0.200, 0.350, 0.600 | Single-Mode Lasers, Multimode | Free Space, MM Fiber, PM Fiber | Narrow | More than 1m |
| | R0808 | LD Module, Single Emitter, Volume Bragg Grating (VBG) Laser Diodes | 808 | 0.050, 0.100, 0.200, 0.350, 0.600 | Single-Mode Lasers, Multimode | Free Space, MM Fiber, PM Fiber | Narrow | More than 1m |
| | R0830 | LD Module, Single Emitter, Volume Bragg Grating (VBG) Laser Diodes | 830 | 0.100, 0.200, 0.350, 0.600 | Single-Mode Lasers, Multimode | Free Space, MM Fiber, PM Fiber | Narrow | More than 1m |
| | R0976 | LD Module, Single Emitter, Volume Bragg Grating (VBG) Laser Diodes | 976 | 0.220, 0.500, 0.750, 4.0, 5.0 | Single-Mode Lasers, Multimode | Free Space, MM Fiber | Narrow | More than 1m |
| | R1030 | LD Module, Single Emitter, Volume Bragg Grating (VBG) Laser Diodes | 1030 | 0.100, 0.280, 0.450 | Single-Mode Lasers, Multimode | Free Space, SM Fiber, PM Fiber | Narrow | More than 1m |
| | R1053 | LD Module, Single Emitter, Volume Bragg Grating (VBG) Laser Diodes | 1053 | 0.050, 0.120, 0.200, 0.300, 0.500 | Single-Mode Lasers, Multimode | Free Space, SM Fiber, PM Fiber | Narrow | More than 1m |
| | R1064 | LD Module, Single Emitter, Volume Bragg Grating (VBG) Laser Diodes | 1064 | 0.050, 0.150, 0.300, 0.350, 0.600 | Single-Mode Lasers, Multimode | Free Space, MM Fiber, PM Fiber | Narrow | |
| | REP1260-1300 | LD Module, Single Emitter, Distributed Feedback (DFB) Lasers | 1260-1300 | 0.009, 0.012, 0.020, 0.022 | Single-Mode Lasers | Free Space, SM Fiber, PM Fiber | Narrow | |
| | REP1380-1400 | LD Module, Single Emitter, Distributed Feedback (DFB) Lasers | 1380-1400 | 0.008 | Single-Mode Lasers | Free Space, SM Fiber, PM Fiber | Narrow | |
| | REP1500-1560 | LD Module, Single Emitter, Distributed Feedback (DFB) Lasers | 1500-1560 | 0.005, 0.008, 0.016, 0.020, 0.022, 0.050 | Single-Mode Lasers | Free Space, SM Fiber, PM Fiber | Narrow | |
| | REP1560-1600 | LD Module, Single Emitter, Distributed Feedback (DFB) Lasers | 1560-1600 | 0.006, 0.020 | Single-Mode Lasers | Free Space, SM Fiber, PM Fiber | Narrow | |
| | REP1635-1670 | LD Module, Single Emitter, Distributed Feedback (DFB) Lasers | 1635-1670 | 0.006 | Single-Mode Lasers | Free Space, SM Fiber, PM Fiber | Narrow | |
| | REP1678-1720 | LD Module, Single Emitter, Distributed Feedback (DFB) Lasers | 1678-1720 | 0.005 | Single-Mode Lasers | Free Space, SM Fiber, PM Fiber | Narrow | |
| | REP1720-1770 | LD Module, Single Emitter, Distributed Feedback (DFB) Lasers | 1720-1770 | 0.005 | Single-Mode Lasers | Free Space, SM Fiber, PM Fiber | Narrow | |
| | REP1850-1880 | LD Module, Single Emitter, Distributed Feedback (DFB) Lasers | 1850-1880 | 0.003, 0.014 | Single-Mode Lasers | Free Space, SM Fiber, PM Fiber | Narrow | |
| | REP1908-1970 | LD Module, Single Emitter, Distributed Feedback (DFB) Lasers | 1908-1970 | 0.0015, 0.002 | Single-Mode Lasers | Free Space, SM Fiber, PM Fiber | Narrow | |
| | REP1970-2053 | LD Module, Single Emitter, Distributed Feedback (DFB) Lasers | 1970-2053 | 0.003, 0.014 | Single-Mode Lasers | Free Space, SM Fiber, PM Fiber | Narrow | |
| | REP2300-2333 | LD Module, Single Emitter, Distributed Feedback (DFB) Lasers | 2300-2333 | 0.005 | Single-Mode Lasers | SM Fiber, PM Fiber | | |
| | RHAML-XXXX-YY-Z-E | LD Module, Line Modules | Multiple Wavelength Options | 0.100 | Single-Mode Lasers | Free Space, Line | | |
| | RHAML-XXXX-YY-Z | LD Module, Line Modules | Multiple Wavelength Options | 0.100 | Single-Mode Lasers | Free Space, Line | | |
| | RML126FC | LD Module | Multiple Wavelength Options | 0.100 | Single-Mode Lasers | SM Fiber | | |
| | RML150FC | LD Module | Multiple Wavelength Options | 0.080 | Single-Mode Lasers | SM Fiber | | |
| | RML2040-XXXX-YY-ZZ | LD Module, Line Modules | Multiple Wavelength Options | 2.0 | Single-Mode Lasers | Free Space, Line | | |
| | RML2240 | LD Module | Multiple Wavelength Options | 1.5 | Single-Mode Lasers, Multimode | MM Fiber, SM Fiber | | |
| | RML2540-XXXX-YY-ZZ | LD Module, Line Modules | Multiple Wavelength Options | 1.0, 2.0 | Single-Mode Lasers, Multimode | Free Space, Line | | |
| | Solo-640 | CW DPSS Lasers | 640 | 0.500, 0.750, 1.0 | Single-Mode Lasers | Free Space | Narrow | More than 100m |