REP Series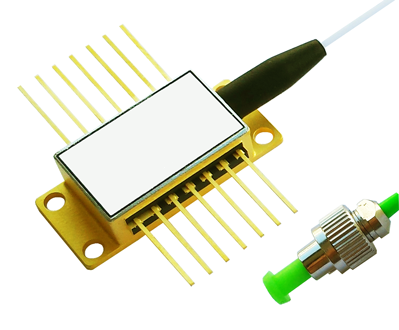 The REP series includes tunable single-frequency (DFB-like) diode lasers and Fabry-Perot laser diodes in wavelengths from 1270nm thru 2350nm for communications, sensing and measurement applications.
The REP Series is specifically engineered for applications such as gas sensing, LIDAR, metrology, and optical communications. Multiple packaging options are available including the Fiber coupled 14-pin butterfly, TO39 (w/TEC), and TO56.
For a complete module incorporating the fiber coupled butterfly package with an integrated current driver and TEC controller, designed for ease of operation, it is the ideal platform for high stability gas detection or remote sensing.  See the DX1 Series.
| | | | | | | | | |
| --- | --- | --- | --- | --- | --- | --- | --- | --- |
| | REP1260-1300 | LD Module, Single Emitter, Distributed Feedback (DFB) Lasers | 1260-1300 | 0.009, 0.012, 0.020, 0.022 | Single-Mode Lasers | Free Space, SM Fiber, PM Fiber | Narrow | 5.6mm, TO-39, Butterfly FC |
| | REP1380-1400 | LD Module, Single Emitter, Distributed Feedback (DFB) Lasers | 1380-1400 | 0.008 | Single-Mode Lasers | Free Space, SM Fiber, PM Fiber | Narrow | 5.6mm, TO-39, Butterfly FC |
| | REP1500-1560 | LD Module, Single Emitter, Distributed Feedback (DFB) Lasers | 1500-1560 | 0.005, 0.008, 0.016, 0.020, 0.022, 0.050 | Single-Mode Lasers | Free Space, SM Fiber, PM Fiber | Narrow | 5.6mm, TO-39, Butterfly FC |
| | REP1560-1600 | LD Module, Single Emitter, Distributed Feedback (DFB) Lasers | 1560-1600 | 0.006, 0.020 | Single-Mode Lasers | Free Space, SM Fiber, PM Fiber | Narrow | 5.6mm, TO-39, Butterfly FC |
| | REP1635-1670 | LD Module, Single Emitter, Distributed Feedback (DFB) Lasers | 1635-1670 | 0.006 | Single-Mode Lasers | Free Space, SM Fiber, PM Fiber | Narrow | 5.6mm, TO-39, Butterfly FC |
| | REP1678-1720 | LD Module, Single Emitter, Distributed Feedback (DFB) Lasers | 1678-1720 | 0.005 | Single-Mode Lasers | Free Space, SM Fiber, PM Fiber | Narrow | 5.6mm, TO-39, Butterfly FC |
| | REP1720-1770 | LD Module, Single Emitter, Distributed Feedback (DFB) Lasers | 1720-1770 | 0.005 | Single-Mode Lasers | Free Space, SM Fiber, PM Fiber | Narrow | 5.6mm, TO-39, Butterfly FC |
| | REP1850-1880 | LD Module, Single Emitter, Distributed Feedback (DFB) Lasers | 1850-1880 | 0.003, 0.014 | Single-Mode Lasers | Free Space, SM Fiber, PM Fiber | Narrow | 5.6mm, TO-39, Butterfly FC |
| | REP1908-1970 | LD Module, Single Emitter, Distributed Feedback (DFB) Lasers | 1908-1970 | 0.0015, 0.002 | Single-Mode Lasers | Free Space, SM Fiber, PM Fiber | Narrow | 5.6mm, TO-39, Butterfly FC |
| | REP1970-2053 | LD Module, Single Emitter, Distributed Feedback (DFB) Lasers | 1970-2053 | 0.003, 0.014 | Single-Mode Lasers | Free Space, SM Fiber, PM Fiber | Narrow | 5.6mm, TO-39, Butterfly FC |
| | REP2300-2333 | LD Module, Single Emitter, Distributed Feedback (DFB) Lasers | 2300-2333 | 0.005 | Single-Mode Lasers | SM Fiber, PM Fiber | | TO-39, Butterfly FC |