Blue Lasers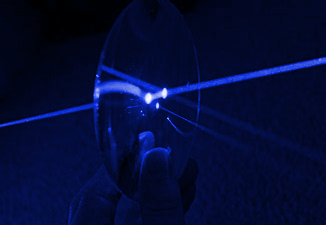 Blue Diode Lasers (blue semiconductor lasers), which are typically fabricated out of aluminum gallium nitride (AlGaN) or aluminum indium gallium nitride (AlInGaN), are one of the newest laser diodes available on the market today, having been first demonstrated in the mid-1990s.  Over the past 20 years, blue diode lasers have found uses in a wide variety of applications, most ranging from RGB laser displays to aesthetic lasers for acne treatment. High power blue laser diodes provide void-free, spatter-free welds on copper, non-ferrous metals, and dissimilar metals. In addition to blue diode lasers, diode-pumped solid-state (DPSS) lasers are also available offering extremely long coherence lengths for applications such as Interferometry, Holography, and LIBS. DPSS lasers can produce blue laser light through harmonic generation (3rd harmonic / frequency-tripling) of neodymium-doped yttrium lithium fluoride (Nd:YLF) gain media.
Blue laser light is efficiently absorbed by most metals. Considering this, blue wavelength lasers can be an extremely versatile tool, able to process most materials.
Blue Laser Products
We offer many different laser types with Blue output, including Single Emitter and Multi-Emitter Laser Diodes, Laser Diode Modules, Line Modules, Pulsed DPSS Lasers, Microchip Lasers, Tunable DPSS Lasers and Turnkey Systems. Our Blue products are available with up to 3.5 W average power, options for single-mode or multimode, free-space or fiber-coupled output, and various packaging options and integration levels from component to OEM to turnkey systems. We have a number of different blue wavelengths from 415 to 495 nm including non-traditional blue wavelengths like 420, 425, 430, 435, 440, 445, 450, and 460 nm, ideal for various life science applications. If you are looking for 405 nm lasers, you can find them here on our Violet Lasers page.
Let Us Help!
In conclusion, if you have any questions or would like some assistance, don't hesitate to get in touch with us here. Furthermore, you can call us at 636.272.7227 to talk to a knowledgeable Product Manager. Alternatively, you can also use the filters on this page to assist in narrowing down the selection. Finally, head to our Knowledge Center, with our Lasers 101 page and Blogs and Whitepapers pages, for further, in-depth reading.
| | | | | | | | | | |
| --- | --- | --- | --- | --- | --- | --- | --- | --- | --- |
| | 450L-1XA | LD Module | 450 | 0.035, 0.050, 0.060 | Single-Mode Lasers | Free Space, MM Fiber, SM Fiber, PM Fiber | | | |
| | 450L-3XA | LD Module | 450 | 0.400, 0.500 | Multimode | Free Space, MM Fiber | | | |
| | 488L-1XA | LD Module | 488 | 0.020, 0.030, 0.040 | Single-Mode Lasers | Free Space, MM Fiber, SM Fiber, PM Fiber | | | |
| | 488L-2XA | LD Module | 488 | 0.010, 0.015, 0.030 | Single-Mode Lasers | Free Space, MM Fiber, SM Fiber, PM Fiber | | | |
| | LBX-415 | LD Module | 415 | 0.120 | Single-Mode Lasers | Free Space, MM Fiber, SM Fiber, PM Fiber | | | |
| | LBX-445 | LD Module | 445 | 0.100, 0.500 | Single-Mode Lasers | Free Space, MM Fiber, SM Fiber, PM Fiber | | | |
| | LBX-450-HPE | LD Module | 450 | 0.650, 1.2 | Multimode | Free Space, MM Fiber | | | |
| | LBX-450 | LD Module | 450 | 0.070 | Single-Mode Lasers | Free Space, MM Fiber, SM Fiber, PM Fiber | | | |
| | LBX-458 | LD Module | 457.9 | 0.070 | Single-Mode Lasers | Free Space, MM Fiber, SM Fiber, PM Fiber | | | |
| | LBX-473-HPE | LD Module | 473 | 1.0 | Multimode | Free Space, MM Fiber | | | |
| | LBX-473 | LD Module | 473 | 0.100, 0.300 | Single-Mode Lasers | Free Space, MM Fiber, SM Fiber, PM Fiber | | | |
| | LBX-488-HPE | LD Module | 488 | 1.0 | Multimode | Free Space, MM Fiber | | | |
| | LBX-488 | LD Module | 488 | 0.040, 0.050, 0.060, 0.100, 0.150, 0.200, 0.300 | Single-Mode Lasers | Free Space, MM Fiber, SM Fiber, PM Fiber | | | |
| | LDX-XXXX-445 | Single Emitter | 445 | 3.5 | Multimode | Free Space, MM Fiber | | | |
| | Q-TUNE | Pulsed DPSS Lasers, Tunable Lasers | Tunable | 0.200 | | | 8000.0 | 5 Nanosecond Lasers | 10Hz, 33Hz, 100Hz |
| | Quantas-Q-SHIFT-433 | Pulsed DPSS Lasers | 433 | 0.075, 0.120, 0.150 | | | 750.0, 1500.0, 3000.0, 4500.0, 6000.0, 7500.0 | 2ns to 5ns Lasers | 10Hz, 20Hz, 33Hz, 50Hz, 100Hz |
| | Quantas-Q-SHIFT-439 | Pulsed DPSS Lasers | 439 | 0.075, 0.120, 0.150 | | | 750.0, 1500.0, 3000.0, 4500.0, 6000.0, 7500.0 | 2ns to 5ns Lasers | 10Hz, 20Hz, 33Hz, 50Hz, 100Hz |
| | Quantas-Q-SHIFT-WXXXX | Pulsed DPSS Lasers | Multiple Wavelength Options | Varies | | | Varies | 2ns to 5ns Lasers | 100Hz |
| | RDS3 | Turn-Key System | Multiple Wavelength Options | Multiple Options Available | Single-Mode Lasers, Multimode | MM Fiber, SM Fiber | | | |
| | RHAML-XXXX-YY-Z-E | LD Module, Line Modules | Multiple Wavelength Options | 0.100 | Single-Mode Lasers | Free Space, Line | | | |
| | RHAML-XXXX-YY-Z | LD Module, Line Modules | Multiple Wavelength Options | 0.100 | Single-Mode Lasers | Free Space, Line | | | |
| | RML126FC | LD Module | Multiple Wavelength Options | 0.100 | Single-Mode Lasers | SM Fiber | | | |
| | RML150FC | LD Module | Multiple Wavelength Options | 0.080 | Single-Mode Lasers | SM Fiber | | | |
| | RML2240 | LD Module | Multiple Wavelength Options | 1.5 | Single-Mode Lasers, Multimode | MM Fiber, SM Fiber | | | |
| | RML2540-XXXX-YY-ZZ | LD Module, Line Modules | Multiple Wavelength Options | 1.0, 2.0 | Single-Mode Lasers, Multimode | Free Space, Line | | | |
| | RPK445M | Multi-Emitter Laser Diodes | 445 | 125, 170, 10.0, 15.0, 20.0, 50.0, 90.0 | Multimode | MM Fiber | | | |
| | RPK445S | Single Emitter | 445 | 0.800, 3.0 | Multimode | MM Fiber | | | |
| | RPKBDL-CW1000-E400 | Turn-Key System | 445 | 500.0, 1000.0 | Multimode | MM Fiber | | | |
| | RPKDS3-LC 445nm Fiber Coupled Blue Diode Laser System | Turn-Key System | 445 | 120.0, 200.0, 250.0 | Multimode | MM Fiber | | | |
| | RWLD-445-050m-1 | Single Emitter | 445 | 0.050 | Single-Mode Lasers | Free Space | | | |
| | RWLD-445-4500m-k | Single Emitter | 445 | 4.5 | Multimode | Free Space | | | |
| | RWLD-445M | Single Emitter | 445 | 4.0 | Multimode | Free Space | | | |
| | RWLD-445S | Single Emitter | 445 | 0.100 | Single-Mode Lasers | Free Space | | | |
| | RWLD-455M | Single Emitter | 455 | 5.5, 5.0 | Multimode | Free Space | | | |
| | RWLD-460S | Single Emitter | 460 | 0.100 | Single-Mode Lasers | Free Space | | | |
| | RWLD-465M | Single Emitter | 465 | 3.0 | Multimode | Free Space | | | |
| | RWLD-480S | Single Emitter | 480 | 0.060, 0.080 | Single-Mode Lasers | Free Space | | | |
| | RWLD-488S | Single Emitter | 488 | 0.060, 0.080, 0.100 | Single-Mode Lasers | Free Space | | | |
| | RWLD-495S | Single Emitter | 495 | 0.060, 0.080 | Single-Mode Lasers | Free Space | | | |
| | RWLP-445-001-M | Single Emitter | 445 | 1.0 | Multimode | MM Fiber | | | |
| | RWLP-445-030m-4 | Single Emitter | 445 | 0.030 | Multimode | SM Fiber | | | |
| | SB1-473 | Pulsed DPSS Lasers, Microchip Lasers | 473 | 0.0009, 0.010, 0.015 | | | 1.0, 3.0, 9.0 | 2 Nanosecond Lasers | 100Hz, 5kHz, 10kHz |
| | TG-420 | Single Emitter | 420 | 0.050 | Single-Mode Lasers | Free Space | | | |
| | TG-425 | Single Emitter | 425 | 0.050 | Single-Mode Lasers | Free Space | | | |
| | TG-430 | Single Emitter | 430 | 0.050 | Single-Mode Lasers | Free Space | | | |
| | TG-435 | Single Emitter | 435 | 0.050 | Single-Mode Lasers | Free Space | | | |
| | TG-440 | Single Emitter | 440 | 0.050 | Single-Mode Lasers | Free Space | | | |
| | TG-445 | Single Emitter | 445 | 0.050 | Single-Mode Lasers | Free Space | | | |
| | TG-450 | Single Emitter | 450 | 0.050 | Single-Mode Lasers | Free Space | | | |
| | TG-455 | Single Emitter | 455 | 0.050 | Single-Mode Lasers | Free Space | | | |
| | TG-460 | Single Emitter | 460 | 0.050 | Single-Mode Lasers | Free Space | | | |
| | Triplex-RWLS-445-520-635 | Single Emitter, Turn-Key System | 445, 520, 635 | 0.010, 0.015, 0.020, 0.030, 0.050, 0.080, 0.100 | Single-Mode Lasers, Multimode | MM Fiber, SM Fiber | | | |
| | Triplex-RWLX-445-520-635 | Single Emitter | 445, 520, 635 | 0.010, 0.015, 0.020, 0.030, 0.050, 0.080, 0.100 | Single-Mode Lasers, Multimode | MM Fiber, SM Fiber | | | |