Blue Lasers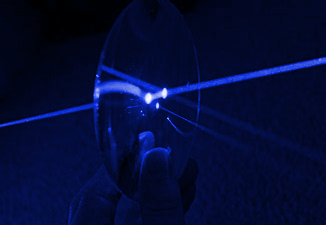 What are Blue Lasers?
A blue laser emits electromagnetic radiation (laser light) within the blue spectral region, which we define as being between 420 nm and 499 nm.
Blue laser wavelengths are on the shorter end of the visible spectrum. With shorter wavelengths, comes a couple of benefits, such as a smaller minimum spot size, and stronger absorption in materials. The minimum focused spot size of a laser beam is limited by the wavelength. Therefore, the shorter the wavelength the more tightly focused your spot size can be. This can be beneficial for extremely small features, whether in data storage, where the blue or violet beam (Blu-Ray) enables a much higher data density than older technologies (CDs) utilizing a red beam, or for imaging applications or for surface roughness measurements, for example, where the shorter wavelengths enable higher resolutions. Shorter wavelengths also provide stronger absorption in materials. For example, many metals are highly reflective to infrared (IR) wavelengths, while it's been shown that shorter wavelengths (i.e., blue lasers) are efficiently absorbed into materials such as copper. More on this below.
Sometimes you will see the terms blue lasers and violet lasers used interchangeably. For example, 405 nm lasers are often listed as a blue wavelength, while RPMC defines this wavelength as belonging to the violet color regime. Depending on where you look, you can find slightly different definitions or parameters for what specific wavelength range denotes blue wavelengths and which denote violet, especially right around where these two spectral regions come together. All that really matters is that you choose the proper specific wavelength to match your application requirements.
Blue Laser Diodes
Blue Diode Lasers (blue semiconductor lasers), which are typically fabricated out of aluminum gallium nitride (AlGaN) or aluminum indium gallium nitride (AlInGaN), are one of the newest laser diodes available on the market today, having been first demonstrated in the mid-1990s.  Over the past 20 years, blue diode lasers have found uses in a wide variety of applications, most ranging from RGB laser displays to aesthetic lasers for acne treatment. Blue laser light is efficiently absorbed by most metals. Considering this, blue wavelength lasers can be an extremely versatile tool, able to process most materials. High power blue laser diodes provide void-free, spatter-free welds on copper, non-ferrous metals, and dissimilar metals.
Blue DPSS Lasers
In addition to blue diode lasers, diode-pumped solid-state (DPSS) lasers are also available offering extremely long coherence lengths for applications such as Interferometry, Holography, and LIBS. DPSS lasers can produce blue laser light through harmonic generation (3rd harmonic / frequency-tripling) of neodymium-doped yttrium lithium fluoride (Nd:YLF) gain media, for example.
Our Blue Laser Products
We offer many different laser types with Blue output, including Single Emitter and Multi-Emitter Laser Diodes, Laser Diode Modules, Line Modules, Pulsed DPSS Lasers, Microchip Lasers, Tunable DPSS Lasers and Turnkey Systems. Our Blue products are available with up to 3.5 W average power, options for single-mode or multimode, free-space or fiber-coupled output, and various packaging options and integration levels from component to OEM to turnkey systems. We have a number of different blue wavelengths from 415 to 495 nm including non-traditional blue wavelengths like 420, 425, 430, 435, 440, 445, 450, and 460 nm, ideal for various life science applications. If you are looking for 405 nm lasers, you can find them here on our Violet Lasers page.
| | | | | | | | | | | |
| --- | --- | --- | --- | --- | --- | --- | --- | --- | --- | --- |
| | 450L-1XA | LD Module | 450 | 0.035, 0.050, 0.060 | Single-Mode | PM Fiber, SM Fiber, MM Fiber, Free Space | | | | |
| | 450L-3XA | LD Module | 450 | 0.300, 0.400 | Multimode | MM Fiber, Free Space | | | | |
| | 488L-1XA | LD Module | 488 | 0.020, 0.030, 0.040 | Single-Mode | PM Fiber, SM Fiber, MM Fiber, Free Space | | | | |
| | 488L-2XA | LD Module | 488 | 0.010, 0.015, 0.030 | Single-Mode | PM Fiber, SM Fiber, MM Fiber, Free Space | Narrow | | | |
| | LBX-415 | LD Module | 415 | 0.120 | Single-Mode | PM Fiber, SM Fiber, MM Fiber, Free Space | | | | |
| | LBX-445 | LD Module | 445 | 0.100, 0.500 | Single-Mode | PM Fiber, SM Fiber, MM Fiber, Free Space | | | | |
| | LBX-450-HPE | LD Module | 450 | 0.650, 1.2 | Multimode | MM Fiber, Free Space | | | | |
| | LBX-450 | LD Module | 450 | 0.070 | Single-Mode | PM Fiber, SM Fiber, MM Fiber, Free Space | | | | |
| | LBX-458 | LD Module | 457.9 | 0.500 | Single-Mode | PM Fiber, SM Fiber, MM Fiber, Free Space | | | | |
| | LBX-473-HPE | LD Module | 473 | 1.0 | Multimode | MM Fiber, Free Space | | | | |
| | LBX-473 | LD Module | 473 | 0.100, 0.300 | Single-Mode | PM Fiber, SM Fiber, MM Fiber, Free Space | | | | |
| | LBX-488-HPE | LD Module | 488 | 1.0 | Multimode | MM Fiber, Free Space | | | | |
| | LBX-488 | LD Module | 488 | 0.040, 0.050, 0.060, 0.100, 0.150, 0.200, 0.300 | Single-Mode | PM Fiber, SM Fiber, MM Fiber, Free Space | | | | |
| | LDX-XXXX-445 | Single Emitter | 445 | 3.5 | Multimode | MM Fiber, Free Space | | | | |
| | Q-TUNE | Pulsed DPSS Lasers, Tunable Lasers | Tunable | 0.210 | | | | 8000.0 | 5ns | 10Hz, 33Hz, 100Hz |
| | Quantas-Q-SHIFT-433 | Pulsed DPSS Lasers | 433 | 0.075, 0.120, 0.150 | | | | 300.0, 600.0, 1200.0, 1800.0, 2400.0, 3000.0 | 2ns - 5ns | 10Hz, 20Hz, 33Hz, 50Hz, 100Hz |
| | Quantas-Q-SHIFT-439 | Pulsed DPSS Lasers | 439 | 0.075, 0.120, 0.150 | | | | 300.0, 600.0, 1200.0, 1800.0, 2400.0, 3000.0 | 2ns - 5ns | 10Hz, 20Hz, 33Hz, 50Hz, 100Hz |
| | Quantas-Q-SHIFT-WXXXX | Pulsed DPSS Lasers | Multiple Wavelength Options | Varies | | | | Varies | 2ns - 5ns | 100Hz |
| | RHAML-XXXX-YY-Z-E | LD Module, Line Modules | Multiple Wavelength Options | 0.100 | Single-Mode | Free Space, Line | | | | |
| | RHAML-XXXX-YY-Z | LD Module, Line Modules | Multiple Wavelength Options | 0.100 | Single-Mode | Free Space, Line | | | | |
| | RML126FC | LD Module | Multiple Wavelength Options | 0.100 | Single-Mode | SM Fiber | | | | |
| | RML150FC | LD Module | Multiple Wavelength Options | 0.080 | Single-Mode | SM Fiber | | | | |
| | RML2240 | LD Module | Multiple Wavelength Options | 1.5 | Single-Mode, Multimode | SM Fiber, MM Fiber | | | | |
| | RML2540-XXXX-YY-ZZ | LD Module, Line Modules | Multiple Wavelength Options | 1.0, 2.0 | Single-Mode, Multimode | Free Space, Line | | | | |
| | RPK445 | Single Emitter, Multi-Emitter | 445 | 0.800, 3.0, 10.0, 20.0, 50.0, 100.0, 150.0, 200.0 | Multimode | MM Fiber | | | | |
| | RPKBDL-CW-E300/E400 | Turn-Key System | 445 | 500.0, 1000.0 | Multimode | MM Fiber | | | | |
| | RPKDS3- 445nm Fiber Coupled Blue Diode Laser System | Turn-Key System | 445 | 120.0, 200.0, 250.0 | Multimode | MM Fiber | | | | |
| | RPKDS3-51522-RGB | Multi Wavelength, Turn-Key System | 445, 525, 638 | 6.0, 8.0, 22.0 | Multimode | MM Fiber | | | | |
| | RPKDS3 | Turn-Key System | Multiple Wavelength Options | Multiple Options Available | Single-Mode, Multimode | SM Fiber, MM Fiber | | | | |
| | RWLD-445M | Single Emitter | 445 | 4.0, 5.0 | Multimode | Free Space | | | | |
| | RWLD-445S | Single Emitter | 445 | 0.050, 0.100 | Single-Mode | Free Space | | | | |
| | RWLD-455M | Single Emitter | 455 | 5.0, 5.5 | Multimode | Free Space | | | | |
| | RWLD-460S | Single Emitter | 460 | 0.100 | Single-Mode | Free Space | | | | |
| | RWLD-465M | Single Emitter | 465 | 3.0 | Multimode | Free Space | | | | |
| | RWLD-480S | Single Emitter | 480 | 0.060, 0.080 | Single-Mode | Free Space | | | | |
| | RWLD-488S | Single Emitter | 488 | 0.060, 0.080, 0.100 | Single-Mode | Free Space | | | | |
| | RWLD-495S | Single Emitter | 495 | 0.060, 0.080 | Single-Mode | Free Space | | | | |
| | RWLP-420M | Single Emitter | 420 | 0.800 | Multimode | MM Fiber | | | | |
| | RWLP-435M | Single Emitter | 435 | 3.0 | Multimode | MM Fiber | | | | |
| | RWLP-445M | Single Emitter | 445 | 0.050, 0.080, 0.800, 1.0, 3.5, 10.0, 20.0 | Multimode | MM Fiber | | | | |
| | RWLP-445S | Single Emitter | 445 | 0.015, 0.030, 0.040, 0.050, 0.070, 0.080, 0.100 | Single-Mode | PM Fiber, SM Fiber | | | | |
| | RWLP-455M | Single Emitter | 455 | 3.0, 4.0 | Multimode | MM Fiber | | | | |
| | RWLP-460S | Single Emitter | 460 | 0.030, 0.050, 0.080 | Single-Mode | PM Fiber, SM Fiber | | | | |
| | RWLP-465M | Single Emitter | 465 | 2.0, 7.0, 15.0 | Multimode | MM Fiber | | | | |
| | RWLP-473S | Single Emitter | 473 | 0.010, 0.020 | Single-Mode | PM Fiber, SM Fiber | | | | |
| | RWLP-480M | Single Emitter | 480 | 0.050 | Multimode | MM Fiber | | | | |
| | RWLP-480S | Single Emitter | 480 | 0.010, 0.020 | Single-Mode | PM Fiber, SM Fiber | | | | |
| | RWLP-488M | Single Emitter | 488 | 0.050, 0.080 | Multimode | MM Fiber | | | | |
| | RWLP-488S | Single Emitter | 488 | 0.010, 0.020, 0.030 | Single-Mode | PM Fiber, SM Fiber | | | | |
| | RWLP-495M | Single Emitter | 495 | 0.050 | Multimode | MM Fiber | | | | |
| | RWLP-495S | Single Emitter | 495 | 0.010, 0.020 | Single-Mode | PM Fiber, SM Fiber | | | | |
| | SB1-473 | Pulsed DPSS Lasers, Microchip Lasers | 473 | 0.0009, 0.010, 0.015 | | | | 1.0, 3.0, 9.0 | 2ns | 100Hz, 5kHz, 10kHz |
| | TG-420 | Single Emitter | 420 | 0.050 | Single-Mode | Free Space | | | | |
| | TG-425 | Single Emitter | 425 | 0.050 | Single-Mode | Free Space | | | | |
| | TG-430 | Single Emitter | 430 | 0.050 | Single-Mode | Free Space | | | | |
| | TG-435 | Single Emitter | 435 | 0.050 | Single-Mode | Free Space | | | | |
| | TG-440 | Single Emitter | 440 | 0.050 | Single-Mode | Free Space | | | | |
| | TG-445 | Single Emitter | 445 | 0.050 | Single-Mode | Free Space | | | | |
| | TG-450 | Single Emitter | 450 | 0.050 | Single-Mode | Free Space | | | | |
| | TG-455 | Single Emitter | 455 | 0.050 | Single-Mode | Free Space | | | | |
| | TG-460 | Single Emitter | 460 | 0.050 | Single-Mode | Free Space | | | | |
| | Triplex-RWLS-445-520-635 | Single Emitter, Turn-Key System | 445, 520, 635 | 0.010, 0.015, 0.020, 0.030, 0.050, 0.080, 0.100 | Single-Mode, Multimode | SM Fiber, MM Fiber | | | | |
| | Triplex-RWLX-445-520-635 | Single Emitter | 445, 520, 635 | 0.010, 0.015, 0.020, 0.030, 0.050, 0.080, 0.100 | Single-Mode, Multimode | SM Fiber, MM Fiber | | | | |