Quantum Cascade Lasers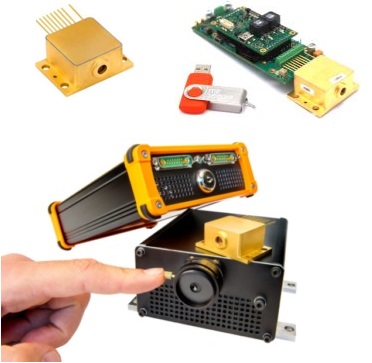 Quantum cascade lasers (QCLs) are intersubband semiconductor lasers emitting around a center wavelength ranging from the mid-wave infrared (MWIR) to the long-wave infrared (LWIR) spectral regions.
Conventional semiconductor lasers utilize bulk semiconductor crystal with typical interband transitions – the recombination of electron-hole pairs across the material bandgap – emitting a single photon. QCLs use a periodic series of thin layers of various material compositions and thicknesses in the form of a superlattice to produce higher optical gain and to emit multiple photons per electron. Since the energy level postions are determined primarily by layer thickness, the emission wavelength of QCLs can be tuned to match a customer's specific wavelength requirement.
The QCLs designed and manufactured by mirSense are high-powered diodes (typically watt-level). The PowerMir line emits in the main transmission bands of the atmosphere (4.0µm, 4.6µm, 4.8µm, 9.x µm). Furthermore, the new line of  UniMir Distributed Feedback (DFB) QCLs emit in the LWIR spectral region (11.3, 13.4, 14, 14.9 & 16µm). The PowerMir line are Fabry-Perot laser sources operating in the quasi CW regime. In other words, pulsed operation down to few tens of nanoseconds and high frequency above MHz at room temperature. The UniMir line are DFB sources with CW operation. These products exhibit high average power and wall-plug efficiency. Therefore, perfect for counter-measure and other defense applications, as well as gas detection in the nuclear and petrochemical industries.
mirSense
MirSense offers a full range of ITAR-free products from chip on submount manufacturing to full turnkey systems. For example, for OEM system integrators, mirSense manufactures a packaged diode plugged to a top-notch PCB driver that includes laser control, thermal management and security and safety. To clarify, this packaged diode is the "POEM" system (POEM stands for PowerMir OEM system).
The QCLs from mirSense are proudly manufactured in first-class clean rooms in the heart of the French optics valley on the "Saclay Plateau" near Paris. MirSense focuses on serving industrial customers that require a high level of laser repeatability to ensure good batch-to-batch quality for series-productions. Furthermore, customers will find that mirSense offers a very high beam quality.
Let Us Help
In conclusion, if you have any questions or would like some assistance, please contact us here. Furthermore, you can call us at 636.272.7227 to talk to a knowledgeable Product Manager. Alternatively, you can also use the filters on this page, or check out our 'How to Select a Laser Diode' page to assist in narrowing down the selection. Finally, head to our Knowledge Center with our Lasers 101 page and Blogs and Whitepapers pages for further, in-depth reading.
Suggested reading:
Firstly, check out these Blogs:
Finally, check out this Whitepaper:
| | | | | | | | | | |
| --- | --- | --- | --- | --- | --- | --- | --- | --- | --- |
| | PowerMir 4.0um | Quantum Cascade Lasers | 4000 | 0.100, 0.450, 1.0 | Multimode | Free Space | | QCW | Chip on Carrier, HHL |
| | PowerMir 4.6um | Quantum Cascade Lasers | 4600 | 0.500, 1.0 | Multimode | Free Space | | QCW | Chip on Carrier, HHL |
| | PowerMir 4.8um | Quantum Cascade Lasers | 4800 | 0.500, 1.0 | Multimode | Free Space | | QCW | Chip on Carrier, HHL |
| | PowerMir 9.4um | Quantum Cascade Lasers | 9400 | 0.100, 0.300 | Multimode | Free Space | | QCW | Chip on Carrier, HHL |
| | UniMir 11.3um | Distributed Feedback (DFB) Lasers, Quantum Cascade Lasers | 11300 | 0.010 | Single-Mode Lasers | Free Space | Narrow | CW | HHL |
| | UniMir 13.4um | Distributed Feedback (DFB) Lasers, Quantum Cascade Lasers | 13400 | 0.005 | Single-Mode Lasers | Free Space | Narrow | CW | HHL |
| | UniMir 14.0um | Distributed Feedback (DFB) Lasers, Quantum Cascade Lasers | 14000 | 0.005 | Single-Mode Lasers | Free Space | Narrow | CW | HHL |
| | UniMir 14.9um | Distributed Feedback (DFB) Lasers, Quantum Cascade Lasers | 14900 | 0.005 | Single-Mode Lasers | Free Space | Narrow | CW | HHL |
| | UniMir 16.0um | Distributed Feedback (DFB) Lasers, Quantum Cascade Lasers | 16000 | 0.002 | Single-Mode Lasers | Free Space | Narrow | CW | HHL |