Tunable Lasers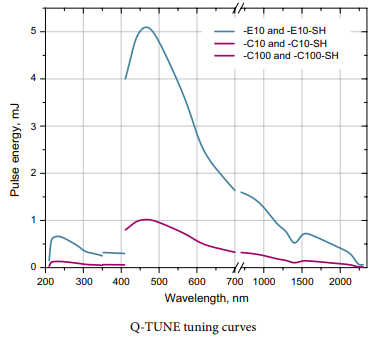 Tunable lasers using an optical parametric oscillator (OPO) are capable of producing continually tunable output wavelengths from 410 nm to 2300 nm, and with the addition of a second harmonic generation stage, the wavelength range can be extended down to 210 nm. Furthermore, the wavelength range for the new IR configuration is from 1380 nm to 4500 nm. Additionally, integral compact spectrometers for real-time monitoring of OPO output wavelength are available. These pulsed lasers provide a variable pulse repetition rate up to 100Hz, with a typical pulse width of 5ns and pulse energy or 5 mJ.  With spectral linewidth, less than 6 wavenumbers, these compact, low power consumption tunable lasers are ideal for non-linear spectroscopy, photo-acoustic imaging, metrology, and remote sensing applications.
Our Products
RPMC Lasers offers a selection of tunable lasers including a pulsed DPSS laser that uses an Optical Parametric Oscillator (OPO) to produce tunable wavelengths in the 210/410 – 2300 nm range as well as an IR version producing wavelengths in the 1380 – 4500 nm range. Its advanced laser design results in a compact, user-friendly turnkey system that requires little maintenance. It integrates all laser electronics into the housing and there are no chillers or bulky power supplies needed.
We also provide several tunable, distributed feedback (DFB) quantum cascade lasers (QCLs) with wavelengths ranging from 11.3 µm to 16µm, designed for use in the detection and monitoring of critical, gaseous compounds in the industrial and nuclear industries.
Let Us Help
In conclusion, if you have any questions, or if you would like some assistance please contact us here. Furthermore, you can call us at 636.272.7227 to talk to a knowledgeable Product Manager. Alternatively, use the filters on this page, or check out our 'How to Select a Pulsed Laser' page to assist in narrowing down the selection. Finally, head to our Knowledge Center with our Lasers 101 page and Blogs and Whitepapers pages for further, in-depth reading.
Suggested Reading
Firstly, check out our Blogs:
Finally, check out this Whitepaper: