CW DPSS Lasers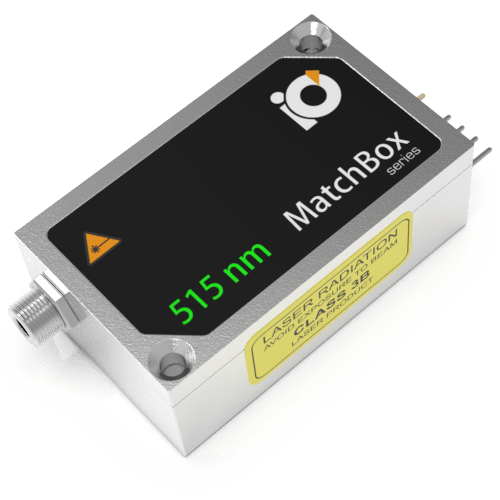 Diode-pumped solid-state (DPSS) lasers are a category of optically pumped lasers, utilizing a diode laser as the excitation source, pumping a laser crystal.  DPSS lasers take advantage of the relatively narrow spectral linewidth of diode lasers, in conjunction with their high brightness. Thus maximizing absorption and therefore increasing efficiency.
DPSS lasers also have the added benefit of being far more compact than flashlamp pumped lasers and require less maintenance. Additionally, second, third, and fourth harmonic generation allows the emission of wavelengths from the ultraviolet through the infrared.
Our Products
Our CW DPSS lasers are available in the UV, Blue, Green, Yellow, Red, and NIR wavelength regimes. Available output powers range from 10s of milliwatts up to several watts. Additionally, options for narrow linewidth, single-mode & multimode beam profiles, and free-space & fiber-coupled outputs are available. Finally, OEM DPSS laser packages and modules are available.
Our CW diode-pumped solid-state laser products provide utility in the Industrial, Medical, and Life Science/scientific markets. Therefore, we support flow cytometry, DNA sequencing, confocal fluorescence microscopy, optogenetics, laser doppler velocimetry, particle measurement, holography, interferometry, Raman spectroscopy, and many more applications!
Let Us Help
In conclusion, if you have any questions, or if you would like some assistance please contact us here. Furthermore, you can call us at 636.272.7227 to talk to a knowledgeable Product Manager. Alternatively, use the filters on this page, or check out our 'How to Select a CW Laser' page to assist in narrowing down the selection. Finally, head to our Knowledge Center with our Lasers 101 page and Blogs and Whitepapers pages for further, in-depth reading.
Suggested Reading
| | | | | | | | | |
| --- | --- | --- | --- | --- | --- | --- | --- | --- |
| | 1030L-1XB | CW DPSS Lasers | 1030 | 0.300, 0.400, 0.500 | Single-Mode Lasers, Multimode | Free Space, MM Fiber, SM Fiber, PM Fiber, SMA Port | | |
| | 1030L-2XB | CW DPSS Lasers | 1030 | 0.200, 0.280, 0.400 | Single-Mode Lasers, Multimode | Free Space, MM Fiber, SM Fiber, PM Fiber | Narrow | More than 50m |
| | 1064L-1XB | CW DPSS Lasers | 1064 | 0.300, 0.400, 0.500 | Single-Mode Lasers, Multimode | Free Space, MM Fiber, SM Fiber, PM Fiber, SMA Port | | |
| | 1064L-2XB | CW DPSS Lasers | 1064 | 0.200, 0.280, 0.400 | Single-Mode Lasers, Multimode | Free Space, MM Fiber, SM Fiber, PM Fiber | Narrow | More than 50m |
| | 1123L-1XB | CW DPSS Lasers | 1123 | 0.100, 0.160, 0.200 | Single-Mode Lasers, Multimode | Free Space, MM Fiber, SM Fiber, PM Fiber | | |
| | 1319L-1XB | CW DPSS Lasers | 1319 | 0.100, 0.160, 0.200 | Single-Mode Lasers, Multimode | Free Space, MM Fiber, SM Fiber, PM Fiber | | |
| | 320 NX | CW DPSS Lasers | 320 | 0.050, 0.100, 0.200 | Single-Mode Lasers | Free Space | Narrow | More than 100m |
| | 349 NX | CW DPSS Lasers | 349 | 0.050, 0.100, 0.200 | Single-Mode Lasers | Free Space | Narrow | More than 100m |
| | 532L-1XB | CW DPSS Lasers | 532 | 0.100, 0.150, 0.160, 0.200 | Single-Mode Lasers, Multimode | Free Space, MM Fiber, SM Fiber, PM Fiber, SMA Port | | |
| | 532L-2XB | CW DPSS Lasers | 532 | 0.025, 0.040, 0.050 | Single-Mode Lasers, Multimode | Free Space, MM Fiber, SM Fiber, PM Fiber, SMA Port | Narrow | More than 50m |
| | 532L-3XB | CW DPSS Lasers | 532 | 0.400, 0.500 | Multimode | Free Space, MM Fiber, SMA Port | | |
| | 532L-4XB | CW DPSS Lasers | 532 | 0.050, 0.080, 0.100 | Single-Mode Lasers, Multimode | Free Space, MM Fiber, SM Fiber, PM Fiber, SMA Port | Narrow | More than 1m |
| | 532L-6XB | CW DPSS Lasers | 532 | 0.050, 0.080, 0.100 | Single-Mode Lasers, Multimode | Free Space, MM Fiber, SM Fiber, PM Fiber, SMA Port | Narrow | More than 1m |
| | JenLas D2.X | CW DPSS Lasers | 532 | 0.060, 2.0, 3.0, 5.0, 8.0 | Multimode | Free Space, MM Fiber | | |
| | LCX-1064S | CW DPSS Lasers | 1064 | 0.100, 0.200, 0.300, 0.400, 0.500 | Single-Mode Lasers | Free Space, MM Fiber, SM Fiber, PM Fiber | Narrow | More than 50m |
| | LCX-532 | CW DPSS Lasers | 532 | 0.050, 0.100, 0.200, 0.300 | Single-Mode Lasers | Free Space, MM Fiber, SM Fiber, PM Fiber | | |
| | LCX-532S | CW DPSS Lasers | 532 | 0.050, 0.100, 0.200, 0.300 | Single-Mode Lasers | Free Space, MM Fiber, SM Fiber, PM Fiber | Narrow | More than 50m |
| | LCX-553 | CW DPSS Lasers | 553 | 0.050, 0.100, 0.150, 0.200 | Single-Mode Lasers | Free Space, MM Fiber, SM Fiber, PM Fiber | | |
| | LCX-553S | CW DPSS Lasers | 553 | 0.050, 0.100 | Single-Mode Lasers | Free Space, MM Fiber, SM Fiber, PM Fiber | Narrow | More than 50m |
| | LCX-561 | CW DPSS Lasers | 561 | 0.050, 0.100, 0.150, 0.200, 0.300 | Single-Mode Lasers | Free Space, MM Fiber, SM Fiber, PM Fiber | | |
| | LCX-561S | CW DPSS Lasers | 561 | 0.100, 0.150, 0.200 | Single-Mode Lasers | Free Space, MM Fiber, SM Fiber, PM Fiber | Narrow | More than 50m |
| | LPX-532 | CW DPSS Lasers | 532 | 0.500 | Single-Mode Lasers | Free Space, MM Fiber, SM Fiber, PM Fiber | | |
| | LPX-532S | CW DPSS Lasers | 532 | 0.500 | Single-Mode Lasers | Free Space, MM Fiber, SM Fiber, PM Fiber | Narrow | |
| | LPX-553 | CW DPSS Lasers | 553 | 0.200 | Single-Mode Lasers | Free Space, MM Fiber, SM Fiber, PM Fiber | | |
| | LPX-553S | CW DPSS Lasers | 553 | 0.200 | Single-Mode Lasers | Free Space, MM Fiber, SM Fiber, PM Fiber | Narrow | More than 50m |
| | LPX-561 | CW DPSS Lasers | 561 | 0.300 | Single-Mode Lasers | Free Space, MM Fiber, SM Fiber, PM Fiber | | |
| | LPX-561S | CW DPSS Lasers | 561 | 0.300 | Single-Mode Lasers | Free Space, MM Fiber, SM Fiber, PM Fiber | Narrow | More than 50m |
| | LPX-640 | CW DPSS Lasers | 640 | 0.300, 0.500 | Single-Mode Lasers | Free Space, MM Fiber, SM Fiber, PM Fiber | | |
| | Solo-640 | CW DPSS Lasers | 640 | 0.500, 0.750, 1.0 | Single-Mode Lasers | Free Space | Narrow | More than 100m |