Distributed Feedback (DFB) Lasers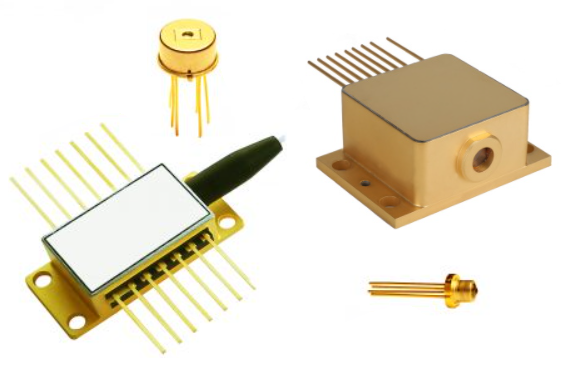 A Distributed Feedback Laser (DFB) refers to laser diodes or quantum cascade lasers (QCLs), for example, in which the surface of the active region or gain medium is etched with a periodic structure or diffraction grating (Bragg grating). This grating creates a one-dimensional interference grating, providing optical feedback. Essentially, this process allows only one wavelength to emit from the diode, rather than one center wavelength with a couple of lower power side wavelengths that you typically get from a standard Fabry-Perot laser diode. Distributed Feedback (DFB) Laser Diodes are single-frequency and offer a Narrow Linewidth with good side mode suppression ratio (SMSR).
Discreet-Mode (DM) Laser Diodes offer very similar performance to DFB Lasers. Discreet-Mode Laser Diodes are produced with a simple and low-cost fabrication process and have many advantages. For example, they have very high side mode suppression ratio, stable operation over a broad temperature range, narrow linewidth and low sensitivity to optical feedback.
Our Products
Free-space and fiber pigtailed versions are available in these NIR, SWIR, & LWIR (from ≈1260nm to 16µm) narrow linewidth lasers, with up to 50mW output. Furthermore, packages include HHL, TO-Can, and fiber-coupled butterfly options. Finally, we offer a wide range of wavelengths and output powers to choose from in our DFB Lasers.
Let Us Help
In conclusion, if you have any questions or would like some assistance, please contact us here. Furthermore, you can call us at 636.272.7227 to talk to a knowledgeable Product Manager. Alternatively, you can also use the filters on this page, or check out our 'How to Select a Laser Diode' page to assist in narrowing down the selection. Finally, head to our Knowledge Center with our Lasers 101 page and Blogs and Whitepapers pages for further, in-depth reading.
Suggested reading:
| | | | | | | | | | |
| --- | --- | --- | --- | --- | --- | --- | --- | --- | --- |
| | REP1260-1300 | LD Module, Single Emitter, Distributed Feedback (DFB) Lasers | 1260-1300 | 0.009, 0.012, 0.020, 0.022 | Single-Mode Lasers | Free Space, SM Fiber, PM Fiber | Narrow | CW | 5.6mm, TO-39, Butterfly FC |
| | REP1380-1400 | LD Module, Single Emitter, Distributed Feedback (DFB) Lasers | 1380-1400 | 0.008 | Single-Mode Lasers | Free Space, SM Fiber, PM Fiber | Narrow | CW | 5.6mm, TO-39, Butterfly FC |
| | REP1500-1560 | LD Module, Single Emitter, Distributed Feedback (DFB) Lasers | 1500-1560 | 0.005, 0.008, 0.016, 0.020, 0.022, 0.050 | Single-Mode Lasers | Free Space, SM Fiber, PM Fiber | Narrow | CW | 5.6mm, TO-39, Butterfly FC |
| | REP1560-1600 | LD Module, Single Emitter, Distributed Feedback (DFB) Lasers | 1560-1600 | 0.006, 0.020 | Single-Mode Lasers | Free Space, SM Fiber, PM Fiber | Narrow | CW | 5.6mm, TO-39, Butterfly FC |
| | REP1635-1670 | LD Module, Single Emitter, Distributed Feedback (DFB) Lasers | 1635-1670 | 0.006 | Single-Mode Lasers | Free Space, SM Fiber, PM Fiber | Narrow | CW | 5.6mm, TO-39, Butterfly FC |
| | REP1678-1720 | LD Module, Single Emitter, Distributed Feedback (DFB) Lasers | 1678-1720 | 0.005 | Single-Mode Lasers | Free Space, SM Fiber, PM Fiber | Narrow | CW | 5.6mm, TO-39, Butterfly FC |
| | REP1720-1770 | LD Module, Single Emitter, Distributed Feedback (DFB) Lasers | 1720-1770 | 0.005 | Single-Mode Lasers | Free Space, SM Fiber, PM Fiber | Narrow | CW | 5.6mm, TO-39, Butterfly FC |
| | REP1850-1880 | LD Module, Single Emitter, Distributed Feedback (DFB) Lasers | 1850-1880 | 0.003, 0.014 | Single-Mode Lasers | Free Space, SM Fiber, PM Fiber | Narrow | CW | 5.6mm, TO-39, Butterfly FC |
| | REP1908-1970 | LD Module, Single Emitter, Distributed Feedback (DFB) Lasers | 1908-1970 | 0.0015, 0.002 | Single-Mode Lasers | Free Space, SM Fiber, PM Fiber | Narrow | CW | 5.6mm, TO-39, Butterfly FC |
| | REP1970-2053 | LD Module, Single Emitter, Distributed Feedback (DFB) Lasers | 1970-2053 | 0.003, 0.014 | Single-Mode Lasers | Free Space, SM Fiber, PM Fiber | Narrow | CW | 5.6mm, TO-39, Butterfly FC |
| | REP2300-2333 | LD Module, Single Emitter, Distributed Feedback (DFB) Lasers | 2300-2333 | 0.005 | Single-Mode Lasers | SM Fiber, PM Fiber | | CW | TO-39, Butterfly FC |
| | RWLP-1270S | Single Emitter, Distributed Feedback (DFB) Lasers | 1270 | 0.002, 0.005, 0.010 | Single-Mode Lasers | SM Fiber, PM Fiber | | CW | Coaxial, 8-pin HHL |
| | RWLP-1290S | Single Emitter, Distributed Feedback (DFB) Lasers | 1290 | 0.002, 0.005, 0.010 | Single-Mode Lasers | SM Fiber, PM Fiber | | CW | Coaxial, 8-pin HHL |
| | RWLP-1310S | Single Emitter, Distributed Feedback (DFB) Lasers | 1310 | 0.002, 0.003, 0.005, 0.010, 0.015 | Single-Mode Lasers | SM Fiber, PM Fiber | | CW | Coaxial, 8-pin HHL |
| | RWLP-1330S | Single Emitter, Distributed Feedback (DFB) Lasers | 1330 | 0.002, 0.003, 0.005, 0.010, 0.015 | Single-Mode Lasers | SM Fiber, PM Fiber | | CW | Coaxial, 8-pin HHL |
| | RWLP-1350S | Single Emitter, Distributed Feedback (DFB) Lasers | 1350 | 0.002, 0.005, 0.010 | Single-Mode Lasers | SM Fiber, PM Fiber | | CW | Coaxial, 8-pin HHL |
| | RWLP-1370S | Single Emitter, Distributed Feedback (DFB) Lasers | 1370 | 0.002, 0.005, 0.010 | Single-Mode Lasers | SM Fiber, PM Fiber | | CW | Coaxial, 8-pin HHL |
| | RWLP-1410S | Single Emitter, Distributed Feedback (DFB) Lasers | 1410 | 0.002, 0.005, 0.010 | Single-Mode Lasers | SM Fiber, PM Fiber | | CW | Coaxial, 8-pin HHL |
| | RWLP-1430S | Single Emitter, Distributed Feedback (DFB) Lasers | 1430 | 0.002, 0.005, 0.010 | Single-Mode Lasers | SM Fiber, PM Fiber | | CW | Coaxial, 8-pin HHL |
| | RWLP-1450S | Single Emitter, Distributed Feedback (DFB) Lasers | 1450 | 0.002, 0.005, 0.010 | Single-Mode Lasers | SM Fiber, PM Fiber | | CW | Coaxial, 8-pin HHL |
| | RWLP-1470S | Single Emitter, Distributed Feedback (DFB) Lasers | 1470 | 0.002, 0.005, 0.010 | Single-Mode Lasers | SM Fiber, PM Fiber | | CW | Coaxial, 8-pin HHL |
| | RWLP-1490S | Single Emitter, Distributed Feedback (DFB) Lasers | 1490 | 0.002, 0.005, 0.010 | Single-Mode Lasers | SM Fiber, PM Fiber | | CW | Coaxial, 8-pin HHL |
| | RWLP-1510S | Single Emitter, Distributed Feedback (DFB) Lasers | 1510 | 0.002, 0.005, 0.010 | Single-Mode Lasers | SM Fiber, PM Fiber | | CW | Coaxial, 8-pin HHL |
| | RWLP-1530S | Single Emitter, Distributed Feedback (DFB) Lasers | 1530 | 0.002, 0.005, 0.010 | Single-Mode Lasers | SM Fiber, PM Fiber | | CW | Coaxial, 8-pin HHL |
| | RWLP-1550-003m-9-DFB | Distributed Feedback (DFB) Lasers | 1550 | 0.003 | Single-Mode Lasers | SM Fiber | Narrow | CW | Coaxial |
| | RWLP-1550S | Single Emitter, Distributed Feedback (DFB) Lasers | 1550 | 0.002, 0.005, 0.010 | Single-Mode Lasers | SM Fiber, PM Fiber | | CW | Coaxial, 8-pin HHL |
| | RWLP-1570S | Single Emitter, Distributed Feedback (DFB) Lasers | 1570 | 0.002, 0.005, 0.010 | Single-Mode Lasers | SM Fiber, PM Fiber | | CW | Coaxial, 8-pin HHL |
| | RWLP-1590S | Single Emitter, Distributed Feedback (DFB) Lasers | 1590 | 0.002, 0.005, 0.008 | Single-Mode Lasers | SM Fiber, PM Fiber | | CW | Coaxial, 8-pin HHL |
| | RWLP-1610S | Single Emitter, Distributed Feedback (DFB) Lasers | 1610 | 0.002, 0.005, 0.008 | Single-Mode Lasers | SM Fiber, PM Fiber | | CW | Coaxial, 8-pin HHL |
| | RWLP-1625S | Single Emitter, Distributed Feedback (DFB) Lasers | 1625 | 0.002, 0.005, 0.008 | Single-Mode Lasers | SM Fiber, PM Fiber | | CW | Coaxial, 8-pin HHL |
| | RWLP-1650S | Single Emitter, Distributed Feedback (DFB) Lasers | 1650 | 0.002, 0.005, 0.009 | Single-Mode Lasers | SM Fiber, PM Fiber | | CW | Coaxial, 8-pin HHL |
| | UniMir 11.3um | Distributed Feedback (DFB) Lasers, Quantum Cascade Lasers | 11300 | 0.010 | Single-Mode Lasers | Free Space | Narrow | CW | HHL |
| | UniMir 13.4um | Distributed Feedback (DFB) Lasers, Quantum Cascade Lasers | 13400 | 0.005 | Single-Mode Lasers | Free Space | Narrow | CW | HHL |
| | UniMir 14.0um | Distributed Feedback (DFB) Lasers, Quantum Cascade Lasers | 14000 | 0.005 | Single-Mode Lasers | Free Space | Narrow | CW | HHL |
| | UniMir 14.9um | Distributed Feedback (DFB) Lasers, Quantum Cascade Lasers | 14900 | 0.005 | Single-Mode Lasers | Free Space | Narrow | CW | HHL |
| | UniMir 16.0um | Distributed Feedback (DFB) Lasers, Quantum Cascade Lasers | 16000 | 0.002 | Single-Mode Lasers | Free Space | Narrow | CW | HHL |