9mm Laser Diode Package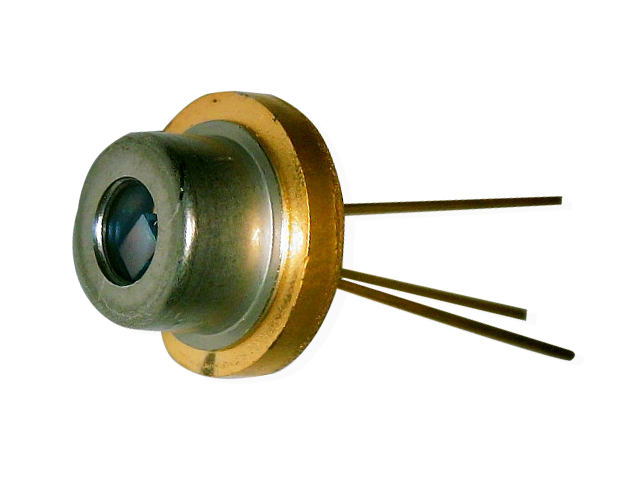 What is a 9 mm Laser Diode Package?
9mm laser diode packages, also called TO-5 packages for laser diodes in a wide range of wavelengths and output powers. These laser diode packages are made with quality Copper (OFHC) and are incredibly reliable. Both, Multimode or Single-mode laser diodes are offered in the 9mm package. The 9 mm laser diode package is one of the most basic component level or integration level package designs. Typically there is an option for a photodiode as well as fast axis lensing for free-space output, package isolation, and 9mm TO-Can packages are always hermetically sealed. An added convenience of using TO-5 laser diode packaging is the availability of off the shelf electrical sockets, designed to fit this package style pin layout, so you can easily install the socket into a circuit board for example, and then the 9mm laser diode package simply plugs right in to this socket.
Features:
• Industry standard package
• Hermetically sealed windowed package
• Header material – Copper
• Internal photodiode optional
• Isolated package optional
• Fast axis lensing optional
| | | | | | | | | | |
| --- | --- | --- | --- | --- | --- | --- | --- | --- | --- |
| | HL405 | Single Emitter | 405 | 0.150, 0.300, 0.400, 0.600, 1.0 | Single-Mode, Multimode | Free Space | | CW | 5.6mm, 9mm |
| | HL637 | Single Emitter | 637 | 0.007, 0.120, 0.250, 0.450, 1.0, 1.2 | Single-Mode, Multimode | Free Space | | CW | 5.6mm, 9mm |
| | HL638 | Single Emitter | 638 | 0.005, 0.007, 0.010, 0.015, 0.120, 0.150, 0.200, 0.700, 1.5, 2.2, 2.4 | Single-Mode, Multimode | Free Space | | CW | 3.8mm, 5.6mm, 9mm |
| | HL659 | Single Emitter | 659 | 1.2 | Multimode | Free Space | | CW | 9mm |
| | HL670 | Single Emitter | 670 | 0.010, 0.015 | Single-Mode | Free Space | | CW | 5.6mm, 9mm |
| | HL675 | Single Emitter | 675 | 0.210 | Single-Mode | Free Space | | CW | 5.6mm, 9mm |
| | LDX-XXXX-1030 | Single Emitter | 1030 | 3.0, 5.0 | Multimode | MM Fiber, Free Space | | CW | Chip on Carrier, C-Mount, B-Mount, Q-Mount, 9mm, TO-3 no TEC, HHL, 9mm SMA, 2-Pin FC, 8-pin HHL, 9-pin HHL |
| | LDX-XXXX-1064 | Single Emitter | 1064 | 1.5, 3.0, 5.0 | Multimode | MM Fiber, Free Space | | CW | Chip on Carrier, C-Mount, B-Mount, Q-Mount, 9mm, TO-3 no TEC, TO-3-TEC, HHL, 9mm SMA, 2-Pin FC, 8-pin HHL, 9-pin HHL |
| | LDX-XXXX-1120 | Single Emitter | 1120 | 2.0, 3.5, 5.0 | Multimode | MM Fiber, Free Space | | CW | Chip on Carrier, C-Mount, B-Mount, Q-Mount, 9mm, TO-3 no TEC, HHL, 9mm SMA, 2-Pin FC, 9-pin HHL |
| | LDX-XXXX-1280 | Single Emitter | 1280 | 3.5, 5.0, 7.0 | Multimode | MM Fiber, Free Space | | CW | Chip on Carrier, C-Mount, B-Mount, Q-Mount, 9mm, TO-3 no TEC, HHL, 9mm SMA, 2-Pin FC, 8-pin HHL, 9-pin HHL |
| | LDX-XXXX-1550 | Single Emitter | 1550 | 0.800, 1.0, 1.5, 1.75, 2.5, 3.5, 5.0 | Multimode | MM Fiber, Free Space | | CW | Chip on Carrier, C-Mount, B-Mount, Q-Mount, 9mm, TO-3 no TEC, HHL, 9mm SMA, 2-Pin FC, 9-pin HHL |
| | LDX-XXXX-1850 | Single Emitter | 1850 | 1.0 | Multimode | MM Fiber, Free Space | | CW | Chip on Carrier, C-Mount, B-Mount, Q-Mount, 9mm, TO-3 no TEC, HHL, 9mm SMA, 2-Pin FC, 8-pin HHL, 9-pin HHL |
| | LDX-XXXX-445 | Single Emitter | 445 | 3.5 | Multimode | MM Fiber, Free Space | | CW | C-Mount, 9mm, TO-3 no TEC, HHL, 9mm SMA, 2-Pin FC |
| | LDX-XXXX-622 | Single Emitter | 622 | 0.150 | Multimode | MM Fiber, Free Space | | CW | C-Mount, 9mm, TO-3 no TEC, HHL, 9mm SMA, 2-Pin FC |
| | LDX-XXXX-627 | Single Emitter | 627 | 0.250, 0.350 | Multimode | MM Fiber, Free Space | | CW | Chip on Carrier, C-Mount, B-Mount, Q-Mount, 9mm, TO-3 no TEC, TO-3-TEC, HHL, 9mm SMA, 2-Pin FC, 8-pin HHL, 9-pin HHL |
| | LDX-XXXX-630 | Single Emitter | 630 | 0.250, 0.400 | Multimode | MM Fiber, Free Space | | CW | Chip on Carrier, C-Mount, B-Mount, Q-Mount, 9mm, TO-3 no TEC, TO-3-TEC, HHL, 9mm SMA, 2-Pin FC, 8-pin HHL, 9-pin HHL |
| | LDX-XXXX-635 | Single Emitter | 635 | 0.300, 0.400, 0.600, 1.2 | Multimode | MM Fiber, Free Space | | CW | Chip on Carrier, C-Mount, B-Mount, Q-Mount, 9mm, TO-3 no TEC, HHL, 9mm SMA, 2-Pin FC, 8-pin HHL, 9-pin HHL |
| | LDX-XXXX-645 | Single Emitter | 645 | 0.300, 0.400 | Multimode | MM Fiber, Free Space | | CW | Chip on Carrier, C-Mount, B-Mount, Q-Mount, 9mm, TO-3 no TEC, TO-3-TEC, HHL, 9mm SMA, 2-Pin FC, 8-pin HHL, 9-pin HHL |
| | LDX-XXXX-650 | Single Emitter | 650 | 1.0 | Multimode | MM Fiber, Free Space | | CW | Chip on Carrier, C-Mount, B-Mount, Q-Mount, 9mm, TO-3 no TEC, TO-3-TEC, HHL, 9mm SMA, 2-Pin FC, 8-pin HHL, 9-pin HHL |
| | LDX-XXXX-660 | Single Emitter | 660 | 0.350, 0.750, 1.0, 2.0 | Multimode | MM Fiber, Free Space | | CW | Chip on Carrier, C-Mount, B-Mount, Q-Mount, 9mm, TO-3 no TEC, TO-3-TEC, HHL, 9mm SMA, 2-Pin FC, 8-pin HHL, 9-pin HHL |
| | LDX-XXXX-665 | Single Emitter | 665 | 0.350, 0.750, 1.0, 2.0 | Multimode | MM Fiber, Free Space | | CW | Chip on Carrier, C-Mount, B-Mount, Q-Mount, 9mm, TO-3 no TEC, HHL, 9mm SMA, 2-Pin FC, 8-pin HHL, 9-pin HHL |
| | LDX-XXXX-680 | Single Emitter | 680 | 0.400, 0.800, 1.2, 2.0 | Multimode | MM Fiber, Free Space | | CW | Chip on Carrier, C-Mount, B-Mount, Q-Mount, 9mm, TO-3 no TEC, TO-3-TEC, HHL, 9mm SMA, 2-Pin FC, 8-pin HHL, 9-pin HHL |
| | LDX-XXXX-685 | Single Emitter | 685 | 0.400, 0.800, 1.2, 2.0 | Multimode | MM Fiber, Free Space | | CW | Chip on Carrier, C-Mount, B-Mount, Q-Mount, 9mm, TO-3 no TEC, TO-3-TEC, HHL, 9mm SMA, 2-Pin FC, 8-pin HHL, 9-pin HHL |
| | LDX-XXXX-690 | Single Emitter | 690 | 0.400, 0.750, 1.1 | Multimode | MM Fiber, Free Space | | CW | Chip on Carrier, C-Mount, B-Mount, Q-Mount, 9mm, TO-3 no TEC, HHL, 9mm SMA, 2-Pin FC, 8-pin HHL, 9-pin HHL |
| | LDX-XXXX-735 | Single Emitter | 735 | 1.0, 1.75, 2.0, 4.0 | Multimode | MM Fiber, Free Space | | CW | Chip on Carrier, C-Mount, B-Mount, Q-Mount, 9mm, TO-3 no TEC, HHL, 9mm SMA, 2-Pin FC, 8-pin HHL, 9-pin HHL |
| | LDX-XXXX-750 | Single Emitter | 750 | 1.0, 2.0, 3.0, 5.0 | Multimode | MM Fiber, Free Space | | CW | Chip on Carrier, C-Mount, B-Mount, Q-Mount, 9mm, TO-3 no TEC, HHL, 9mm SMA, 2-Pin FC, 8-pin HHL, 9-pin HHL |
| | LDX-XXXX-760 | Single Emitter | 760 | 1.0, 2.0, 3.0, 6.0 | Multimode | MM Fiber, Free Space | | CW | Chip on Carrier, C-Mount, B-Mount, Q-Mount, 9mm, TO-3 no TEC, HHL, 9mm SMA, 2-Pin FC, 8-pin HHL, 9-pin HHL |
| | LDX-XXXX-780 | Single Emitter | 780 | 1.2, 2.5, 3.5, 5.0 | Multimode | MM Fiber, Free Space | | CW | Chip on Carrier, C-Mount, B-Mount, Q-Mount, 9mm, TO-3 no TEC, TO-3-TEC, HHL, 9mm SMA, 2-Pin FC, 8-pin HHL, 9-pin HHL |
| | LDX-XXXX-785 | Single Emitter | 785 | 3.5, 5.0 | Multimode | MM Fiber, Free Space | | CW | Chip on Carrier, C-Mount, B-Mount, Q-Mount, 9mm, TO-3 no TEC, TO-3-TEC, HHL, 9mm SMA, 2-Pin FC, 8-pin HHL, 9-pin HHL |
| | LDX-XXXX-792 | Single Emitter | 792 | 1.2, 2.5, 3.5 | Multimode | MM Fiber, Free Space | | CW | Chip on Carrier, C-Mount, B-Mount, Q-Mount, 9mm, TO-3 no TEC, HHL, 9mm SMA, 2-Pin FC, 8-pin HHL, 9-pin HHL |
| | LDX-XXXX-797 | Single Emitter | 797 | 3.0, 4.0 | Multimode | MM Fiber, Free Space | | CW | Chip on Carrier, C-Mount, B-Mount, Q-Mount, 9mm, TO-3 no TEC, HHL, 9mm SMA, 2-Pin FC, 8-pin HHL, 9-pin HHL |
| | LDX-XXXX-808 | Single Emitter | 808 | 1.2, 2.0, 3.0, 4.0, 6.0, 10.0 | Multimode | MM Fiber, Free Space | | CW | Chip on Carrier, C-Mount, B-Mount, Q-Mount, 9mm, TO-3 no TEC, HHL, 9mm SMA, 2-Pin FC, 8-pin HHL, 9-pin HHL |
| | LDX-XXXX-825 | Single Emitter | 825 | 4.0 | Multimode | MM Fiber, Free Space | | CW | Chip on Carrier, C-Mount, B-Mount, Q-Mount, 9mm, TO-3 no TEC, HHL, 9mm SMA, 2-Pin FC, 8-pin HHL, 9-pin HHL |
| | LDX-XXXX-830 | Single Emitter | 830 | 1.6 | Multimode | MM Fiber, Free Space | | CW | Chip on Carrier, C-Mount, B-Mount, Q-Mount, 9mm, TO-3 no TEC, HHL, 9mm SMA, 2-Pin FC, 8-pin HHL, 9-pin HHL |
| | LDX-XXXX-860 | Single Emitter | 860 | 1.0, 1.5, 2.0, 3.0, 4.0, 5.0 | Multimode | MM Fiber, Free Space | | CW | Chip on Carrier, C-Mount, B-Mount, Q-Mount, 9mm, TO-3 no TEC, HHL, 9mm SMA, 2-Pin FC, 8-pin HHL, 9-pin HHL |
| | LDX-XXXX-885 | Single Emitter | 885 | 2.5, 6.0 | Multimode | MM Fiber, Free Space | | CW | Chip on Carrier, C-Mount, B-Mount, Q-Mount, 9mm, TO-3 no TEC, TO-3-TEC, HHL, 9mm SMA, 2-Pin FC, 8-pin HHL, 9-pin HHL |
| | LDX-XXXX-900 | Single Emitter | 900 | 2.0 | Multimode | MM Fiber, Free Space | | CW | Chip on Carrier, C-Mount, B-Mount, Q-Mount, 9mm, TO-3 no TEC, HHL, 9mm SMA, 2-Pin FC, 8-pin HHL, 9-pin HHL |
| | LDX-XXXX-915 | Single Emitter | 915 | 4.0, 6.0, 10.0 | Multimode | MM Fiber, Free Space | | CW | Chip on Carrier, C-Mount, B-Mount, Q-Mount, 9mm, TO-3 no TEC, HHL, 9mm SMA, 2-Pin FC, 8-pin HHL, 9-pin HHL |
| | LDX-XXXX-940 | Single Emitter | 940 | 4.0, 5.0, 6.0, 16.0 | Multimode | MM Fiber, Free Space | | CW | Chip on Carrier, C-Mount, B-Mount, Q-Mount, 9mm, TO-3 no TEC, HHL, 9mm SMA, 2-Pin FC, 8-pin HHL, 9-pin HHL |
| | LDX-XXXX-980 | Single Emitter | 980 | 1.5, 4.0, 5.0, 6.0, 10.0 | Multimode | MM Fiber, Free Space | | CW | Chip on Carrier, C-Mount, B-Mount, Q-Mount, 9mm, TO-3 no TEC, TO-3-TEC, HHL, 9mm SMA, 2-Pin FC, 8-pin HHL, 9-pin HHL |
| | RPM9-852-0100-S50 | Single Emitter | 852 | 0.070, 0.150 | Single-Mode | Free Space | | CW | 9mm, Butterfly - Open Beam |
| | SMX1470 | Single Emitter | 1470 | 1.8, 3.8, 5.0, 6.5, 8.0, 18.0 | Multimode | MM Fiber, Free Space | | | C-Mount, 9mm, Fiber Coupled |
| | SMX1550 | Single Emitter | 1550 | 0.400, 1.6, 3.3, 4.2, 5.5, 7.7 | Single-Mode, Multimode | MM Fiber, Free Space | | | C-Mount, 9mm, Fiber Coupled |