Superluminescent Diodes – Broadband Light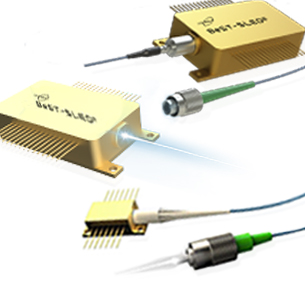 What is a Superluminescent Laser?
Superluminescent laser diodes (SLED or SLD, also sometimes called superluminescence diodes or Superluminescent light-emitting diodes (LED)) are optoelectronic, edge-emitting semiconductor devices that emit broadband optical radiation (broadband light) based on superluminescence.
In terms of construction, they are similar to laser diodes, containing an electrically driven p–n junction and an optical waveguide. Importantly, however, SLDs lack optical feedback by reflections, so that no laser action can occur. Superluminescent diodes combine the high power output and brightness of traditional laser diodes with the low coherence of conventional light-emitting diodes (LEDs). The emission optical bandwidth (full-width at half maximum or FWHM) typically ranges from 5 to 750 nm of broadband emission.
Our SLED Laser Products
The LUXMUX Broadband source can be configured with up to 6 light sources, combined as a single wide spectrum product. The system provides individual control of light sources, through a digitally controlled interface. The ISB is designed to offer up to 19 spectral combinations, which creates a compact and powerful unit that can widen the performance of its intended application use. All wavelengths are in the IR range, and come in various combinations of SLEDs providing spectral coverage options such as 1435nm – 1605nm, 1340nm – 1610nm, and 1265nm – 1725nm, to name a few.
| | | | | | | | |
| --- | --- | --- | --- | --- | --- | --- | --- |
| | LTC-ISB-G1 | LD Module, Superluminescent | 1300, 1370, 1430, 1480, 1550, 1680, 1700 | 0.006, 0.008, 0.010, 0.012, 0.013, 0.015, 0.030 | Single-Mode Lasers | Free Space, SM Fiber, PM Fiber | Broadband |
| | LTC-ISB-G2 | LD Module, Superluminescent | 1300, 1340, 1390, 1430, 1480, 1550, 1615, 1680 | 0.010, 0.012, 0.018, 0.019, 0.020, 0.025, 0.032, 0.035, 0.040 | Single-Mode Lasers | Free Space, SM Fiber, PM Fiber | Broadband |
| | LTC-OSE-G1 | Superluminescent | 1300, 1340, 1390, 1430, 1480, 1550, 1615, 1680 | 0.006, 0.008, 0.010, 0.012, 0.013, 0.015, 0.030 | Single-Mode Lasers | Free Space, SM Fiber, PM Fiber | Broadband |
| | LTC-OSE-G2 | Superluminescent | 1300, 1340, 1390, 1430, 1480, 1550, 1615, 1680 | 0.010, 0.012, 0.018, 0.019, 0.020, 0.025, 0.032, 0.035, 0.040 | Single-Mode Lasers | Free Space, SM Fiber, PM Fiber | Broadband |