VCSEL Lasers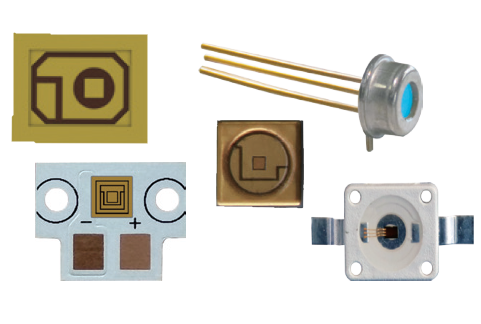 Our VCSEL Laser Products
Because of the tremendous amount of VCSEL sources and options available, we are currently limited to a select few in-stock options, which you can find HERE at our online store. Alternatively, do not hesitate to email us at [email protected] and let us know what you are looking for and what your application is. We will respond promptly to discuss available options to perfectly fit your needs!
What are VCSEL Lasers?
VCSELs (Vertical Cavity Surface Emitting Lasers) are semiconductor laser diodes, based on GaAs and other semiconductor materials. which is different from other light sources such as LEDs (light emitting diodes) or LDs (Laser Diodes). RPMC offers a selection of single-mode and multimode VCSELs, available in infrared (IR) wavelengths from 808nm to 940nm, with output power up to 200W.
VCSELs can act as a combination of LEDs and edge-emitting lasers (EEL). They combine many of the advantages of LEDs (such as surface emission, wafer-level testing and diverse packaging options) with the advantages of EELs (such as coherence, beam quality and efficiency). In some smart sensors, LEDs are not the optimal solution. The packaging limitations of EELs make it impossible to penetrate. OEM manufacturers are realizing the inherent advantages of VCSEL-based optoelectronic components. These advantages include convenient packaging options and performance advantages. Therefore, these manufacturers are starting to expand their use of VCSELs in many application areas. For consumer electronics, surface-emitting laser-based sensors can provide more information than LED-based sensors. In terms of energy consumption, they are an order of magnitude lower than LEDs.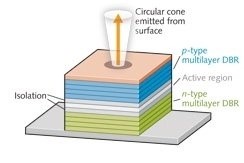 The most common light source on the market is LED light sources. VCSELs can be arranged in two-dimensional VCSEL arrays so that a single chip can contain hundreds or thousands of individual light sources. VCSEL arrays allow an increase maximum output power and long-term reliability in a small footprint. LED is usually used in the early stage of 3D induction technology. However, due to the lack of resonator, LED laser beams are more dispersed than VCSEL, and the coupling efficiency is relatively low. Moreover, as VCSEL has higher accuracy, smaller size, lower power consumption, and higher reliability, more and more 3D cameras are using these devices.
| | | | | | | | |
| --- | --- | --- | --- | --- | --- | --- | --- |
| | VD-0808-CW | 808 | 0.015, 2.0 | Single-Mode | Free Space | CW | 3535, TO-46 |
| | VD-0850-CW | 850 | 0.008, 0.200, 0.700, 2.0, 4.0, 6.0 | Single-Mode | Free Space | CW | 2016, 3535, 7060, 5.6mm |
| | VD-0940-CW | 940 | 0.008, 0.150, 0.200, 0.250, 2.0 | Single-Mode | Free Space | CW | 2016, 3535, 7060, 5.6mm, TO-46 |