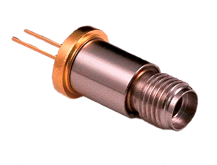 For over 25 years, the laser diode experts at RPMC Lasers have facilitated successful collaborations between customers and suppliers. Our team prides itself on the knowledge and experience acquired in the industry and our dedication to providing system integrators with customized laser packaging solutions. Over the years, we have worked in conjunction with many engineers and designers to develop novel laser diode solutions, helping to ensure the success of their projects. To illustrate how these collaboration efforts could help your team on your next project, we're going to tell the story of one company's successful project, and how the dedicated, joint efforts of RPMC Lasers and LDX Optronics facilitated this success.
Background: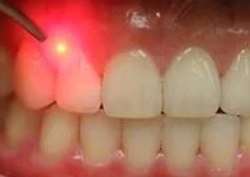 Some years ago, we were approached by an industry-leading, dental equipment manufacturer, seeking assistance in developing a new product. Their team's new system design was a soft tissue laser system for dentistry, periodontal, hygiene, and surgical applications. The scope of this article is to illustrate the collaborative development process, and as such, we will not go into these applications in detail. However, if you are interested in further reading, taking a deeper dive into an application example involving soft tissue lasers in dentistry, consider reading a previous blog post titled "Laser Diode Crown Troughing in Dentistry."
Timeline:
We were first contacted by this customer in March of that year. They requested a 4W 808nm laser diode in a 9mm package (shown below). There were no standard products available that fit the customers specifications. However, our team was able to work with LDX Optronics to get a custom solution developed and shipped out to the customer for evaluation.

While the proposed solution fit the customer's initial requirements, they quickly realized a significant modification was needed. For effective beam delivery, without any loss of functionality at the handpiece, the laser diode package had to be fiber-coupled, but it was critical that overall package diameter not be increased. Our team got together with the engineers at LDX Optronics to rapidly re-design and develop this new package requirement. By May of that year, just a couple months after initial contact, our development efforts had produced 3 prototype variants of a detachable fiber package with an integrated aiming beam. The most successful package variant, which is now available as a standard LDX product on our website, is shown below. This new design provided the flexibility for the system engineers to house the laser diode within their desktop unit, ensuring adequate heat removal, without any major re-designing to the handpiece. With the new fiber-coupled package secure in the desktop unit, the beam could now be fiber delivered to an interchangeable handpiece that the dentist would be able to easily hold and manipulate inside the patient's mouth.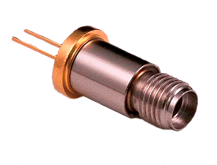 After about a month of prototyping, testing, and tweaking, the customer's engineering team realized there was a new problem. They decided it was necessary to increase the power of the laser diode from 4W to 5W to compensate for the added losses associated with the fiber-coupled handpiece. Again, our team got together with the engineers at LDX to resolve this new issue. By September that year, we were able to deliver the newly developed, thermally tested 5W laser packages to our customer, enabling them to finalize development on their end and begin market-ready production of their new laser system by November.
Next Steps:
This case study is a perfect example of how our team at RPMC can facilitate successful collaborations between customers and suppliers. Even with all the arising challenges and solution iterations, the teamwork of RPMC and LDX enabled our customer to go from prototyping to full production in just nine months. However, the story does not end there. Two years had gone by, while our customer's successful product deployment allowed them to provide an average of 250 units per year to the industry. Relying on product feedback from the end-users, our customer was now ready to develop a second-generation system, incorporating new features and enhancing functionality. Our customer's engineering team requested that the red aiming beam be replaced with a blue beam, allowing better visibility and contrast against the gums. They also requested that the maximum operating temperature of the package be increased to 50o C. After developing this new solution with LDX, keeping the same fiber-coupled package, our customer was able to effortlessly integrate this new iteration, and subsequently, their sales have increased by over 25%, and they are now selling an average of 320 units per year.
Final Thoughts:
LDX Optronics is our oldest and most significant principal supplier of both off-the-shelf and custom laser diode solutions. Specialists in high-power diode lasers, LDX offers a wide range of laser diodes not only used in dental laser applications, but also in an assortment of medical and industrial applications. By combining LDX's production and packaging capabilities with RPMC Lasers' wealth of laser diode applications experience, we are readily available to assist you. Whether you're trying to decide which of our standard, off-the-shelf laser diodes are ideal for your application, or you are needing a custom solution, we can offer a plethora of custom laser diode packaging configurations with a wide range of integrated optics.
Here at RPMC Lasers, we are excited to be the exclusive worldwide distributor for LDX Optronics. For detailed technical specifications on the diode lasers offered by LDX Optronics, Click Here. To talk to one of our knowledgeable Product Managers, Contact Us here, or call us at 636.272.7227 to learn more about our full range of laser packages, ideal for integration into commercial laser systems.