Q-Mount Overview
RPMC Laser offers Laser diodes with a Q-Mount that has very small footprint and is made with a Copper Tungsten (CuW) package.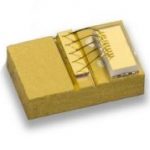 This package requires soldering to heatsink correctly. We do have some options, including fast axis lensing.
Features:
• Very small footprint
• Requires soldering to heatsink
• Material – Copper Tungsten (CuW)
• Fast axis lensing optional
Contact us today to let one of our knowledgeable Product Managers assist you!
| | | | | | | | | | |
| --- | --- | --- | --- | --- | --- | --- | --- | --- | --- |
| | LDX-XXXX-1030 | Single Emitter | 1030 | 3.0, 5.0 | Multimode | MM Fiber, Free Space | | CW | Chip on Carrier, C-Mount, B-Mount, Q-Mount, 9mm, TO-3 no TEC, HHL, 9mm SMA, 2-Pin FC, 8-pin HHL, 9-pin HHL |
| | LDX-XXXX-1064 | Single Emitter | 1064 | 1.5, 3.0, 5.0 | Multimode | MM Fiber, Free Space | | CW | Chip on Carrier, C-Mount, B-Mount, Q-Mount, 9mm, TO-3 no TEC, TO-3-TEC, HHL, 9mm SMA, 2-Pin FC, 8-pin HHL, 9-pin HHL |
| | LDX-XXXX-1120 | Single Emitter | 1120 | 2.0, 3.5, 5.0 | Multimode | MM Fiber, Free Space | | CW | Chip on Carrier, C-Mount, B-Mount, Q-Mount, 9mm, TO-3 no TEC, HHL, 9mm SMA, 2-Pin FC, 9-pin HHL |
| | LDX-XXXX-1280 | Single Emitter | 1280 | 3.5, 5.0, 7.0 | Multimode | MM Fiber, Free Space | | CW | Chip on Carrier, C-Mount, B-Mount, Q-Mount, 9mm, TO-3 no TEC, HHL, 9mm SMA, 2-Pin FC, 8-pin HHL, 9-pin HHL |
| | LDX-XXXX-1550 | Single Emitter | 1550 | 0.800, 1.0, 1.5, 1.75, 2.5, 3.5, 5.0 | Multimode | MM Fiber, Free Space | | CW | Chip on Carrier, C-Mount, B-Mount, Q-Mount, 9mm, TO-3 no TEC, HHL, 9mm SMA, 2-Pin FC, 9-pin HHL |
| | LDX-XXXX-1850 | Single Emitter | 1850 | 1.0 | Multimode | MM Fiber, Free Space | | CW | Chip on Carrier, C-Mount, B-Mount, Q-Mount, 9mm, TO-3 no TEC, HHL, 9mm SMA, 2-Pin FC, 8-pin HHL, 9-pin HHL |
| | LDX-XXXX-627 | Single Emitter | 627 | 0.250, 0.350 | Multimode | MM Fiber, Free Space | | CW | Chip on Carrier, C-Mount, B-Mount, Q-Mount, 9mm, TO-3 no TEC, TO-3-TEC, HHL, 9mm SMA, 2-Pin FC, 8-pin HHL, 9-pin HHL |
| | LDX-XXXX-630 | Single Emitter | 630 | 0.250, 0.400 | Multimode | MM Fiber, Free Space | | CW | Chip on Carrier, C-Mount, B-Mount, Q-Mount, 9mm, TO-3 no TEC, TO-3-TEC, HHL, 9mm SMA, 2-Pin FC, 8-pin HHL, 9-pin HHL |
| | LDX-XXXX-635 | Single Emitter | 635 | 0.300, 0.400, 0.600, 1.2 | Multimode | MM Fiber, Free Space | | CW | Chip on Carrier, C-Mount, B-Mount, Q-Mount, 9mm, TO-3 no TEC, HHL, 9mm SMA, 2-Pin FC, 8-pin HHL, 9-pin HHL |
| | LDX-XXXX-645 | Single Emitter | 645 | 0.300, 0.400 | Multimode | MM Fiber, Free Space | | CW | Chip on Carrier, C-Mount, B-Mount, Q-Mount, 9mm, TO-3 no TEC, TO-3-TEC, HHL, 9mm SMA, 2-Pin FC, 8-pin HHL, 9-pin HHL |
| | LDX-XXXX-650 | Single Emitter | 650 | 1.0 | Multimode | MM Fiber, Free Space | | CW | Chip on Carrier, C-Mount, B-Mount, Q-Mount, 9mm, TO-3 no TEC, TO-3-TEC, HHL, 9mm SMA, 2-Pin FC, 8-pin HHL, 9-pin HHL |
| | LDX-XXXX-660 | Single Emitter | 660 | 0.350, 0.750, 1.0, 2.0 | Multimode | MM Fiber, Free Space | | CW | Chip on Carrier, C-Mount, B-Mount, Q-Mount, 9mm, TO-3 no TEC, TO-3-TEC, HHL, 9mm SMA, 2-Pin FC, 8-pin HHL, 9-pin HHL |
| | LDX-XXXX-665 | Single Emitter | 665 | 0.350, 0.750, 1.0, 2.0 | Multimode | MM Fiber, Free Space | | CW | Chip on Carrier, C-Mount, B-Mount, Q-Mount, 9mm, TO-3 no TEC, HHL, 9mm SMA, 2-Pin FC, 8-pin HHL, 9-pin HHL |
| | LDX-XXXX-680 | Single Emitter | 680 | 0.400, 0.800, 1.2, 2.0 | Multimode | MM Fiber, Free Space | | CW | Chip on Carrier, C-Mount, B-Mount, Q-Mount, 9mm, TO-3 no TEC, TO-3-TEC, HHL, 9mm SMA, 2-Pin FC, 8-pin HHL, 9-pin HHL |
| | LDX-XXXX-685 | Single Emitter | 685 | 0.400, 0.800, 1.2, 2.0 | Multimode | MM Fiber, Free Space | | CW | Chip on Carrier, C-Mount, B-Mount, Q-Mount, 9mm, TO-3 no TEC, TO-3-TEC, HHL, 9mm SMA, 2-Pin FC, 8-pin HHL, 9-pin HHL |
| | LDX-XXXX-690 | Single Emitter | 690 | 0.400, 0.750, 1.1 | Multimode | MM Fiber, Free Space | | CW | Chip on Carrier, C-Mount, B-Mount, Q-Mount, 9mm, TO-3 no TEC, HHL, 9mm SMA, 2-Pin FC, 8-pin HHL, 9-pin HHL |
| | LDX-XXXX-735 | Single Emitter | 735 | 1.0, 1.75, 2.0, 4.0 | Multimode | MM Fiber, Free Space | | CW | Chip on Carrier, C-Mount, B-Mount, Q-Mount, 9mm, TO-3 no TEC, HHL, 9mm SMA, 2-Pin FC, 8-pin HHL, 9-pin HHL |
| | LDX-XXXX-750 | Single Emitter | 750 | 1.0, 2.0, 3.0, 5.0 | Multimode | MM Fiber, Free Space | | CW | Chip on Carrier, C-Mount, B-Mount, Q-Mount, 9mm, TO-3 no TEC, HHL, 9mm SMA, 2-Pin FC, 8-pin HHL, 9-pin HHL |
| | LDX-XXXX-760 | Single Emitter | 760 | 1.0, 2.0, 3.0, 6.0 | Multimode | MM Fiber, Free Space | | CW | Chip on Carrier, C-Mount, B-Mount, Q-Mount, 9mm, TO-3 no TEC, HHL, 9mm SMA, 2-Pin FC, 8-pin HHL, 9-pin HHL |
| | LDX-XXXX-780 | Single Emitter | 780 | 1.2, 2.5, 3.5, 5.0 | Multimode | MM Fiber, Free Space | | CW | Chip on Carrier, C-Mount, B-Mount, Q-Mount, 9mm, TO-3 no TEC, TO-3-TEC, HHL, 9mm SMA, 2-Pin FC, 8-pin HHL, 9-pin HHL |
| | LDX-XXXX-785 | Single Emitter | 785 | 3.5, 5.0 | Multimode | MM Fiber, Free Space | | CW | Chip on Carrier, C-Mount, B-Mount, Q-Mount, 9mm, TO-3 no TEC, TO-3-TEC, HHL, 9mm SMA, 2-Pin FC, 8-pin HHL, 9-pin HHL |
| | LDX-XXXX-792 | Single Emitter | 792 | 1.2, 2.5, 3.5 | Multimode | MM Fiber, Free Space | | CW | Chip on Carrier, C-Mount, B-Mount, Q-Mount, 9mm, TO-3 no TEC, HHL, 9mm SMA, 2-Pin FC, 8-pin HHL, 9-pin HHL |
| | LDX-XXXX-797 | Single Emitter | 797 | 3.0, 4.0 | Multimode | MM Fiber, Free Space | | CW | Chip on Carrier, C-Mount, B-Mount, Q-Mount, 9mm, TO-3 no TEC, HHL, 9mm SMA, 2-Pin FC, 8-pin HHL, 9-pin HHL |
| | LDX-XXXX-808 | Single Emitter | 808 | 1.2, 2.0, 3.0, 4.0, 6.0, 10.0 | Multimode | MM Fiber, Free Space | | CW | Chip on Carrier, C-Mount, B-Mount, Q-Mount, 9mm, TO-3 no TEC, HHL, 9mm SMA, 2-Pin FC, 8-pin HHL, 9-pin HHL |
| | LDX-XXXX-825 | Single Emitter | 825 | 4.0 | Multimode | MM Fiber, Free Space | | CW | Chip on Carrier, C-Mount, B-Mount, Q-Mount, 9mm, TO-3 no TEC, HHL, 9mm SMA, 2-Pin FC, 8-pin HHL, 9-pin HHL |
| | LDX-XXXX-830 | Single Emitter | 830 | 1.6 | Multimode | MM Fiber, Free Space | | CW | Chip on Carrier, C-Mount, B-Mount, Q-Mount, 9mm, TO-3 no TEC, HHL, 9mm SMA, 2-Pin FC, 8-pin HHL, 9-pin HHL |
| | LDX-XXXX-860 | Single Emitter | 860 | 1.0, 1.5, 2.0, 3.0, 4.0, 5.0 | Multimode | MM Fiber, Free Space | | CW | Chip on Carrier, C-Mount, B-Mount, Q-Mount, 9mm, TO-3 no TEC, HHL, 9mm SMA, 2-Pin FC, 8-pin HHL, 9-pin HHL |
| | LDX-XXXX-885 | Single Emitter | 885 | 2.5, 6.0 | Multimode | MM Fiber, Free Space | | CW | Chip on Carrier, C-Mount, B-Mount, Q-Mount, 9mm, TO-3 no TEC, TO-3-TEC, HHL, 9mm SMA, 2-Pin FC, 8-pin HHL, 9-pin HHL |
| | LDX-XXXX-900 | Single Emitter | 900 | 2.0 | Multimode | MM Fiber, Free Space | | CW | Chip on Carrier, C-Mount, B-Mount, Q-Mount, 9mm, TO-3 no TEC, HHL, 9mm SMA, 2-Pin FC, 8-pin HHL, 9-pin HHL |
| | LDX-XXXX-915 | Single Emitter | 915 | 4.0, 6.0, 10.0 | Multimode | MM Fiber, Free Space | | CW | Chip on Carrier, C-Mount, B-Mount, Q-Mount, 9mm, TO-3 no TEC, HHL, 9mm SMA, 2-Pin FC, 8-pin HHL, 9-pin HHL |
| | LDX-XXXX-940 | Single Emitter | 940 | 4.0, 5.0, 6.0, 16.0 | Multimode | MM Fiber, Free Space | | CW | Chip on Carrier, C-Mount, B-Mount, Q-Mount, 9mm, TO-3 no TEC, HHL, 9mm SMA, 2-Pin FC, 8-pin HHL, 9-pin HHL |
| | LDX-XXXX-980 | Single Emitter | 980 | 1.5, 4.0, 5.0, 6.0, 10.0 | Multimode | MM Fiber, Free Space | | CW | Chip on Carrier, C-Mount, B-Mount, Q-Mount, 9mm, TO-3 no TEC, TO-3-TEC, HHL, 9mm SMA, 2-Pin FC, 8-pin HHL, 9-pin HHL |