Microchannel Cooled (MCC) Stacks Overview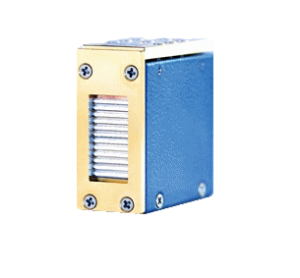 Microchannel Cooled (MCC) Heatsinks, Actively cooled package, typical Fabry-Perot laser stacks, are based on the principle of convective heat transfer. With these multimode laser stack packages, the heat is transferred from the bar to a thin, mostly metal substrate, and then to a liquid coolant flowing through it.
An MCC Stack is one of the highest cooling efficiency actively cooled packages available. MCC Stack is a stack of several layers which define the route of the cooling medium in an optimized path directly under the mounting surface of the diode laser bar.
Laser diodes on these Stacks are available with output powers of >100 W CW per bar at industry-standard lifetimes. As the laser diodes on MCC are stacked, very high output powers are available in a reasonably small emitting area. Multimode Laser Stacks are used wherever very high-power densities are needed in combination with high optical output powers.
The micro channels in the MCC Fabry-Perot Laser Stacks have a width of approx. 40 … 400 μm and a height of typically 300 μm. The high flow rates in the microchannels provide ideal conditions for the convective heat transfer from copper to the cooling medium.
Contact us today to let one of our knowledgeable Product Managers assist you!
| | | | | | | | | | |
| --- | --- | --- | --- | --- | --- | --- | --- | --- | --- |
| | JOLD-Open-808-CW | Array (Bar) | 808 | 40.0, 50.0, 60.0, 80.0 | Multimode | Free Space | | CW | CS, CN, MCC Stack |
| | JOLD-Open-915-CW | Array (Bar) | 915 | 40.0, 60.0, 80.0, 275.0 | Multimode | Free Space | | CW | CS, CN, LK Package, MCC Stack |
| | JOLD-Open-938-CW | Array (Bar) | 938 | 40.0, 60.0, 80.0, 100.0, 120.0, 200.0, 275.0 | Multimode | Free Space | | CW | CS, CN, LK Package, MCC Stack |
| | JOLD-Open-976-CW | Array (Bar) | 976 | 40.0, 60.0, 80.0, 100.0, 120.0, 160.0, 275.0 | Multimode | Free Space | | CW | CS, CN, LK Package, MCC Stack |
| | JOLD-Stack-808-CW-FAC | Laser Diode Stack | 808 | 288.0, 432.0, 576.0, 720.0, 864.0 | Multimode | Free Space | | CW | MCC Stack |
| | JOLD-Stack-808-CW-FAC/SAC | Laser Diode Stack | 808 | 200.0, 300.0, 400.0, 500.0, 600.0 | Multimode | Free Space | | CW | MCC Stack |
| | JOLD-Stack-808-CW | Laser Diode Stack | 808 | 310.0, 320.0, 480.0, 640.0, 800.0, 960.0 | Multimode | Free Space | | CW | Stack, MCC Stack |
| | JOLD-Stack-808-QCW-FAC | Laser Diode Stack | 808 | 360.0, 540.0, 720.0, 780.0, 810.0, 900.0, 1080.0, 1560.0, 2160.0 | Multimode | Free Space | | QCW | Stack, MCC Stack |
| | JOLD-Stack-808-QCW | Laser Diode Stack | 808 | 400.0, 600.0, 800.0, 900.0, 1000.0, 1200.0, 1600.0, 2400.0 | Multimode | Free Space | | QCW | Stack, MCC Stack |
| | JOLD-Stack-940-CW-FAC | Laser Diode Stack | 940 | 440.0, 660.0, 880.0, 1100.0, 1320.0 | Multimode | Free Space | | CW | MCC Stack |
| | JOLD-Stack-940-CW-FAC/SAC | Laser Diode Stack | 940 | 200.0, 300.0, 400.0, 500.0, 600.0 | Multimode | Free Space | | CW | MCC Stack |
| | JOLD-Stack-940-CW | Laser Diode Stack | 940 | 310.0, 480.0, 720.0, 960.0, 1200.0, 1440.0 | Multimode | Free Space | | CW | Stack, MCC Stack |
| | JOLD-Stack-940-QCW-FAC | Laser Diode Stack | 940 | 360.0, 540.0, 720.0, 810.0, 900.0, 1080.0, 2160.0 | Multimode | Free Space | | QCW | Stack, MCC Stack |
| | JOLD-Stack-940-QCW | Laser Diode Stack | 940 | 400.0, 600.0, 800.0, 900.0, 1000.0, 1200.0, 2400.0 | Multimode | Free Space | | QCW | Stack, MCC Stack |
| | JOLD-Stack-980-CW-FAC | Laser Diode Stack | 980 | 440.0, 660.0, 880.0, 1100.0, 1320.0 | Multimode | Free Space | | CW | MCC Stack |
| | JOLD-Stack-980-CW-FAC/SAC | Laser Diode Stack | 980 | 200.0, 300.0, 400.0, 500.0, 600.0 | Multimode | Free Space | | CW | MCC Stack |
| | JOLD-Stack-980-CW | Laser Diode Stack | 980 | 480.0, 720.0, 960.0, 1200.0, 1440.0 | Multimode | Free Space | | CW | MCC Stack |