8-pin Fiber Coupled Package Overview
8-Pin Fiber-Coupled Package in a Hermetically sealed package and includes an internal TEC and Photodiode.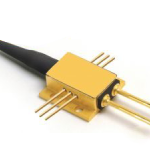 These laser diodes are made with quality Copper (OFHC) and can be mounted to a heatsink with screws. Includes a fiber pigtail with SMA connector.
Features:
Hermetically sealed package
Fiber pigtail with SMA connector
Header material – Copper
Options: Photodiode, Aiming beam, Isolated package
Contact us today to let one of our knowledgeable Product Managers assist you!
| | | | | | | | | | |
| --- | --- | --- | --- | --- | --- | --- | --- | --- | --- |
| | LDX-XXXX-1030 | Single Emitter | 1030 | 3.0, 5.0 | Multimode | Free Space, MM Fiber | | CW | Chip on Carrier, C-Mount, B-Mount, Q-Mount, 9mm, TO-3 no TEC, HHL, 9mm SMA, 2-Pin FC, 8-pin HHL, 9-pin HHL |
| | LDX-XXXX-1064 | Single Emitter | 1064 | 1.5, 3.0, 5.0 | Multimode | Free Space, MM Fiber | | CW | Chip on Carrier, C-Mount, B-Mount, Q-Mount, 9mm, TO-3 no TEC, TO-3-TEC, HHL, 9mm SMA, 2-Pin FC, 8-pin HHL, 9-pin HHL |
| | LDX-XXXX-1280 | Single Emitter | 1280 | 3.5, 5.0, 7.0 | Multimode | Free Space, MM Fiber | | CW | Chip on Carrier, C-Mount, B-Mount, Q-Mount, 9mm, TO-3 no TEC, HHL, 9mm SMA, 2-Pin FC, 8-pin HHL, 9-pin HHL |
| | LDX-XXXX-1675 | Single Emitter | 1675 | 2.0 | Multimode | Free Space, MM Fiber | | CW | Chip on Carrier, C-Mount, B-Mount, TO-3 no TEC, HHL, 2-Pin FC, 8-pin HHL, 9-pin HHL |
| | LDX-XXXX-1850 | Single Emitter | 1850 | 1.0 | Multimode | Free Space, MM Fiber | | CW | Chip on Carrier, C-Mount, B-Mount, Q-Mount, 9mm, TO-3 no TEC, HHL, 9mm SMA, 2-Pin FC, 8-pin HHL, 9-pin HHL |
| | LDX-XXXX-445 | Single Emitter | 445 | 3.5 | Multimode | Free Space, MM Fiber | | CW | Chip on Carrier, C-Mount, B-Mount, Q-Mount, 9mm, TO-3 no TEC, HHL, 9mm SMA, 2-Pin FC, 8-pin HHL, 9-pin HHL |
| | LDX-XXXX-622 | Single Emitter | 622 | 0.150 | Multimode | Free Space, MM Fiber | | CW | Chip on Carrier, C-Mount, B-Mount, Q-Mount, 9mm, TO-3 no TEC, HHL, 9mm SMA, 2-Pin FC, 8-pin HHL, 9-pin HHL |
| | LDX-XXXX-627 | Single Emitter | 627 | 0.250, 0.350 | Multimode | Free Space, MM Fiber | | CW | Chip on Carrier, C-Mount, B-Mount, Q-Mount, 9mm, TO-3 no TEC, TO-3-TEC, HHL, 9mm SMA, 2-Pin FC, 8-pin HHL, 9-pin HHL |
| | LDX-XXXX-630 | Single Emitter | 630 | 0.250, 0.400 | Multimode | Free Space, MM Fiber | | CW | Chip on Carrier, C-Mount, B-Mount, Q-Mount, 9mm, TO-3 no TEC, TO-3-TEC, HHL, 9mm SMA, 2-Pin FC, 8-pin HHL, 9-pin HHL |
| | LDX-XXXX-635 | Single Emitter | 635 | 0.300, 0.400, 0.600, 1.2 | Multimode | Free Space, MM Fiber | | CW | Chip on Carrier, C-Mount, B-Mount, Q-Mount, 9mm, TO-3 no TEC, HHL, 9mm SMA, 2-Pin FC, 8-pin HHL, 9-pin HHL |
| | LDX-XXXX-645 | Single Emitter | 645 | 0.300, 0.400 | Multimode | Free Space, MM Fiber | | CW | Chip on Carrier, C-Mount, B-Mount, Q-Mount, 9mm, TO-3 no TEC, TO-3-TEC, HHL, 9mm SMA, 2-Pin FC, 8-pin HHL, 9-pin HHL |
| | LDX-XXXX-650 | Single Emitter | 650 | 1.0 | Multimode | Free Space, MM Fiber | | CW | Chip on Carrier, C-Mount, B-Mount, Q-Mount, 9mm, TO-3 no TEC, TO-3-TEC, HHL, 9mm SMA, 2-Pin FC, 8-pin HHL, 9-pin HHL |
| | LDX-XXXX-660 | Single Emitter | 660 | 0.350, 0.750, 1.0, 2.0 | Multimode | Free Space, MM Fiber | | CW | Chip on Carrier, C-Mount, B-Mount, Q-Mount, 9mm, TO-3 no TEC, TO-3-TEC, HHL, 9mm SMA, 2-Pin FC, 8-pin HHL, 9-pin HHL |
| | LDX-XXXX-665 | Single Emitter | 665 | 0.350, 0.750, 1.0, 2.0 | Multimode | Free Space, MM Fiber | | CW | Chip on Carrier, C-Mount, B-Mount, Q-Mount, 9mm, TO-3 no TEC, HHL, 9mm SMA, 2-Pin FC, 8-pin HHL, 9-pin HHL |
| | LDX-XXXX-680 | Single Emitter | 680 | 0.400, 0.800, 1.2, 2.0 | Multimode | Free Space, MM Fiber | | CW | Chip on Carrier, C-Mount, B-Mount, Q-Mount, 9mm, TO-3 no TEC, TO-3-TEC, HHL, 9mm SMA, 2-Pin FC, 8-pin HHL, 9-pin HHL |
| | LDX-XXXX-685 | Single Emitter | 685 | 0.400, 0.800, 1.2, 2.0 | Multimode | Free Space, MM Fiber | | CW | Chip on Carrier, C-Mount, B-Mount, Q-Mount, 9mm, TO-3 no TEC, TO-3-TEC, HHL, 9mm SMA, 2-Pin FC, 8-pin HHL, 9-pin HHL |
| | LDX-XXXX-690 | Single Emitter | 690 | 0.400, 0.750, 1.1 | Multimode | Free Space, MM Fiber | | CW | Chip on Carrier, C-Mount, B-Mount, Q-Mount, 9mm, TO-3 no TEC, HHL, 9mm SMA, 2-Pin FC, 8-pin HHL, 9-pin HHL |
| | LDX-XXXX-735 | Single Emitter | 735 | 1.0, 1.75, 2.0, 4.0 | Multimode | Free Space, MM Fiber | | CW | Chip on Carrier, C-Mount, B-Mount, Q-Mount, 9mm, TO-3 no TEC, HHL, 9mm SMA, 2-Pin FC, 8-pin HHL, 9-pin HHL |
| | LDX-XXXX-750 | Single Emitter | 750 | 1.0, 2.0, 3.0, 5.0 | Multimode | Free Space, MM Fiber | | CW | Chip on Carrier, C-Mount, B-Mount, Q-Mount, 9mm, TO-3 no TEC, HHL, 9mm SMA, 2-Pin FC, 8-pin HHL, 9-pin HHL |
| | LDX-XXXX-760 | Single Emitter | 760 | 1.0, 2.0, 3.0, 6.0 | Multimode | Free Space, MM Fiber | | CW | Chip on Carrier, C-Mount, B-Mount, Q-Mount, 9mm, TO-3 no TEC, HHL, 9mm SMA, 2-Pin FC, 8-pin HHL, 9-pin HHL |
| | LDX-XXXX-780 | Single Emitter | 780 | 1.2, 2.5, 3.5, 5.0 | Multimode | Free Space, MM Fiber | | CW | Chip on Carrier, C-Mount, B-Mount, Q-Mount, 9mm, TO-3 no TEC, TO-3-TEC, HHL, 9mm SMA, 2-Pin FC, 8-pin HHL, 9-pin HHL |
| | LDX-XXXX-785 | Single Emitter | 785 | 3.5, 5.0 | Multimode | Free Space, MM Fiber | | CW | Chip on Carrier, C-Mount, B-Mount, Q-Mount, 9mm, TO-3 no TEC, TO-3-TEC, HHL, 9mm SMA, 2-Pin FC, 8-pin HHL, 9-pin HHL |
| | LDX-XXXX-792 | Single Emitter | 792 | 1.2, 2.5, 3.5 | Multimode | Free Space, MM Fiber | | CW | Chip on Carrier, C-Mount, B-Mount, Q-Mount, 9mm, TO-3 no TEC, HHL, 9mm SMA, 2-Pin FC, 8-pin HHL, 9-pin HHL |
| | LDX-XXXX-797 | Single Emitter | 797 | 3.0, 4.0 | Multimode | Free Space, MM Fiber | | CW | Chip on Carrier, C-Mount, B-Mount, Q-Mount, 9mm, TO-3 no TEC, HHL, 9mm SMA, 2-Pin FC, 8-pin HHL, 9-pin HHL |
| | LDX-XXXX-808 | Single Emitter | 808 | 1.2, 2.0, 3.0, 4.0, 6.0, 10.0 | Multimode | Free Space, MM Fiber | | CW | Chip on Carrier, C-Mount, B-Mount, Q-Mount, 9mm, TO-3 no TEC, HHL, 9mm SMA, 2-Pin FC, 8-pin HHL, 9-pin HHL |
| | LDX-XXXX-825 | Single Emitter | 825 | 4.0 | Multimode | Free Space, MM Fiber | | CW | Chip on Carrier, C-Mount, B-Mount, Q-Mount, 9mm, TO-3 no TEC, HHL, 9mm SMA, 2-Pin FC, 8-pin HHL, 9-pin HHL |
| | LDX-XXXX-830 | Single Emitter | 830 | 1.6 | Multimode | Free Space, MM Fiber | | CW | Chip on Carrier, C-Mount, B-Mount, Q-Mount, 9mm, TO-3 no TEC, HHL, 9mm SMA, 2-Pin FC, 8-pin HHL, 9-pin HHL |
| | LDX-XXXX-860 | Single Emitter | 860 | 1.0, 1.5, 2.0, 3.0, 4.0, 5.0 | Multimode | Free Space, MM Fiber | | CW | Chip on Carrier, C-Mount, B-Mount, Q-Mount, 9mm, TO-3 no TEC, HHL, 9mm SMA, 2-Pin FC, 8-pin HHL, 9-pin HHL |
| | LDX-XXXX-885 | Single Emitter | 885 | 2.5, 6.0 | Multimode | Free Space, MM Fiber | | CW | Chip on Carrier, C-Mount, B-Mount, Q-Mount, 9mm, TO-3 no TEC, TO-3-TEC, HHL, 9mm SMA, 2-Pin FC, 8-pin HHL, 9-pin HHL |
| | LDX-XXXX-900 | Single Emitter | 900 | 2.0 | Multimode | Free Space, MM Fiber | | CW | Chip on Carrier, C-Mount, B-Mount, Q-Mount, 9mm, TO-3 no TEC, HHL, 9mm SMA, 2-Pin FC, 8-pin HHL, 9-pin HHL |
| | LDX-XXXX-915 | Single Emitter | 915 | 3.0, 6.0, 10.0 | Multimode | Free Space, MM Fiber | | CW | Chip on Carrier, C-Mount, B-Mount, Q-Mount, 9mm, TO-3 no TEC, HHL, 9mm SMA, 2-Pin FC, 8-pin HHL, 9-pin HHL |
| | LDX-XXXX-940 | Single Emitter | 940 | 3.0, 5.0, 6.0, 16.0 | Multimode | Free Space, MM Fiber | | CW | Chip on Carrier, C-Mount, B-Mount, Q-Mount, 9mm, TO-3 no TEC, HHL, 9mm SMA, 2-Pin FC, 8-pin HHL, 9-pin HHL |
| | LDX-XXXX-960 | Single Emitter | 960 | 10.0 | Multimode | Free Space, MM Fiber | | CW | Chip on Carrier, C-Mount, TO-3 no TEC, HHL, 2-Pin FC, 8-pin HHL, 9-pin HHL |
| | LDX-XXXX-980 | Single Emitter | 980 | 1.5, 4.0, 5.0, 6.0, 10.0 | Multimode | Free Space, MM Fiber | | CW | Chip on Carrier, C-Mount, B-Mount, Q-Mount, 9mm, TO-3 no TEC, TO-3-TEC, HHL, 9mm SMA, 2-Pin FC, 8-pin HHL, 9-pin HHL |
| | RWLP-1064M | Single Emitter | 1064 | 1.0, 8.0, 25.0 | Multimode | MM Fiber | | CW | Coaxial, Butterfly FC, 8-pin HHL, 9-pin HHL |
| | RWLP-1064S | Single Emitter | 1064 | 0.005, 0.010, 0.015, 0.020, 0.030, 0.040, 0.050 | Single-Mode Lasers | SM Fiber, PM Fiber | | CW | Coaxial, 8-pin HHL |
| | RWLP-1270S | Single Emitter, Distributed Feedback DFB Lasers | 1270 | 0.002, 0.005, 0.010 | Single-Mode Lasers | SM Fiber, PM Fiber | | CW | Coaxial, 8-pin HHL |
| | RWLP-1290S | Single Emitter, Distributed Feedback DFB Lasers | 1290 | 0.002, 0.005, 0.010 | Single-Mode Lasers | SM Fiber, PM Fiber | | CW | Coaxial, 8-pin HHL |
| | RWLP-1310M | Single Emitter | 1310 | 1.0 | Multimode | MM Fiber | | CW | Coaxial, Butterfly FC, 8-pin HHL, 9-pin HHL |
| | RWLP-1310S | Single Emitter, Distributed Feedback DFB Lasers | 1310 | 0.002, 0.003, 0.005, 0.010, 0.015 | Single-Mode Lasers | SM Fiber, PM Fiber | | CW | Coaxial, 8-pin HHL |
| | RWLP-1330M | Single Emitter | 1330 | 1.0 | Multimode | MM Fiber | | CW | Coaxial, Butterfly FC, 8-pin HHL, 9-pin HHL |
| | RWLP-1330S | Single Emitter, Distributed Feedback DFB Lasers | 1330 | 0.002, 0.003, 0.005, 0.010, 0.015 | Single-Mode Lasers | SM Fiber, PM Fiber | | CW | Coaxial, 8-pin HHL |
| | RWLP-1350S | Single Emitter, Distributed Feedback DFB Lasers | 1350 | 0.002, 0.005, 0.010 | Single-Mode Lasers | SM Fiber, PM Fiber | | CW | Coaxial, 8-pin HHL |
| | RWLP-1370S | Single Emitter, Distributed Feedback DFB Lasers | 1370 | 0.002, 0.005, 0.010 | Single-Mode Lasers | SM Fiber, PM Fiber | | CW | Coaxial, 8-pin HHL |
| | RWLP-1410S | Single Emitter, Distributed Feedback DFB Lasers | 1410 | 0.002, 0.005, 0.010 | Single-Mode Lasers | SM Fiber, PM Fiber | | CW | Coaxial, 8-pin HHL |
| | RWLP-1430S | Single Emitter, Distributed Feedback DFB Lasers | 1430 | 0.002, 0.005, 0.010 | Single-Mode Lasers | SM Fiber, PM Fiber | | CW | Coaxial, 8-pin HHL |
| | RWLP-1450M | Single Emitter | 1450 | 2.0 | Multimode | MM Fiber | | CW | Coaxial, Butterfly FC, 8-pin HHL, 9-pin HHL |
| | RWLP-1450S | Single Emitter, Distributed Feedback DFB Lasers | 1450 | 0.002, 0.005, 0.010 | Single-Mode Lasers | SM Fiber, PM Fiber | | CW | Coaxial, 8-pin HHL |
| | RWLP-1470M | Single Emitter | 1470 | 0.800, 1.0, 2.5, 3.0 | Multimode | MM Fiber | | CW | Coaxial, Butterfly FC, 8-pin HHL, 9-pin HHL |
| | RWLP-1470S | Single Emitter, Distributed Feedback DFB Lasers | 1470 | 0.002, 0.005, 0.010 | Single-Mode Lasers | SM Fiber, PM Fiber | | CW | Coaxial, 8-pin HHL |
| | RWLP-1490S | Single Emitter, Distributed Feedback DFB Lasers | 1490 | 0.002, 0.005, 0.010 | Single-Mode Lasers | SM Fiber, PM Fiber | | CW | Coaxial, 8-pin HHL |
| | RWLP-1510S | Single Emitter, Distributed Feedback DFB Lasers | 1510 | 0.002, 0.005, 0.010 | Single-Mode Lasers | SM Fiber, PM Fiber | | CW | Coaxial, 8-pin HHL |
| | RWLP-1530S | Single Emitter, Distributed Feedback DFB Lasers | 1530 | 0.002, 0.005, 0.010 | Single-Mode Lasers | SM Fiber, PM Fiber | | CW | Coaxial, 8-pin HHL |
| | RWLP-1550S | Single Emitter, Distributed Feedback DFB Lasers | 1550 | 0.002, 0.005, 0.010 | Single-Mode Lasers | SM Fiber, PM Fiber | | CW | Coaxial, 8-pin HHL |
| | RWLP-1570S | Single Emitter, Distributed Feedback DFB Lasers | 1570 | 0.002, 0.005, 0.010 | Single-Mode Lasers | SM Fiber, PM Fiber | | CW | Coaxial, 8-pin HHL |
| | RWLP-1590S | Single Emitter, Distributed Feedback DFB Lasers | 1590 | 0.002, 0.005, 0.008 | Single-Mode Lasers | SM Fiber, PM Fiber | | CW | Coaxial, 8-pin HHL |
| | RWLP-1610S | Single Emitter, Distributed Feedback DFB Lasers | 1610 | 0.002, 0.005, 0.008 | Single-Mode Lasers | SM Fiber, PM Fiber | | CW | Coaxial, 8-pin HHL |
| | RWLP-1625S | Single Emitter, Distributed Feedback DFB Lasers | 1625 | 0.002, 0.005, 0.008 | Single-Mode Lasers | SM Fiber, PM Fiber | | CW | Coaxial, 8-pin HHL |
| | RWLP-1650S | Single Emitter, Distributed Feedback DFB Lasers | 1650 | 0.002, 0.005, 0.009 | Single-Mode Lasers | SM Fiber, PM Fiber | | CW | Coaxial, 8-pin HHL |
| | RWLP-400M | Single Emitter | 400 | 0.400 | Multimode | MM Fiber | | CW | Coaxial, 8-pin HHL |
| | RWLP-400S | Single Emitter | 400 | 0.015, 0.030 | Single-Mode Lasers | SM Fiber, PM Fiber | | CW | Coaxial, 8-pin HHL |
| | RWLP-405M | Single Emitter | 405 | 0.200, 0.300, 0.400, 0.450 | Multimode | MM Fiber | | CW | Coaxial, 8-pin HHL |
| | RWLP-405S | Single Emitter | 405 | 0.001, 0.015, 0.030, 0.040, 0.050 | Single-Mode Lasers | SM Fiber, PM Fiber | | CW | Coaxial, 8-pin HHL |
| | RWLP-410M | Single Emitter | 410 | 0.300 | Multimode | MM Fiber | | CW | Coaxial, 8-pin HHL |
| | RWLP-420M | Single Emitter | 420 | 0.800 | Multimode | MM Fiber | | CW | Coaxial, 8-pin HHL |
| | RWLP-435M | Single Emitter | 435 | 3.0 | Multimode | MM Fiber | | CW | Coaxial, Butterfly FC, 8-pin HHL |
| | RWLP-445M | Single Emitter | 445 | 0.050, 0.080, 0.800, 1.0, 3.5, 10.0, 20.0 | Multimode | MM Fiber | | CW | Coaxial, Butterfly FC, 8-pin HHL |
| | RWLP-445S | Single Emitter | 445 | 0.001, 0.015, 0.030, 0.040, 0.050, 0.070, 0.080, 0.100 | Single-Mode Lasers | SM Fiber, PM Fiber | | CW | Coaxial, 8-pin HHL |
| | RWLP-460S | Single Emitter | 460 | 0.030, 0.050, 0.080 | Single-Mode Lasers | SM Fiber, PM Fiber | | CW | Coaxial, 8-pin HHL |
| | RWLP-473S | Single Emitter | 473 | 0.010, 0.020 | Single-Mode Lasers | SM Fiber, PM Fiber | | CW | Coaxial, 8-pin HHL |
| | RWLP-480M | Single Emitter | 480 | 0.050 | Multimode | MM Fiber | | CW | Coaxial, 8-pin HHL |
| | RWLP-480S | Single Emitter | 480 | 0.010, 0.020 | Single-Mode Lasers | SM Fiber, PM Fiber | | CW | Coaxial, 8-pin HHL |
| | RWLP-488M | Single Emitter | 488 | 0.050, 0.080 | Multimode | MM Fiber | | CW | Coaxial, 8-pin HHL |
| | RWLP-488S | Single Emitter | 488 | 0.010, 0.020 | Single-Mode Lasers | SM Fiber, PM Fiber | | CW | Coaxial, 8-pin HHL |
| | RWLP-495M | Single Emitter | 495 | 0.050 | Multimode | MM Fiber | | CW | Coaxial, 8-pin HHL |
| | RWLP-495S | Single Emitter | 495 | 0.010, 0.020 | Single-Mode Lasers | SM Fiber, PM Fiber | | CW | Coaxial, 8-pin HHL |
| | RWLP-505M | Single Emitter | 505 | 0.030, 0.050 | Multimode | MM Fiber | | CW | Coaxial, 8-pin HHL |
| | RWLP-505S | Single Emitter | 505 | 0.010, 0.020 | Single-Mode Lasers | SM Fiber, PM Fiber | | CW | Coaxial, 8-pin HHL |
| | RWLP-510S | Single Emitter | 510 | 0.010, 0.020 | Single-Mode Lasers | SM Fiber, PM Fiber | | CW | Coaxial, 8-pin HHL |
| | RWLP-520M | Single Emitter | 520 | 0.010, 0.030, 0.050, 0.080, 0.200, 0.300, 0.800, 1.0, 1.2, 2.0, 5.0 | Multimode | MM Fiber | | CW | Coaxial, 8-pin HHL |
| | RWLP-520S | Single Emitter | 520 | 0.002, 0.005, 0.010, 0.020, 0.030, 0.040, 0.050, 0.080 | Single-Mode Lasers | SM Fiber, PM Fiber | | CW | Coaxial, 8-pin HHL |
| | RWLP-633S | Single Emitter | 633 | 0.030, 0.050 | Single-Mode Lasers | SM Fiber, PM Fiber | | CW | Coaxial, 8-pin HHL |
| | RWLP-635S | Single Emitter | 635 | 0.001, 0.003, 0.005, 0.010, 0.030, 0.050, 0.080, 0.100 | Single-Mode Lasers | SM Fiber, PM Fiber | | CW | Coaxial, 8-pin HHL |
| | RWLP-660S | Single Emitter | 660 | 0.003, 0.005, 0.010, 0.020, 0.030, 0.040, 0.050, 0.080, 0.100 | Single-Mode Lasers | SM Fiber, PM Fiber | | CW | Coaxial, 8-pin HHL |
| | RWLP-670M | Single Emitter | 670 | 0.005, 0.010, 0.120 | Multimode | MM Fiber | | CW | Coaxial, 8-pin HHL |
| | RWLP-670S | Single Emitter | 670 | 0.003, 0.005, 0.050 | Single-Mode Lasers | SM Fiber, PM Fiber | | CW | Coaxial, 8-pin HHL |
| | RWLP-685M | Single Emitter | 685 | 0.030 | Multimode | MM Fiber | | CW | Coaxial, 8-pin HHL |
| | RWLP-685S | Single Emitter | 685 | 0.010, 0.015, 0.020 | Single-Mode Lasers | SM Fiber, PM Fiber | | CW | Coaxial, 8-pin HHL |
| | RWLP-705S | Single Emitter | 705 | 0.010, 0.015 | Single-Mode Lasers | SM Fiber, PM Fiber | | CW | Coaxial, 8-pin HHL |
| | RWLP-730S | Single Emitter | 730 | 0.010, 0.015 | Single-Mode Lasers | SM Fiber, PM Fiber | | CW | Coaxial, 8-pin HHL |
| | RWLP-785M | Single Emitter | 785 | 0.050, 1.5, 2.0, 3.0, 7.0 | Multimode | MM Fiber | | CW | Coaxial, Butterfly FC, 8-pin HHL, 9-pin HHL |
| | RWLP-785S | Single Emitter | 785 | 0.005, 0.020, 0.030, 0.040, 0.050 | Single-Mode Lasers | SM Fiber, PM Fiber | | CW | Coaxial, 8-pin HHL |
| | RWLP-808M | Single Emitter | 808 | 0.150, 0.200, 0.300, 2.0, 4.0, 5.0, 8.0, 10.0, 25.0 | Multimode | MM Fiber | | CW | Coaxial, Butterfly FC, 8-pin HHL, 9-pin HHL |
| | RWLP-808S | Single Emitter | 808 | 0.015, 0.020, 0.030, 0.040, 0.050 | Single-Mode Lasers | SM Fiber, PM Fiber | | CW | Coaxial, 8-pin HHL |
| | RWLP-820S | Single Emitter | 820 | 0.030, 0.050 | Single-Mode Lasers | SM Fiber, PM Fiber | | CW | Coaxial, 8-pin HHL |
| | RWLP-830M | Single Emitter | 830 | 0.150, 0.200, 1.0, 2.0, 3.0 | Multimode | MM Fiber | | CW | Coaxial, Butterfly FC, 8-pin HHL, 9-pin HHL |
| | RWLP-830S | Single Emitter | 830 | 0.005, 0.030, 0.050, 0.100 | Single-Mode Lasers | SM Fiber, PM Fiber | | CW | Coaxial, 8-pin HHL |
| | RWLP-850M | Single Emitter | 850 | 0.050, 0.150, 0.200 | Multimode | MM Fiber | | CW | Coaxial, Butterfly FC, 8-pin HHL, 9-pin HHL |
| | RWLP-850S | Single Emitter | 850 | 0.002, 0.010, 0.020, 0.030, 0.050, 0.070 | Single-Mode Lasers | SM Fiber, PM Fiber | | CW | Coaxial, 8-pin HHL |
| | RWLP-880M | Single Emitter | 880 | 0.005, 2.0, 3.0 | Multimode | MM Fiber | | CW | Coaxial, Butterfly FC, 8-pin HHL, 9-pin HHL |
| | RWLP-880S | Single Emitter | 880 | 0.001, 0.002 | Single-Mode Lasers | SM Fiber, PM Fiber | | CW | Coaxial, 8-pin HHL |
| | RWLP-905M | Single Emitter | 905 | 0.120, 0.150 | Multimode | MM Fiber | | CW | Coaxial, Butterfly FC, 8-pin HHL, 9-pin HHL |
| | RWLP-905S | Single Emitter | 905 | 0.002, 0.030, 0.050, 0.070, 0.080 | Single-Mode Lasers | SM Fiber, PM Fiber | | CW | Coaxial, 8-pin HHL |
| | RWLP-915M | Single Emitter | 915 | 2.0, 10.0, 20.0, 30.0, 55.0 | Multimode | MM Fiber | | CW | Coaxial, Butterfly FC, 8-pin HHL, 9-pin HHL |
| | RWLP-940M | Single Emitter | 940 | 0.200, 2.0, 10.0, 20.0, 30.0 | Multimode | MM Fiber | | CW | Coaxial, Butterfly FC, 8-pin HHL, 9-pin HHL |
| | RWLP-940S | Single Emitter | 940 | 0.030, 0.050, 0.080, 0.100 | Single-Mode Lasers | SM Fiber, PM Fiber | | CW | Coaxial, 8-pin HHL |
| | RWLP-980M | Single Emitter | 980 | 0.100, 0.150, 2.0, 10.0, 20.0, 30.0, 55.0 | Multimode | MM Fiber | | CW | Coaxial, Butterfly FC, 8-pin HHL, 9-pin HHL |
| | RWLP-980S | Single Emitter | 980 | 0.005, 0.010, 0.015 | Single-Mode Lasers | SM Fiber, PM Fiber | | CW | Coaxial, 8-pin HHL |