Laser Diode Array (Bar)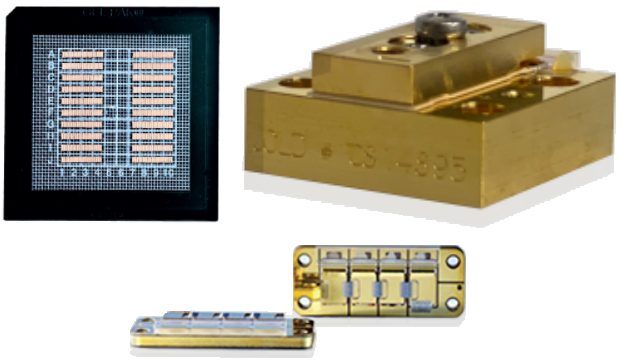 In a laser diode array (bar), the individual emitting areas (emitters) lie side by side, separated by the non-emitting areas. These sets of emitting/non-emitting regions form the so-called active layer. The number, the width, and the spacing of the emitters is manufacturer dependent. The relative value of the emitting areas in the active layer with respect to the bar width is the filling factor (FF). Typical filling factors are 30 – 90%. The center-to-center distance between two adjacent emitters is the emitter pitch. Z is the propagation axis of the laser radiation. The propagation axis Y is the fast axis (FA) and the X axis is the slow axis (SA), referring to the rate of divergence. Therefore, these axes comprise the beam angle (divergence) in the two planes, XZ and YZ.
Our Products
Laser diode arrays (bars) and multimode laser diode stacks are available in unmounted laser diode bars, or mounted in conductively or actively cooled packages. Multiple bars can be stacked in the horizontal or vertical direction to increase the output power.
We offer diode laser arrays (bars) and stacks in wavelengths ranging from 760nm-1470nm in several free-space and fiber-coupled packages. Furthermore, these diode lasers are available in CW operation with up to 400W output power & QCW operation with up to 500W output power.
Let Us Help
In conclusion, if you have any questions or would like some assistance, please contact us here. Furthermore, you can call us at 636.272.7227 to talk to a knowledgeable Product Manager. Alternatively, you can also use the filters on this page, or check out our 'How to Select a Laser Diode' page to assist in narrowing down the selection. Finally, head to our Knowledge Center with our Lasers 101 page and Blogs and Whitepapers pages for further, in-depth reading.
Suggested reading
| | | | | | | | | |
| --- | --- | --- | --- | --- | --- | --- | --- | --- |
| | JDL-1020 | Array (Bar) | 1020 | 120.0, 200.0 | Multimode | Free Space | CW | None |
| | JDL-1060 | Single Emitter, Array (Bar) | 1060 | 10.0, 40.0, 60.0, 80.0, 120.0, 200.0, 250.0, 350.0 | Multimode | Free Space | CW, QCW | None |
| | JDL-760 | Array (Bar) | 760 | 40.0 | Multimode | Free Space | CW | None |
| | JDL-792 | Array (Bar) | 792 | 60.0, 80.0 | Multimode | Free Space | CW | None |
| | JDL-808 | Single Emitter, Array (Bar) | 808 | 6.0, 8.0, 10.0, 20.0, 40.0, 50.0, 60.0, 80.0, 92.0, 200.0, 300.0 | Multimode | Free Space | CW, QCW | None |
| | JDL-880 | Array (Bar) | 880 | 500.0 | Multimode | Free Space | QCW | None |
| | JDL-905 | Array (Bar) | 905 | 200.0 | Multimode | Free Space | CW | None |
| | JDL-915 | Array (Bar) | 915 | 40.0, 60.0, 80.0, 200.0 | Multimode | Free Space | CW | None |
| | JDL-940 | Array (Bar) | 940 | 60.0, 80.0, 120.0, 200.0, 300.0 | Multimode | Free Space | CW, QCW | None |
| | JDL-976 | Array (Bar) | 976 | 60.0, 80.0, 120.0 | Multimode | Free Space | CW | None |
| | JDL-BAB-20-47-976-TE-80-2.0-LAR | Array (Bar) | 976 | 80.0 | Multimode | Free Space | CW | None |
| | JOLD-100-HS-2L-808 | Array (Bar) | 808 | 100.0 | Multimode | MM Fiber | CW | Fiber Coupled |
| | JOLD-180-CPFN-1L 1035 | Array (Bar) | 1035 | 180.0 | Multimode | Free Space | CW | CN |
| | JOLD-35-CPNF-1L 975 | Array (Bar) | 975 | 35.0 | Multimode | Free Space | CW | CS |
| | JOLD-50-CPNN-1L 791 | Array (Bar) | 792 | 50.0 | Multimode | Free Space | CW | CS, CN |
| | JOLD-60-CPNN-1L 891 | Array (Bar) | 891 | 60.0 | Multimode | Free Space | CW | CS, CN |
| | JOLD-70-CPFN-1L 808 | Array (Bar) | 808 | 70.0 | Multimode | Free Space | CW | CS |
| | JOLD-FC-1470 | Array (Bar) | 1470 | 20.0 | Multimode | MM Fiber | CW | Fiber Coupled |
| | JOLD-FC-808 | Array (Bar) | 808 | 30.0, 45.0, 70.0, 75.0, 100.0, 120.0, 140.0, 210.0, 250.0, 400.0 | Multimode | MM Fiber | CW, QCW | Fiber Coupled |
| | JOLD-FC-880 | Array (Bar) | 880 | 30.0, 45.0, 75.0, 100.0 | Multimode | MM Fiber | CW | Fiber Coupled |
| | JOLD-FC-915 | Array (Bar) | 915 | 30.0, 45.0, 75.0, 100.0, 120.0, 140.0, 210.0, 250.0, 400.0 | Multimode | MM Fiber | CW, QCW | Fiber Coupled |
| | JOLD-FC-940 | Array (Bar) | 940 | 30.0, 45.0, 70.0, 75.0, 100.0, 120.0, 140.0, 210.0, 250.0, 400.0 | Multimode | MM Fiber | CW, QCW | Fiber Coupled |
| | JOLD-FC-976 | Array (Bar) | 976 | 30.0, 45.0, 75.0, 100.0, 120.0, 140.0, 210.0, 250.0, 400.0 | Multimode | MM Fiber | CW, QCW | Fiber Coupled |
| | JOLD-Open-808-CW | Array (Bar) | 808 | 40.0, 50.0, 60.0, 80.0 | Multimode | Free Space | CW | CS, CN, MCC Stack |
| | JOLD-Open-808-CW-FAC | Array (Bar) | 808 | 35.0, 55.0, 90.0 | Multimode | Free Space | CW | CS, CN |
| | JOLD-Open-808-CW-FAC/SAC | Array (Bar) | 808 | 32.0, 50.0 | Multimode | Free Space | CW | CS, CN |
| | JOLD-Open-808-QCW | Array (Bar) | 808 | 100.0, 300.0 | Multimode | Free Space | QCW | CS, CN |
| | JOLD-Open-808-QCW-FAC | Array (Bar) | 808 | 90.0, 225.0, 270.0 | Multimode | Free Space | QCW | CS, CN |
| | JOLD-Open-880-CW | Array (Bar) | 880 | 40.0, 60.0, 80.0 | Multimode | Free Space | CW | CS, CN |
| | JOLD-Open-880-CW-FAC | Array (Bar) | 880 | 35.0, 50.0, 68.0 | Multimode | Free Space | CW | CS, CN |
| | JOLD-Open-880-CW-FAC/SAC | Array (Bar) | 880 | 32.0, 50.0, 68.0 | Multimode | Free Space | CW | CS, CN |
| | JOLD-Open-915-CW | Array (Bar) | 915 | 40.0, 60.0, 80.0, 275.0 | Multimode | Free Space | CW | CS, CN, LK Package, MCC Stack |
| | JOLD-Open-915-CW-FAC | Array (Bar) | 915 | 32.0, 35.0, 55.0 | Multimode | Free Space | CW | CS, CN |
| | JOLD-Open-915-CW-FAC/SAC | Array (Bar) | 915 | 32.0, 50.0, 68.0 | Multimode | Free Space | CW | CS, CN |
| | JOLD-Open-938-CW | Array (Bar) | 938 | 40.0, 60.0, 80.0, 100.0, 120.0, 200.0, 275.0 | Multimode | Free Space | CW | CS, CN, LK Package, MCC Stack |
| | JOLD-Open-938-CW-FAC | Array (Bar) | 938 | 35.0, 55.0, 90.0, 180.0 | Multimode | Free Space | CW | CS, CN |
| | JOLD-Open-938-CW-FAC/SAC | Array (Bar) | 938 | 32.0, 35.0, 50.0, 68.0 | Multimode | Free Space | CW | CS, CN |
| | JOLD-Open-938-QCW-FAC | Array (Bar) | 938 | 90.0, 100.0 | Multimode | Free Space | QCW | CS, CN |
| | JOLD-Open-976-CW | Array (Bar) | 976 | 40.0, 60.0, 80.0, 100.0, 120.0, 160.0, 275.0 | Multimode | Free Space | CW | CS, CN, LK Package, MCC Stack |
| | JOLD-Open-976-CW-FAC | Array (Bar) | 976 | 55.0, 90.0 | Multimode | Free Space | CW | CS, CN |
| | JOLD-Open-976-CW-FAC/SAC | Array (Bar) | 976 | 32.0, 35.0, 50.0, 68.0 | Multimode | Free Space | CW | CS, CN |