5.6mm Laser Diode Package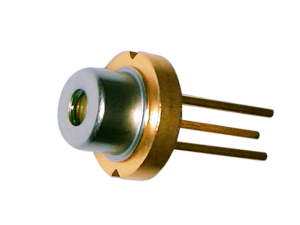 What is a 5.6 mm Laser Diode Package?
5.6mm laser diode packages, also called TO-18 or TO-56 packages, are one of the most common packages for laser diodes. They are available with Multimode or Single-mode laser diodes with a wide range of wavelengths and output powers.
The 5.6 mm laser diode package is one of the easiest component level packages for integration. There are off-the-shelf heatsinks and electrical sockets designed to fit the pin layout. You can easily install the socket into a circuit board for example, and then the 5.6mm laser diode package simply plugs right into this socket. Waste heat needs to be considered in this approach.
Typically there is an option for a photodiode as well as flat window or ball lens options for the free-space output
5.6mm/TO-18/TO-56 TO-Can packages are hermetically sealed. The metal can packages have the following dimensions:
Base diameter – 5.6 mm (0.22 in)
Cap diameter – 4.7 mm (0.185 in)
Cap height – 4.3 mm (0.190 in)
Lead diameter – 0.45 mm (0.018 in)
Lead length – 12.7 mm (0.50 in)
The tab is located 45o from pin 1, which typically corresponds to the emitter, and the leads are laid out in a circle formation with a diameter of 2.54 mm (0.10 in). These dimensions are just a rule of thumb and may vary slightly from one manufacturer to the next.
| | | | | | | | | | |
| --- | --- | --- | --- | --- | --- | --- | --- | --- | --- |
| | HL375 | Single Emitter | 375 | 0.200 | Multimode | Free Space | | CW | 5.6mm |
| | HL405 | Single Emitter | 405 | 0.150, 0.300, 0.400, 0.600, 1.0 | Single-Mode, Multimode | Free Space | | CW | 5.6mm, 9mm |
| | HL633 | Single Emitter | 633 | 0.100 | Single-Mode | Free Space | | CW | 5.6mm |
| | HL637 | Single Emitter | 637 | 0.007, 0.120, 0.250, 0.450, 1.0, 1.2 | Single-Mode, Multimode | Free Space | | CW | 5.6mm, 9mm |
| | HL638 | Single Emitter | 638 | 0.005, 0.007, 0.010, 0.015, 0.120, 0.150, 0.200, 0.700, 1.5, 2.2, 2.4 | Single-Mode, Multimode | Free Space | | CW | 3.8mm, 5.6mm, 9mm |
| | HL639 | Single Emitter | 639 | 0.010, 0.012, 0.020, 0.025, 0.030, 0.200, 0.210 | Single-Mode | Free Space | | CW | 5.6mm |
| | HL640 | Single Emitter | 640 | 0.045 | Single-Mode | Free Space | | CW | 5.6mm |
| | HL642 | Single Emitter | 642 | 0.065, 0.090, 0.150 | Single-Mode | Free Space | | CW | 5.6mm |
| | HL649 | Single Emitter | 649 | 0.150 | Single-Mode | Free Space | | CW | 5.6mm |
| | HL658 | Single Emitter | 658 | 0.035, 0.085 | Single-Mode | Free Space | | CW | 5.6mm |
| | HL660 | Single Emitter | 660 | 0.100, 0.110, 0.120, 0.130, 0.150, 0.210 | Single-Mode | Free Space | | CW | 5.6mm |
| | HL670 | Single Emitter | 670 | 0.010, 0.015 | Single-Mode | Free Space | | CW | 5.6mm, 9mm |
| | HL675 | Single Emitter | 675 | 0.210 | Single-Mode | Free Space | | CW | 5.6mm, 9mm |
| | HL685 | Single Emitter | 685 | 0.055 | Single-Mode | Free Space | | CW | 5.6mm |
| | HL690 | Single Emitter | 690 | 0.035, 0.210, 1.3 | Single-Mode, Multimode | Free Space | | CW | 5.6mm |
| | HL705 | Single Emitter | 705 | 0.050 | Single-Mode | Free Space | | CW | 5.6mm |
| | HL730 | Single Emitter | 730 | 0.050 | Single-Mode | Free Space | | CW | 5.6mm |
| | HL830 | Single Emitter | 830 | 0.050 | Single-Mode | Free Space | | CW | 5.6mm |
| | HL852 | Single Emitter | 852 | 0.050 | Single-Mode | Free Space | | CW | 5.6mm |
| | QL63F5SA | Single Emitter | 637 | 0.010 | Single-Mode | Free Space | | CW | 5.6mm |
| | R0633 | LD Module, Single Emitter, VBG | 633 | 0.025, 0.035, 0.050 | Single-Mode | PM Fiber, Free Space | Narrow | CW | 5.6mm, Butterfly - Open Beam, Butterfly FC, D-Type Module, U-Type FC Module, H & L-Type Tethered |
| | R0638 | LD Module, Single Emitter, VBG | 638 | 0.030, 0.035, 0.050, 0.060, 0.300, 0.350 | Single-Mode, Multimode | PM Fiber, MM Fiber, Free Space | Narrow | CW | 5.6mm, Butterfly - Open Beam, Butterfly FC, Open Beam Stub Laser, D-Type Module, U-Type FC Module, H & L-Type Tethered |
| | R0660 | LD Module, Single Emitter, VBG | 660 | 0.030, 0.060, 0.250 | Single-Mode, Multimode | PM Fiber, MM Fiber, Free Space | Narrow | CW | 5.6mm, Butterfly - Open Beam, Butterfly FC, D-Type Module, U-Type FC Module, M-Type FC Turn-Key |
| | R0780 | LD Module, Single Emitter, VBG | 780 | 0.025, 0.050, 0.090, 0.100 | Single-Mode, Multimode | PM Fiber, Free Space | Narrow | CW | 5.6mm, Butterfly - Open Beam, Butterfly FC |
| | R0783 | LD Module, Single Emitter, VBG | 783 | 0.025, 0.050, 0.090, 0.100 | Single-Mode, Multimode | PM Fiber, Free Space | Narrow | CW | 5.6mm, Butterfly - Open Beam, Butterfly FC, D-Type Module, U-Type FC Module, H & L-Type Tethered |
| | R0785 | LD Module, Single Emitter, VBG | 785 | 0.025, 0.050, 0.075, 0.090, 0.100, .135, 0.150, 0.175, 0.350, 0.500, 0.600, 0.800, 1.5 | Single-Mode, Multimode | PM Fiber, MM Fiber, Free Space | Narrow | CW | 5.6mm, Butterfly - Open Beam, Butterfly FC, D-Type Module, U-Type FC Module, H & L-Type Tethered, M-Type FC Turn-Key |
| | R0808 | LD Module, Single Emitter, VBG | 808 | 0.025, 0.090, 0.100, .135, 0.150, 0.175, 0.350, 0.500, 0.600, 0.800, 1.5 | Single-Mode, Multimode | PM Fiber, MM Fiber, Free Space | Narrow | CW | 5.6mm, Butterfly - Open Beam, Butterfly FC, D-Type Module, U-Type FC Module, H & L-Type Tethered, M-Type FC Turn-Key |
| | R0830 | LD Module, Single Emitter, VBG | 830 | 0.090, 0.100, .135, 0.150, 0.175, 0.350, 0.500, 0.600, 0.800, 1.5 | Single-Mode, Multimode | PM Fiber, MM Fiber, Free Space | Narrow | CW | 5.6mm, Butterfly - Open Beam, Butterfly FC, D-Type Module, U-Type FC Module, H & L-Type Tethered, M-Type FC Turn-Key |
| | R0852 | LD Module, Single Emitter, VBG | 852 | 0.020, 0.100, 0.150, 0.175 | Single-Mode, Multimode | PM Fiber, Free Space | Narrow | CW | 5.6mm, Butterfly - Open Beam, Butterfly FC, D-Type Module, U-Type FC Module, H & L-Type Tethered |
| | R0976 | LD Module, Single Emitter, VBG | 976 | 0.150, 0.220, 0.450, 0.500, 0.600, 0.700, 0.800, 1.5, 4.0, 5.0 | Single-Mode, Multimode | PM Fiber, MM Fiber, Free Space | Narrow | CW | 5.6mm, Butterfly - Open Beam, Butterfly FC, D-Type Module, U-Type FC Module, H & L-Type Tethered, M-Type FC Turn-Key |
| | R1053 | LD Module, Single Emitter, VBG | 1053 | 0.050, 0.120, 0.150, 0.300, 0.500 | Single-Mode, Multimode | PM Fiber, Free Space | Narrow | CW | 5.6mm, Butterfly - Open Beam, Butterfly FC |
| | R1064 | LD Module, Single Emitter, VBG | 1064 | 0.120, 0.150, 0.300, 0.350, 0.500, 0.600, 0.800, 1.5 | Single-Mode, Multimode | PM Fiber, MM Fiber, Free Space | Narrow | CW | 5.6mm, Butterfly - Open Beam, Butterfly FC, D-Type Module, U-Type FC Module, H & L-Type Tethered, M-Type FC Turn-Key |
| | REP1260-1300 | LD Module, Single Emitter, DFB | 1260-1300 | 0.009, 0.012, 0.020, 0.022 | Single-Mode | PM Fiber, SM Fiber, Free Space | Narrow | CW | 5.6mm, TO-39, Butterfly FC |
| | REP1380-1400 | LD Module, Single Emitter, DFB | 1380-1400 | 0.008, 0.012 | Single-Mode | PM Fiber, SM Fiber, Free Space | Narrow | CW | 5.6mm, TO-39, Butterfly FC |
| | REP1500-1560 | LD Module, Single Emitter, DFB | 1500-1560 | 0.0015, 0.003, 0.005, 0.008, 0.014, 0.016, 0.020, 0.022 | Single-Mode | PM Fiber, SM Fiber, Free Space | Narrow | CW | 5.6mm, TO-39, Butterfly FC |
| | REP1550nm-1560nm | LD Module, Single Emitter, DFB | 1560-1600 | 0.006, 0.014 | Single-Mode | PM Fiber, SM Fiber, Free Space | Narrow | CW | 5.6mm, TO-39, Butterfly FC |
| | REP1635-1670 | LD Module, Single Emitter, DFB | 1635-1670 | 0.006, 0.008, 0.020 | Single-Mode | PM Fiber, SM Fiber, Free Space | Narrow | CW | 5.6mm, TO-39, Butterfly FC |
| | REP1678-1720 | LD Module, Single Emitter, DFB | 1678-1720 | 0.005 | Single-Mode | PM Fiber, SM Fiber, Free Space | Narrow | CW | 5.6mm, TO-39, Butterfly FC |
| | REP1720-1770 | LD Module, Single Emitter, DFB | 1720-1770 | 0.003, 0.006, 0.020 | Single-Mode | PM Fiber, SM Fiber, Free Space | Narrow | CW | 5.6mm, TO-39, Butterfly FC |
| | REP1850-1880 | LD Module, Single Emitter, DFB | 1850-1880 | 0.003, 0.0045, 0.005, 0.008, 0.014 | Single-Mode | PM Fiber, SM Fiber, Free Space | Narrow | CW | 5.6mm, TO-39, Butterfly FC |
| | REP1908-1970 | LD Module, Single Emitter, DFB | 1908-1970 | 0.002, 0.003, 0.020 | Single-Mode | PM Fiber, SM Fiber, Free Space | Narrow | CW | 5.6mm, TO-39, Butterfly FC |
| | REP1970-2053 | LD Module, Single Emitter, DFB | 1970-2053 | 0.0015, 0.002, 0.003, 0.004, 0.005, 0.014 | Single-Mode | PM Fiber, SM Fiber, Free Space | Narrow | CW | 5.6mm, TO-39, Butterfly FC |
| | RWLD-1270S | Single Emitter | 1270 | 0.020, 0.030 | Single-Mode | Free Space | | CW | 5.6mm |
| | RWLD-1290S | Single Emitter | 1290 | 0.020, 0.030 | Single-Mode | Free Space | | CW | 5.6mm |
| | RWLD-1310S | Single Emitter | 1310 | 0.020, 0.030 | Single-Mode | Free Space | | CW | 5.6mm |
| | RWLD-1330S | Single Emitter | 1330 | 0.020, 0.030 | Single-Mode | Free Space | | CW | 5.6mm |
| | RWLD-1350S | Single Emitter | 1350 | 0.020, 0.030 | Single-Mode | Free Space | | CW | 5.6mm |
| | RWLD-1370S | Single Emitter | 1370 | 0.020, 0.030 | Single-Mode | Free Space | | CW | 5.6mm |
| | RWLD-1390S | Single Emitter | 1390 | 0.020, 0.030 | Single-Mode | Free Space | | CW | 5.6mm |
| | RWLD-1410S | Single Emitter | 1410 | 0.015, 0.020 | Single-Mode | Free Space | | CW | 5.6mm |
| | RWLD-1430S | Single Emitter | 1430 | 0.015, 0.020 | Single-Mode | Free Space | | CW | 5.6mm |
| | RWLD-1450S | Single Emitter | 1450 | 0.015, 0.020 | Single-Mode | Free Space | | CW | 5.6mm |
| | RWLD-1470S | Single Emitter | 1470 | 0.015, 0.020 | Single-Mode | Free Space | | CW | 5.6mm |
| | RWLD-1490S | Single Emitter | 1490 | 0.015, 0.020 | Single-Mode | Free Space | | CW | 5.6mm |
| | RWLD-1510S | Single Emitter | 1510 | 0.015, 0.020 | Single-Mode | Free Space | | CW | 5.6mm |
| | RWLD-1530S | Single Emitter | 1530 | 0.015, 0.020 | Single-Mode | Free Space | | CW | 5.6mm |
| | RWLD-1550S | Single Emitter | 1550 | 0.015, 0.020 | Single-Mode | Free Space | | CW | 5.6mm |
| | RWLD-1570S | Single Emitter | 1570 | 0.015, 0.020 | Single-Mode | Free Space | | CW | 5.6mm |
| | RWLD-1590S | Single Emitter | 1590 | 0.015, 0.020 | Single-Mode | Free Space | | CW | 5.6mm |
| | RWLD-1610S | Single Emitter | 1615 | 0.015, 0.020 | Single-Mode | Free Space | | CW | 5.6mm |
| | RWLD-1625S | Single Emitter | 1625 | 0.015, 0.020 | Single-Mode | Free Space | | CW | 5.6mm |
| | RWLD-1650S | Single Emitter | 1650 | 0.015, 0.020 | Single-Mode | Free Space | | CW | 5.6mm |
| | RWLD-405M | Single Emitter | 405 | 0.400, 0.600, 1.0 | Multimode | Free Space | | CW | 5.6mm |
| | RWLD-405S | Single Emitter | 405 | 0.010, 0.020, 0.065, 0.120, 0.200, 0.250, 0.300 | Single-Mode | Free Space | | CW | 5.6mm |
| | RWLD-445M | Single Emitter | 445 | 4.0, 5.0 | Multimode | Free Space | | CW | 5.6mm |
| | RWLD-445S | Single Emitter | 445 | 0.050, 0.100 | Single-Mode | Free Space | | CW | 5.6mm |
| | RWLD-455M | Single Emitter | 455 | 5.0, 5.5 | Multimode | Free Space | | CW | 5.6mm |
| | RWLD-460S | Single Emitter | 460 | 0.100 | Single-Mode | Free Space | | CW | 5.6mm |
| | RWLD-465M | Single Emitter | 465 | 3.0 | Multimode | Free Space | | CW | 5.6mm |
| | RWLD-480S | Single Emitter | 480 | 0.060, 0.080 | Single-Mode | Free Space | | CW | 5.6mm |
| | RWLD-488S | Single Emitter | 488 | 0.060, 0.080, 0.100 | Single-Mode | Free Space | | CW | 5.6mm |
| | RWLD-495S | Single Emitter | 495 | 0.060, 0.080 | Single-Mode | Free Space | | CW | 5.6mm |
| | RWLD-505S | Single Emitter | 505 | 0.050, 0.080 | Single-Mode | Free Space | | CW | 5.6mm |
| | RWLD-520M | Single Emitter | 520 | 0.300, 0.600, 1.3 | Multimode | Free Space | | CW | 5.6mm |
| | RWLD-520S | Single Emitter | 520 | 0.030, 0.050, 0.080, 0.140 | Single-Mode | Free Space | | CW | 5.6mm |
| | RWLD-635M | Single Emitter | 635 | 0.500, 0.700, 1.0, 2.0 | Multimode | Free Space | | CW | 5.6mm |
| | RWLD-635S | Single Emitter | 635 | 0.050, 0.130, 0.180, 0.200 | Single-Mode | Free Space | | CW | 5.6mm |
| | RWLD-650S | Single Emitter | 650 | 0.100, 0.150, 0.180 | Single-Mode | Free Space | | CW | 5.6mm |
| | RWLD-690M | Single Emitter | 650 | 1.0 | Single-Mode | Free Space | | CW | 5.6mm |
| | RWLD-785S | Single Emitter | 785 | 0.100, 0.120 | Single-Mode | Free Space | | CW | 5.6mm |
| | RWLD-808M | Single Emitter | 808 | 0.300, 0.500, 1.0, 2.0, 3.0, 5.0, 8.0, 10.0 | Multimode | Free Space | | CW | E-Mount, H-Mount, C-Mount, 5.6mm |
| | RWLD-830S | Single Emitter | 830 | 0.100, 0.150, 0.200, 0.250 | Single-Mode | Free Space | | CW | 5.6mm |
| | RWLD-850M | Single Emitter | 850 | 0.500, 0.800, 1.0, 3.0 | Multimode | Free Space | | CW | 5.6mm |
| | RWLD-980M | Single Emitter | 980 | 1.0, 3.0, 4.0, 10.0, 12.0, 15.0 | Multimode | Free Space | | CW | E-Mount, H-Mount, C-Mount, 5.6mm |
| | RWLD-980S | Single Emitter | 980 | 0.050 | Single-Mode | Free Space | | CW | 5.6mm |
| | TG-420 | Single Emitter | 420 | 0.050 | Single-Mode | Free Space | | CW | 5.6mm |
| | TG-425 | Single Emitter | 425 | 0.050 | Single-Mode | Free Space | | CW | 5.6mm |
| | TG-430 | Single Emitter | 430 | 0.050 | Single-Mode | Free Space | | CW | 5.6mm |
| | TG-435 | Single Emitter | 435 | 0.050 | Single-Mode | Free Space | | CW | 5.6mm |
| | TG-440 | Single Emitter | 440 | 0.050 | Single-Mode | Free Space | | CW | 5.6mm |
| | TG-445 | Single Emitter | 445 | 0.050 | Single-Mode | Free Space | | CW | 5.6mm |
| | TG-450 | Single Emitter | 450 | 0.050 | Single-Mode | Free Space | | CW | 5.6mm |
| | TG-455 | Single Emitter | 455 | 0.050 | Single-Mode | Free Space | | CW | 5.6mm |
| | TG-460 | Single Emitter | 460 | 0.050 | Single-Mode | Free Space | | CW | 5.6mm |
| | VD-0850-CW | VCSELs | 850 | 0.008, 0.200, 0.700, 2.0, 4.0, 6.0 | Single-Mode | Free Space | | CW | 2016, 3535, 7060, 5.6mm |
| | VD-0940-CW | VCSELs | 940 | 0.008, 0.150, 0.200, 0.250, 2.0 | Single-Mode | Free Space | | CW | 2016, 3535, 7060, 5.6mm, TO-46 |