Volume Bragg Grating (VBG) Laser Diodes – Wavelength Stabilized – Narrow Linewidth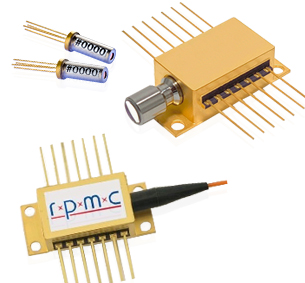 What is a Volume Bragg Grating (VGB) Laser Diode?
Volume Bragg Grating (VBG) Laser Diodes are a special type of laser diode that provides wavelength stabilization and narrow linewidth.
As opposed to diffraction gratings (made on the surface of an optical element) Volume Bragg Gratings are written on the inside of the material. Furthermore, the grating is usually placed not directly in front of the laser diode but after a collimating lens. In short, this is important for pumping of certain solid-state lasers, where the laser crystal exhibits efficient pump absorption only in a narrow wavelength range. Typically, the Volume Bragg Grating's end faces are optically polished, with an anti-reflection coating applied, to help prevent parasitic reflections.
Volume Bragg Gratings Provide Wavelength Stabilized Laser Diodes:
A common use for Volume Bragg Gratings is the production of wavelength stabilized laser diodes. The addition of a VBG to a laser diode creates additional optical feedback to the diode laser, forcing it to emit laser light that is within the narrow optical bandwidth determined by the VBG. Basically, this means that the mean wavelength output of the laser diode is fixed, for all intents and purposes.
Without this feedback, the laser diode would be subject to wavelength shift due to temperature changes, as well as changes due to increasing age of the laser diode. Finally, this method allows for the reduction of total optical bandwidth from, say, a few nanometers, down to some fraction of a nanometer, which is beneficial to solid-state laser pumping, Raman spectroscopy, and other applications which require a narrow linewidth, wavelength stabilized laser diode.
Our VBG Laser Diode Products
Our Volume Bragg Grating Laser Diodes provide Narrow Linewidth, CW output in the Red and Near Infrared (NIR) spectral regions. Furthermore, these laser diodes provide up to 750mW for our Single-mode options and up to 400W for our Multimode options. Finally, we provide options for free-space or fiber-coupled output and package options, including TO-can, butterfly and more.
| | | | | | | | | | |
| --- | --- | --- | --- | --- | --- | --- | --- | --- | --- |
| | R0633 | LD Module, Single Emitter, Volume Bragg Grating (VBG) Laser Diodes | 633 | 0.025, 0.035, 0.050 | Single-Mode Lasers | Free Space, PM Fiber | Narrow | CW | 5.6mm, Butterfly - Open Beam, Butterfly FC, D-Type Module, U-Type FC Module, H & L-Type Tethered |
| | R0638 | LD Module, Single Emitter, Volume Bragg Grating (VBG) Laser Diodes | 638 | 0.030, 0.035, 0.050, 0.060, 0.300, 0.350 | Single-Mode Lasers, Multimode | Free Space, MM Fiber, PM Fiber | Narrow | CW | 5.6mm, Butterfly - Open Beam, Butterfly FC, Open Beam Stub Laser, D-Type Module, U-Type FC Module, H & L-Type Tethered |
| | R0660 | LD Module, Single Emitter, Volume Bragg Grating (VBG) Laser Diodes | 660 | 0.030, 0.060, 0.250 | Single-Mode Lasers, Multimode | Free Space, MM Fiber, PM Fiber | Narrow | CW | 5.6mm, Butterfly - Open Beam, Butterfly FC, D-Type Module, U-Type FC Module, M-Type FC Turn-Key |
| | R0680 | LD Module, Single Emitter, Volume Bragg Grating (VBG) Laser Diodes | 680 | 0.300 | Multimode | Free Space, MM Fiber | Narrow | CW | Butterfly - Open Beam, Butterfly FC, Open Beam Stub Laser, U-Type FC Module, M-Type FC Turn-Key |
| | R0685 | LD Module, Single Emitter, Volume Bragg Grating (VBG) Laser Diodes | 685 | 0.020, 0.040 | Single-Mode Lasers, Multimode | Free Space, PM Fiber | Narrow | CW | 5.6mm, Butterfly - Open Beam, Butterfly FC, D-Type Module, U-Type FC Module, H & L-Type Tethered |
| | R0780 | LD Module, Single Emitter, Volume Bragg Grating (VBG) Laser Diodes | 780 | 0.025, 0.050, 0.090, 0.100 | Single-Mode Lasers, Multimode | Free Space, PM Fiber | Narrow | CW | 5.6mm, Butterfly - Open Beam, Butterfly FC |
| | R0783 | LD Module, Single Emitter, Volume Bragg Grating (VBG) Laser Diodes | 783 | 0.025, 0.050, 0.090, 0.100 | Single-Mode Lasers, Multimode | Free Space, PM Fiber | Narrow | CW | 5.6mm, Butterfly - Open Beam, Butterfly FC, D-Type Module, U-Type FC Module, H & L-Type Tethered |
| | R0785 | LD Module, Single Emitter, Volume Bragg Grating (VBG) Laser Diodes | 785 | 0.025, 0.050, 0.075, 0.090, 0.100, .135, 0.150, 0.175, 0.350, 0.500, 0.600, 0.800, 1.5 | Single-Mode Lasers, Multimode | Free Space, MM Fiber, PM Fiber | Narrow | CW | 5.6mm, Butterfly - Open Beam, Butterfly FC, D-Type Module, U-Type FC Module, H & L-Type Tethered, M-Type FC Turn-Key |
| | R0808 | LD Module, Single Emitter, Volume Bragg Grating (VBG) Laser Diodes | 808 | 0.025, 0.090, 0.100, .135, 0.150, 0.175, 0.350, 0.500, 0.600, 0.800, 1.5 | Single-Mode Lasers, Multimode | Free Space, MM Fiber, PM Fiber | Narrow | CW | 5.6mm, Butterfly - Open Beam, Butterfly FC, D-Type Module, U-Type FC Module, H & L-Type Tethered, M-Type FC Turn-Key |
| | R0830 | LD Module, Single Emitter, Volume Bragg Grating (VBG) Laser Diodes | 830 | 0.090, 0.100, .135, 0.150, 0.175, 0.350, 0.500, 0.600, 0.800, 1.5 | Single-Mode Lasers, Multimode | Free Space, MM Fiber, PM Fiber | Narrow | CW | 5.6mm, Butterfly - Open Beam, Butterfly FC, D-Type Module, U-Type FC Module, H & L-Type Tethered, M-Type FC Turn-Key |
| | R0852 | LD Module, Single Emitter, Volume Bragg Grating (VBG) Laser Diodes | 852 | 0.020, 0.100, 0.150, 0.175 | Single-Mode Lasers, Multimode | Free Space, PM Fiber | Narrow | CW | 5.6mm, Butterfly - Open Beam, Butterfly FC, D-Type Module, U-Type FC Module, H & L-Type Tethered |
| | R0860 | LD Module, Single Emitter, Volume Bragg Grating (VBG) Laser Diodes | 860 | 0.350, 0.500, 0.600, 1.0 | Multimode | Free Space, PM Fiber | Narrow | CW | Butterfly - Open Beam, Butterfly FC, U-Type FC Module, M-Type FC Turn-Key |
| | R0976 | LD Module, Single Emitter, Volume Bragg Grating (VBG) Laser Diodes | 976 | 0.150, 0.220, 0.450, 0.500, 0.600, 0.700, 0.800, 1.5, 4.0, 5.0 | Single-Mode Lasers, Multimode | Free Space, MM Fiber, PM Fiber | Narrow | CW | 5.6mm, Butterfly - Open Beam, Butterfly FC, D-Type Module, U-Type FC Module, H & L-Type Tethered, M-Type FC Turn-Key |
| | R1030 | LD Module, Single Emitter, Volume Bragg Grating (VBG) Laser Diodes | 1030 | 0.050, 0.100, 0.280, 0.450 | Single-Mode Lasers, Multimode | Free Space, PM Fiber | Narrow | CW | Butterfly - Open Beam, Butterfly FC, U-Type FC Module, H & L-Type Tethered |
| | R1053 | LD Module, Single Emitter, Volume Bragg Grating (VBG) Laser Diodes | 1053 | 0.050, 0.120, 0.150, 0.300, 0.500 | Single-Mode Lasers, Multimode | Free Space, PM Fiber | Narrow | CW | 5.6mm, Butterfly - Open Beam, Butterfly FC |
| | R1064 | LD Module, Single Emitter, Volume Bragg Grating (VBG) Laser Diodes | 1064 | 0.120, 0.150, 0.300, 0.350, 0.500, 0.600, 0.800, 1.5 | Single-Mode Lasers, Multimode | Free Space, MM Fiber, PM Fiber | Narrow | CW | 5.6mm, Butterfly - Open Beam, Butterfly FC, D-Type Module, U-Type FC Module, H & L-Type Tethered, M-Type FC Turn-Key |
| | R1064.X | Single Emitter, Volume Bragg Grating (VBG) Laser Diodes | 1064 | 0.050, 0.120, 0.300, 0.500 | Single-Mode Lasers | Free Space, PM Fiber | Narrow | CW | Butterfly - Open Beam, Butterfly FC, U-Type FC Module, H & L-Type Tethered |
| | RPK785SS | Single Emitter, Volume Bragg Grating (VBG) Laser Diodes | 785 | 0.600 | Multimode | MM Fiber | Narrow | CW | Butterfly FC |
| | RPK878MS | Multi-Emitter, Volume Bragg Grating (VBG) Laser Diodes | 878 | 30.0, 65.0, 120.0 | Multimode | MM Fiber | Narrow | CW | Fiber Coupled |
| | RPK888MS | Multi-Emitter, Volume Bragg Grating (VBG) Laser Diodes | 888 | 65.0, 120.0 | Multimode | MM Fiber | Narrow | CW | Fiber Coupled |
| | RPK976MS | Multi-Emitter, Volume Bragg Grating (VBG) Laser Diodes | 976 | 18.0, 27.0, 60.0, 100.0, 140.0, 180.0, 400.0 | Multimode | MM Fiber | Narrow | CW | Fiber Coupled |
| | RPK976SS | Single Emitter, Volume Bragg Grating (VBG) Laser Diodes | 976 | 3.0, 9.0 | Multimode | MM Fiber | Narrow | CW | 2-Pin FC |