Volume Bragg Grating (VBG) Laser Diodes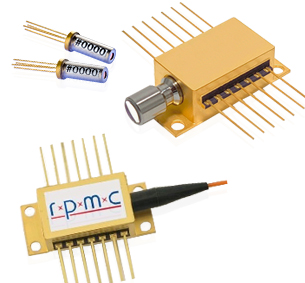 Volume Bragg Grating (VBG) Laser Diodes: the Volume Bragg Grating provides the wavelength stabilization and narrow linewidth of these laser diodes. As opposed to diffraction gratings (made on the surface of an optical element) Volume Bragg Gratings are written on the inside of the material. Furthermore, the grating is usually placed not directly in front of the laser diode but after a collimating lens. In short, this is important for pumping of certain solid-state lasers, where the laser crystal exhibits efficient pump absorption only in a narrow wavelength range.
Our Products
Our Volume Bragg Grating Laser Diodes provide Narrow Linewidth, CW output in the Red and Near Infrared (NIR) spectral regions. Furthermore, these laser diodes provide up to 750mW for our Single-mode options and up to 400W for our Multimode options. Finally, we provide options for free-space or fiber-coupled output and package options, including TO-can, butterfly and more.
Let Us Help
In conclusion, if you have any questions or would like some assistance, please contact us here. Furthermore, you can call us at 636.272.7227 to talk to a knowledgeable Product Manager. Alternatively, you can also use the filters on this page, or check out our 'How to Select a Laser Diode' page to assist in narrowing down the selection. Finally, head to our Knowledge Center with our Lasers 101 page and Blogs and Whitepapers pages for further, in-depth reading.
Suggested reading:
How Can We Help?/su_button]
| | | | | | | | | | |
| --- | --- | --- | --- | --- | --- | --- | --- | --- | --- |
| | R0633 | Single Emitter, Volume Bragg Grating (VBG) | 633 | 0.020, 0.050 | Single-Mode Lasers | Free Space, PM Fiber | Narrow | CW | 5.6mm, Butterfly - Open Beam, Butterfly FC |
| | R0638 | Single Emitter, Volume Bragg Grating (VBG) | 638 | 0.025, 0.060, 0.300 | Single-Mode Lasers, Multimode | Free Space, MM Fiber, PM Fiber | Narrow | CW | 5.6mm, Butterfly - Open Beam, Butterfly FC, Open Beam Stub Laser |
| | R0680 | Single Emitter, Volume Bragg Grating (VBG) | 680 | 0.300 | Single-Mode Lasers, Multimode | Free Space, MM Fiber | Narrow | CW | 5.6mm, Butterfly - Open Beam, Butterfly FC |
| | R0780 | Single Emitter, Volume Bragg Grating (VBG) | 780 | 0.050, 0.100 | Single-Mode Lasers, Multimode | Free Space, PM Fiber | Narrow | CW | 5.6mm, Butterfly - Open Beam, Butterfly FC |
| | R0783 | Single Emitter, Volume Bragg Grating (VBG) | 783 | 0.050, 0.100 | Single-Mode Lasers, Multimode | Free Space, SM Fiber, PM Fiber | Narrow | CW | 5.6mm, Butterfly - Open Beam, Butterfly FC |
| | R0785 | Single Emitter, Volume Bragg Grating (VBG) | 785 | 0.050, 0.100, 0.200, 0.350, 0.600 | Single-Mode Lasers, Multimode | Free Space, MM Fiber, PM Fiber | Narrow | CW | 5.6mm, Butterfly - Open Beam, Butterfly FC |
| | R0808 | Single Emitter, Volume Bragg Grating (VBG) | 808 | 0.050, 0.100, 0.200, 0.350, 0.600 | Single-Mode Lasers, Multimode | Free Space, MM Fiber, PM Fiber | Narrow | CW | 5.6mm, Butterfly - Open Beam, Butterfly FC |
| | R0830 | Single Emitter, Volume Bragg Grating (VBG) | 830 | 0.100, 0.200, 0.350, 0.600 | Single-Mode Lasers, Multimode | Free Space, MM Fiber, PM Fiber | Narrow | CW | 5.6mm, Butterfly - Open Beam, Butterfly FC |
| | R0976 | Single Emitter, Volume Bragg Grating (VBG) | 976 | 0.220, 0.500, 0.750, 4.0, 5.0 | Single-Mode Lasers, Multimode | Free Space, MM Fiber | Narrow | CW | Butterfly - Open Beam, Butterfly FC |
| | R1030 | Single Emitter, Volume Bragg Grating (VBG) | 1030 | 0.100, 0.280, 0.450 | Single-Mode Lasers, Multimode | Free Space, SM Fiber, PM Fiber | Narrow | CW | Butterfly - Open Beam, Butterfly FC |
| | R1053 | Single Emitter, Volume Bragg Grating (VBG) | 1053 | 0.050, 0.120, 0.200, 0.300, 0.500 | Single-Mode Lasers, Multimode | Free Space, SM Fiber, PM Fiber | Narrow | CW | 5.6mm, Butterfly - Open Beam, Butterfly FC |
| | R1064 | Single Emitter, Volume Bragg Grating (VBG) | 1064 | 0.050, 0.150, 0.300, 0.350, 0.600 | Single-Mode Lasers, Multimode | Free Space, MM Fiber, PM Fiber | Narrow | CW | 5.6mm, Butterfly - Open Beam, Butterfly FC |
| | R1064.X | Single Emitter, Volume Bragg Grating (VBG) | 1064 | 0.050, 0.120, 0.300 | Single-Mode Lasers | Free Space, SM Fiber, PM Fiber | Narrow | CW | Butterfly FC |
| | RPK785SS | Single Emitter, Volume Bragg Grating (VBG) | 785 | 0.600 | Multimode | MM Fiber | Narrow | CW | Butterfly FC |
| | RPK878MS | Multi-Emitter Laser Diodes, Volume Bragg Grating (VBG) | 878 | 30.0, 65.0, 120.0 | Multimode | MM Fiber | Narrow | CW | Fiber Coupled |
| | RPK888MS | Multi-Emitter Laser Diodes, Volume Bragg Grating (VBG) | 888 | 65.0, 120.0 | Multimode | MM Fiber | Narrow | CW | Fiber Coupled |
| | RPK976MS | Multi-Emitter Laser Diodes, Volume Bragg Grating (VBG) | 976 | 18.0, 27.0, 60.0, 100.0, 140.0, 180.0, 400.0 | Multimode | MM Fiber | Narrow | CW | Fiber Coupled |
| | RPK976SS | Single Emitter, Volume Bragg Grating (VBG) | 976 | 3.0, 9.0 | Multimode | MM Fiber | Narrow | CW | 2-Pin FC |