Single Emitter Laser Diode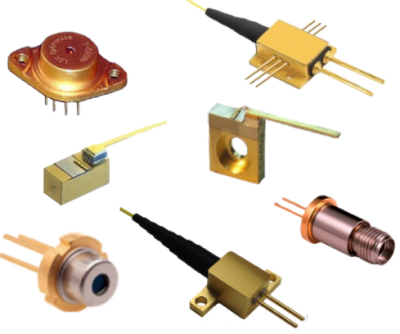 Single Emitter Laser Diodes are typically Fabry-Perot laser diodes and can be multimode or single-mode. They have a single emitting area that emits light and only one laser diode per package.
Single emitter Laser Diodes are available in the ultraviolet (UV), violet, blue, red, and IR wavelengths.  The output power ranges from mWs on the single mode laser diodes, to watts in the multimode emitters and VCSELS, We also offer a wide selection of stabilized, narrow linewidth laser diodes.
There are many different packages to choose from, including chip on submount, C-mount, B-mount, Q-mount, and various TO-can and HHL packages. If you do not see the package type needed, we offer many custom packages.
Let Us Help
In conclusion, if you have any questions or would like some assistance, please contact us here. Furthermore, you can call us at 636.272.7227 to talk to a knowledgeable Product Manager. Alternatively, you can also use the filters on this page, or check out our 'How to Select a Laser Diode' page to assist in narrowing down the selection. Finally, head to our Knowledge Center with our Lasers 101 page and Blogs and Whitepapers pages for further, in-depth reading.
Suggested reading:
| | | | | | | | | | |
| --- | --- | --- | --- | --- | --- | --- | --- | --- | --- |
| | HL375 | Single Emitter | 375 | 0.200 | Multimode | Free Space | | CW | 5.6mm |
| | HL405 | Single Emitter | 405 | 0.150, 0.300, 0.400, 0.600, 1.0 | Single-Mode Lasers, Multimode | Free Space | | CW | 5.6mm, 9mm |
| | HL633 | Single Emitter | 633 | 0.100 | Single-Mode Lasers | Free Space | | CW | 5.6mm |
| | HL637 | Single Emitter | 637 | 0.007, 0.120, 0.250, 0.450, 1.0, 1.2 | Single-Mode Lasers, Multimode | Free Space | | CW | 5.6mm, 9mm |
| | HL638 | Single Emitter | 638 | 0.005, 0.007, 0.010, 0.015, 0.120, 0.150, 0.200, 0.700, 1.5, 2.2, 2.4 | Single-Mode Lasers, Multimode | Free Space | | CW | 3.8mm, 5.6mm, 9mm |
| | HL639 | Single Emitter | 639 | 0.010, 0.012, 0.020, 0.025, 0.030, 0.200, 0.210 | Single-Mode Lasers | Free Space | | CW | 5.6mm |
| | HL640 | Single Emitter | 640 | 0.045 | Single-Mode Lasers | Free Space | | CW | 5.6mm |
| | HL642 | Single Emitter | 642 | 0.065, 0.090, 0.150 | Single-Mode Lasers | Free Space | | CW | 5.6mm |
| | HL649 | Single Emitter | 649 | 0.150 | Single-Mode Lasers | Free Space | | CW | 5.6mm |
| | HL658 | Single Emitter | 658 | 0.035, 0.085 | Single-Mode Lasers | Free Space | | CW | 5.6mm |
| | HL659 | Single Emitter | 659 | 1.2 | Multimode | Free Space | | CW | 9mm |
| | HL660 | Single Emitter | 660 | 0.100, 0.110, 0.120, 0.130, 0.150, 0.210 | Single-Mode Lasers | Free Space | | CW | 5.6mm |
| | HL670 | Single Emitter | 670 | 0.010, 0.015 | Single-Mode Lasers | Free Space | | CW | 5.6mm, 9mm |
| | HL675 | Single Emitter | 675 | 0.210 | Single-Mode Lasers | Free Space | | CW | 5.6mm, 9mm |
| | HL685 | Single Emitter | 685 | 0.055 | Single-Mode Lasers | Free Space | | CW | 5.6mm |
| | HL690 | Single Emitter | 690 | 0.035, 0.210, 1.3 | Single-Mode Lasers | Free Space | | CW | 5.6mm |
| | HL705 | Single Emitter | 705 | 0.050 | Single-Mode Lasers | Free Space | | CW | 5.6mm |
| | HL730 | Single Emitter | 730 | 0.050 | Single-Mode Lasers | Free Space | | CW | 5.6mm |
| | HL830 | Single Emitter | 830 | 0.050 | Single-Mode Lasers | Free Space | | CW | 5.6mm |
| | HL852 | Single Emitter | 852 | 0.050 | Single-Mode Lasers | Free Space | | CW | 5.6mm |
| | JDL-1060 | Single Emitter, Array (Bar) | 1060 | 10.0, 40.0, 60.0, 80.0, 120.0, 200.0, 250.0, 350.0 | Multimode | Free Space | | CW, QCW | None |
| | JDL-808 | Single Emitter, Array (Bar) | 808 | 6.0, 8.0, 10.0, 20.0, 40.0, 50.0, 60.0, 80.0, 92.0, 200.0, 300.0 | Multimode | Free Space | | CW, QCW | None |
| | LDX-XXXX-1030 | Single Emitter | 1030 | 3.0, 5.0 | Multimode | Free Space, MM Fiber | | CW | Chip on Carrier, C-Mount, B-Mount, Q-Mount, 9mm, TO-3 no TEC, HHL, 9mm SMA, 2-Pin FC, 8-pin HHL, 9-pin HHL |
| | LDX-XXXX-1064 | Single Emitter | 1064 | 1.5, 3.0, 5.0 | Multimode | Free Space, MM Fiber | | CW | Chip on Carrier, C-Mount, B-Mount, Q-Mount, 9mm, TO-3 no TEC, TO-3-TEC, HHL, 9mm SMA, 2-Pin FC, 8-pin HHL, 9-pin HHL |
| | LDX-XXXX-1120 | Single Emitter | 1120 | 2.0, 3.5, 5.0 | Multimode | Free Space, MM Fiber | | CW | Chip on Carrier, C-Mount, B-Mount, Q-Mount, 9mm, TO-3 no TEC, HHL, 9mm SMA, 2-Pin FC, 9-pin HHL |
| | LDX-XXXX-1210 | Single Emitter | 1210 | 1.5, 2.0 | Multimode | Free Space, MM Fiber | | CW | C-Mount, B-Mount, TO-3 no TEC, HHL |
| | LDX-XXXX-1280 | Single Emitter | 1280 | 3.5, 5.0, 7.0 | Multimode | Free Space, MM Fiber | | CW | Chip on Carrier, C-Mount, B-Mount, Q-Mount, 9mm, TO-3 no TEC, HHL, 9mm SMA, 2-Pin FC, 8-pin HHL, 9-pin HHL |
| | LDX-XXXX-1370 | Single Emitter | 1370 | 3.5, 5.0 | Multimode | Free Space, MM Fiber | | CW | C-Mount, B-Mount, TO-3 no TEC, HHL |
| | LDX-XXXX-1470 | Single Emitter | 1470 | 3.5, 5.0 | Multimode | Free Space, MM Fiber | | CW | C-Mount, B-Mount, TO-3 no TEC, HHL |
| | LDX-XXXX-1550 | Single Emitter | 1550 | 0.800, 1.0, 1.5, 1.75, 2.5, 3.5, 5.0 | Multimode | Free Space, MM Fiber | | CW | Chip on Carrier, C-Mount, B-Mount, Q-Mount, 9mm, TO-3 no TEC, HHL, 9mm SMA, 2-Pin FC, 9-pin HHL |
| | LDX-XXXX-1620 | Single Emitter | 1620 | 1.0 | Multimode | Free Space, MM Fiber | | CW | Chip on Carrier, C-Mount, B-Mount, HHL |
| | LDX-XXXX-1640 | Single Emitter | 1640 | 1.2 | Multimode | Free Space, MM Fiber | | CW | Chip on Carrier, C-Mount, B-Mount, TO-3 no TEC, HHL |
| | LDX-XXXX-1675 | Single Emitter | 1675 | 2.0 | Multimode | Free Space, MM Fiber | | CW | Chip on Carrier, C-Mount, B-Mount, TO-3 no TEC, HHL, 2-Pin FC, 8-pin HHL, 9-pin HHL |
| | LDX-XXXX-1850 | Single Emitter | 1850 | 1.0 | Multimode | Free Space, MM Fiber | | CW | Chip on Carrier, C-Mount, B-Mount, Q-Mount, 9mm, TO-3 no TEC, HHL, 9mm SMA, 2-Pin FC, 8-pin HHL, 9-pin HHL |
| | LDX-XXXX-445 | Single Emitter | 445 | 3.5 | Multimode | Free Space, MM Fiber | | CW | C-Mount, 9mm, TO-3 no TEC, HHL, 9mm SMA, 2-Pin FC |
| | LDX-XXXX-520 | Single Emitter | 520 | 1.0 | Multimode | Free Space, MM Fiber | | CW | TO-3 no TEC, HHL, 9mm SMA, 2-Pin FC |
| | LDX-XXXX-622 | Single Emitter | 622 | 0.150 | Multimode | Free Space, MM Fiber | | CW | C-Mount, 9mm, TO-3 no TEC, HHL, 9mm SMA, 2-Pin FC |
| | LDX-XXXX-627 | Single Emitter | 627 | 0.250, 0.350 | Multimode | Free Space, MM Fiber | | CW | Chip on Carrier, C-Mount, B-Mount, Q-Mount, 9mm, TO-3 no TEC, TO-3-TEC, HHL, 9mm SMA, 2-Pin FC, 8-pin HHL, 9-pin HHL |
| | LDX-XXXX-630 | Single Emitter | 630 | 0.250, 0.400 | Multimode | Free Space, MM Fiber | | CW | Chip on Carrier, C-Mount, B-Mount, Q-Mount, 9mm, TO-3 no TEC, TO-3-TEC, HHL, 9mm SMA, 2-Pin FC, 8-pin HHL, 9-pin HHL |
| | LDX-XXXX-635 | Single Emitter | 635 | 0.300, 0.400, 0.600, 1.2 | Multimode | Free Space, MM Fiber | | CW | Chip on Carrier, C-Mount, B-Mount, Q-Mount, 9mm, TO-3 no TEC, HHL, 9mm SMA, 2-Pin FC, 8-pin HHL, 9-pin HHL |
| | LDX-XXXX-645 | Single Emitter | 645 | 0.300, 0.400 | Multimode | Free Space, MM Fiber | | CW | Chip on Carrier, C-Mount, B-Mount, Q-Mount, 9mm, TO-3 no TEC, TO-3-TEC, HHL, 9mm SMA, 2-Pin FC, 8-pin HHL, 9-pin HHL |
| | LDX-XXXX-650 | Single Emitter | 650 | 1.0 | Multimode | Free Space, MM Fiber | | CW | Chip on Carrier, C-Mount, B-Mount, Q-Mount, 9mm, TO-3 no TEC, TO-3-TEC, HHL, 9mm SMA, 2-Pin FC, 8-pin HHL, 9-pin HHL |
| | LDX-XXXX-660 | Single Emitter | 660 | 0.350, 0.750, 1.0, 2.0 | Multimode | Free Space, MM Fiber | | CW | Chip on Carrier, C-Mount, B-Mount, Q-Mount, 9mm, TO-3 no TEC, TO-3-TEC, HHL, 9mm SMA, 2-Pin FC, 8-pin HHL, 9-pin HHL |
| | LDX-XXXX-665 | Single Emitter | 665 | 0.350, 0.750, 1.0, 2.0 | Multimode | Free Space, MM Fiber | | CW | Chip on Carrier, C-Mount, B-Mount, Q-Mount, 9mm, TO-3 no TEC, HHL, 9mm SMA, 2-Pin FC, 8-pin HHL, 9-pin HHL |
| | LDX-XXXX-680 | Single Emitter | 680 | 0.400, 0.800, 1.2, 2.0 | Multimode | Free Space, MM Fiber | | CW | Chip on Carrier, C-Mount, B-Mount, Q-Mount, 9mm, TO-3 no TEC, TO-3-TEC, HHL, 9mm SMA, 2-Pin FC, 8-pin HHL, 9-pin HHL |
| | LDX-XXXX-685 | Single Emitter | 685 | 0.400, 0.800, 1.2, 2.0 | Multimode | Free Space, MM Fiber | | CW | Chip on Carrier, C-Mount, B-Mount, Q-Mount, 9mm, TO-3 no TEC, TO-3-TEC, HHL, 9mm SMA, 2-Pin FC, 8-pin HHL, 9-pin HHL |
| | LDX-XXXX-690 | Single Emitter | 690 | 0.400, 0.750, 1.1 | Multimode | Free Space, MM Fiber | | CW | Chip on Carrier, C-Mount, B-Mount, Q-Mount, 9mm, TO-3 no TEC, HHL, 9mm SMA, 2-Pin FC, 8-pin HHL, 9-pin HHL |
| | LDX-XXXX-735 | Single Emitter | 735 | 1.0, 1.75, 2.0, 4.0 | Multimode | Free Space, MM Fiber | | CW | Chip on Carrier, C-Mount, B-Mount, Q-Mount, 9mm, TO-3 no TEC, HHL, 9mm SMA, 2-Pin FC, 8-pin HHL, 9-pin HHL |
| | LDX-XXXX-750 | Single Emitter | 750 | 1.0, 2.0, 3.0, 5.0 | Multimode | Free Space, MM Fiber | | CW | Chip on Carrier, C-Mount, B-Mount, Q-Mount, 9mm, TO-3 no TEC, HHL, 9mm SMA, 2-Pin FC, 8-pin HHL, 9-pin HHL |
| | LDX-XXXX-760 | Single Emitter | 760 | 1.0, 2.0, 3.0, 6.0 | Multimode | Free Space, MM Fiber | | CW | Chip on Carrier, C-Mount, B-Mount, Q-Mount, 9mm, TO-3 no TEC, HHL, 9mm SMA, 2-Pin FC, 8-pin HHL, 9-pin HHL |
| | LDX-XXXX-780 | Single Emitter | 780 | 1.2, 2.5, 3.5, 5.0 | Multimode | Free Space, MM Fiber | | CW | Chip on Carrier, C-Mount, B-Mount, Q-Mount, 9mm, TO-3 no TEC, TO-3-TEC, HHL, 9mm SMA, 2-Pin FC, 8-pin HHL, 9-pin HHL |
| | LDX-XXXX-785 | Single Emitter | 785 | 3.5, 5.0 | Multimode | Free Space, MM Fiber | | CW | Chip on Carrier, C-Mount, B-Mount, Q-Mount, 9mm, TO-3 no TEC, TO-3-TEC, HHL, 9mm SMA, 2-Pin FC, 8-pin HHL, 9-pin HHL |
| | LDX-XXXX-792 | Single Emitter | 792 | 1.2, 2.5, 3.5 | Multimode | Free Space, MM Fiber | | CW | Chip on Carrier, C-Mount, B-Mount, Q-Mount, 9mm, TO-3 no TEC, HHL, 9mm SMA, 2-Pin FC, 8-pin HHL, 9-pin HHL |
| | LDX-XXXX-797 | Single Emitter | 797 | 3.0, 4.0 | Multimode | Free Space, MM Fiber | | CW | Chip on Carrier, C-Mount, B-Mount, Q-Mount, 9mm, TO-3 no TEC, HHL, 9mm SMA, 2-Pin FC, 8-pin HHL, 9-pin HHL |
| | LDX-XXXX-808 | Single Emitter | 808 | 1.2, 2.0, 3.0, 4.0, 6.0, 10.0 | Multimode | Free Space, MM Fiber | | CW | Chip on Carrier, C-Mount, B-Mount, Q-Mount, 9mm, TO-3 no TEC, HHL, 9mm SMA, 2-Pin FC, 8-pin HHL, 9-pin HHL |
| | LDX-XXXX-825 | Single Emitter | 825 | 4.0 | Multimode | Free Space, MM Fiber | | CW | Chip on Carrier, C-Mount, B-Mount, Q-Mount, 9mm, TO-3 no TEC, HHL, 9mm SMA, 2-Pin FC, 8-pin HHL, 9-pin HHL |
| | LDX-XXXX-830 | Single Emitter | 830 | 1.6 | Multimode | Free Space, MM Fiber | | CW | Chip on Carrier, C-Mount, B-Mount, Q-Mount, 9mm, TO-3 no TEC, HHL, 9mm SMA, 2-Pin FC, 8-pin HHL, 9-pin HHL |
| | LDX-XXXX-860 | Single Emitter | 860 | 1.0, 1.5, 2.0, 3.0, 4.0, 5.0 | Multimode | Free Space, MM Fiber | | CW | Chip on Carrier, C-Mount, B-Mount, Q-Mount, 9mm, TO-3 no TEC, HHL, 9mm SMA, 2-Pin FC, 8-pin HHL, 9-pin HHL |
| | LDX-XXXX-885 | Single Emitter | 885 | 2.5, 6.0 | Multimode | Free Space, MM Fiber | | CW | Chip on Carrier, C-Mount, B-Mount, Q-Mount, 9mm, TO-3 no TEC, TO-3-TEC, HHL, 9mm SMA, 2-Pin FC, 8-pin HHL, 9-pin HHL |
| | LDX-XXXX-900 | Single Emitter | 900 | 2.0 | Multimode | Free Space, MM Fiber | | CW | Chip on Carrier, C-Mount, B-Mount, Q-Mount, 9mm, TO-3 no TEC, HHL, 9mm SMA, 2-Pin FC, 8-pin HHL, 9-pin HHL |
| | LDX-XXXX-915 | Single Emitter | 915 | 4.0, 6.0, 10.0 | Multimode | Free Space, MM Fiber | | CW | Chip on Carrier, C-Mount, B-Mount, Q-Mount, 9mm, TO-3 no TEC, HHL, 9mm SMA, 2-Pin FC, 8-pin HHL, 9-pin HHL |
| | LDX-XXXX-940 | Single Emitter | 940 | 4.0, 5.0, 6.0, 16.0 | Multimode | Free Space, MM Fiber | | CW | Chip on Carrier, C-Mount, B-Mount, Q-Mount, 9mm, TO-3 no TEC, HHL, 9mm SMA, 2-Pin FC, 8-pin HHL, 9-pin HHL |
| | LDX-XXXX-960 | Single Emitter | 960 | 10.0 | Multimode | Free Space, MM Fiber | | CW | Chip on Carrier, C-Mount, TO-3 no TEC, HHL, 2-Pin FC, 8-pin HHL, 9-pin HHL |
| | LDX-XXXX-980 | Single Emitter | 980 | 1.5, 4.0, 5.0, 6.0, 10.0 | Multimode | Free Space, MM Fiber | | CW | Chip on Carrier, C-Mount, B-Mount, Q-Mount, 9mm, TO-3 no TEC, TO-3-TEC, HHL, 9mm SMA, 2-Pin FC, 8-pin HHL, 9-pin HHL |
| | QL63F5SA | Single Emitter | 637 | 0.010 | Single-Mode Lasers | Free Space | | CW | 5.6mm |
| | R0633 | LD Module, Single Emitter, Volume Bragg Grating (VBG) Laser Diodes | 633 | 0.025, 0.035, 0.050 | Single-Mode Lasers | Free Space, PM Fiber | Narrow | CW | 5.6mm, Butterfly - Open Beam, Butterfly FC, D-Type Module, U-Type FC Module, H & L-Type Tethered |
| | R0638 | LD Module, Single Emitter, Volume Bragg Grating (VBG) Laser Diodes | 638 | 0.030, 0.035, 0.050, 0.060, 0.300, 0.350 | Single-Mode Lasers, Multimode | Free Space, MM Fiber, PM Fiber | Narrow | CW | 5.6mm, Butterfly - Open Beam, Butterfly FC, Open Beam Stub Laser, D-Type Module, U-Type FC Module, H & L-Type Tethered |
| | R0660 | LD Module, Single Emitter, Volume Bragg Grating (VBG) Laser Diodes | 660 | 0.030, 0.060, 0.250 | Single-Mode Lasers, Multimode | Free Space, MM Fiber, PM Fiber | Narrow | CW | 5.6mm, Butterfly - Open Beam, Butterfly FC, D-Type Module, U-Type FC Module, M-Type FC Turn-Key |
| | R0680 | LD Module, Single Emitter, Volume Bragg Grating (VBG) Laser Diodes | 680 | 0.300 | Multimode | Free Space, MM Fiber | Narrow | CW | Butterfly - Open Beam, Butterfly FC, Open Beam Stub Laser, U-Type FC Module, M-Type FC Turn-Key |
| | R0685 | LD Module, Single Emitter, Volume Bragg Grating (VBG) Laser Diodes | 685 | 0.020, 0.040 | Single-Mode Lasers, Multimode | Free Space, PM Fiber | Narrow | CW | 5.6mm, Butterfly - Open Beam, Butterfly FC, D-Type Module, U-Type FC Module, H & L-Type Tethered |
| | R0780 | LD Module, Single Emitter, Volume Bragg Grating (VBG) Laser Diodes | 780 | 0.025, 0.050, 0.090, 0.100 | Single-Mode Lasers, Multimode | Free Space, PM Fiber | Narrow | CW | 5.6mm, Butterfly - Open Beam, Butterfly FC |
| | R0783 | LD Module, Single Emitter, Volume Bragg Grating (VBG) Laser Diodes | 783 | 0.025, 0.050, 0.090, 0.100 | Single-Mode Lasers, Multimode | Free Space, PM Fiber | Narrow | CW | 5.6mm, Butterfly - Open Beam, Butterfly FC, D-Type Module, U-Type FC Module, H & L-Type Tethered |
| | R0785 | LD Module, Single Emitter, Volume Bragg Grating (VBG) Laser Diodes | 785 | 0.025, 0.050, 0.075, 0.090, 0.100, .135, 0.150, 0.175, 0.350, 0.500, 0.600, 0.800, 1.5 | Single-Mode Lasers, Multimode | Free Space, MM Fiber, PM Fiber | Narrow | CW | 5.6mm, Butterfly - Open Beam, Butterfly FC, D-Type Module, U-Type FC Module, H & L-Type Tethered, M-Type FC Turn-Key |
| | R0808 | LD Module, Single Emitter, Volume Bragg Grating (VBG) Laser Diodes | 808 | 0.025, 0.090, 0.100, .135, 0.150, 0.175, 0.350, 0.500, 0.600, 0.800, 1.5 | Single-Mode Lasers, Multimode | Free Space, MM Fiber, PM Fiber | Narrow | CW | 5.6mm, Butterfly - Open Beam, Butterfly FC, D-Type Module, U-Type FC Module, H & L-Type Tethered, M-Type FC Turn-Key |
| | R0830 | LD Module, Single Emitter, Volume Bragg Grating (VBG) Laser Diodes | 830 | 0.090, 0.100, .135, 0.150, 0.175, 0.350, 0.500, 0.600, 0.800, 1.5 | Single-Mode Lasers, Multimode | Free Space, MM Fiber, PM Fiber | Narrow | CW | 5.6mm, Butterfly - Open Beam, Butterfly FC, D-Type Module, U-Type FC Module, H & L-Type Tethered, M-Type FC Turn-Key |
| | R0852 | LD Module, Single Emitter, Volume Bragg Grating (VBG) Laser Diodes | 852 | 0.020, 0.100, 0.150, 0.175 | Single-Mode Lasers, Multimode | Free Space, PM Fiber | Narrow | CW | 5.6mm, Butterfly - Open Beam, Butterfly FC, D-Type Module, U-Type FC Module, H & L-Type Tethered |
| | R0860 | LD Module, Single Emitter, Volume Bragg Grating (VBG) Laser Diodes | 860 | 0.350, 0.500, 0.600, 1.0 | Multimode | Free Space, PM Fiber | Narrow | CW | Butterfly - Open Beam, Butterfly FC, U-Type FC Module, M-Type FC Turn-Key |
| | R0976 | LD Module, Single Emitter, Volume Bragg Grating (VBG) Laser Diodes | 976 | 0.150, 0.220, 0.450, 0.500, 0.600, 0.700, 0.800, 1.5, 4.0, 5.0 | Single-Mode Lasers, Multimode | Free Space, MM Fiber, PM Fiber | Narrow | CW | 5.6mm, Butterfly - Open Beam, Butterfly FC, D-Type Module, U-Type FC Module, H & L-Type Tethered, M-Type FC Turn-Key |
| | R1030 | LD Module, Single Emitter, Volume Bragg Grating (VBG) Laser Diodes | 1030 | 0.050, 0.100, 0.280, 0.450 | Single-Mode Lasers, Multimode | Free Space, PM Fiber | Narrow | CW | Butterfly - Open Beam, Butterfly FC, U-Type FC Module, H & L-Type Tethered |
| | R1053 | LD Module, Single Emitter, Volume Bragg Grating (VBG) Laser Diodes | 1053 | 0.050, 0.120, 0.150, 0.300, 0.500 | Single-Mode Lasers, Multimode | Free Space, PM Fiber | Narrow | CW | 5.6mm, Butterfly - Open Beam, Butterfly FC |
| | R1064 | LD Module, Single Emitter, Volume Bragg Grating (VBG) Laser Diodes | 1064 | 0.120, 0.150, 0.300, 0.350, 0.500, 0.600, 0.800, 1.5 | Single-Mode Lasers, Multimode | Free Space, MM Fiber, PM Fiber | Narrow | CW | 5.6mm, Butterfly - Open Beam, Butterfly FC, D-Type Module, U-Type FC Module, H & L-Type Tethered, M-Type FC Turn-Key |
| | R1064.X | Single Emitter, Volume Bragg Grating (VBG) Laser Diodes | 1064 | 0.050, 0.120, 0.300, 0.500 | Single-Mode Lasers | Free Space, PM Fiber | Narrow | CW | Butterfly - Open Beam, Butterfly FC, U-Type FC Module, H & L-Type Tethered |
| | REP1260-1300 | LD Module, Single Emitter, Distributed Feedback DFB Lasers | 1260-1300 | 0.009, 0.012, 0.020, 0.022 | Single-Mode Lasers | Free Space, SM Fiber, PM Fiber | Narrow | CW | 5.6mm, TO-39, Butterfly FC |
| | REP1380-1400 | LD Module, Single Emitter, Distributed Feedback DFB Lasers | 1380-1400 | 0.008, 0.012 | Single-Mode Lasers | Free Space, SM Fiber, PM Fiber | Narrow | CW | 5.6mm, TO-39, Butterfly FC |
| | REP1500-1560 | LD Module, Single Emitter, Distributed Feedback DFB Lasers | 1500-1560 | 0.0015, 0.003, 0.005, 0.008, 0.014, 0.016, 0.020, 0.022 | Single-Mode Lasers | Free Space, SM Fiber, PM Fiber | Narrow | CW | 5.6mm, TO-39, Butterfly FC |
| | REP1550nm-1560nm | LD Module, Single Emitter, Distributed Feedback DFB Lasers | 1560-1600 | 0.006, 0.014 | Single-Mode Lasers | Free Space, SM Fiber, PM Fiber | Narrow | CW | 5.6mm, TO-39, Butterfly FC |
| | REP1635-1670 | LD Module, Single Emitter, Distributed Feedback DFB Lasers | 1635-1670 | 0.006, 0.008, 0.020 | Single-Mode Lasers | Free Space, SM Fiber, PM Fiber | Narrow | CW | 5.6mm, TO-39, Butterfly FC |
| | REP1678-1720 | LD Module, Single Emitter, Distributed Feedback DFB Lasers | 1678-1720 | 0.005 | Single-Mode Lasers | Free Space, SM Fiber, PM Fiber | Narrow | CW | 5.6mm, TO-39, Butterfly FC |
| | REP1720-1770 | LD Module, Single Emitter, Distributed Feedback DFB Lasers | 1720-1770 | 0.003, 0.006, 0.020 | Single-Mode Lasers | Free Space, SM Fiber, PM Fiber | Narrow | CW | 5.6mm, TO-39, Butterfly FC |
| | REP1850-1880 | LD Module, Single Emitter, Distributed Feedback DFB Lasers | 1850-1880 | 0.003, 0.0045, 0.005, 0.008, 0.014 | Single-Mode Lasers | Free Space, SM Fiber, PM Fiber | Narrow | CW | 5.6mm, TO-39, Butterfly FC |
| | REP1908-1970 | LD Module, Single Emitter, Distributed Feedback DFB Lasers | 1908-1970 | 0.002, 0.003, 0.020 | Single-Mode Lasers | Free Space, SM Fiber, PM Fiber | Narrow | CW | 5.6mm, TO-39, Butterfly FC |
| | REP1970-2053 | LD Module, Single Emitter, Distributed Feedback DFB Lasers | 1970-2053 | 0.0015, 0.002, 0.003, 0.004, 0.005, 0.014 | Single-Mode Lasers | Free Space, SM Fiber, PM Fiber | Narrow | CW | 5.6mm, TO-39, Butterfly FC |
| | REP2300-2333 | LD Module, Single Emitter, Distributed Feedback DFB Lasers | 2300-2333 | 0.002, 0.005 | Single-Mode Lasers | SM Fiber, PM Fiber | Narrow | CW | TO-39, Butterfly FC |
| | RPK405S | Single Emitter | 405 | 4.0 | Single-Mode Lasers | SM Fiber | | CW | |
| | RPK445S | Single Emitter | 445 | 0.800, 3.0 | Multimode | MM Fiber | | CW | 2-Pin FC |
| | RPK520S | Single Emitter | 520 | 0.005 | Multimode | MM Fiber | | CW | Coaxial |
| | RPK635S | Single Emitter | 635 | 0.002, 0.020 | Single-Mode Lasers | SM Fiber | | CW | Coaxial |
| | RPK785SS | Single Emitter, Volume Bragg Grating (VBG) Laser Diodes | 785 | 0.600 | Multimode | MM Fiber | Narrow | CW | Butterfly FC |
| | RPK793S | Single Emitter | 793 | 4.0 | Multimode | MM Fiber | | CW | 2-Pin FC |
| | RPK808S | Single Emitter | 808 | 4.0, 8.0 | Multimode | MM Fiber | | CW | Fiber Coupled |
| | RPK830S | Single Emitter | 830 | 1.0 | Multimode | MM Fiber | | CW | 2-Pin FC |
| | RPK915S | Single Emitter | 915 | 12.0 | Multimode | MM Fiber | | CW | 2-Pin FC |
| | RPK940S | Single Emitter | 940 | 10.0, 11.0 | Multimode | MM Fiber | | CW | Fiber Coupled |
| | RPK960S | Single Emitter | 960 | 9.0 | Multimode | MM Fiber | | CW | 2-Pin FC |
| | RPK976S | Single Emitter | 976 | 10.0 | Multimode | MM Fiber | | CW | Fiber Coupled |
| | RPK976SS | Single Emitter, Volume Bragg Grating (VBG) Laser Diodes | 976 | 3.0, 9.0 | Multimode | MM Fiber | Narrow | CW | 2-Pin FC |
| | RPM9-852-0100-S50 | Single Emitter | 852 | 0.070, 0.150 | Single-Mode Lasers | Free Space | | CW | 9mm, Butterfly - Open Beam |
| | RWLD-1064M | Single Emitter | 1064 | 8.0, 10.0 | Multimode | Free Space | | CW | E-Mount, H-Mount |
| | RWLD-1270S | Single Emitter | 1270 | 0.020, 0.030 | Single-Mode Lasers | Free Space | | CW | 5.6mm |
| | RWLD-1290S | Single Emitter | 1290 | 0.020, 0.030 | Single-Mode Lasers | Free Space | | CW | 5.6mm |
| | RWLD-1310S | Single Emitter | 1310 | 0.020, 0.030 | Single-Mode Lasers | Free Space | | CW | 5.6mm |
| | RWLD-1330S | Single Emitter | 1330 | 0.020, 0.030 | Single-Mode Lasers | Free Space | | CW | 5.6mm |
| | RWLD-1350S | Single Emitter | 1350 | 0.020, 0.030 | Single-Mode Lasers | Free Space | | CW | 5.6mm |
| | RWLD-1370S | Single Emitter | 1370 | 0.020, 0.030 | Single-Mode Lasers | Free Space | | CW | 5.6mm |
| | RWLD-1390S | Single Emitter | 1390 | 0.020, 0.030 | Single-Mode Lasers | Free Space | | CW | 5.6mm |
| | RWLD-1410S | Single Emitter | 1410 | 0.015, 0.020 | Single-Mode Lasers | Free Space | | CW | 5.6mm |
| | RWLD-1430S | Single Emitter | 1430 | 0.015, 0.020 | Single-Mode Lasers | Free Space | | CW | 5.6mm |
| | RWLD-1450M | Single Emitter | 1450 | 2.0, 2.5 | Multimode | Free Space | | CW | E-Mount, H-Mount |
| | RWLD-1450S | Single Emitter | 1450 | 0.015, 0.020 | Single-Mode Lasers | Free Space | | CW | 5.6mm |
| | RWLD-1470M | Single Emitter | 1470 | 2.5 | Multimode | Free Space | | CW | E-Mount, H-Mount |
| | RWLD-1470S | Single Emitter | 1470 | 0.015, 0.020 | Single-Mode Lasers | Free Space | | CW | 5.6mm |
| | RWLD-1490S | Single Emitter | 1490 | 0.015, 0.020 | Single-Mode Lasers | Free Space | | CW | 5.6mm |
| | RWLD-1510S | Single Emitter | 1510 | 0.015, 0.020 | Single-Mode Lasers | Free Space | | CW | 5.6mm |
| | RWLD-1530M | Single Emitter | 1530 | 2.0 | Multimode | Free Space | | CW | E-Mount, H-Mount |
| | RWLD-1530S | Single Emitter | 1530 | 0.015, 0.020 | Single-Mode Lasers | Free Space | | CW | 5.6mm |
| | RWLD-1550M | Single Emitter | 1550 | 2.0 | Multimode | Free Space | | CW | E-Mount, H-Mount |
| | RWLD-1550S | Single Emitter | 1550 | 0.015, 0.020 | Single-Mode Lasers | Free Space | | CW | 5.6mm |
| | RWLD-1570S | Single Emitter | 1570 | 0.015, 0.020 | Single-Mode Lasers | Free Space | | CW | 5.6mm |
| | RWLD-1590S | Single Emitter | 1590 | 0.015, 0.020 | Single-Mode Lasers | Free Space | | CW | 5.6mm |
| | RWLD-1610S | Single Emitter | 1615 | 0.015, 0.020 | Single-Mode Lasers | Free Space | | CW | 5.6mm |
| | RWLD-1625S | Single Emitter | 1625 | 0.015, 0.020 | Single-Mode Lasers | Free Space | | CW | 5.6mm |
| | RWLD-1650S | Single Emitter | 1650 | 0.015, 0.020 | Single-Mode Lasers | Free Space | | CW | 5.6mm |
| | RWLD-405M | Single Emitter | 405 | 0.400, 0.600, 1.0 | Multimode | Free Space | | CW | 5.6mm |
| | RWLD-405S | Single Emitter | 405 | 0.010, 0.020, 0.065, 0.120, 0.200, 0.250, 0.300 | Single-Mode Lasers | Free Space | | CW | 5.6mm |
| | RWLD-445M | Single Emitter | 445 | 4.0, 5.0 | Multimode | Free Space | | CW | 5.6mm |
| | RWLD-445S | Single Emitter | 445 | 0.050, 0.100 | Single-Mode Lasers | Free Space | | CW | 5.6mm |
| | RWLD-455M | Single Emitter | 455 | 5.0, 5.5 | Multimode | Free Space | | CW | 5.6mm |
| | RWLD-460S | Single Emitter | 460 | 0.100 | Single-Mode Lasers | Free Space | | CW | 5.6mm |
| | RWLD-465M | Single Emitter | 465 | 3.0 | Multimode | Free Space | | CW | 5.6mm |
| | RWLD-480S | Single Emitter | 480 | 0.060, 0.080 | Single-Mode Lasers | Free Space | | CW | 5.6mm |
| | RWLD-488S | Single Emitter | 488 | 0.060, 0.080, 0.100 | Single-Mode Lasers | Free Space | | CW | 5.6mm |
| | RWLD-495S | Single Emitter | 495 | 0.060, 0.080 | Single-Mode Lasers | Free Space | | CW | 5.6mm |
| | RWLD-505S | Single Emitter | 505 | 0.050, 0.080 | Single-Mode Lasers | Free Space | | CW | 5.6mm |
| | RWLD-520M | Single Emitter | 520 | 0.300, 0.600, 1.3 | Multimode | Free Space | | CW | 5.6mm |
| | RWLD-520S | Single Emitter | 520 | 0.030, 0.050, 0.080, 0.140 | Single-Mode Lasers | Free Space | | CW | 5.6mm |
| | RWLD-635M | Single Emitter | 635 | 0.500, 0.700, 1.0, 2.0 | Multimode | Free Space | | CW | 5.6mm |
| | RWLD-635S | Single Emitter | 635 | 0.050, 0.130, 0.180, 0.200 | Single-Mode Lasers | Free Space | | CW | 5.6mm |
| | RWLD-650S | Single Emitter | 650 | 0.100, 0.150, 0.180 | Single-Mode Lasers | Free Space | | CW | 5.6mm |
| | RWLD-660M | Single Emitter | 660 | 1.0, 1.5 | Multimode | Free Space | | CW | E-Mount, C-Mount |
| | RWLD-690M | Single Emitter | 650 | 1.0 | Single-Mode Lasers | Free Space | | CW | 5.6mm |
| | RWLD-760M | Single Emitter | 760 | 5.0 | Multimode | Free Space | | CW | E-Mount, H-Mount |
| | RWLD-780M | Single Emitter | 780 | 4.0, 8.0 | Multimode | Free Space | | CW | E-Mount, H-Mount, C-Mount |
| | RWLD-785S | Single Emitter | 785 | 0.100, 0.120 | Single-Mode Lasers | Free Space | | CW | 5.6mm |
| | RWLD-808M | Single Emitter | 808 | 0.300, 0.500, 1.0, 2.0, 3.0, 5.0, 8.0, 10.0 | Multimode | Free Space | | CW | E-Mount, H-Mount, C-Mount, 5.6mm |
| | RWLD-830S | Single Emitter | 830 | 0.100, 0.150, 0.200, 0.250 | Single-Mode Lasers | Free Space | | CW | 5.6mm |
| | RWLD-850M | Single Emitter | 850 | 0.500, 0.800, 1.0, 3.0 | Multimode | Free Space | | CW | 5.6mm |
| | RWLD-880M | Single Emitter | 880 | 3.0 | Multimode | Free Space | | CW | C-Mount |
| | RWLD-915M | Single Emitter | 915 | 10.0, 12.0 | Multimode | Free Space | | CW | E-Mount, H-Mount |
| | RWLD-940M | Single Emitter | 940 | 10.0, 12.0 | Multimode | Free Space | | CW | E-Mount, H-Mount |
| | RWLD-980M | Single Emitter | 980 | 1.0, 3.0, 4.0, 10.0, 12.0, 15.0 | Multimode | Free Space | | CW | E-Mount, H-Mount, C-Mount, 5.6mm |
| | RWLD-980S | Single Emitter | 980 | 0.050 | Single-Mode Lasers | Free Space | | CW | 5.6mm |
| | RWLP-1064M | Single Emitter | 1064 | 1.0, 8.0, 25.0 | Multimode | MM Fiber | | CW | Coaxial, Butterfly FC, 8-pin HHL, 9-pin HHL |
| | RWLP-1064S | Single Emitter | 1064 | 0.005, 0.010, 0.015, 0.020, 0.030, 0.040, 0.050 | Single-Mode Lasers | SM Fiber, PM Fiber | | CW | Coaxial, 8-pin HHL |
| | RWLP-1270S | Single Emitter, Distributed Feedback DFB Lasers | 1270 | 0.002, 0.005, 0.010 | Single-Mode Lasers | SM Fiber, PM Fiber | Narrow | CW | Coaxial, 8-pin HHL |
| | RWLP-1290S | Single Emitter, Distributed Feedback DFB Lasers | 1290 | 0.002, 0.005, 0.010 | Single-Mode Lasers | SM Fiber, PM Fiber | Narrow | CW | Coaxial, 8-pin HHL |
| | RWLP-1310M | Single Emitter | 1310 | 1.0 | Multimode | MM Fiber | | CW | Coaxial, Butterfly FC, 8-pin HHL, 9-pin HHL |
| | RWLP-1310S | Single Emitter, Distributed Feedback DFB Lasers | 1310 | 0.002, 0.003, 0.005, 0.010, 0.015 | Single-Mode Lasers | SM Fiber, PM Fiber | Narrow | CW | Coaxial, 8-pin HHL |
| | RWLP-1330M | Single Emitter | 1330 | 1.0 | Multimode | MM Fiber | | CW | Coaxial, Butterfly FC, 8-pin HHL, 9-pin HHL |
| | RWLP-1330S | Single Emitter, Distributed Feedback DFB Lasers | 1330 | 0.002, 0.005, 0.010 | Single-Mode Lasers | SM Fiber, PM Fiber | Narrow | CW | Coaxial, 8-pin HHL |
| | RWLP-1350S | Single Emitter, Distributed Feedback DFB Lasers | 1350 | 0.002, 0.005, 0.010 | Single-Mode Lasers | SM Fiber, PM Fiber | Narrow | CW | Coaxial, 8-pin HHL |
| | RWLP-1370S | Single Emitter, Distributed Feedback DFB Lasers | 1370 | 0.002, 0.005, 0.010 | Single-Mode Lasers | SM Fiber, PM Fiber | Narrow | CW | Coaxial, 8-pin HHL |
| | RWLP-1410S | Single Emitter, Distributed Feedback DFB Lasers | 1410 | 0.002, 0.005, 0.010 | Single-Mode Lasers | SM Fiber, PM Fiber | Narrow | CW | Coaxial, 8-pin HHL |
| | RWLP-1430S | Single Emitter, Distributed Feedback DFB Lasers | 1430 | 0.002, 0.005, 0.010 | Single-Mode Lasers | SM Fiber, PM Fiber | Narrow | CW | Coaxial, 8-pin HHL |
| | RWLP-1450M | Single Emitter | 1450 | 2.0 | Multimode | MM Fiber | | CW | Coaxial, Butterfly FC, 8-pin HHL, 9-pin HHL |
| | RWLP-1450S | Single Emitter, Distributed Feedback DFB Lasers | 1450 | 0.002, 0.005, 0.010 | Single-Mode Lasers | SM Fiber, PM Fiber | Narrow | CW | Coaxial, 8-pin HHL |
| | RWLP-1470M | Single Emitter | 1470 | 0.800, 1.0, 2.5, 3.0 | Multimode | MM Fiber | | CW | Coaxial, Butterfly FC, 8-pin HHL, 9-pin HHL |
| | RWLP-1470S | Single Emitter, Distributed Feedback DFB Lasers | 1470 | 0.002, 0.005, 0.010 | Single-Mode Lasers | SM Fiber, PM Fiber | Narrow | CW | Coaxial, 8-pin HHL |
| | RWLP-1490S | Single Emitter, Distributed Feedback DFB Lasers | 1490 | 0.002, 0.005, 0.010 | Single-Mode Lasers | SM Fiber, PM Fiber | Narrow | CW | Coaxial, 8-pin HHL |
| | RWLP-1510S | Single Emitter, Distributed Feedback DFB Lasers | 1510 | 0.002, 0.005, 0.010 | Single-Mode Lasers | SM Fiber, PM Fiber | Narrow | CW | Coaxial, 8-pin HHL |
| | RWLP-1530S | Single Emitter, Distributed Feedback DFB Lasers | 1530 | 0.002, 0.005, 0.010 | Single-Mode Lasers | SM Fiber, PM Fiber | Narrow | CW | Coaxial, 8-pin HHL |
| | RWLP-1550S | Single Emitter, Distributed Feedback DFB Lasers | 1550 | 0.002, 0.003, 0.005, 0.010 | Single-Mode Lasers | SM Fiber, PM Fiber | Narrow | CW | Coaxial, 8-pin HHL |
| | RWLP-1570S | Single Emitter, Distributed Feedback DFB Lasers | 1570 | 0.002, 0.005, 0.010 | Single-Mode Lasers | SM Fiber, PM Fiber | Narrow | CW | Coaxial, 8-pin HHL |
| | RWLP-1590S | Single Emitter, Distributed Feedback DFB Lasers | 1590 | 0.002, 0.005, 0.008 | Single-Mode Lasers | SM Fiber, PM Fiber | Narrow | CW | Coaxial, 8-pin HHL |
| | RWLP-1610S | Single Emitter, Distributed Feedback DFB Lasers | 1610 | 0.002, 0.005, 0.008 | Single-Mode Lasers | SM Fiber, PM Fiber | Narrow | CW | Coaxial, 8-pin HHL |
| | RWLP-1625S | Single Emitter, Distributed Feedback DFB Lasers | 1625 | 0.002, 0.005, 0.008 | Single-Mode Lasers | SM Fiber, PM Fiber | Narrow | CW | Coaxial, 8-pin HHL |
| | RWLP-1650S | Single Emitter, Distributed Feedback DFB Lasers | 1650 | 0.002, 0.005, 0.009 | Single-Mode Lasers | SM Fiber, PM Fiber | Narrow | CW | Coaxial, 8-pin HHL |
| | RWLP-375M | Single Emitter | 375 | 0.100 | Multimode | MM Fiber | | CW | Coaxial, 9-pin HHL |
| | RWLP-395M | Single Emitter | 395 | 0.200, 0.300 | Multimode | MM Fiber | | CW | HHL, Coaxial |
| | RWLP-400M | Single Emitter | 400 | 0.400 | Multimode | MM Fiber | | CW | Coaxial, 8-pin HHL |
| | RWLP-400S | Single Emitter | 400 | 0.015, 0.030 | Single-Mode Lasers | SM Fiber, PM Fiber | | CW | Coaxial, 8-pin HHL |
| | RWLP-405M | Single Emitter | 405 | 0.200, 0.300, 0.400, 0.450 | Multimode | MM Fiber | | CW | Coaxial, 8-pin HHL |
| | RWLP-405S | Single Emitter | 405 | 0.001, 0.015, 0.030, 0.040, 0.050 | Single-Mode Lasers | SM Fiber, PM Fiber | | CW | Coaxial, 8-pin HHL |
| | RWLP-410M | Single Emitter | 410 | 0.300 | Multimode | MM Fiber | | CW | Coaxial, 8-pin HHL |
| | RWLP-420M | Single Emitter | 420 | 0.800 | Multimode | MM Fiber | | CW | Coaxial, 8-pin HHL |
| | RWLP-435M | Single Emitter | 435 | 3.0 | Multimode | MM Fiber | | CW | Coaxial, Butterfly FC, 8-pin HHL |
| | RWLP-445M | Single Emitter | 445 | 0.050, 0.080, 0.800, 1.0, 3.5, 10.0, 20.0 | Multimode | MM Fiber | | CW | Coaxial, Butterfly FC, 8-pin HHL |
| | RWLP-445S | Single Emitter | 445 | 0.015, 0.030, 0.040, 0.050, 0.070, 0.080, 0.100 | Single-Mode Lasers | SM Fiber, PM Fiber | | CW | Coaxial, 8-pin HHL |
| | RWLP-455M | Single Emitter | 455 | 3.0, 4.0 | Multimode | MM Fiber | | CW | Coaxial, 9-pin HHL |
| | RWLP-460S | Single Emitter | 460 | 0.030, 0.050, 0.080 | Single-Mode Lasers | SM Fiber, PM Fiber | | CW | Coaxial, 8-pin HHL |
| | RWLP-465M | Single Emitter | 465 | 2.0, 7.0, 15.0 | Multimode | MM Fiber | | CW | Coaxial, 9-pin HHL |
| | RWLP-473S | Single Emitter | 473 | 0.010, 0.020 | Single-Mode Lasers | SM Fiber, PM Fiber | | CW | Coaxial, 8-pin HHL |
| | RWLP-480M | Single Emitter | 480 | 0.050 | Multimode | MM Fiber | | CW | Coaxial, 8-pin HHL |
| | RWLP-480S | Single Emitter | 480 | 0.010, 0.020 | Single-Mode Lasers | SM Fiber, PM Fiber | | CW | Coaxial, 8-pin HHL |
| | RWLP-488M | Single Emitter | 488 | 0.050, 0.080 | Multimode | MM Fiber | | CW | Coaxial, 8-pin HHL |
| | RWLP-488S | Single Emitter | 488 | 0.010, 0.020, 0.030 | Single-Mode Lasers | SM Fiber, PM Fiber | | CW | Coaxial, 8-pin HHL |
| | RWLP-495M | Single Emitter | 495 | 0.050 | Multimode | MM Fiber | | CW | Coaxial, 8-pin HHL |
| | RWLP-495S | Single Emitter | 495 | 0.010, 0.020 | Single-Mode Lasers | SM Fiber, PM Fiber | | CW | Coaxial, 8-pin HHL |
| | RWLP-505M | Single Emitter | 505 | 0.030, 0.050 | Multimode | MM Fiber | | CW | Coaxial, 8-pin HHL |
| | RWLP-505S | Single Emitter | 505 | 0.010, 0.020 | Single-Mode Lasers | SM Fiber, PM Fiber | | CW | Coaxial, 8-pin HHL |
| | RWLP-510S | Single Emitter | 510 | 0.010, 0.020 | Single-Mode Lasers | SM Fiber, PM Fiber | | CW | Coaxial, 8-pin HHL |
| | RWLP-520M | Single Emitter | 520 | 0.010, 0.020, 0.030, 0.050, 0.080, 0.200, 0.300, 0.800, 1.0, 1.2, 2.0, 5.0 | Multimode | MM Fiber | | CW | Coaxial, 8-pin HHL |
| | RWLP-520S | Single Emitter | 520 | 0.002, 0.005, 0.010, 0.020, 0.030, 0.040, 0.050, 0.080 | Single-Mode Lasers | SM Fiber, PM Fiber | | CW | Coaxial, 8-pin HHL |
| | RWLP-525M | Single Emitter | 525 | 0.800, 1.0, 1.2, 2.0, 5.0 | Multimode | MM Fiber | | CW | Coaxial, 9-pin HHL |
| | RWLP-532M | Single Emitter | 525, 532 | 1.0 | Multimode | MM Fiber | | CW | Coaxial, 9-pin HHL |
| | RWLP-633M | Single Emitter | 630, 633 | 0.300, 0.700, 1.0 | Multimode | MM Fiber | | CW | 9-pin HHL |
| | RWLP-633S | Single Emitter | 633 | 0.030, 0.050 | Single-Mode Lasers | SM Fiber, PM Fiber | | CW | Coaxial, 8-pin HHL |
| | RWLP-635M | Single Emitter | 635 | 0.005, 0.020, 0.120, 0.150, 0.300, 0.400, 0.800, 1.0, 1.8 | Multimode | MM Fiber | | CW | Coaxial, Butterfly FC, 9-pin HHL |
| | RWLP-635S | Single Emitter | 635 | 0.001, 0.003, 0.005, 0.010, 0.030, 0.050, 0.080, 0.100 | Single-Mode Lasers | SM Fiber, PM Fiber | | CW | Coaxial, 8-pin HHL |
| | RWLP-645M | Single Emitter | 645 | 1.8 | Multimode | MM Fiber | | CW | Coaxial, Butterfly FC, 9-pin HHL |
| | RWLP-653M | Single Emitter | 653 | 0.700 | Multimode | MM Fiber | | CW | Coaxial, Butterfly FC, 9-pin HHL |
| | RWLP-660M | Single Emitter | 660 | 0.030, 0.050, 0.080, 0.120, 0.800, 1.0 | Multimode | MM Fiber | | CW | Coaxial, Butterfly FC, 9-pin HHL |
| | RWLP-660S | Single Emitter | 660 | 0.003, 0.005, 0.010, 0.020, 0.030, 0.040, 0.050, 0.080, 0.100 | Single-Mode Lasers | SM Fiber, PM Fiber | | CW | Coaxial, 8-pin HHL |
| | RWLP-670M | Single Emitter | 670 | 0.005, 0.010, 0.120 | Multimode | MM Fiber | | CW | Coaxial, 8-pin HHL |
| | RWLP-670S | Single Emitter | 670 | 0.003, 0.005, 0.050 | Single-Mode Lasers | SM Fiber, PM Fiber | | CW | Coaxial, 8-pin HHL |
| | RWLP-685M | Single Emitter | 685 | 0.030 | Multimode | MM Fiber | | CW | Coaxial, 8-pin HHL |
| | RWLP-685S | Single Emitter | 685 | 0.010, 0.015, 0.020 | Single-Mode Lasers | SM Fiber, PM Fiber | | CW | Coaxial, 8-pin HHL |
| | RWLP-690M | Single Emitter | 690 | 0.800 | Multimode | MM Fiber | | CW | Coaxial, 9-pin HHL |
| | RWLP-705S | Single Emitter | 705 | 0.010, 0.015 | Single-Mode Lasers | SM Fiber, PM Fiber | | CW | Coaxial, 8-pin HHL |
| | RWLP-730S | Single Emitter | 730 | 0.010, 0.015 | Single-Mode Lasers | SM Fiber, PM Fiber | | CW | Coaxial, 8-pin HHL |
| | RWLP-760M | Single Emitter | 760 | 1.5, 3.0 | Multimode | MM Fiber | | CW | Coaxial, Butterfly FC, 9-pin HHL |
| | RWLP-770M | Single Emitter | 770 | 3.0 | Multimode | MM Fiber | | CW | Coaxial, 9-pin HHL |
| | RWLP-785M | Single Emitter | 785 | 0.050, 1.5, 2.0, 3.0, 7.0 | Multimode | MM Fiber | | CW | Coaxial, Butterfly FC, 8-pin HHL, 9-pin HHL |
| | RWLP-785S | Single Emitter | 785 | 0.005, 0.020, 0.030, 0.040, 0.050 | Single-Mode Lasers | SM Fiber, PM Fiber | | CW | Coaxial, 8-pin HHL |
| | RWLP-808M | Single Emitter | 808 | 0.100, 0.150, 0.200, 0.300, 2.0, 4.0, 5.0, 8.0, 10.0, 25.0 | Multimode | MM Fiber | | CW | Coaxial, Butterfly FC, 8-pin HHL, 9-pin HHL |
| | RWLP-808S | Single Emitter | 808 | 0.015, 0.020, 0.030, 0.040, 0.050 | Single-Mode Lasers | SM Fiber, PM Fiber | | CW | Coaxial, 8-pin HHL |
| | RWLP-820S | Single Emitter | 820 | 0.030, 0.050 | Single-Mode Lasers | SM Fiber, PM Fiber | | CW | Coaxial, 8-pin HHL |
| | RWLP-830M | Single Emitter | 830 | 0.150, 0.200, 1.0, 2.0, 3.0 | Multimode | MM Fiber | | CW | Coaxial, Butterfly FC, 8-pin HHL, 9-pin HHL |
| | RWLP-830S | Single Emitter | 830 | 0.005, 0.030, 0.050, 0.080, 0.100 | Single-Mode Lasers | SM Fiber, PM Fiber | | CW | Coaxial, 8-pin HHL |
| | RWLP-850M | Single Emitter | 850 | 0.050, 0.150, 0.200 | Multimode | MM Fiber | | CW | Coaxial, Butterfly FC, 8-pin HHL, 9-pin HHL |
| | RWLP-850S | Single Emitter | 850 | 0.002, 0.010, 0.020, 0.030, 0.050, 0.070 | Single-Mode Lasers | SM Fiber, PM Fiber | | CW | Coaxial, 8-pin HHL |
| | RWLP-880M | Single Emitter | 880 | 0.005, 2.0, 3.0 | Multimode | MM Fiber | | CW | Coaxial, Butterfly FC, 8-pin HHL, 9-pin HHL |
| | RWLP-880S | Single Emitter | 880 | 0.001, 0.002 | Single-Mode Lasers | SM Fiber, PM Fiber | | CW | Coaxial, 8-pin HHL |
| | RWLP-905M | Single Emitter | 905 | 0.050, 0.120, 0.150 | Multimode | MM Fiber | | CW | Coaxial, Butterfly FC, 8-pin HHL, 9-pin HHL |
| | RWLP-905S | Single Emitter | 905 | 0.002, 0.030, 0.050, 0.070, 0.080 | Single-Mode Lasers | SM Fiber, PM Fiber | | CW | Coaxial, 8-pin HHL |
| | RWLP-915M | Single Emitter | 915 | 2.0, 10.0, 20.0, 30.0, 55.0 | Multimode | MM Fiber | | CW | Coaxial, Butterfly FC, 8-pin HHL, 9-pin HHL |
| | RWLP-940M | Single Emitter | 940 | 0.200, 2.0, 10.0, 20.0, 30.0 | Multimode | MM Fiber | | CW | Coaxial, Butterfly FC, 8-pin HHL, 9-pin HHL |
| | RWLP-940S | Single Emitter | 940 | 0.030, 0.050, 0.080, 0.100 | Single-Mode Lasers | SM Fiber, PM Fiber | | CW | Coaxial, 8-pin HHL |
| | RWLP-980M | Single Emitter | 980 | 0.100, 0.150, 2.0, 10.0, 20.0, 30.0, 55.0 | Multimode | MM Fiber | | CW | Coaxial, Butterfly FC, 8-pin HHL, 9-pin HHL |
| | RWLP-980S | Single Emitter | 980 | 0.005, 0.010, 0.015 | Single-Mode Lasers | SM Fiber, PM Fiber | | CW | Coaxial, 8-pin HHL |
| | TG-420 | Single Emitter | 420 | 0.050 | Single-Mode Lasers | Free Space | | CW | 5.6mm |
| | TG-425 | Single Emitter | 425 | 0.050 | Single-Mode Lasers | Free Space | | CW | 5.6mm |
| | TG-430 | Single Emitter | 430 | 0.050 | Single-Mode Lasers | Free Space | | CW | 5.6mm |
| | TG-435 | Single Emitter | 435 | 0.050 | Single-Mode Lasers | Free Space | | CW | 5.6mm |
| | TG-440 | Single Emitter | 440 | 0.050 | Single-Mode Lasers | Free Space | | CW | 5.6mm |
| | TG-445 | Single Emitter | 445 | 0.050 | Single-Mode Lasers | Free Space | | CW | 5.6mm |
| | TG-450 | Single Emitter | 450 | 0.050 | Single-Mode Lasers | Free Space | | CW | 5.6mm |
| | TG-455 | Single Emitter | 455 | 0.050 | Single-Mode Lasers | Free Space | | CW | 5.6mm |
| | TG-460 | Single Emitter | 460 | 0.050 | Single-Mode Lasers | Free Space | | CW | 5.6mm |
| | Triplex-RWLS-445-520-635 | Single Emitter, Turn-Key System | 445, 520, 635 | 0.010, 0.015, 0.020, 0.030, 0.050, 0.080, 0.100 | Single-Mode Lasers, Multimode | MM Fiber, SM Fiber | | CW | |
| | Triplex-RWLX-445-520-635 | Single Emitter | 445, 520, 635 | 0.010, 0.015, 0.020, 0.030, 0.050, 0.080, 0.100 | Single-Mode Lasers, Multimode | MM Fiber, SM Fiber | | CW | HHL |