Microchip Lasers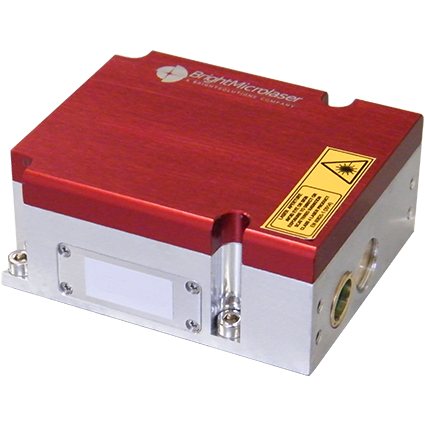 What are Microchip Lasers?
Microchip Lasers are alignment-free, passively q-switched, diode-pumped solid-state (DPSS) lasers, allowing for rugged, compact laser modules that are ideal for low SWaP, portable, handheld applications.
Microchip lasers (sometimes called micro lasers or microlasers) are a specific subset of q-switched DPSS lasers. These lasers utilize a simplified q-switching technology called passive q-switching, which uses a saturable absorber material, such as Cr4+:YAG for pulse generation.  Unlike electro or acousto optical q-switching, this passively q-switching relies on the absorption of laser radiation to enable pulsing. When induced with laser radiation the saturable absorber eventually reaches a state of saturation where a pulse is emitted, and the absorber becomes unsaturated.  Due to the nature of this passively q-switched technology the pulse amplitude and pulse shape are very repeatable.
Furthermore, the compact and alignment-free nature of the microchip laser design allows them to be made utilizing production techniques which allow for compact, ruggedized packaging at a relatively low cost.  As a result, microchip lasers are ideal for integration into range finding, LIDAR, portable LIBS, and other portable or UAV applications, for example. Additionally, through the use of second, third, and fourth harmonic generation they can emit wavelengths from the ultraviolet @ 236.5nm through the infrared @ 1064nm. OEM fiber laser packages and modules are available.
Our Microchip Laser Products
RPMC Lasers provides a selection of microchip laser configurations to match your application requirements. These ultra-compact, passively q-switched, single longitudinal mode (SLM), narrow linewidth, DPSS lasers feature pulse durations from 400 ps to 2 ns, energy levels up to 100 µJ, and repetition rates up to 100 kHz. In addition to the fundamental 1064 nm wavelength and its harmonics (532, 355 and 266 nm), we also deliver units emitting at 946 and 473 nm.
| | | | | | | | | |
| --- | --- | --- | --- | --- | --- | --- | --- | --- |
| | SB1-1064 | Pulsed DPSS Lasers, Microchip Lasers | 1064 | 0.008, 0.012, 0.040, 0.110, 0.150, 0.200, 0.225, 0.400 | 2.0, 15.0, 20.0, 30.0, 40.0, 60.0, 80.0 | 400ps, 1.3ns | 100Hz, 200Hz, 1kHz, 5kHz, 10kHz, 15kHz, 55kHz, 100kHz | Passive |
| | SB1-236.5 | Pulsed DPSS Lasers, Microchip Lasers | 236.5 | 0.001 | 0.200, 2.0 | 1.3ns | 500Hz, 5kHz | Passive |
| | SB1-266 | Pulsed DPSS Lasers, Microchip Lasers | 266 | 0.002, 0.005 | 0.500, 1.0, 2.0 | 1.3ns | 1kHz, 5kHz, 10kHz | Passive |
| | SB1-355 | Pulsed DPSS Lasers, Microchip Lasers | 355 | 0.010 | 1.0 | 1.3ns | 10kHz | Passive |
| | SB1-473 | Pulsed DPSS Lasers, Microchip Lasers | 473 | 0.0009, 0.010, 0.015 | 1.0, 3.0, 9.0 | 2ns | 100Hz, 5kHz, 10kHz | Passive |
| | SB1-532 | Pulsed DPSS Lasers, Microchip Lasers | 532 | 0.004, 0.006, 0.010, 0.017, 0.020, 0.030, 0.040, 0.075, 0.100 | 0.300, 7.0, 10.0, 15.0, 20.0, 30.0, 40.0 | 400ps, 1.3ns | 10Hz, 100Hz, 200Hz, 1kHz, 5kHz, 10kHz, 15kHz, 55kHz, 100kHz | Passive |
| | SB1-946 | Pulsed DPSS Lasers, Microchip Lasers | 946 | 0.004, 0.060, 0.070, 0.105 | 7.0, 12.0, 35.0 | 2ns | 100Hz, 5kHz, 10kHz | Passive |