Particle Measurement Lasers
What are Particle Measurement Lasers?
Particle measurement is widely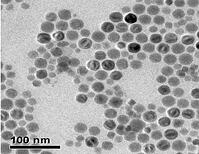 deployed as a means for counting and sizing the number of particles in both air and fluids. Three primary particle measurement methodologies are employed currently optical particle counting, dynamic light scattering, and particle image velocimetry. While dynamic light scattering and optical particle counting look at two different aspects of the scattered light, temporal fluctuations and intensity fluctuations respectively, they both require similar laser specifications. These lasers must then have a high-quality continuous-wave TEM00 laser. Otherwise, the speckle pattern of the multi-mode beam will interfere with the measurement of the scattered light. Particle image velocimetry, on the other hand, is based on synchronizing a pulsed laser and time-gated camera which are trigged at the same time so that each image can be precisely mapped to a point in time. For all of these applications, the actual wavelength of the laser is not highly critical, but it is generally preferred that visible lasers are used to maximize the sensitivity of the detectors. On this page, you will find a list of all of the particle measurement lasers we offer, including both diode and diode-pumped solid-state lasers.
| | | | | | | | | | | |
| --- | --- | --- | --- | --- | --- | --- | --- | --- | --- | --- |
| | 1.5um NLW CW Fiber Lasers | CW Fiber Lasers | 1530-1564 | 1.0 | Single-Mode Lasers | SM Fiber, PM Fiber | Narrow | | | |
| | 1030L-2XB | CW DPSS Lasers | 1030 | 0.200, 0.300, 0.400 | Single-Mode Lasers, Multimode | Free Space, MM Fiber, SM Fiber, PM Fiber | Narrow | | | |
| | 1064L-1XB | CW DPSS Lasers | 1064 | 0.025, 0.300, 0.400, 0.500 | Single-Mode Lasers, Multimode | Free Space, MM Fiber, SM Fiber, PM Fiber, SMA Port | | | | |
| | 1064L-2XB | CW DPSS Lasers | 1064 | 0.200, 0.300, 0.400 | Single-Mode Lasers, Multimode | Free Space, MM Fiber, SM Fiber, PM Fiber | Narrow | | | |
| | 320 NX | CW DPSS Lasers | 320 | 0.050, 0.100, 0.200 | Single-Mode Lasers | Free Space | Narrow | | | |
| | 349 NX | CW DPSS Lasers | 349 | 0.050, 0.100, 0.150, 0.200 | Single-Mode Lasers | Free Space | Narrow | | | |
| | 405L-2XA | LD Module | 405 | 0.020, 0.040, 0.050 | Single-Mode Lasers | Free Space, MM Fiber, SM Fiber, PM Fiber | Narrow | | | |
| | 488L-2XA | LD Module | 488 | 0.010, 0.015, 0.030 | Single-Mode Lasers | Free Space, MM Fiber, SM Fiber, PM Fiber | Narrow | | | |
| | 520L-2XA | LD Module | 520 | 0.025, 0.035, 0.040 | Single-Mode Lasers | Free Space, MM Fiber, SM Fiber, PM Fiber | Narrow | | | |
| | 633L-1XA | LD Module | 633 | 0.035, 0.060, 0.080, 0.090 | Single-Mode Lasers | Free Space, MM Fiber, SM Fiber, PM Fiber | | | | |
| | 633L-2XA | LD Module | 633 | 0.035, 0.040, 0.070 | Single-Mode Lasers | Free Space, MM Fiber, SM Fiber, PM Fiber | Narrow | | | |
| | 638L-2XA | LD Module | 638 | 0.060, 0.080, 0.100 | Single-Mode Lasers | Free Space, MM Fiber, SM Fiber, PM Fiber | Narrow | | | |
| | 638L-4XA | LD Module | 638 | 0.300, 0.500 | Multimode | Free Space, MM Fiber | Narrow | | | |
| | 783L-2XA | LD Module | 783 | 0.070, 0.080, 0.110 | Single-Mode Lasers | Free Space, MM Fiber, SM Fiber, PM Fiber | Narrow | | | |
| | 785L-2XA | LD Module | 785 | 0.080, 0.100, 0.130 | Single-Mode Lasers | Free Space, MM Fiber, SM Fiber, PM Fiber | Narrow | | | |
| | 785L-4XA | LD Module | 785 | 0.700, 0.800, 1.0 | Multimode | Free Space, MM Fiber | Narrow | | | |
| | 830L-2XA | LD Module | 830 | 0.050, 0.070, 0.080 | Single-Mode Lasers | Free Space, MM Fiber, SM Fiber, PM Fiber | Narrow | | | |
| | He-Ne Power Supplies | HeNe Lasers | | 0.002 | Single-Mode Lasers | Free Space | | | | |
| | LBX-633S | LD Module | 633 | 0.040 | Single-Mode Lasers | Free Space, MM Fiber, SM Fiber, PM Fiber | Narrow | | | |
| | LBX-808 | LD Module | 808 | 0.200 | Single-Mode Lasers | Free Space, MM Fiber, SM Fiber, PM Fiber | | | | |
| | LBX-830 | LD Module | 830 | 0.100 | Single-Mode Lasers | Free Space, MM Fiber, SM Fiber, PM Fiber | | | | |
| | LBX-830S | LD Module | 830 | 0.100 | Single-Mode Lasers | Free Space, MM Fiber, SM Fiber, PM Fiber | Narrow | | | |
| | LBX-915 | LD Module | 915 | 0.200 | Single-Mode Lasers | Free Space, MM Fiber, SM Fiber, PM Fiber | | | | |
| | LCX-1064S | CW DPSS Lasers | 1064 | 0.100, 0.200, 0.300, 0.500 | Single-Mode Lasers | Free Space, MM Fiber, SM Fiber, PM Fiber | Narrow | | | |
| | LCX-532S | CW DPSS Lasers | 532 | 0.050, 0.100, 0.150, 0.200, 0.300 | Single-Mode Lasers | Free Space, MM Fiber, SM Fiber, PM Fiber | Narrow | | | |
| | LCX-553S | CW DPSS Lasers | 553 | 0.050, 0.100 | Single-Mode Lasers | Free Space, MM Fiber, SM Fiber, PM Fiber | Narrow | | | |
| | LCX-561S | CW DPSS Lasers | 561 | 0.050, 0.100, 0.150, 0.200 | Single-Mode Lasers | Free Space, MM Fiber, SM Fiber, PM Fiber | Narrow | | | |
| | LGK 7512 | HeNe Lasers | 594 | 0.002 | Single-Mode Lasers | Free Space | | | | |
| | LGK 7608 | HeNe Lasers | 633 | 0.0015 | Single-Mode Lasers | Free Space | | | | |
| | LGK 7610 | HeNe Lasers | 633 | 0.002 | Single-Mode Lasers | Free Space | | | | |
| | LGK 7621 | HeNe Lasers | 633 | 0.005 | Multimode | Free Space | | | | |
| | LGK 7627 | HeNe Lasers | 633 | 0.005, 0.010 | Single-Mode Lasers, Multimode | Free Space | | | | |
| | LGK 7628 | HeNe Lasers | 633 | 0.005, 0.007 | Single-Mode Lasers | Free Space | | | | |
| | LGK 7634 | HeNe Lasers | 633 | 0.002, 0.003 | Single-Mode Lasers | Free Space | | | | |
| | LGK 7650 | HeNe Lasers | 633 | 0.0005, 0.001 | Single-Mode Lasers | Free Space | | | | |
| | LGK 7653 | HeNe Lasers | 633 | 0.010 | Single-Mode Lasers | Free Space | | | | |
| | LGK 7654 | HeNe Lasers | 633 | 0.010 | Single-Mode Lasers | Free Space | | | | |
| | LGK 7655 | HeNe Lasers | 633 | 0.0006, 0.001 | Single-Mode Lasers | Free Space | | | | |
| | LGK 7665 | HeNe Lasers | 633 | 0.015, 0.018, 0.020 | Single-Mode Lasers | Free Space | | | | |
| | LGK 7672 | HeNe Lasers | 633 | 0.002 | Single-Mode Lasers | Free Space | | | | |
| | LGK 7785 | HeNe Lasers | 543 | 0.001, 0.002 | Single-Mode Lasers | Free Space | | | | |
| | LGK 7786 | HeNe Lasers | 543 | 0.0005, 0.001 | Single-Mode Lasers | Free Space | | | | |
| | LGR 7608 | HeNe Lasers | 633 | 0.0015 | Single-Mode Lasers | Free Space | | | | |
| | LGR 7610 | HeNe Lasers | 633 | 0.002 | Single-Mode Lasers | Free Space | | | | |
| | LGR 7621 | HeNe Lasers | 633 | 0.002, 0.005 | Single-Mode Lasers, Multimode | Free Space | | | | |
| | LGR 7627 | HeNe Lasers | 633 | 0.005, 0.010 | Single-Mode Lasers | Free Space | | | | |
| | LGR 7628 | HeNe Lasers | 633 | 0.005 | Single-Mode Lasers | Free Space | | | | |
| | LGR 7634 | HeNe Lasers | 633 | 0.002 | Single-Mode Lasers | Free Space | | | | |
| | LGR 7650 | HeNe Lasers | 633 | 0.005 | Single-Mode Lasers | Free Space | | | | |
| | LGR 7655 | HeNe Lasers | 633 | 0.0006, 0.001 | Single-Mode Lasers | Free Space | | | | |
| | LGR 7656 | HeNe Lasers | 633 | 0.0005 | Single-Mode Lasers | Free Space | | | | |
| | LGR 7660 | HeNe Lasers | 633 | 0.001 | Single-Mode Lasers | Free Space | | | | |
| | LGR 7695 | HeNe Lasers | 633 | 0.00075 | Single-Mode Lasers | Free Space | | | | |
| | LSX-785S | LD Module | 785 | 0.150 | Single-Mode Lasers | Free Space, MM Fiber, SM Fiber, PM Fiber | Narrow | | | |
| | PowerMir 4.0um | Quantum Cascade Lasers | 4000 | 0.100, 0.450, 1.0 | Multimode | Free Space | | | | |
| | PowerMir 4.6um | Quantum Cascade Lasers | 4600 | 0.100, 0.450, 1.0 | Multimode | Free Space | | | | |
| | PowerMir 4.8um | Quantum Cascade Lasers | 4800 | 0.100, 1.5 | Multimode | Free Space | | | | |
| | PowerMir 9.4um | Quantum Cascade Lasers | 9400 | 0.100, 0.300 | Multimode | Free Space | | | | |
| | Quantas-Q2-1053 | Pulsed DPSS Lasers | 1053 | 0.100, 0.150, 0.350, 0.600, 0.800 | | | | 10000.0, 15000.0, 35000.0, 60000.0, 80000.0 | 5ns, 7ns, 8ns | 10Hz |
| | Quantas-Q2-1064 | Pulsed DPSS Lasers | 1064 | 0.100, 0.150, 0.350, 0.600 | | | | 10000.0, 15000.0, 35000.0, 60000.0 | 7ns, 8ns | 10Hz |
| | Quantas-Q2-527 | Pulsed DPSS Lasers | 527 | 0.040, 0.070, 0.150, 0.300, 0.400 | | | | 4000.0, 7000.0, 15000.0, 30000.0, 40000.0 | 5ns, 7ns, 8ns | 10Hz, 20Hz, 33.3Hz, 50Hz |
| | Quantas-Q2-532 | Pulsed DPSS Lasers | 532 | 0.040, 0.070, 0.150, 0.300, 0.400 | | | | 4000.0, 7000.0, 15000.0, 30000.0, 40000.0 | 5ns, 7ns, 8ns | 10Hz, 20Hz, 33.3Hz, 50Hz, 100Hz, 200Hz |
| | Quantas-Q2HE-527 | Pulsed DPSS Lasers | 527 | 0.600, 1.0 | | | | 20000.0, 50000.0, 60000.0 | 6ns | 10Hz, 20Hz, 50Hz |
| | Quantas-Q2HE-532 | Pulsed DPSS Lasers | 532 | 0.500, 0.800, 1.0, 1.75, 2.0 | | | | 20000.0, 35000.0, 40000.0, 50000.0 | 6ns | 10Hz, 20Hz, 50Hz, 100Hz |
| | Solo-640 | CW DPSS Lasers | 640 | 0.500, 0.750, 1.0 | Single-Mode Lasers | Free Space | Narrow | | | |