Micromachining Lasers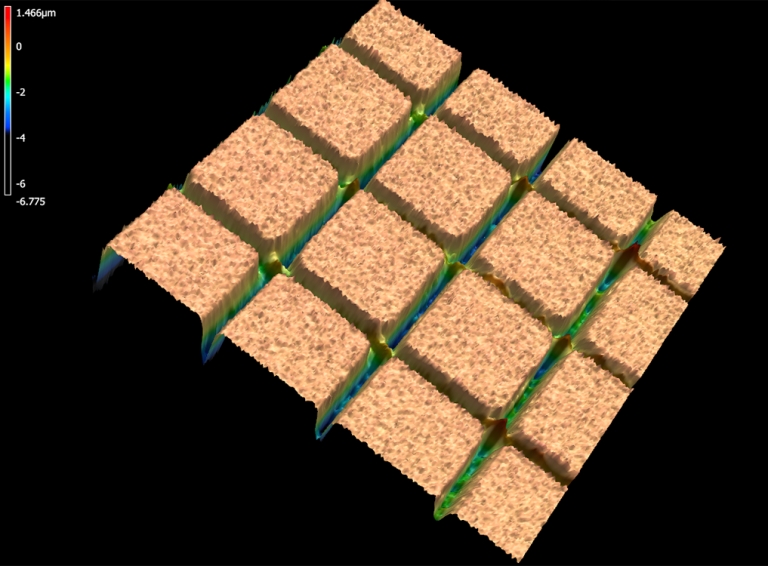 Laser micromachining which is used to produce mechanical structures with sub-millimeter features is rapidly growing in popularity as picosecond and femtosecond lasers are becoming more available.  Traditional laser ablation methods cannot be utilized to produce high tolerance machined parts with such small feature size,  due to the heat generated in the ablation process.  As a result, it is necessary to utilized ultra-fast lasers that have an electric field density large enough to create a Coulomb explosion.  This explosion caused by short pulse micromachining lasers can remove the material via a "cold ablation" process, therefore, preserving the integrity of the surrounding material.  In addition to the tolerancing advantage of the Coulomb explosion in comparison to thermal ablation, there is the added benefit that since this is an electronic effect, there is no need to take the materials absorption properties into account making this a wavelength-independent process. The adoption of laser micromachining has seen its most rapid adoption in the medical industry because short pulse micromachining lasers deliver superb quality when machining a variety of materials used for implantable devices.  On this page, you will find a list of all of the micromachining lasers we offer at RPMC.
RPMC has years of experience supporting Micromachining applications, helping industry professionals select the right tool for the job.
Contact Us today to let one of our knowledgeable Product Managers assist you!
| | | | | | | | |
| --- | --- | --- | --- | --- | --- | --- | --- |
| | Altair | Pulsed DPSS Lasers, Pulsed Fiber Lasers, Ultrafast Lasers | 1040 | 10.0, 20.0 | 0.125, 0.250, 1.0 | 150fs, 250fs | 30MHz, 80MHz, Single shot to 40MHz |
| | CEUV Series | Pulsed DPSS Lasers | 266, 355, 532, 1064 | 5.0, 10.0, 20.0 | 500.0, 1000.0, 2000.0 | 3ns | 10kHz to 1MHz |
| | Diadem 1300 | Pulsed DPSS Lasers, Ultrafast Lasers | 1300 | 2.0 | 1.0 | 150fs | Single shot to 2MHz |
| | Diadem IR | Pulsed DPSS Lasers, Ultrafast Lasers | 1030, 1064 | 10.0, 20.0, 30.0 | 10.0, 20.0, 30.0, 40.0 | 400fs, 10ps | Single shot to 2MHz |
| | Onda 355nm | Pulsed DPSS Lasers | 355 | 0.300 | 150.0 | 3ns | Single shot to 2kHz |
| | Quantas-Q-SHIFT-1163 | Pulsed DPSS Lasers | 1163 | 0.500, 0.800, 1.0 | 5000.0, 10000.0, 20000.0, 30000.0, 40000.0, 50000.0 | 2ns - 5ns | 10Hz, 20Hz, 33Hz, 50Hz, 100Hz |
| | Quantas-Q-SHIFT-1177 | Pulsed DPSS Lasers | 1177 | 0.500, 0.800, 1.0 | 5000.0, 10000.0, 20000.0, 30000.0, 40000.0, 50000.0 | 2ns - 5ns | 10Hz, 20Hz, 33Hz, 50Hz, 100Hz |
| | Quantas-Q-SHIFT-1300 | Pulsed DPSS Lasers | 1300 | 0.300, 0.480, 0.600 | 3000.0, 6000.0, 12000.0, 18000.0, 24000.0, 30000.0 | 2ns - 5ns | 10Hz, 20Hz, 33Hz, 50Hz, 100Hz |
| | Quantas-Q-SHIFT-1317 | Pulsed DPSS Lasers | 1317 | 0.300, 0.480, 0.600 | 3000.0, 6000.0, 12000.0, 18000.0, 24000.0, 30000.0 | 2ns - 5ns | 10Hz, 20Hz, 33Hz, 50Hz, 100Hz |
| | Quantas-Q-SHIFT-1551 | Pulsed DPSS Lasers | 1551 | 0.400, 0.640, 0.800 | 4000.0, 8000.0, 16000.0, 24000.0, 32000.0, 40000.0 | 2ns - 5ns | 10Hz, 20Hz, 33Hz, 50Hz, 100Hz |
| | Quantas-Q-SHIFT-1571 | Pulsed DPSS Lasers | 1571 | 0.400, 0.640, 0.800 | 4000.0, 8000.0, 16000.0, 24000.0, 32000.0, 40000.0 | 2ns - 5ns | 10Hz, 20Hz, 33Hz, 50Hz, 100Hz |
| | Quantas-Q-SHIFT-291 | Pulsed DPSS Lasers | 291 | 0.075, 0.120, 0.150 | 750.0, 1500.0, 3000.0, 4500.0, 6000.0, 7500.0 | 2ns - 5ns | 10Hz, 20Hz, 33Hz, 50Hz, 100Hz |
| | Quantas-Q-SHIFT-294 | Pulsed DPSS Lasers | 294 | 0.075, 0.120, 0.150 | 750.0, 1500.0, 3000.0, 4500.0, 6000.0, 7500.0 | 2ns - 5ns | 10Hz, 20Hz, 33Hz, 50Hz, 100Hz |
| | Quantas-Q-SHIFT-325 | Pulsed DPSS Lasers | 325 | 0.045, 0.072, 0.090 | 450.0, 900.0, 1800.0, 2700.0, 3600.0, 4500.0 | 2ns - 5ns | 10Hz, 20Hz, 33Hz, 50Hz, 100Hz |
| | Quantas-Q-SHIFT-329 | Pulsed DPSS Lasers | 329 | 0.045, 0.072, 0.090 | 450.0, 900.0, 1800.0, 2700.0, 3600.0, 4500.0 | 2ns - 5ns | 10Hz, 20Hz, 33Hz, 50Hz, 100Hz |
| | Quantas-Q-SHIFT-388 | Pulsed DPSS Lasers | 388 | 0.125, 0.200, 0.250 | 1250.0, 2500.0, 5000.0, 7500.0, 10000.0, 12500.0 | 2ns - 5ns | 10Hz, 20Hz, 33Hz, 50Hz, 100Hz |
| | Quantas-Q-SHIFT-388 | Pulsed DPSS Lasers | 388 | 0.060, 0.096, 0.120 | 600.0, 1200.0, 2400.0, 3600.0, 4800.0, 6000.0 | 2ns - 5ns | 10Hz, 20Hz, 33Hz, 50Hz, 100Hz |
| | Quantas-Q-SHIFT-392 | Pulsed DPSS Lasers | 392 | 0.125, 0.200, 0.250 | 1250.0, 2500.0, 5000.0, 7500.0, 10000.0, 12500.0 | 2ns - 5ns | 10Hz, 20Hz, 33Hz, 50Hz, 100Hz |
| | Quantas-Q-SHIFT-393 | Pulsed DPSS Lasers | 393 | 0.060, 0.096, 0.120 | 600.0, 1200.0, 2400.0, 3600.0, 4800.0, 6000.0 | 2ns - 5ns | 10Hz, 20Hz, 33Hz, 50Hz, 100Hz |
| | Quantas-Q-SHIFT-433 | Pulsed DPSS Lasers | 433 | 0.075, 0.120, 0.150 | 750.0, 1500.0, 3000.0, 4500.0, 6000.0, 7500.0 | 2ns - 5ns | 10Hz, 20Hz, 33Hz, 50Hz, 100Hz |
| | Quantas-Q-SHIFT-439 | Pulsed DPSS Lasers | 439 | 0.075, 0.120, 0.150 | 750.0, 1500.0, 3000.0, 4500.0, 6000.0, 7500.0 | 2ns - 5ns | 10Hz, 20Hz, 33Hz, 50Hz, 100Hz |
| | Quantas-Q-SHIFT-517 | Pulsed DPSS Lasers | 517 | 0.100, 0.160, 0.200 | 1000.0, 2000.0, 4000.0, 6000.0, 8000.0, 10000.0 | 2ns - 5ns | 10Hz, 20Hz, 33Hz, 50Hz, 100Hz |
| | Quantas-Q-SHIFT-524 | Pulsed DPSS Lasers | 524 | 0.100, 0.160, 0.200 | 1000.0, 2000.0, 4000.0, 6000.0, 8000.0, 10000.0 | 2ns - 5ns | 10Hz, 20Hz, 33Hz, 50Hz, 100Hz |
| | Quantas-Q-SHIFT-581.5 | Pulsed DPSS Lasers | 581.5 | 0.250, 0.400, 0.495, 0.500 | 2500.0, 5000.0, 10000.0, 15000.0, 20000.0, 25000.0 | 2ns - 5ns | 10Hz, 20Hz, 33Hz, 50Hz, 100Hz |
| | Quantas-Q-SHIFT-588.5 | Pulsed DPSS Lasers | 588.5 | 0.250, 0.400, 0.495, 0.500 | 2500.0, 5000.0, 10000.0, 15000.0, 20000.0, 25000.0 | 2ns - 5ns | 10Hz, 20Hz, 33Hz, 50Hz, 100Hz |
| | Quantas-Q-SHIFT-650 | Pulsed DPSS Lasers | 650 | 0.150, 0.240, 0.300 | 1500.0, 3000.0, 6000.0, 9000.0, 12000.0, 15000.0 | 2ns - 5ns | 10Hz, 20Hz, 33Hz, 50Hz, 100Hz |
| | Quantas-Q-SHIFT-658.5 | Pulsed DPSS Lasers | 658.5 | 0.150, 0.240, 0.300 | 1500.0, 3000.0, 6000.0, 9000.0, 12000.0, 15000.0 | 2ns - 5ns | 10Hz, 20Hz, 33Hz, 50Hz, 100Hz |
| | Quantas-Q-SHIFT-775.5 | Pulsed DPSS Lasers | 775.5 | 0.200, 0.320, 0.400 | 2000.0, 4000.0, 8000.0, 12000.0, 16000.0, 20000.0 | 2ns - 5ns | 10Hz, 20Hz, 33Hz, 50Hz, 100Hz |
| | Quantas-Q-SHIFT-785.5 | Pulsed DPSS Lasers | 785.5 | 0.200, 0.320, 0.400 | 2000.0, 4000.0, 8000.0, 12000.0, 16000.0, 20000.0 | 2ns - 5ns | 10Hz, 20Hz, 33Hz, 50Hz, 100Hz |
| | Quantas-Q-SHIFT-WXXXX | Pulsed DPSS Lasers | Multiple Wavelength Options | Varies | Varies | 2ns - 5ns | 100Hz |
| | Sirius GR | Pulsed DPSS Lasers, Ultrafast Lasers | 532 | 2.0 | 32.0 | 10ps | Single shot to 1MHz |
| | Sirius IR | Pulsed DPSS Lasers, Ultrafast Lasers | 1064 | 5.0 | 60.0 | 10ps | Single shot to 1MHz |
| | VaryDisk E150 | Pulsed DPSS Lasers | 1030 | 150.0 | 150000.0 | 2ps - 1ns | 1kHz to 10kHz |
| | Wedge-HB/XB 266 | Pulsed DPSS Lasers | 266 | 0.300, 0.500 | 150.0, 500.0 | 1.5ns, 1.8ns | Single shot to 2kHz |
| | Wedge-HB/XB 355 | Pulsed DPSS Lasers | 355 | 0.400, 0.600 | 200.0, 600.0 | 1.2ns, 1.5ns | Single shot to 1kHz, Single shot to 2kHz |
| | Wedge-HF/XF 266 | Pulsed DPSS Lasers | 266 | 0.050, 0.180 | 5.0, 15.0 | 400ps - 700ps, 500ps - 1ns | 10kHz to 50kHz |
| | Wedge-HF/XF 355 | Pulsed DPSS Lasers | 355 | 0.800 | 40.0 | 500ps - 1ns | 10kHz to 50kHz |