Micromachining Lasers: Ablation, Marking, Cutting, Drilling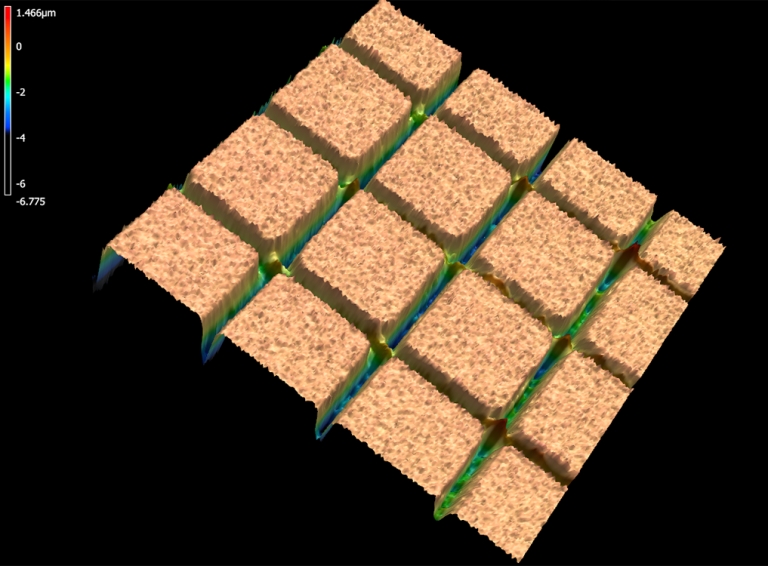 What is Laser Micromachining?
Laser micromachining is a collection of processes involving sub-millimeter machining of small parts or features on a material using precise and controlled techniques. This subtractive (material removal) process typically involves using specialized lasers to cut, drill, ablate, or otherwise shape materials with accuracy and precision.
Laser micromachining allows for the laser-based machining of extremely fine features or structures, typically between a few microns and several hundreds of microns. These very fine, smooth features can be created with reduced heat affected zones and reduced post process cleaning. Micromachining applications are rapidly growing in popularity as picosecond and femtosecond lasers are becoming more available.
The adoption of laser micromachining has seen its most rapid adoption in the medical industry because short pulse micromachining lasers deliver superb quality when machining a variety of materials used for implantable devices.  On this page, you will find a list of all of the micromachining lasers we offer at RPMC.
| | | | | | | | |
| --- | --- | --- | --- | --- | --- | --- | --- |
| | Altair | Pulsed DPSS Lasers, Pulsed Fiber Lasers, Ultrafast Lasers | 1040 | 10.0, 20.0 | 0.125, 0.250, 1.0 | 150fs, 250fs | 30MHz, 80MHz, Single shot to 40MHz |
| | CEUV Series | Pulsed DPSS Lasers | 266, 355, 532, 1064 | 5.0, 10.0, 20.0 | 500.0, 1000.0, 2000.0 | 3ns | 10kHz to 1MHz |
| | Diadem 1300 | Pulsed DPSS Lasers, Ultrafast Lasers | 1300 | 2.0 | 1.0 | 150fs | Single shot to 2MHz |
| | Diadem IR | Pulsed DPSS Lasers, Ultrafast Lasers | 1030, 1064 | 10.0, 20.0, 30.0 | 10.0, 20.0, 30.0, 40.0 | 400fs, 10ps | Single shot to 2MHz |
| | Onda 355nm | Pulsed DPSS Lasers | 355 | 0.300 | 150.0 | 3ns | Single shot to 2kHz |
| | Quantas-Q-SHIFT-1163 | Pulsed DPSS Lasers | 1163 | 0.500, 0.800, 1.0 | 4000.0, 8000.0, 16000.0, 24000.0, 32000.0, 40000.0 | 2ns - 5ns | 10Hz, 20Hz, 33Hz, 50Hz, 100Hz |
| | Quantas-Q-SHIFT-1177 | Pulsed DPSS Lasers | 1177 | 0.500, 0.800, 1.0 | 4000.0, 8000.0, 16000.0, 24000.0, 32000.0, 40000.0 | 2ns - 5ns | 10Hz, 20Hz, 33Hz, 50Hz, 100Hz |
| | Quantas-Q-SHIFT-1300 | Pulsed DPSS Lasers | 1300 | 0.300, 0.480, 0.600 | 2000.0, 4000.0, 8000.0, 12000.0, 16000.0, 20000.0 | 2ns - 5ns | 10Hz, 20Hz, 33Hz, 50Hz, 100Hz |
| | Quantas-Q-SHIFT-1317 | Pulsed DPSS Lasers | 1317 | 0.300, 0.480, 0.600 | 2000.0, 4000.0, 8000.0, 12000.0, 16000.0, 20000.0 | 2ns - 5ns | 10Hz, 20Hz, 33Hz, 50Hz, 100Hz |
| | Quantas-Q-SHIFT-1551 | Pulsed DPSS Lasers | 1551 | 0.400, 0.640, 0.800 | 3000.0, 6000.0, 12000.0, 20000.0, 24000.0, 30000.0 | 2ns - 5ns | 10Hz, 20Hz, 33Hz, 50Hz, 100Hz |
| | Quantas-Q-SHIFT-1571 | Pulsed DPSS Lasers | 1571 | 0.400, 0.640, 0.800 | 3000.0, 6000.0, 12000.0, 20000.0, 24000.0, 30000.0 | 2ns - 5ns | 10Hz, 20Hz, 33Hz, 50Hz, 100Hz |
| | Quantas-Q-SHIFT-291 | Pulsed DPSS Lasers | 291 | 0.075, 0.120, 0.150 | 250.0, 500.0, 1000.0, 1500.0, 2000.0, 2500.0 | 2ns - 5ns | 10Hz, 20Hz, 33Hz, 50Hz, 100Hz |
| | Quantas-Q-SHIFT-294 | Pulsed DPSS Lasers | 294 | 0.075, 0.120, 0.150 | 250.0, 500.0, 1000.0, 1500.0, 2000.0, 2500.0 | 2ns - 5ns | 10Hz, 20Hz, 33Hz, 50Hz, 100Hz |
| | Quantas-Q-SHIFT-325 | Pulsed DPSS Lasers | 325 | 0.045, 0.072, 0.090 | 120.0, 250.0, 500.0, 750.0, 1000.0, 1300.0 | 2ns - 5ns | 10Hz, 20Hz, 33Hz, 50Hz, 100Hz |
| | Quantas-Q-SHIFT-329 | Pulsed DPSS Lasers | 329 | 0.045, 0.072, 0.090 | 120.0, 250.0, 500.0, 750.0, 1000.0, 1300.0 | 2ns - 5ns | 10Hz, 20Hz, 33Hz, 50Hz, 100Hz |
| | Quantas-Q-SHIFT-388 | Pulsed DPSS Lasers | 388 | 0.125, 0.200, 0.250 | 600.0, 1200.0, 2400.0, 3600.0, 4800.0, 6000.0 | 2ns - 5ns | 10Hz, 20Hz, 33Hz, 50Hz, 100Hz |
| | Quantas-Q-SHIFT-388 | Pulsed DPSS Lasers | 388 | 0.060, 0.096, 0.120 | 180.0, 360.0, 750.0, 1250.0, 1500.0, 1800.0 | 2ns - 5ns | 10Hz, 20Hz, 33Hz, 50Hz, 100Hz |
| | Quantas-Q-SHIFT-392 | Pulsed DPSS Lasers | 392 | 0.125, 0.200, 0.250 | 600.0, 1200.0, 2400.0, 3600.0, 4800.0, 6000.0 | 2ns - 5ns | 10Hz, 20Hz, 33Hz, 50Hz, 100Hz |
| | Quantas-Q-SHIFT-393 | Pulsed DPSS Lasers | 393 | 0.060, 0.096, 0.120 | 180.0, 360.0, 750.0, 1250.0, 1500.0, 1800.0 | 2ns - 5ns | 10Hz, 20Hz, 33Hz, 50Hz, 100Hz |
| | Quantas-Q-SHIFT-433 | Pulsed DPSS Lasers | 433 | 0.075, 0.120, 0.150 | 300.0, 600.0, 1200.0, 1800.0, 2400.0, 3000.0 | 2ns - 5ns | 10Hz, 20Hz, 33Hz, 50Hz, 100Hz |
| | Quantas-Q-SHIFT-439 | Pulsed DPSS Lasers | 439 | 0.075, 0.120, 0.150 | 300.0, 600.0, 1200.0, 1800.0, 2400.0, 3000.0 | 2ns - 5ns | 10Hz, 20Hz, 33Hz, 50Hz, 100Hz |
| | Quantas-Q-SHIFT-517 | Pulsed DPSS Lasers | 517 | 0.100, 0.160, 0.200 | 450.0, 900.0, 1800.0, 3000.0, 3600.0, 4500.0 | 2ns - 5ns | 10Hz, 20Hz, 33Hz, 50Hz, 100Hz |
| | Quantas-Q-SHIFT-524 | Pulsed DPSS Lasers | 524 | 0.100, 0.160, 0.200 | 450.0, 900.0, 1800.0, 3000.0, 3600.0, 4500.0 | 2ns - 5ns | 10Hz, 20Hz, 33Hz, 50Hz, 100Hz |
| | Quantas-Q-SHIFT-581.5 | Pulsed DPSS Lasers | 581.5 | 0.250, 0.400, 0.495, 0.500 | 1000.0, 2000.0, 4000.0, 6000.0, 8000.0, 10000.0 | 2ns - 5ns | 10Hz, 20Hz, 33Hz, 50Hz, 100Hz |
| | Quantas-Q-SHIFT-588.5 | Pulsed DPSS Lasers | 588.5 | 0.250, 0.400, 0.495, 0.500 | 1000.0, 2000.0, 4000.0, 6000.0, 8000.0, 10000.0 | 2ns - 5ns | 10Hz, 20Hz, 33Hz, 50Hz, 100Hz |
| | Quantas-Q-SHIFT-650 | Pulsed DPSS Lasers | 650 | 0.150, 0.240, 0.300 | 500.0, 1000.0, 2000.0, 3000.0, 4000.0, 5000.0 | 2ns - 5ns | 10Hz, 20Hz, 33Hz, 50Hz, 100Hz |
| | Quantas-Q-SHIFT-658.5 | Pulsed DPSS Lasers | 658.5 | 0.150, 0.240, 0.300 | 500.0, 1000.0, 2000.0, 3000.0, 4000.0, 5000.0 | 2ns - 5ns | 10Hz, 20Hz, 33Hz, 50Hz, 100Hz |
| | Quantas-Q-SHIFT-775.5 | Pulsed DPSS Lasers | 775.5 | 0.200, 0.320, 0.400 | 750.0, 1500.0, 3000.0, 5000.0, 6000.0, 7500.0 | 2ns - 5ns | 10Hz, 20Hz, 33Hz, 50Hz, 100Hz |
| | Quantas-Q-SHIFT-785.5 | Pulsed DPSS Lasers | 785.5 | 0.200, 0.320, 0.400 | 750.0, 1500.0, 3000.0, 5000.0, 6000.0, 7500.0 | 2ns - 5ns | 10Hz, 20Hz, 33Hz, 50Hz, 100Hz |
| | Quantas-Q-SHIFT-WXXXX | Pulsed DPSS Lasers | Multiple Wavelength Options | Varies | Varies | 2ns - 5ns | 100Hz |
| | Sirius GR | Pulsed DPSS Lasers, Ultrafast Lasers | 532 | 2.0 | 32.0 | 10ps | Single shot to 1MHz |
| | Sirius IR | Pulsed DPSS Lasers, Ultrafast Lasers | 1064 | 5.0 | 60.0 | 10ps | Single shot to 1MHz |
| | VaryDisk E150 | Pulsed DPSS Lasers | 1030 | 150.0 | 150000.0 | 2ps - 1ns | 1kHz to 10kHz |
| | Wedge-HB/XB 266 | Pulsed DPSS Lasers | 266 | 0.300, 0.500 | 150.0, 500.0 | 1.5ns, 1.8ns | Single shot to 2kHz |
| | Wedge-HB/XB 355 | Pulsed DPSS Lasers | 355 | 0.400, 0.600 | 200.0, 600.0 | 1.2ns, 1.5ns | Single shot to 1kHz, Single shot to 2kHz |
| | Wedge-HF/XF 266 | Pulsed DPSS Lasers | 266 | 0.050, 0.180 | 5.0, 15.0 | 700ps - 1500ps, 400ps - 700ps | 10kHz to 50kHz |
| | Wedge-HF/XF 355 | Pulsed DPSS Lasers | 355 | 0.800 | 40.0 | 500ps - 1ns | 10kHz to 50kHz |