Multi-Photon Microscopy Lasers
Multi-photon microscopy,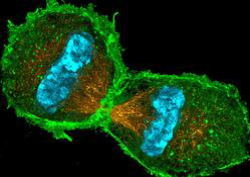 also known as 2-photon microscopy, is a widely used technique in the biological sciences, where sum-frequency generation within the sample can result in second harmonic generation or third harmonic generation to excite fluorescence in the sample.  This process is widely used for creating fluorescence images of live cells, since the multiphoton microscopy lasers are typically in the near-infrared wavelengths region, therefore reducing the potential of photochemical damage to the cells.  Due to the non-linear nature of this process, multiphoton microscopy lasers must have extremely short pulses, and therefore mode-locked femtosecond lasers are typically used for this application.   Additionally, as in all microscopy applications, multiphoton microscopy lasers, must also be single spatial mode to get diffraction-limited performance out of the microscope objective.   On this page you will find a list of our mode-locked multiphoton microscopy lasers, these mode-locked fiber lasers are ideal for multiphoton microscopy because of their short pulse width and excellent beam quality.
See the article in Laser Focus World about the Alcor Laser
RPMC has years of experience supporting Multi-Photon Microscopy applications, helping industry professionals select the right tool for the job.
Contact Us today to let one of our knowledgeable Product Managers assist you!
| | | | | | | | | | |
| --- | --- | --- | --- | --- | --- | --- | --- | --- | --- |
| | ALCOR 1064 | Pulsed DPSS Lasers, Pulsed Fiber Lasers, Ultrafast Lasers | 2.0, 5.0 | | | | 0.025, 0.062 | 100fs, 110fs | 80MHz (Optional: 40MHz) |
| | ALCOR 532 | Pulsed DPSS Lasers, Pulsed Fiber Lasers, Ultrafast Lasers | 0.800, 2.0 | | | | 0.025 | 100fs | 80MHz (Optional: 40MHz) |
| | ALCOR 920 | Pulsed DPSS Lasers, Pulsed Fiber Lasers, Ultrafast Lasers | 1.0, 2.0, 4.0 | | | | 0.0125, 0.025, 0.050 | 100fs, 110fs, 130fs | 80MHz (Optional: 40MHz) |
| | ALCOR Dual | Pulsed DPSS Lasers, Pulsed Fiber Lasers, Ultrafast Lasers | 1.0, 2.0 | | | | 0.0125, 0.025 | 100fs, 110fs, 130fs | 80MHz (Optional: 40MHz) |
| | Altair | Pulsed DPSS Lasers, Pulsed Fiber Lasers, Ultrafast Lasers | 10.0, 20.0 | | | | 0.125, 0.250, 1.0 | 150fs, 250fs | 30MHz, 80MHz, Single shot to 40MHz |
| | Diadem GR | Pulsed DPSS Lasers, Ultrafast Lasers | 10.0, 20.0, 30.0 | | | | 10.0, 20.0, 30.0, 40.0 | 400fs, 10ps | Single shot to 2MHz |
| | Diadem IR | Pulsed DPSS Lasers, Ultrafast Lasers | 10.0, 20.0, 30.0 | | | | 10.0, 20.0, 30.0, 40.0 | 400fs, 10ps | Single shot to 2MHz |