Range Finding Lasers
Laser range finding is a term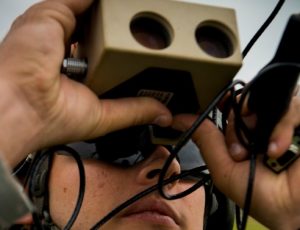 used to describe the process of determining the distance to a fixed object.  This process is essentially a simplified version of laser radar, and therefore has many of the same requirements as LIDAR lasers.  Since we are only considering stationary targets and distance is the only thing being measured, range finding lasers are always pulsed to measure the roundtrip time-of-flight and calculate the distance to the target.  An additional constraint on laser range finding that not all lidar systems have is the need to be very careful about eye safety since they are typically operating over shorter distances and in more populated areas.  As a result, most of these lasers operate around 1.5 microns in wavelength, which is considered to be "eye-safe" because of the extremely high-water absorption, useful for protecting the sensitive retina. These lasers are typically OEM versions designed to be easily integrated into your final package or system as a laser rangefinder (commonly misspelled as laser rangfinder) for the military, golf, hunting, shooting, construction, forestry, and many other industries and applications. On this page, you will see a list of all of the range-finding lasers for sale, including both passively and actively q-switched Er: Glass lasers.
RPMC has years of experience supporting Range Finding applications, helping industry professionals select the right tool for the job. Check out this blog, titled "Ruggedized, MIL-Spec Er:Glass Lasers Tackle SWIR Challenges Head-On," for further reading about pulsed Er:Glass lasers for Laser Rangefinders, Night Vision, and more!
Contact Us today to let one of our knowledgeable Product Managers assist you!
| | | | | | | | | | |
| --- | --- | --- | --- | --- | --- | --- | --- | --- | --- |
| | 1.5um Broadband CW Fiber Lasers | CW Fiber Lasers | 0.160 | | SM Fiber, PM Fiber | Broadband | | | |
| | 1.5um NLW CW Fiber Lasers | CW Fiber Lasers | 0.032, 1.0 | Single-Mode Lasers | SM Fiber, PM Fiber | Narrow | | | |
| | LGK 7627 | HeNe Lasers | 0.005, 0.010 | Single-Mode Lasers, Multimode | Free Space | | | | |
| | OT-XX | Pulsed DPSS Lasers, Mil-Spec Lasers | 0.001, 0.0012, 0.002, 0.0022, 0.0024, 0.0025, 0.0045, 0.0095, 0.020, 0.030, 0.075, 0.100, 0.200 | | | | 900.0, 1000.0, 1200.0, 1500.0, 1900.0, 2000.0, 2100.0, 2200.0, 2400.0, 2500.0, 10000.0 | 9ns, 10ns, 12ns, 15ns, 20ns, 24ns, 35ns, 40ns | 1Hz, 5Hz, 10Hz, 20Hz, 30Hz |
| | PowerMir 4.0um | Quantum Cascade Lasers | 0.100, 0.450, 1.0 | Multimode | Free Space | | | | |
| | PowerMir 4.6um | Quantum Cascade Lasers | 0.500, 1.0 | Multimode | Free Space | | | | |
| | PowerMir 4.8um | Quantum Cascade Lasers | 0.500, 1.0 | Multimode | Free Space | | | | |
| | PowerMir 9.4um | Quantum Cascade Lasers | 0.100, 0.300 | Multimode | Free Space | | | | |