Quantas-Q2HE-XXX-XXXX
DPSS Laser, ns Pulsed, High Energy, YAG/YLF Series
Key Features:
1053nm & 1064nm fundamental wavelength options
2nd/3rd/4th/5th harmonic wavelengths (optional add-on)
High peak power pulses up to 120mJ
High average power up to 4W
Up to 100Hz repetition rate
High-speed triggering
0.5ns RMS jitter
There are many configurations and options available. If you do not see exactly what you need below, please contact us!
Need Quantities?  Use Get Quote to get volume pricing!
Configurations:
| Part Number | Part Description | Datasheet | Price | Lead Time | |
| --- | --- | --- | --- | --- | --- |
| Quantas-Q2HE-XXX-XXXX | DPSS Laser, ns Pulsed, High Energy, YAG/YLF Series | | | 6-10 weeks | Get Quote |
The Quantas-Q2HE-XXX-XXXX is a high energy, q-switched, diode-pumped solid-state (DPSS) laser series, available in either 1053nm or 1064nm fundamental wavelengths, with optional 2nd, 3rd, 4th, or 5th harmonic generation.   This air-cooled series of lasers is designed for a wide range of applications that require high peak power pulses.  Due to a short laser cavity, excellent thermal properties of the crystal, and an innovative water-free crystal cooling technology, the Quantas-Q2HE-XXX-XXXX can deliver up to 100mJ of pulse energy and/or up to 4W average output power. This advanced laser design results in a compact, user-friendly turnkey system that requires little maintenance. There are no chillers or bulky power supplies to make room for. Most of the laser electronics are integrated into housing of the Q2HE and the only external modules are compact controller box and mains adapter that provides 28 VDC, 50 – 150 W power (depending on model).
Less than 7 ns pulse duration and low divergence of the beam enables efficient fundamental wavelength conversion to higher harmonics with shortest wavelength available of 211/213nm (for 1053/1064nm fundamental wavelength). Low jitter triggering pulses for user equipment are available in internal triggering mode. High-speed triggering pulses with RMS jitter < 0.5 ns with respect to Q-switch triggering edge of the pulse and both internal and external triggering make this laser ideal for a wide range of high-speed applications.  The Quantas-Q2HE-XXX-XXXX laser is controlled via a built-in Ethernet port with the option to add Wi-Fi adapter, allowing users to monitor and control laser remotely. There is no need to install control software – any computer or even cell phone with modern web browser installed will be able to control Q2HE. API is provided for integration with user devices.
The table below shows configurations by Wavelength, Rep. Rate, and Pulse Energy.
Check out the datasheet for an expanded table and more technical information.
Q2HE-XXX-XXXX Configuration Table: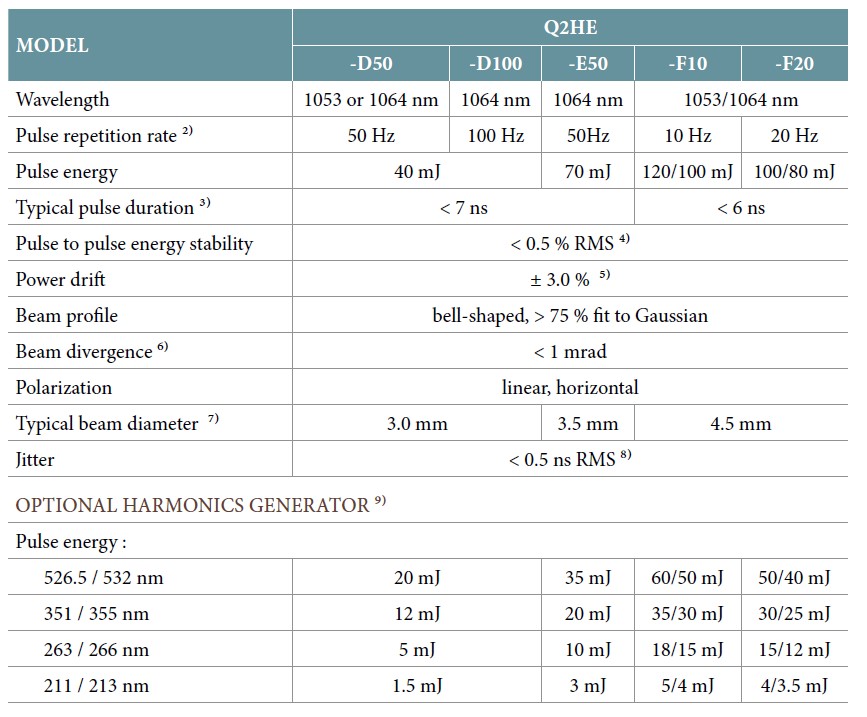 | | |
| --- | --- |
| Type | |
| Wavelength (nm) | |
| Output power (W) | |
| Pulse energy (uJ) | |
| Pulse width | |
| Rep rate | |
| Q-switch type | |