Laser Designators
Laser designators have been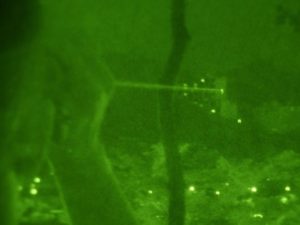 commonly deployed by the military to allow ground forces and unmanned aerial vehicles to "paint a target" by illuminating them with a pulse-coded invisible laser, which can then be detected and locked onto by the weapon's targeting system.  Laser designation lasers require relatively high pulse energy, a programmable pulse repetition rate, low beam divergence, and high pointing accuracy.  Laser designation lasers must be deployable in a wide variety of inhospitable environments; therefore, in addition to the optical considerations, it is required that they are compact, rugged, and have relatively low power consumption.  On this page, you will find a list of all of the laser designation lasers we offer from Areté Associates, one of the premier producers of Mil-Spec lasers for laser designators.   In addition to the typical 1064 nm variant, at RPMC we also the second and third harmonics, at 532 nm and 355 nm respectively for visible applications.
RPMC has years of experience supporting Laser Designation applications, helping industry professionals select the right tool for the job.
Contact us today to let one of our knowledgeable Product Managers assist you!